How about walking in paradise? That is how it feels to walk next to Levadas in Madeira island in Portugal, with huge parts of the island having luscious forests, waterfalls, serenity and breathtaking landscapes.
There is not a single exaggeration to that. If you haven't been to Madeira yet, this post is the one that will impose on you the desire to go there.
It is neither far nor expensive as the name "Madeira" may sound to you. You do want to read about our experience for the best food tour in Lisbon.
Madeira is a 2-hour flight from Lisbon.
Do read about all the things you can do in Lisbon, day trips from Lisbon, and all the things you can do in Portugal and our hiking on the highest peaks of Madeira: The popular Pico Ruivo and Pico Areeiro.
What is Madeira Levadas?
A Levada (plural: Levadas) is a canal used to carry water (irrigation channels). You can see it flowing peacefully next to us in the photo below.
Imagine that are many that are built-in chest level and do flow from the mountains to the valleys.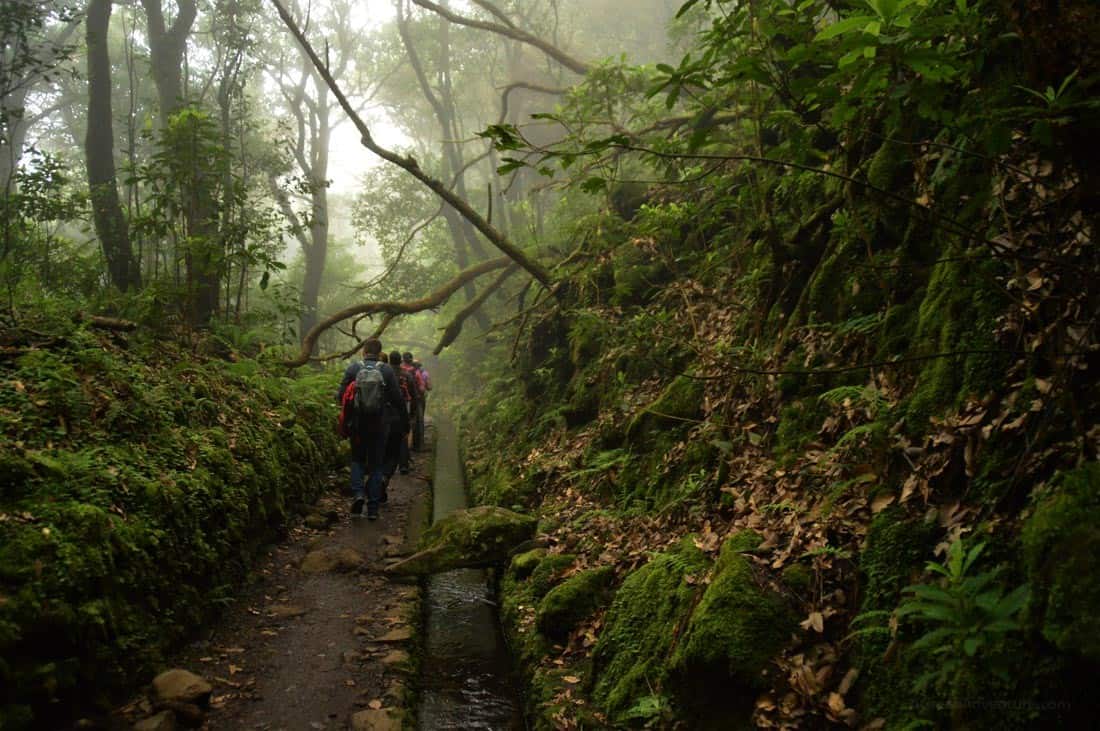 They are popularly known as "Levadas da Madeira."
These canals are used in Madeira to transfer water from the mountains to different locations on the island.
They are exceptionally well maintained.
Levadas allow the water to flow through the proper inclination of the Levada itself. In some locations (but rare), pumps are used to "push" the water a bit.
Levadas are used to supply Madeira with water for: drinking and cooking, washing the clothes, factories (i.e., processing sugar canes), agricultural purposes, and so many more.
They are not something met only in Madeira. When you walk many miles next to different of them, you will understand how they became so famous.
Facts About the Levadas in Madeira
Before seeing the spectacular photos from different hiking trails, next to Madeira Levadas, you need to know the following points.
There is more than 2.100 km of Levadas in Madeira.
25km of Levadas pass through tunnels.
Their origin goes back to the mid of 15th century.
Levadas today is under the UNESCO World Heritage status as well as the Laurissilva Forest.
Most Levadas have correctly marked hiking paths next and over them.
Many Levadas were structured next to dangerous cliffs; That is a sign of advanced engineering and courage
Almost all of the walking paths in Madeira, no matter how long they are, they are quite easy to hike through
You don't need to bring water. There is plenty everywhere
Walking in the areas where Levadas in Madeira are, feels like heaven.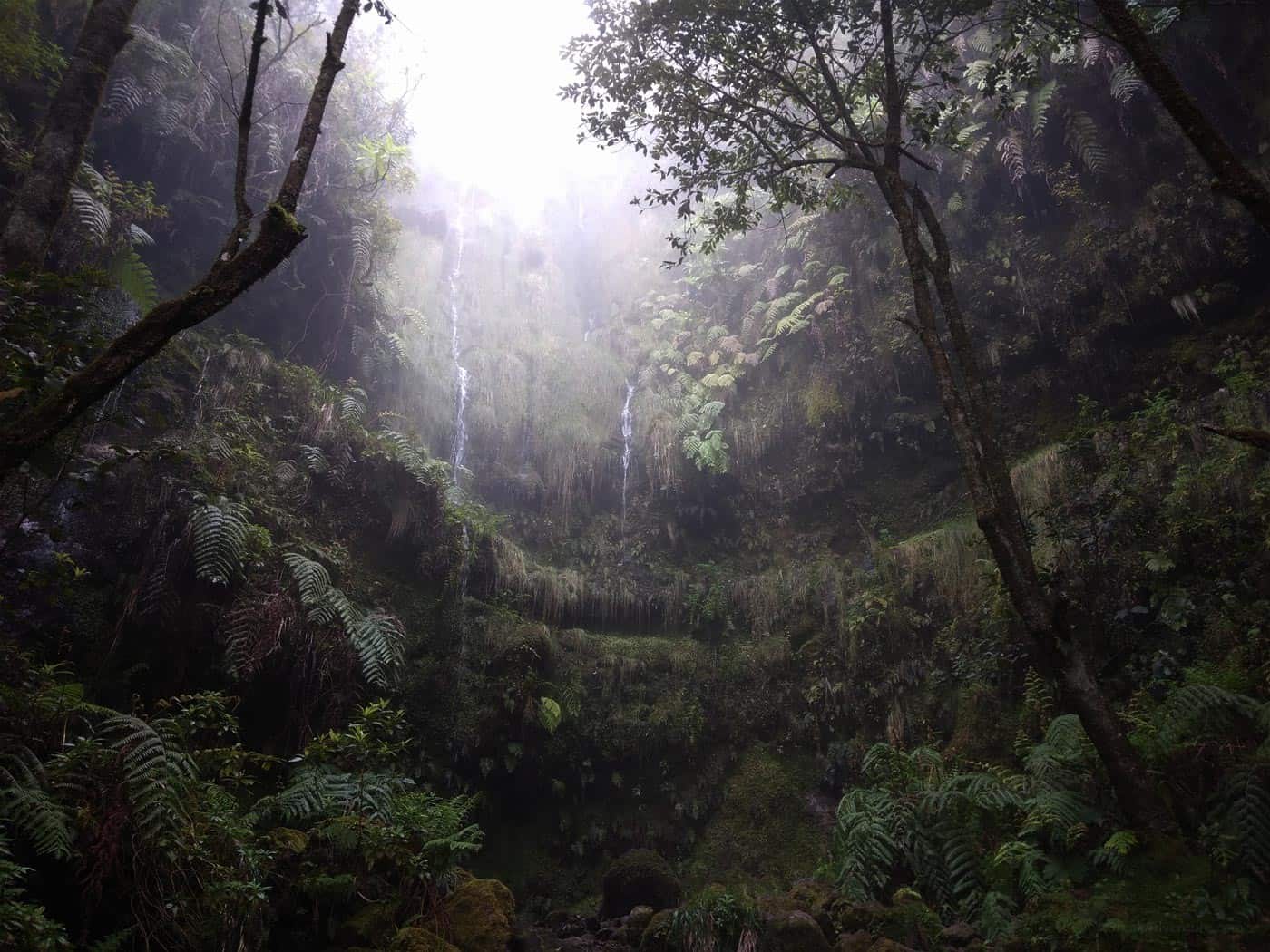 Here are 3 of the most popular and beautiful Levada walks in Madeira:
São Jorge – Levada do Rei
The name means "The Kings Levada," and you don't want to miss this one marked as a UNESCO natural heritage place. The route takes around 4 hours to complete (11km).
The walk is in the luscious valley of São Jorge. Along this route, you will notice lots of herbs and medicinal plants used by the locals. Walk it along with a local guide can give you lots of insights for them.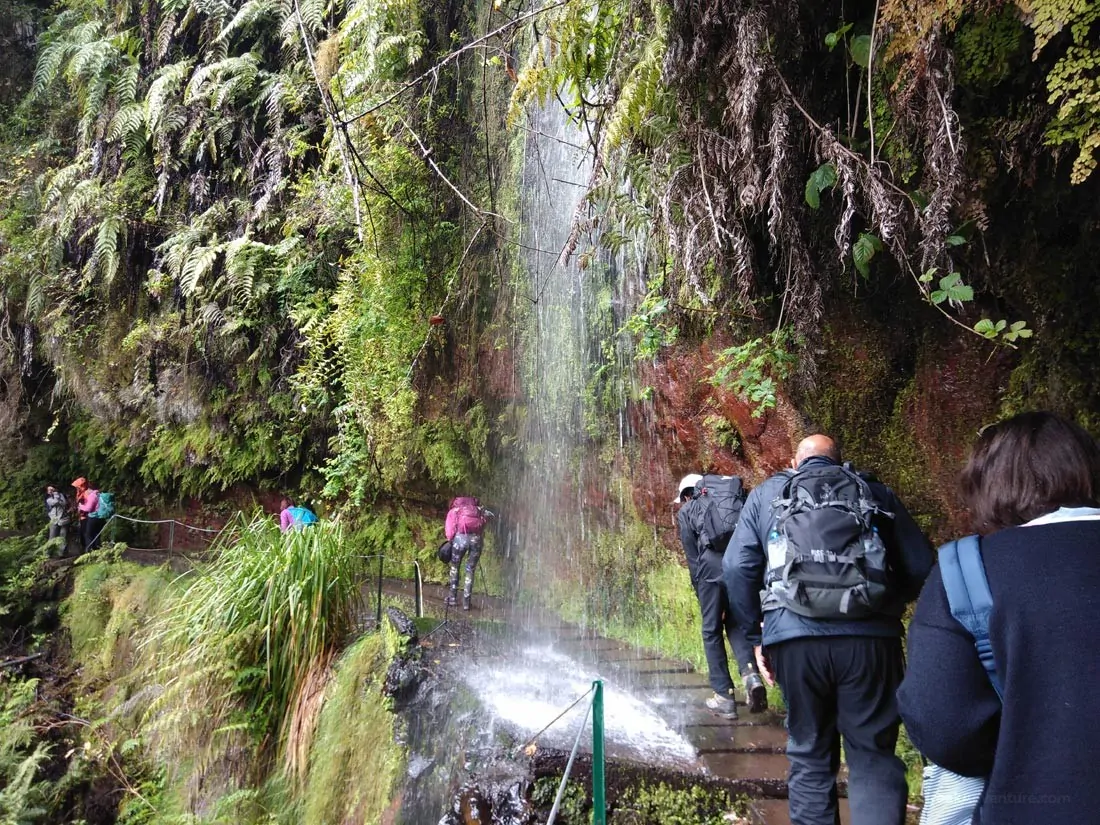 Watch the video from the location above.
This walking was our first experience with the overall concept of the Levadas and a prelude to what we were about to experience in a far higher level of "beautifulness" in the forests of Madeira.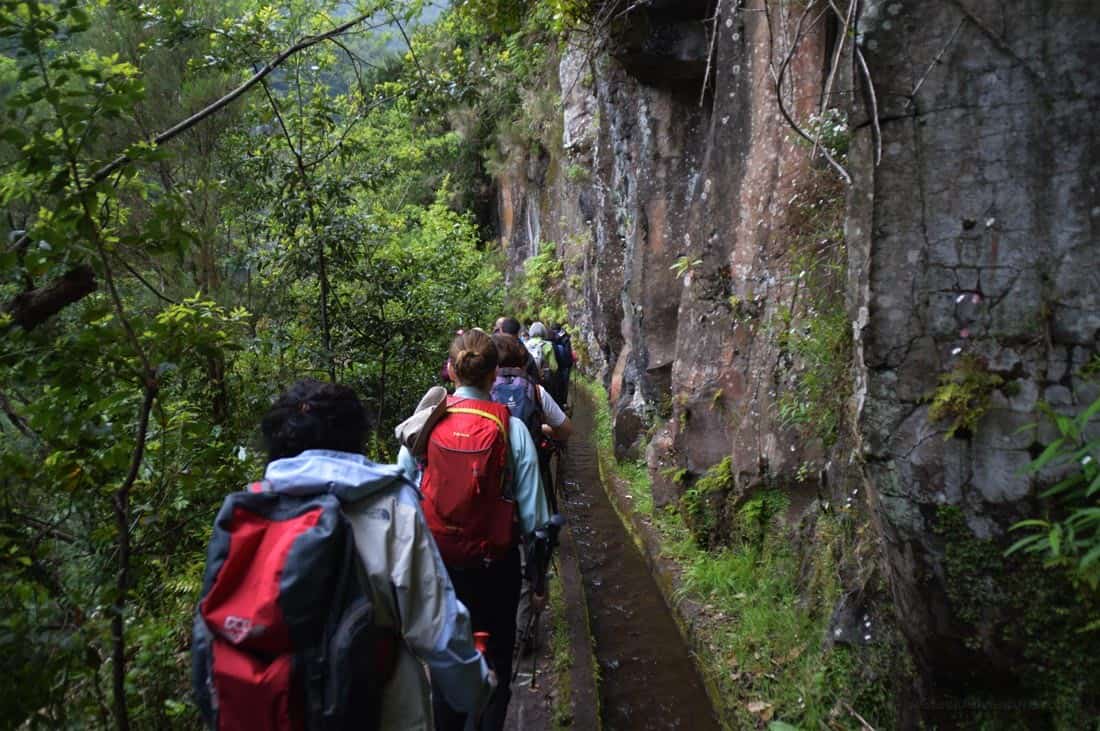 There are many stunning places to stop and admire the surrounding scenery.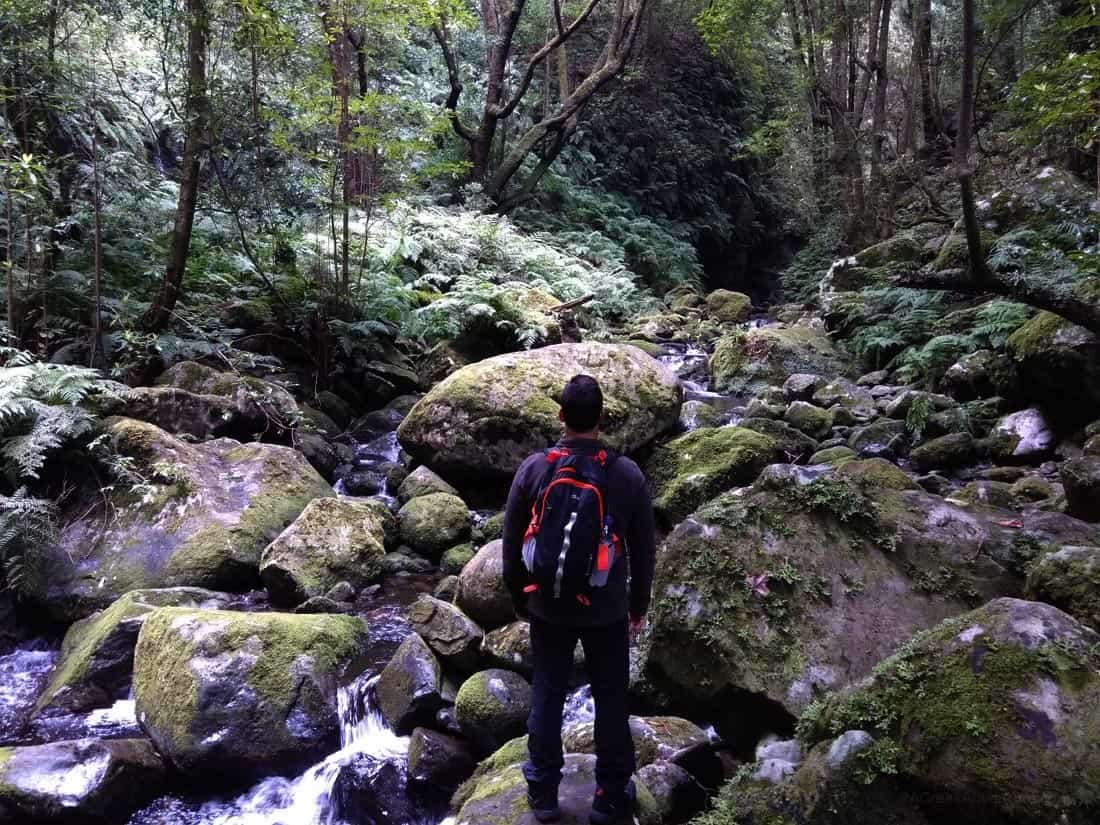 25 Fontes Levada (Rabaçal 25 Springs)
It took its name from the 25 different fountains and waterfalls you meet while walking along this path. You need around 4 hours to complete this route (11km).
This route is an awe-inspiring paradise!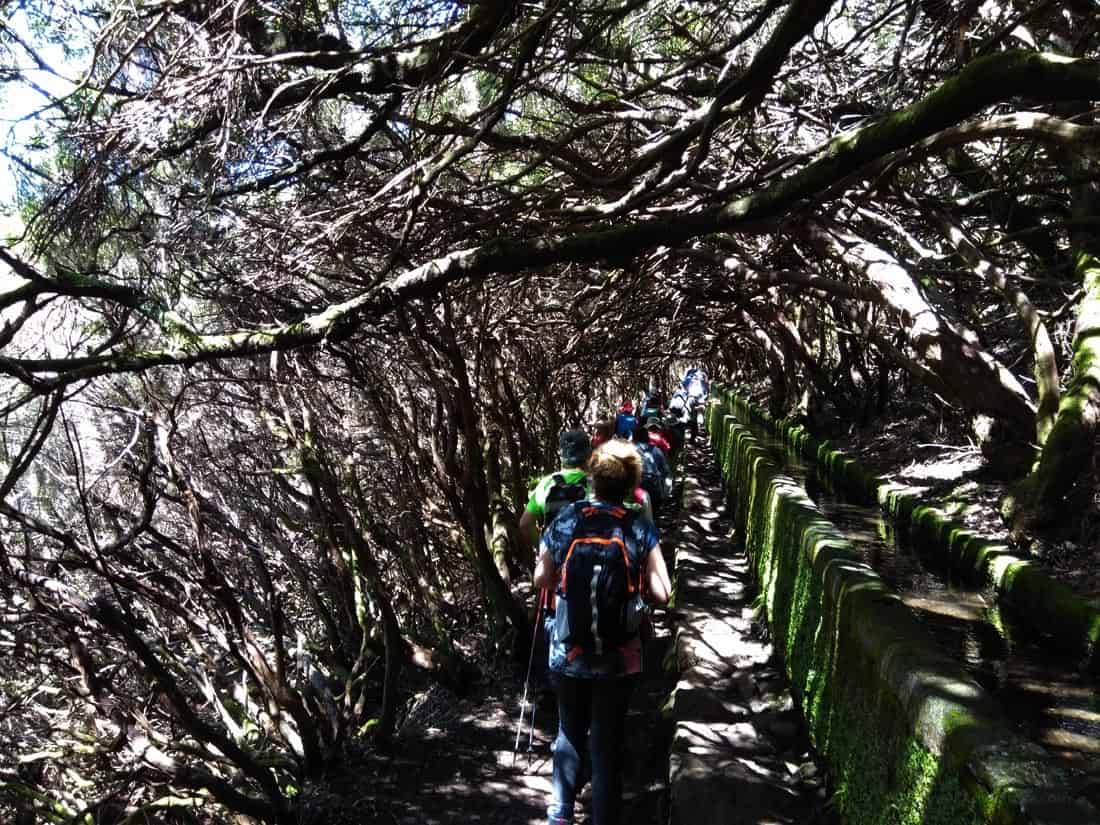 It is like walking through fairylands and singing waterfalls and fountains. This route brings you to 2 different places: The Risco waterfall and the Lagoon of 25 Springs.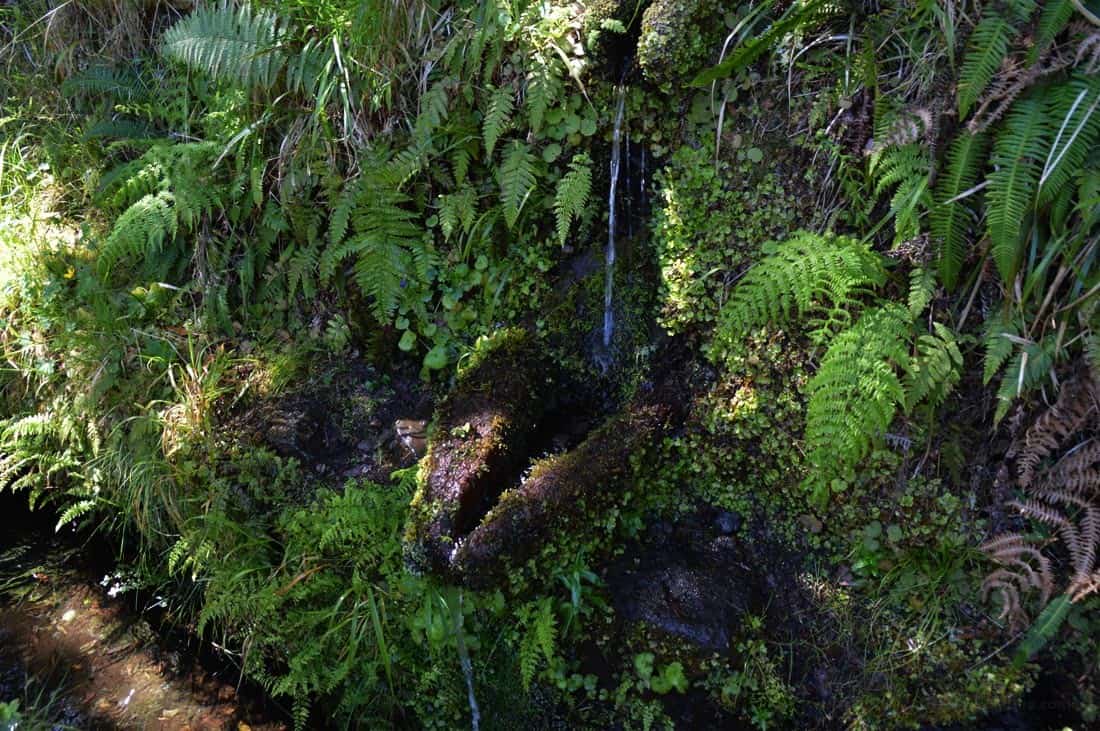 The flora along the path is mind-blowing.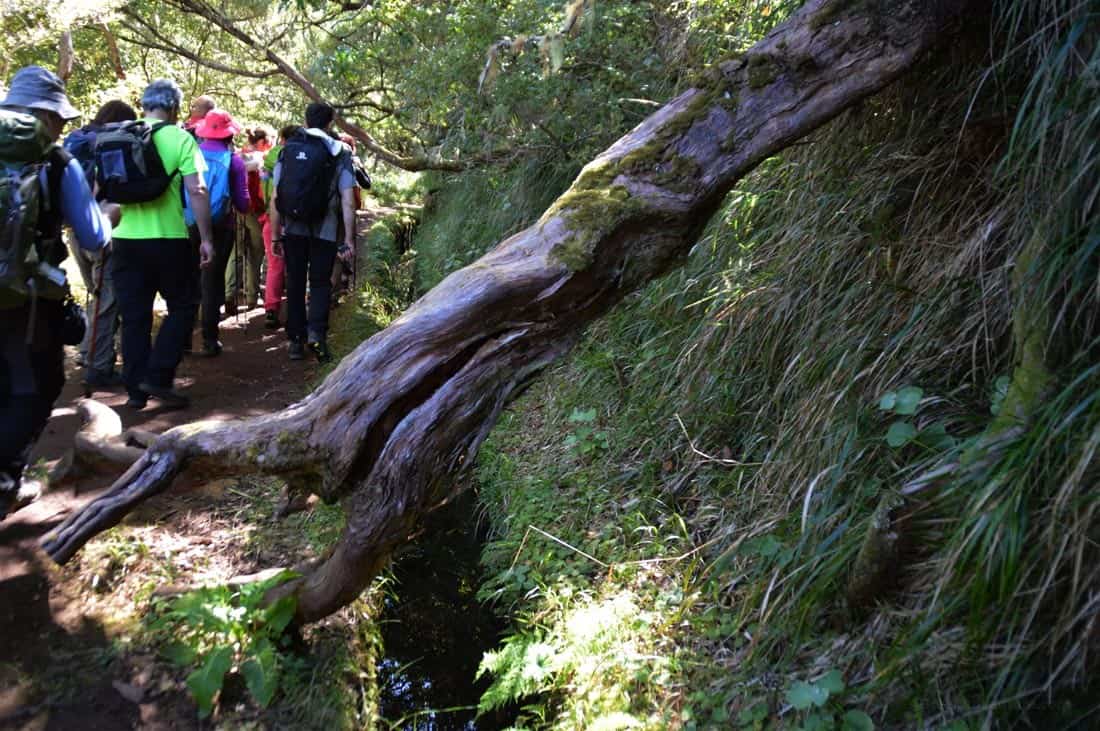 You end up with a magnificent waterfall in Risco.
Here is another video from nature during our walking.
In this video, you see us getting out of a long tunnel. Head-mounted flashlights were needed.
The View From Cabo Girao
Getting to Cabo Girao, was an extension visit after that Levada. It is a famous place due to its fantastic view and the 580mt high cliff. There is a platform with a glass floor from where you can feel vertigo.
The surrounding view is charming.
Here is how it is looking through the glass floor, 580mt high.
Levada do Caldeirão Verde – Levada of the Green Cauldron
This hiking takes place in one of the most remote areas of the island of Madeira in Queimadas. Again, you will spend around 4 to 5 hours (12km).
It is a mossy paradise tropical rain forest (the forest of Laurissilva).
You start in this area.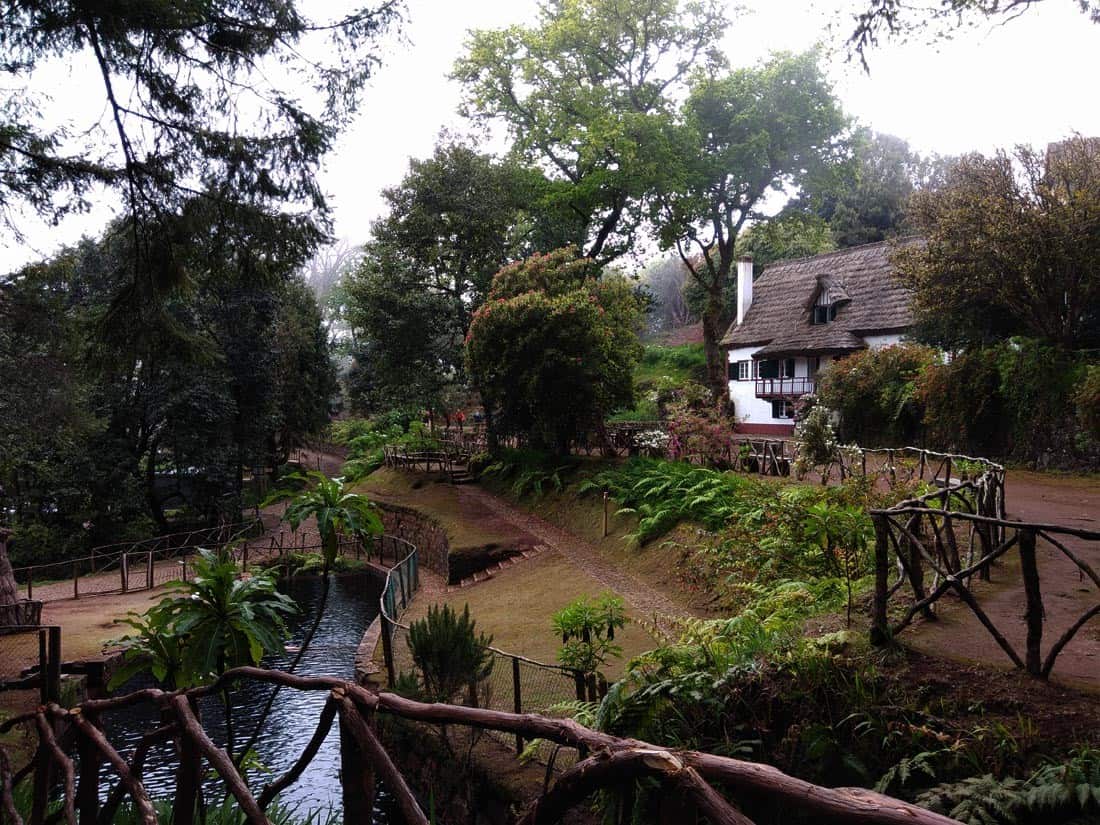 Along the route and next to Levada's, colors and environment are like this.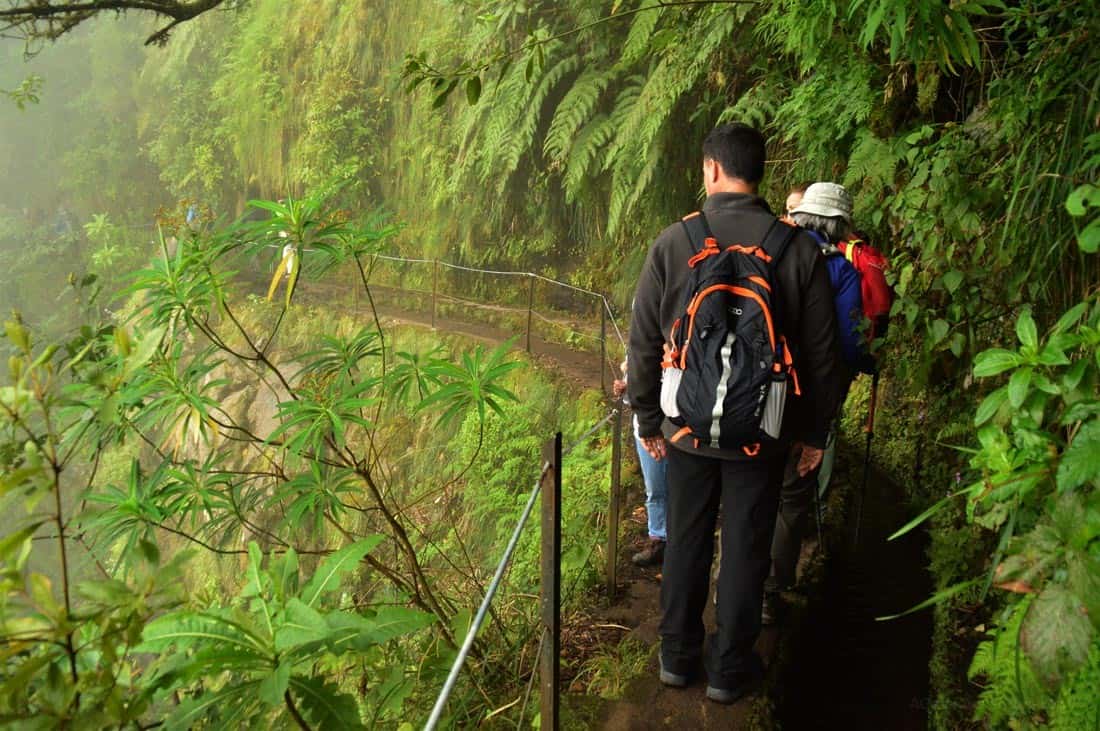 Beware! There are some tricky parts, but in all such, there are safety ropes. The route is stunning.
There were some short tunnels in this area, too (flashlight needed).
The endpoint is at the Caldeirão Verde's waterfall. That point is a 100mt waterfall.
Here is the lagoon under the waterfall.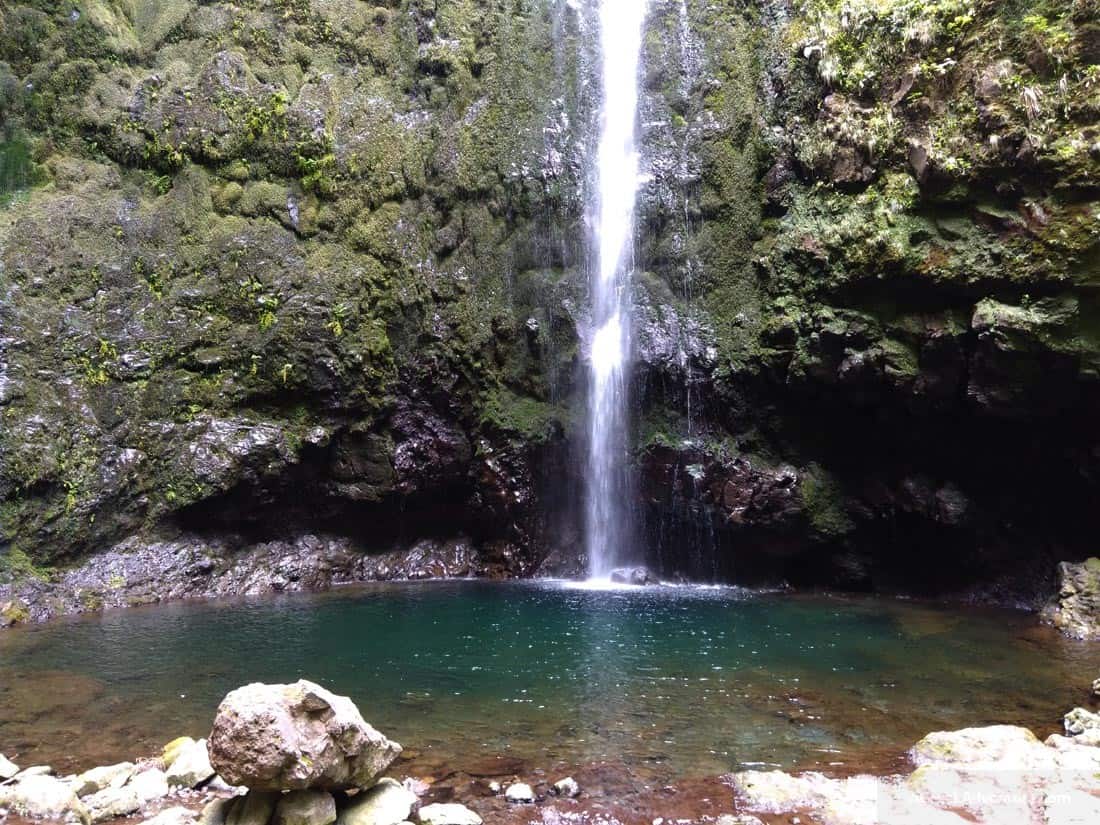 These Levadas in Madeira do create some fantastic experiences.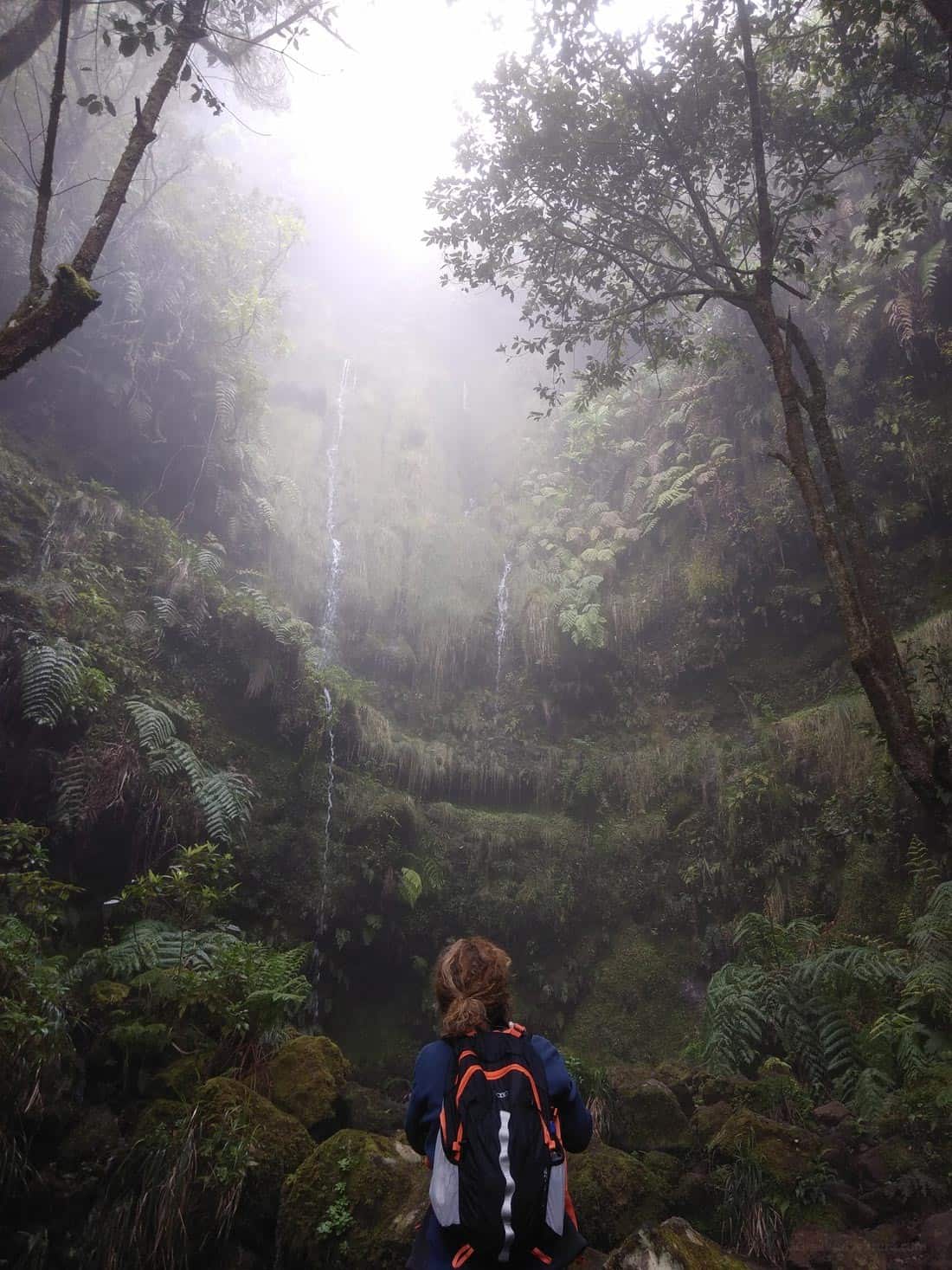 Hiking Tips for Levadas in Madeira
Well, enough for the facts. Let's see some pictures from our Levada's walking in Madeira. Before that, some tips to have in mind:
Wear sturdy trekking boots. Routes are next to the water, and all forests in Madeira are wet. It gets slippery, and it is better to wear waterproof ones, but any technical boot will do. Avoid hiking shoes.
In different locations, you will encounter mud. If you don't like it, bring gaiters. You will get a bit hot, though, while wearing them.
Have a pair of hiking poles. Most of the routes are not strenuous, but walking for long can get you tired.
Bring a head-mounted flashlight. There are many pitch-black tunnels along the Levanda pathways. They have no artificial lighting and their height changes as you walk.
Wear comfortable pants. Hiking leggings or a pair of hiking pants will do.
Don't get overdressed. There is lots of humidity. See this post on how to wear clothes during hiking.
Don't bring lots of water in your backpack. Levada water is perfect for drinking and refilling. The water in Madeira is potable.
Have a day backpack. Try to be as lightweight as possible. Humidity will make you hot.
Have a rain jacket. An easy to pack thin rain jacket is a necessity. In some routes, you go through the falling water, while in others, you can get close to waterfalls, and it's pouring nicely there.
Travel Tips for Madeira
Private Hiking Tours for Madeira Levadas
Some prefer to have a guide to show them around in a local destination. That is an excellent option if you don't want to drive back after 5-7 hours of walking in a forest. Beware that you need to pre-book if you need such a tour.
Use this link to pre-book the activities tours in Madeira that are strictly related to Levadas.
Madeira was proved to be a fantastic destination (more posts are coming).
Its flora and fauna left us dumbfounded. Madeira is such a vivid and rich in terms of natural beauty. Worth to spend a week there.
There are not many beaches, like in Mediterranean countries but the secrets are all in the mountains!
Enjoy!
Also read: Best Travel Pants For Long Flights (Reviews And Comparison)