Numerous times, we saw women wearing leggings for hiking.
Do casual hikers find comfort in this type of clothing?
How do they cope with multi-day hiking or weather ups and downs?
Are leggings for hiking better than hiking pants? What are the essential things that drive a purchase decision?
As hikers, we researched to find out what you need to know. Different factors influence such a decision, where style and comfort are additional key elements to consider.
But first, let's see the fundamental difference between leggings for hiking and hiking pants.
7 Best Hiking Leggings for Women
1. Columbia Midweight Baselayer Women's Tight

Good for cool conditions. Moisture-wicking, reinforced knees and back, and a thigh pocket with zipper. Good value for money, warm.
Some may don't like the ankles area as it seems a bit baggy, plus the knees and backside stand out.
2. Fjallraven Abisko Trekking Tights

Lots of extras: multiple pockets, reinforced knees, extra durable fabric, sturdy yet flexible.
Waterproof fabric patches at knee and bottom areas, but with different noticeable colors.
The latter can be an issue for some.
3. Arc'teryx Stride Tight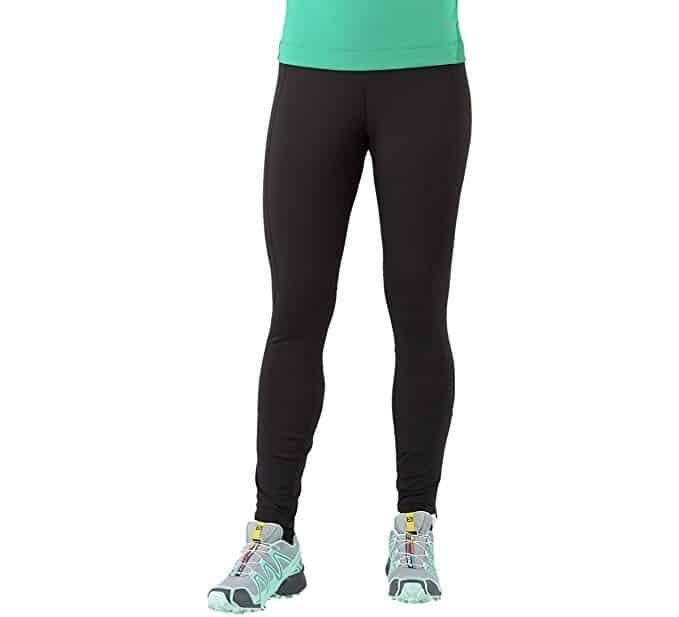 A hiking tight, looking more like a legging. It has a zipper opening at the ankles; good for extra coolness during summer hiking.
It also comes at a 3/4-length Stride Tight. Seams are nicely designed to produce a flattering fit. The waist has a drawstring, suitable for fit reasons, plus less exposure while bending over.
On the other hand, the very lightweight fabric is not the best option for wintertime.
4. Outdoor Research Radiant Hybrid Tights

Designed for mobility and breathability.
Warm, comfortable with midweight radiant fleece panels for cold weather. Lightweight and breathable fleece panels in the waist and inseam channel heat where it needs to get.
Avoid using it as thermal underwear (extreme heat will build up). Moisture-wicking and quick-drying with great stretch for all ranges of movement.
5. Adidas Originals Women's LOUNGEWEAR Trefoil Tights

Another great winter (strictly) pair of tights.
The tight fit wears close but is not restrictive and hugs the legs like a second skin.
They fit and feel great. Breathability and range of motion are equally excellent.
6. Core 10 Women's "Build Your Own" Yoga

Stretchy and breathable, and thick.
The back seam is flattering to your booty and is not see-through. Interestingly enough, they are "Oprah approved."
Their fit can be a bit more "spacey," so you may need to size down to find your best fit.
They come with a waistband pocket and CoolMax crotch gusset.
7. Eddie Bauer Women's Trail Tight Leggings

FreeDry moisture-wicking polyester/spandex, Polygiene® odor control technology, and FreeShade UPF 50+ sun protection. Stitching that won't slip or slide.
Pockets with zippers that don't chafe.
Leggings for Hiking or Hiking Pants?
Let's face it. Hiking pants are more durable (their materials) and will help you during different conditions on a trail.
Bushes, rocks, and thorns will be along your trail, and pants will protect you. Leggings are less durable; they tear apart easily and have no pockets.
Not that pockets are always an asset, since the more you put in your pockets, the more you make walking more difficult. That is why we use a backpack or chest-level holsters.
However, leggings for hiking (and tights) are elastic. That means way too easy to walk; it feels like almost wearing nothing.
When the weather gets cold, it is more comfortable to wear an additional pair of pants on top of them.
If the weather gets hot, you can easily roll them up, but you can do that with your pants (if they have the special binders).
If it rains, get prepared for longer drying times. Walking through locations with lots of insects can be an adventure while wearing leggings for hiking.
Finally, when you sweat a lot, it gets a bit sticky.
How to Buy Leggings for Hiking?
Most characteristics are similar between leggings for hiking or hiking tights and hiking pants.
They usually narrow down to Breathability, WaterProofing, Materials, and Weight. These factors are crucial for most of the hiking gear you carry.
Materials of Leggings for Hiking
Specific hiking materials will influence the weight of the best hiking leggings too. Weight (and materials) differ per season, hiking conditions, and terrain.
Leggings in hot weather: Choose lightweight fabrics to stay cool in.
Leggings in cold weather: For cold or snow, you need some softshell pants or tights. Some are made from wool, which can act as your base layer too. For upper body base layers for extreme cold, read this.
Materials that are Quick Dry: Best hiking leggings and pants are quick-dry type (and water-resistant), and this stands both for drying from rain and extensive sweating.
Your leggings must be able to cope with moisture. Wet leggings or pants become heavy and rub against your body, creating sore skin.
The Stretch Factor: Leggings and tights are stretchy by default. Otherwise, they are not leggings. They must be comfortably fit, with a gusseted crotch for the best fit.
Many hiking pants are a bit elastic while not being tights. Such are comfortable, especially when you need to do significant strides or climbs. A zipper pocket can become handy for storing small items.
We have a pair that are comfortable with any range of motion. A high waist pair of leggings for hiking will protect your mid-torso from getting cold. The best hiking leggings are form-fitting, following the lines of your body.
The Breathability of Leggings for Hiking
Sweat that stays between your skin and your leggings will lead to significant dips in temperature.
That is one of the worst things to allow to happen to yourself. Trapped moisture is not just a matter of comfort (or, better said, of discomfort).
In hot weather, it will make sores on your skin, while you will freeze in a cold one.
Make sure you choose materials that are very good at sweat-wicking moisture away from your skin and dry fast.
If weather conditions are somewhat in the middle, towards hot, then it is better to choose a pair of hiking pants instead of leggings for hiking.
The Water and Wind Resistance Factors
It will be tough to find waterproof pants since something that is waterproof won't have a good (or any) breathability level.
So, wear new waterproof rain pants set on top if you wear leggings. However, if the weather is mild to hot and rainy, that is tricky. The best solution is to wear a pair of tights or leggings and have a different pair of waterproof pants, a poncho, or/and gaiters.
In general, it is best to have and wear layers of clothes for your lower body, so you can easily add/remove what is needed as conditions change.
Never Wear Cotton Leggings for Hiking
Cotton is the most unsuitable material to wear in any hiking adventure. The reason is rather simple: Cotton absorbs body and external moisture.
When it rains or snows, you will get wet and stay wet. Then come hypothermia, pneumonia, and a big range of things that can kill you.
If you sweat a lot, it gets trapped in the cotton fibers. Then as you walk, it will become sticky, and less insulated, and rubbing against your body will create sores.
Finally, moisture in cotton is the perfect nest for cultivating bacteria that can cause infections and strong odors.
How To Take Care of your Hiking Leggings
The best hiking leggings are not cheap. Taking care of them will help you enjoy them for a long. Here are two basic rules for that.
Storage and cleaning: Coming back from your hiking trip? Then don't toss one of the best hiking leggings in your wash basket. It is better to clean and wash them immediately if they are still sweaty better to hang them out to dry.
After that, lay them somewhere flat. Sweat and bacteria can break down the materials as they infiltrate the fabrics.
Washing: Use cold water with mild detergent. Do not use for any reason, bleach and fabric softeners.
These will wear down the materials and can deteriorate colors. This soap here is considered a special one for cleaning such (and similar) types of clothing and is at an excellent price too.
Drying: Do not get them through your dryer. Extreme heat from the dryer can misshape and over-stretch the fabric.
As said, good the best hiking leggings are from quick-dry materials, so hang them up or lay them down to dry.
If you stay in a hotel and your room has heated towel racks, don't hang them there.
Make sure to check our hiking & outdoors posts from here. A considerable range of best gifts for hikers can be found here. For hiking gloves tips and reviews, click here.
The best Hiking Leggings and tights for women are a step further from comfortable yoga pants. Besides being lightweight, easy to pack, and clean, they are preferred by most women who are active in hiking.
Their variations are suitable for more activities like running, surfing and other active sports.
If you liked this list of the best hiking leggings, consider checking out these articles below —