Traveling to Italy holds allure for an endless number of reasons: the wine! The food! The art!
But what many adventurers and outdoor enthusiasts don't know is that Italy's northeast region is home to eighteen dramatic, towering peaks. And according to the UNESCO World Heritage site, they feature "some of the most beautiful mountain landscapes anywhere."
The Dolomites are not just about the heights and mountains. The whole area is so well organized, clean and serene. That beauty and balance contribute to calming your mind and soul and make you more mindful of your surroundings and what happens inside you. It is a very relaxing experience.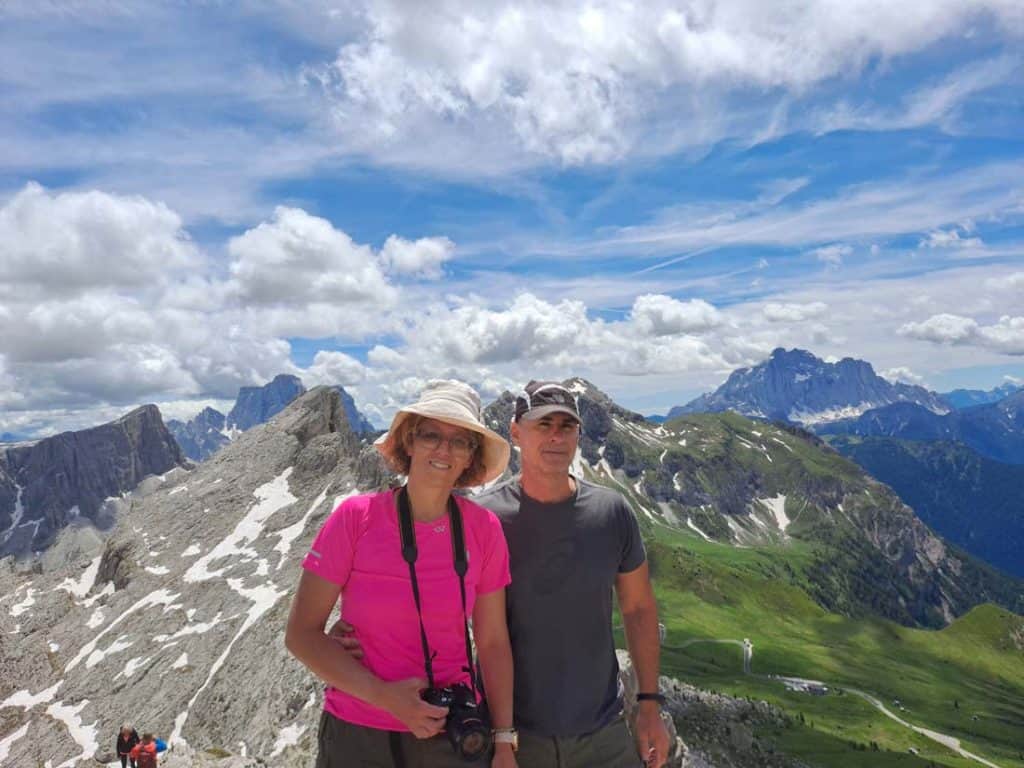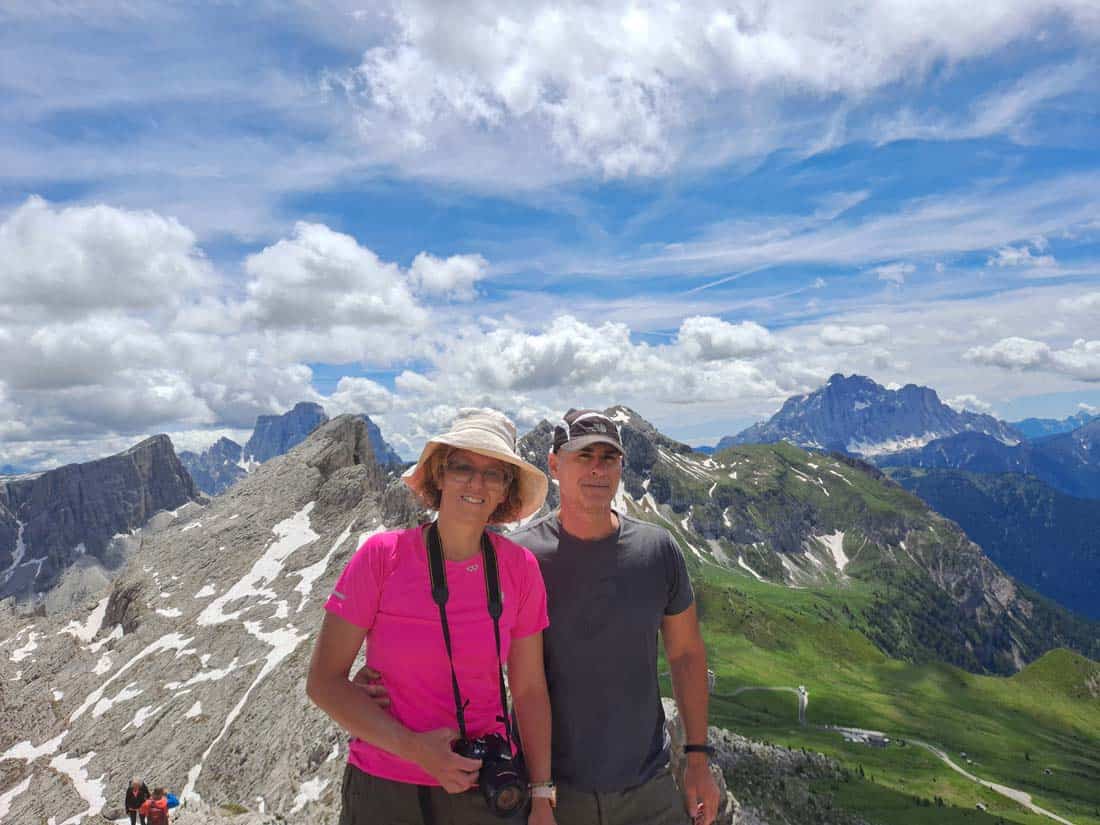 If spending your next vacation exploring the Alps sounds like a dream, you'll probably want to begin researching the best Dolomites hiking trips. For many hikers, it can be hard to narrow down which choices will give you the most bang for your buck. 
Are you interested in learning more about planning a hiking trip in the Dolomites? Read on for our top picks and also read about the best mountain towns to stay!
Best Dolomites Hiking Trips
These are day hikes that you can tackle without technical climbing gear or overnight equipment. Plan ahead and book accommodations close to the trailheads to beat the crowds and get the most light for those photographs!
1. Tre Cime de Lavaredo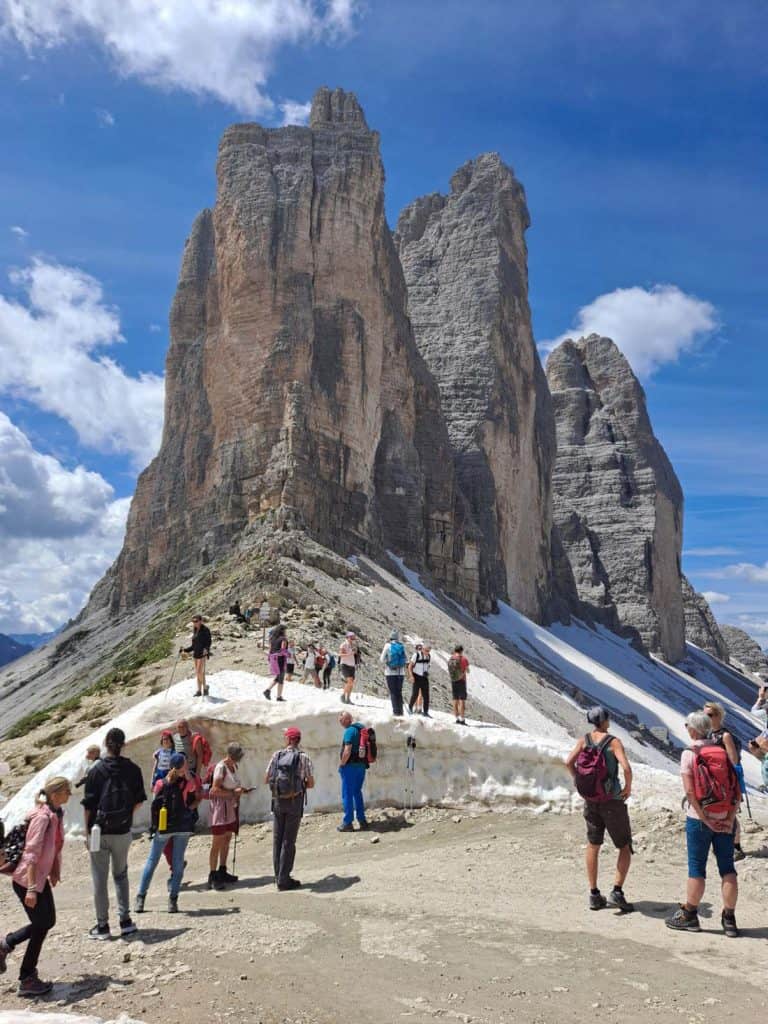 Distance: 6.2 miles (or 10 kilometers)
Elevation: 1,646 feet (or 340 meters)
Difficulty: easy to moderate
If you search for the best Dolomites hiking trips online, inevitably, the first one to come is the Tre Cime loop. This popular trail takes you by the three peaks that are some of the most famous in the Alps. The loop trail means you get to benefit from the stunning vistas without having to turn around. 
In addition, you'll find rifugio dotted along the trail. These huts are a great place to stop for a beer and some refreshments to help you refuel for the hike. Make sure you bring some cash with you!
Due to this route's popularity, it's a good idea to get there early to avoid the crowds and find a parking spot at the trailhead.
2. Lago Di Braies Loop
Distance: 2.5 miles (or 4 kilometers)
Difficulty: easy
The still waters of the Lago Di Braies have become some of the most popular and most photographed in the Dolomites. And there's a good reason for this! The emerald waters reflect the surrounded peaks, creating a tranquil and majestic scene.
Because it's so popular, you need to arrive early for parking. After snapping some photos on the dock, it's a simple hike around the lake. You'll get views that other tourists won't!
Once you return to the parking lot, you can rent a rowboat or go swimming during the warmer summer months. It's also a close drive to the Tre Cime National Park so that you can combine this adventure with others nearby.
In addition, the valley around the Lago Di Braies is dotted with scenic huts in flower-filled meadows. These alpine vistas are a great place to spend a few low-key hours.
3. Rifugio Biella Circuit
Distance: 10.25 miles (or 16.5 kilometers)
Elevation: 3117 feet (or 950 meters)
Difficulty: hard
If you're looking to challenge yourself with a more strenuous hike, you can also take on the Rifugio Biella (also called the Seekofel Hut) circuit. This also leaves from the scenic Lago Di Braies Dolomites lake.
This hike is definitely for hikers who are more experienced, have a good fitness level, and don't mind heights. The climb up is heavy on switchbacks, scree, and rock, but the views and experience are unforgettable.
4. Lago Di Sorapis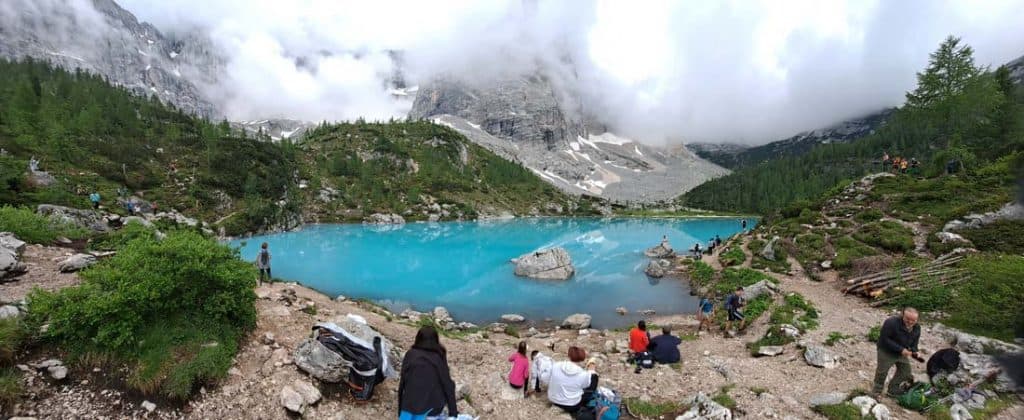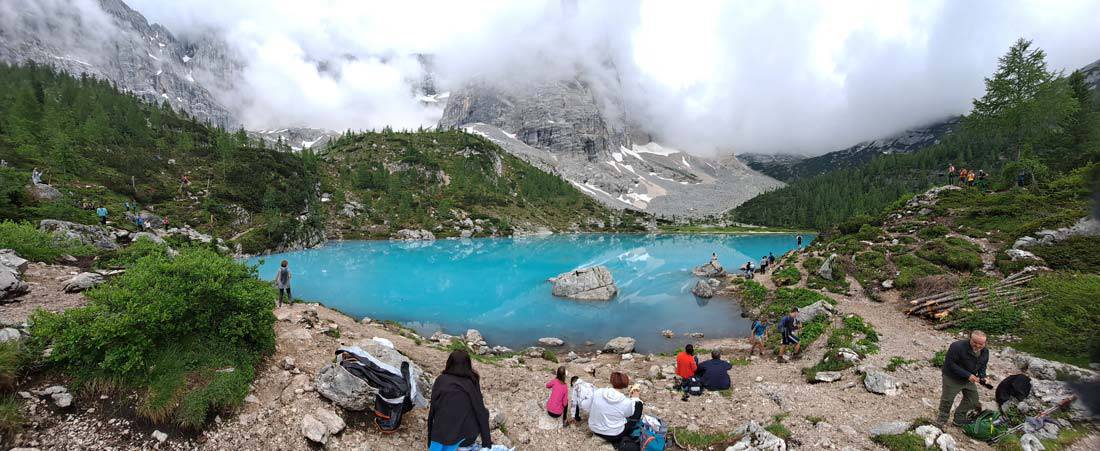 Distance: 8.7 miles (14 kilometers)
Elevation: 1,509 feet (460 meters)
Difficulty: moderate
A moderate hike with lots of variation, the Lago Di Sorapis hike is excellent for those of you who are comfortable with some exposure and heights. For some, Via Ferrata equipment may be helpful.
The end goal of this hike is a stunning turquoise lake up in the higher elevations. While not an easy hike, the result is one of the most beautiful lakes on your Dolomites hiking trip.
The route is an out and back, meaning that you'll backtrack over what you already hiked to reach the lake. The trail starts at Passo Tre Croci and begins with an easy trek through the forest. This is followed by exposed areas with ladders and metal cables, which are not for the faint of heart.
Start early for this hike and check the weather. It's best not to attempt this hike when it's wet or inclement weather is expected.
5. Val Di Funes
Distance: 4.4 miles (7 kilometers)
Elevation: 820 feet (250 meters)
Difficulty: easy
If you try to bring to mind the perfect scene from the Dolomites, the Val Di Funes valley is probably what comes to mind. This idyllic valley features rolling hills, quaint churches, and towering peaks in an unforgettable scene.
The hike leaves from the town of Saint Maddelena. You can head up towards the Panoramastrasse as high as you'd like to take in the breathtaking views.
The Adolf Munkel trail is another, more challenging option. The circuit will take you approximately three hours to travel the 5.7 miles with over 1,200 feet of elevation gain.
Along the way, you'll see flowers and plant life, as well as the towering Geisler/Odle peaks.
6. Sassolungo
Distance: 11 miles (17.6 kilometers)
Elevation: 3,281 feet (1,000 meters)
Difficulty: moderate-difficult
This Dolomites hiking route, also known as Langkofel, straddles the alpine meadows and exposed rock above the treeline. Dramatically exposed high up on the mountainside is the memorable rifugios, including Rifugio Vicenza.
Many hikers leave from the Passo Sella car park. You get to take in the striking scene of the Puez-Odle massif, and incredible views as the trails wind up the mountain.
You can either complete the entire loop in a day or stay at a rifugio overnight. Either way, it's a hike you'll never forget.
7. Piz Boè
Distance: 5 miles (8 kilometers) or more if you take the alternative
Elevation: 10,340 feet (3,152 meters)
Difficulty: moderate-difficult
Both hiking and mountain climbing in the Dolomites follow a strict season, running from June 15 through September 15, depending on snow. But, even during the warm summer months, you should plan for harsh conditions in these Italian mountains.
During your hike, you'll cover four kilometers or about 2.5 miles each way, with an average walking time of two hours. You'll gain 370 meters in elevation along the route, before summiting at 3,152 meters.
You should pack for multiple climates for hiking Piz Boe.
8.
Cinque Torri
Distance: 1.2 miles (2km)
Elevation: 7,746 ft (2,361 m)
Difficulty: easy
Consider Cinque Torri, one of the most breathtaking vantage points to view the Italian Dolomites, which UNESCO World Heritage Center describes as "one of the most beautiful mountain landscapes anywhere."
The Cinque Torri loop isn't especially strenuous, making it suitable for nearly anybody wanting to take in the iconic scenery. It was also the training ground of the "Scoiattoli Cortina" Group, a legendary group of mountaineers founded in 1939.
The loop offers easy access to some of the most gorgeous views in Europe, with many of its legendary peaks available via easy hikes.
9. Cime di Lavaredo
Distance: 6.2 miles for the three peaks (10km)
Elevation: 9206ft (2806m)
Difficulty: moderate-difficult
A classic hike that takes in some of the most striking scenery to be found anywhere in the Dolomites, a trip around Tre Cime di Laverdo, Italy, isn't to be missed.
For most people, the walk will take around three to four hours, including a stop for lunch. That said, this is a hike to be savored.
It passes close to the Tre Cime – walkers are very conscious of the size and grandeur of the peaks as they pass through this section of the walk.
Other Dolomites Hiking Trips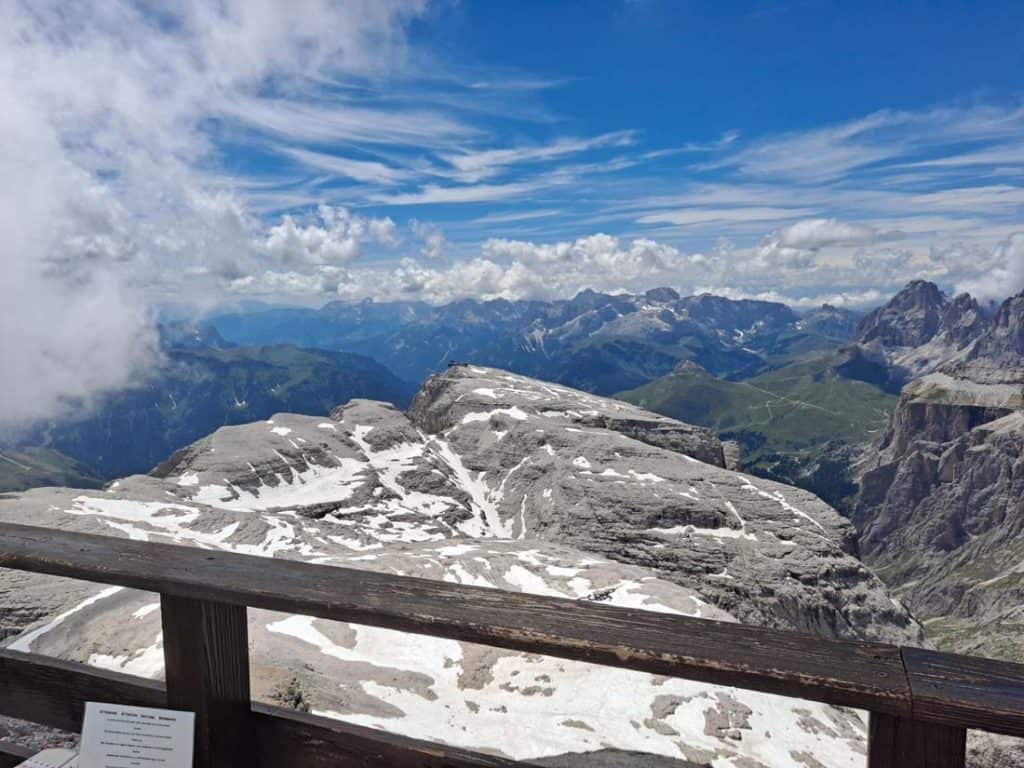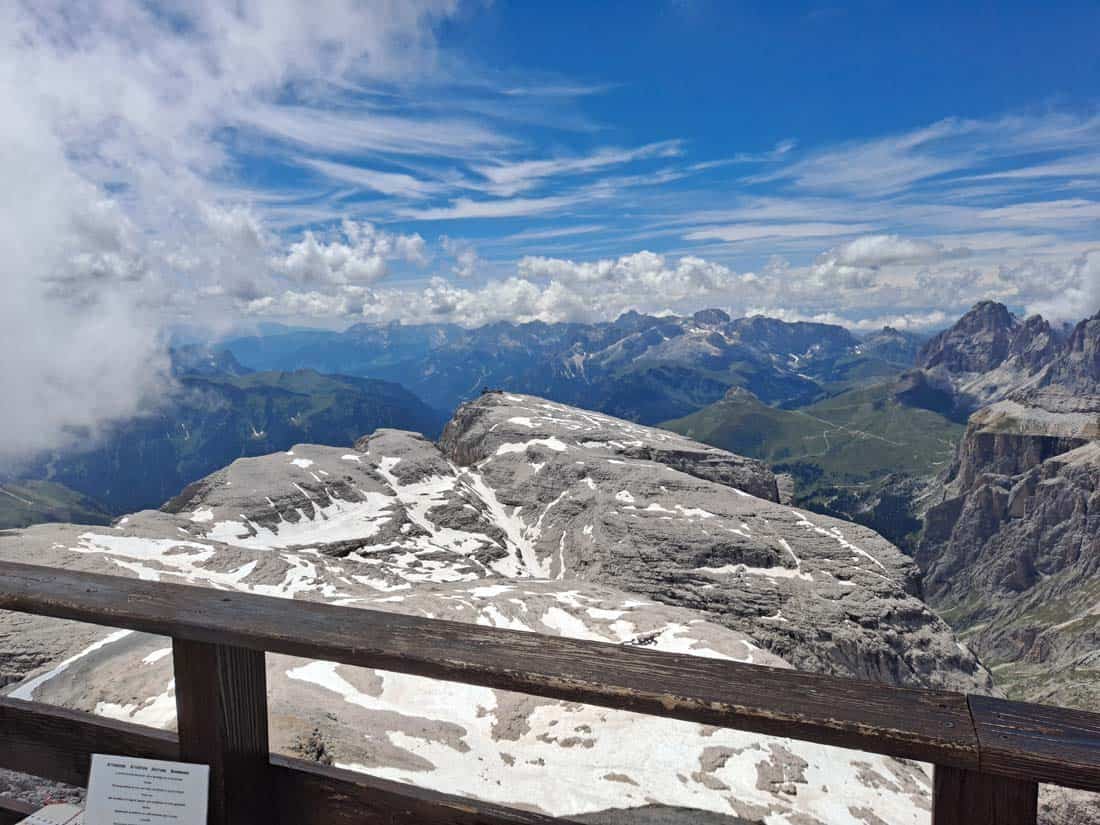 The above are not the only places to hike in the Dolomites. The whole area is huge.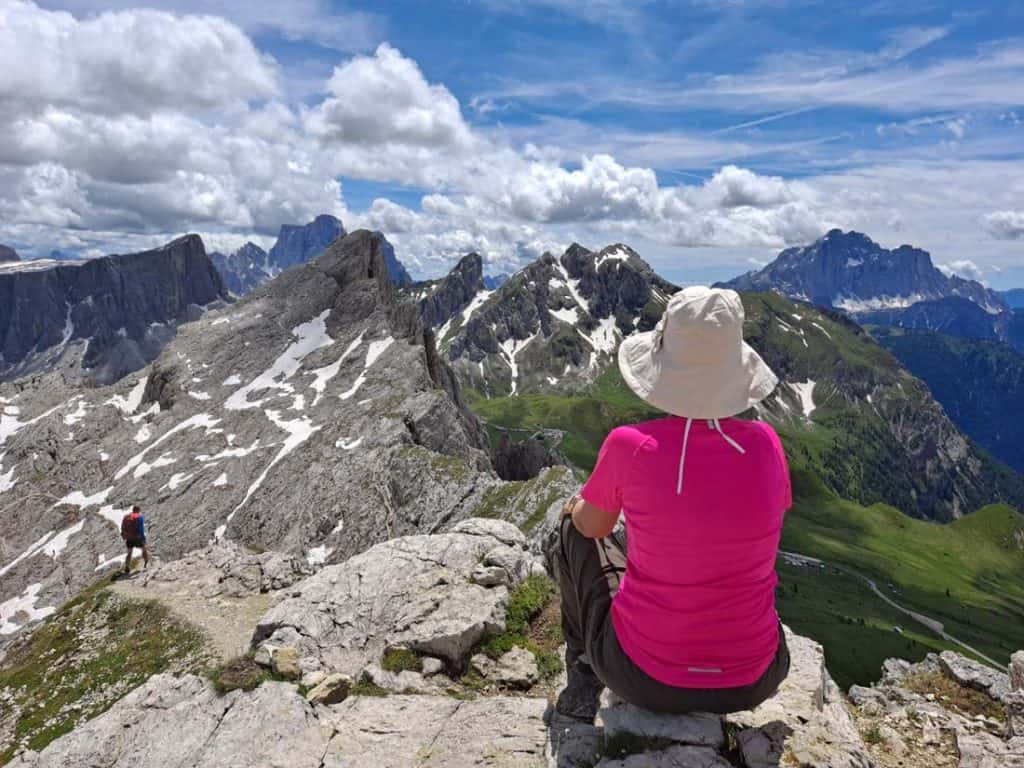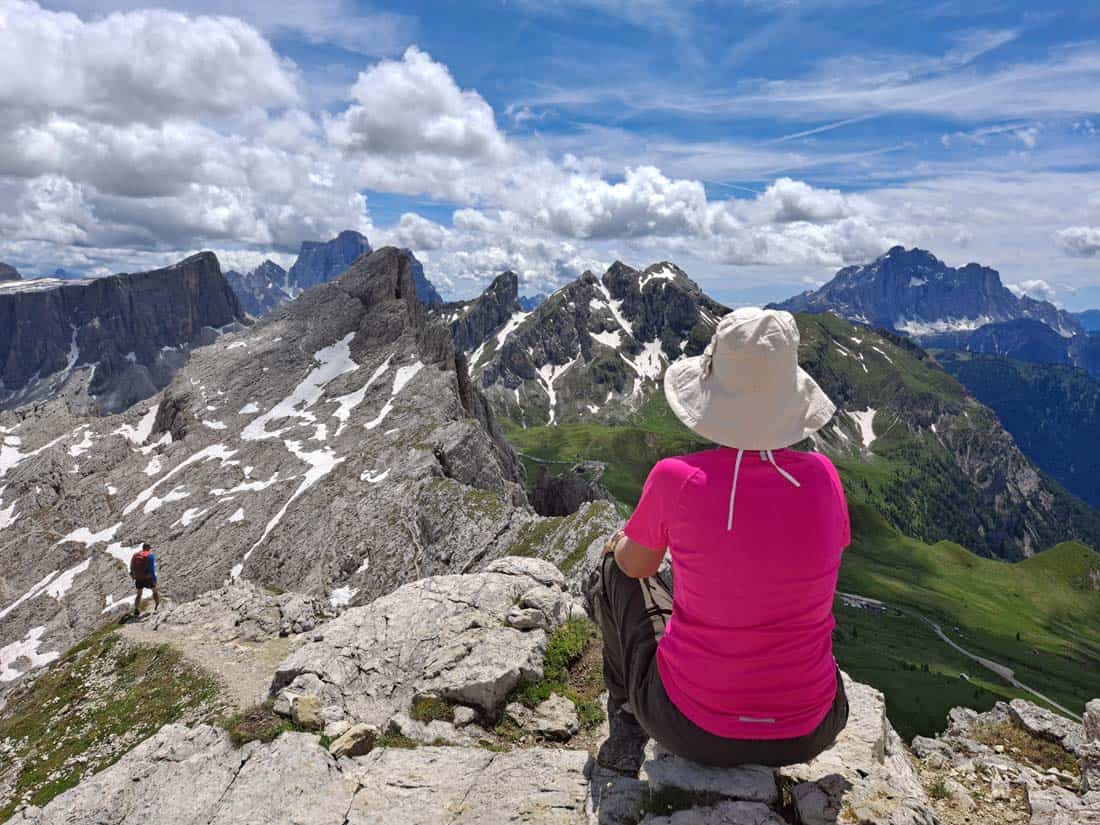 More locations for hiking in the Dolomites are:
Val Gardena
Marmolada (to climb the glacier)
Misurina Lake
How to Reach the Dolomites
We have a detailed post on how to reach the Dolomites from Venice (if you land there first).
Reaching the Dolomites can be done from any major European city. The closest airports include Innsbruck, Venice, Milan, and Munich. Which you fly into will depend on the cost of flights and where you want to get to within the Dolomites system.
Many visitors launch from Innsbruck in Austria or Venice. You can take a train or bus to Cortina d'Ampezzo, Dobbiaco, or another city in the region to begin your trip.
If you prefer to travel by train, the main railway line is Venezia S. Lucia to Calalzo di Cadore. Then you can transfer to Cortina by a connected bus service. Use this train service website to book ahead.
Public Transportation
If you're relying on public transportation to get around, you may need to book in advance. This is especially true for more popular destinations where demand may be high.
Don't forget that some public transportation doesn't run year-round. Depending on what time of year you're visiting, you may need to plan for alternative transportation.
Yet, keep in mind that the whole Dolomites region is extremely well organized and public transportation gets you everywhere, along with lots of cable cars.
You can use this service to book a bus ticket, anywhere in Italy (or Europe) towards the Dolomites.
Car Rental
By far, the most popular option is to rent a car and drive. This not only provides you the freedom to go where you'd like but also allows for spontaneity and last-minute changes to your itinerary!
Decide to skip a more popular destination in favor of something off the beaten path? No problem! Change your mind about that summit attempt in exchange for a more leisurely pace? No big deal.
However, you will need to plan on paying for parking in most locations. Major freeways are often toll roads in Italy, although they accept credit cards as a payment option.
Book a Tour
When planning a hiking trip in the Dolomites, many visitors will book tours (use the link to find many tours). While this may help you get to some key destinations, remember that your itinerary and times will be fixed and far less flexible.
What to Bring When Hiking in the Dolomites
Dolomites hiking is much like any other hiking trip. You need to plan ahead and bring the necessary and proper gear to keep you safe while on the trail. There is some seriously cool gear out there that you can buy before your trip!
The important items will always depend on the season, weather, and routes you'll be hiking in the Dolomites. But the ten essentials for any trek include:
Good trekking footwear
Light hiking clothing, but also a fleece or light jacket (it gets chilly at the tops)
Dolomites hiking map, despite the fact that all routes are fantastically marked
A GPS device or a smart sports watch that has all that you need to track and navigate (I have the same)
Enough water (depends on your needs)
Snacks for the routes (though there are tons of refuges in all locations)
Rain gear
Signal device (such as a whistle or mirror)
Sun protection (a hiking hat and sunscreen cream)
In addition, you'll want to make sure you bring your passport, money (card and cash, just in case), and a camera of some sort. While many Dolomites hiking trails have rifugios where you can use a restroom, eat at a restaurant, or even enjoy a beer, you never know when you could get turned around and lost. Also, check any Covid-related documents you may need to travel from and to Italy.
Plan Your Trip!
After you've spent your trip on as many trails as possible, don't forget to build in time to recover. Hiking in the Dolomites is an unforgettable experience, and you want to return home refreshed, not beat up.
But regardless of how many miles you hike, views you photograph, or rifugios you stop in, your trip is one of a lifetime. The best Dolomites hiking trips are easy to be found!
If you're ready to book your flights, don't forget to check out our other posts on our blog. We have everything you need to make your European trip a reality.