Do you want to go vegan but don't know where to start? You might be surprised that the best vegan hiking boots are not only stylish but also specifically designed for your adventures.
Hiking boots are one of the essential pieces of gear in any backpack. They have to be durable, waterproof, and comfortable for hours on end. This is why choosing the right pair can feel like such a daunting task. The last thing you want to do is get halfway through your hike and realize that you bought the wrong shoes!
Do you want to find the best vegan hiking boots?
We're here to help! First, you'll love our selection of vegan hiking boots. Then, whether you're looking for a new pair or need some advice, we've got you covered. Our goal is to make your research as easy and enjoyable as possible.
As summer time is approaching fast, you may need to read this post for summer hiking.
What to Look for in a Good Pair of Vegan Hiking Boots?
First of all don't look for leather parts, otherwise what vegan boots they would be, right? The same stands for suede, nubuck.
The glue plays another role in vegan hiking boots. Make sure it is not made from animals.
Look for materials like synthetic (i.e., polyester, synthetic mesh, materials, breathable mesh, etc.) or nylon, microfiber, thermoplastic, urethane. You can even get vegan boots made from synthetic leather.
These data are on the packaging or -when you shop online- at the "more info" or "Characteristics" information of the product.
A tip to have in mind is that when you read other labels like "fair-trade" or "organic", that doesn't "translate" to vegan only.
Make sure you know for what kind of weather conditions you want them. Depending on the case they should be more or less breathable and more or less waterproof.
Why Should you Always Try on your Boots Before Purchasing Them?
That is a must when you shop in a physical store. Not all feet are made equal. Your left one can be different from your right. You must wear both and walk inside the store, and walk up a few stairs. Wear them with your hiking socks and see if you feel uncomfortable anywhere on your foot.
Since there is no leather involved, the vegan hiking boots are not expected to loosen up. If you count on that, then don't.
High Ankle Vegan Boots or Narrow Ankle?
That depends on the terrain you plan to hike. High ankle boots provide more protection when walking on difficult terrains that are either slippery or with lots of rocks and pebbles. Such terrains change how your feet adjust to the ground.
You don't want a sprained ankle when you walk on a mountain.
As with any boots, vegan boots also come with options for regular or wide width. However, as said, not all feet are the same by nature.
How to Break in your New Vegan Hiking Boots?
After buying your vegan boots (or any), walk them a couple of times in a short hiking route, with some inclination. Please don't wear them directly on your first long hiking.
Vegan hiking boots are made from synthetic materials or similar to such. As they won't loosen up, you definitely need to "work" them a bit, so they are not entirely stiff.
Which are the Best Brands of Vegan Hiking Boots?
Popular brands for vegan boots are the same brands that also make non-vegan hiking boots. Such are La Sportiva, Merrell, Xero, XPETI, Inov-8, Arc'teryx, Lowa, Scarpa, Salewa, Mammut, Salomon.
A list of the Top 6 Vegan Hiking Boots to Buy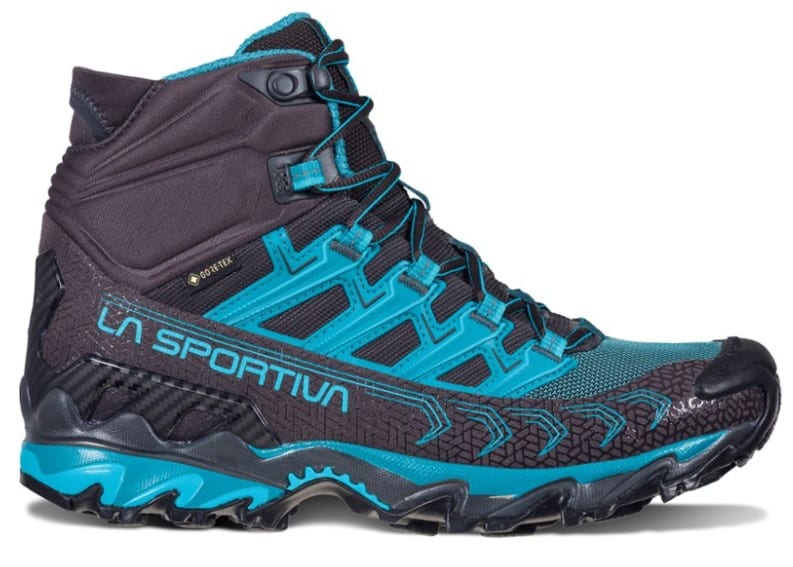 La Sportiva Ultra Raptor II Mid GTX Vegan Hiking Boots
Fast and light movement on rough, wet trails with GORE-TEX® extended comfort waterproof/breathable linings. Nylon molded flex TPU transfer shank and FriXion XF 2.0 rubber.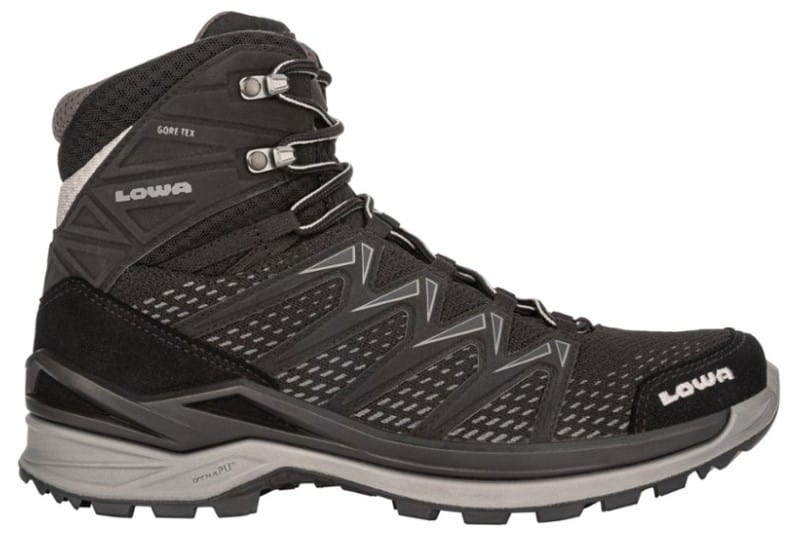 Lowa Innox Pro GTX Mid Vegan Boots
Ideal for fastpacking or anytime you want to go fast and light. GORE-TEX waterproof and breathable membrane with Multi Trac rubber outsole and MONOWRAP® design for stability and support.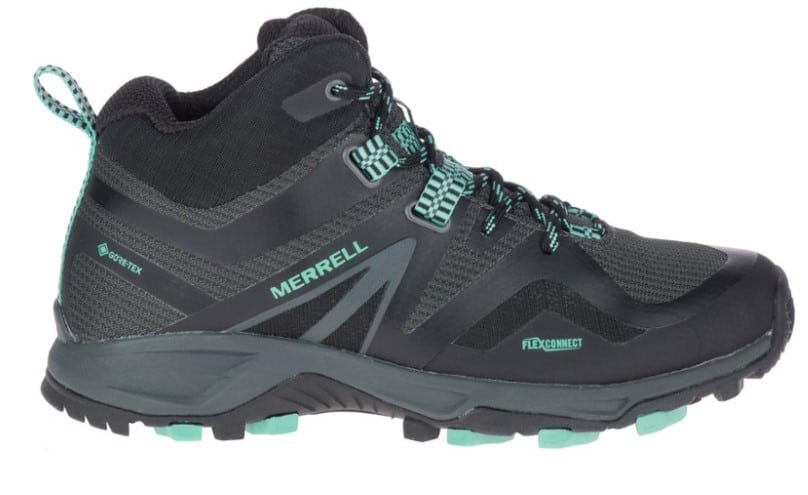 Merrell MQM Flex 2 Mid GORE-TEX Vegan Boots
GORE-TEX with waterproof and breathable membrane. Waterproof, tear-resistant mesh uppers fend off wet weather; thermoplastic polyurethane toe caps protect your feet from rocks and roots. Kinetic Fit™ Base removable contoured insoles provide flexible support.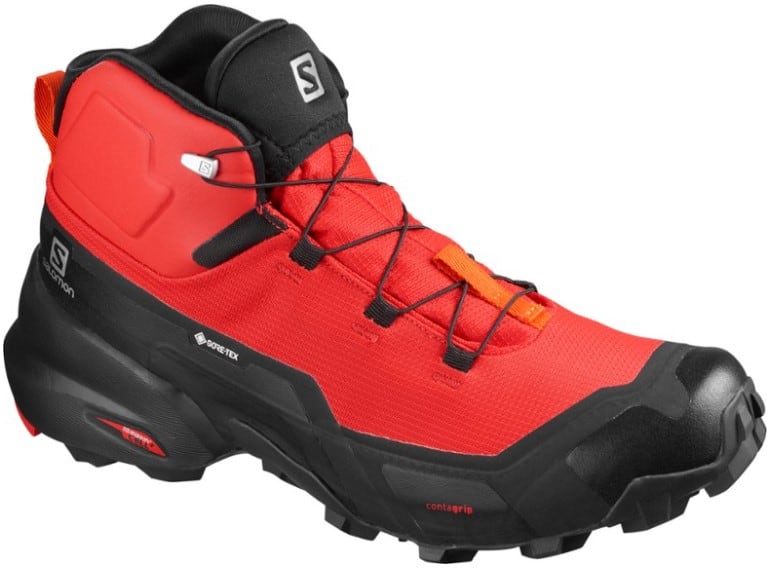 Salomon Cross Hike Mid GTX Vegan Boots
Hiking boots sport with seamless uppers and waterproof membranes, waterproofed with
GORE-TEX breathable membrane. Mid-height design that supports and cushions your ankles with Contagrip® rubber outsoles.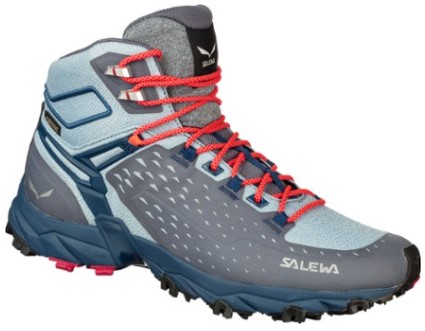 Salewa Alpenrose Ultra Mid GTX Vegan Boots
Confident grip and dry, supportive comfort in the waterproof and breathable. It comes with Michelin Ultra Train rubber compound outsole. A cushioning OrthoLite® footbeds wick away moisture, helping to keep your feet cool.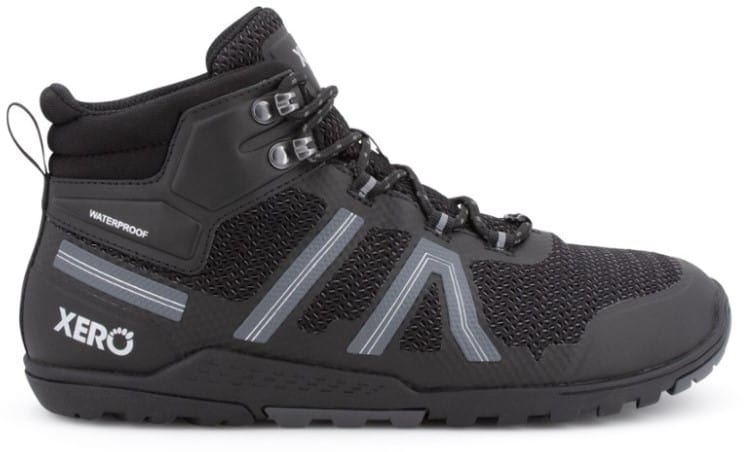 Xero Shoes Xcursion Fusion WP Vegan Boots
Synthetic mesh and synthetic textile with welded TPU overlay. Excellent grip and traction designed into dual-chevron tread pattern. Reinforced toe caps protect your toes from roots and rocks on the trail.
FAQs on Vegan Hiking Boots
Do all Brands Offer Free Shipping and Returns on their Products?
Most brands do, but you need to check their specific terms for that. On the other hand you have many more benefits with such options (even replacements on-the-road when you buy from stores like Rei Co-op).
What is a Good Price Range for Vegan Hiking Boots?
Excluding special seasonal offers for vegan hiking boots, prices range from $250 to $130. The tech part of the boots affects the price (ie. GoreTex, etc).
What are the Pros and Cons of Buying Vegan Hiking Boots Online vs Offline?
The only think that can prevent someone from buying online is the fact that you can't test the boots on how they fit on your own feet.
Why it's Important to have Good Quality Gear when you're out in Nature
There is some gear that if it is cheap in terms of materials and construction, it can mean that your life can be in danger. That is curcial for boots. Your hiking boots is not something that you need to save money. In fact, if you hike a lot you need good gear for all things that affect your safety and well-being along your routes.
Conclusion
For many, vegan hiking boots may be a trend or not. After all, leather is not used on these boots but lots of rubber, nylon, plastic and urethane is used. These are mostly petroleum based byproducts.
On the one hand, you contribute to saving more animals; on the other hand, you contribute to more plastic or related to petroleum products.
It is a tricky part to answer, isn't it? For some it is crystal clear to choose one direction over the other.
Have fun and be safe when in outdoors. Nature will show you the way.