Do you want to go vegan but don't know where to start? You might be surprised that the best vegan hiking boots for men and women are not only stylish but also specifically designed for your adventures.
Hiking boots are one of the essential pieces of gear in any backpack. They have to be durable, waterproof, and comfortable for hours on end. This is why choosing the right pair can feel like such a daunting task. The last thing you want to do is get halfway through your hike and realize that you bought the wrong shoes!
Do you want to find the best vegan boots?
We're here to help! First, you'll love our selection of vegan hiking boots. Then, whether you're looking for a new pair or need some advice, we've got you covered. Our goal is to make your research as easy and enjoyable as possible.
As summertime is approaching fast, you may need to read this post for summer hiking.
How to Choose Vegan Hiking Boots?
First of all, don't look for leather parts, otherwise what vegan boots they would be, right? The same stands for suede, nubuck. This sounds too obvious of course but if you are going for pure vegan boots then double check as some boots makers may use a combination of leather and synthetic.
The glue plays another role in vegan hiking boots. Make sure it is not made from animals.
Look for materials like synthetic (i.e., polyester, synthetic mesh, materials, breathable mesh, etc.) or nylon, microfiber, thermoplastic, urethane. You can even get vegan boots made from synthetic leather.
These data are on the packaging or -when you shop online- at the "more info" or "Characteristics" information of the product.
A tip to have in mind is that when you read other labels like "fair-trade" or "organic", that doesn't "translate" to vegan only.
Make sure you know for what kind of weather conditions you want them. Depending on the case they should be more or less breathable and more or less waterproof.
What Else Makes a Boot as Vegan?
Check liners and shoelaces. It is highly uncommon to find leather shoelaces in any hiking boot but you never know. Liners and insoles on the other hand should also be not from animals, i.e. liners made from wool.
Also check if there are details made from gelatin products, animal-derived dyes, or fish-laced glues.
Why Buy Vegan Boots?
If you adopt the vegan way of living then buying vegan-only products is the spontaneous choice for you, right? Boots made for vegans do not mean that they are environment friendly. They are made from synthetics, rubber, and other petroleum by-products.
Their difference is that they are not made from leather or other animal-based ingredients and as such, they do not add to how humanity treats animals. In that way, you contribute to a mentality shift, that keeps increasing in the last years.
Which are the Best Brands of Vegan Boots?
Popular brands for vegan boots are the same brands that also make non-vegan hiking boots. Such are La Sportiva, Merrell, Xero, XPETI, Inov-8, Arc'teryx, Lowa, Scarpa, Salewa, Mammut, Salomon.
Top 5 Vegan Hiking Boots for Men and Women
These vegan boots are top choices for both genders. Check their information and explore all their features and availability.
1. La Sportiva Ultra Raptor II Mid GTX Vegan Hiking Boots for Women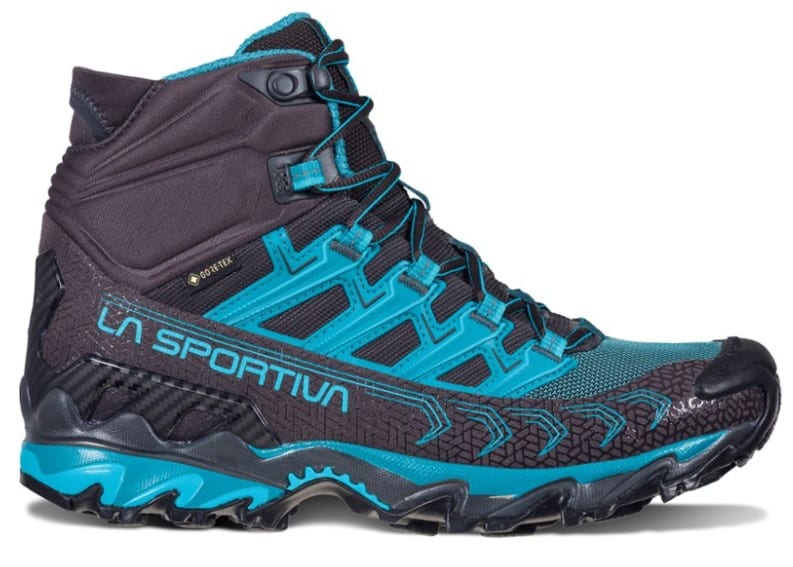 These boots are made for hiking and carrying daypacks or not heavy backpacks. They provide the protection you need in difficult conditions and wet, tough terrains.
Specifications
| | |
| --- | --- |
| Type | Hiking and Backpacking |
| Weight (pair) | 1 lb. 7 oz. |
| Sole | FriXion XF 2.0 Rubber |
| Height | Over-the-ankle |
| Waterproof | Yes with GORE-Flex nylon mesh |
Features
100% vegan
Regular and Wide sizes available
TPU lacing harnesses for secure, customized fit
Compression-molded MEMle for a springy bounce in every step
Thermoplastic polyurethane upper
2. Lowa Innox Pro GTX Mid Vegan Boots for Men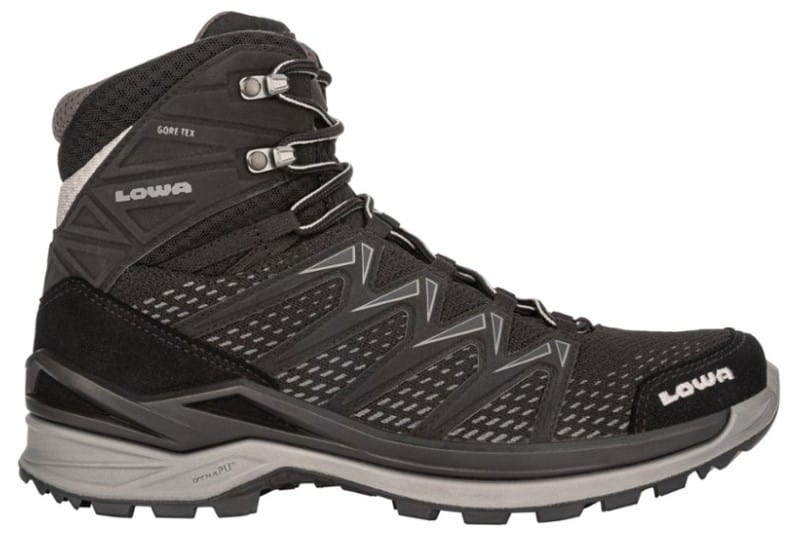 A very good selection when you want to move quickly with a small pack, but do need steadiness. You can wear them all day long and not only for going uphill. They are lightweight, cushioned boots.
Specifications
| | |
| --- | --- |
| Type | Hiking |
| Weight (pair) | 1 lb. 15.7 oz. |
| Sole | Multi Trac rubber |
| Height | Over-the-ankle |
| Waterproof | GORE-TEX waterproof, breathable |
Features
100% vegan
Slip-lasted
Double-injected midsoles for superb rebound
Durability and cushioning
3. Merrell MQM Flex 2 Mid GORE-TEX Vegan Boots for Women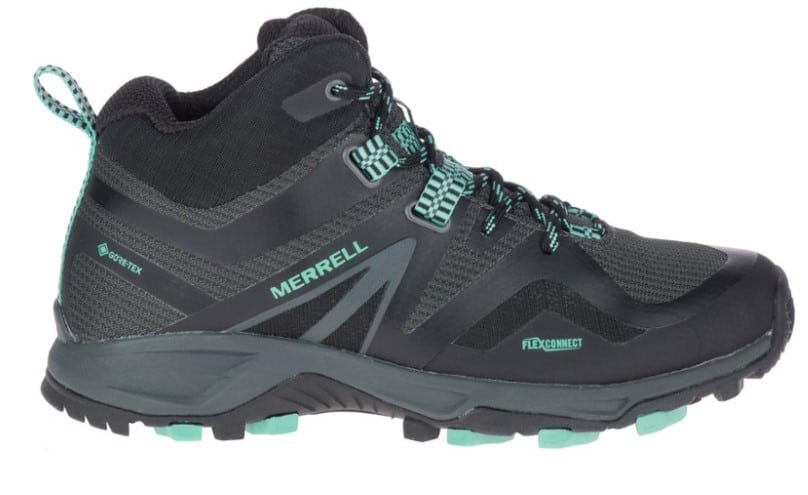 A women's pair of vegan boots to move quickly on wet terrains (but not only), with air cushion tech in the heels so as to absorb shock and enhance stability. The tongue-integrated lacing system provides a more secure fit, while the tear-resistant mesh is waterproof, breathable, and wicks water away.
Specifications
| | |
| --- | --- |
| Type | Hiking |
| Weight (pair) | 1 lb. 7 oz. |
| Sole | Quantum Grip rubber |
| Height | Over-the-ankle |
| Waterproof | GORE-TEX waterproof |
Features
Vegan friendly hiking boots

Waterproof, tear-resistant mesh uppers fend off wet weather

Thermoplastic polyurethane toe caps protect your feet from rocks and roots
Removable contoured insoles provide flexible support.
4. Xero Shoes Xcursion Fusion WP Vegan Boots for Men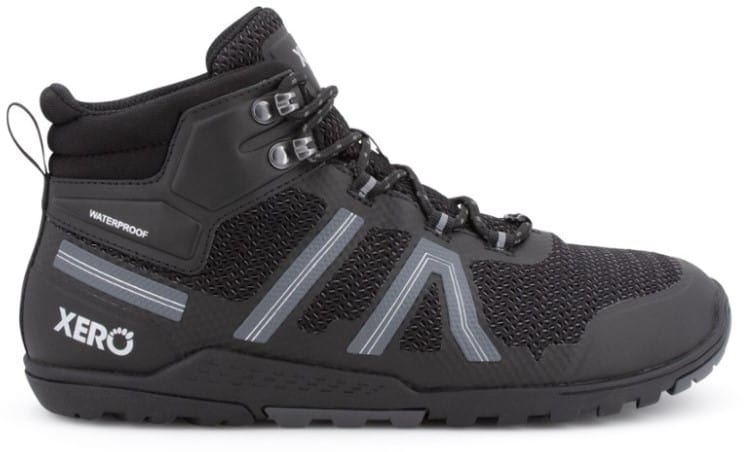 These are wide-toe fully waterproof boots that allow your foot to feel comfortable and more natural, with more grip and control.
Specifications
| | |
| --- | --- |
| Type | Hiking |
| Weight (pair) | 1 lb. 10 oz. |
| Sole | FeelTrue rubber |
| Height | Over-the-ankle |
| Waterproof | Waterproof membrane |
Features
100% Vegan
Extremely lightweight
Flexible, rubber soles gives natural feeling and great protection
Built-in gaiter hooks
Low to the ground soles and non-elevated heels for proper posture
Fully waterproof, with seam-sealed inner booties
Water-resistant membranes and gusseted tongues
5. Topo Athletic Trailventure Hiking Boots – Women's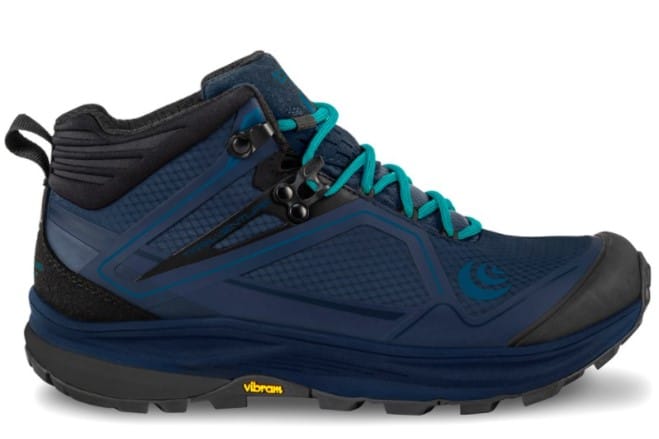 Durable boots with multi-surface traction on all terrains. Walk the trails quickly and comfortably. The mid-height fit offers ankle support and features a molded foam collar for additional comfort. The unique lace lock system offers two lacing tensions to provide a customized and more secure fit.
Specifications
| | |
| --- | --- |
| Type | Hiking |
| Weight (pair) | 1 lb. 4.8 oz. |
| Sole | Vibram XS Trek rubber |
| Height | Over-the-ankle |
| Waterproof | Not water-resistant or waterproof |
Features
100% Vegan
Comfortable, anti-compression footbed with anti-microbial properties
Medial drainage ports to enhance quick water release
Flexible ESS rock plate protects against stone bruising
3-piece EVA midsoles for cushioning
Abrasion-resistant ripstop mesh upper
Why Should you Always Try on your Boots Before Purchasing Them?
That is a must when you shop in a physical store. Not all feet are made equal. Your left one can be different from your right. You must wear both and walk inside the store, and walk up a few stairs. Wear them with your hiking socks and see if you feel uncomfortable anywhere on your foot.
Since there is no leather involved, the vegan hiking boots are not expected to loosen up. If you count on that, then don't.
High Ankle Vegan Boots or Narrow Ankle?
That depends on the terrain you plan to hike. High ankle boots provide more protection when walking on difficult terrains that are either slippery or with lots of rocks and pebbles. Such terrains change how your feet adjust to the ground.
You don't want a sprained ankle when you walk on a mountain.
As with any boots, vegan boots also come with options for regular or wide width. However, as said, not all feet are the same by nature.
How to Break in your New Boots?
After buying your vegan boots (or any), walk them a couple of times in a short hiking route, with some inclination. Please don't wear them directly on your first long hiking.
Vegan hiking boots are made from synthetic materials or similar to such. As they won't loosen up, you definitely need to "work" them a bit, so they are not entirely stiff.
FAQs on Vegan Hiking Boots
What is a Good Price Range for Vegan Hiking Boots?
Excluding special seasonal offers for vegan hiking boots, prices range from $250 to $130. The tech part of the boots affects the price (ie. GoreTex, etc).
What are the Pros and Cons of Buying Hiking Boots Online vs Offline?
The only thing that can prevent someone from buying online is the fact that you can't test the boots on how they fit on your own feet.
Why it's Important to have Good Quality Gear when you're out in Nature
There is some fear that if it is cheap in terms of materials and construction, it can mean that your life can be in danger. That is crucial for boots. Your hiking boots are not something that you need to save money on. In fact, if you hike a lot you need good gear for all things that affect your safety and well-being along your routes.
Conclusion
For many, vegan hiking boots may be a trend or not. After all, leather is not used on these boots but lots of rubber, nylon, plastic, and urethane is used. These are mostly petroleum-based byproducts.
On the one hand, you contribute to saving more animals; on the other hand, you contribute to more plastic or related to petroleum products.
It is a tricky part to answer, isn't it? For some, it is crystal clear to choose one direction over the other.
Have fun and be safe when in outdoors. Nature will show you the way.