The Dolomites offer world-class hiking and climbing suitable for all skill levels, attracting thousands of visitors each year from all around the globe. And, if you have your sights set on summiting one of the region's most accessible 3,000-meter peaks, there's no better choice than Piz Boè.
In this guide, we'll fill you in on all the details for soaking up this mountain's stunning natural beauty on your way to the top, including how to get there and what not to miss along the route. Keep reading for all the details, and start planning your trip today!
Getting to Piz Boè
The best jumping-off point for this adventure is Canazei, easily reached by bus, train, or private car. From there, you'll be perfectly positioned for a day hike. This town is also an excellent base of operations for other Dolomites day hikes, so you might want to stick around for a while!
While there are several trailheads to choose from, the start at Passo Pordoi is easily your best option for summiting this peak. This is where the Sass Pordoi Cable Car departs, offering a short and scenic ride to the top of Sass Pordoi, followed by an easy walk to the base of the Boè pyramid.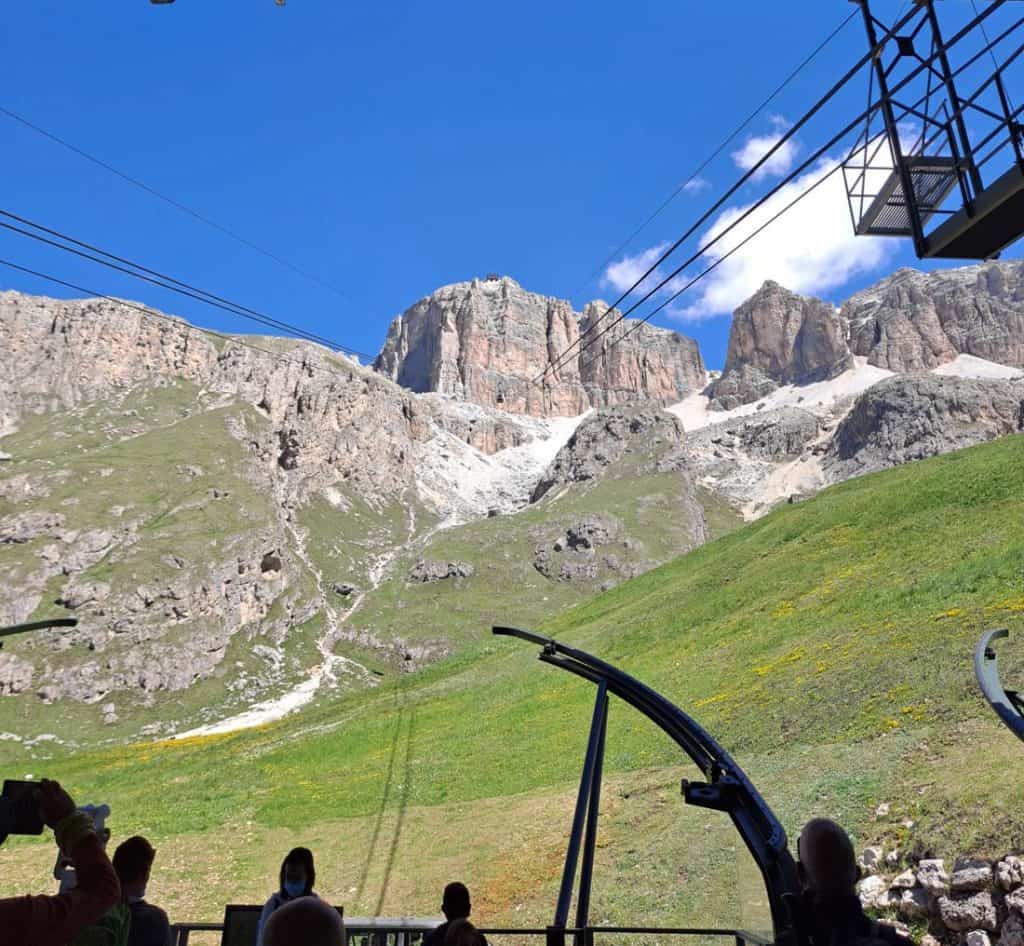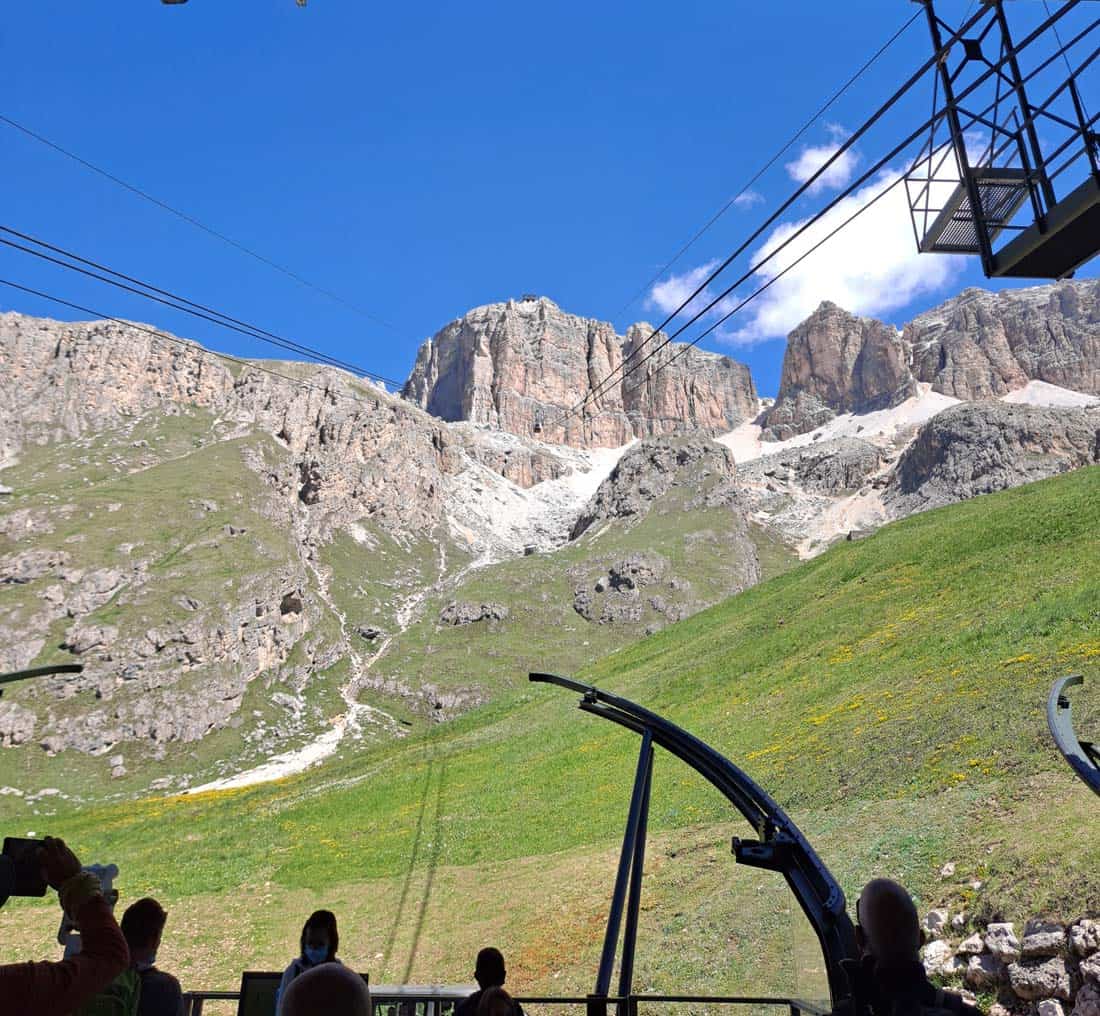 This entryway offers free parking and one of the most scenic approaches. But, you'll need to arrive early if your Italian vacation falls during peak season when lots are famously full. You can also hike up to Sas de Pordoi rather than taking the cable car, adding a steep 90-minute hike to your day.
This is the starting place towards Piz Boè top (see it as a little dot at the far end, above my head).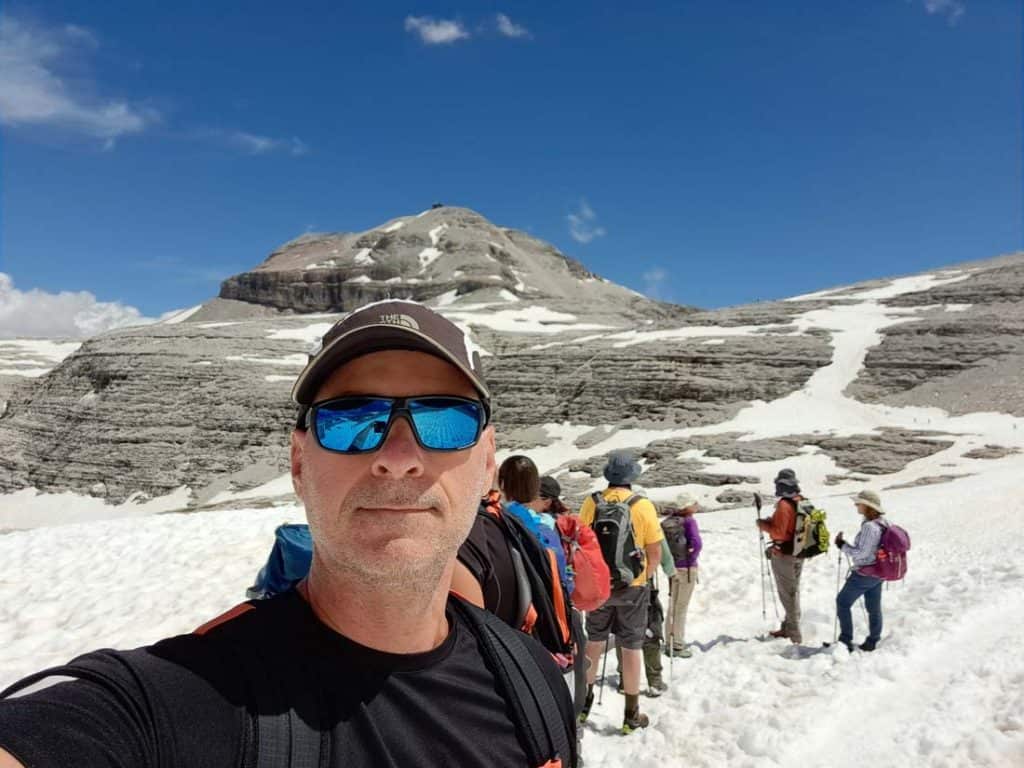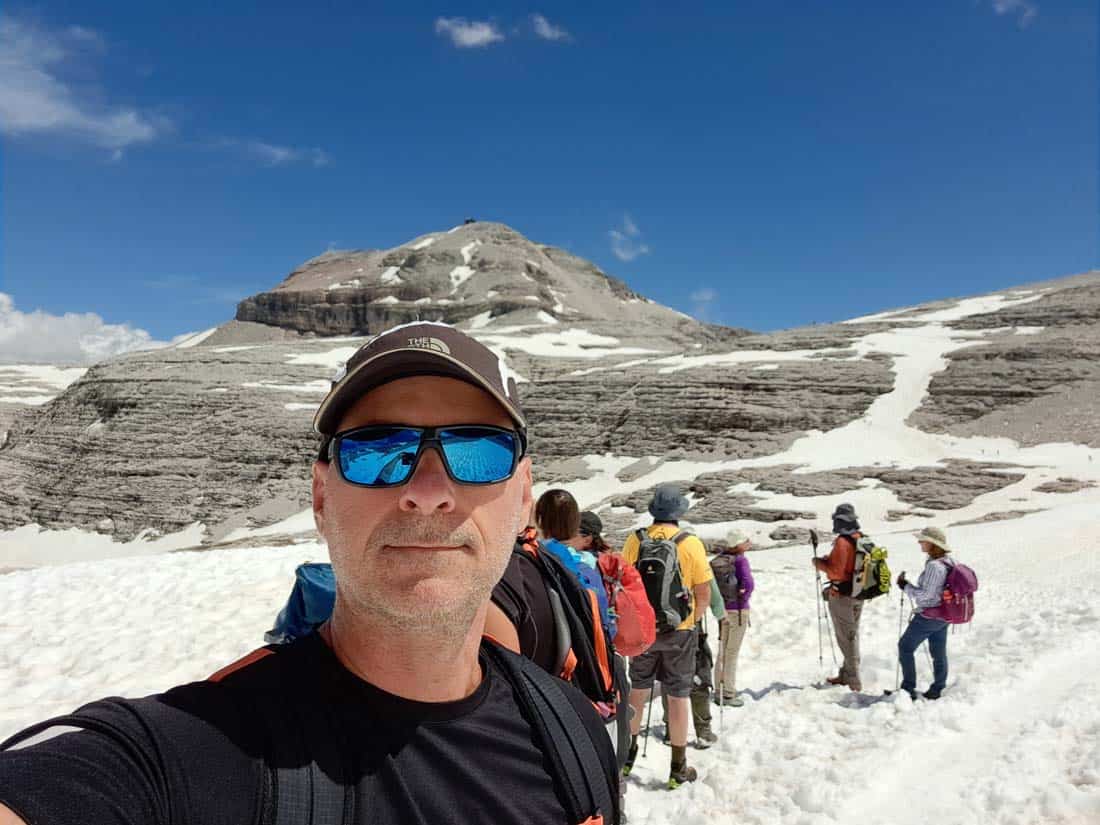 Alternately, you can start at Corvara, using a lift system or travelling on foot. This route is more challenging and ever so slightly less scenic. However, it is also less crowded.
In case you are in Venice, read how to get to the Dolomites from Venice.
Hiking Your First Leg
Once you've departed the cable car at the Sass Pordoi station, you'll hike along Pordoi Pass – easily one of the most scenic Italian mountain landscapes you'll ever see. Follow the clearly marked alpine path number 627, as it drops down a hundred meters in elevation en route to the Rifugio Boé. This same mountain pass also hosts the Rifugio Forcella del Pordoi, built right on the ridge's saddle.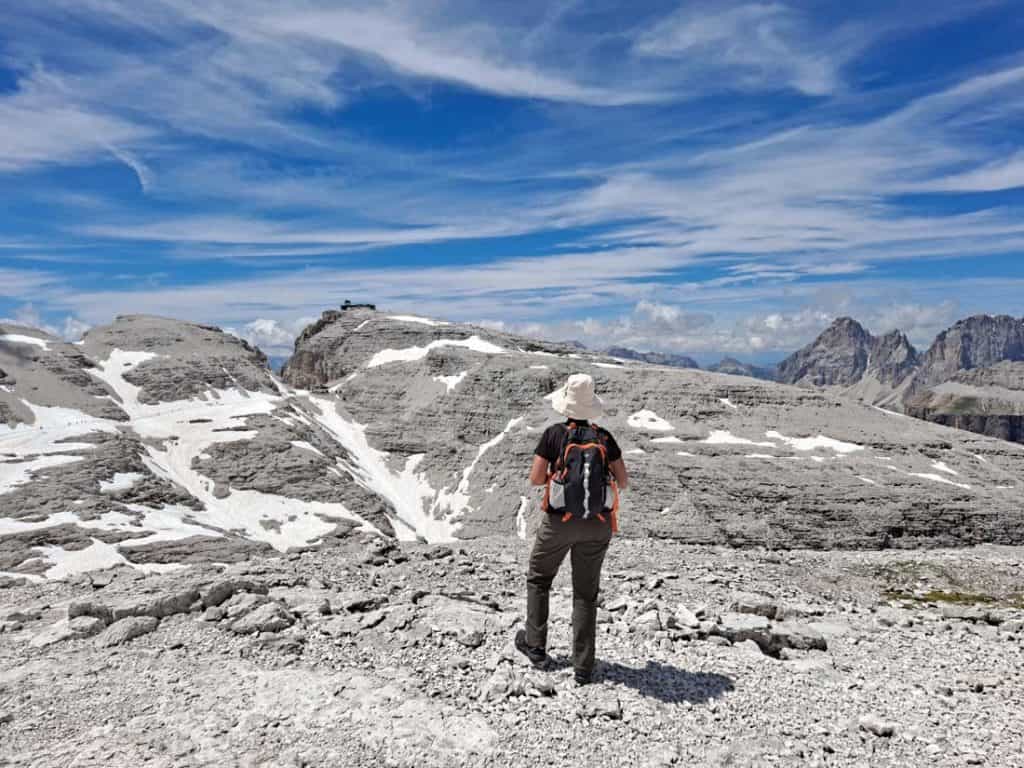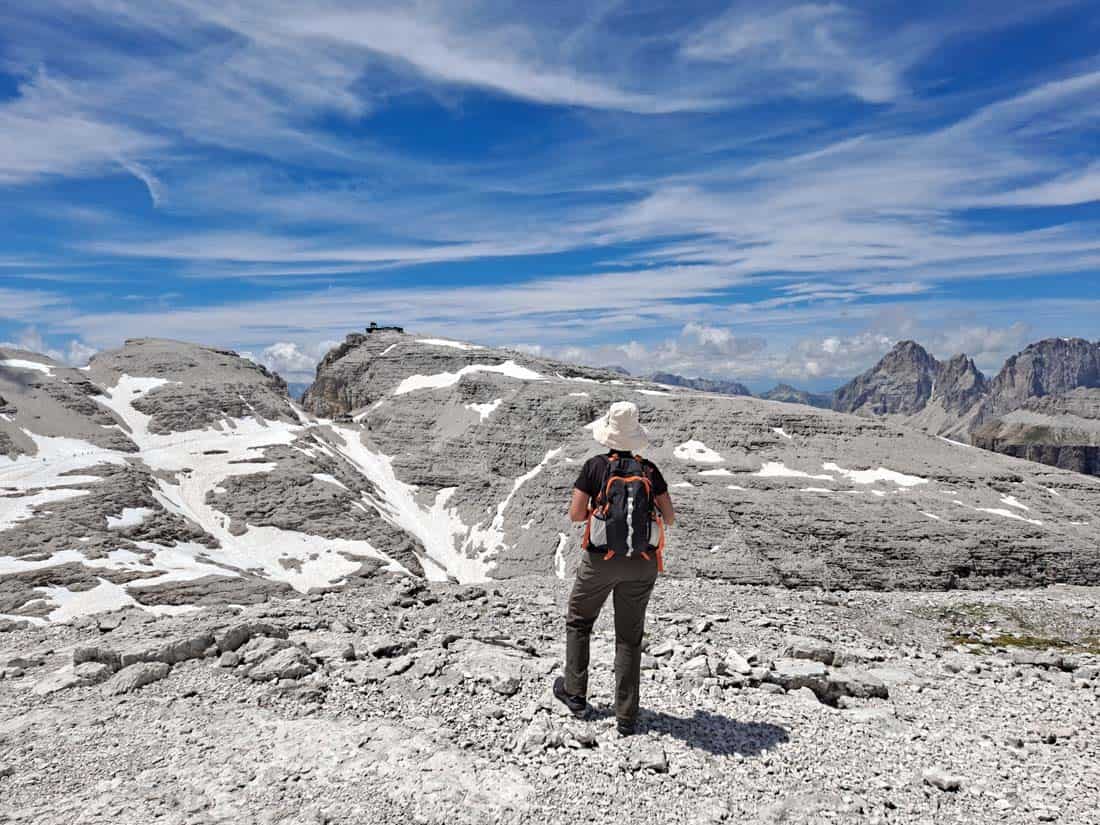 This rugged pass boasts a moonlike landscape of rock, typical of the region and well worth a few photos.
Be sure to snap some on your way up and down, as the morning and afternoon light showcases different colors and textures in the stone.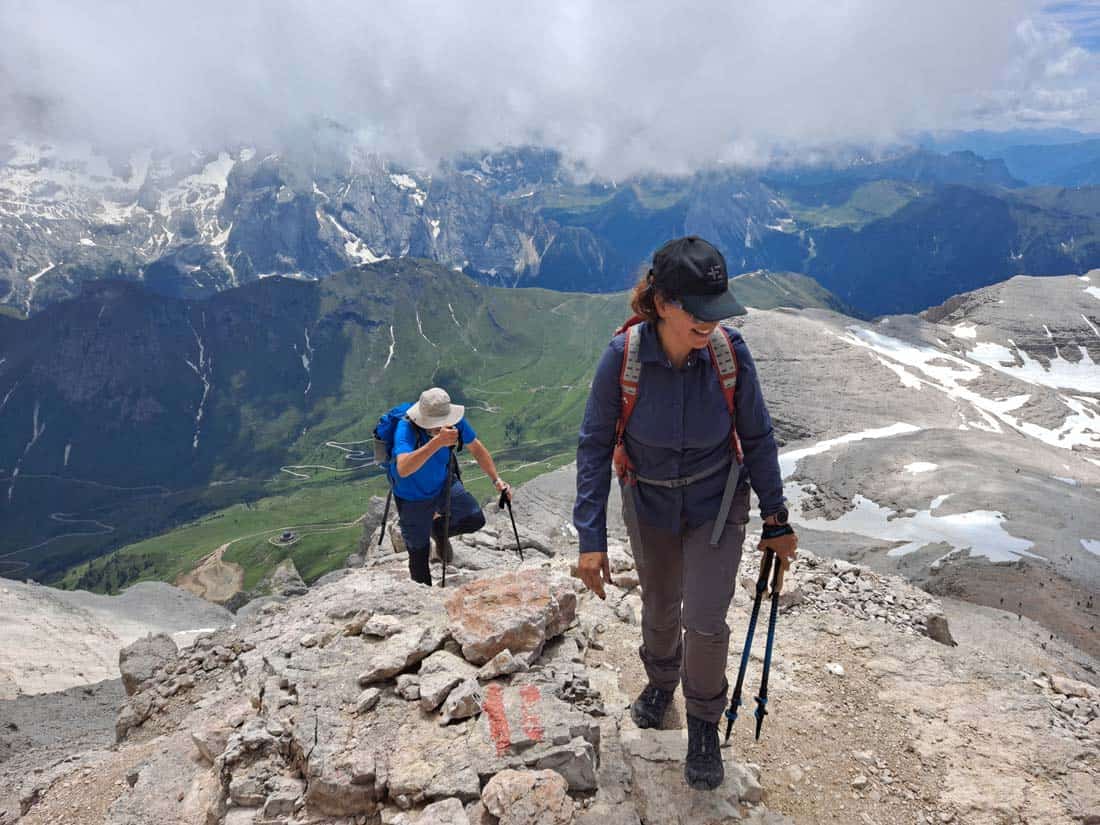 You might notice a large number of hikers here, especially if you're visiting during peak season.
But, they aren't all planning to summit Piz Boè. This pathway is also a part of the Alta Vie Route no 2, one of the best multiday hiking routes in the Dolomites.
Once you reach the rifugio, take a break and snap a few photos.
This is also the perfect place to use the toilet, have a snack, and stock up on water.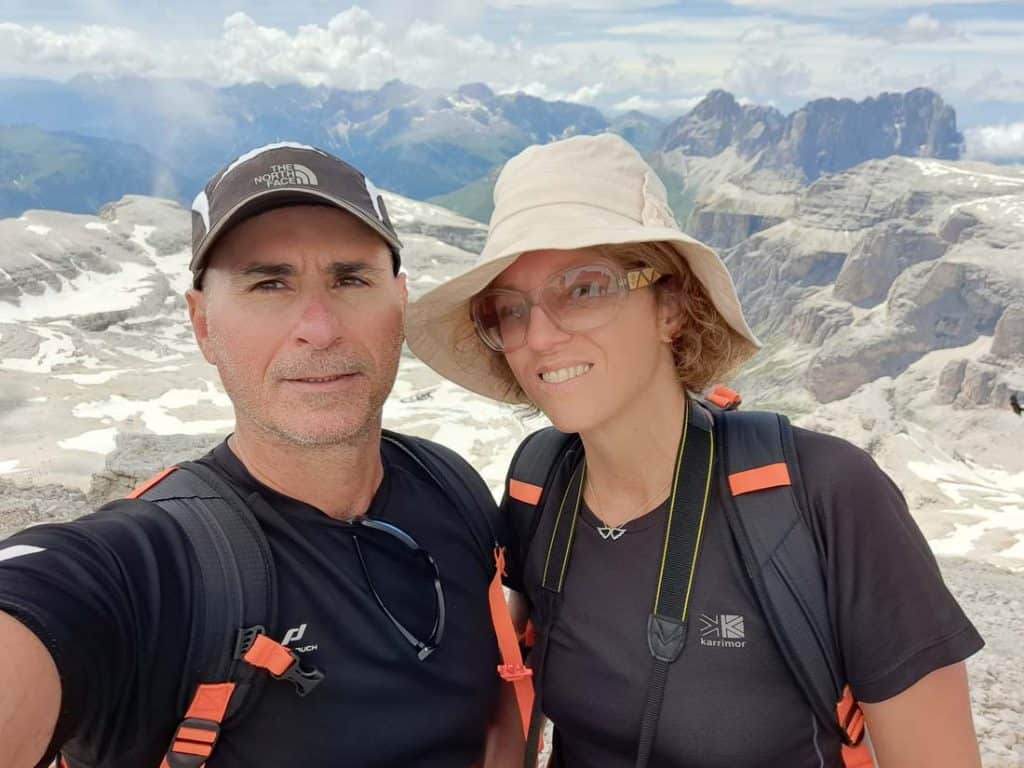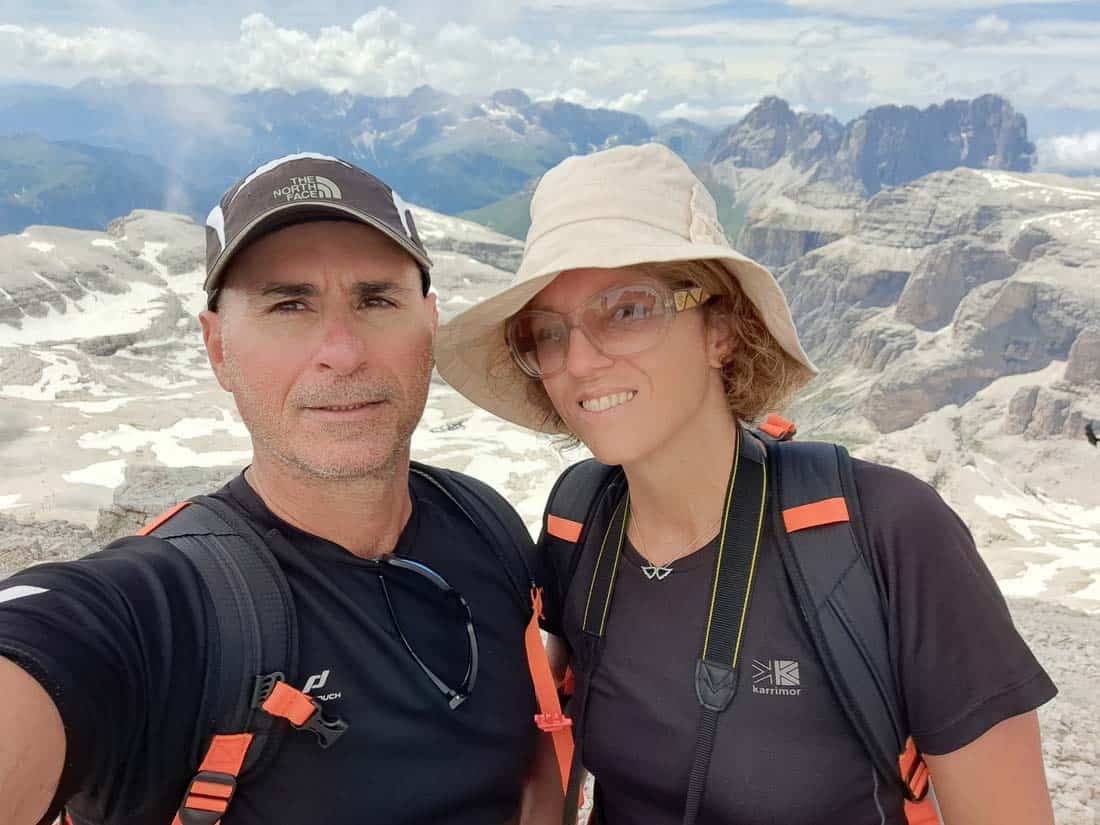 This will be your last opportunity to fill your bottles until you reach the summit, where the next rifugio is found.
Moving on Toward the Summit
Once you've departed the Rifugio Boé, you'll need to double back a short distance to pick up trail number 638. This obvious pathway branches off to the right, heading towards the peak of Mount Piz Boé.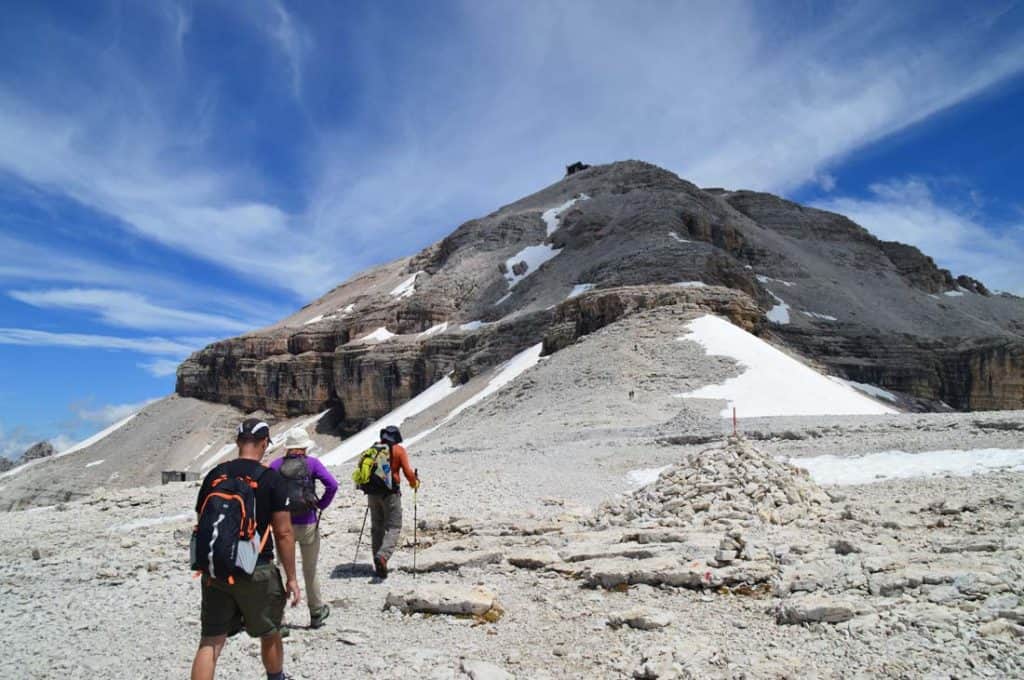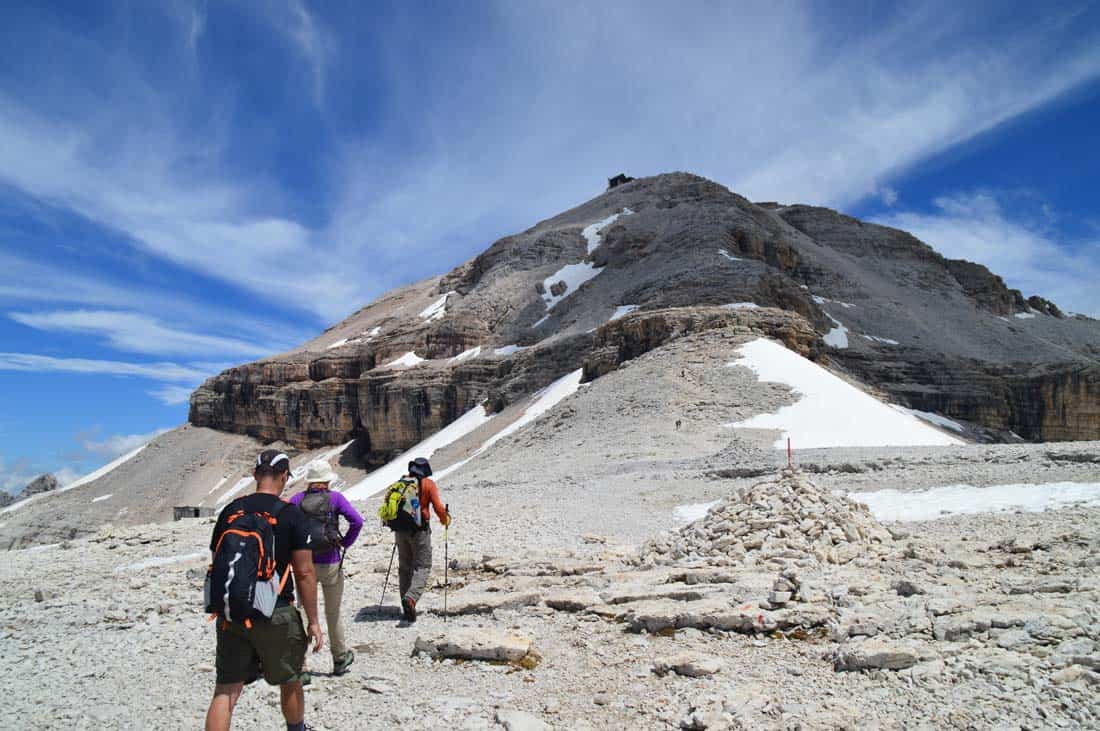 From here, the trail begins to rise steeply upwards, rapidly gaining in elevation. The most difficult sections are secured by ropes, and basic Via Ferrata equipment is recommended for the route.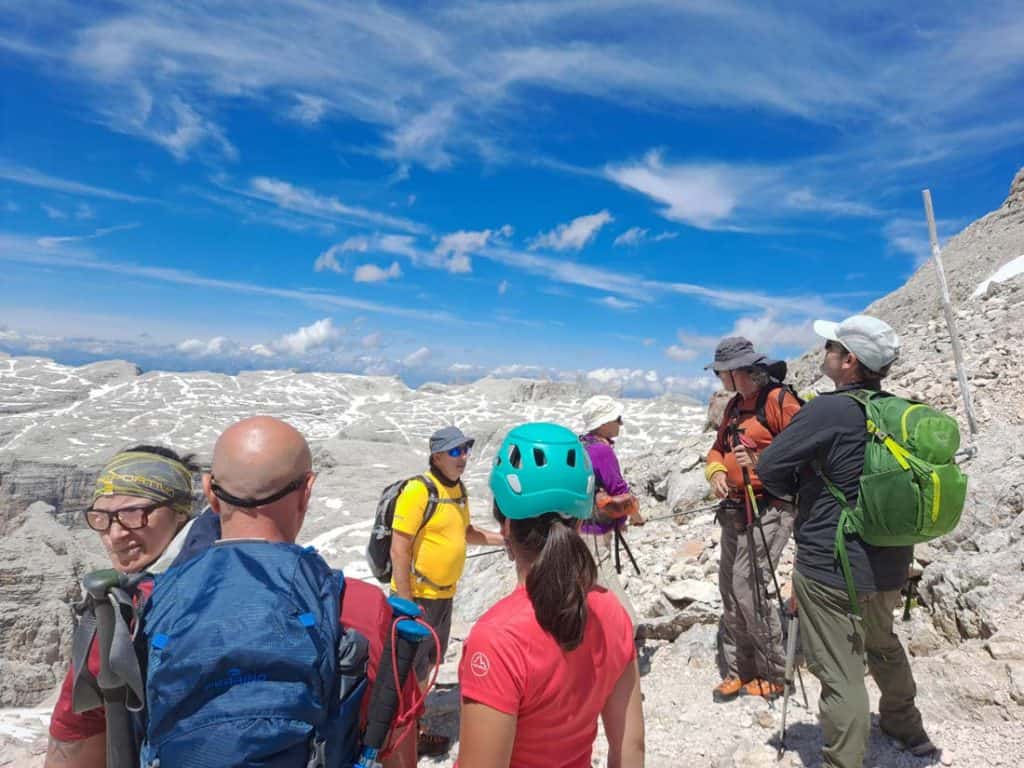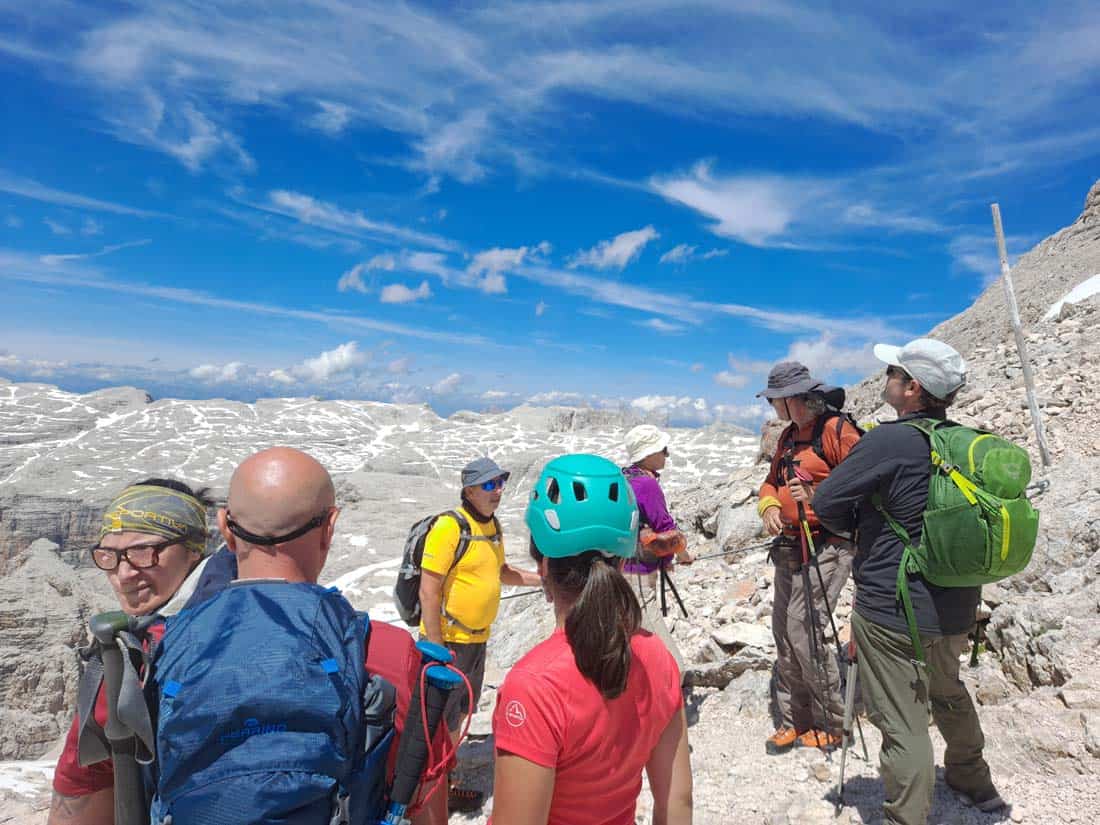 Check out our Mountaineering Basics guide for more tips on what to pack for this type of mountain hiking.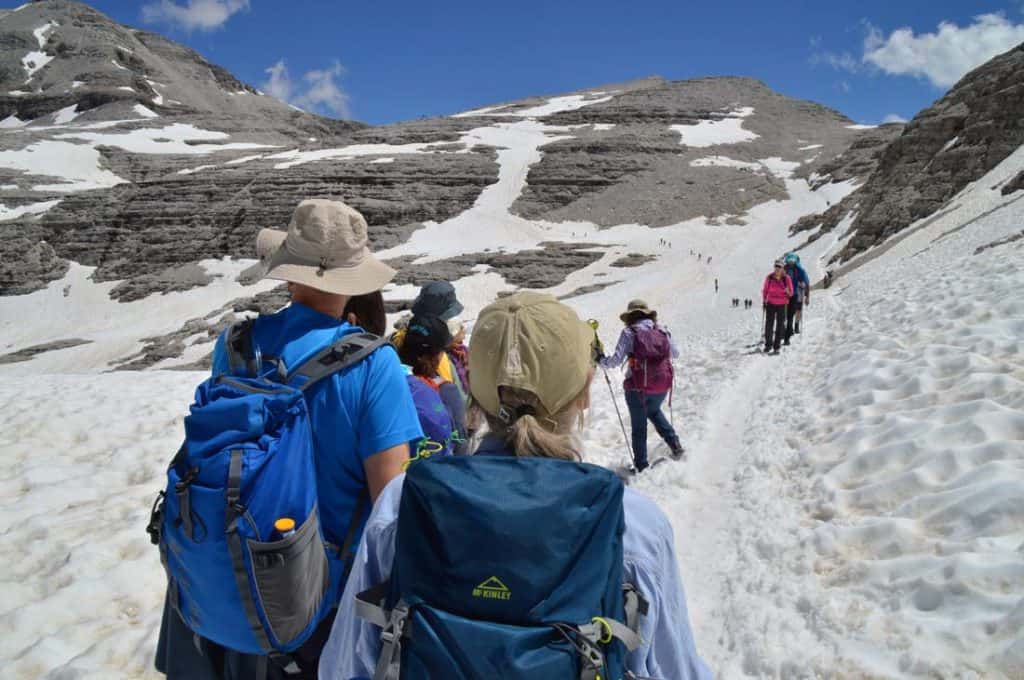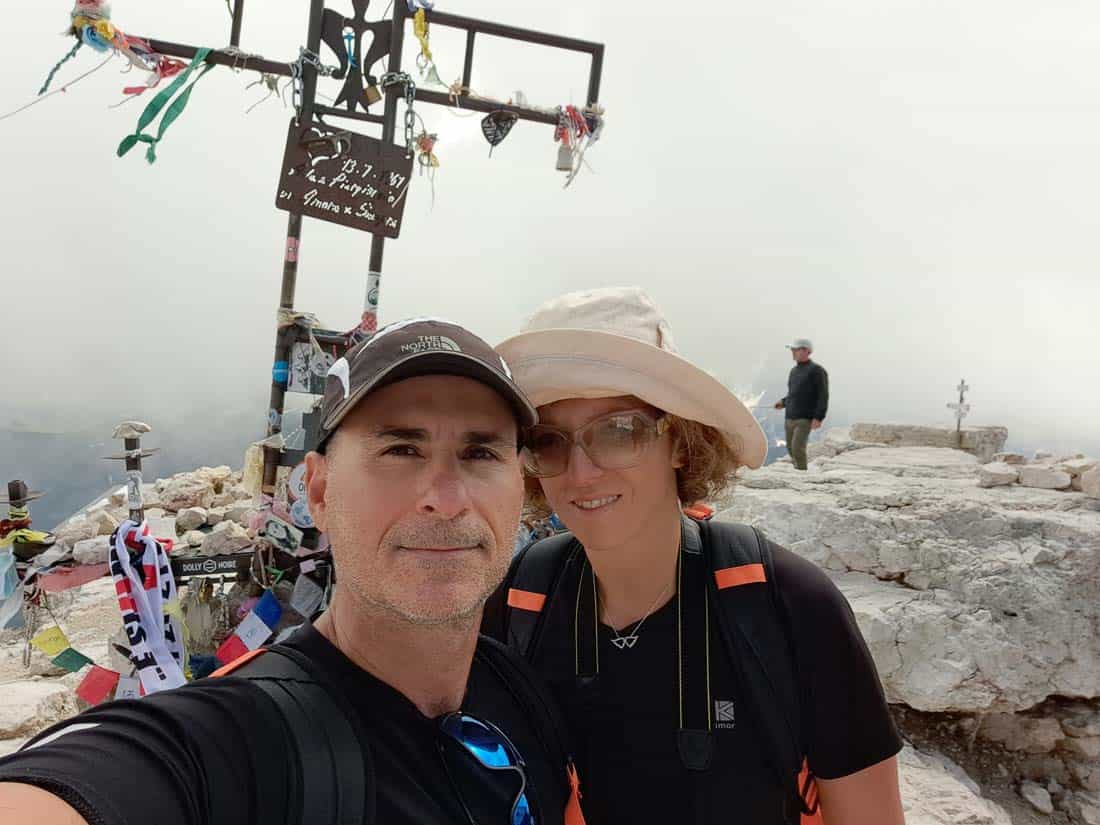 After a hard push toward the summit lasting a few hours, you will finally arrive at the peak of Piz Boé. There you will find a peak cross and the tiny wooden Rifugio Capanna Fassa.
This cozy mountain hut offers stunning 360° views of the surrounding Dolomite peaks: Fanes, Marmolata, Sassolungo, and Odle. And, it has room for 22 overnight guests, making it the perfect place to enjoy some of Europe's most breathtaking sunrises and sunsets and a warm meal or two.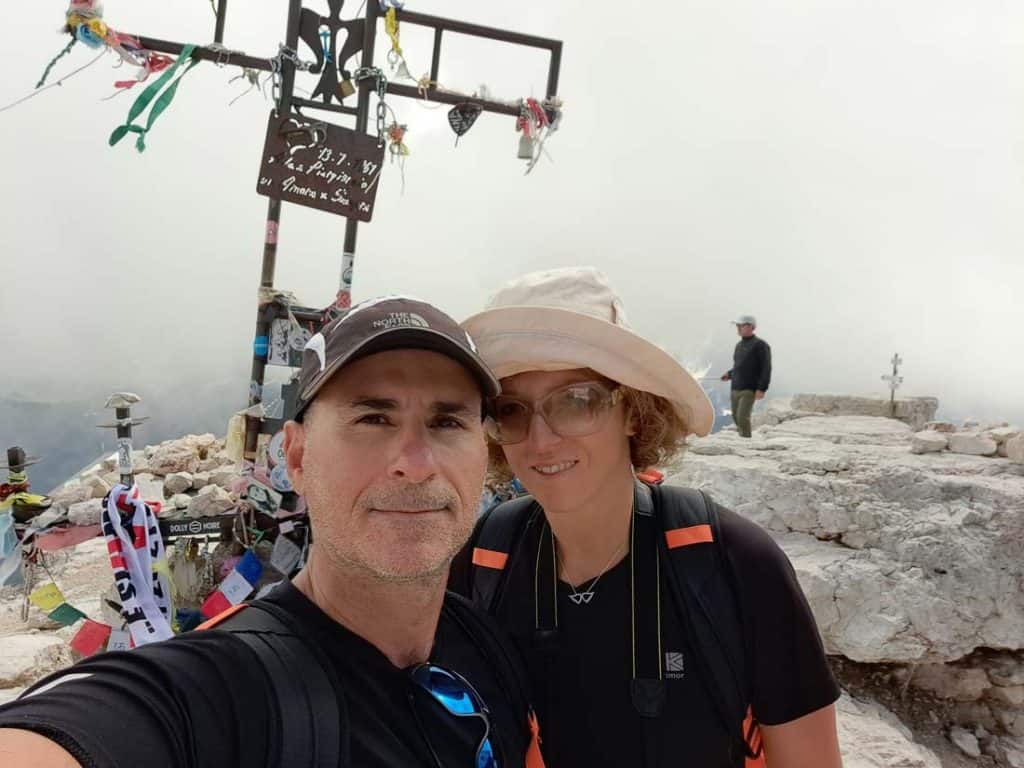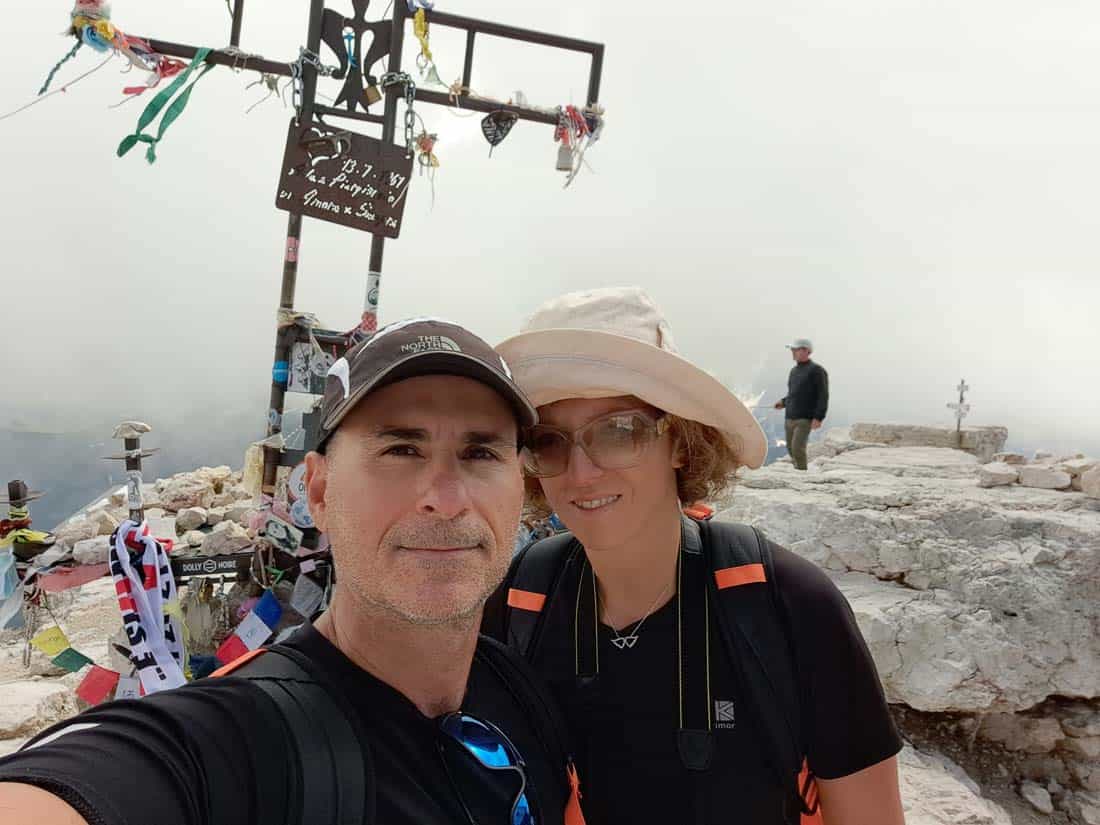 A shorter, steeper trail can also be followed from the Pordoi mountain pass, clearly marked "Capanna Fassa / Piz Boe".
Leaving Piz Boe Through Capanna Fassa
You have two main options to return. One of them is to follow your way back to the cable car, in the same way, you got there.
The other one is to follow the alternative Capanna Fassa hiking route that gets you through an entirely different steep terrain, that is amazingly beautiful.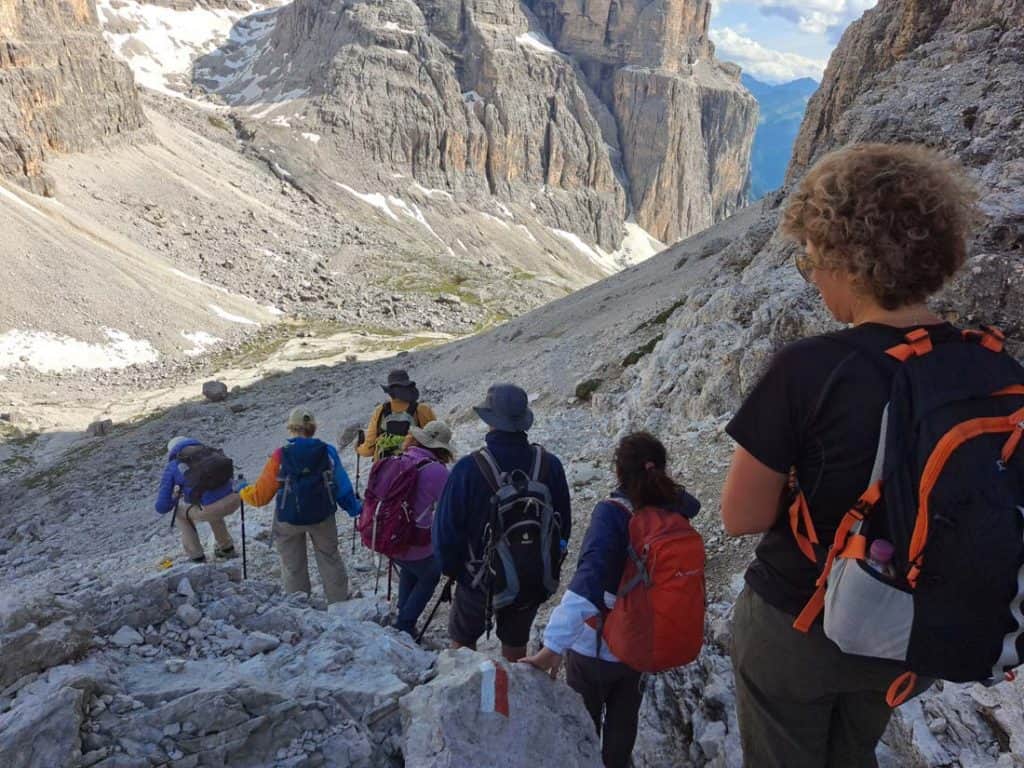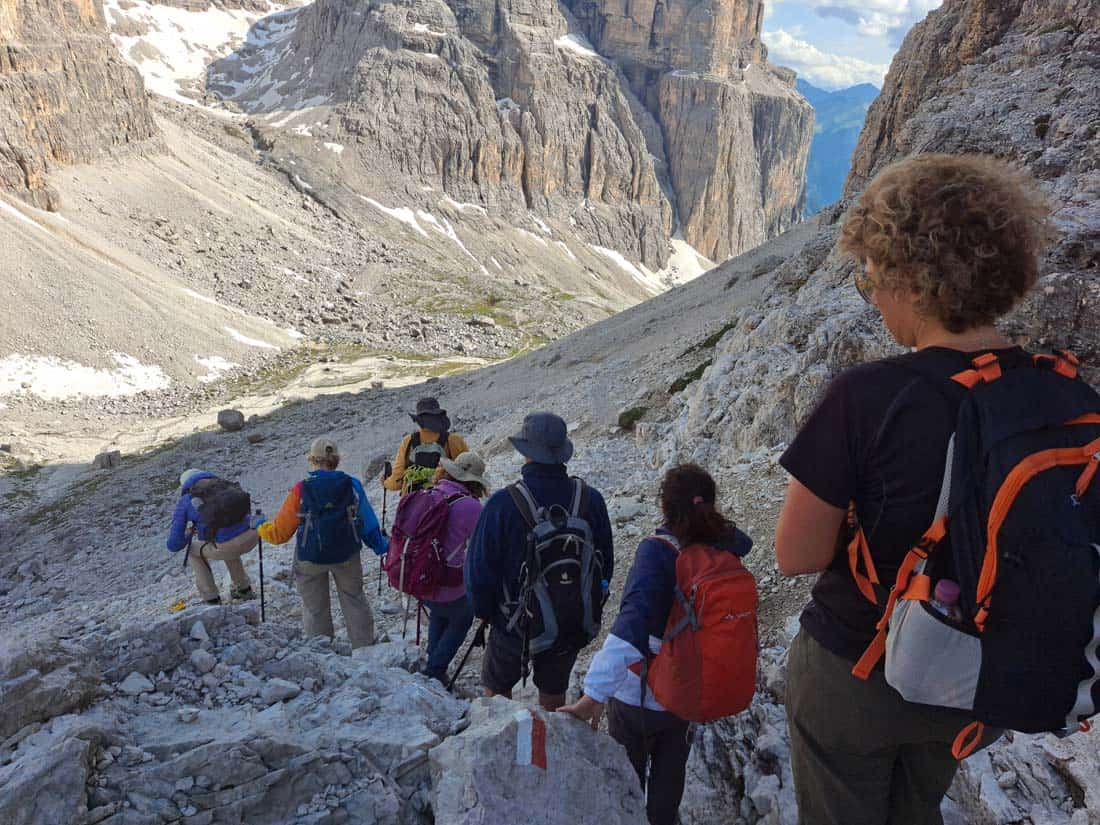 That path starts from the right side of Rifugio Forcella Pordoi.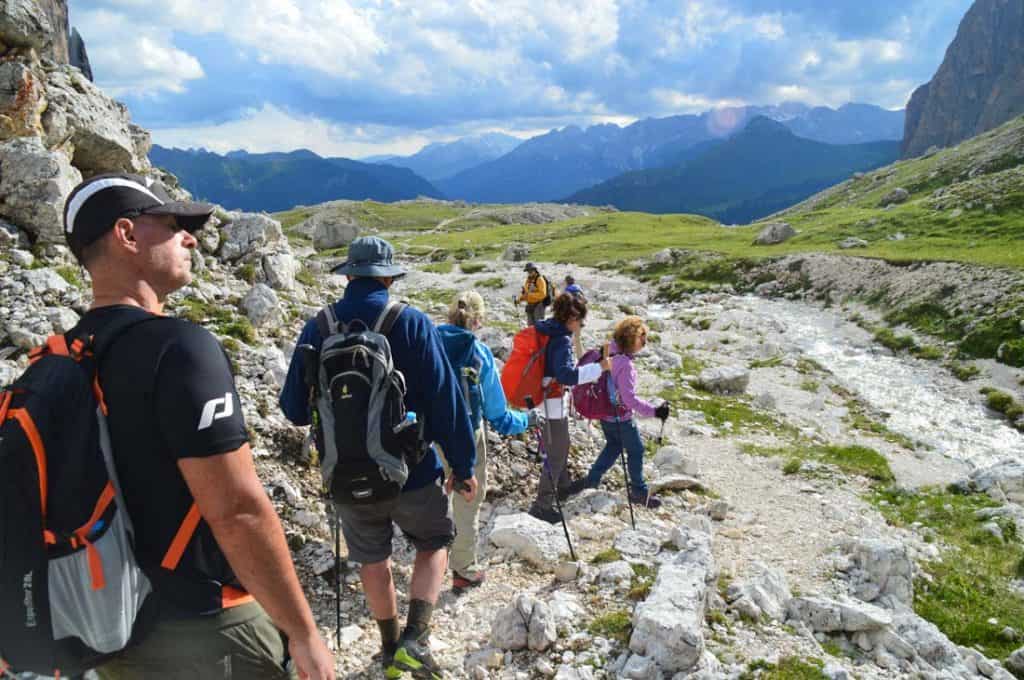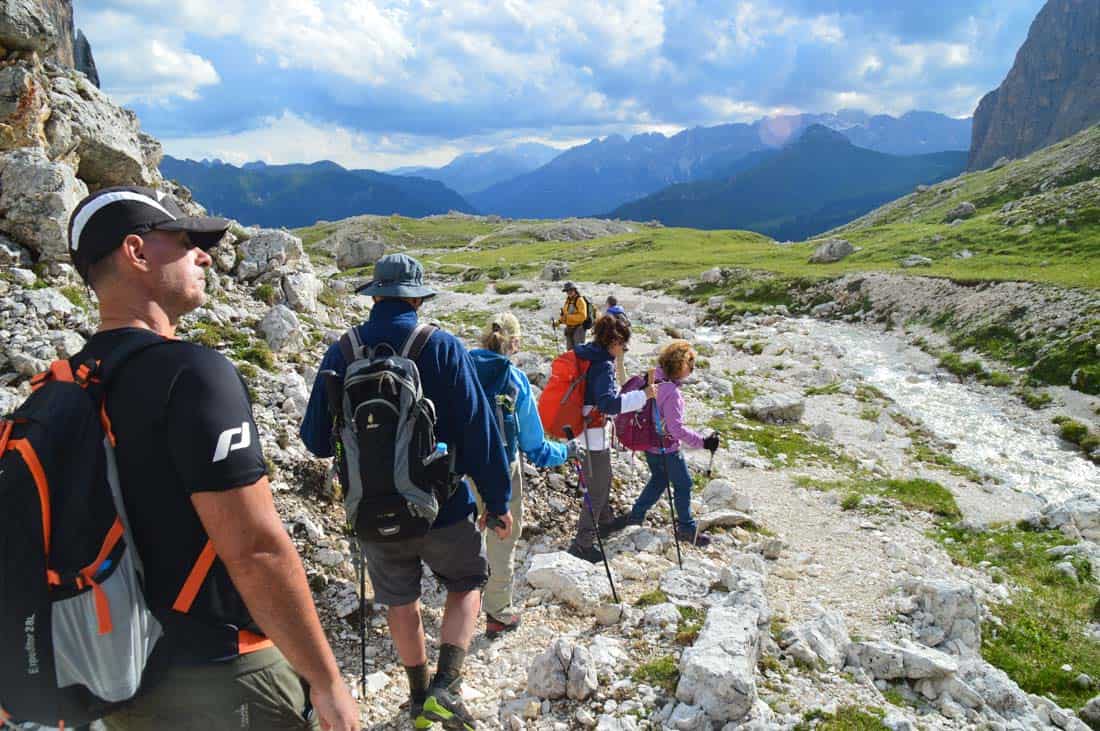 You will meet small alpine valleys.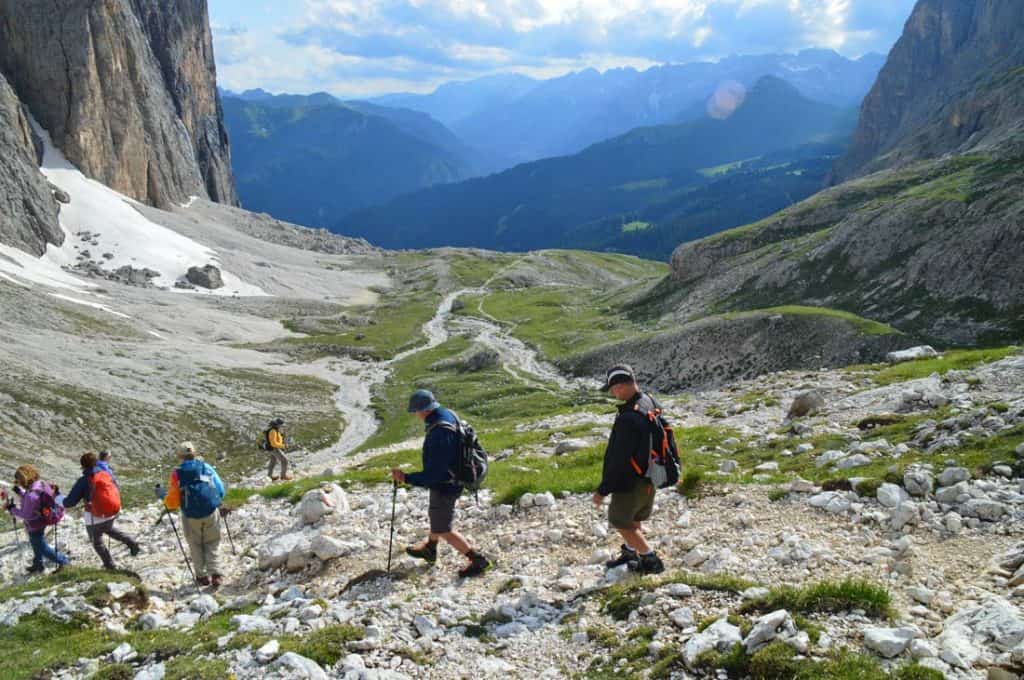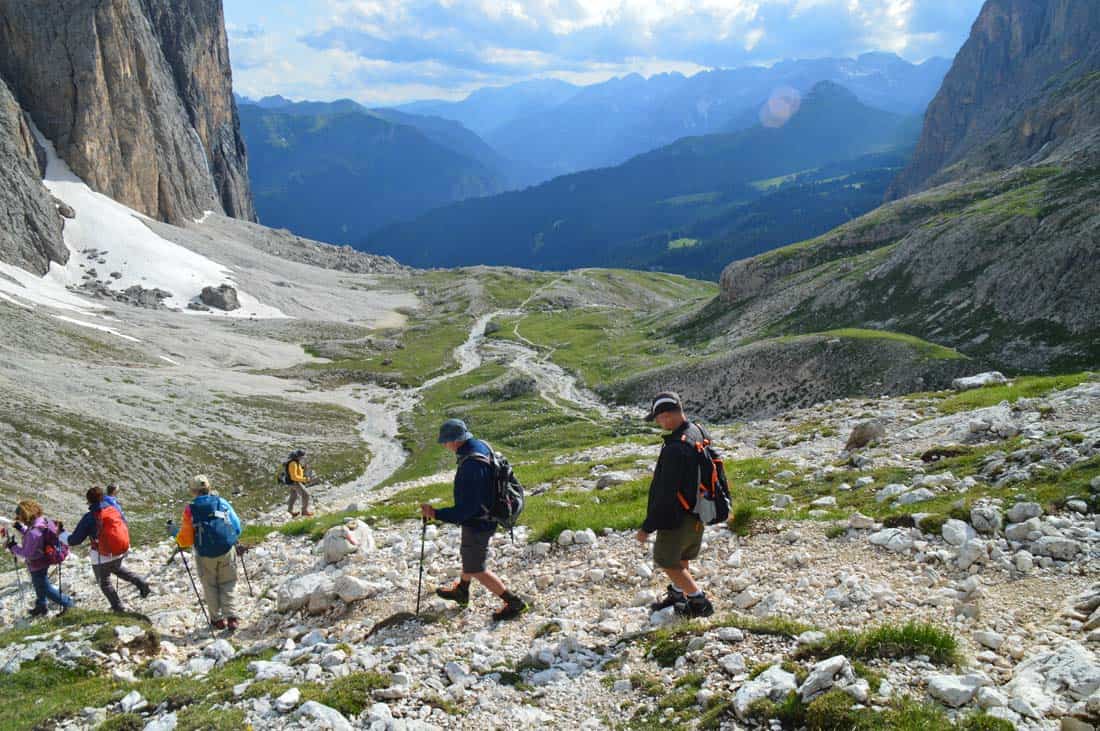 During its end, you will also meet waterfalls and small rivers (we were there in July).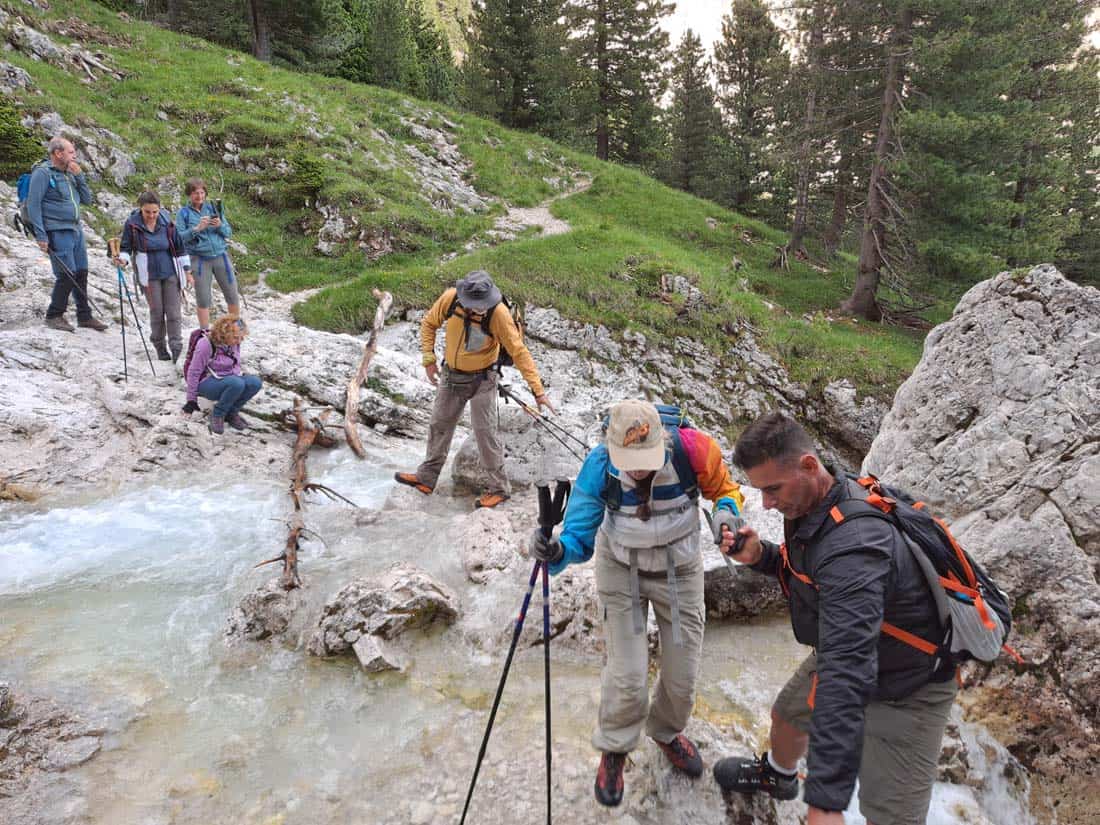 It's a long way down, so plan to get to Piz Boe early enough, if you want to use that alternative route to go back.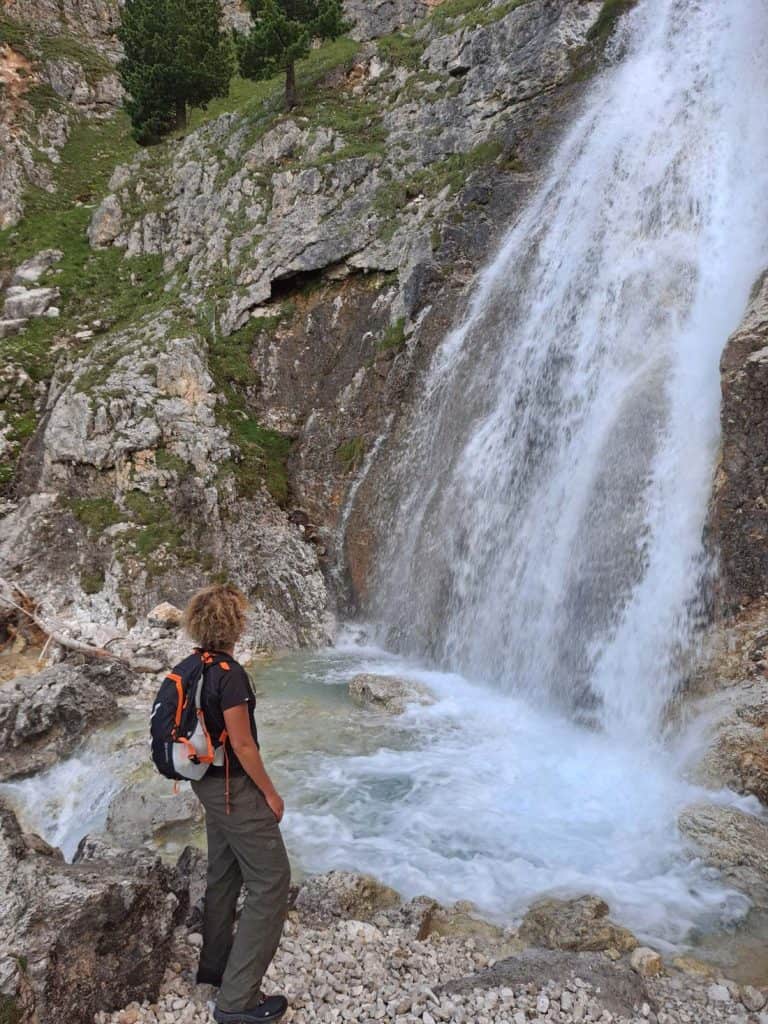 You definitely need sturdy hiking boots due to the terrain.
Here is a surround video from the top with the whole experience from getting to the top, to getting down.
Know Before You Go
Both hiking and mountain climbing in the Dolomites follow a strict season, running from June 15 through September 15, depending on snow. But, even during the warm summer months, you should plan for harsh conditions in these Italian mountains.
During your hike, you'll cover four kilometers or about 2.5 miles each way, with an average walking time of two hours. You'll gain 370 meters in elevation along the route, before summiting at 3,152 meters.
You should pack for multiple climates, with easy to add and remove layers. This includes insulation for warmth, wind-breaking fabrics, and of course, moisture-wicking materials to help keep your skin dry.
You will need a warm fleece or other base layer and maybe a light waterproof jacket for any sudden rainfalls. Mountain tops are a bit chilly, even in the summertime. There are locations along the route where you will encounter cool wind bursts and if you sweat you will feel cold.
Definitely have a hiking hat and suncream. In high altitudes, the sun gets you hard.
Sun protection, water, and plenty of snacks are also absolutely essential, as are working lights or headlamps – just in case you get caught out after dark.
Remember, you should always inform an emergency contact and the owner or manager of your planned lodging before embarking on any mountain hike or climb. And, you can carry a GPS beacon with you for an added layer of protection.
The Summit Awaits
Armed with this handy guide to Piz Boè, you're ready to start planning an incredible mountain adventure in the Dolomites. Remember to pack a camera – you won't want to miss out on the incredible Italian vistas and photo ops along the way! And, once you're back home, be sure to comment on this blog post and let us know how much you enjoyed the journey.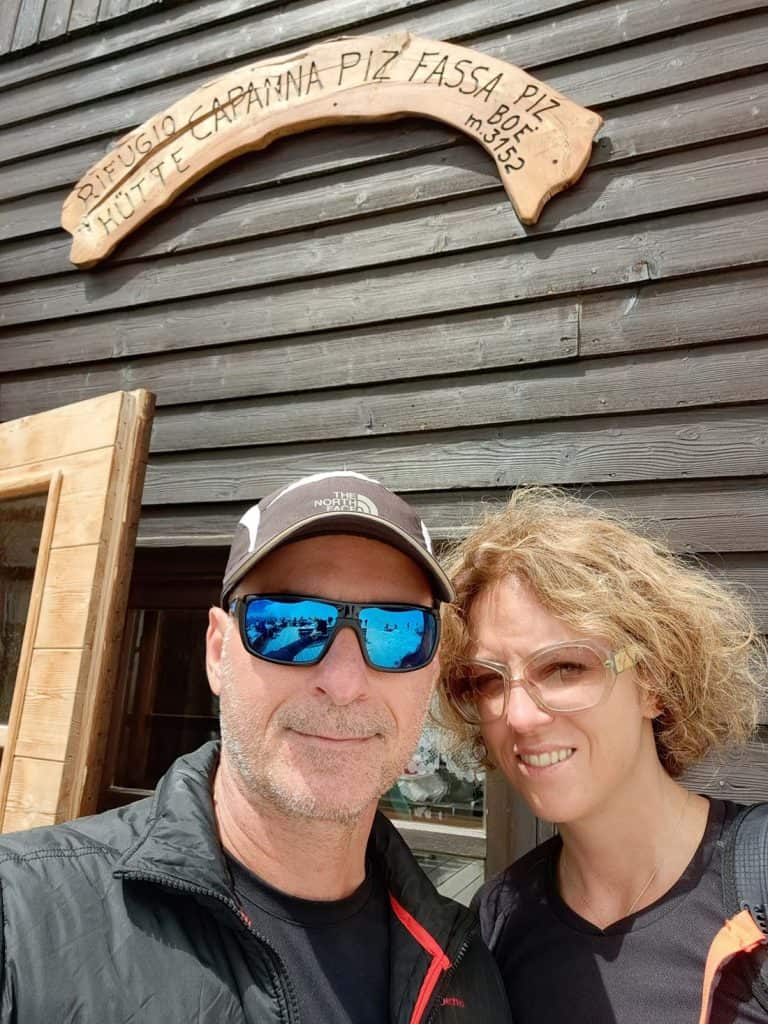 While you're here, don't miss out on the rest of our helpful blog posts all about Italy. We've got all the essential info you'll need to plan and prepare, plus hot tips to get you off the beaten path.