How to choose your winter hiking boots for this season? We are here to help.
A pair of functional winter boots are not just about safety. It will enhance your comfort and reduce discomfort.
Hiking in winter can be rather stressful when you don't carry suitable equipment. This includes boots.
Shocking it may be, it is not the wrong time to start thinking about your winter hiking boots.
It is good to get the best of them (well, the budget plays a role too). Here is our post on what to know to get the best winter hiking boots, this year.
How to Select Winter Hiking Boots?
You do wear sturdy winter boots to shovel the snow outside your house. It is not just about hiking through snow. So, there are different types and differences between different models.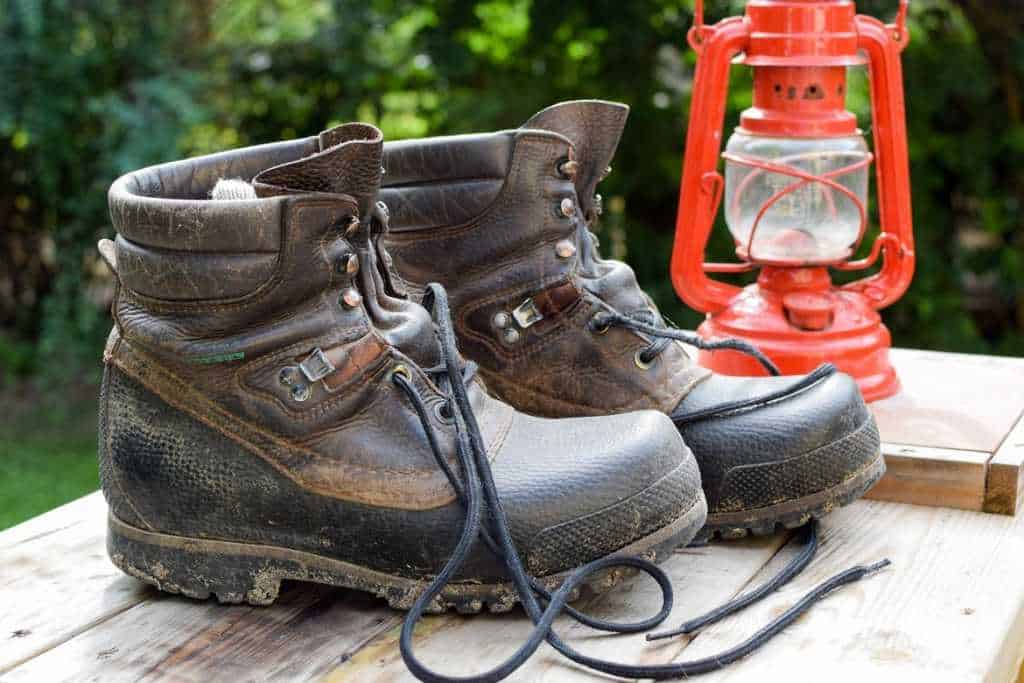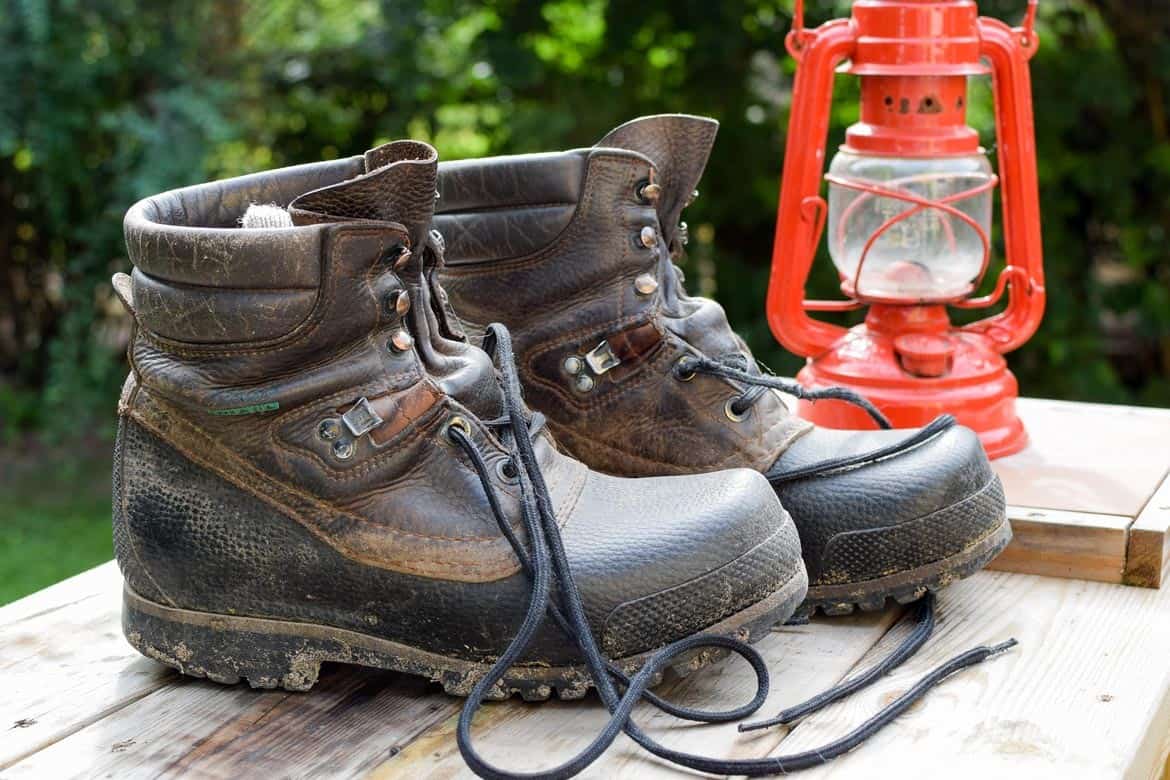 The Lightweight Type
This style of boots is suitable to wear all day long since they are lightweight and comfortable and not heavy, but are tough enough.
Usually, they are waterproof using a waterproof membrane. The materials that are used mostly mesh and nylon with leather (read this post on how to take care of your leather boots).
These materials keep the cost at lower levels, but you may find that they are less durable than the ones made entirely out of leather.
When you walk around with them, even from the very first days, you will see that they are not so stiff.
Suitable for relatively regular hikes, where you don't carry heavy weights or backpacks.
The Midweight Type
As the name implies, this is something between a light version and a heavy model.
Useful to allow you to carry heavier backpacks without feeling like having cement block shoes.
That is a category that is becoming popular since it provides a broader range of uses.
In the beginning, you may find that the area under your foot is not so flexible, but this will change as you break into the boots.
Anyway, you need sturdy boots when you carry heavy things.
Materials and quality are usually good in this type, plus waterproof level (you may have seen the Gore-Tex labeling in some of them).
The Heavyweight Type
This type is sturdy and stiff but provides fantastic reliability when dealing with weights and challenging terrain.
This is the kind of winter hiking boots you need when you walk on rocky terrain carrying heavy backpacks.
Except that, the boots will also "help you" with steep or/and long ascents as they take out lots of the strain from your heel.
The temperature will rise on your feet when you walk with them during hot weather.
Usually, these are the boots you will use when you are going to walk in the snow or/and wet ascents as they take strap-on crampons.
For both midweight and heavyweight boots, we suggest breaking into them before making any demanding mountain walking.
Rating of Winter Hiking Boots
Some people seek brands with a rating about temperature tolerance (some say that boots perform well in -30oC or lower). There is no clear and approved set of "tests" to follow.
So, yes, some have that indicator, but that is not a guarantee that your boots will keep your feet warm.
Many factors influence warmth and comfort. Even your health/physical condition matters, how tired you are or not, time of day, moisture or not, standing still or not, etc.
So better not to rely 100% on such numbers.
Insulation Types of Winter Boots
There are three main types: Down Fill, Felt/Sheepskin Linings & Synthetic ones.
Down Fill Winter Hiking Boots
Not the best (and safe) option when you walk through the snow. Insulation will be compromised by moisture. Better to use such boots for sitting outside your cabin and staying with that.
Felt and Sheepskin Linings for Winter Hiking Boots
This extra -and removable, in many cases- insulation is a perfect solution. It can continue to insulate ever after being exposed to moist weather elements. The fact that the linings are also removable enhances the speed with which they can dry up.
Synthetic Insulation for Winter Boots
That is the most common insulator. They are not removable. Such insulation has less mass than the above, so the total weight of the boot is reduced.
Materials Used in Winter Hiking Boots
Rubber is the most common one. Rubber protects from moisture, cold, wind and lasts longer on heavy usage against rocks.
Cold also alters your boot's materials, so rubber (and leather) perform well there.
Keep in mind that when things get warmer, then the rubber will not allow having the right level of breathability.
Leather and nylon are usually used on the top portions of a boot and low your boot to breathe better.
Leather will make your boots look better, but leather also absorbs more moisture. See our post on how to take care of your leather boots.
Sole materials have evolved for winter boots. They prevent your under soles to harden up to the level to make walking difficult. When the sole is hard, it can let you slip too.
In extreme winter, it is better to use traction systems. That is because rubber won't grip well in extreme conditions.
Good winter boots allow you to expand them with add-on traction systems that come in the form of chains, spikes, "bolt-like" ones, and more.
How Tall Must Winter Boots Be?
With such, we refer to the boot height. You need to think and examine the conditions of the areas you prefer to use your boots.
The height of your boots affects:
Easiness of walking
How much of your foot stays warmer
How easy it is to get them on and off
Is the rule easy? The shorter the boots are, if you try to walk in deep snow, you'll get cold. When it comes to women's specific boots, tall ones are usually made to look pretty nice too.
Stiff or/and Stable Winter Hiking Boots?
You want to have ankle support and protect your toes, along with sturdiness. The general rule is that hiking boots are, by default, designed to be stable. This is the way they are manufactured.
This is achieved with what is called a shank. The shank is a piece of plastic inserted between the midsole and outsole.
The benefit (along with the length) of the shank is that it reduces calf fatigue when you ascent a hill. So, along with the stiffness level of the boot, you decrease fatigue, possible injuries, and you are safer too.
Part of the stability is the proper usage of insoles.
You can change these easily, finding the ones that give better comfort along with proper fitness between your foot and the internal boot arch.
Waterproofing Levels of Winter Hiking Boots
It is better to choose hiking boots with Gore-tex lining. Usually, an extra water-repellent coating is added to make boots waterproof.
Yet, again you need to think that all these coatings will also "help" to produce extra heat on your feet when you walk during a summer day or/and while carrying excess weight.
So, your feed (given the conditions) may not get wet from outside factors but will get soaked on their own with help from your boots.
On the other hand, you need waterproof boots, unless you plan to hike in desert-like environments, where breathability is crucial.
You don't want to have wet feet and socks due to external factors, as this will add too much trouble and discomfort to your hiking/trekking.
Having relatively dry feet is a factor that reduces risks.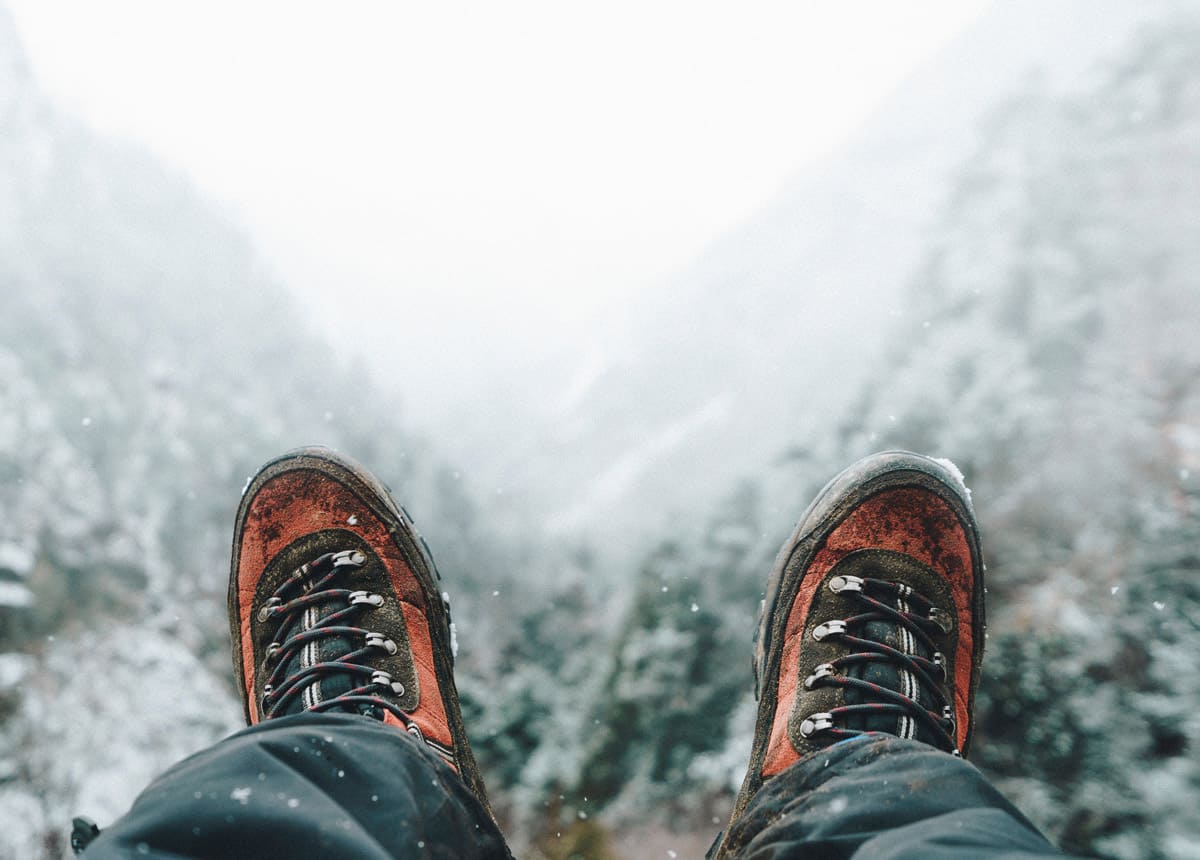 Midsoles, Outsoles, Traction and Toe Protection of Winter Hiking Boots
The essential role of a midsole is to absorb the shock produced from walking under challenging terrains or even soft ones (depending on the nature of the boot).
So, there are stiff & thick ones to thin ones.
The types of materials often used for midsoles are either EVA foam (Ethylene-vinyl acetate) or PU (Polyurethane).
EVA ones are less durable but more flexible and softer, while PA one is more durable than soft. What is the best? It depends on the usage.
Outsoles shape is essential for hiking and trekking boots.
While in regular sports/running shoes, you won't find those deep lugs under your feet as they are for different users, these are must in hiking shoes.
They are needed so to get a better grip/grasp on terrains. You will appreciate such wet grounds and walking downhill too.
Regarding your toes, you will see that there are boots that have a particular added rubber band in front or even some graphite one.
These are there for a reason as the times where you will "kick" a rock will not be few.
This kind of protection is usually not seen in lightweight boots, but -trust us- is something that sooner or later you will need it.
The midsole, which supplies cushioning, buffers feet from shock and mainly figures out a boot's tightness.
Stiff boots may not seem like a good idea, but for prolonged walking on the rocky, irregular surface, they can imply higher convenience and stability.
A stiff boot will not enable your foot to wear by twisting around every rock or tree root you step on.
The most typical midsole products are EVA (ethylene vinyl acetate) and polyurethane.
Hiking Boot Outsoles
Rubber is utilized on all trekking boot outsoles.
Ingredients such as carbon are, in some cases, contributed to backpacking or mountaineering boots to increase solidity. Sturdy outsoles increase sturdiness; however, they can feel slick off the path.
Lug pattern: Lugs are traction-giving bumps on the outsole. Much deeper, thicker lugs are utilized on backpacking and mountaineering boots to enhance grip. Extensively spaced lugs provide excellent traction and shed mud more quickly.
Heel brake: This describes the specified heel zone that stands out from the forefoot and arch. It decreases your possibility of moving throughout high descents.
Shanks: These 3– 5mm thick inserts are sandwiched in between a boot's midsole and outsole to include load-bearing tightness to the midsole. They differ in length; some cover the whole range of the midsole, while others cover half.
Plates: These thin, semi-flexible inserts are placed in between the midsole and the outsole, and listed below the shank (if consisted of). They secure feet from getting bruised by roots or irregular rocks.
Try out boots at the end of the day. Your feet typically swell a bit throughout the day's activities and will be at their biggest then. This assists you in preventing purchasing boots that are too small.
Hiking Boot Uppers
Products affect a boot's weight, breathability, sturdiness, and water resistance.
Polyurethane is typically firmer and more resilient, so it's usually discovered in prolonged backpacking and mountaineering boots.
EVA is a bit cushier, lighter, and cheaper. Midsoles utilize differing densities of EVA to supply firmer assistance where required (e.g., around the forefoot).
Full-grain leather: Full-grain leather uses outstanding sturdiness and abrasion resistance and excellent water resistance.
It's most frequently utilized in backpacking boots constructed for lengthy journeys, heavy loads, and rugged surfaces.
It is not as light or breathable as nylon/split-grain leather mixes. Sufficient burglary time is required before beginning a long journey.
Split-grain leather: Split-grain leather is generally coupled with nylon or nylon mesh to develop a lightweight boot that uses exceptional breathability.
Split-grain leather "divides away" the rougher inner part of the cowhide from the smooth outside.
The advantage is a lower expense. Nevertheless, the drawback is less resistance to water and abrasion (though numerous function water-resistant liners).
Synthetics: Polyester, nylon, and so-called "artificial leather" are all typically discovered in modern-day winter hiking boots.
They are lighter than leather, break in faster, dry quicker, and usually cost less. Disadvantage: They might reveal use more quickly due to more sewing on the outside of the boot.
Nubuck leather: Nubuck leather is full-grain leather that has been rubbed to look like suede. It is resilient and withstands water and abrasion.
It's likewise relatively versatile, yet it too needs sufficient time to break in before a prolonged walking.
Insulation: Artificial insulation is contributed to some mountaineering boots for heat when trekking on snow and glaciers.
Water-resistant membranes: Boots and shoes billed as "water-resistant" function uppers built with waterproof/breathable layers (such as Gore-Tex ® or occasion ®) to keep feet dry in damp conditions.
Disadvantage: The lowered breathability produced by a membrane (compared with the aerating mesh utilized on some non-waterproof shoes) might motivate feet to sweat on summertime days.
Vegan: Vegan-friendly hiking boots and shoes are made with no animal components or by-products.
Fitting the Hiking Boots
Your winter hiking boots must fit tight all over, tight no place, and use space to wiggle your toes. Attempt them on at the end of the day (after feet swell), and with the socks, you prepare to apply.
You can likewise determine your foot length and usage from websites with sizing charts to discover your size.
Double-check length later on by pulling the insoles from the boots and basing on them; you ought to have a thumb's width of the area in between your longest toe and completion of the insole.
Break your hiking boots before your very first journey. A lot of sore-footed hikers ignore this essential action.
You do not wish to feel odd bumps or joints, or pinching in the forefoot, nor toes striking completion of the boot when it's on a slope.
If the boots are laced firmly, and you still feel the area above the top of your foot, then the volume of the boot is wrong.
Crampons and Winter Hiking Boots
If you prepare to do mountaineering or winter season backpacking, having suitable boots and crampons is necessary for your security.
Winter Hiking Boots that take crampons are stiff ones. They don't bend as you walk and that is their strength. That is what provides the sturdiness you need on snow.
How to Tie the Laces of Your Winter Boots
It is "funny" how many people do not give proper attention to this vital factor. Lacing options are crucial to comfort and safety and injuries.
Try to walk with loose laces, and you will stop now and then along your walk. Do not lace properly, and you will end up with crooked boots.
Too tight or too loose laces, and you will end up with blisters, bruisers, and more.
Search for boots where their lacing system and hooks end up at the top of the boots.
In that way, you make sure that no gaps exist at the top "collar" of the shoe, and that stays fit during walking.
Lots are times where we saw many people wearing boots either with either extremely tight lacing or loose one, ending up hobbling around or tripping.
When you break into your winter hiking boots, you need to lace them firmly but not strictly. As boots get softer, you can fasten them a bit tighter but never to turn your feet to a stump.
How to Choose Socks for Hiking and Trekking
A good pair of hiking socks help you evaluate the fit and feel of brand-new boots. Make sure the density of the socks matches precisely what you mean to use them for. You need the right type of socks per type of trekking.
Opt for synthetic instead of slow-drying cotton socks, which are most likely to offer you blisters.
Wear the socks and invest a long time in the boots. Take a stroll through the shop. Walk on stairs.
Choosing Your Winter Boot Size
It's finest to have your foot's length, width, and arch length measured. Foot size should be evaluated by a professional at a shop. When shopping online, think about a brand name you have used before.
The majority of boot businesses tend to utilize a constant foot design with time, so the fit is most likely to be comparable.
If you use orthotics, bring them along. They affect the fit of your winter hikiing boot.
Hiking Boots or Hiking Shoes?
Just keep in mind things like the ones above, along with how much you want to protect your ankle.
Along with that, moving fast may influence your choice towards a hiking boot, but again it depends on the terrain.
Trekking shoes: Low-cut designs with versatile midsoles are exceptional for day hiking. Some ultralight backpackers might even select trail-running shoes for long-distance journeys. Picking the best hiking boots is a matchmaking procedure. Your dream hiking boots have to sync with how and where you trek. However, you likewise need to make sure they're the best fit.
Day hiking boots: These range from mid-to-high-cut designs and are meant for day walks or brief backpacking journeys with light loads.
They typically need little break-in time. However, they do not have the assistance and resilience of stout backpacking boots.
This post about how to recover after hiking is always useful.
These are so far our best winter hiking boots advice. We hope to enjoy it, and we welcome any additional input.
Have fun hiking in safety. Hiking is healthy (see this post from WebMD). Also, read: