Our leather walking boots (or hiking boots if you prefer) need maintenance so we can enjoy them better and for as much time as possible.
During the Autumn and Winter months, our hiking boots are put through hard trials and trails.
There are mud and rain, rough terrain, and all kinds of weather conditions along the trails.
We have in mind that leather walking boots are manufactured in a way to cope with such rough conditions.
That doesn't mean that it is ideal to through our muddy boots in a closet until the next time we want to use them.
Such action speeds up the deterioration of our boots.
Thoroughly cleaning our boots, makes sure that they will accompany you for a more extended period.
Don't forget to explore more posts from our hiking gear section, like Ultralight Backpacking Gear Basics, Best Trekking Poles for Men and Women, Best Hiking Leggings for Women, Best Hiking Gloves and many more.
What happens with Uncleaned Leather Walking Boots?
Neglect to clean them, and boots will destroy faster through a multitude of ways. Why? Here are a couple of reasons:
Every time you walk, your boot bends. Very small pieced or dirt, sand, mud, or tiny rocks sin deeper in the leather of the boot, in the fabric, and its adjoined structural elements. Look closer and notice the series of scratches, like rubbing them with sandpaper.
Mud initially moistens boots, but as it dries, it makes the skin dry too. Your boots become less flexible and materials "break."
Sand and tiny rocks find their way in seams and bindings of your boots, different layers, and materials. Each time you use your boots, these wear down all these layers bit by bit, through abrasion.
When you don't clean your leather boots, all these above sums up.
5 Highly Recommended Hiking Boots
Salomon Quest 4D 3 GTX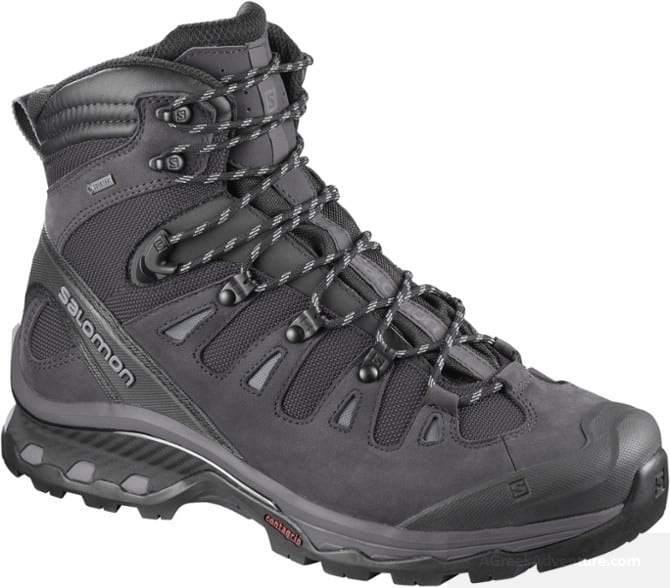 An over-the-ankle boot, made by Nubuck leather/textile, Gore-Tex waterproof & breathable, dual-density midsole (EVA), contact grip rubber outsole. It weighs 2 lbs. 13.2 oz.
Merrell Moab 2 Mid WP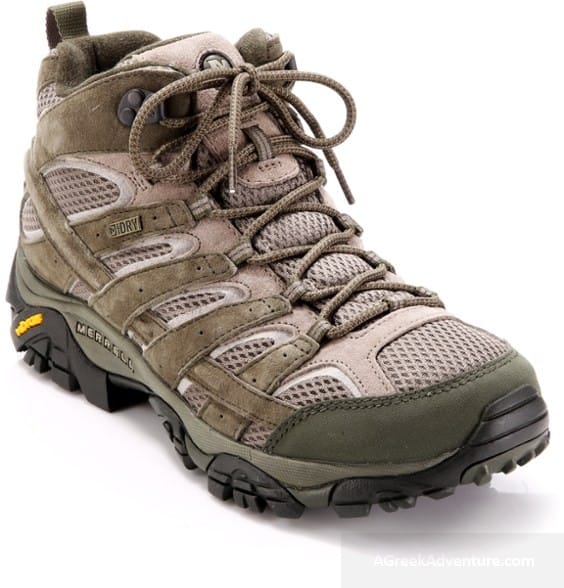 Over-the-ankle, Suede leather, and mesh, waterproof and breathable membrane, EVA midsole, Vibram soles TC%+ rubber midsole. It weighs 2 lbs. 4 oz.
Lowa Renegade GTX Mid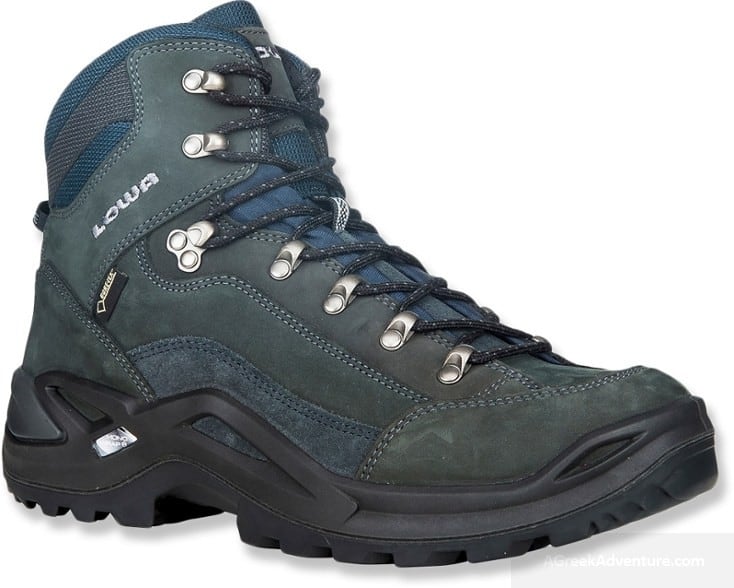 Over-the-ankle boots, made with Nubuck leather and Cordura nylon, with Gore-Tex waterproof and breathable lining, with Vibram rubber outsole. It weighs 2lbs. 7 oz.
Lowa Renegade GTX Mid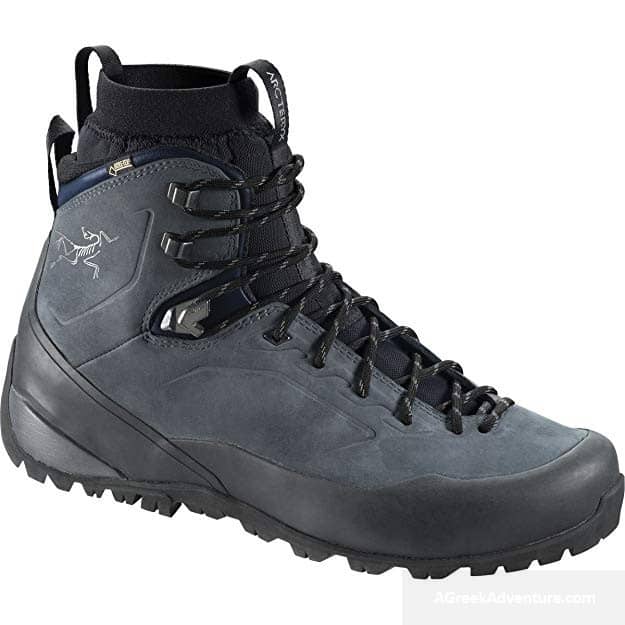 Made with Nubuck leather, nylon, and EVA foam. Waterproof Gore-Tex membrane with EVA midsole. Weighs: 2lbs. 3 oz.
Columbia Newton Ridge Plus II WP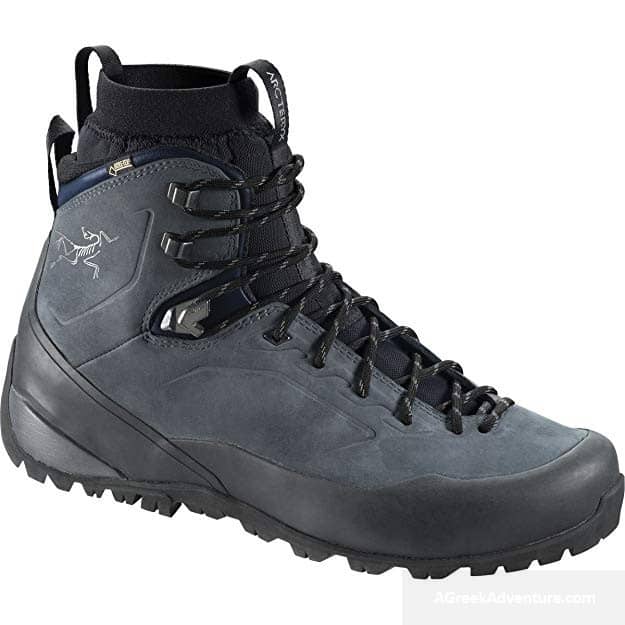 Made with full leather, waterproof with Techlite lightweight midsole. It weighs 2 lbs. 0 oz.
What Cleaning Gear do you need for Leather Walking Boots?
Things are rather simple with such gear. Mostly you need to allocate the time for cleaning. You will need:
A special brush for boots or an old toothbrush. Even a vegetable cleaning brush can do the work.
Use a special boot cleaning liquid, leather specific soap, or a light mixture of dishwashing soap and water.
Cleaning the Top of Leather Hiking Boots
Remove laces before cleaning your leather walking boots.
Use the brush to remove dust, dirt, or mud gently.
You can place the boot under running water while doing that. Then it is time for the detergent.
When using detergents:
Most of the cleaning detergents can be used and applied to a big range of materials, including leather. Just double-check that the one you are about to use is suitable for cleaning your leather hiking boots and follow the instructions.
Do not use hands soap or detergent, not suitable for such boots.
To clean mold away, you need a mixture from 80% of water and 20% vinegar.
Always wash your boots thoroughly with clean water after using detergents.
Do not place your boots in a washing machine. They will most probably get destroyed.
Do not place them next to extreme heat to dry up. Such can cause damage to your boots if weather permits, let them dry under the sun, without any laces.
Otherwise, place them near a heat source but (as said) not too close.
The danger of Saltwater
Last but important is saltwater.
This applies to all kinds of hiking boots.
When you walk through saltwater, it is important to rinse your boots with non-salty water (or better to thoroughly clean them) as soon as possible.
Salt corrodes materials and water allows it to get deep into stuff.
How to Waterproof your Leather Hiking Boots?
If you plan to waterproof your boots, do it while they are still wet (but not soaked).
Most good boots are waterproof, so you don't need to add the extra coating.
However, when you notice that water drops don't roll away from the surface of the boot, but sink in, then it is time for that waterproof coating.
Usually, all methods for waterproofing and maintenance are related to boots made from leather or ones that are made from suede and nubuck "hard" leathers.
Just read all waterproof instructions twice, before applying any coating.
Boots with Gore-Tex or any other type of membrane don't need extra coating. For such boots, simply follow the thorough cleaning process.
Some tips:
If your boots are not moist enough, then wrap them in a wet towel and leave them in your bathtub for a few hours.
Apply the coating after that.
To dry your boots, do not use an extreme heat device or place (radiator, stove, fireplace, etc.). Let them gradually dry in room temperature or better (if weather permits) under the sun, if atmospheric humidity is low.
If you need to speed up the process, then use a fan or a hairdryer (not in high temperature and from a distance).
How to Clean the Outer Sole of Leather Walking Boots?
Dirt and mud won't destroy your boots' outer soles, but cleaning them up allows your boots to have better adhesion against the ground.
Brush dirt away and remove any small rocks that are jammed there.
If dirt or mud has become hard and difficult to be removed with the brush, then soak soles first and use water with pressure to remove the dirt.
Do not dry the soles next to intense heat.
How to Store your Leather Walking Boots?
You may be surprised, but storage contributes mostly to your boots' life expectancy!
Make sure to:
Remove the inner soles and let them dry separately.
Fill the boot with newspapers, so they keep their shape when stored for long.
Store them in a place where there is no atmospheric humidity and temperature remains relatively steady. Avoid storing them in garage, car trunks, attics, or any other moist, very warm, or with reduced ventilation space.
Use this Foot Fitter so to make boots fit well when you store them.
Especially for leather boots, keep in mind that leather is something that is "alive" as a material.
On top of that, all kinds of rubber, seams, and synthetic materials don't react well when mistreated under extreme conditions changes (i.e., from extreme cold to intense heat, etc.).
They tend to "break down" and thus gradually deteriorate.
Treat them well for safety and enjoy them longer.
Have fun.