What are the secrets of lightweight backpacking? From the onset, backpacking was a simple undertaking.
As we know it today, the father of backpacking one 'John Muir' took only some bread and tea out into the wilderness. A century later, the backpackers carried 50-70 pounds of gear.
The trend started changing yet again in the 1990s, though. It witnessed a return to lighter gears by adopting the slogan 'less is more. This begs the question. What is lightweight backpacking?
For a start, lightweight backpacking (also called lightweight weight backpacking) is a broad and subjecting term. As such, there exists no specific definition which can accurately describe it.
This notwithstanding, it can merely mean carrying fewer gears, which ensures your safety, health, and overall comfort while on the hiking trail.
Super Ultralight Backpacking Gear Listcking Tips
You will find these tips quite great and handy if you are a starter in the field of lightweight backpacking trips.
These apply to all circumstances and not only in a PCT (Pacific Crest Trail) hiking. All these tips and top gear help you save weight, either for a day trip or a multi-day one.:
Tip #1: Weigh your gear
Start by weighing your gears appropriately. You may use the kitchen or luggage scales to do the job. Take note of the present B.W. That refers to every item on the backpack apart from the fuel, water, and food jointly called consumables.
Tip #2: Replace older gears with lighter ones
Next, replace the more former gears with their lighter counterparts. As you do so, pay keen attention to the precise weights of each item. Your overall aim should be coming up with a total B.W. of no more than 10 pounds. However, this weight may double if you choose to add some consumables.
Tip #3: Make gradual changes
Gears generally become more expensive whenever they get lighter. Concerning this, you have to lessen the load for an extended duration of time. To do so, you have to replace the 'big ticket' item one at a time. In their place, fix the lighter-weight and potentially costlier model.
Tip #4: Comprehend the trade-offs
Generally speaking, lighter backpacks usually are less durable. That means that you will pay more to leverage their services in the long run than the heavier versions. You, therefore, have to come to terms with this reality and make the necessary expectations.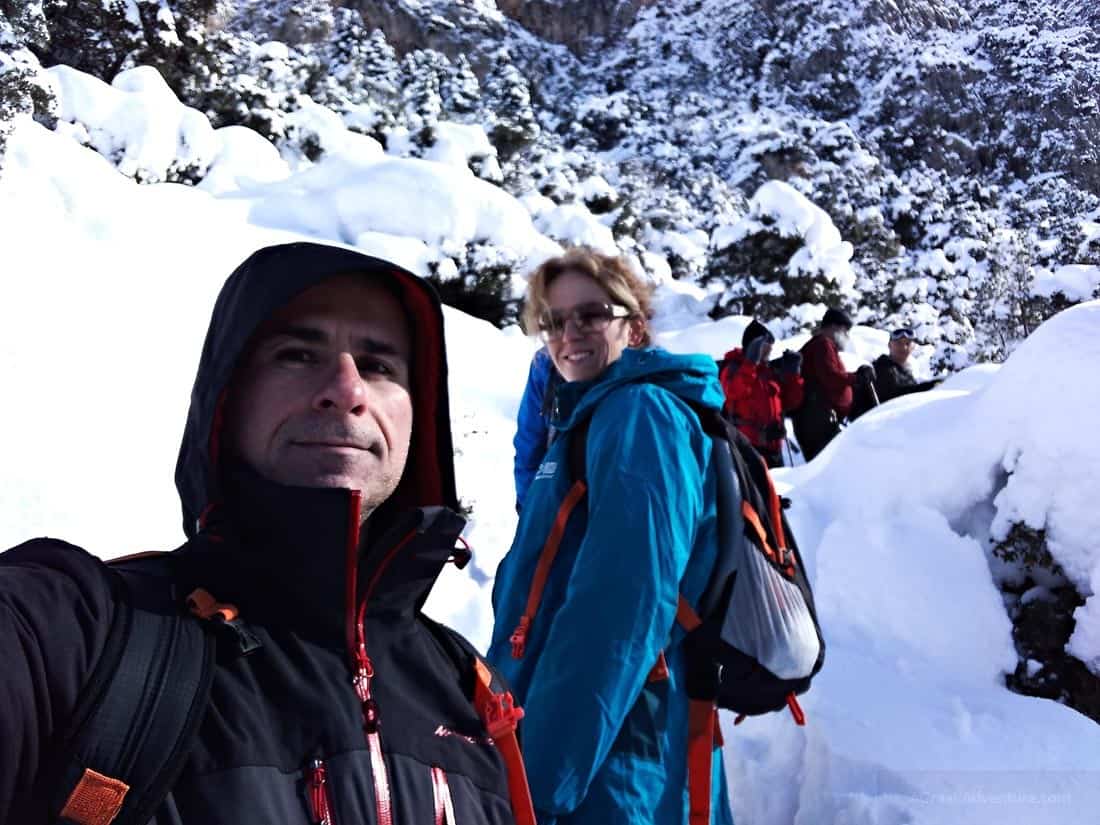 Going Lightweight with the Big Four for an Ultralight Pack
Perhaps the fastest and the most convenient way of lightening your load is to substitute all of the four most substantial loads, which all the backpackers must carry. These are the tents, backpacks, pads, and sleeping bags.
#1: Lightweight Backpack
Traditional backpackers are generally larger and bulkier in size. Their capacities are 65 liters and can contain 3 to 4-pounds of weight. They are hence undesirable for use, especially in harsher terrains.
In their stead, you should use the lightweight versions, which are generally frameless, minimally padded, possess limited 45- to 55-liter capacity, weigh a paltry 1.5 to 2 pounds, and are occasionally more minor in size.
Lightweight Backpacking Gear Suggestions:
#2: Lightweight Shelter
Backpacking Tents – If you prefer to use the tent as the shelter, use one that contains mesh all over. Such a tent has to possess a rainfly to keep insects and smaller critters out. A tent with a capacity to accommodate one person requires a trekking pole for added support. It goes for around £1 or £2.
Lightweight Tents & Gear Suggestions:
Tarps – Lightweight tarps allow you to create some decent rain shelters. However, they require some guylines and a couple of trees, stakes, or trekking poles for added support.
Lightweight Backpacking Tarp Suggestions:
Bivy sacks – These sacks generally weigh 1-2 pounds. They have some waterproof shells and require some bare minimum bag, weighing around 6 ounces to carry.
Lightweight Backpack Bivy Sacks Suggestions: MLD Superlight Bivy
Lightweight Hammocks – To further guarantee your comfort, you may opt for a lightweight hammock. These may include some rainfly or a bug net.
Lightweight Backpacking Hammocks Suggestions:
#3: Lightweight Sleeping Bag
Choose the down sleeping bag as it is lighter and more compressible than the synthetic fills.
Moreover, most of them are water-resistant and weigh a paltry 1-2 pounds. Below are some tips you might wish to uphold to reduce the weight of your bag:
Select a bag whose warmth you are comfortable with. Extra warmth will typically bring in excess weight.
Go for a mummy bag that lacks a hood. Instead, wear a balaclava or a warm knit hat on colder nights.
Think of a down trekking quilt, especially if you are a thru-hiker rather than a sleeping bag.
Lightweight Backpacking Sleeping Bags:
#4: Lightweight Sleeping Pad
The air pad sleeping pads have primarily taken self-inflating pads as the lightest comfort pads for lightweight backpacking. With just £1, you can obtain a full-length pad, which confers great cushioning and even slight insulation.
If you are a thru-hiker, though, you should prefer a closed-cell foam pad given their more exceptional durability for the long haul travels. To spare you the extra weight, you have to select a pad that is the length of a torso.
Alternatively, you may also cut down the closed-cell foam pad. You may make use of your pack for insulation by placing it under your feet from the ground.
Lightweight Pad Suggestion:
Water, Fuel and Backpacking Food
These three are the most substantial items after those above the big four.
Concerning this, you should only carry those you need for the duration of time you will be out on the hiking trail.
#1: Water
Carry enough water for the whole of the day. Carry out some research to find out the lakes and streams that may be available along your route. That is to ensure that you filter and refill conveniently along your way. Below are some great water tips for your consideration:
'Camel up' before leaving the camp each morning. Do so by drinking sufficient amounts of water. The same should apply at all times you get to a water source. That will see to it that you carry less water along the way.
Limit your water load to one liter or 2.2 pounds. This is not unless you intend to hike in a desert. Only then will you need more in between any two consecutive sources.
Carry along with you some mini filter. Some of these weigh only 2 ounces. On the same note, carry some backup purification tablets in tiny plastic bags rather than the glass bottles they sell.
Use the collapsible water bottles with capacities of between 1-2 liters. Such a container is 80% lighter than hard plastic water bottles.
Lightweight Water Carrying Gear:
#2: Fuel, Lightweight Backpacking Stove, and Cookware
To stay as light as possible, you have to boil the water to dehydrate the food rather than cooking complete meals from scratch. This arrangement also saves high weight on both the fuel and the food.
As regards the cookware, consider the dual-purpose ones. While at it, use the Spork instead of buying the fork and the spoon separately. The titanium mug may also play the role of a pot. Listed below are some popular Lightweight backpacking stove alternatives:
Tablet fuel stoves – These stoves use a tablet rather than liquid fuels. Find one that is made of Aluminum or buy one. Make use of one tablet of fuel a day or a meal per your unique needs.
Alcohol stove – The alcohol stove weighs only an ounce. You should, therefore, carry along a bottle that contains as many fluid ounces of alcohol as you might probably need for each meal per person per day. Be sure that the container is strong enough not to break apart inside the backpack. You may wish to safeguard it in a zip-top bag just in case.
Canister stove – Canister stoves are tiny folding stoves. They typically weigh 2-3 ounces. They perfectly screw onto the isobutane canisters, which weigh a lot.
The amount of meals each canister may make varies greatly. In general, though, 2 ounces per day is sufficient for one person who consumes two meals daily. It is in your best interest to learn just how much a canister may make.
Integrated canister stove system – Certain lightweight backpackers will often contain some integrated canister stove system. This is especially if it has to prepare meals for two or more persons at a time. It also boils water much faster than ordinary canister stoves.
Lightweight Backpacking Cooking Utensils:
#3: Food
Plan to carry enough food to generate 3,000 to 4,000 calories or around 2 pounds each day. This should be determined by the number of miles you intend to cover and how fast you intend to do so. It would be best to consider how strenuous the elevation gain or loss is likely to be. Below are some lightweight food tips:
Go instant – For breakfast, you should think of instant coffee and oatmeal. They are quick and fuel-efficient sources of food. On the mornings that are too cold, you should eat some protein bars to get you up and move. Make some stops along your way for some added oatmeal.
Be calorie-conscious – Bring along some fat and calorie-rich snacks for your lunch. These include powder supplements, dried fruits, chocolates, seeds, nuts, and protein bars. You may wish to carry along also some salami and hard cheese.
Dehydrate the food at home – Doing this saves a great deal of money and packaging effort. You also get to generate and season the meals in the manner you prefer.
Do your packaging – Besides dehydrating your food, you also ought to package them yourself. Store the dried dinner inside a zip-top freezer bag. Add the hot water directly into it. The bag can withstand near-boiling water.
Rehydrate some of the foods using cold water and let them sit for an hour or two to save fuel.
Make use of what you find first and foremost – In case you serve your foods on mugs or pots, you need to clean them beyond mere rinsing. Use a sponge that measures one-by-two inches, typically derived from larger ones at home. Use leaves, grass, or sand to wipe out the vessels first. After that, use some water and scrub them if need be.
Additional Lightweight Backpacking Tips
Don't compromise your safety – In your weight loss venture, do not at all overlook your safety. Always keen on the ten essentials with you as they will come in to enhance your safety if and when you need it.
Be Lightweight But Safe
Navigation system – Carry along with you a map. GPS watch or other navigational devices. Get to know the benefits and downsides of the personal locator beacons, especially with satellite imagery. They are heavy but play a crucial role in alerting the peers of your whereabouts at any given time.
Navigation Suggestions:
Safety whistle – You may wear a whistle that is light in weight yet loud enough around your neck. This is to be ready for use in times of emergency. Remember, three blasts are necessary for international distress calls for help.
Whistle Suggestion: Tri-Power Whistle
Sun protection – Carry some ounces of sunscreen in some small bottles as well as a tube of lip balm oil that is preferably rated UPF 30. It would be best if you also put on an excellent sun-shading hat as the first line of defense against direct sunlight. While in the desert, you should also put on sun gloves and a long-sleeve shirt with a UPF rating of 50+. Sunglasses are vital for the excellent health of the eyes.
Lightweight Sun Protection Products:
Illumination – Fill the no-frills, low-weight kids, or the adult headlamp, which weighs 2-3 ounces, including the batteries. Fix the fresh batteries right before you depart from the room to prevent the need to carry extra amounts. You may even illuminate your camp using a small LED lantern that weighs only 2.5 ounces and is powered by one AA battery. I prefer only the tiny LED microlights, which weigh 0.5 ounces.
Illumination suggestions:
Insulation and clothing on Lightweight Backpacking Gear
Always carry synthetic or lightweight puffy jackets. You will want to use a long underwear bottom and a preferably long-sleeve top for the base layers.
Most long-distance backpackers prefer to put on running shots complemented by built-in underwear. Bring in some long pants if you anticipate scrambling on your route. Carry two pairs of wool or any other synthetic underwear to wash and wear alternately.
Two or three pairs of wool or synthetic socks may also work well for most lightweight backpacking needs.
Suggestions:
Rain/storm gear includes rain pants, gloves, warm hats, pack cover, and rain jackets. They also incorporate some free waterproof rain mitts. Keep these gears at the top of your pack for the sake of easy access when needed.
Rain Wear Suggestions:
Bandana – This clothing item is highly versatile and worthy of special mention. Please put it on as a headband, sun cape under a cap, or as damp clothing round about your neck.
You may also wish to use it as a towel for your dishes or dry your body. Some other added uses are pot holders, tourniquets, or bandages in times of emergency.
If you happen to be a woman, bring in a dedicated one to serve the role of a pee rag.
Footwear – In most instances, trail-running shoes are the best for lightweight backpackers. However, some cases may require non-waterproof footwear, given that it takes shorter to dry completely. Before switching from the sturdy boots, consider strengthening the feet on the load-bearing day hikes.
Shoes & shoes gear suggestions:
Scaled-down first-aid and repair kit – Do carry some antibiotic ointment, bandages, gauze pads, blister pads, razor blades, and pain-relief pills in some tiny packets. You should also bring a few inches of duct tape, preferably wrapped around the lighter or water bottle. Pieces of gear-repair tape are also necessary if you sustain a hole in the pack, air pad, or sleeping bag.
Suggestions:
Cleanliness and hygiene
Below are some small amounts of things that you need to bring to be able to stay healthy while on the trail:
A small bottle of hand sanitizer for disinfecting your hands after visiting the toilet but before preparing foods.
Have a travel-size tube of toothpaste (squeeze out half of it to use at home) or some baking soda in a baggie, which you may moisten with some water.
Carry a toothbrush that is cut in half or a child-size toothbrush.
Have a small bottle or piece of biodegradable soap. This is necessary to clean your hands and body outside the camp but not in a water source.
Two pre-moistened wipes per day. One of these wipes is for your hands, neck, and face, one of them for your nether regions. While at home, get hold of your allotted wipes and leave them out at night to dry a little bit.
This reduces its weight significantly. Store them in a zip-top bag. Re-moisten, if necessary, using a bit of filtered water on your trail. The wipes require to be packed out, rather than buried, as most may contain some plastic.
Two squares of toilet paper each day. Use some heavy-duty paper towels that are cut into 4-inch squares in the place of ordinary toilet paper.
Alternatively, measure out the wads of regular toilet paper and leave out the rest of it on the cardboard at home. Lastly, put the paper in some zip-top bag. On the same breath, carry a zip-top waste bag with you for the sake of packing out.
Pee rag (if you are a woman): ¼ of a full-size bandana works fine. Tie onto the outside of the pack for drying.
Lightweight Backpacking trowel: Contemplate bringing in some lightweight towel for digging the cat hole. Wipe it first and foremost using some soft leaves, smooth stones, or sticks. After that use some square or two of the paper.
Suggestions:
Trekking poles
Opt for the carbon fiber trekking poles to arrive at the lightest weight possible. These poles are great for maintaining balance, especially on rocky terrains. Besides serving as shelter poles, they alleviate knee strains on the uphill and the downhill terrains.
Suggestions:
Luxury items
Each lightweight hiker brings in at least one thing that contributes to the trip's excitement. That could be compact binoculars if you are a bird-watching enthusiast, a journal to jot down notes, and so on. Make room for some treat or two for the trails.
Suggestions:
Lightweight Backpacking FAQ's
What exactly is "ultralight backpacking"?

That is a form of packing the backpacks in such a manner as to minimize significantly the excessive weights that are often brought about by the gears. It entails carrying only those gears that are essential for the trips. It also sees that the gears are as light as is realistically possible, given the prevailing circumstances.

How different is lightweight backpacking from "regular backpacking"?

The backpackers place a significant priority on the weight of their gears rather than the contents carried. It is mainly preoccupied with shaving off excess luggage and weight, as has already been stated and explained. Cottage industries often manufacture lightweight backpacks, whereas regular backpacks by well-established firms. As such, they are less durable than ordinary backpacks.

Which weight is generally regarded as lightweight?

Making a distinct boundary is a bit tricky because the concept is largely subjective. On the whole, though, the following are some of the available base weights (B.W.) for these kinds of backpacks:
Regular = 30 pounds B.W.
Lightweight = 20 pounds B.W.
Ultralight = 10 pounds B.W.
Hyperlight = 5 pounds B.W.

How is the B.W. calculated regarding the "total pack weight"?

The formula is:
Base Weight (fixed gears) + Consumables (variable gears) = Total Pack Weight
Calculating such a B.W. is necessary for assessing the standard amounts of gears.

Which items are deemed B.W. (fixed), while which ones are considered to be consumables?

Food, water, gears worn while hiking, and stove fuels are generally considered consumables and wearables. Everything else apart from these is found B.W.

Is going lightweight right for you?

This is yet another subjective question. It all depends on what you intend to get out of a trip. If you prefer spending more of your time at the campsite than hiking, you have to carry along some playing cards, thick air mats, coffee makers, and an extra pair of comfortable camp shoes.
However, if you plan to hike a long distance for a prolonged time, you will prioritize those items that take up less space and weigh less.
Finally, you need to take care of your after-hike recovery or while you are on the trail.
This post helps you to hike easier, safer, and with less "baggage." Kindly share it around with your friends.
Enjoy.
Also read: