How do you find and combine the best base layer for extreme cold weather along with all types of hiking clothing (jackets, pants, etc.) for casual hiking or cold?
In this post, you will learn how to combine all depending on weather conditions and choose the warmest underlayer. That is one of the best and most essential lessons a hiker needs to know, next to safety: selecting the proper or warmest base layers depending on the weather conditions.
Base layer clothing for cold weather slightly differs between women and men due to different body structures.
What is a Base Layer for Extreme Cold Weather?
A base layer for cold weather is what you wear when the weather gets cold, directly on your skin. Most think that when the weather is such, they need to wear plenty and thick clothes. That is not correct. The "onion layers" layering system is critical in winter hiking.
Base layers (thermal clothing) are made for such reasons.
They have plenty of properties depending on their materials, and their results change depending on how well you combine them with all other hiking clothing as you hike!
Additionally, base layers can also be used in city walking when the weather is cold. They are not exclusively for hiking or/and mountaineering.
What are the Materials for Base Layers for Extreme Cold Weather?
As materials evolve, base layers are worn for non-hiking reasons.
The reason why is they are elastic, light, and flexible to be a "winter t-shirt," that keeps you warm and allows you not to wear many heavy clothes to get warm.
The most popular materials they are made with are Polyester, Poly-amid, Polypropylene, Wool, and Merino Wool.
They slightly differ per season.
On top of the materials, the actual weaving of the fabrics plays an essential role in the efficiency, quality, and seasoning of the base layer.
To cut it short: Thick weaving is met to winter base layers and thus keeps the body temperature as steady as possible.
Thick weaving doesn't mean that the base layer will end up heavy. On the contrary, it will be light and thing.
In that way, you can choose the proper activity material.
For skiing or mountaineering, you must choose a breathable material, as the last thing you want is to swim in your sweat.
Wool thermal underwear will keep body temperature reasonable, even after getting wet.
Under the same logic, base layers are unsuitable for days with radical temperature changes, i.e., from very cold to hot. Such conditions may happen when you walk through a forest in winter and then rise to the bright sun without the wind cooling you down.
Some exceptions with base layers perform well in high and low temperatures.
Here is a breakdown of different materials for base layers and their benefits.
Base Layer Synthetics
That is the most common type of long underwear. Why?
Super fast to dry
Durable
Inhibit odor retention (for multi-days trips, bring more or have some tolerance)
Merino Wool for Base Layers for Cold Weather
Not the itchy type of wool. It is soft with fine fibers.
As a material, it is used as supplementary material with other fabrics (i.s. spandex). Why is it significant?
It wicks well (some moisture is retained in wool and gets a bit longer to dry)
Is cooler (gets cooler when the weather is warmer)
Durable, but up to some point (if you carry a heavy backpack, it will wear through with time)
Odor-free (Wool is highly odor resistant to bacteria that cause odors)
Silk
Extraordinarily soft but not for severe conditions. Why?
Not so excellent wicking (when lots of sweating is involved)
Lightweight but not durable
Keeps odors in
Ceramic-Wool
This "technology" includes wool embedded with ceramic particles, and most claim that this material is top for the warmest base layer clothing.
Such clothing is for hot weather only, as ceramic will attract body heat and, at the same time, will dissipate it quickly, thus leaving you far more relaxed.
How to Choose the Best Base Layers for Cold Weather?
In summary, there are three main factors to take into consideration.
Materials: It needs to keep the sweat off your skin, synthetic or wool. That is called "wicking."
Weight: You will meet three types of "weights." These are Lightweight, Mid-weight, and Heavyweight. The thicker, the warmer it gets.
Fitting: Fabric has to be in direct contact with your skin to be efficient. You don't want to feel it "tight," but more like a snug fit.
How to Wear Base Layers for Extreme Cold Efficiency?
One of the most discussed topics among amateur hikers is combining clothing under different weather conditions.
Before moving to the analytic diagram for this, let's state what "different weather conditions" really mean.
Hiking can happen in many different terrains under different (and changing) weather conditions.
For example, it can be sunny and cold, but then it can get colder as you walk through a forest, then it can become even stiffer as you get out of the woods to a hillside where the North cold wind blows, etc., or it can become warmer.
When you walk, you can meet all kinds of conditions.
What do you wear when things are like that? There you need the "onion layers" clothing.
With mid-layer, we mean either a fleece or a loft jacket. With the outer layer, we suggest a hardshell or softshell jacket. Here is the table explaining how to do that.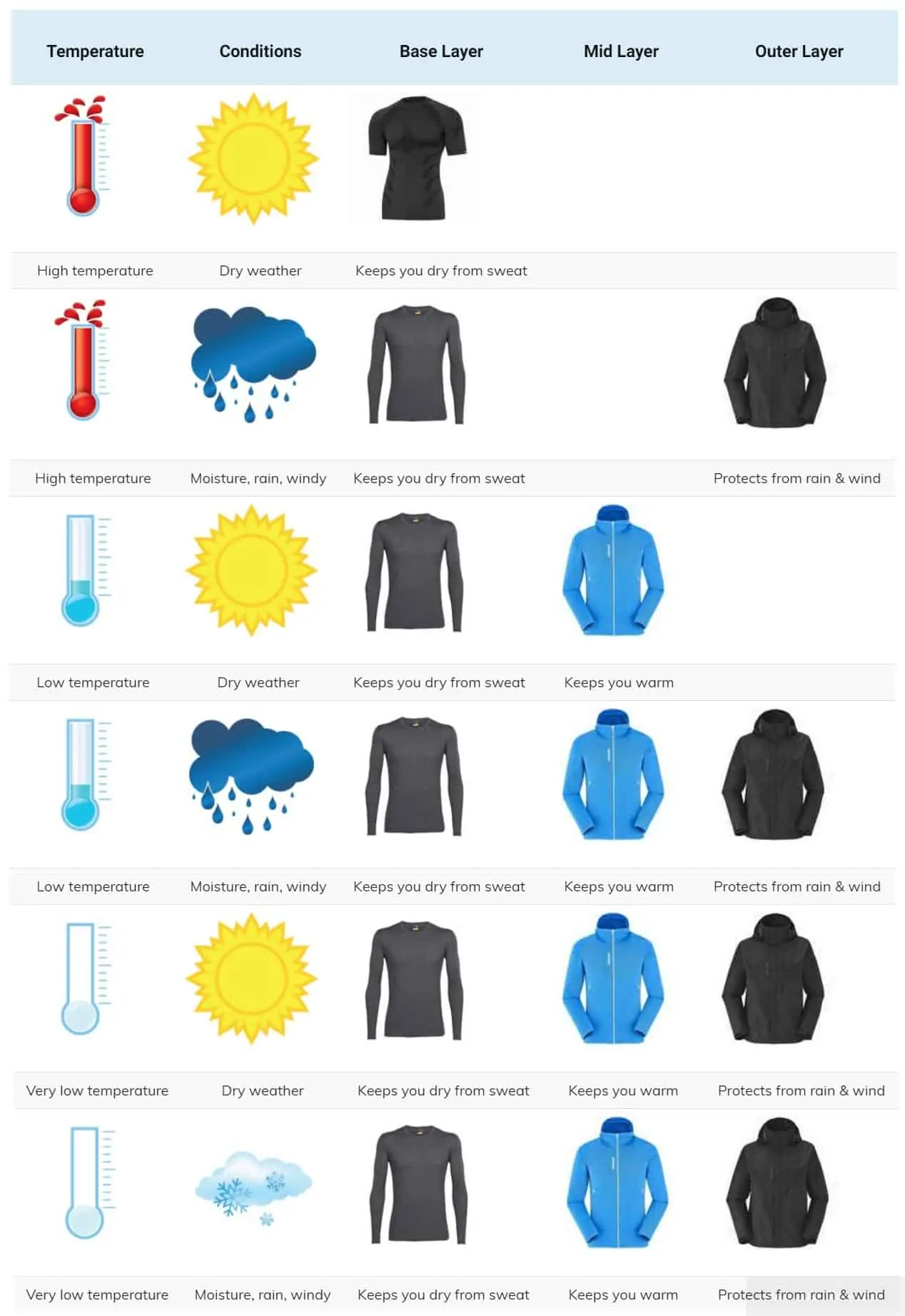 How does the Best Base Layer for Extreme Cold Weather Work?
There is a thin polyester layer in the inner part of the base layers. That acts as an insulation layer. Then the coating absorbs the moisture from the body and "pushes" it out. In that way, your skin remains dry.
The question here is: why keep the skin dry?
The "elders" said that when you get sweaty and the surrounding temperature is low, you will feel that external cold multiplied and on your skin.
That invites the risk of getting a cold, and your energy will gradually decrease as your body tries to balance internal and external temperature.
As this happens, you will also need to consume more energy (food), but that won't equalize the effect of freezing further.
On top of that, the extra sweat is annoying by itself.
Due to their thicker weaving, base layers keep the temperature where it is meant to be and don't allow it to "get out."
So, you save yourself warmth by using your production of heat.
Moisture is expelled from your skin, leaving you with less odor and a lack of microbes that love moisture.
Base layers are meant to wear directly on your skin, without any other fabric between your skin and them.
Regarding the size, it must fit but not be too tight. It needs to be elastic enough to have all ranges of motion.
Tops: Which Base Layer for Extreme Cold to Choose?
There are t-shirts, tops, bottoms, socks, and gloves; you can choose as many as needed depending on the conditions.
The good thing is that they are light and compact, so they take very little space and weight in your backpack.
Even if you don't hike through icy terrains, you can replace some of your cotton long-sleeved shirts with base layer ones.
There are many options, from base layers that look like a typical shirt to technical ones suitable for extreme temperature conditions and turnarounds.
The ones that "resemble" a typical t-shirt can also be worn in the city.
Material: Polyester (bluesign® approved)
Moisture Wicking: Yes
Quick Drying: Yes
Underwear Weight: Midweight
Material: 100% merino wool
Moisture Wicking: Yes
Quick Drying: Yes
Underwear Weight: Lightweight
Material: 100% merino wool
Moisture Wicking: Yes
Quick Drying: Yes
Underwear Weight: Lightweight
Base Layer Tights or Pants for Extreme Cold?
These are suitable for very cold weather hiking but will also be applicable when you stroll in the streets of a frigid (North) European city, where temperatures drop low.
We found a pair of base-layer bottoms to be a lifesaver on our New Year's Eve trip to Moscow.
Temperatures dropped to -20oC, and winter pants were not enough.
You can use women-specific tights as they are (without extra pants) for either hiking or running, and there are bottoms you can use as underpants.
See this post about women-specific hiking pants and leggings.
Men have their base layer underwear, too (short or long). Both men and women can choose from a range of insulated long johns too.
Apart from keeping your "privates" warm, they are elastic. During many hours of hiking, you don't want sweaty cotton underpants.
In case your work involves spending too much time outside, they are perfect for that also.
Material: Spandex
Moisture Wicking: Yes
Quick Drying: Yes
Underwear Weight: Midweight
Material: Polyester
Moisture Wicking: Yes
Quick Drying: Yes
Underwear Weight: Midweight
Thermal (Base Layer) Socks for Cold Weather
Similarly, thermal socks are great if you want to keep your feet warm. They come in short and long (up to your knee).
Material: 77% Polyester, 20% Cotton, 3% Spandex
Moisture Wicking: Yes, with Anti-odor technology
Extras: You can always add an extra gear to keep your head warm for special occasions. Balaclavas are such gear. These cover most of your head and face, thus significantly decreasing body heat loss.
How to Clean a Base Layer for Extreme Cold Weather?
The same rule for all "technical" gear applies here. Follow the manufacturer's instructions for washing, cleaning, and storage.
Such clothes are usually washed at 30oC and not in a laundry machine.
Do not use softeners or "hard" detergents to decrease the life cycle of base layer clothing.
Such clothes usually dry very fast, another reason outdoor activities enthusiasts prefer them.
Want to learn more about hiking gear? Explore more posts from our hiking gear section, like Ultralight Backpacking Gear Basics, Best Trekking Poles for Men and Women, Best Hiking Leggings for Women, Best Hiking Gloves, and many more.
Share this post with your friends.
Also read: