We prepared this article to find the best women's hiking shorts to help you learn all the factors that engage in such a decision.
Finding the most suitable set of hiking shorts for women comes with examining factors like breathability, stretch, durability, length, comfort, fit, & style but also UV protection. Their design and materials must allow moisture-wicking; otherwise, you will suffer a lot during hot days.
Not all hiking shorts for women are made equal. Please read about our choices and all the factors involved.
Comparison
IMAGE
PRODUCT
1. Little Donkey Andy Women's Stretch Quick Dry Shorts for Hiking

Good length for hiking
Deep pockets
Very elastic fabrics

Check Price
2. Willit Women's Yoga Lounge Shorts Hiking Active Running

Extremely lightweight
Versatile
Adjusts to body shape

Check Price
3. Columbia Women's Anytime Outdoor Shorts, Stain & Water Resistant

Quite stretchy
Body Skimming Fit
Drawstring waist

Check Price
4. The North Face Women's Paramount Trail Hiking Shorts

Integrated belt
Good pockets length
Lightweight

Check Price
5. Columbia Women's Saturday Trail Long Short

Zip Cargo Pockets
Lightweight, packable
Good for long torsos

Check Price
Best Hiking Shorts For Women
A very comfortable pair of hiking shorts for women that feels cool pushes moisture away from your body.
The 4-way spandex is durable and does not obstruct movement so that you can wear it all day long.
As such, these shorts are both lightweight and breathable but also practical. They have two front pockets and two side zipper pockets.
Specifications
| | |
| --- | --- |
| Style | Mid-rise |
| Material | 95% Polyester, 5% Spandex |
| Size | XS to XX-L |
| Color | Many color variations |
| Length | Approx. 8 – 9″ Inseam |
Features
50+ UPF
Highly breathable materials
Stretches 4-ways
Above the knee style
Perfect waist feet
Great value for money
What We Like
The water-repellent fabric dries quickly, so don't worry about not staying dry. The waistband is semi-elastic to feel comfortable when hiking, and with the adjusted belt loops, you can quickly wear an extra belt.
Pros
Very elastic.

Great for curvy persons too.

Pockets deep enough for smartphone.
Cons
Maybe too ballooned due to elastic waistband.
These shorts are a moisture-wicking combination of nylon and spandex. They come with an elastic waistband, adjustable drawstring, and side pockets.
The seams are extra flat seams to prevent chafing and leave you with a feeling of softness on your skin.
You can wear them in a gym, on an easy hiking trail, or even for yoga. Their design does not let the shorts ride up.
Specifications
| | |
| --- | --- |
| Style | Mid-rise |
| Material | 80% Nylon, 20% Spandex |
| Size | XS to 3X-L |
| Color | Many color variations |
| Length | 2.5″ Inseam |
Features
UPF 50
Hand pockets for small items (i.e. like a key, card or cash)

Flatlock stitching.

Cool, breathable and stretchy.
Moisture-wicking.
What We Like
This is the kind of shorts that feels like not wearing them when you do. They are very soft and highly adjustable to the waistband drawstring.
Pros
Soft and lightweight fabric wicks moisture away.
Equally look good for long legs and wide hips.
Perfect for yoga, running, travel, hiking, workout, walking.
Cons
Not too deep pockets.
Length not suiteable for areas with tall grass.
Few pockets.
These mid-rise hiking shorts for women repel rain and stains while protecting you from UV rays. They are stylish and functional. The UPF fabric keeps you cool, dry, and clean.
Omni-Shade technology blocks UVA and UVB to prevent sunburns.
There are two pockets for small items but without zippers.
Specifications
| | |
| --- | --- |
| Style | Mid-rise |
| Material | 96% Nylon, 4% Elastane |
| Size | Various sizes |
| Color | Various color variations |
| Length | 5″ Inseam |
Features
Omni-Shield™ advanced moisture repellency

UPF 50 sun protection (Omni-Shade™)

Comfort stretch

Active Body Skimming Fit

Drawstring waistband
What We Like
These hiking shorts are an excellent option for hiking in areas with no tall grass. A drawstring waist adjustment is a good option when hiking long under the hot sun, and the Omni-Shield repellency for water and moisture is a plus for such shorts.
Pros
Technology that repels water and stains from absorbing into the yarns.
Stretchy enough.
Cons
Small, not deep pockets.
Length not suiteable for areas with tall grass.
Moisture-wicking and quick-drying hiking shorts, with the belt being integrated into the waistband.
They are a must-have for summer weekends and are stretchy for all-day comfort and mobility.
Specifications
| | |
| --- | --- |
| Style | Mid-rise |
| Material | 94% nylon/6% elastane |
| Size | 2 to 16 Tall |
| Color | Many color variations |
| Length | 32.5-33.5 Inseam |
Features
UPF 50
FlashDry™ technology to feel cool and dry
Adjustable integrated belt
Front drop-in pockets
One secure zip pocket on the back waistband.
They are stretchy enough.
What We Like
Very stylish hiking shorts for women, hiking outdoors or wearing them in the city. The integrated belt is a fantastic feature that helps keep the pants in place when walking for long and getting sweaty.
Pros
Integrated belt.
The drop-in pockets.
Lightweight
Cons
Pockets could be deeper.
Belt would be nice to be removable due to extra loops.
The Flexion nylon/spandex fabric blend gives the proper stretch with unrestrained movement, making these pants excellent for travel, hiking, and other daily adventures.
Multiple pockets are pretty handy to place small valuables and your phone. The design is moderately curvy through the hip and thigh to fit well on body shape.
Specifications
| | |
| --- | --- |
| Style | Mid-rise |
| Material | 96% nylon / 4% elastane |
| Size | Regular to Plus |
| Color | Many color variations |
| Length | Approx. 8 – 9 in. |
Features
StormRepel DWR moisture-wicking finish
UPF 50+ Sun Protection
Secure Zip Cargo Pockets

Flexion performance stretch

Lightweight and packable with unrestricted mobility
What We Like
These hiking shorts for women come with a straight, smooth fit on the leg, not a baggy, boxy shape. The company tests these pants with outdoor guides and athletes who use them each day long.
Pros
Tested by guides and athletes.
Slightly curvy fit that sits below natural waist
Cons
Some smartphone sizes may not fit in pockets.
Conclusion: Our Choice
Our choice is the Little Donkey Andy Women's Stretch Quick Dry Shorts for Hiking, Camping, Travel. The reasons are plenty.
They are suitable for hiking-first and in the ideal length. For sure, many of the other options are comfortable and smooth, and stretchy, but this pair we consider as the best hiking shorts for women due to the number of pockets, durability, flexibility in its design that can accommodate different body shapes, along with having the belt loops so you can insert your preferred belt.
These women's hiking pants are an excellent choice for walking in a city, admiring the sightseeings.
Things To Consider For Selecting Hiking Shorts for Women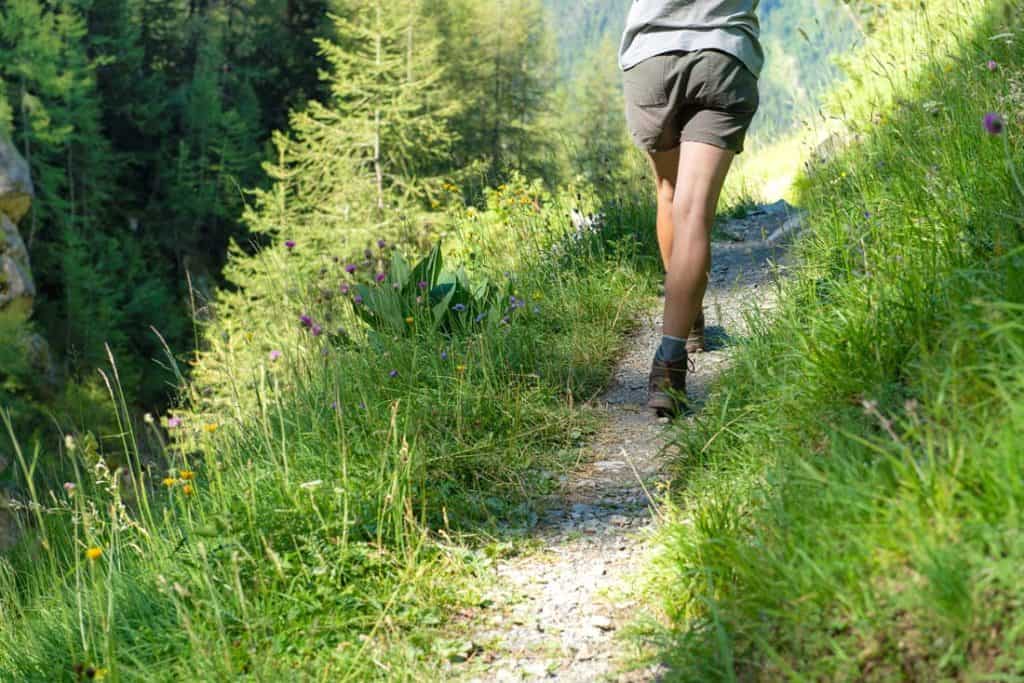 Shorts for hiking are different from regular shorts in many ways.
The materials, along with the number and style of pockets, and -finally- the design and fit are the main components that will influence your decision for hiking shorts.
Materials are crucial for hiking shorts. They affect how your hiking shorts perform with moisture and odors and are comfortable and elastic enough while walking. You want your shorts to be durable and not tear up when you make extended moves (i.e., climbing up).
The pockets are often ignored, as many choose not to place things in their pockets but their backpack. Features like pockets, size and depth, and zippers play an essential role in your comfort.
Your hiking shorts must ease your movement and perform nicely, especially after many hours of hiking. Style and the right fit are equally critical. While the style has more to do with your aesthetic preferences, the right fit is essential. The latter is where you will notice if something is wrong with your hiking shorts.
Let's examine these details in depth.
How Tall the Waist of Hiking Shorts must be?
The best option is that your hiking shorts should end and sit on your waist level. Avoid any high waist or low waist ones. Shorts with a high-rise waist will be very uncomfortable if you carry a backpack or anything in your pockets. The backpack will push the waistband down, and more fabric there means more friction.
Proper hiking shorts for women (or men) have a design where the waistline is narrower than the rest of the shape of the shorts. If you want a taller waistband, go no higher than a mid-rise. That helps the shorts sit nicely and not slide down with walking, especially when carrying a backpack.
The Importance of an Elastic Waistband
The hiking shorts waistband must be semi-elastic. You want your shorts to remain in place while walking, and your body contracts slightly. You don't want to be tight and non-elastic. It would be best to feel no pressure in various movements, bending, and stretching. You can constantly adjust your shorts with their belt (usually embedded or as an addon).
When you sweat, fabrics tend to be rougher, and as they rub on your skin -if they are not elastic enough- they can cause irritations. The best is also to remove any tags.
Make a note to cross-check for how protruding seams are. The best is that they are entirely flat so to avoid more friction.
Sun Protection Rating (UPF)
Yes, the Ultraviolet Protection Factor (UPF) is a feature for your hiking shorts with the same logic your suncream has. That relates to the ability a piece of fabric has to protect your skin by how much UV radiation it allows to reach your skin. The same stands for good hiking shirts, pants, hiking hats.
In hiking shorts, that have to do with the quality of the materials. According to the Skin Cancer Foundation, the average value is between UPF 30 to 49. Thus, the best women's hiking shorts are made from polyester and nylon with high fabric density.
Quick Dry and Water Repellent (DWR)
Your hiking shorts will get wet from either prolonged walking and sweating or from walking through water. When water falls on them, it creates beads that slide away. Quick-dry shorts and water repellents do precisely that.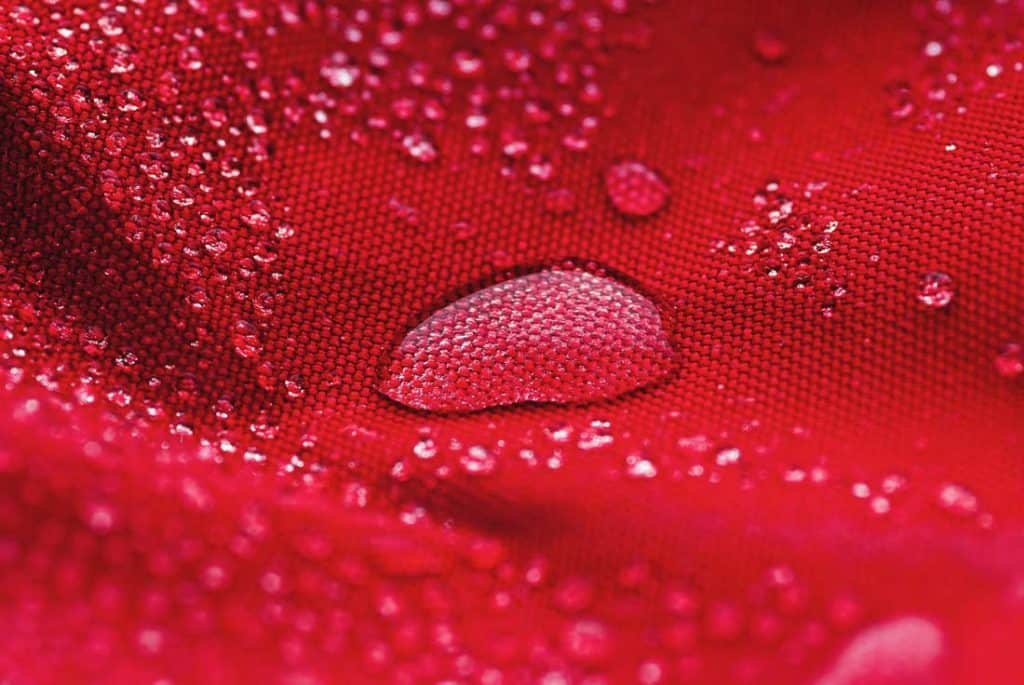 When you walk through water and get wet, their materials make them dry fast. That vastly reduces the lack of comfort when walking and retaining moisture, which you don't want even on a hot day.
That is one of the reasons you must not wear cotton or khaki hiking shorts for your hiking, as they retain moisture and are very slow to dry.
Odor Repellent
Suitable fabrics and hiking shorts design help to vastly reduce odors from sweating. After 4-6 hours of hiking, you don't want to smell and feel uncomfortable.
The Importance of Pockets
Hiking shorts for women and not only for hiking through trails. You can quickly wear them for any everyday use. However, even on a trail, you may want to have a couple of things in your pockets that you want to reach without putting your backpack on and off.
A tip: Avoid heavy items in your pockets. The weight -as you walk- will pull them down, and it isn't enjoyable to try to lift them all the time.
But you may want to place your smartphone to take pictures and create memories. For reasons like that, choose hiking pants with deep pockets and a zipper.
You can put some other lighter items when you walk around a city. Other shorts have a zipped pocket inside the standard pocket for money or other small valuables.
Some hiking pants come with welt pockets without zippers. Deep pockets usually start below the waistline and end just before the hem. These, too, are fine, as long as they are deep.
Weight
Lightweight clothing is suggested for hiking, and hiking shorts are usually light. Such clothes provide a more comprehensive range of movement, less sweating, and dry quicker.
What Materials Make the Best Women's Hiking Shorts?
The best materials for hiking shorts are polyester, nylon, spandex, and elastane, whereas polyester is usually the most significant part.
Such materials allow the shorts to dry quickly, be moisture-wicking, and last longer.
The role of spandex is to provide the necessary elasticity as the primary materials are not that much elastic. To summarize it in a list, such hiking cloths materials are:
Very lightweight
Soft
Durable
Easy to clean
Water repellent
Elastic / Stretchy
What Length Is Best For Your Hiking Shorts?
As with hiking pants, the shorts must end near or on your waist. A crucial factor for the selection is the length and environment of the area you plan to hike. If it is open, without bushes or tall plants, you play around with short lengths. If there are uphills in your route or you need to sit, slide or crawl in various parts or go through water, such factors can influence your decision.
Remember that a more extensive length means more extensive leg coverage. For example, walking for hours under a scorching sun can drive your decision to a longer pair of shorts.
Less exposed legs mean more area protected by insect bites and ticks.
With that in mind, there are three main length sizes that you can choose from, depending on the weather and terrain conditions.
4-5″ Inseam Hiking Shorts (Short)
These hiking shorts refer mainly to running shorts. However, expect zero pockets in that length or a small one at the rear. If you go waist-deep into water, your legs will be exposed up to the crotch area. Depending on your build, you may get irritations from the friction between your legs, especially if you walk for many hours.
7-10″ Inseam Hiking Shorts (Moderate)
These shorts have pockets, and depending on their style, they may be deep or not. If you think your trail terrain will vary and you may need to crawl or slide uphill or downhill, this length provides more coverage. If you walk through water, more of your leg is protected, and the same stands for walking under the hot sun or trying to sit on a (hot from the sun) rock.
With this length, the shorts end above the knee, and that is the ideal length as it doesn't obstruct the leg movement (i.e., when you want to lift them high).
12-15″ Inseam Hiking Shorts (Long)
If you expect a rugged trail with variable terrain, maybe some rocks to go through, and rivers or blazing sun, then this is the safe pair of hiking shorts. Their styling depends on your height, and for most women, they are knee-length long.
These shorts are ideal if you plan to go through tall plants, bushes, etc. To ensure these shorts don't end under your knee level, the best is to measure your inseam.
Which hiking shorts for women do you prefer? Did you find any features that you think are great?
If you liked this article about the best women's hiking shorts, consider checking out our other reviews below: