The Dolomites in Italy are one travel destination that is on many peoples' bucket lists. That's because they're an incredible place where you can enjoy sweeping mountain views, challenging hiking trails, and quaint mountain villages.
Speaking of mountain villages, if you're planning to visit the Dolomites, you'll want to know what the best towns to visit in the Dolomites are. And, luckily for you, we've put together this helpful list of must-see towns in the Dolomites.
So, pack your bags and grab your hiking boots. Let's jump into a handy guide on the best towns in the Dolomites!
Cortina D'Ampezzo
One of the first towns in the dolomites that you'll want to check out has to be Cortina D'Ampezzo. This is one of the Dolomites' more famous small towns, and as such, is a place where many tourists gather to hike, explore, and adventure.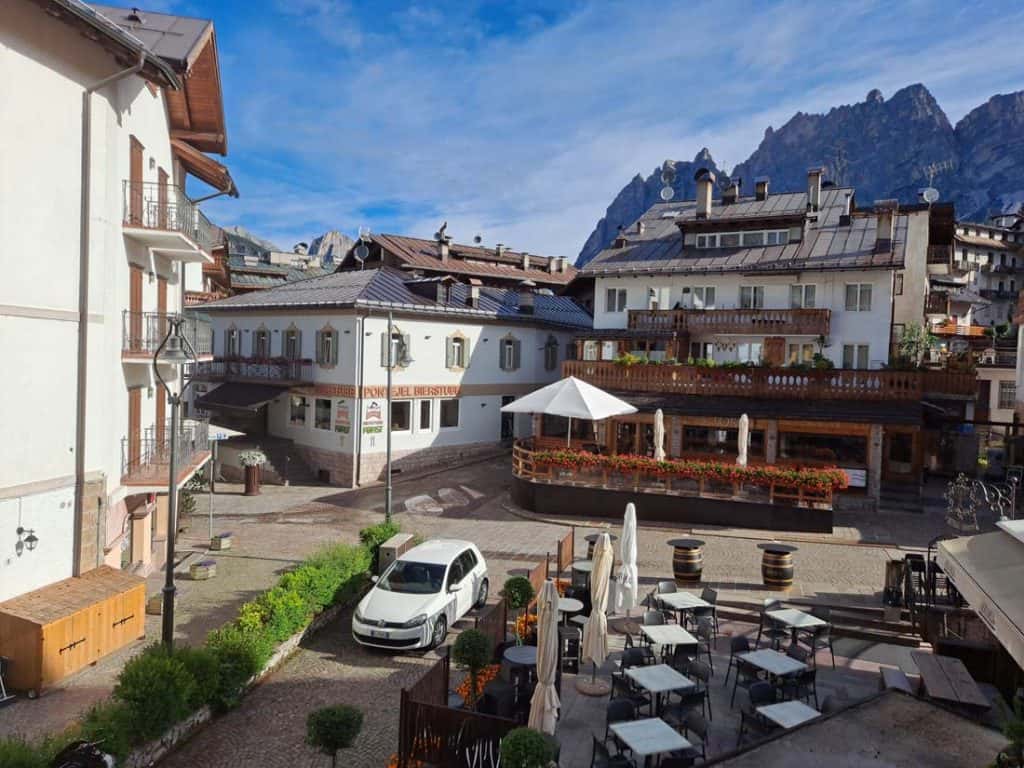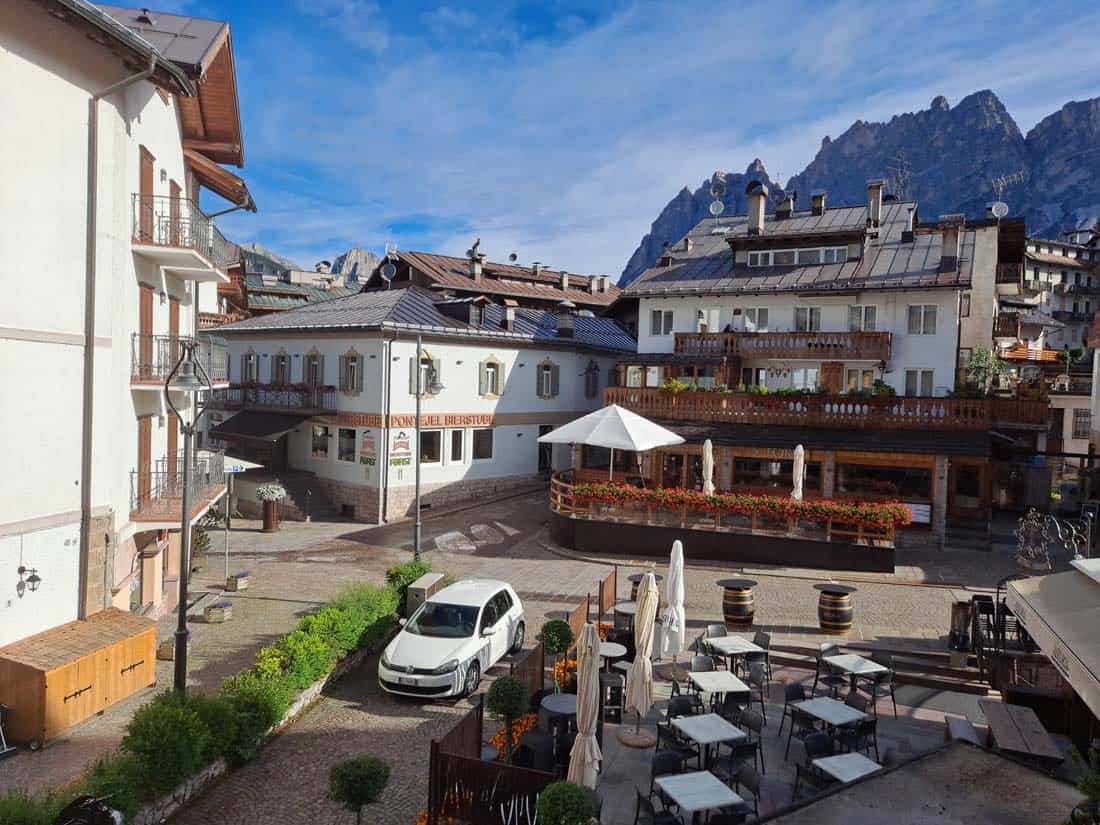 On the town's high street, you'll find plenty of fancy eateries and fashionable boutiques where you can pick up some trendy souvenirs. Italy is known for fashion, so why not combine your hiking adventure with a little bit of Italian style?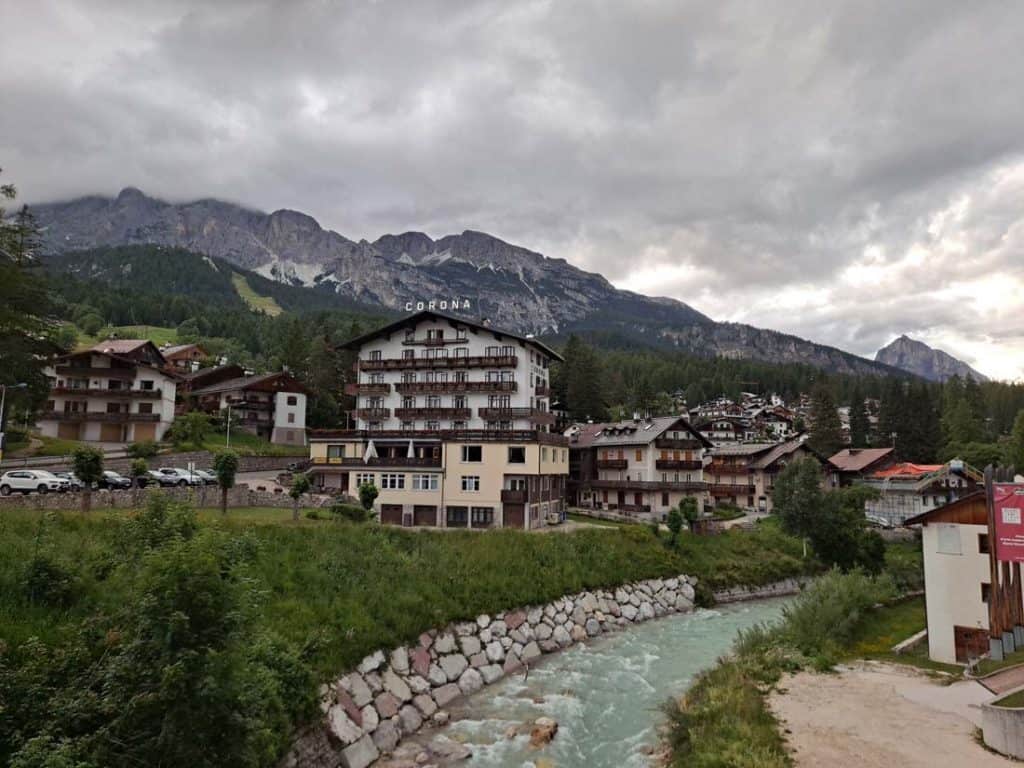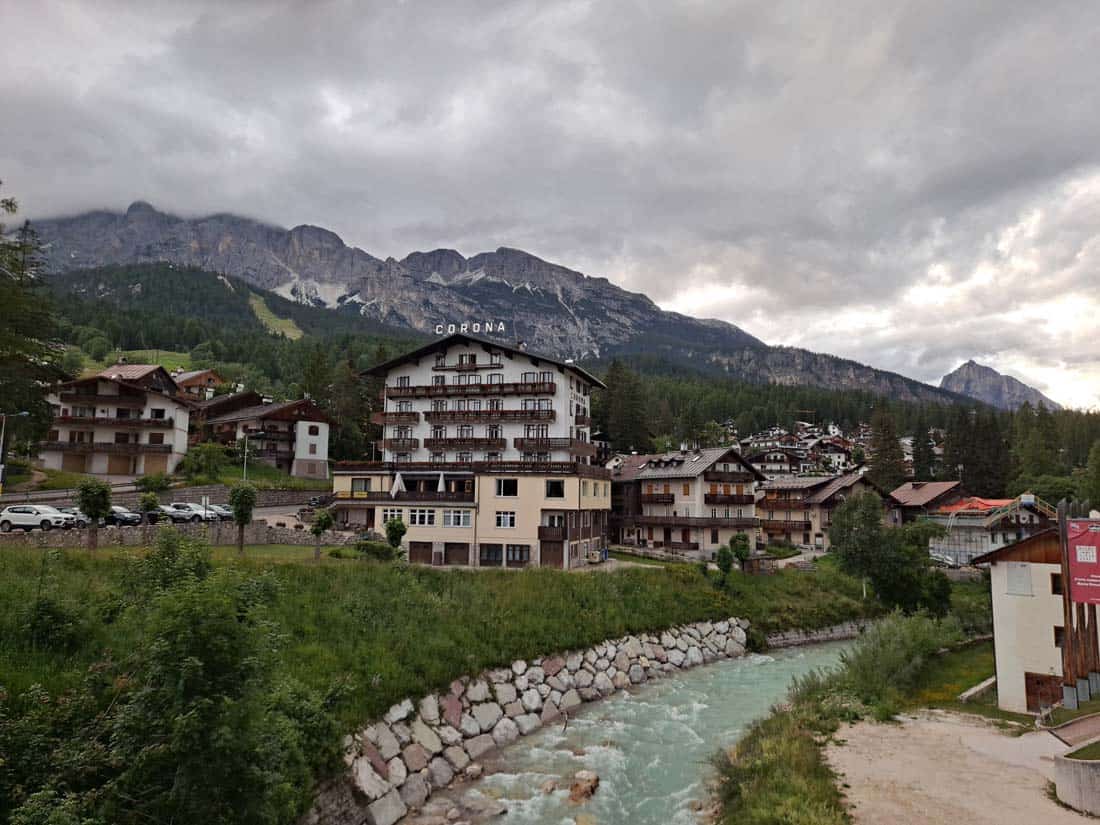 When you're not sitting down to a cappuccino on the high street or taking in the sights and sounds of the town, you can head out to do some hiking in the Dolomite mountains. Amazing day hikes such as the Croda Da Lago circuit or the Cinque Torri make for some amazing day trips for anyone interested in spending time in this town.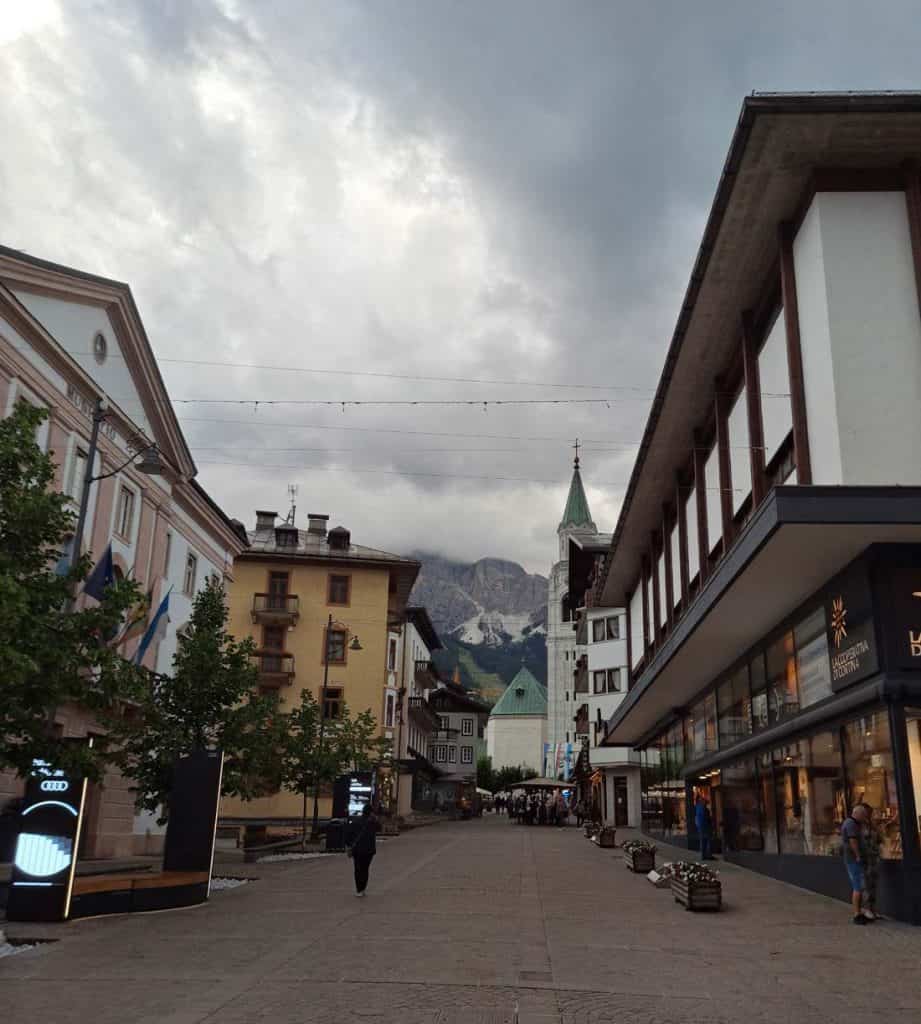 Corvara in Badia
Another one of the best towns in the Dolomites to stay in is Corvara in Badia. Corvara is just about 12.5 miles away from Cortina and is separated by the stunning Passo Falzarego.
Unlike Cortina, Corvara is quite a quiet little town that has small side streets. The slopes in the area are a well-known skiing spot, and you've got easy access to the ski lifts from the town.
While most people visit the area to go on long-distance and multi-day hikes in the Dolomites, the sleepy feel of this town makes it a great place to simply relax and unwind. Plus, its proximity to Cortina means that you'll never run out of things to do.
Sesto and San Candido
Some of the best towns to stay in the Dolomites that have to be on the list are Sesto and San Candido. These two towns are located in the northern section of the Dolomites and are just a five-minute drive from one another.
One of the main reasons that visitors choose to add these towns to their Italian itinerary is so that they can visit the Tre Cime Nature Park. this stunning park offers beautiful views of the mountains and lets visitors truly experience the magic of the Dolomites.
However, outside of their convenient location, there isn't a whole lot that the towns have to offer. Their main appeal is that they allow visitors to the Dolomites to enjoy a quieter, more still approach to staying in the Dolomites than a visit to Cortina would provide.
Misurina
Another great town for people who are interested in spending time in Tre Cime National Park is Misurina. This town is actually much closer to the park than Sesto and San Candido, making it a great place for you to start your journey. However, you should keep in mind that the town doesn't have a lot to offer, meaning that it's not a great place to visit if you're wanting to spend time in a city.
One of the main features of this town is the Lago Misurina, a stunning lake bordering the town.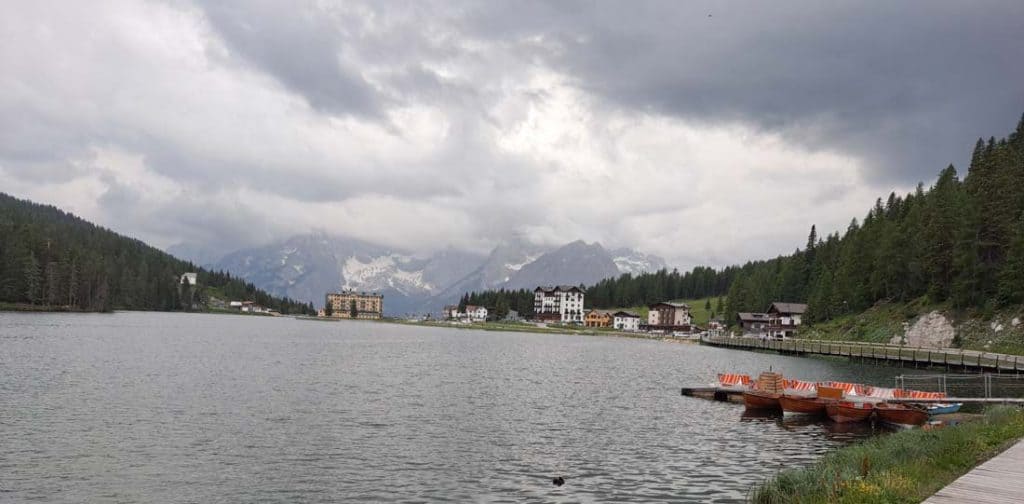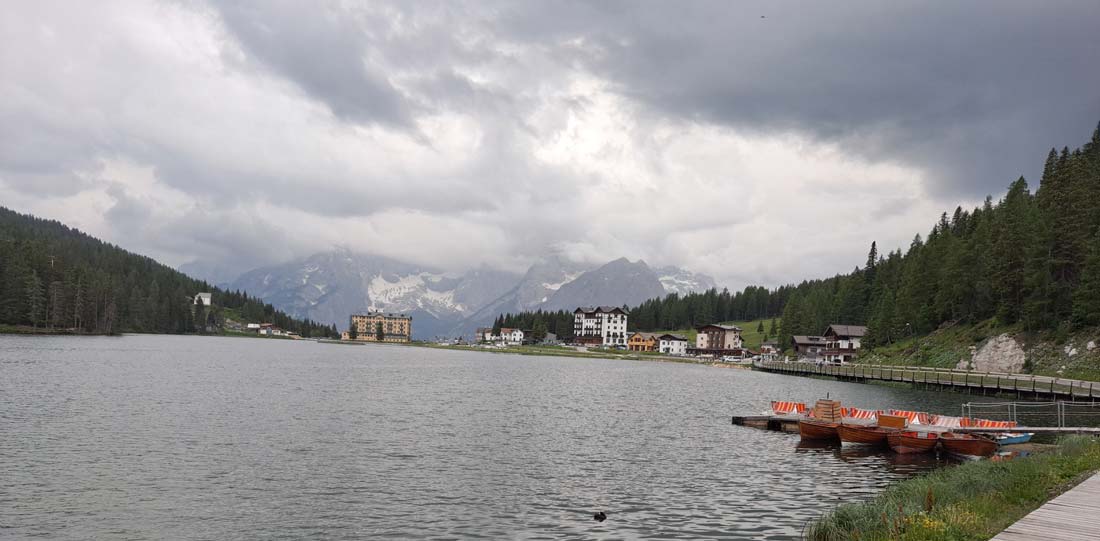 It's a beautiful place for you to settle down for a picnic and take in the beautiful views of the mountains towering overhead.
If you want to check out this town, make sure that you book your lodging ahead of time. There aren't a lot of hotels in Misurina and they get booked up very fast.
Suisi
One of the bigger towns in the Dolomites is Suisi. And, despite its larger size and access to supermarkets and creature comforts that hikers may miss in other places, it is relatively unknown to tourists.
The big draw for Suisi is its access to the Alpe di Suisi Altiplano. This is the highest alpine meadow in Europe and is an absolutely gorgeous place for you to check out sprawling views of the land below.
When you're not laying in the wildflowers up in the meadow, you can enjoy the many local shops and souvenir stores down in the town below. Plus, since this town is located in the German-speaking section of the Dolomites, you can enjoy a different cultural scene than you might find in other mountain towns.
San Martino di Castrozza and Fiera di Primiero
San Martino di Castrozza and Fiera di Primiero are two small towns that are found in Italy's Trentino region. They're the perfect place to stay if you're planning to go hiking along the Pale di San Martino mountain range. And, since this particular mountain range is known for huge monoliths and spires, you won't be disappointed in the view!
These towns are skiing villages and during the winter get quite a bit of foot traffic through them. However, in the summer months, the towns are far less visited and are a great place for you to check out if you're wanting to relax in the mountains and unwind with ice cream made fresh from cows grazing in the mountain meadows.
The towns are only about 20 minutes away from each other, meaning you can stay in either one and still get easy access to the day hikes offered at Pale di San Martino. Plus, there are plenty of via ferratas and other outdoor adventures you can enjoy while staying in these two towns.
Canazei and Campitello di Fassa
Canazei and Campitello di Fassa are two absolutely stunning towns located in beautiful, sunny valleys in the Dolomites. They are very close to several passes in the area, including the Passo Fedaia, Passo Pordoi, and Passo Sella.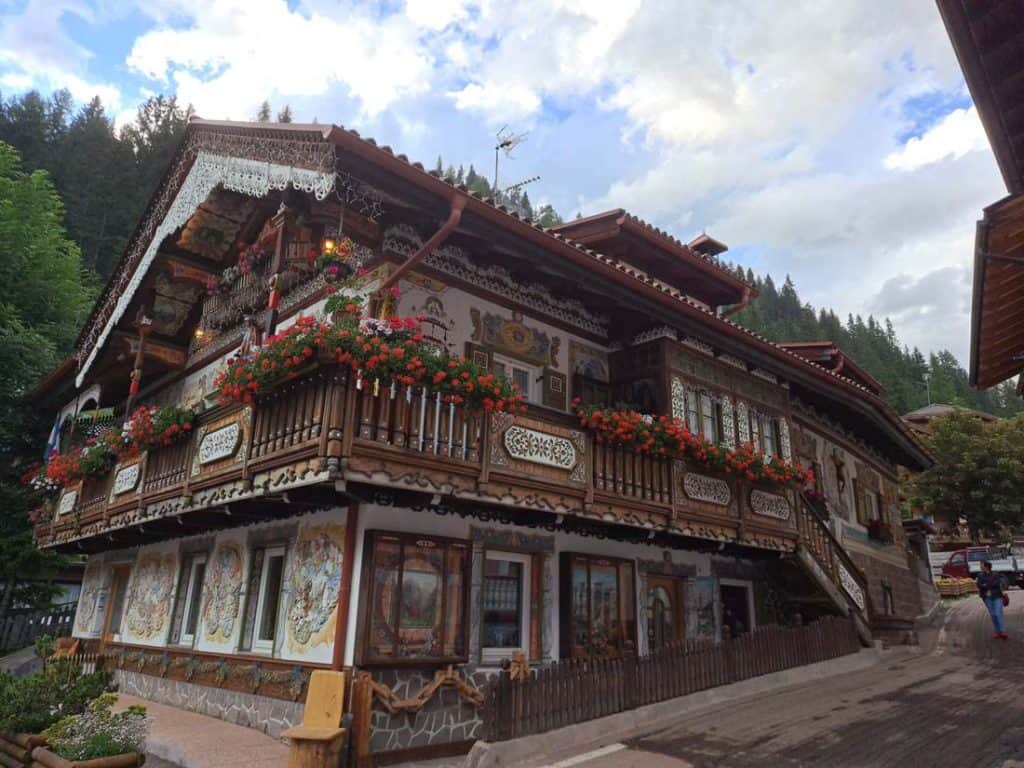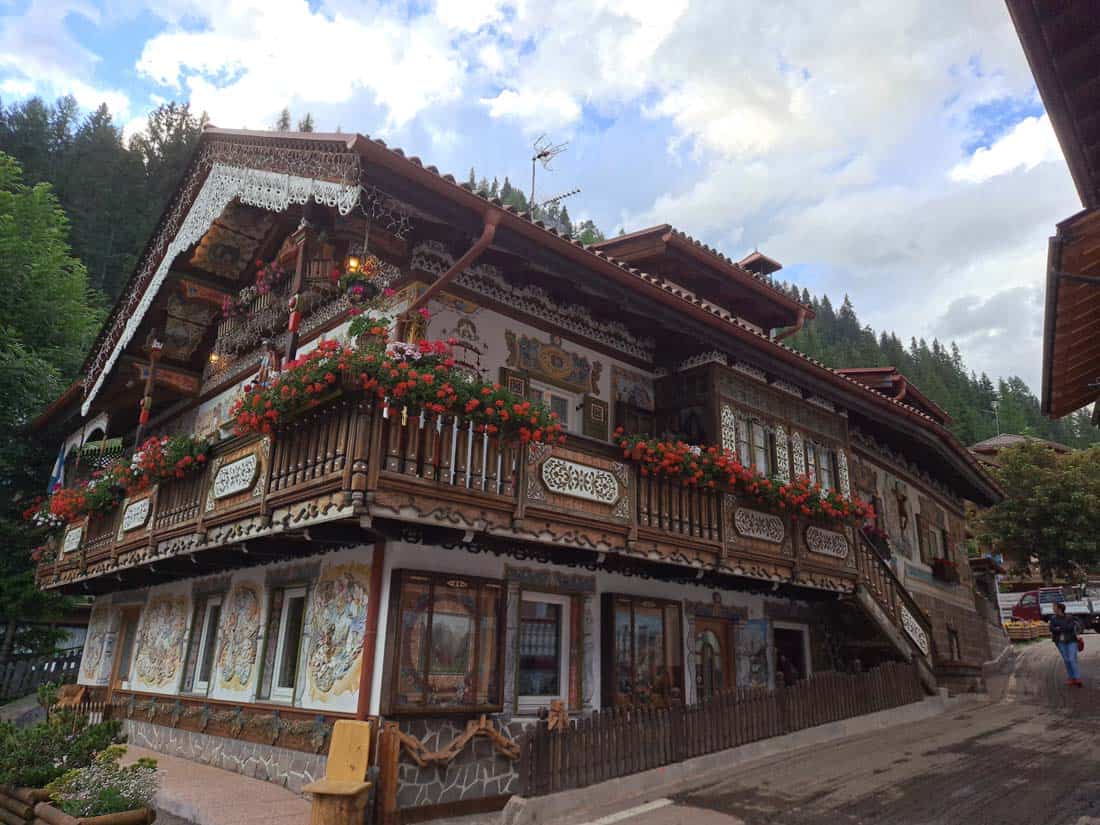 From here you can easily hike Piz Boe.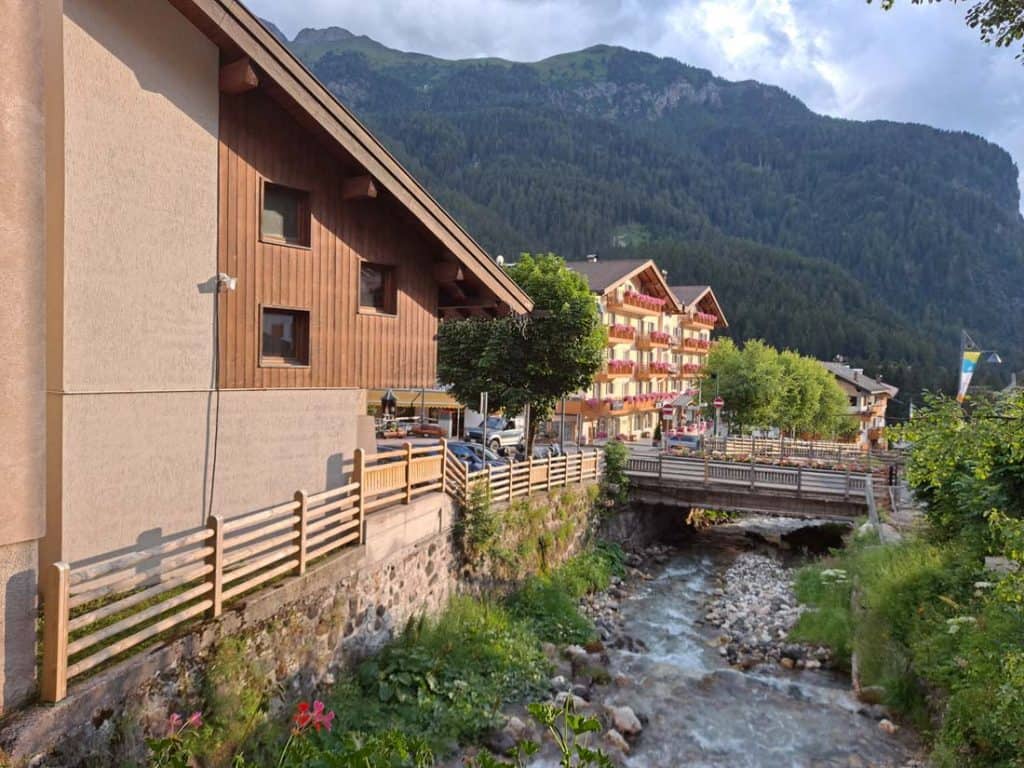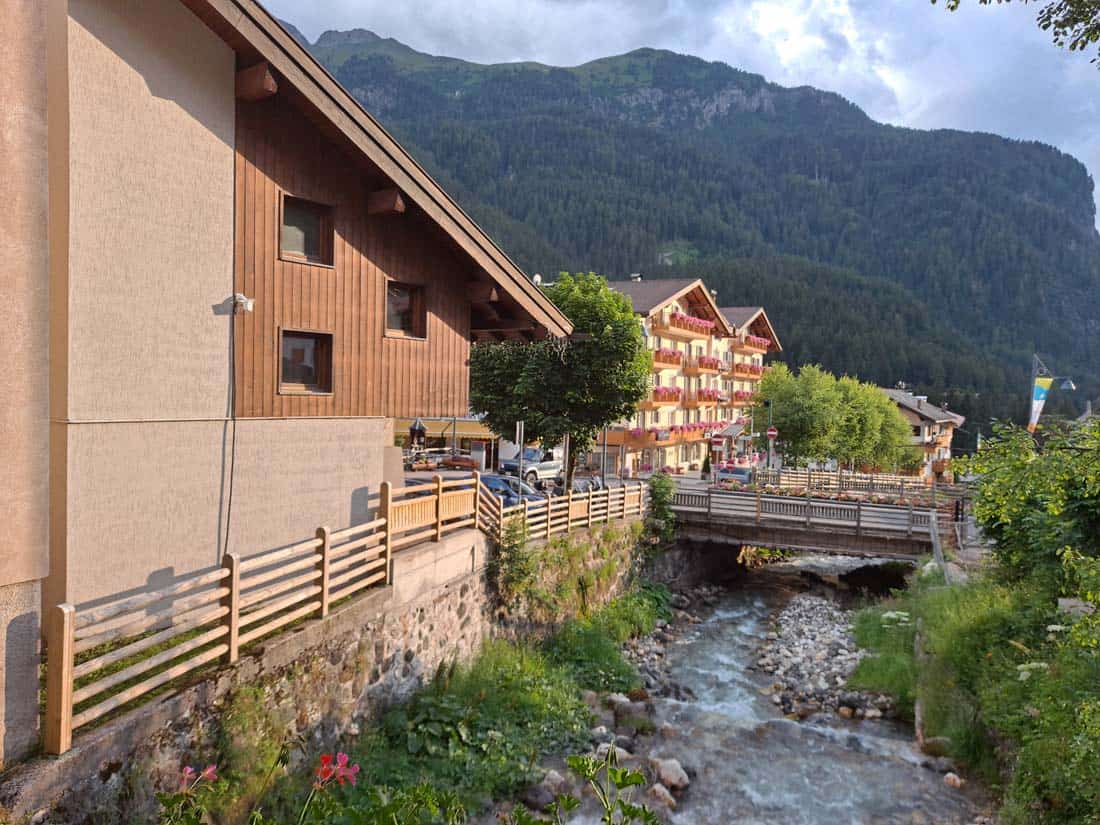 You can enjoy numerous hiking trails in the area and can get glimpses of several different mountain ranges in the Dolomites.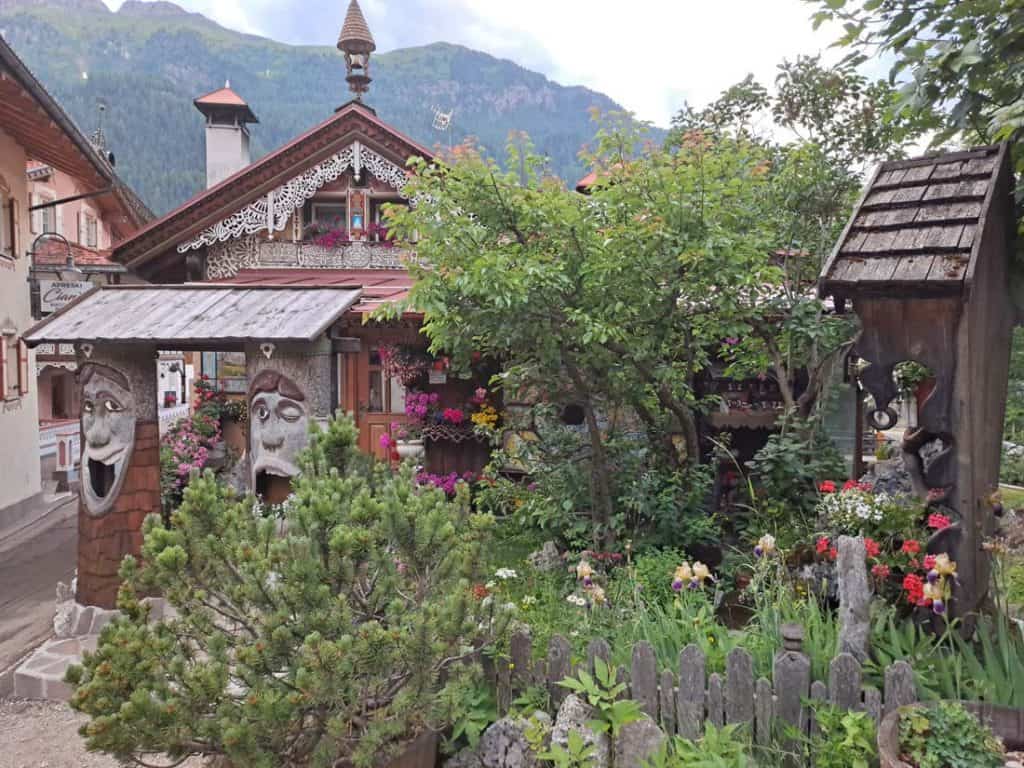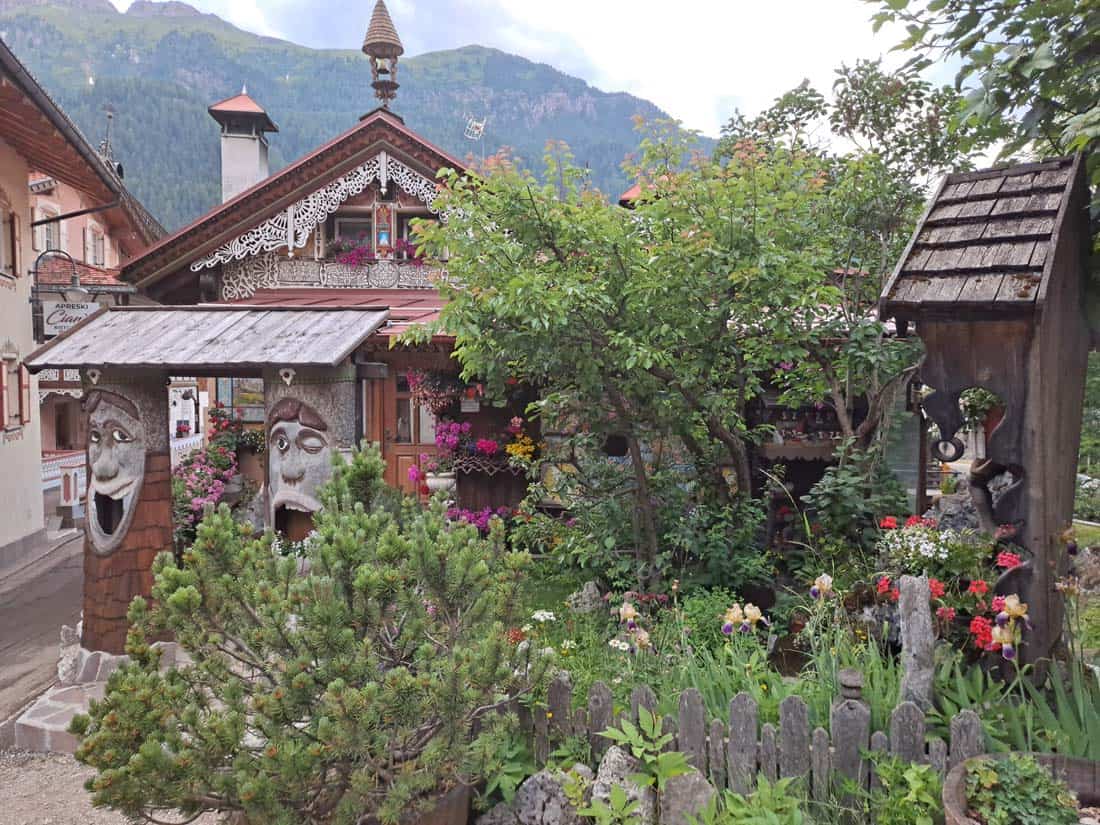 Plus, the spreads of multi-colored wildflowers in the valleys offer a beautiful juxtaposition to the sheer mountain ranges behind the town.
Madonna di Campiglio
Madonna di Campiglio is located farther west than most of the other towns in the Dolomites. however, that doesn't mean that it's a place to be passed up!
The area is close to Adamello Brenta Nature Park, which is a stunning place for you to visit while checking out the Dolomites. Plus, the area is less well-known amongst international tourists, making it a quieter place to holiday.
Ortisei in Val Gardena
Ortisei is one of the bigger towns in the Dolomites and feels very German. Its ambiance is ideal for anyone who is wanting a visit that involves less hiking and more hanging out in town.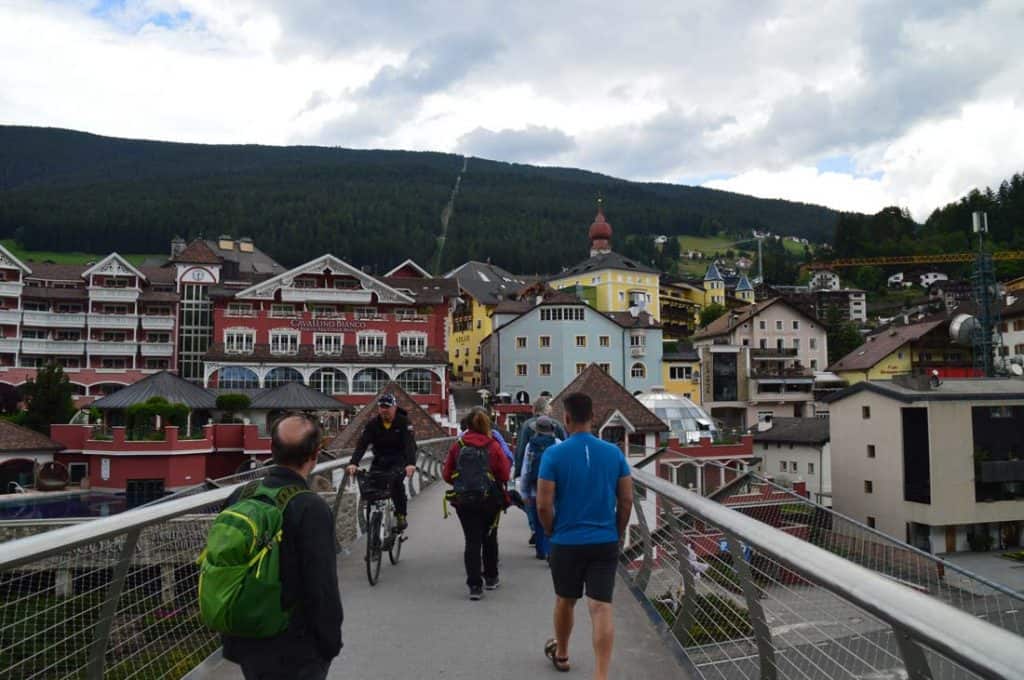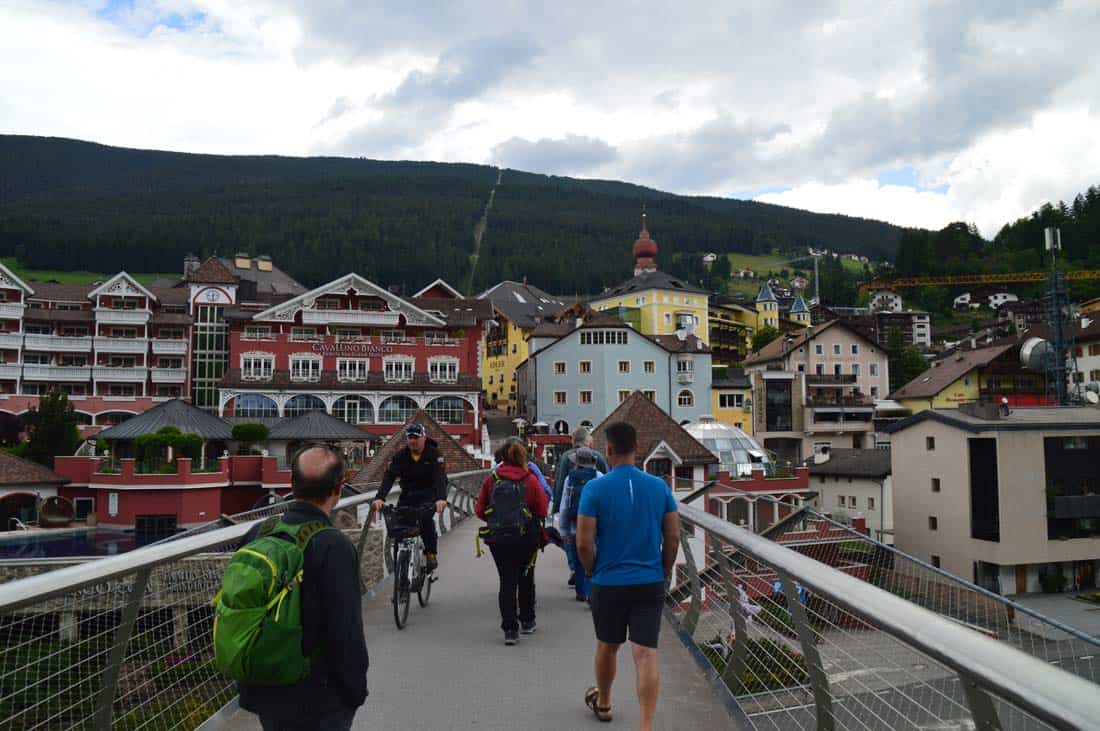 In the center of town, you'll find the Rio Gardena river. Along the banks of the river, you can sit down for a coffee in one of the many coffee shops or can treat yourself to a shopping spree at the small boutiques lining the main street.
Another reason to visit Ortisei is that the valley it's located in is connected to the Fassa Valley by way of the Sella Pass. What that means is that you can check out the moonscape on top of the Sella Massif or head over to the two towers on the Oskar Schuster Via Ferrata.
Take the Cable car to Alpe di Siusi plateau and hike the alpine valley. You can always skip the cable car and hike all your way up, but that will take lots of time.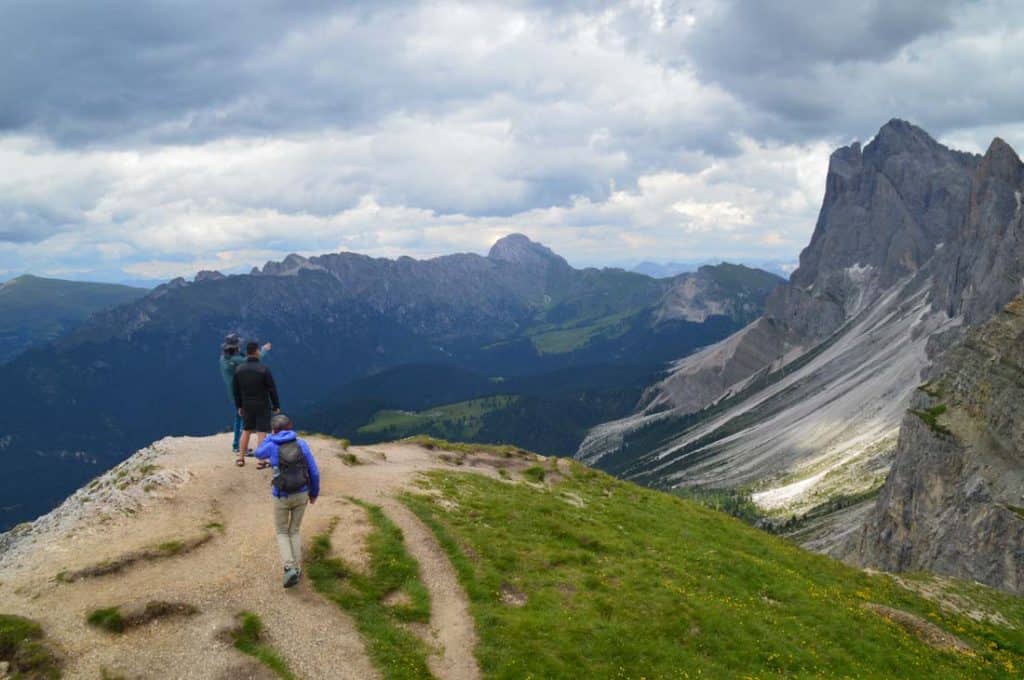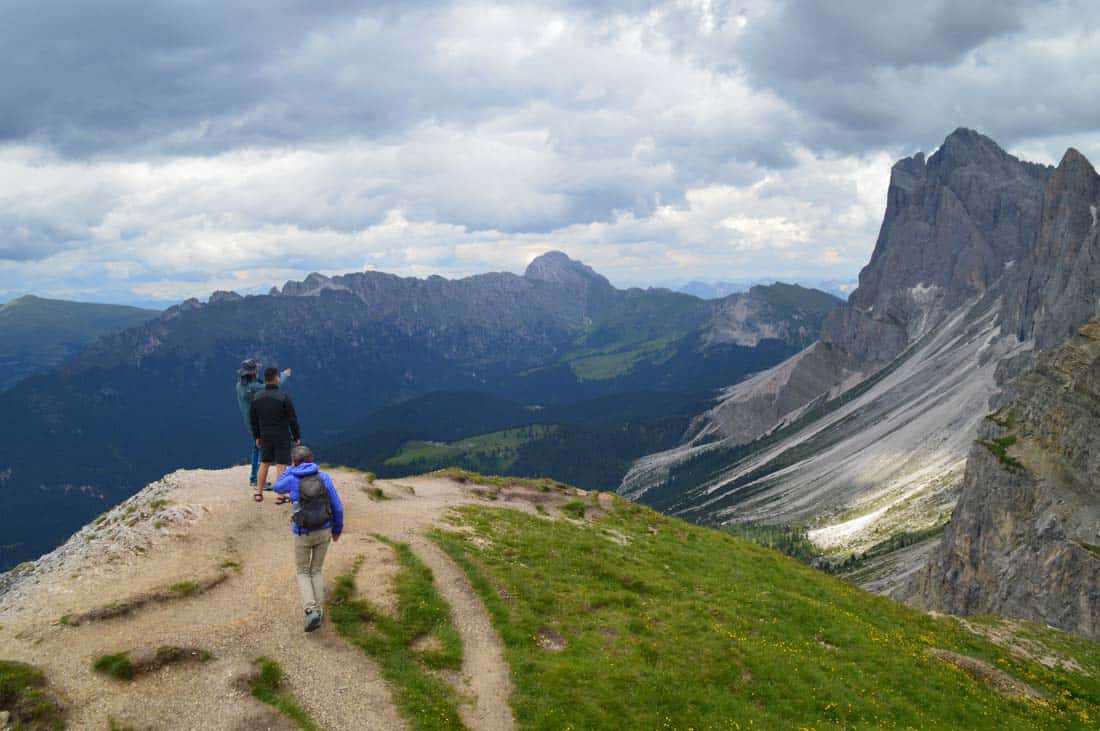 The views from the top are stunning.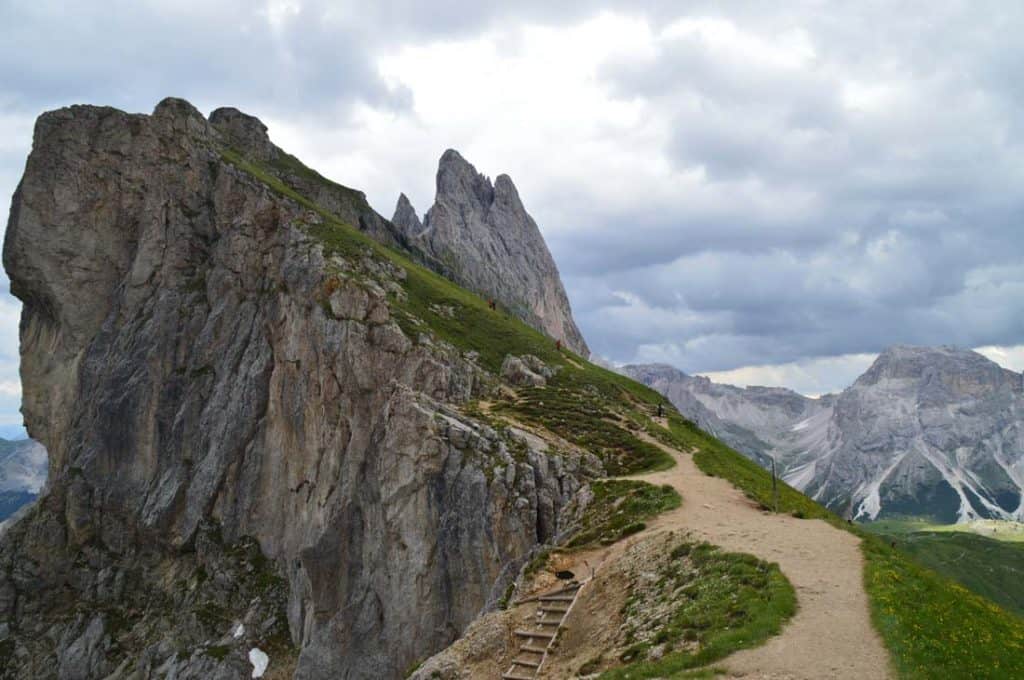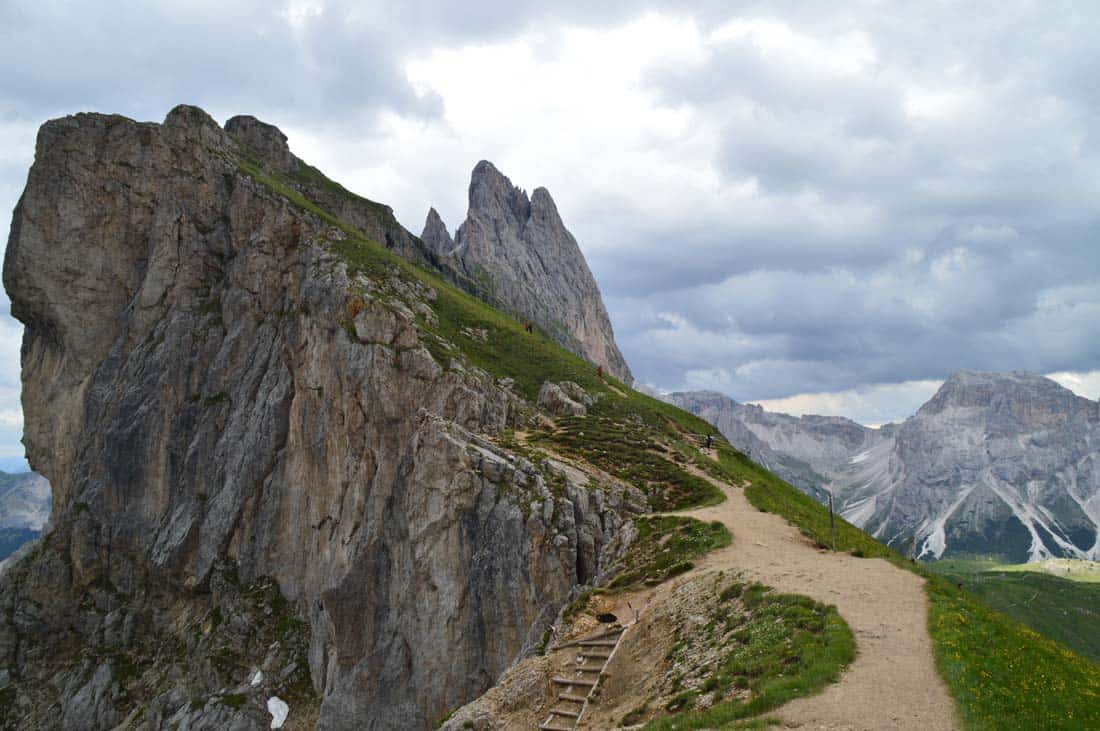 The hiking part is very easy and there are places to stop for snacks and admire the view.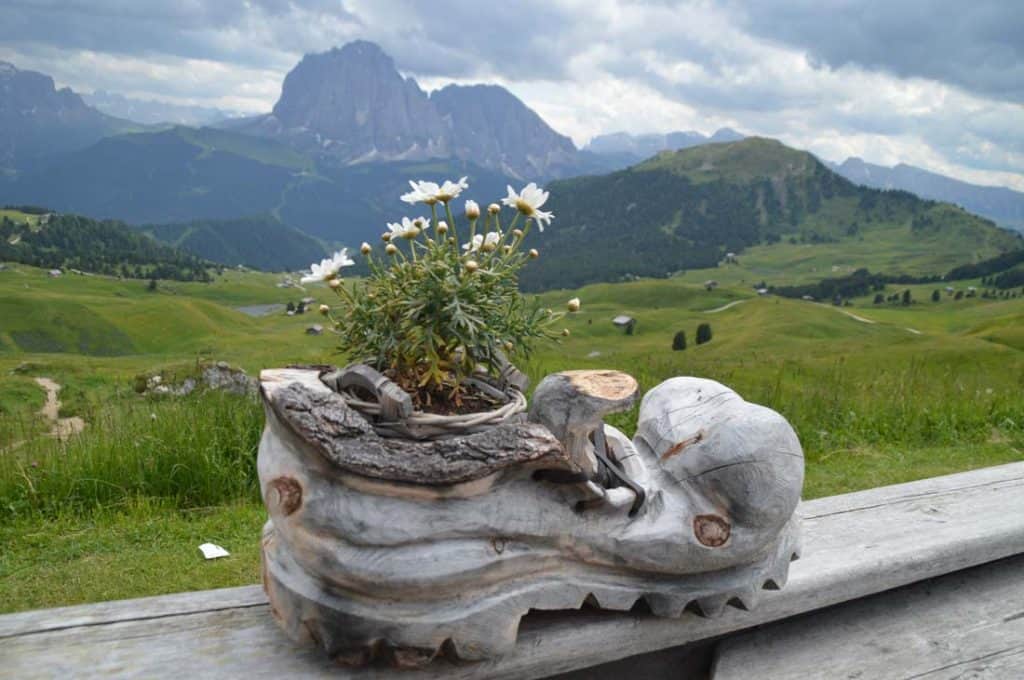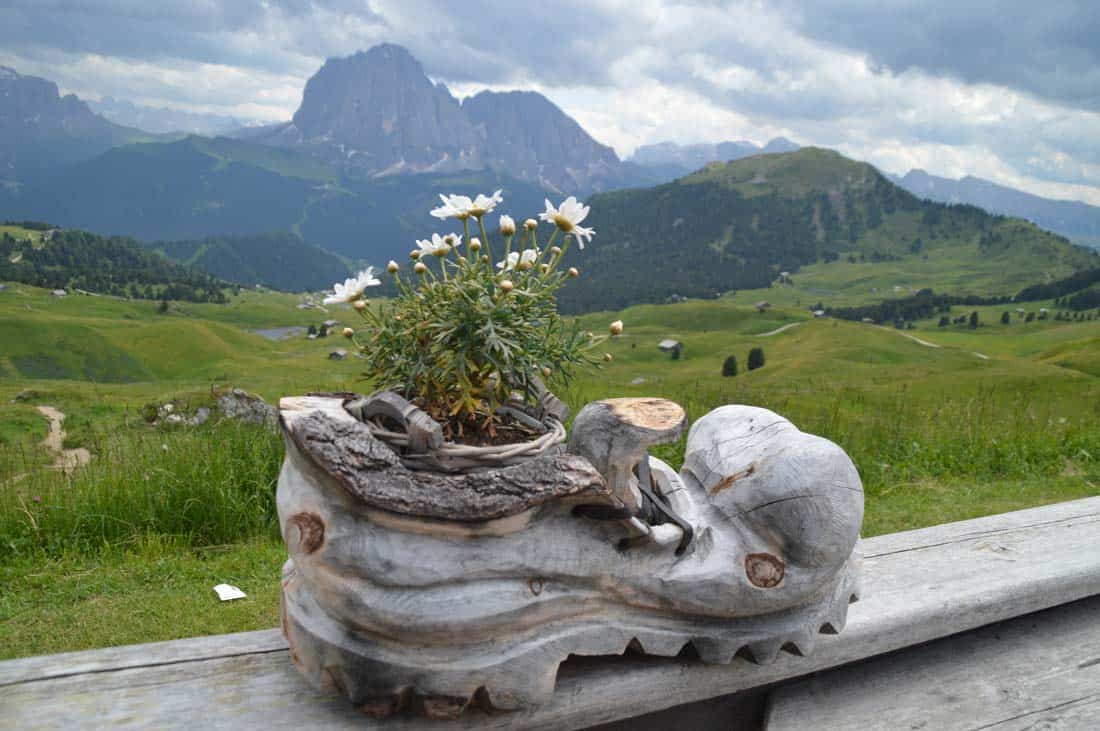 If hiking's not your thing, this town also has some great activities for you to enjoy in the town.
For instance, enjoy the public pools that feature both a sauna and a steam room for you to wind down in!
Alleghe
Alleghe is one of the most picturesque towns in the Dolomites, providing a stunning mountain backdrop. Its location on a beautiful lake with turquoise waters makes it a popular hiking destination for tourists. Plus, its easy access to Monte Civetta makes it the ideal home base for anyone wanting to hike this formidable mountain.
If you're planning to visit Alleghe during the winter, you should know that the north face of Monte Civetta rises to 2000 meters over the town. The result is that much of the sunset is blocked, making it quite a cold place to explore if you're planning a trip in the colder months of the year.
Bonus Town to Visit: Arco, Trentino
When you depart from the Dolomites area, towards Bologna, make a stop at Arco. Arco is popular with all kinds of climbing athletes. The town is full of sports gear stores, so this is your chance to buy excellent gear in sales.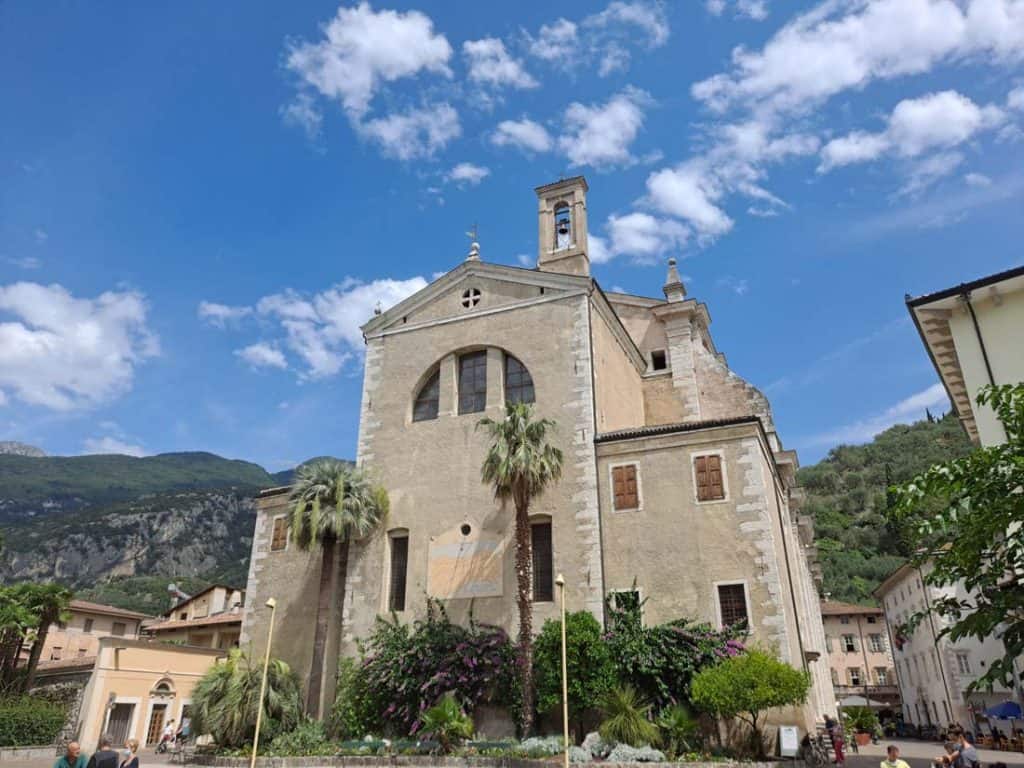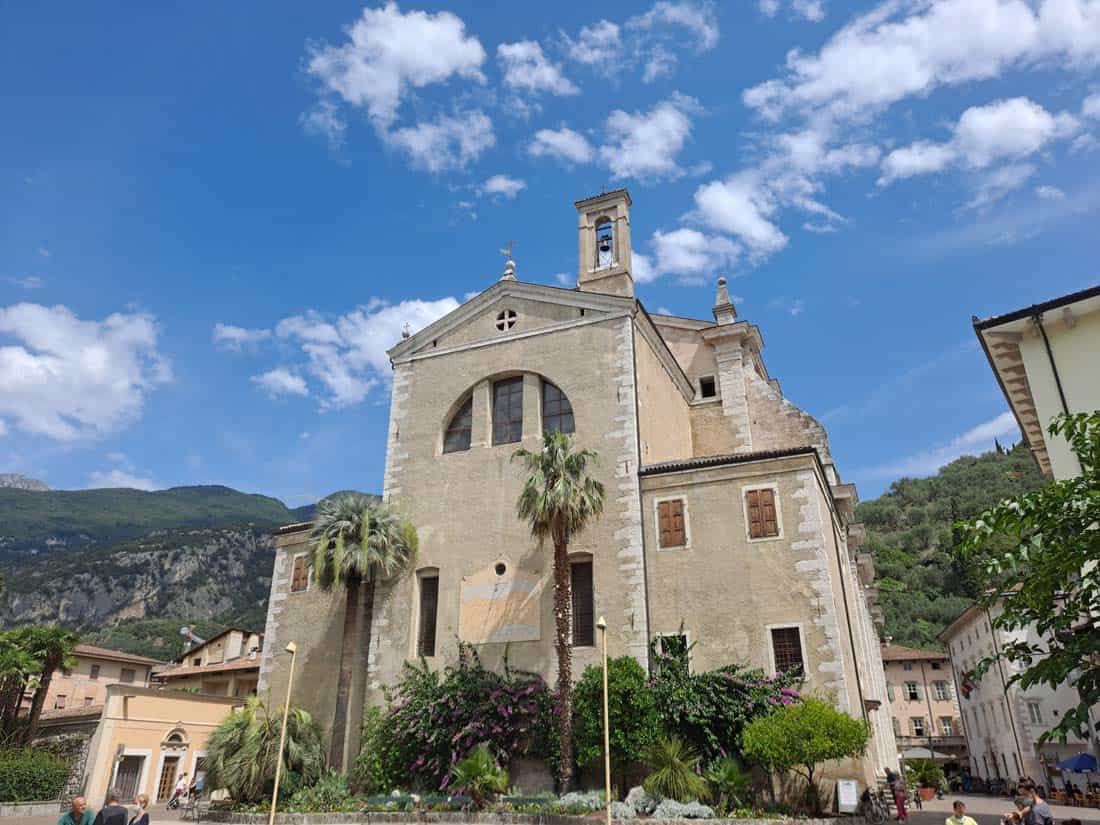 Every September the so-called "Rock Master" happens here. It is an international free climbing cup with climbers from all over the world.
Pay a visit to the castle of Arco, just to admire the view from the top.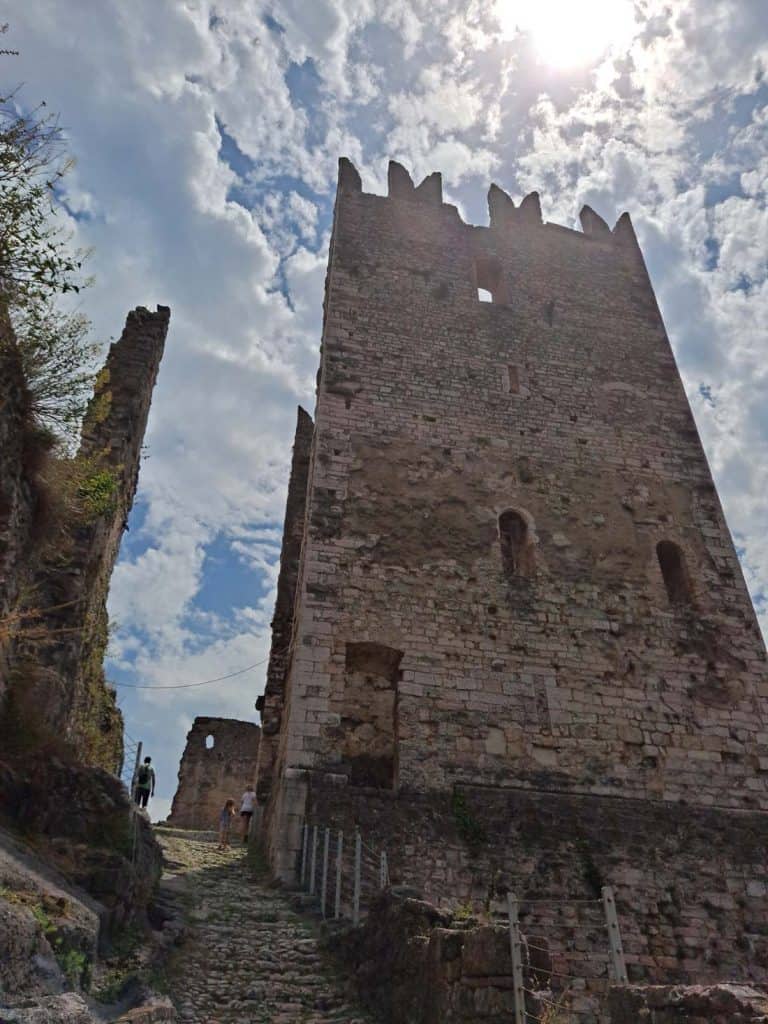 Where to Stay in the Mountain Towns of Dolomites?
We choose to stay in 2 different hotels. The reason for that was their proximity to the different hiking routes we wanted to take. That is the key option for your hotel choice, no matter if you want more or less luxury.
If you choose one location only, while you plan for multiple hiking routes, then it can be rather time consuming to travel to the different entrance areas. It is best to plan for some hiking routes while being in i.e. Cortina and then move to another town for more routes, then to another, etc.
In that way, either you use public transportation or your own means (click here to see car rental options), it will be faster to reach and less time-consuming. Not to mention less exhausting, after all the hiking hours up in the mountains.
The two places we recommend are:
In Cortina d' Ampezzo: Hotel Royal (Small but clean rooms and nice breakfast options. If you carry lots of gear, you may miss the space).
In Campitello Di Fassa: Hotel Medil Wellness & Beauty (Spacious rooms, also great breakfast options and relaxing).
Plan a Visit to These Gorgeous Towns in the Dolomites
This guide on the best towns in the Dolomites will have you packing your bags and heading on your way to adventure. They are the best locations to stay when you hike and trek on these mountains.
Do check 10 Best Coldest Countries In Europe For Winter Lovers.