Several sports around the globe are fun but have their own risk simultaneously. This detailed guide is suitable for canyoning for beginners and those who want to learn the ins and outs of this activity.
Canyoning (also known as Canyoneering) is among these sports and has been accepted and appreciated by a significant percentage of the population.
That is why before you engage in this beautiful sport and adventure, you will need to have the basic knowledge of what you are doing.
What is Canyoning?
The term canyoning comes from the word canyon, a deep, narrow valley with steep sides and, more occasionally, a stream flowing through it.
Canyoning, therefore, means that it is a sport that involves exploring the canyons.
That is done in many ways, like walking, scrambling, climbing, jumping, rafting, and rappelling.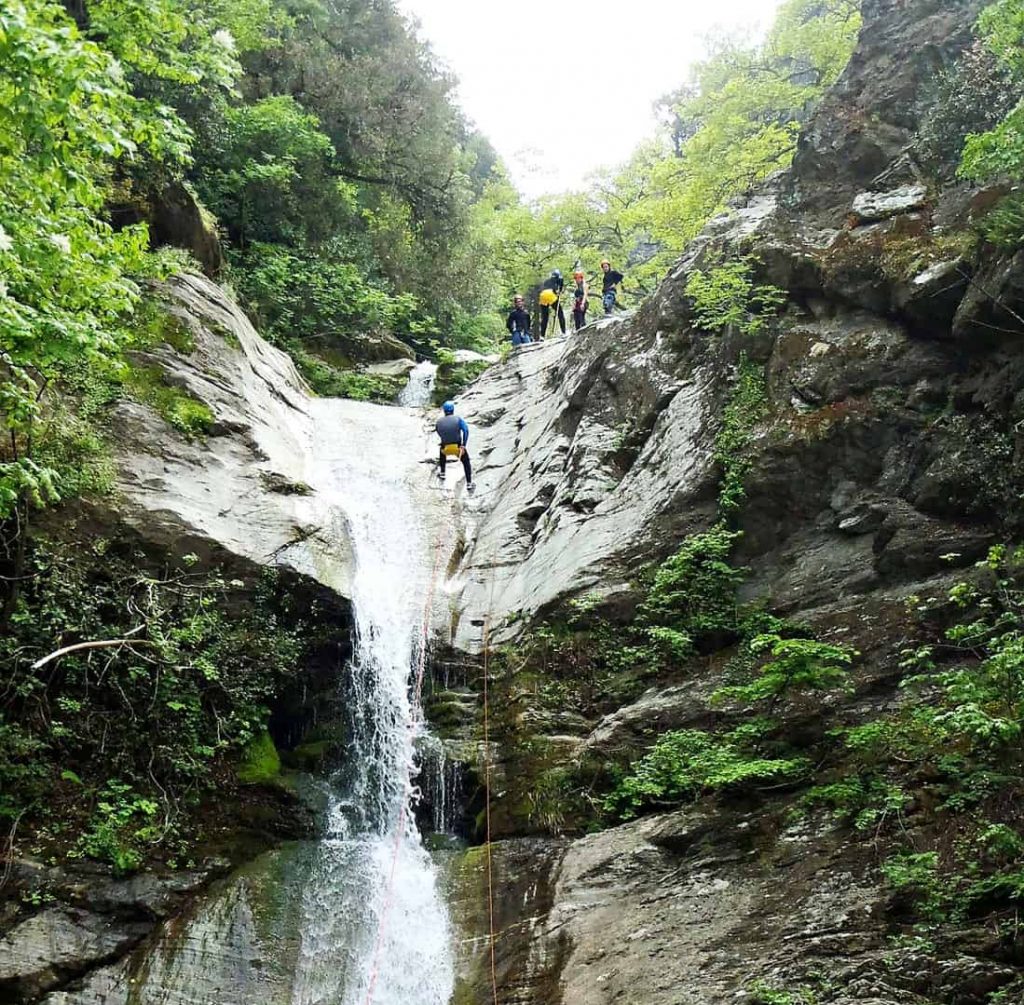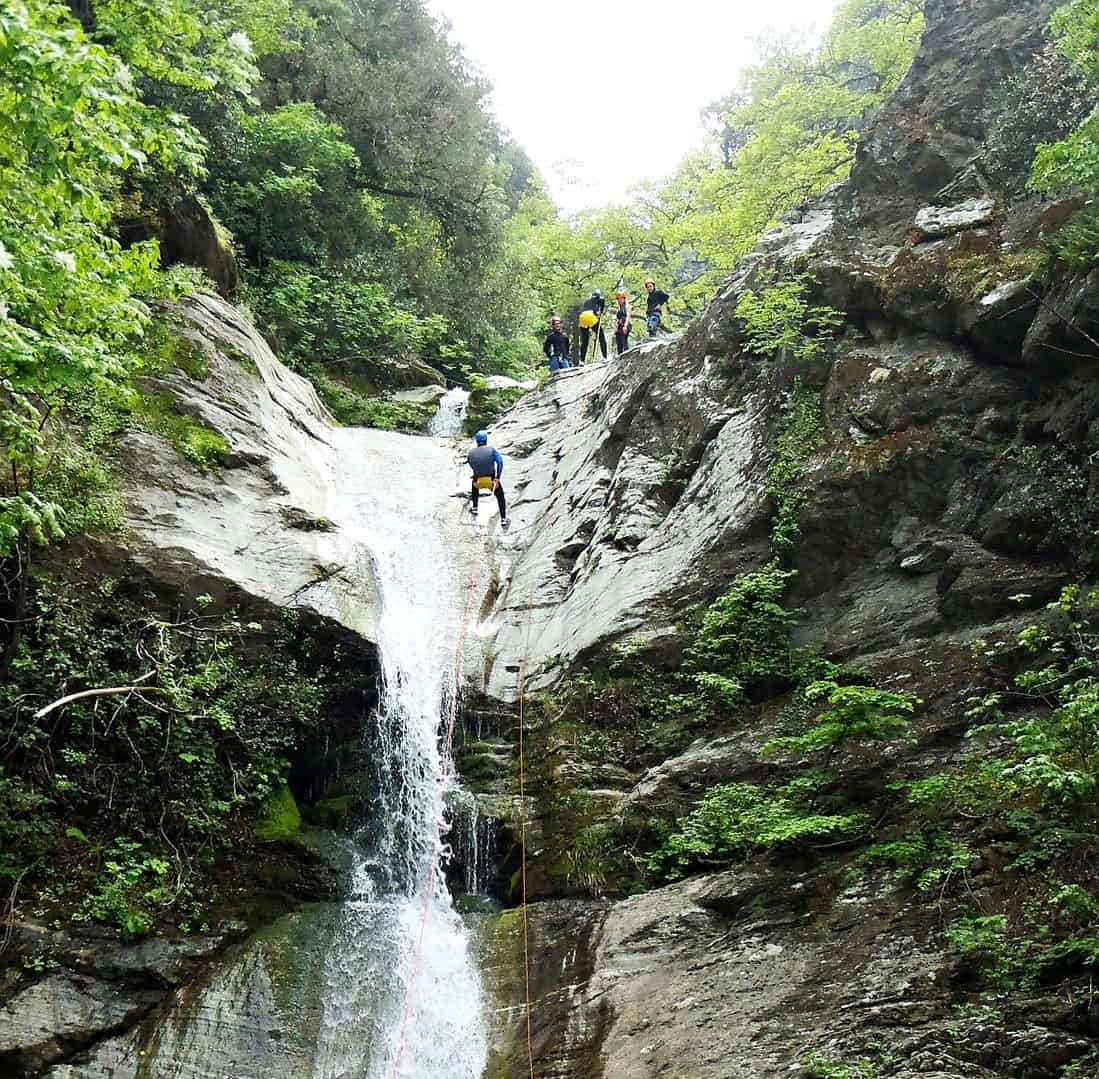 Usually, this is done in remote areas and involves using navigation, route finding, and any wilderness skill an individual might have.
This sport or adventure is enjoyed by a person of different ages and is available all over the globe.
It is a straightforward sport, but it might be challenging for some people.
What are the Canyoning Gears for Beginners?
You might be wondering why you need individual gears; you will realize that you will likely encounter a wide range of terrain and challenging conditions to maneuver through when you are canyoning.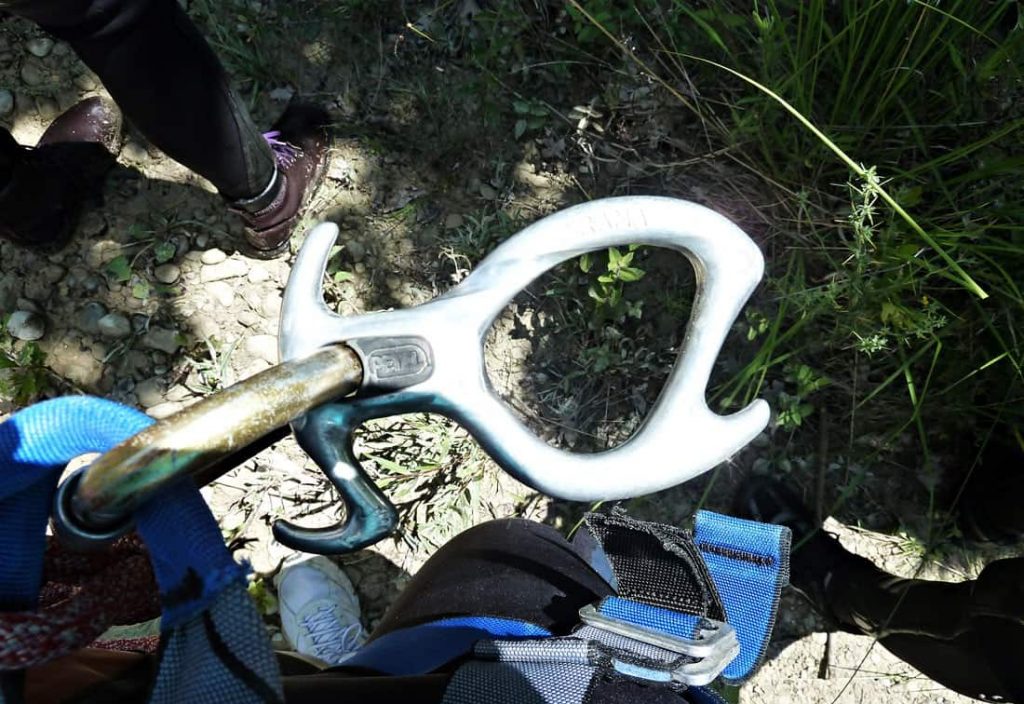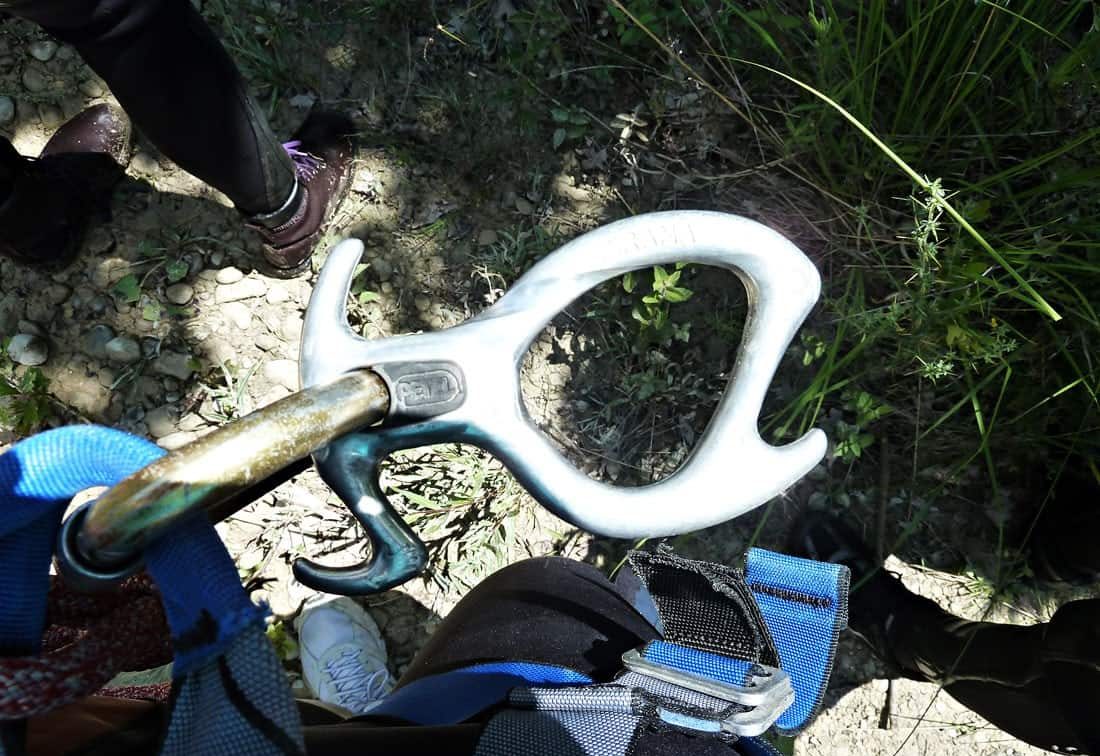 Here is a list of some gears you might find necessary.
Ropes
This rope differs from the usual dynamic lines as they are the kind of lines made specially to accommodate the severity of canyoning.
They are made from polyester.
That is because they have to be dynamic so as not to stretch.
The ropes are very static, making them not easy to absorb water, and usually about 9mm in thickness.
As for the length of the rope, it varies. The longer the line, the variety of canyons one can be able to take on.
The drawback is that the long ropes can be heavy to carry around.
Dry Bags
You will use that bag to carry the rope (and your belongings) with you. Using a container to make the rope move more comfortably and conveniently is advisable.
When you have a bag, all you have to do is flake the rope in the bag, and you are good to go. That is unlike when you carry or coil the line on your body.
The set of a bag that you will find handy is the dry bag. That is important if you encounter water bodies as they will keep your valuables like the phone and some clothing safe.
The bag should be waterproof. However, some packs have holes to act as water drainage and store your ropes, but you need a particular waterproof case to place your non-waterproof possessions.
Harness
When considering canyoning, be advised to have a harness that is not prone to wear and tear. The harness should be a simple one, very sturdy.
Shoes
Because you are likely to encounter severe conditions and extreme environments, you need a pair of perfect and comfortable shoes.
The shoes should not be slippery at any cost, meaning you will have to go for shoes with many grips. Avoid the use of some of your old sports shoes.
Wetsuits
That is another one of the essential items that one should have when canyoning.
You will realize that the thickness and benefits of the wetsuits depend on the canyons and the fat in your body.
The best wetsuit should be thick enough and one that not only fits but stretches. Make sure that it has no room for water to get into.
Descenders
When looking for the right canyoning descenders, ensure you get one that allows a lot of contact area to increase the friction.
They should also keep the rope at a lower angle to allow it to be smooth. Above all, the descenders should be not only versatile but also comfortable to descend with.
Carabiners
It is always advisable to carry two or three carabiners for different functions to be on the safe side.
That is for the binary block to connect with the descender and maybe another to put the rope in the rope bag.
There are so many other uses that the carabiners will use, so it will not harm to carry a few extra.
Other Gears
There are several other gears that you should also have with you. These are Helmet (crucial), Headlamp, Webbing, Gloves, and Socks.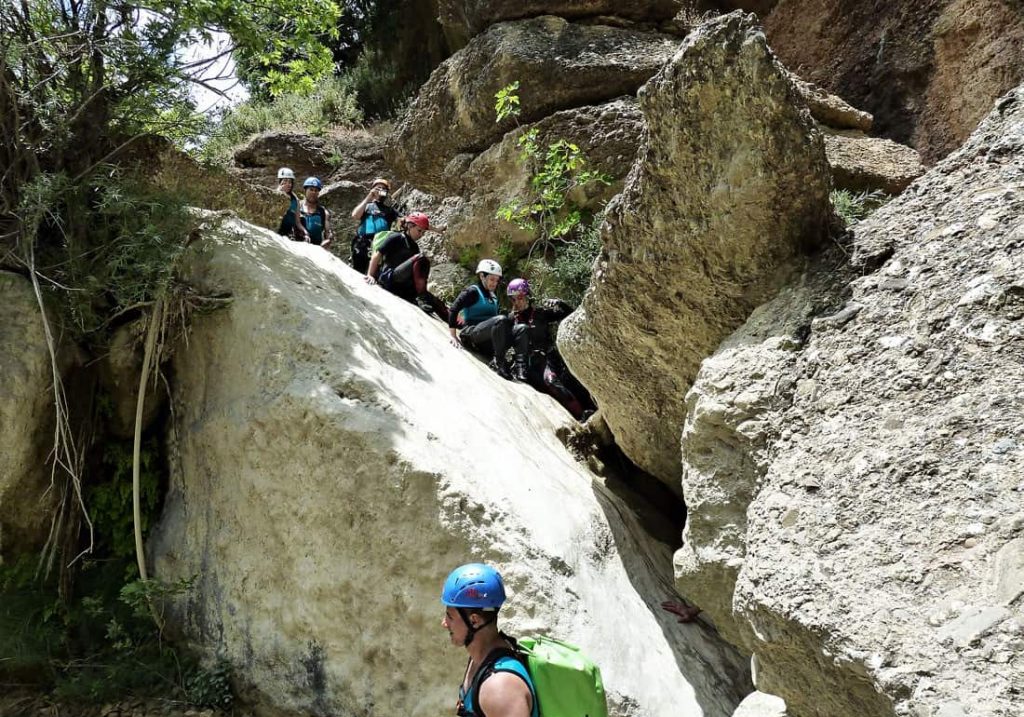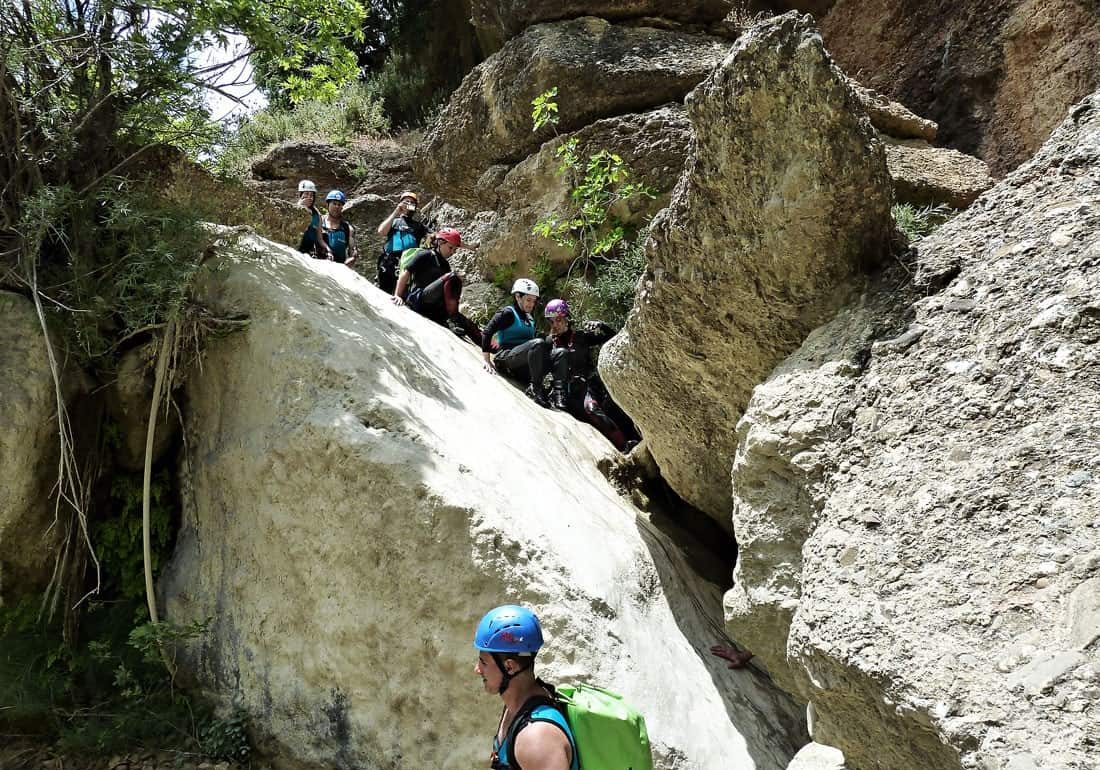 What To Know About Canyoning Shoes?
As mentioned above, the shoes you pick will largely contribute to whether you will have a successful adventure.
So much emphasis must be taken when choosing the type of kick for canyoning.
You will realize that there are standard features that any canyoning shoe should have, and these are;
The traction of the shoe should be excellent; this does not only apply to wet weather but also the dry weather as well.
The shoe that you pick should be able to protect you against some of the objects that you will encounter when canyoning. Some of the things that the boots should protect you from are cactus needles, some bush thorns, and mostly sharp stones.
Not only should the shoe be able to protect your feet, but comfortable at the same time. Since you will be jumping or walking between rocks and a lot of hiking, your feet need to be as comfortable as possible to endure these elements.
As mentioned earlier, canyoning involves crossing multiple streams and pools once in a while. The shoes that you end up picking should keep off the water as you would not want to have shoes that hold water.
That will make your sports a nightmare and a very unpleasant experience.
What To Know About Canyoning Boots for Beginners?
There are specific boots that are ideal for canyoning. That is available in the local shops or online. These boots have certain features like:
They have a rubber sole for proper griping
They have increased lug height, which will go a long way to improve penetration if you are on soft ground and make it very easy to release when in mud.
The boot should eliminate any chance of delamination with the help of a welded rubber interlocked with the mesh.
These boots should not have any waterproof membranes. The reason behind this is that the layer keeps water locked inside the shoe, and this, in the end, takes a lot of time to dry out, or they do not dry at all.
Sand also tends to stick to the waterproof membrane, resulting in the shoes not being waterproof as the sand will tend to break down the layer.
The laces should be an asymmetric face lace system that can easily adjust in cold and wet conditions.
The ideal boot should be able to protect your feet from scrapes, drainage options, and, most important, the sticky rubber soles.
What Should Canyoning Beginners Know?
Unlike caving, gorge walking, and canyoning, this is one of the best options for exploring the earth and, at the same time, having the fun of your life for any beginners.
There are some of the basics that you should know:
Do Not Do Canyoning Alone
Despite the excitement that any beginner has, canyoning is one sport or adventure that one should do with the help of a qualified guide.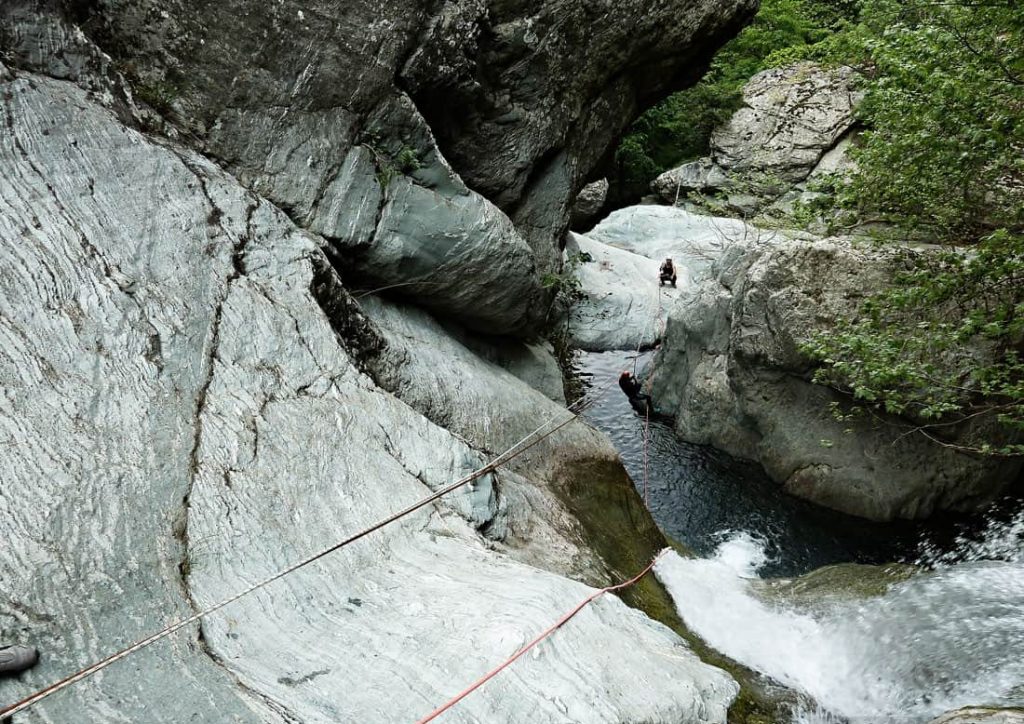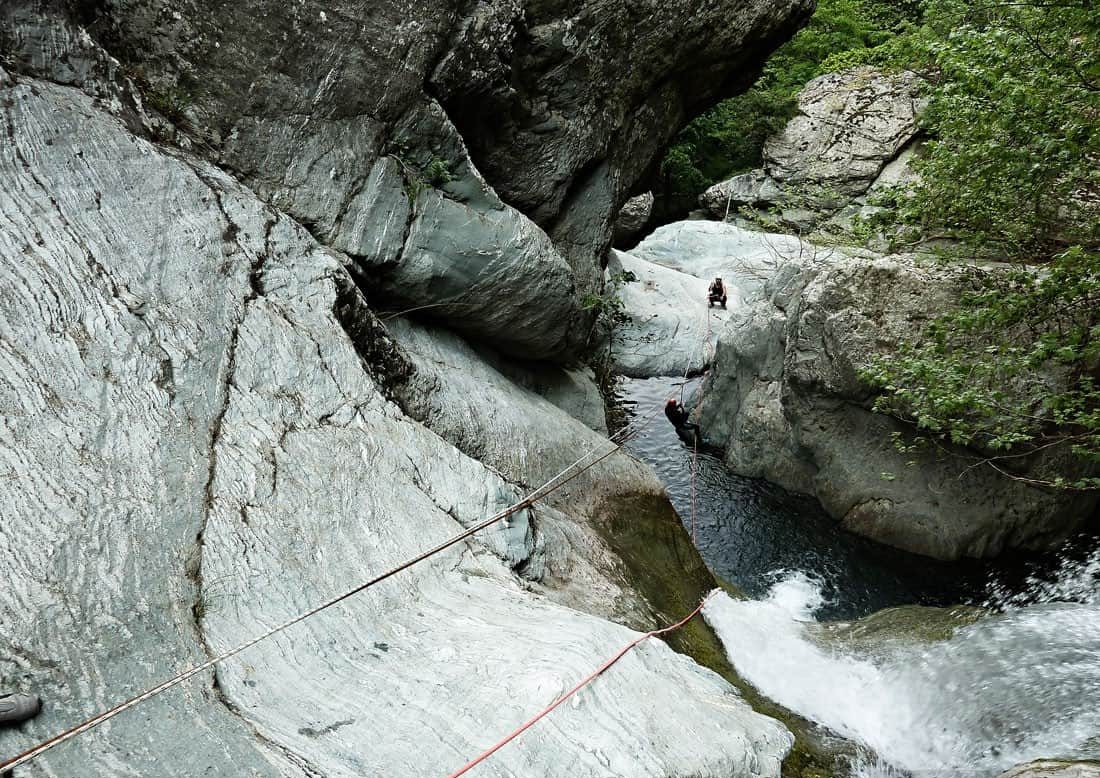 It is essential to get a guide.
That is the only guarantee you will have if anything happens wrong while you are on the trip.
When you are alone, you will be stuck and frustrated compared to when you have a qualified guide who will help and guide you through some of the basics.
What Skills do You Need for Canyoning?
As mentioned earlier, canyoning is a sport that involves a lot of climbing, hiking, and at some point, swimming.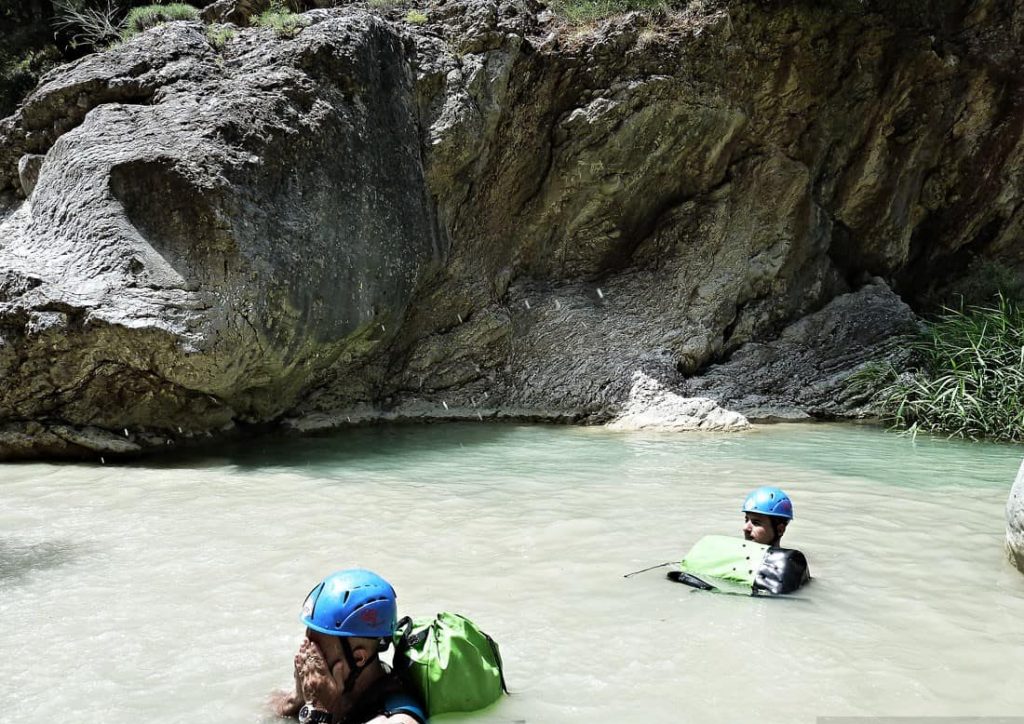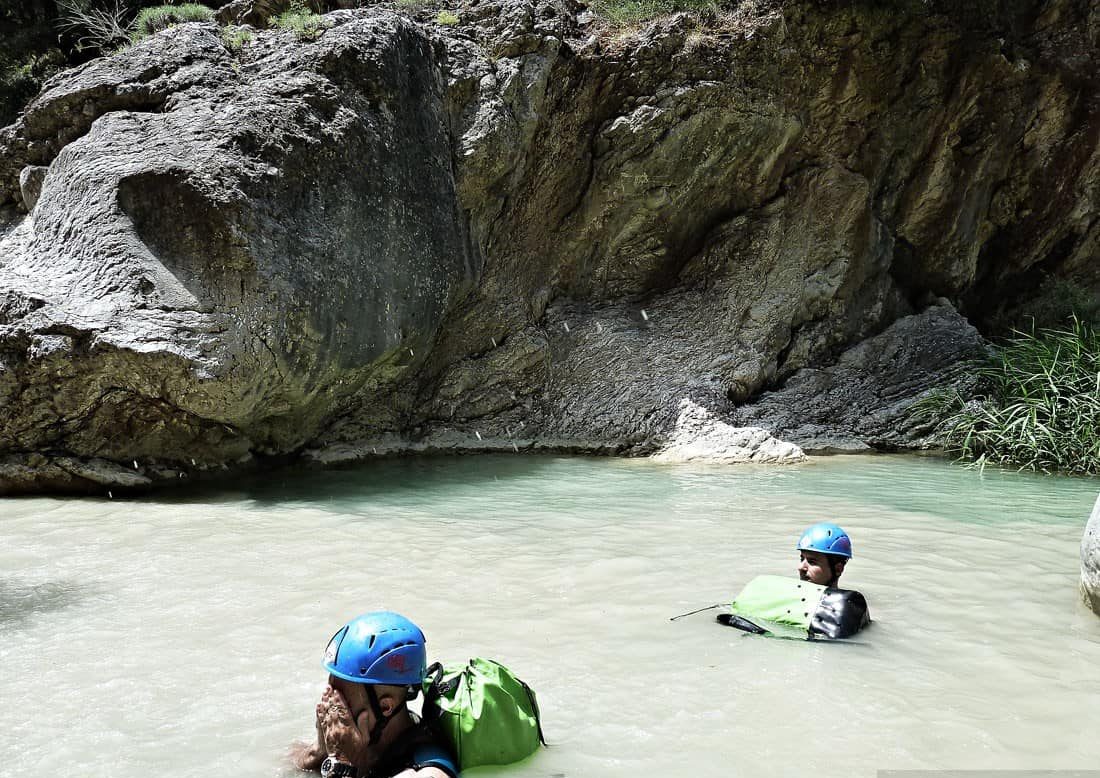 That is a very challenging experience and will need an individual in good physical shape and up to the tasks ahead.
The easiest and quickest way to climb down a canyon is by rappelling, which uses a rope.
You will have to practice in a much friendlier environment before embarking in a canyon.
The knots are the only thing keeping you from some of the significant injuries associated with repelling.
That is the connection between the harness and the rope. It is essential to be well acquainted with your knots.
Swimming is another necessary skill that a beginner should have.
Canyoning involves a lot of water, either going through or above them. You will need to have some of the basics of swimming skills if you encounter an experience involving some swimming.
Where to Go for Canyoning as a Beginner?
There are several places that you can go canyoning in the states.
One of the places that you will not be disappointed in is Utah and Arizona. It is crucial to figure out what you are really in for before deciding where to go in the first place.
The places you decide to visit will depend on how prepared you are and what you intend to explore. For beginners, you should start slowly and ensure you go places with a guide.
This can be any national park that has canyoning features.
After a few lessons and experience, you should try some rugged terrains across the country.
If you are in Greece, go to the famous Neda Waterfalls.
Gorges in Greece are green with stunning clean waters and pleasant to walk through. There are Nemouta Waterfalls, Panta Vrehei, Osios Loukas, and many others in Greece.
What to Look for While Canyoneering?
It is imperative to take all the necessary precautions while canyoning as a beginner, and you will find that it is not a dangerous sport.
First and foremost, since you are going into some of the rugged terrains, you should make it a habit to tell people where you are going and when you should be expected back.
That will not only stop them from getting worried but be alert just in case you might need some rescuing.
Canyons tend to get flooded by sudden storms, so having your GPS and compass with you is vital to avoid getting lost.
The weather should be one of the most critical factors to consider before this trip.
It is imperative to check the weather report and determine if the weather is friendly enough for the sport. If there are chances of a storm or harsh weather, it is best advised to postpone the whole event.
The critical thing that one should do is follow the guide at all times. If you do not have a guide, getting lost on the trip is ubiquitous.
This is why it might be appropriate to carry a GPS, a map, or a compass if necessary.
Other items might not be necessary, but one might need to have them just in case it is required.
These items are water, food supplies, a first aid kit, and anything you might find very necessary.
As you know, it is better to be safe than sorry.
Ensure that you have followed the weather report before you travel to your destination.
Having taken care of some of the mentioned basics like the clothing, what to wear, and some of the gear to carry by yourself, you are likely to enjoy canyoning more than you expected in the first place.
We do! Also, read Best Hiking Boots for Wide Feet, and if you like mountains, read Best Dolomites Hiking Trips.