Southern Utah is one of the most visited places in Utah to explore. There are several National and State Parks hours and even minutes away from Saint George. Many families come to Southern Utah to hike like Zion's.
For information on all the nearby National Parks, you can head to this site here. Or if you have a 4th grader in your home- you can qualify for a FREE 1-year National Parks pass! Click here to claim yours.
If you have a younger crowd traveling with you- might I suggest checking out some of my family's favorite hiking spots, excellent walking trails, and great playground parks found in Southern Utah.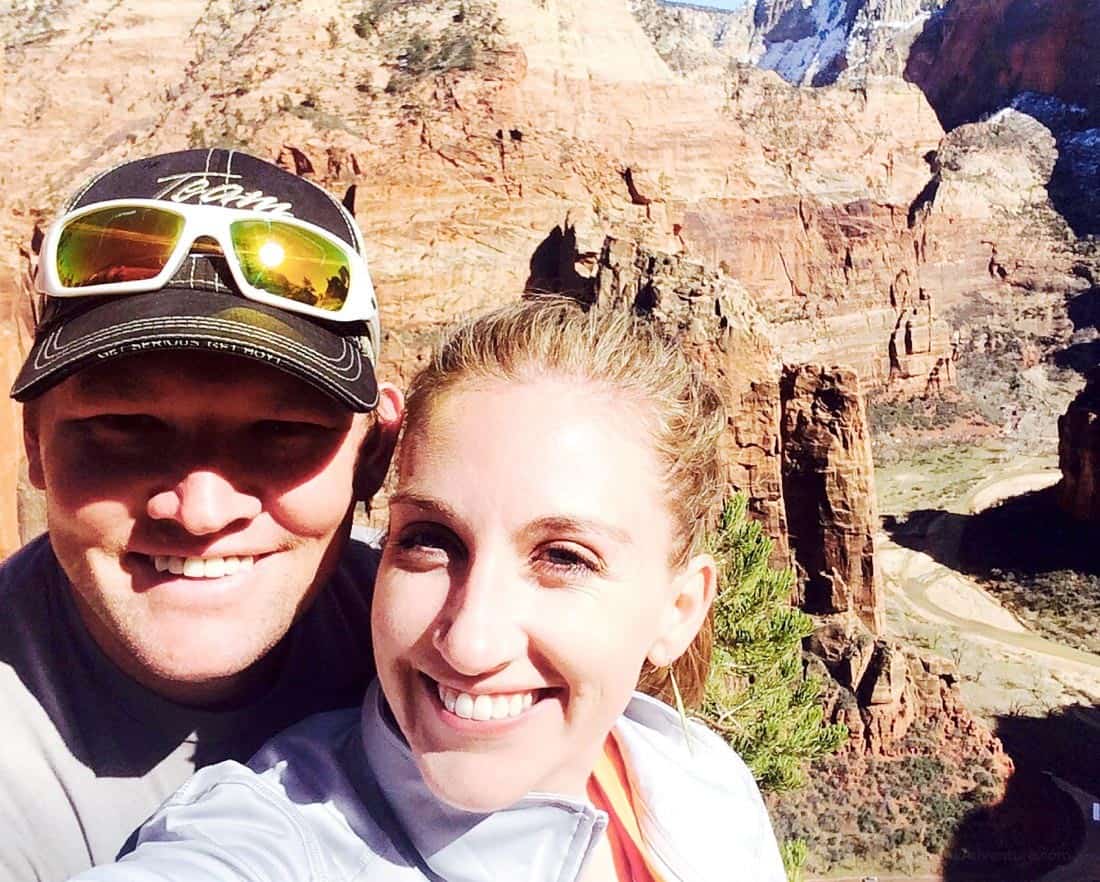 Family-Friendly Hiking in Southern Utah:
This easy trail is right outside the entrance of Snow Canyon park, so you do not need to pay to go inside Snow Canyon Park.
This well-worn trail goes through a lava flow field, dry stream bed, and partially shaded in the Red Mountains into Paradise Canyon. This trail is seasonally closed from March 15th– September 14th- but perfect to hike in the winter months. The end of the trail walk stops at a magnificent arch spanning 200 ft and is quite lovely.
Ideal age for: all ages.
Parent notes:
This trail is easy for kids (I did it once nine months pregnant!) and only one area of the trail is near a cliff, the rest of the trails, however, is safe.
The arch itself is blocked off from climbers, so you can only view the arch from below.
The base of the arch is covered and quite chilly- bring a jacket!
CON: No bathrooms or water facilities on sight- so pack everything in and out.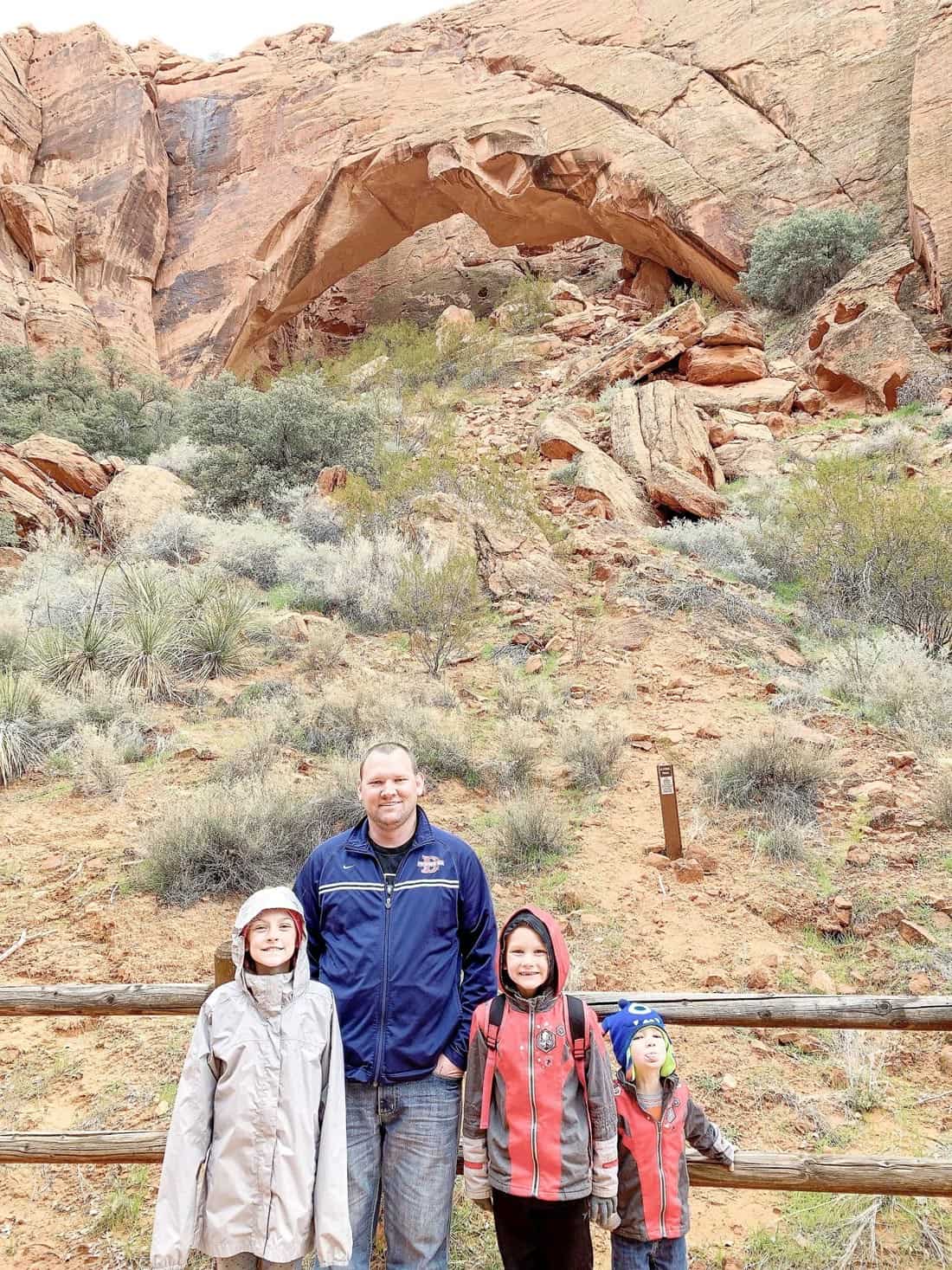 Located: Southside of Snow Canyon State Park
Beautiful breathtaking 360 views! There are plenty of rocks, picnic areas, caves, slot canyons, and caverns for kids to explore. This area of Dixie rocks is ideal for all ages; however, climbing the Sugarloaf to view everything on top of the hill is a challenge!
Ideal age for: all ages.
Parent notes:
Exploring Dixie rock is fun for kids, and there are beautiful sites all around. Watch for surprise dips in the rock- my kids have tripped and scraped their knees before.
There are several parking lots to explore the Sugarloaf; however, the bathrooms are only located at the South end of the park.
Con: There are hidden cutouts on the side of the Sugarloaf for people to climb to the top. These are cutouts that are hugely spaced out and very challenging to climb as adults, let alone children. Highly suggest big kids or experienced hikers for the Sugarloaf climb.
Located: Red Hills Pkwy, St George, UT 84770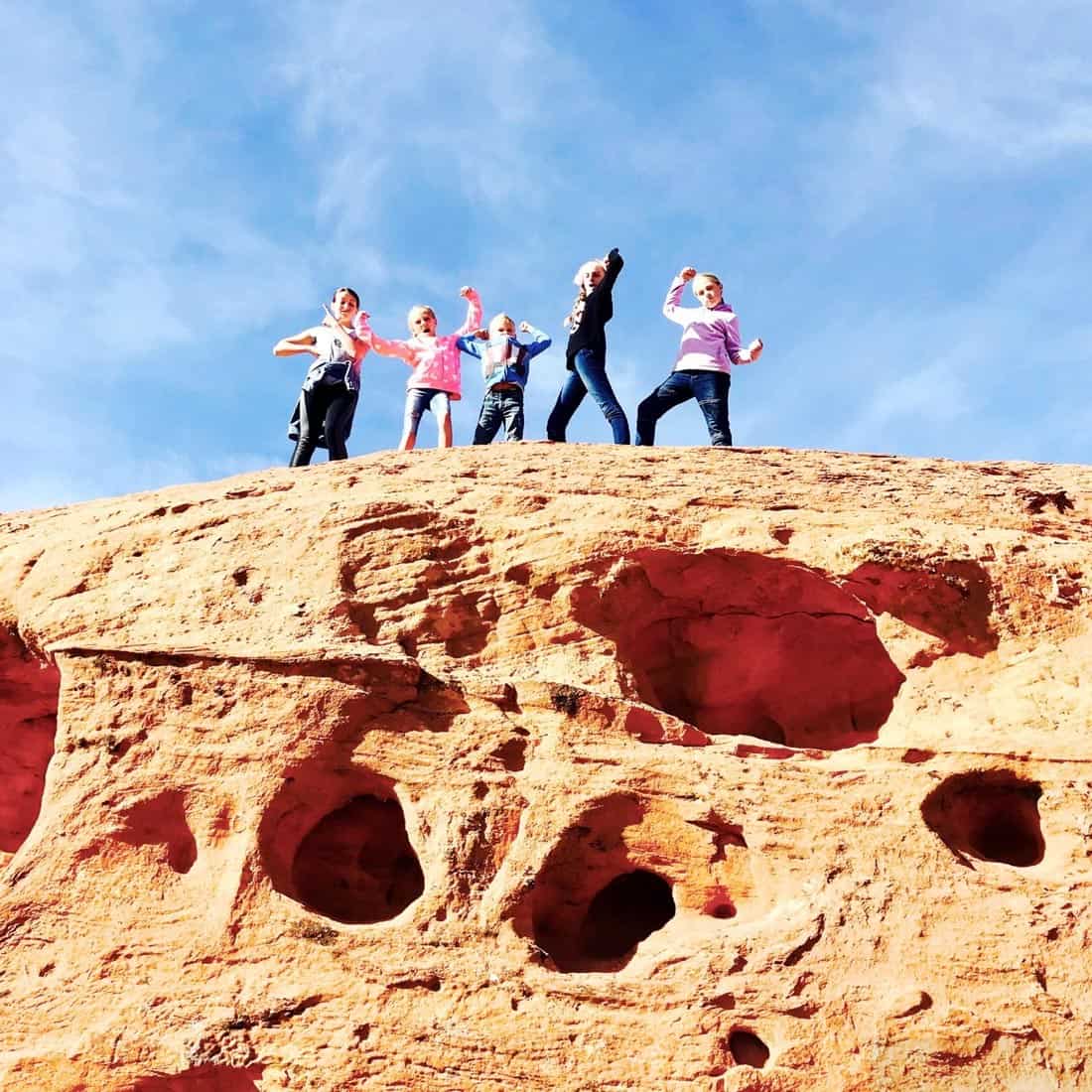 Family-Friendly Walking Trails in Southern Utah:
Ideal age for: all ages.
Parent notes:
Lots of wild animals live here. Bring bread crumbs to feed the ducks and watch for the peacock that lives there.
The pathway through the nature center is not paved, but pushing a stroller works anyway.
Near the Tonaquint Nature center is the playground: Thunder Junction All Abilities Park:
This path is partially covered with plenty of covered benches and sitting areas.
Located: 1851 South Dixie Drive, St. George, UT 84770
Ideal age for: all ages. Nicely paved walkways, stroller-friendly, and fun alternative paths too!
Parent Notes:
Saint George is also known for its Dinosaur fossils that were discovered in this area. In this Desert Hills walkway- they have several dino prints that guide visitors to a dinosaur fossil replica found here in Southern Utah.
My kids and I love using the porch swings sprinkled throughout the walkway.
During the Fall holidays, the garden walkway is decorated. For Halloween, we've seen a scarecrow walk, another year it was pirate themed. Our favorite time to visit the Desert Garden is in the winter for Christmas. There are beautifully lit cactus, and plants, candy cane lanes, and other festive themes throughout the area.
CON: The outer perimeter of the Red Hills Desert Garden is beautifully paved and easy to maneuver. However, if you choose to come as a family- make sure you have extra adult's hands. Although one can usually use a stroller, there are several fun and alternative paths like jumping on stepping stones across a shallow river or taking stairs to a secondary level that presents a challenge for a parent to keep up with a toddler AND a stroller.
Located: Red Hills Pkwy, St. George, UT 84770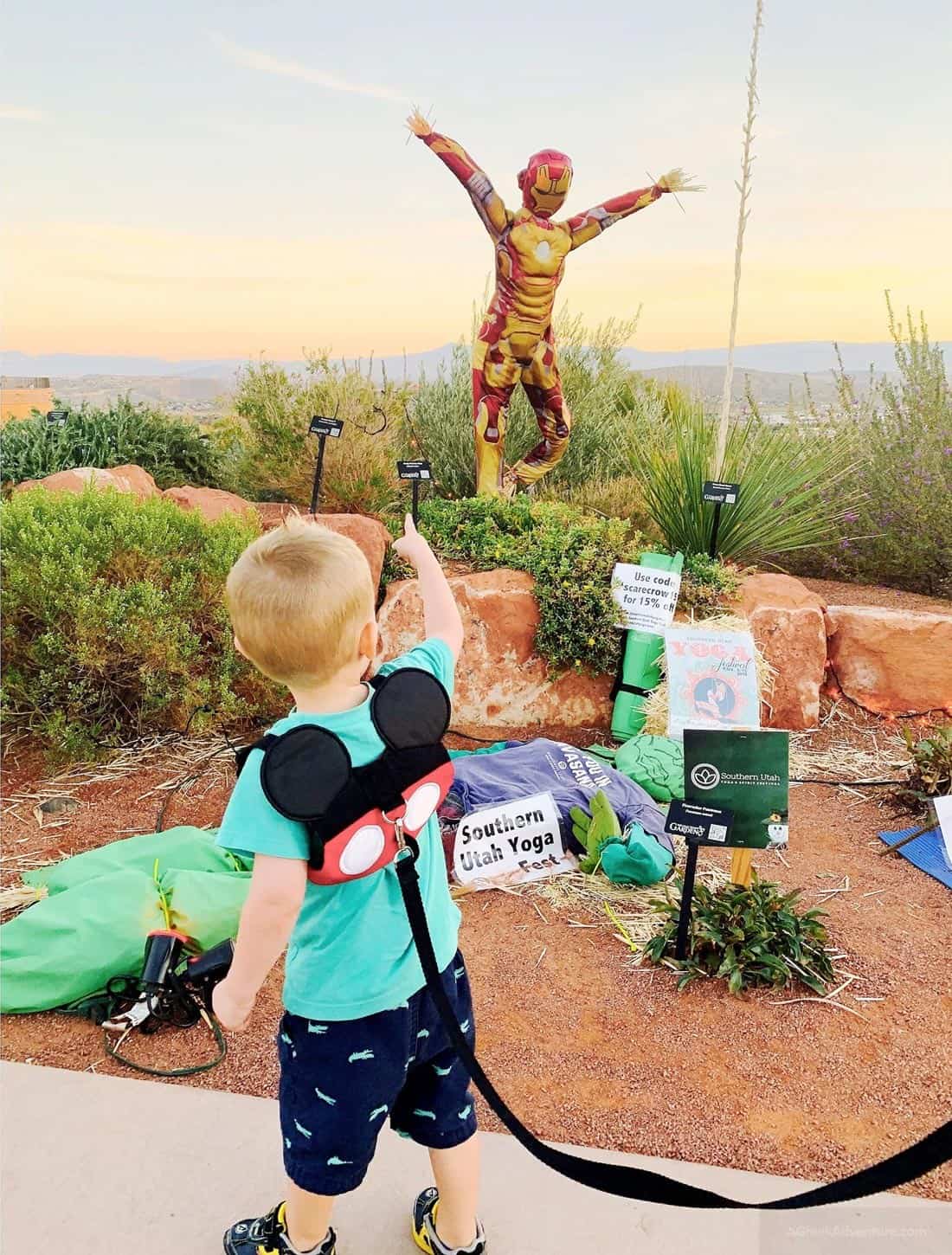 Ideal age for: all ages- easy -uncovered- walk for all ages. A few benches along the trail.
Distance: 2.2 miles- average hike time: 1-1.5 hours.
Parent notes:
This walk is light with loose gravel. However, it is also close to the edge of a cliff- so parents with young children hold onto them!
Watch the ground for uneven ground and lava rocks, but ALSO look for the markings of the pioneer wheels.
No bathroom nearby, but across the street from the trailhead is a small playground.
Located: 50 South Main Street
After all of that hiking, my kids still have energy and beg to play at a playground park. If your travel kids are anything like mine, they will love our favorite parks too. Word to the wise: Visit the parks in the early summer mornings to avoid the scorching heat, or pack a swimsuit to many of our playground/splash parks.
Favorite Parks in Southern Utah:
Newly updated in 2019– Fantastic park!
Equipment: Playground, ideally situated in mature trees, mostly in the shade.
Ideal age for: Five and older. Note, my 18-month-old could play in the park with hands-on assistance. My 9, 7, and 3 years old had a blast climbing the four-story tower to ride the slides down.
Parent notes:
Slides are steep and fast! The four-story tower can ONLY be accessed by climbing ropes and very complicated with adult assistance- an ideal playground for older kids.
A picnic pavilion is steps away from the park as well as a grassy area for a picnic.
Con: Park is located right next to a busy road. There is; however, a small fence separating the playground and street.
Location: 75 E Telegraph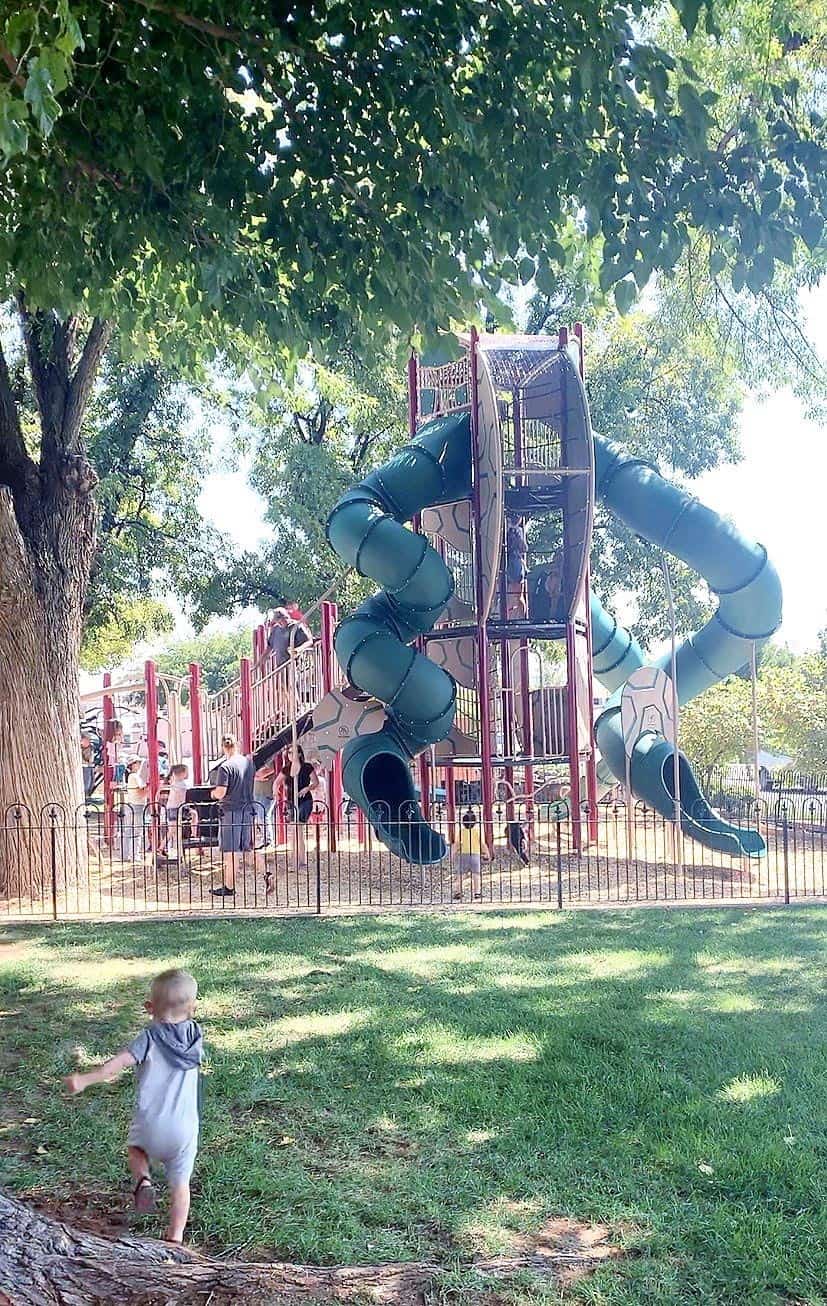 Cotton Wood Cove Park:
Equipment: Playground; Not covered
Ideal age for: all ages. Variety of equipment for both baby/toddler and big kids.
Parent notes:
This park is hidden from the street- you have to look for this one.
Multiple entrances to this park- one is walking through a rope walkway. It is high- and intimidating for young kids. Suggest 7+ take this entrance.
There is also a tall rock wall
The picnic pavilion is steps away from the park as well as a grassy area for a picnic. Wonderful park.
Con: Park is located quite a distance away from the parking lot and bathrooms.
Located: 1027 South Dixie Drive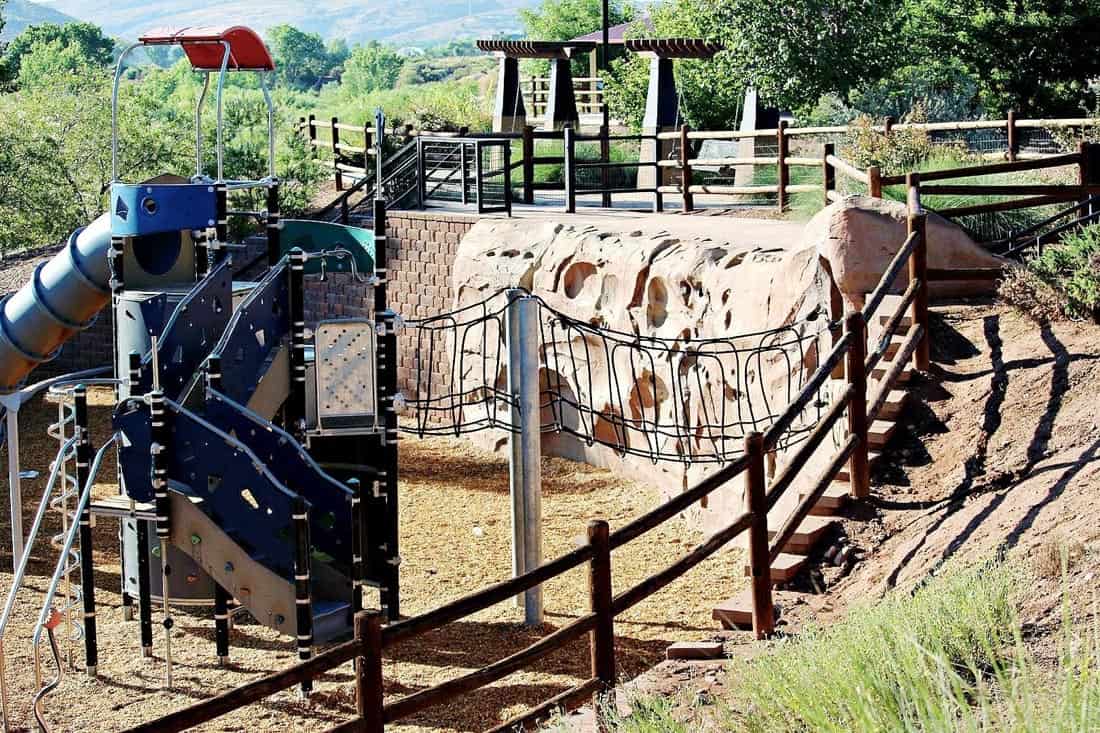 Favorite Parks in Southern Utah with Extra Perks:
Equipment: Playground; large and small, partially covered, AND splash park
Ideal age for: All ages with a variety of equipment for both baby/toddler and child.
Water park features: Spraying, bubbling, and one shower-head type water spray.
Parent notes: Plenty of close, shaded benches surrounding the playground, steps away from the covered picnic area, close bathrooms. There is a tricky rope area that connects one playground to the other.
Location: 3505 South Barvelona Drive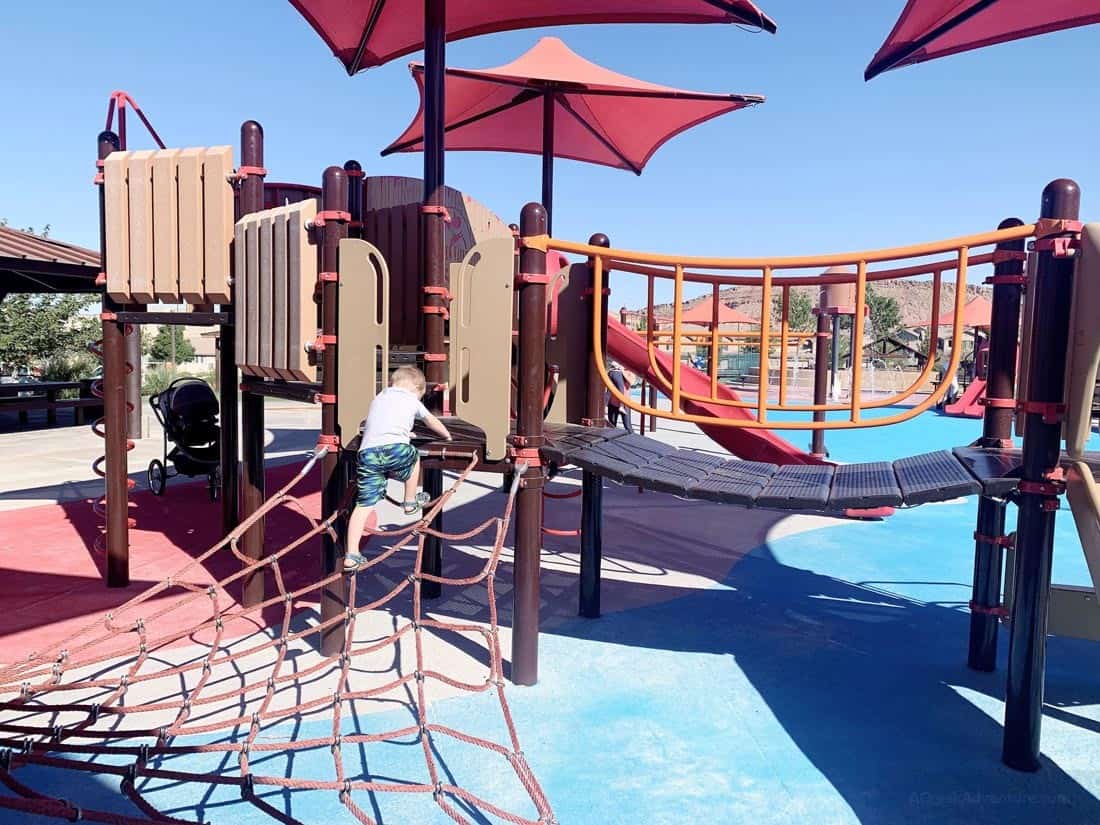 Equipment: Splash park AND $1 vintage carousel
Ideal age for: all ages. Lots of a variety of equipment for both baby/toddler and kids.
Parent notes:
This park is directly downtown Saint George- the fountain runs year long, the river walk-way is seasonal.
Plenty of covered benches, sitting areas, and grass to sit on.
Con: River walkway is not smooth,- cuts little feet- would highly suggest water shoes.
Con: Walkway is littered with large and real stones for children to play and jump on- which isn't ideal for young children.
Located: 50 South Main Street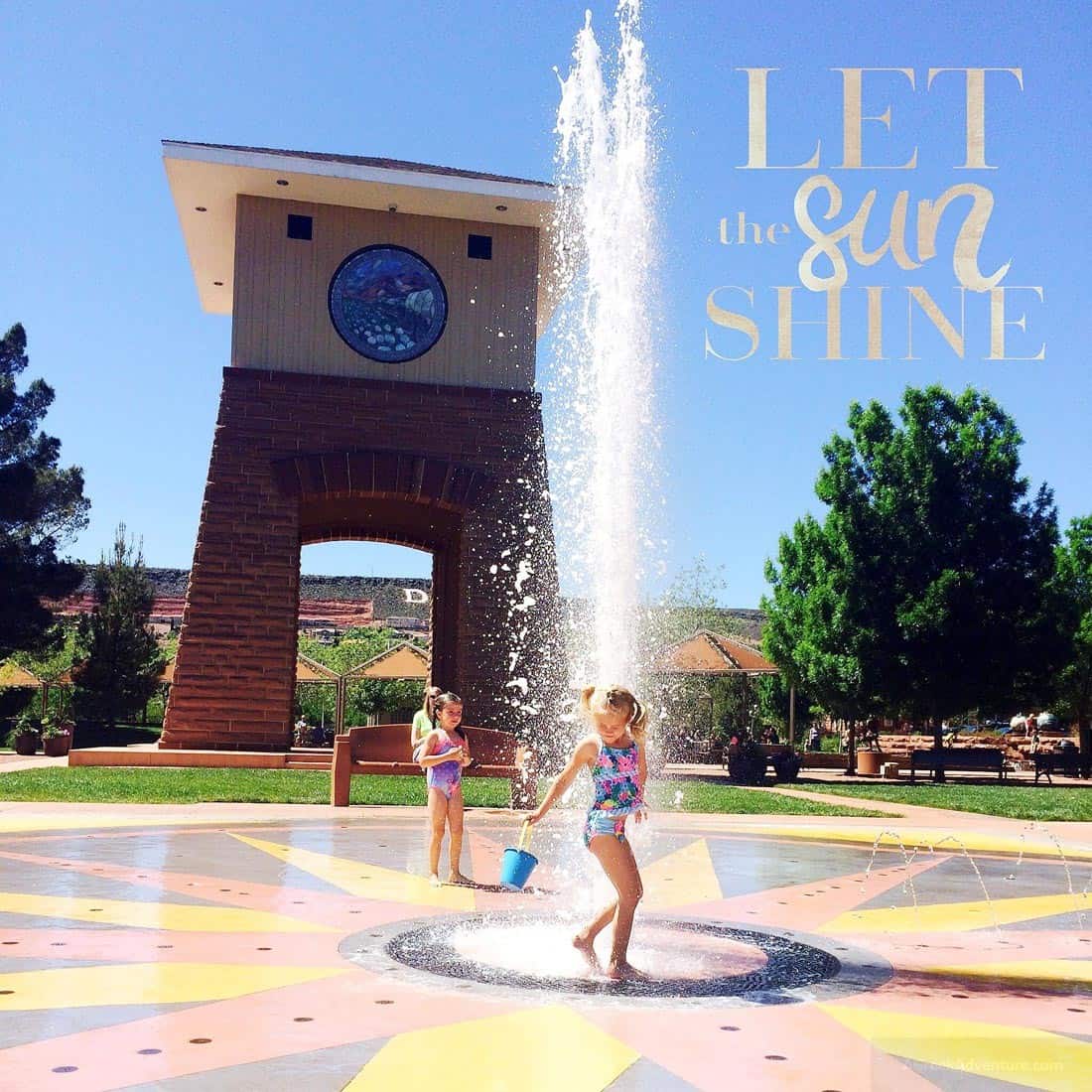 Equipment: Playground; partially covered, AND Splash park AND $1 Train Ride
Ideal age for: all ages and abilities. This playground is purposely structured to accommodate wheelchairs throughout the rides and swings of the park.
The water park features: Waterfall, shallow river to splash in, small streams of water, T-rex skull water feature to play in.
Parent notes:
This park is always busy- but it is spacious and fabulous! A smoking and rumbling Volcano, dinosaurs to climb and slide on and a train. You can pay $1 to ride the train that goes around the park and see buried bones etc. Playground equipment is very handicap friendly and caters to allowing all children to play on the equipment.
One entrance to this park- colossal perk! And gated train track- so no one could get hurt.
One covered picnic pavilion, but plenty of covered benches throughout the park.
Parent tip: take more adults than kids. Kids can take many different (covered) paths to the top of the slides where the parent can lose sight. The many times we've gone, I've assigned older kids to go with younger kids, to avoid kids getting lost. Lots of hands-on assistance can be needed at this park!
Con: Park is always busy- don't go after school or during school break, go in the early morning, or during school to avoid the rush of crowds.
Located: 1851 South Dixie Drive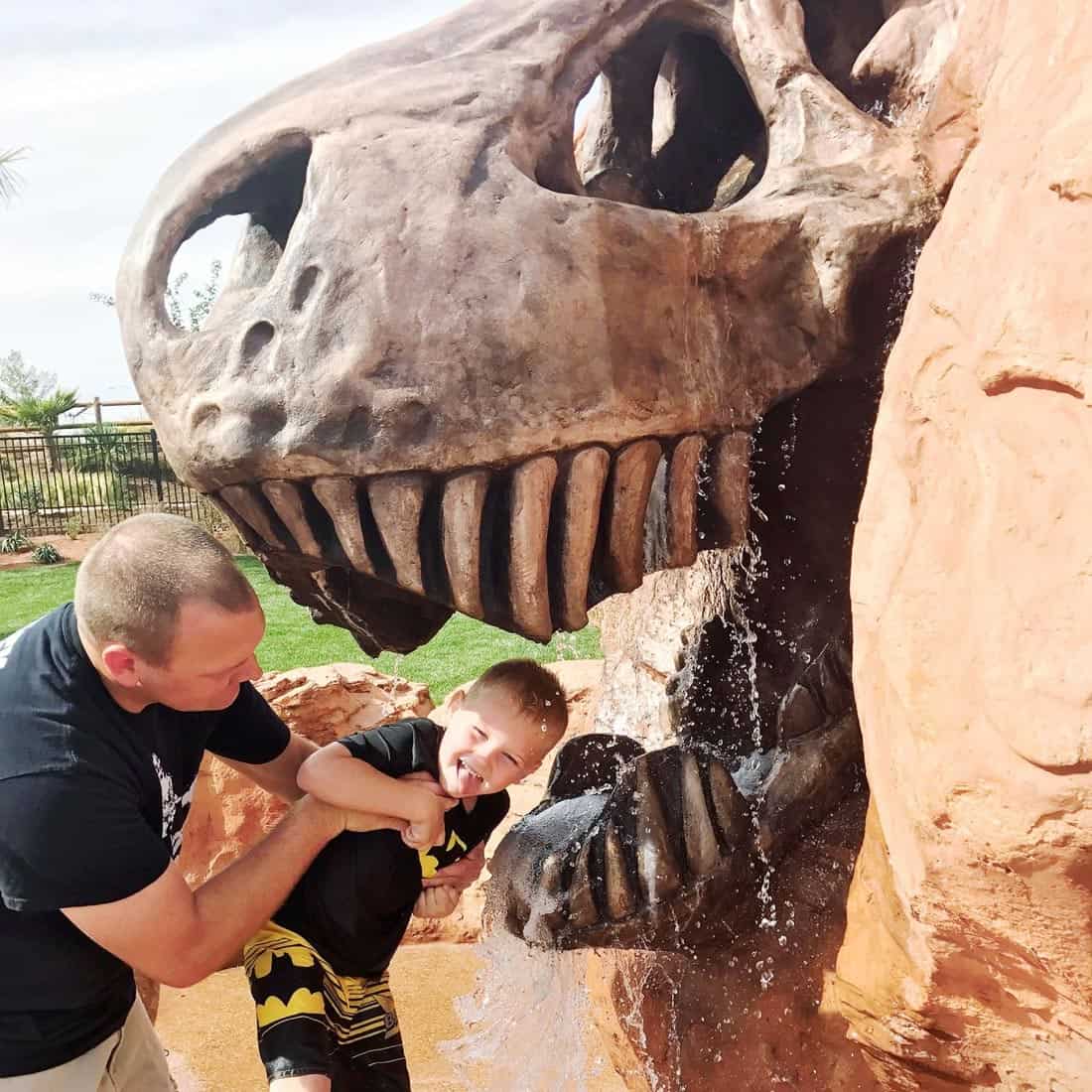 Have you visited Southern Utah and gone hiking in one of these areas before? What hike or park would you add to our list? Our friends at Mommy Convos, we believe in sharing tips to make mom life a little easier, and they love the great outdoors! For more articles on how to make adventuring like camping or hiking with kids in Utah attainable and fun- head to their site.
Happy exploring! Morgan with Mommy Convos.
Make sure also to read our post for the best ways to travel in Utah.