Are you planning for day trips from Lisbon Portugal?
Then read this post and visit all our individual experiences from our trip to Lisbon and these unique cities/landmarks outside of Lisbon.
Lisbon is the commercial hub of Portugal. For this reason, most trips and journeys to the uttermost parts of Portugal commence from the city (or from Porto).
Having explored many of the cities that are around and about the city of Lisbon, we have seen it necessary to provide a guide of this kind for your consideration.
Day Trips from Lisbon
In our article below, we shall examine the various places of interest taking (one or more) day trips from Lisbon, where to stay, and how to get to the cities of Fátima, Sintra, Porto, Cascais, and Coimbra as part of your day trips from Lisbon. You can also visit Porto.
This sum up will give you ideas. You can have a Lisbon day (or days) and then move to another close-by city. Best time to do that? In summer.
Here are the best day trips from Lisbon.
Day trips from Lisbon to Porto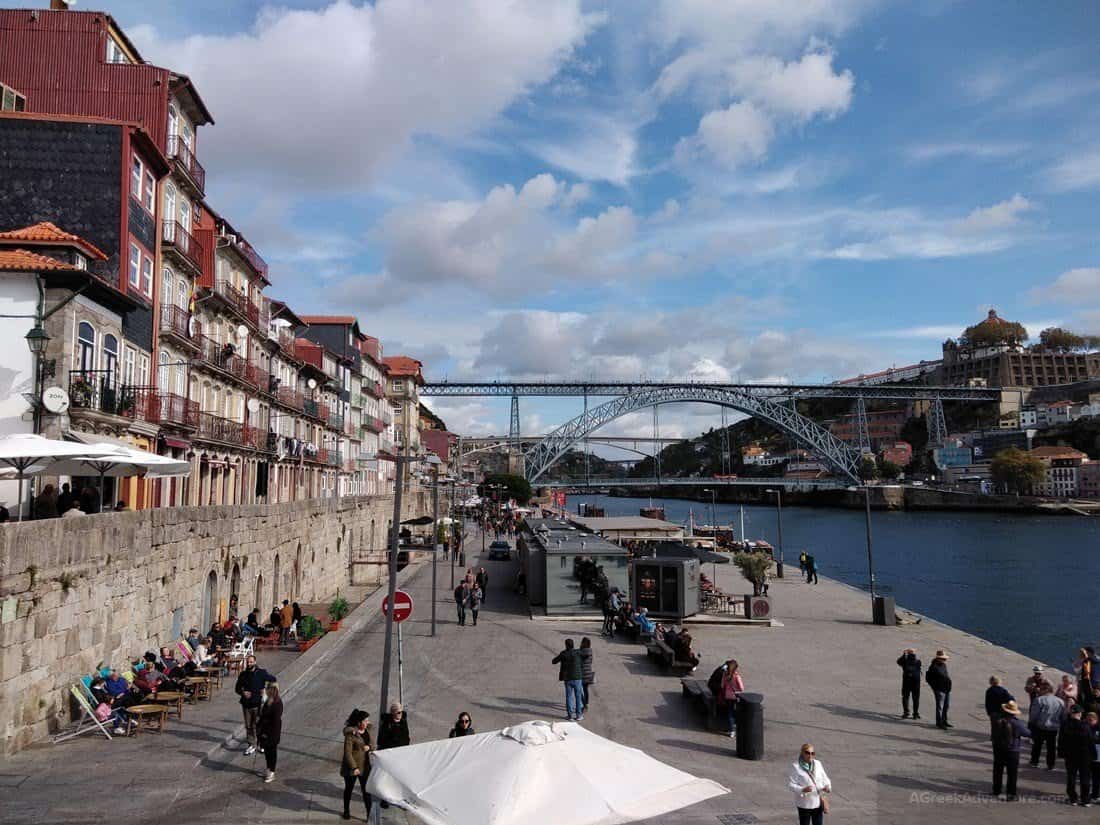 Porto is Portugal's second-largest city after Lisbon.
You will find it in the north of the capital at a distance of around 313 km and lies along the Atlantic coast.
The city is rich in architecture, history and other attractions which make it worth visiting by any serious tourism enthusiast.
Read our experience for Porto from here.
What to explore in your Day Trips from Lisbon to Porto
Luís I Bridge: This iconic metal bridge sits astride the Douro River, named after King Luís I, who reigned in Portugal from 1861 to 1889.
The bridge is shaped in the form of an arch.
It channels the road and metro line of the city. That is a beautiful place to sightsee the city's skyline and take some pictures.
Livraria Lello: An ornate bookshop adorned with some iconic red stairway.
It is a lavishly designed structure, complete with an art nouveau exterior plus a winding wooden staircase.
Apart from availing you some great books, this structure is also an excellent place to capture some selfies and memoirs.
If you prefer someone to plan your trip there, then you can check these guided tours:
Where to stay and eat in your Day Trips from Lisbon to Porto
The city has no shortage of accommodation facilities.
Indeed, every length and breadth of the city's street contains some hot restaurants, luxurious hotel hostels, lodging, and so on.
Below are two outstanding ones for your consideration:
Hotel Vila Galé Porto: Comprising some refined rooms and suites, this hotel comes in the form of a polished lodging.
It provides the patrons some modern dining, a spa, and an indoor pool.
That is the place to retreat to for some quiet times and winding opportunities.
Sheraton Porto Hotel & Spa: Sheraton is a globally renowned luxury hotel brand.
The one in Porto is a high-rise facility that has some bright rooms and suites.
It prepares and serves some great Mediterranean dining, contains a couple of lively bars, and a plush spa for your enjoyment and complete relaxation.
Do not leave Porto with tasting their wines (Port wine is top-rated) in one of the many visiting wineries of Gaia.
How to get to Porto for Your Day Trips from Lisbon Itinerary
Train Rides: A train line serves the two cities.
To get to Porto from Lisbon, you have to depart from the Lisboa Santa Apol or the Lisboa Oriente stations. You will arrive at the Porto Campanha.
A typical ride between the two cities takes around 2 hours and 40 minutes and costs at least €24.30.
Air: It is possible to get to Porto from Lisbon via air.
You will take off from Lisbon Portela Airport and land at Porto's Francisco Sá Carneiro Airport.
The route is served by around 15 flights per day and takes about 50 minutes. Some flights cost as little as €15.
Highway: These two cities are yet again served by a broad and well-maintained road A1.
The stretch of road measures around 313.3 km, whereas a typical road journey between these two beautiful destinations, will take around 2 hours, 57 minutes.
If you choose to travel during the day, you will get to see beautiful landscapes, seaside resorts and breathtaking sceneries along the way.
Day trips from Lisbon to Fátima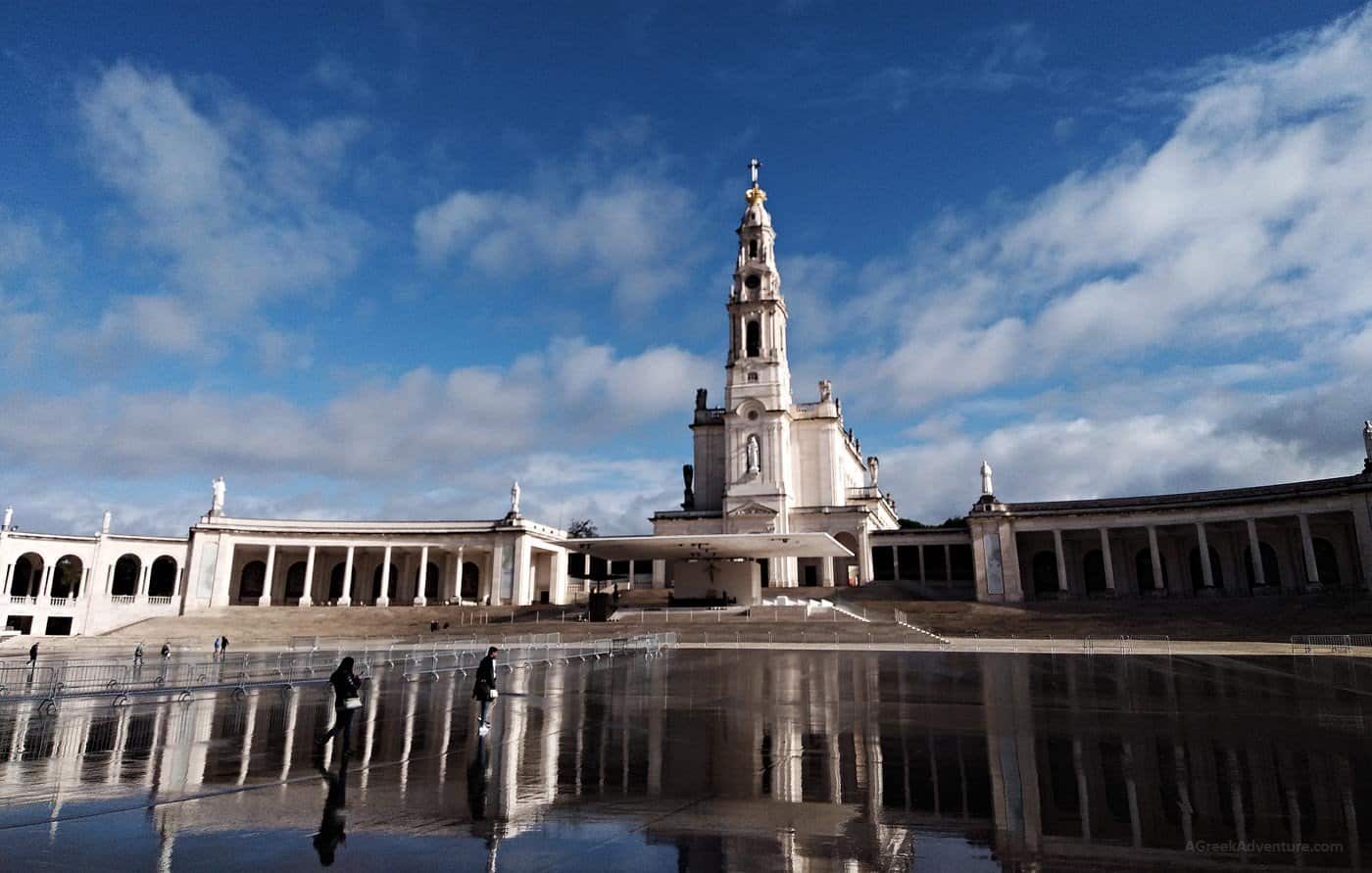 The city of Fátima is located in the northeasterly direction from Lisbon and occupies the geographical center of the nation.
The distance between these two cities is around 127.3 km and are mainly linked by the A1 highway.
It mainly serves as a Catholic pilgrimage site. Check our experience from Fatima.
What to do in Fátima for your Day Trips from Lisbon
Some of the places you might consider visiting while in the city are:
Sanctuary of Our Lady of Fátima: As the name suggests, this is a Marian shrine and a pilgrimage center at the same time.
This shrine and pilgrimage complex is the place where the Virgin Mary supposedly appeared to three children.
It contains a basilica and a chapel. You might want to know more about Catholicism by spending some of your time here.
Mira de Aire Caves: Fátima is also home to some natural wonders. The Mira de Aire Caves are examples of such.
These are limestone caves that have some underground lake beneath.
In the caves are some stalactites, stalagmites, waterfalls, and an underground lake.
It also doubles up as a summer water park. That is the place to detach and relax from your busy schedules.
Where to stay and eat on this Day Trips from Lisbon to Fatima
Just like the Porto above, Fátima is also home to several excellent accommodation facilities. Below are two of the most notable facilities of that kind:
Hotel Fátima: Hotel Fátima is a laid-back hotel cum lodging facility.
It is at a 3-minute walk from the famous Sanctuary of Fátima shrine and around 4 kilometers from the Grutas da Moeda caves.
Some of the rooms have balconies that provide you with the opportunity to gaze at the city skyline. It also provides some casual restaurants and a cozy bar as well.
Hotel Santa Maria: This Hotel is a modern accommodation facility which features modern rooms and suites.
The set comes in the form of a refined arty hotel. That is not to mention that it comprises a restaurant and a bar which offers some free breakfast.
If you have enough to spend, this is the place to consider donating some of your time.
How to get to Fátima from Lisbon
Road Trip: As stated above, Fátima is at a distance of 127.3 km due north of Lisbon.
The two cities are connected by the A1 highway, which is full and smooth. As such, a typical journey between the two destinations shall take around one and a half hours only.
Air: Both cities have airports. To get to Fátima by air, you will take a flight to Lisbon Portela Airport and land at Fátima airport.
The average flight time is around 20 minutes only.
The city of Fátima has no railway station.
However, a station is not too distant from the city. You will hence require a shuttle bus to connect you to the Caxarias station to Fátima.
Alternatively, you may opt for a taxi. Expect the entire journey to last slightly over two hours only.
This site is useful for Bus options.
Day trips from Lisbon to Sintra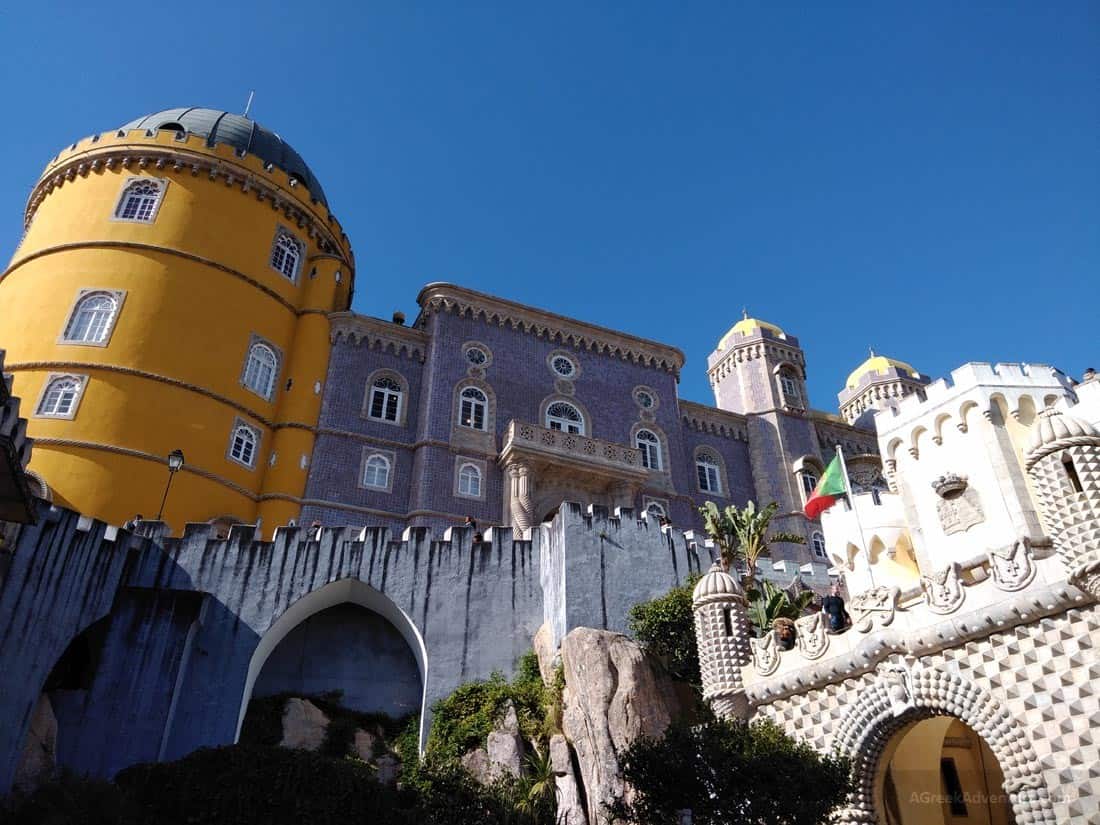 Sintra is a resort city that is patched atop the foothills of the Sintra Mountains.
For a long time, it served as the royal sanctuary of the monarchy of Portugal.
The city features some Moorish architecture, pastel-colored villas, palaces, and elaborate tile work.
As such, it has numerous facilities for your exploration. Explore our experience from Sintra.
Where to go in Sintra for your Day Trips from Lisbon
Park and Pena National Palace: The hilltop Romanticist Pena palace is situated in the parkland.
It was constructed in the 19th-century and sat atop a high rock which doubles up as a former monastery site.
The facility itself is breathtaking to gaze at and also offers terrific opportunities for photography and leisure.
While you are there, it would be nice to visit Quinta da Regaleira.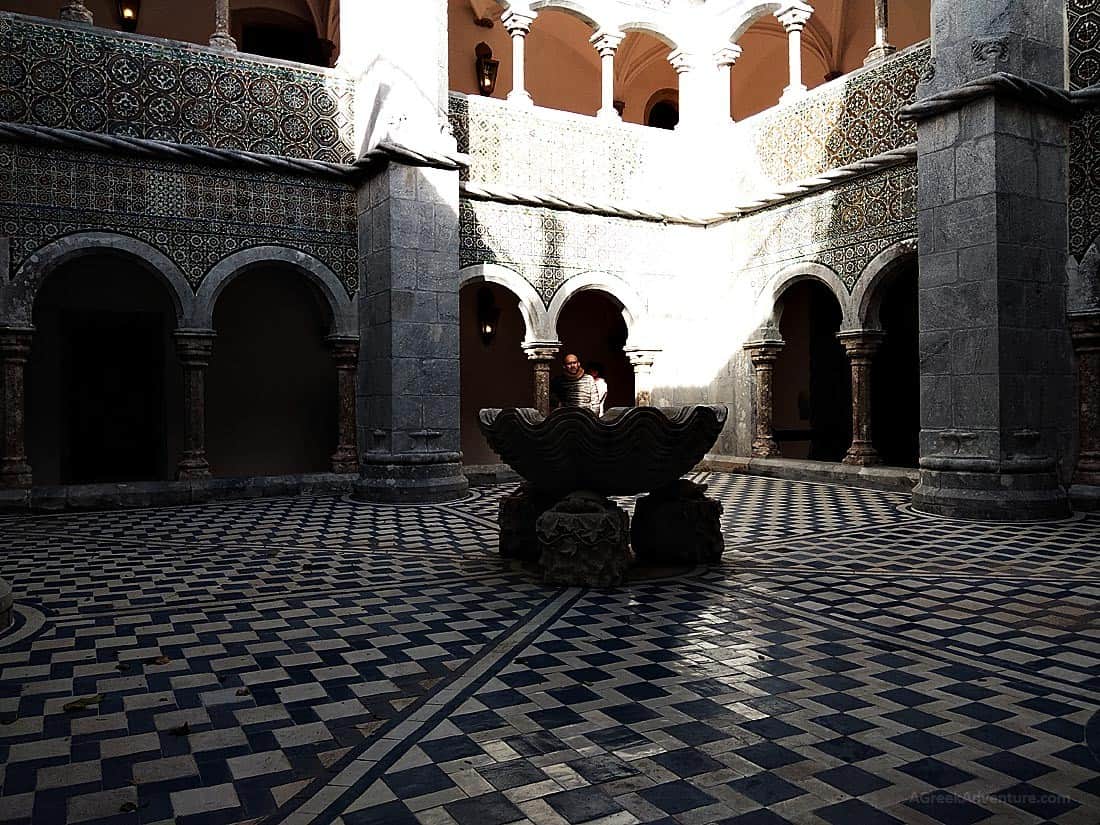 Cabo da Roca: Cabo da Roca is a natural coastal viewpoint as well as a lighthouse.
At this site, you can look abroad and afar because it offers an excellent viewpoint to gaze at the adjacent sea.
It is a part of the national park system and is complete with a lighthouse, which also houses a tourism office.
The Moorish Castle (Castle of Moors): In walking distance from Pena, you need to visit the ruins of this castle, mostly for the view of the valley.
There is no museum or such in there, but the view is stunning!
Where to stay and eat
In this city are numerous eateries, hotels, and accommodation facilities.
Being many and varied, you are sure to find one which appeals to your unique circumstance or pocket size.
Listed and explained below are some two of the most outstanding facilities of those kinds:
Tivoli Palácio de Seteais: Tivoli Palácio de Seteais contains numerous elegant rooms in a hotel setting.
The facility itself is a refurbished 18th-century palace. It serves chic dining, a bar, and a pool, alongside many other amenities.
Its convenient location to and from many other nearby attractions makes it all the more desirable to visit.
Tivoli Sintra: Tivoli Sintra is a casual hotel that offers some bright rooms and suites. Other than these, it also houses a bar and a restaurant.
Each patron in the hotel is served some complimentary breakfast as a token for his visit.
Being located at the downtown, the hotel is easily accessible and is thus hassle-free to visit.
How to get to Sintra from Lisbon
Airport Transfers: The Lisbon Portela Airport is the nearest to the city of Sintra. It is located just about 22.61 Km from downtown Sintra.
To get to Sintra from the airport, you may either hire a taxi or leverage the airport transfer services of your hotel.
Road trip: Both Sintra and Lisbon are connected by a broad and well-kempt A16 Highway. The distance between the two cities is just 33.7 km.
A typical road trip takes around 42 minutes. It may, however, take longer in case there is a jam, accident, or during the rush hour.
A Day trip will let you gaze at some beautiful scenery and views along the way.
Train Rides: Lastly, you may also explore the train as a viable alternative.
That is because the two cities are connected by rail and are served by regular trains.
Such a ride will typically last 40-47 minutes long and cost no less than €4.50.
Another way to get to Sintra is through organized tours.
They usually go to Cascais too, since it is also very close to Lisbon.
Day Trips from Lisbon to Cascais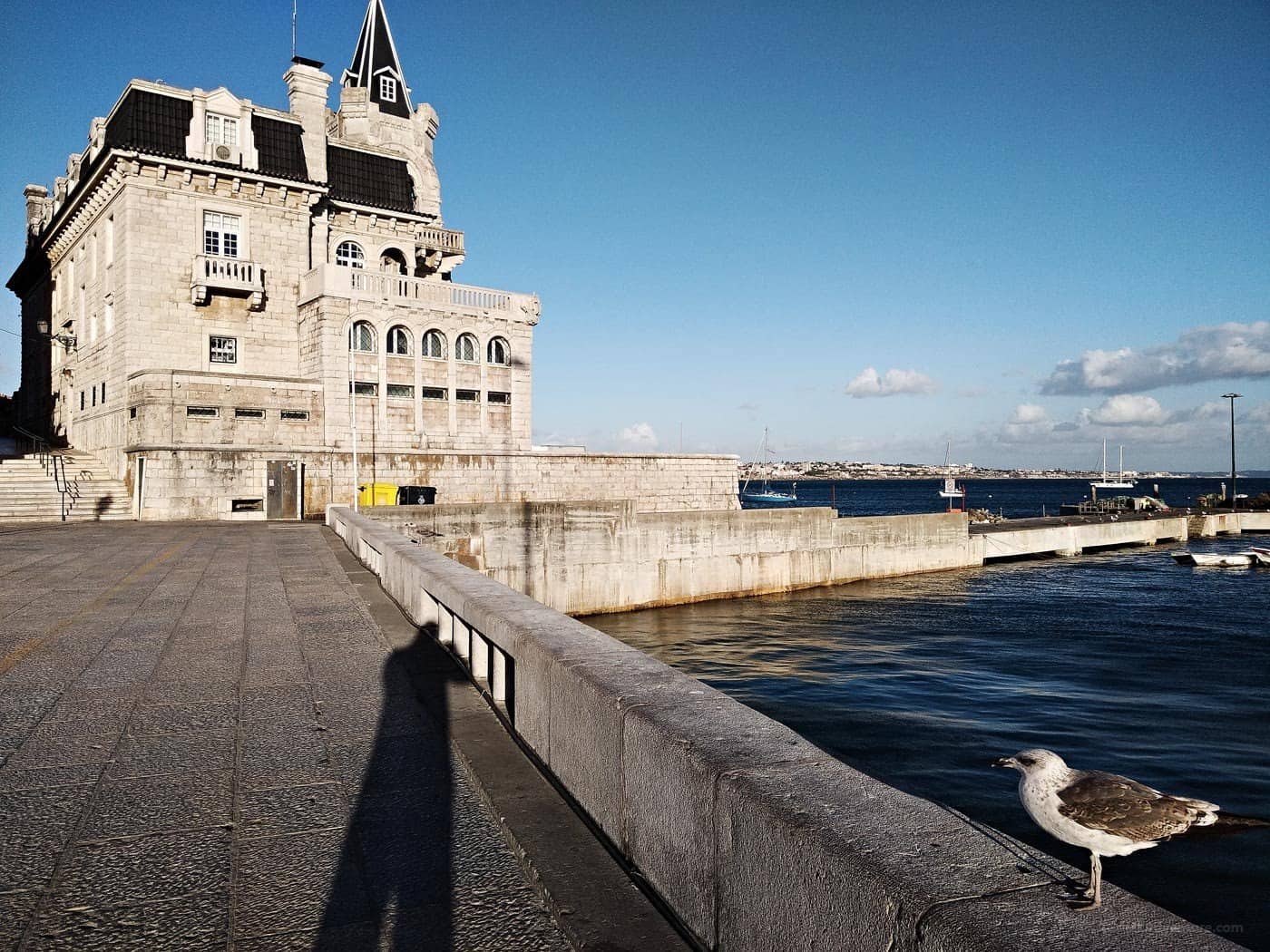 Cascais is a Portuguese coastal resort town that is due west of Lisbon.
The city is widely regarded for its breathtaking sandy beaches and a busy marina.
It is a former royal retreat and is adorned with numerous historical sites and other objects of antiquities.
Read what we did in Cascais.
What is to see in Cascais for your Day Trips from Lisbon
Boca do Inferno: Standing tall among the various features the town possesses are the scenic seaside cliffs, otherwise called Boca do Inferno.
The attraction also features a natural archway that is brought about by years and years of pounding waves.
Retreat to this place to take photos and enjoy a breathtaking panorama.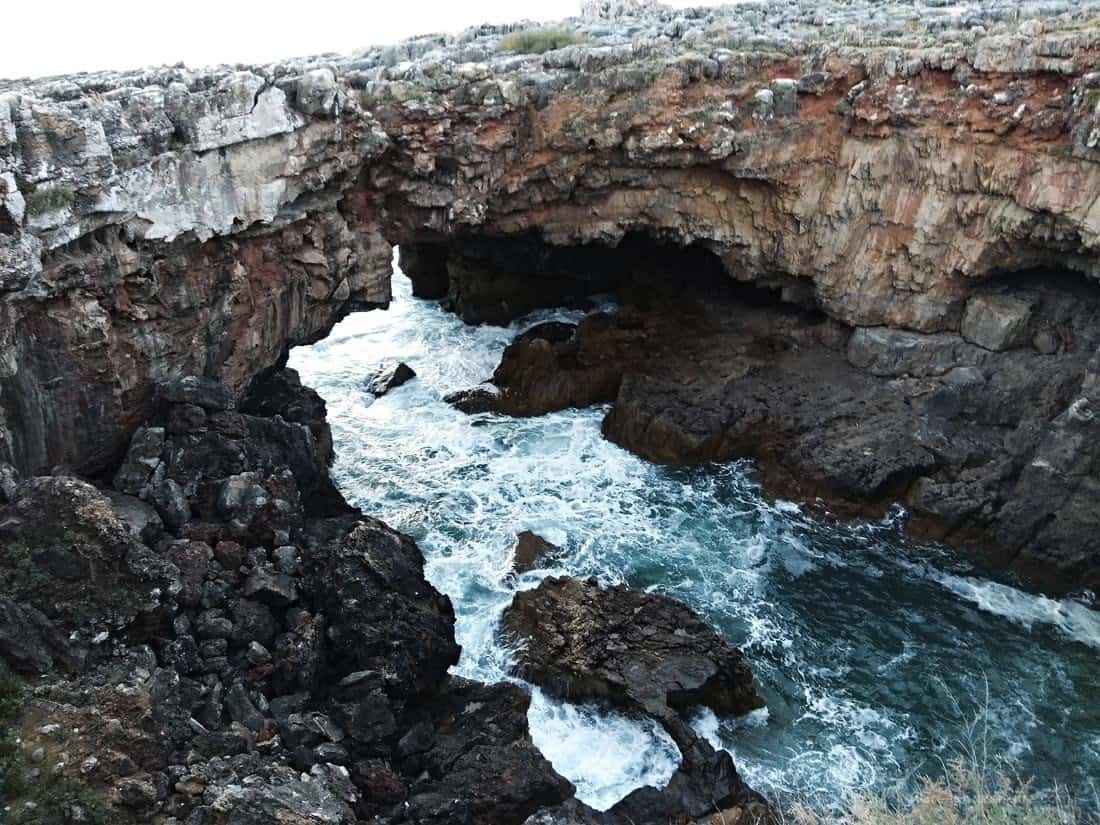 Sintra-Cascais Natural Park: This is yet another seafront park which is similarly adorned with numerous dunes and cliffs.
It is bordered with a protected mountainside that slopes into the sea.
The park is a domicile for many species of endemic flora and fauna. If you love nature, this is the place to retreat to.
Where to stay and eat
You can never miss out on any place to eat and drink while at Cascais.
Indeed, every street, corner, square, and portion of the city has at least an eatery, restaurant, or accommodation facility.
These two are some of the best ones for your consideration.
Pestana Cascais: This facility comprises some refined rooms and suites.
It is a relaxed property which coincidentally accords some great ocean views.
In it, is also a tennis court, an eatery, and some two pools. As you may see, this facility is comprehensive and won't let you look elsewhere for your hospitality needs.
Hotel Vila Galé Cascais: Hotel Vila Galé Cascais is generally a clean lodging facility that provides a vibrant restaurant, some two bars, and an outdoor pool.
The facility also houses a spa and a fitness room. Given its two-minute walk from the sea, you will quickly get to the beach if and when you want.
How to get to Cascais from Lisbon
Train ride: These two cities are connected via a robust railway line.
A single ticket traverses some four fare zones and goes for no less than costs€2.25/€1.15. A typical train ride takes slightly over one hour.
When taken during the day, it allows you to behold the numerous beautiful beaches and the warm sunny weather.
Car Rides: Cascais is located around 31 km due east of Lisbon.
The two cities are interconnected via the A5 Highway. A journey between the two takes around 35 minutes only.
Yet again, you would better make the journey in the day because of the ability to see many beautiful sites.
Air: Cascais does have an aerodrome which hosts a couple of lighter aircraft.
It is hence possible to make the journey via air. A Typical flight shall take you are around 10 minutes only.
That is the option if you have more money but less time to travel.
Day trips from Lisbon to Coimbra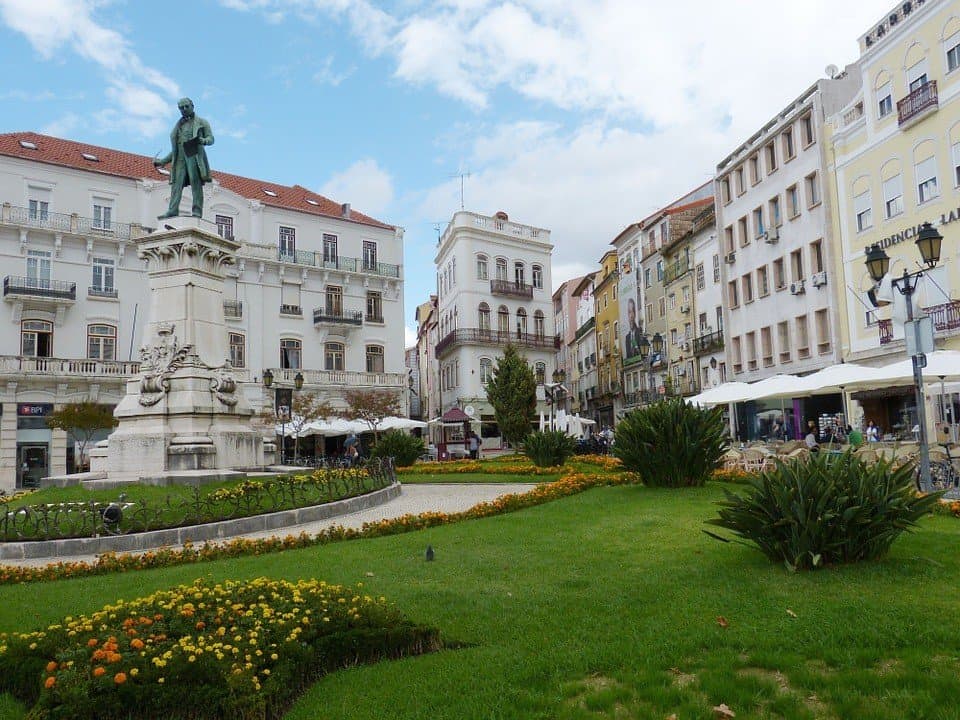 Coimbra is a riverfront city, situated in central Portugal.
At some point, it served as the country's capital.
The city hosts a preserved medieval old town, not to mention the historic the University of Coimbra, a Unesco World Heritage site. Due to this, the city is a great historical hub for you to investigate Portugal's glorious past.
What to see in Coimbra
As has already been hinted, this city is home to many objects of historical significance.
For this reason, a visit to this city is mainly worthwhile if you are a student of history or would like to know more about Portugal's glorious past. Below are two of the 'must visit' attractions:
Sé Velha – Coimbra: A rare-surviving Reconquista-era church in the form of the Romanesque cathedral, distinguished by its fortress-like appearance and the high crenelated walls.
You must visit this place to get to know more about the central role which Catholicism played in years past in Portugal.
Portugal dos Pequenitos: Portugal dos Pequenitos is a miniature village that houses the Barbie museum.
It is also complete with a theme park, miniature global village, costume museum, and a vast array of Barbie dolls exhibitions.
That is yet again another historical attraction that you should consider exploring while at Coimbra.
Where to stay and eat
Wherever you walk in the city, you are sure to bump into a hotel, lodging, hostel, or any other restaurant.
You might have to try out any of these two if you have none in mind or desire a way forward:
Tivoli Coimbra Hotel: Tivoli Coimbra Hotel contains some relaxed rooms and suites.
All these accommodation facilities are set in a casual hotel which is accompanied by a chic restaurant.
It also houses a gym, not to mention providing some free breakfast for you.
Its flagship trait is its ease of accessibility courtesy of a 9-minute walk only.
Tryp Coimbra Hotel: The Tryp Coimbra Hotel, on the other hand, is a modern property that contains a chic bar, a brightly-colored restaurant, spacious meeting space, and a patio.
Its distinctive glass-clad façade makes it ideally suited for photography.
Get to spend a bit of your time here to capture beautiful photo shots and unwind effectively.
How to get to Coimbra from your Day Trips from Lisbon
Road Trip: Coimbra is around 203 km from Lisbon in the Northeasterly direction.
To get to the city by road, you will have to make use of either highways A1 or A13 and expect to spend no less than two hours while on the go.
You would better take this journey in the day time as you get the opportunities to sightsee.
Air: Coimbra has an airport called Coimbra Airport.
Around 15 flights per day serve the Lisbon-Coimbra route.
A typical flight time lasts around 1 hour only. If you are in a hurry or have a lot of money to spend, you have this option for your consideration.
Train ride: Generally speaking, the train is the best means of transport between these two cities.
That is because it is cheaper than air but faster than the road.
The intercity train journey takes only 1 hour 50 minutes and goes for as little as €19.20.
You will not do yourself any good if you gain the knowledge above but take no action towards it.
Is it only wise of you to make appropriate arrangements to arrange your day trips from Lisbon experience either of the two destinations we have explained above?
When are you making the trip?
And will you come alone or in the company of your peers and colleagues? Let us hear you speak in the comments segment below!
Also, read the