Getting from Lisbon to Sintra Portugal to explore all the things you can do is a fantastic idea for many reasons. Sintra is 30 minutes driving time from Lisbon and you can get there with a bus or through train.
Since we planned to get to Porto, Cascais, Fatima and in-between we rented a car for going to all these places. Make sure to check our guide for things to do in Lisbon in 3 days.
Things to Do in Sintra Portugal
Sintra, is a really interesting place with a good variety of sightseeing, plenty of culinary options, castles, museums, drinks and more.
So, be prepared for lots of walking. Fortunately some landmarks, like the castle for example, is reachable through frequent local buses. That is a good thing since it is far up the hill and really tough to high there, although some like to hike down through the gardens.
The city of Sintra is really nice to walk through and you have to do so.
Where is Sintra?
This city is a resort town in Portugal, of course. It is situated at the foothills of Sintra Mountains. It used to be a royal sanctuary. Sintra's main characteristic are its forests (especially the one close to the Pena Palace), the Moorish castle and pastel-colored aristocratic villas.
Beautiful tilework is seen everywhere here, as in most of Portugal buildings interiors and exteriors.
Sintra Castle: Pena Palace & Park
The Palace and park reside in the Sintra hills and relate to King Ferdinand II. It's architecture is highly influenced by the Manueline and Moorish styles.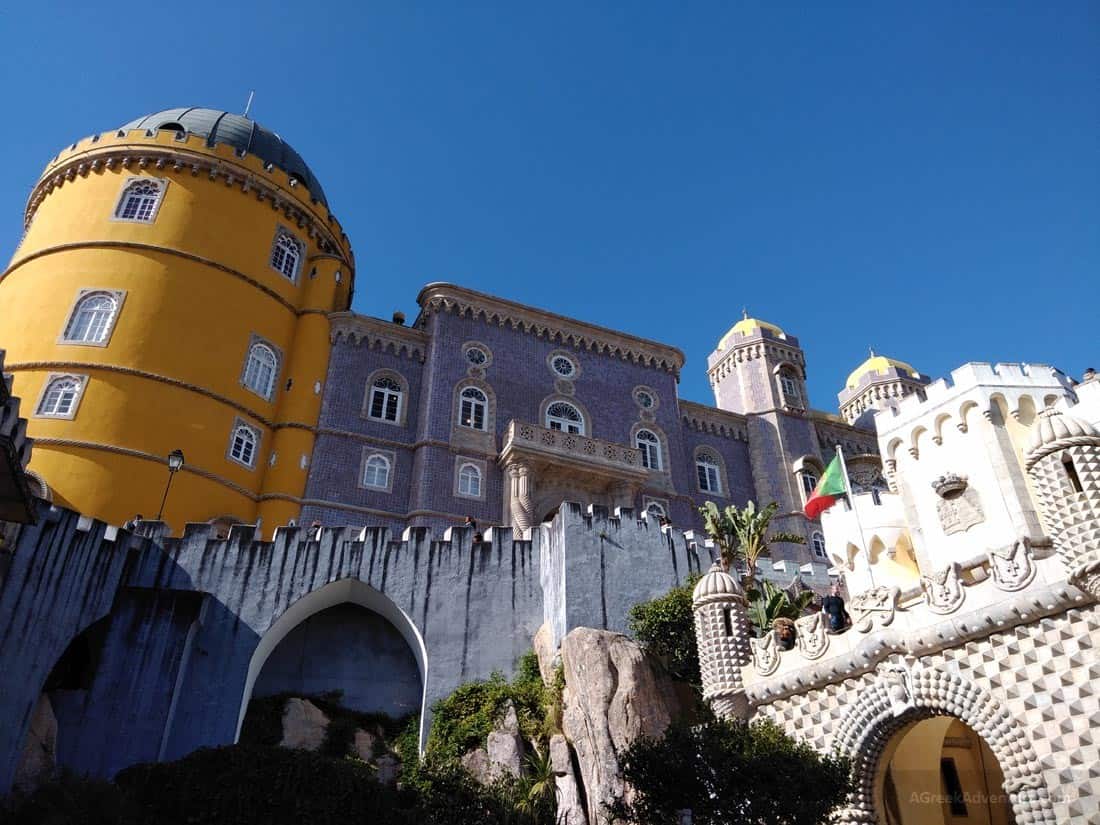 It is build to be visible from any point while walking through the park.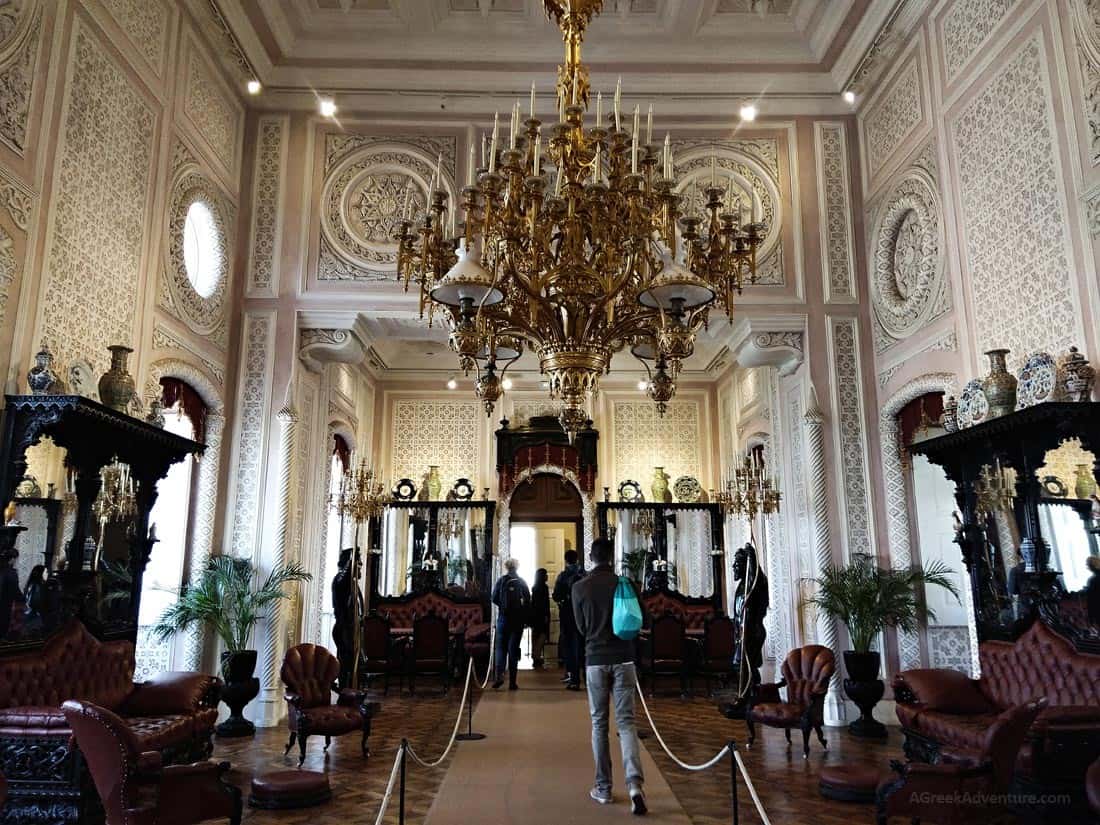 The park itself includes a forest and luxuriant gardens with over five hundred species of trees, originating from all around the world.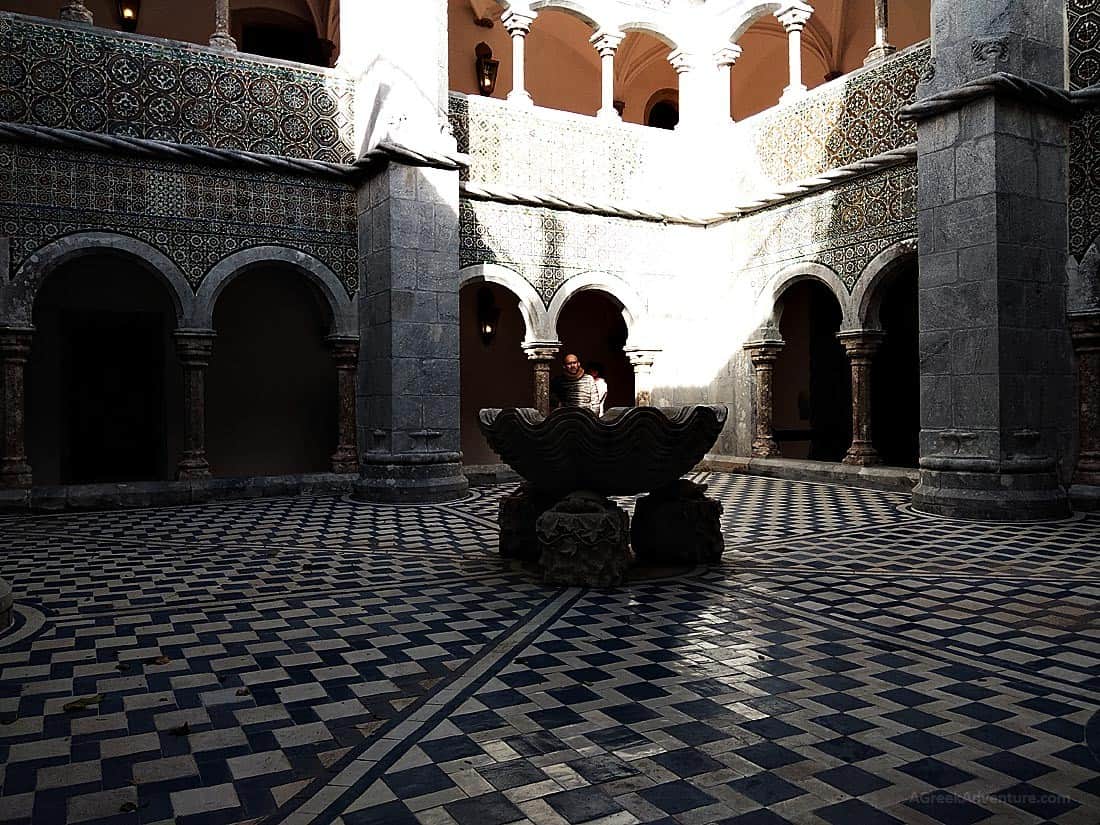 Ferdinand was an admirer of stained glass technique, thus the many of them in the palace.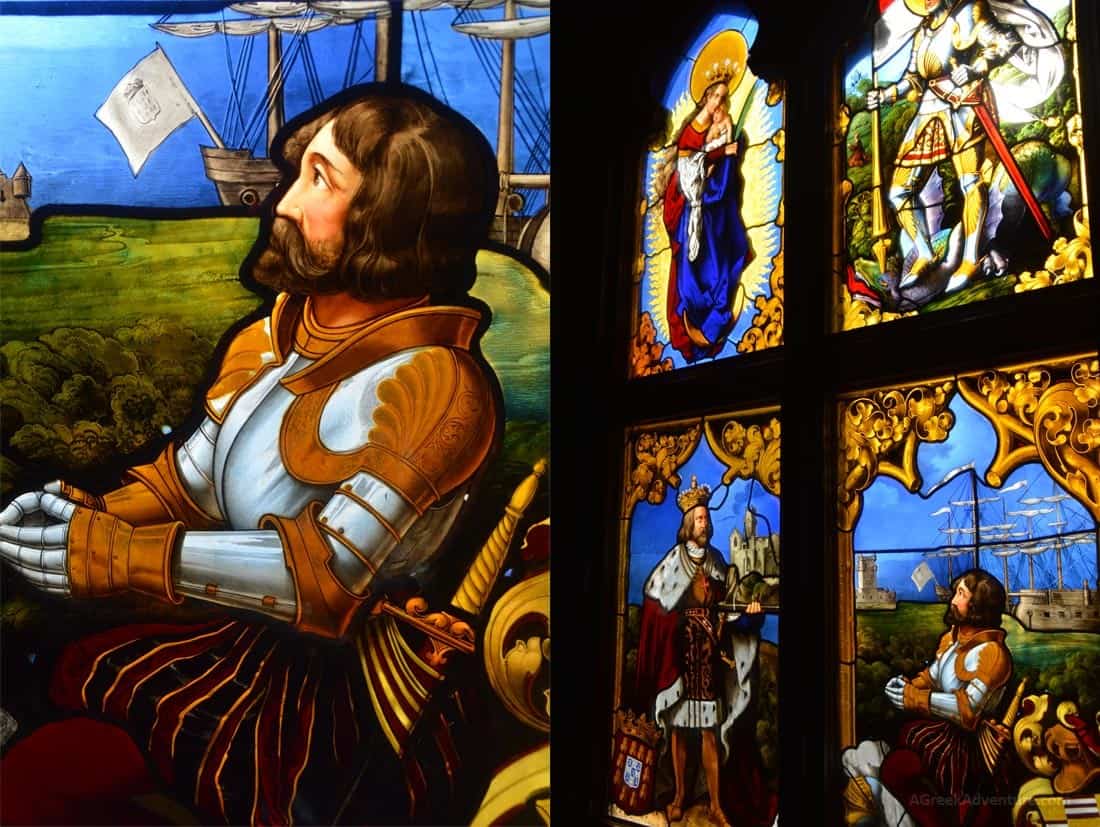 The park comes with areas like this one; really magical places.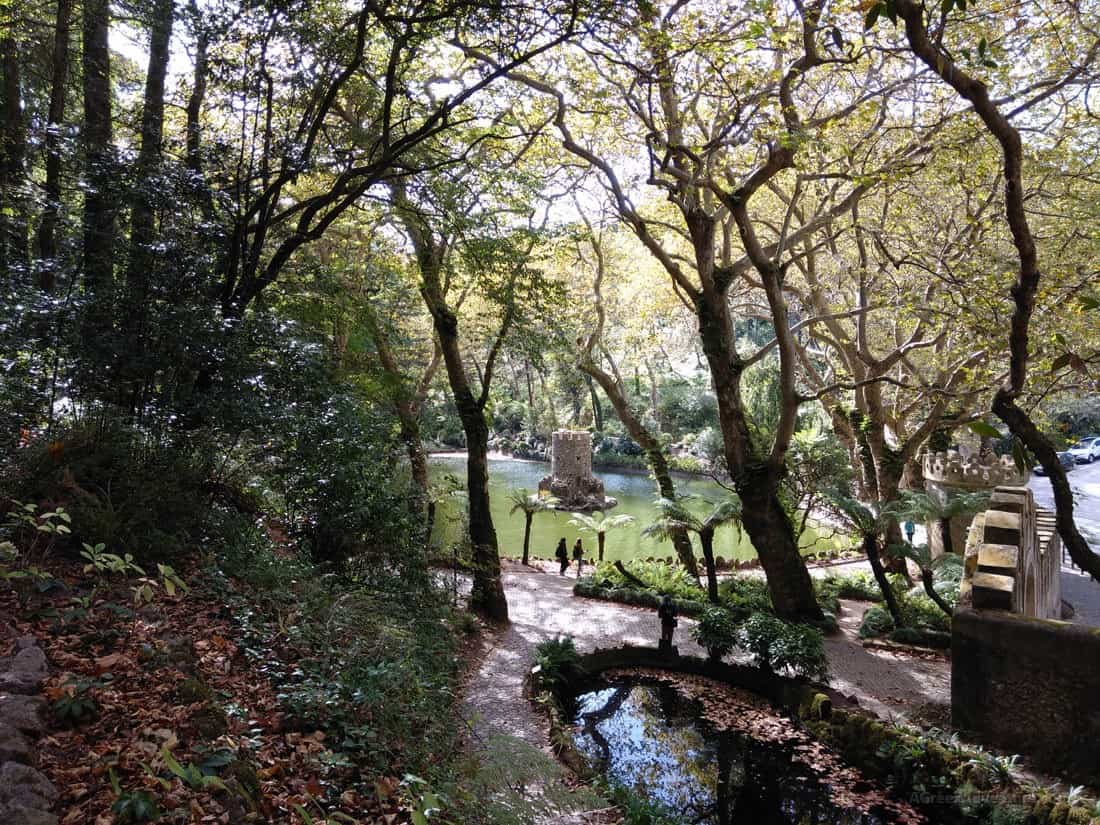 Here is a surround video from near the gates.
Entrance fees into the Pena Palace are: €14.00/€12.50/€12.50/€49.00 (adult/child/senior/family). You can buy a cheaper ticket for the park and palace terraces only (state rooms exluded) that costs €7.50/€6.50/€6.50/€26.00 (adult/child/senior/family).
Castle of Moors in Sintra
After exiting the Pena Palace and on our way to the parking lot, we visited the Castle of Moors (Castelo dos Mouros).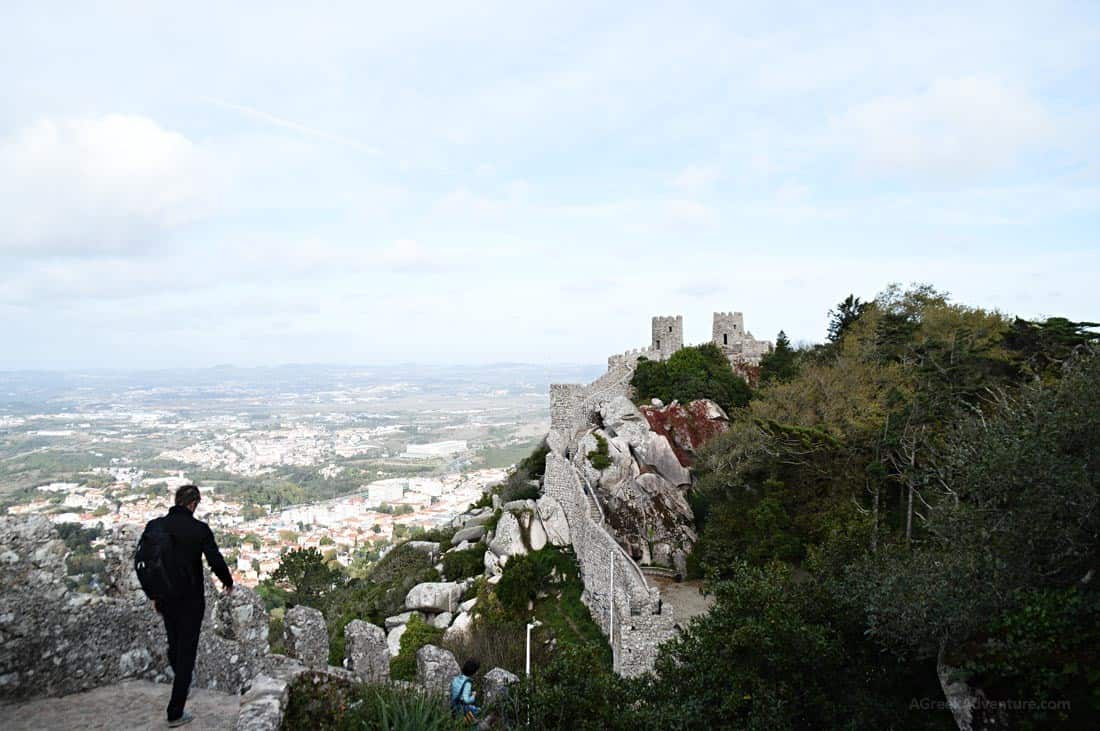 This is a medieval castle, established during the 9th century by the North African Moors to guard the town of Sintra. It was restored by King Ferdinand II.
There are no interior rooms here or a museum, but you need to climb to the castle fortification and get to the top towers for some great views to the valley.
Sintra National Palace
When you decide to go down to the city of Sintra, you can do so either by following the main road or through the Pena Palace park (if it is not closed).
The Palacio Nacional de Sintra is situated right in the heart of Sintra.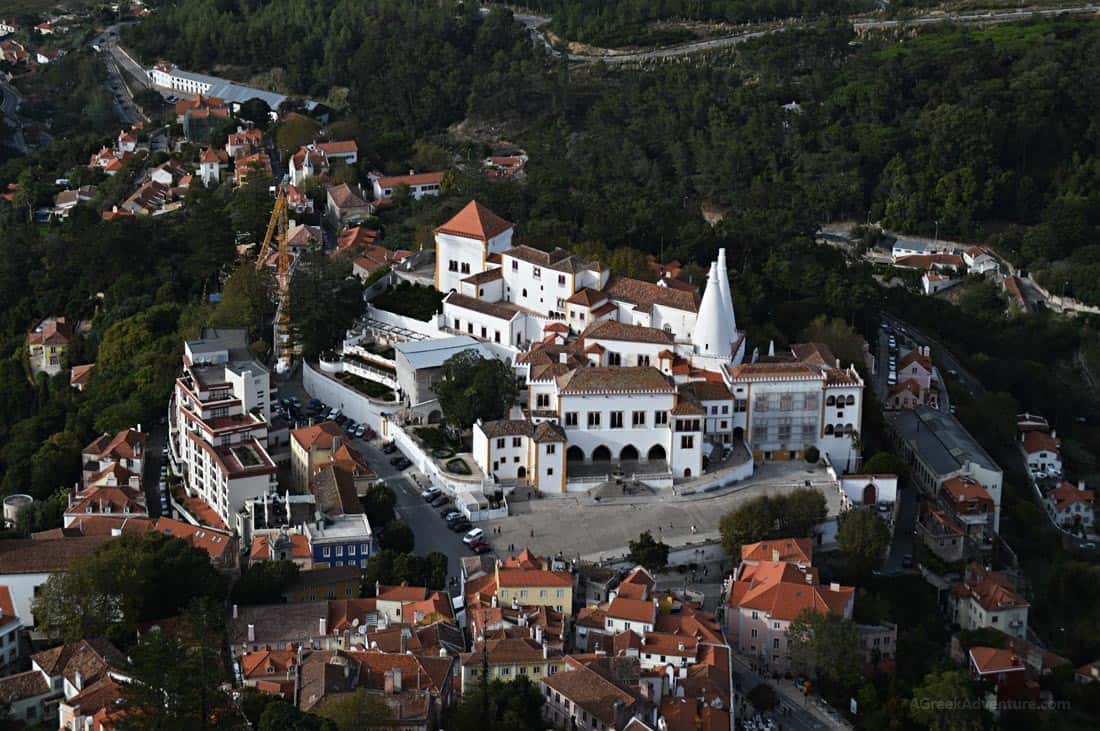 That is why it is called as Palacio da Vila, the Town Palace. It's most notable features when seen from above are the two massive kitchen chimneys.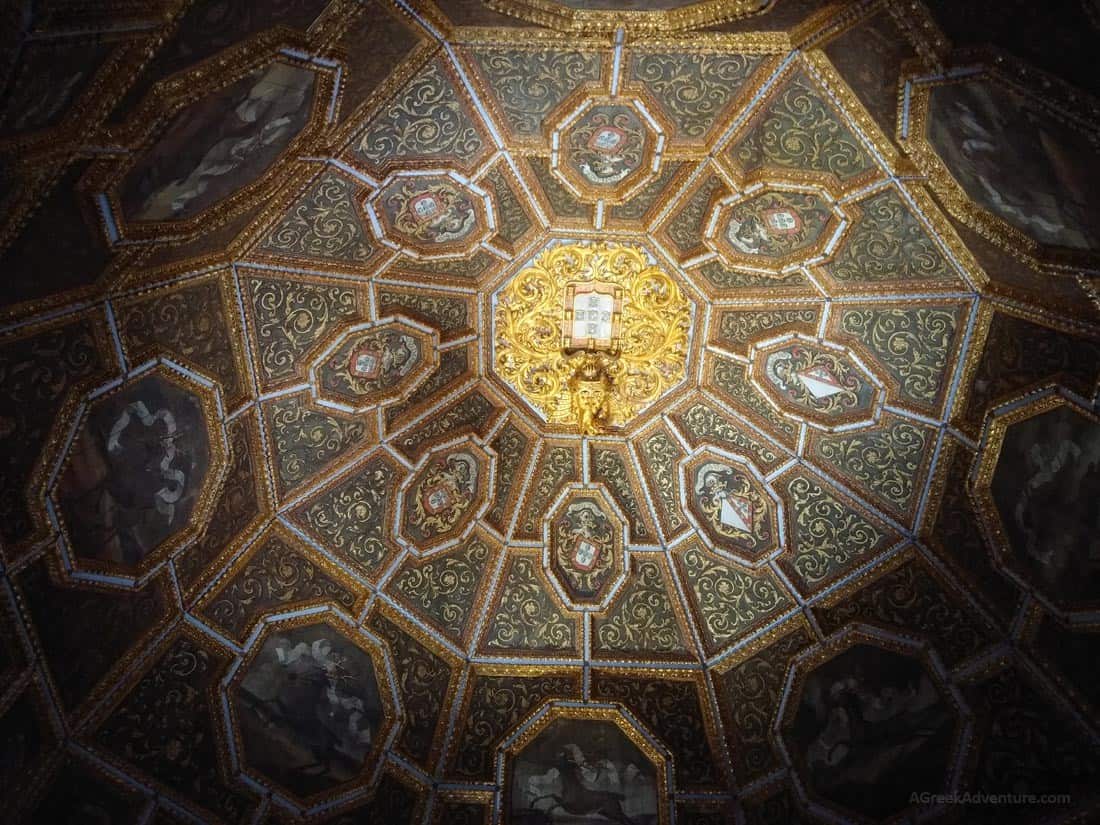 Parking may be a bit difficult but you can find spots lower in the city, behind the Palace. We did a few rounds before finding one.
Interior is very beautiful with tilework and ornaments everywhere.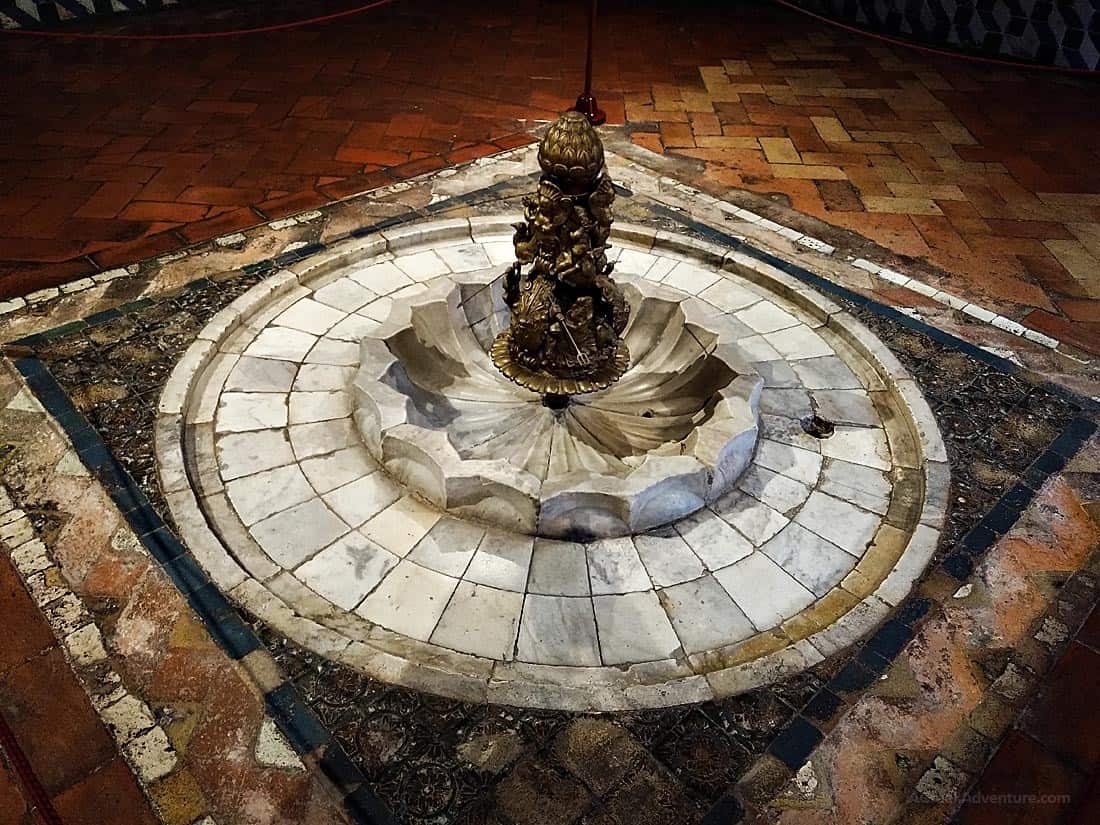 Sintra Restaurants & what to eat
When in Portugal you have to taste 2 of their sweets. These are the Natas and the Queijadas de Sintra. They come in different sizes. Natas are creamy, while Queijadas are filled with cheese.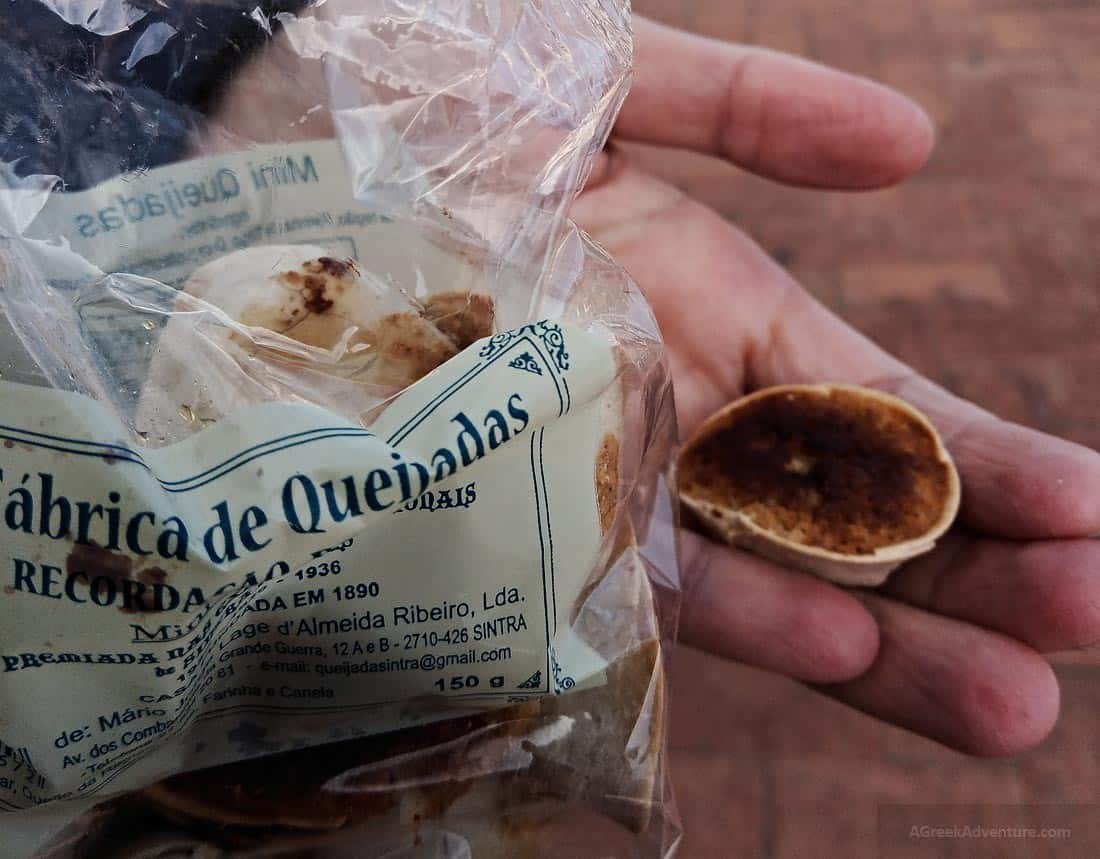 The next thing you need to try in Sintra (and in Portugal in general) is the sour cherry liqueur in a black/white chocolate cup (or not). It is called Ginjinha. . A fantastic shot!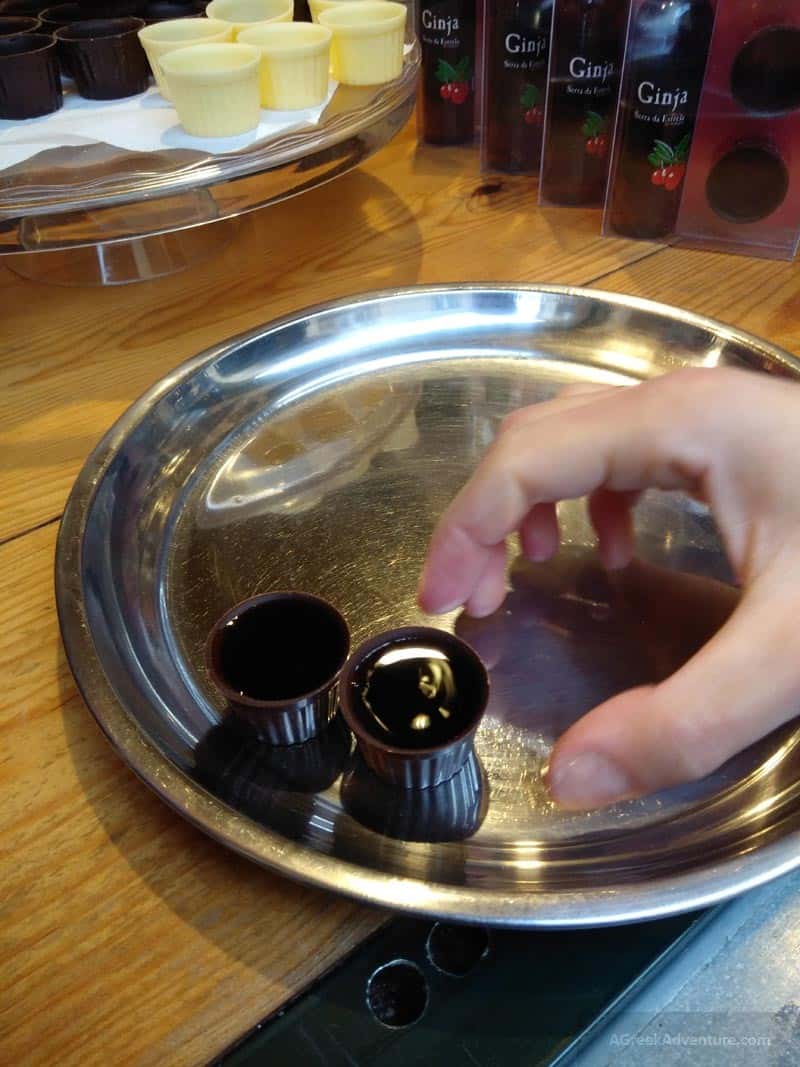 By all means you have to eat Tapas of course. We did that. While walking through Sintra we spotted this nice Tapas restaurant, which then checked for its reviews and prices and found it really interesting. The name of it: Tascantiga
Here is the Tapas set we ate, along with Sangria.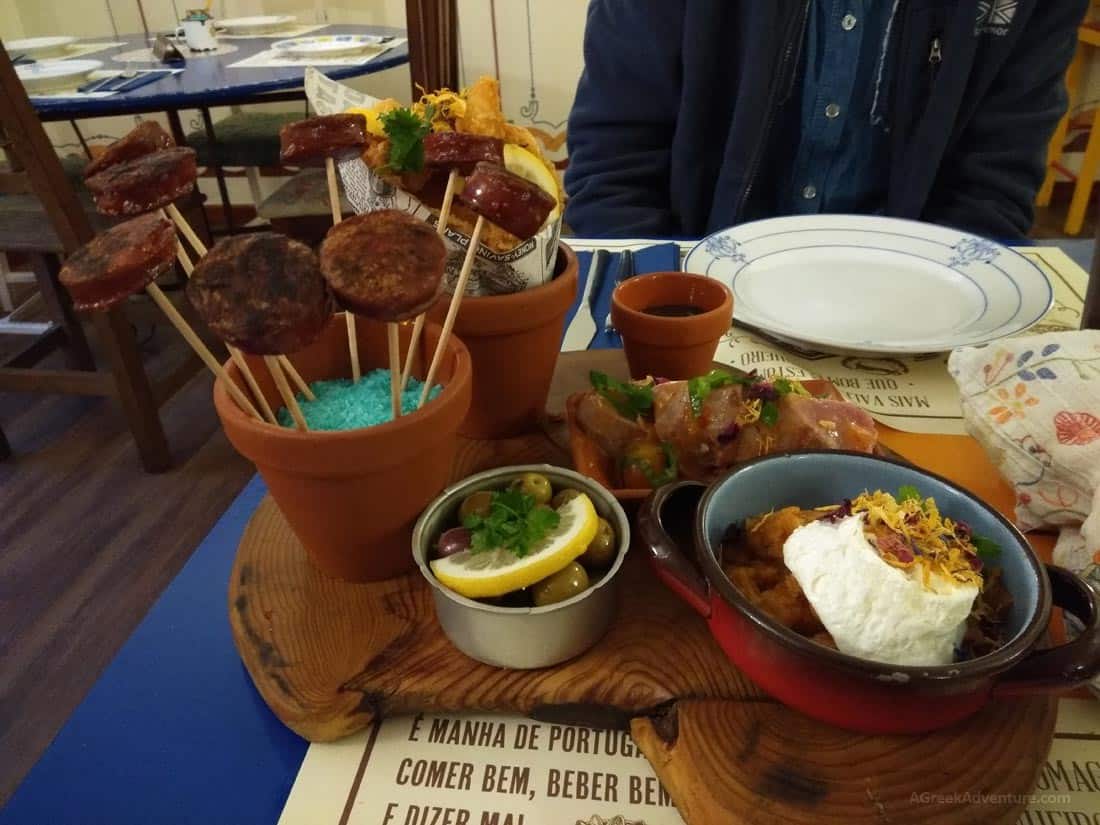 Lisbon to Sintra: How to get to Sintra
Since Sintra is a 30 minutes drive from Lisbon, there are plenty of ways to get there. One of them is to get the train. That is highly recommended if you don't have a car.
There are 2 rail routes from Lisbon to Sintra (and backwards). These services are:
Rossio Station to Sintra
Oriente station to Sintra, via Areeiro, Entrecampos, and Sete Rios stations
Ticket cost is €2.25/€1.15 (adult/child). If you book a return ticket then it just the price of 2 single tickets (no discounts). You can see the timetable from here (PDF).
Check this site for European Rail Travel.
Another way to get to Sintra is through organized tours. They usually go to Cascais too, since it is also very close to Lisbon.
Here is an option for that: Sintra and Cascais Small Group Full-Day Tour from Lisbon.
Where to stay in Sintra Portugal
We didn't stay in Sintra. Our base was in Lisbon. However, if you plan to stay there, we asked for a few options for a variety of tastes and budgets. Here they are:
Weather in Sintra, Portugal
The best time of year is Spring and early Autumn. However, October can be cold and windy (a freezing combination). With all the forests and shade, you will need a jacket. We did.
During July and August, Sintra gets really busy with loads of tourists. Let us tell you that there were lots in end of October too, so imagine what happens then.
During summer time the Park will be a delight for sure and there are plenty of places to stop for drinks and snacks.
Well, that was our experience getting from Lisbon to Sintra Portugal, exploring this beautiful small town.
Have fun. Enjoy! Also, read The Country With The Most Castles In The World.