Traveling to Portugal? Then you have to take the Lisbon to Fatima sanctuary route. Why? This small detour can be part of your Lisbon to Porto route. Why to do that? Because Lisbon to Porto takes 3 hours by car and Fatima is 1.5 hours before Porto.
Trust us, you have to visit this place even if you are not a religious person, as it is impressive, massive with a fantastic combination of modern and traditional architectural elements.
Oh, did we mention that it is massive? Well it is.
The Miracle of the Lady of Fatima & the 1917 story
Three children (shepherds) in Fatima village, said they met Virgin Mary on their way back home. Their names were: Lucia, Jacinta and Francisco. Lucia spoke to her and Virgin Mary revealed that she would appear again after 6 months.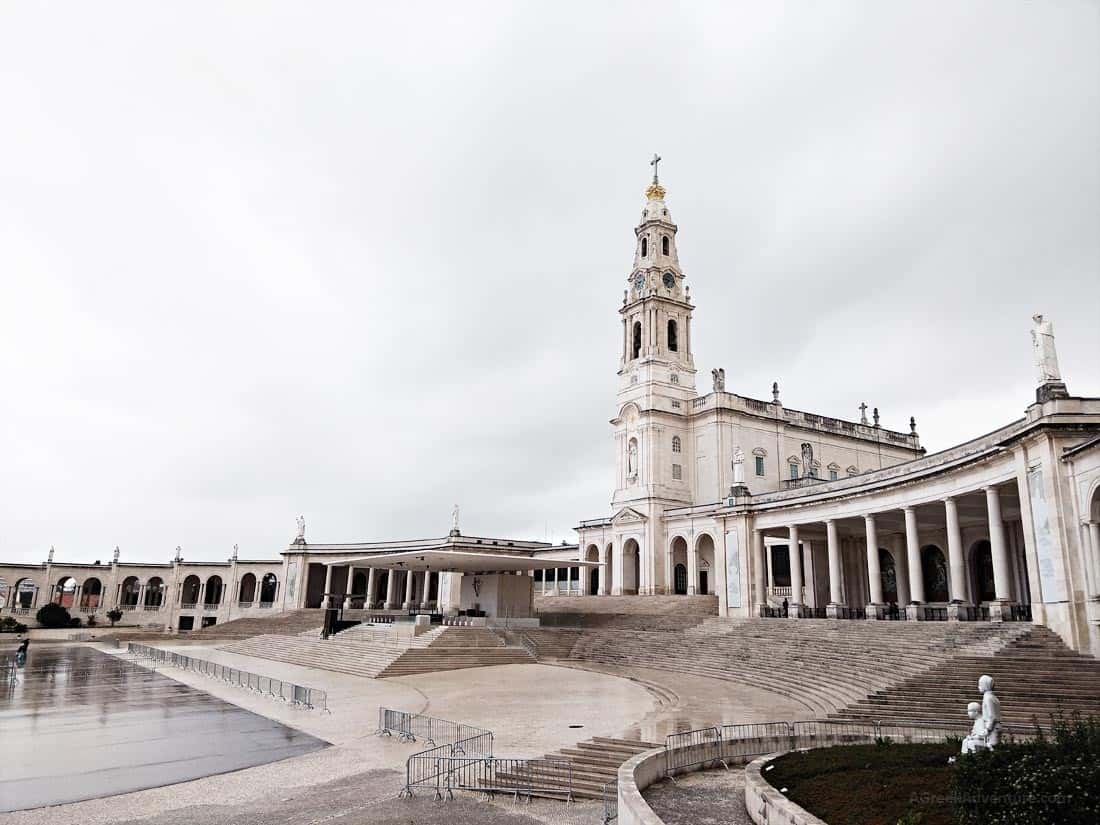 People learned this story and the interest was rising as time approached. On 13th of October 1917, around 70.000 people attended the site expecting a great miracle.
The story says that the figure appeared again saying that she was the Lady of the Rosary. She raised her hands to the sky and a series of sun and light related things happened. People who were present experienced things like the sun was coming closer to earth, brilliant colors spinning out of the sun in a psychedelic, pinwheel pattern and more.
At the same time, others said they show nothing at all.
What really happened that day? Nobody knows. Scientists claim that a "sundog" event took place, which is something like patches of light that appear beside the sun. You can read more about sundogs here.
Who really knows? None does but this was conceived as a divine work and things rolled out accordingly.
The specific event was recorded to history as "The Miracle of the Sun" of Fatima.
The Sanctuary of Fátima, Portugal
This is the 4th biggest Catholic pilgrimage site in the world. There are different areas to visit in the Sanctuary.
Chapel of the Apparitions: This small chapel was built in 1919 at the exact spot where the oak tree was, where Fatima appeared. The tree is no longer there as after the apparitions, pilgrims cut its branches to keep a part of this "relic".
You can see the Chapel at the beginning of this video.
In the centre of the chapel is the original statue of the Virgin Mary (1920).
Basilica of our Lady of the Rosary Fatima: The Basilica was built between 1928 and 1953 in a neo-baroque style. The tombs of Lucia, Jacinta and Francisco are in the Basilica.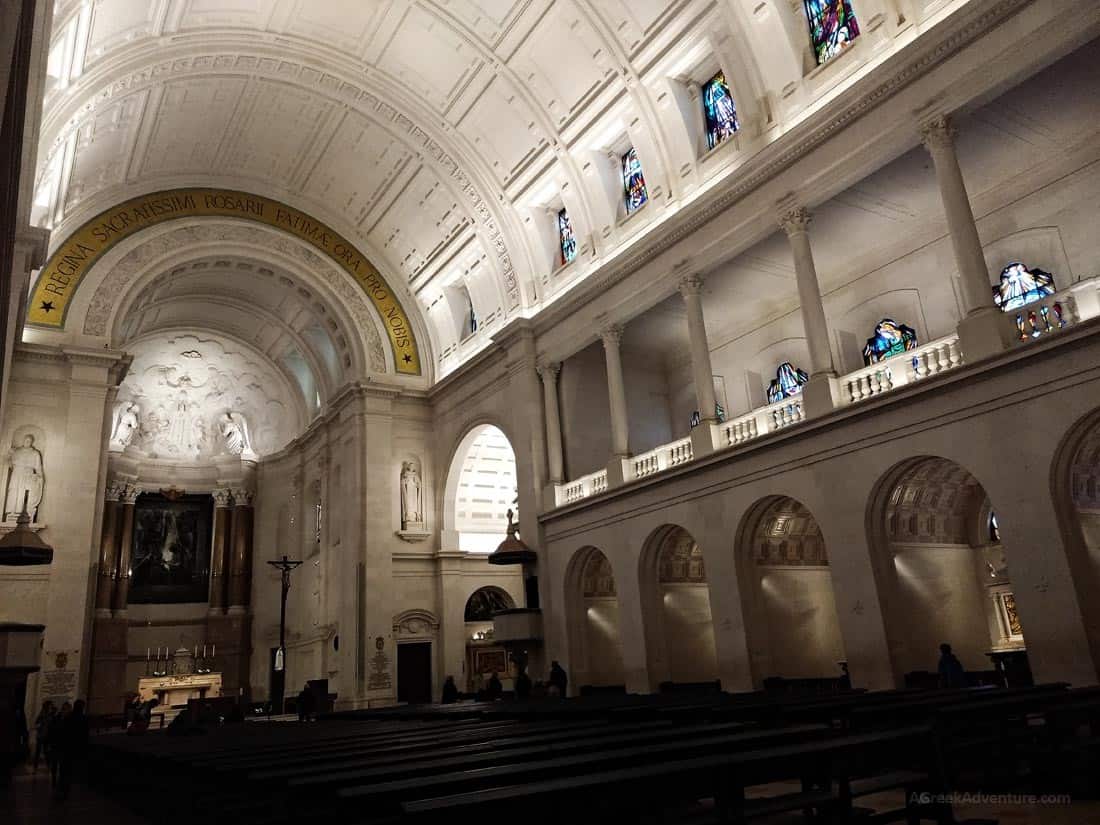 Basilica of the Holy Trinity: This Basilica has a 8633 seating capacity, thus making it the fourth biggest catholic church in the world.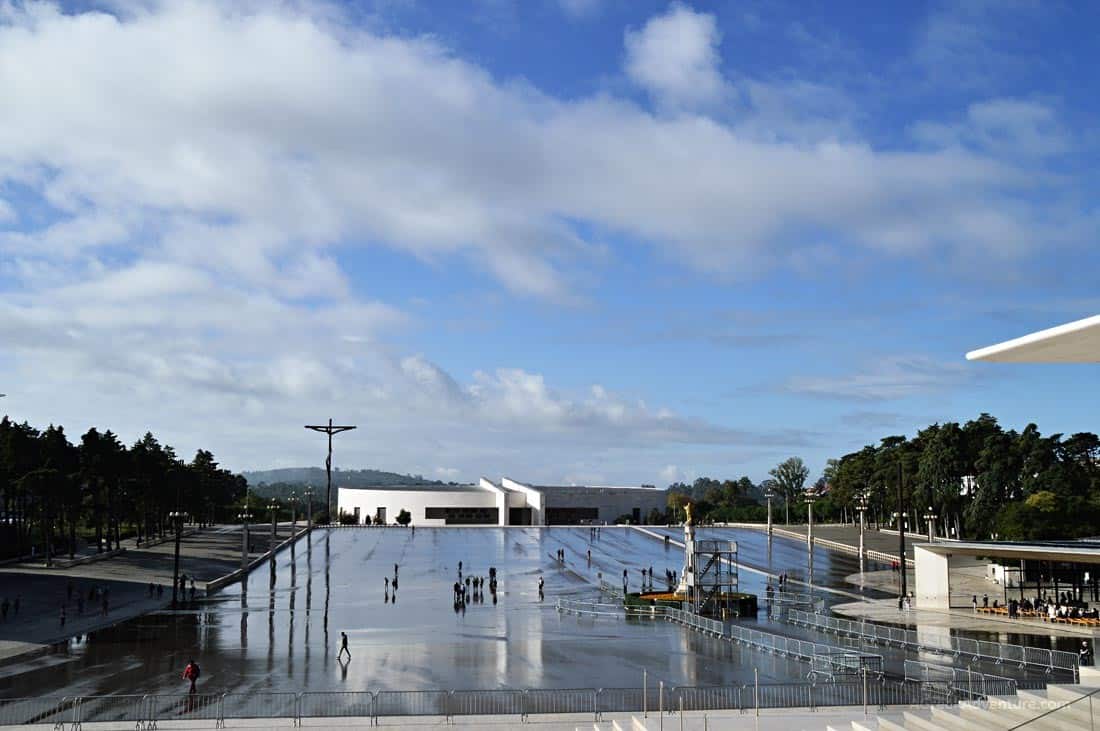 The outer yard (processions area): A really big space in the shape of a curved circle where thousands of people gather during festivities.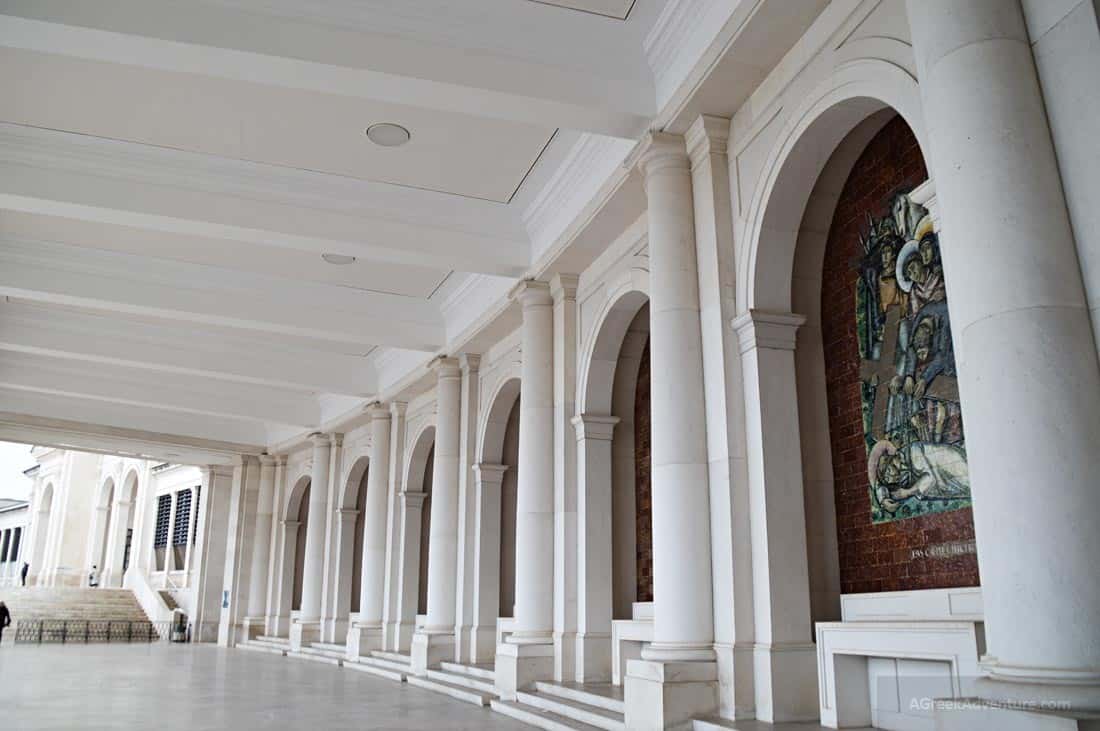 While you are in the area you can visit a couple more places near the sanctuary.
Gruta da Moeda (The coin cave): In 5km away from the sanctuary. It was discovered in 1971 by two hunters.
Address: R. das Grutas da Moeda, 2495-028 São Mamede, Portugal
Hours: All days 9 am to 5 pm – Phone: +351 244 703 838
Mira de Aire Caves: In 15 km distance from the sanctuary. In 2010 it was voted as one of the 7 natural wonders of Portugal. It is an 11 km complex but you can visit only 600 mt. You get to a depth of 119 mt by walking down the 683 steps!
No worries for coming up. No need to climb all the stairs again. An elevator is in place to take you up. More information here.
How to Get to Fatima Portugal
You can get to Fatima via your own car, bus, train or through a guided tour.
Lisbon to Fatima: A 1.5 hours drive from either Porto or Lisbon. You just take the highway and there are signs to get you there. No way you can get lost.
Porto to Fatima: Same logic as from Lisbon, but leaving from Porto.
Chances are you are staying to one of these cities, due to their airports.
Bus to Fatima: From either Porto or Lisbon you can get a bus there. This site is useful.
Train to Fatima: Not recommended as the station (Chão de Maçãs) is 20km away from the sanctuary. You need to take a taxi to the sanctuary (€25-30) or a regional bus. Check this site for European Rail Travel.
Organized tours to Fatima: This link will get you to all organized tours for Fatima.
Where to eat in Fatima, Portugal
Popular restaurants for lunch and dinner are:
O Crispim: Typical Portugese, 1.5 km from the sanctuary, far from the touristy ones.
Tia Alice (Aunt Alice): A Michelin guide-listed restaurant and a bit pricier from other restaurants in the area. Local recipes with a home-cooked feel.
Hotels in Fatima, Portugal
In case you want to sleep near Fatima and not staying in Porto or Lisbon or any other place, do consider these options:
Meio Country House: Average price: 220 euro p.p/night for the whole House or around 50 for 1 room with private bathroom.
Hotel Mar & Sol: A 4* hotel that faces the sea, 3 minutes' walk from Albufeira's Archaeological Museum.
Well, that is all to know to get from Lisbon to Fatima sanctuary and have a remarkable time. As said, even if you are not "into" religion you can visit and admire this place for its architectural beauty.
Make sure to check our post for Sintra, Cascais, and all the other locations in Portugal including Lisbon.
Have fun in Portugal.