The hiking to Pico Ruivo from Pico Arieiro is the most thrilling path in the mountains of Madeira island, and we did it.
We will try to "picture" the whole experience, but nothing is compared actually to walk the walk.
These peaks are also known as the" Highest Peaks." The three highest peaks of Madeira: Pico do Arieiro, Pico das Torres and Pico Ruivo.
That was different hiking than our previous Levada hiking.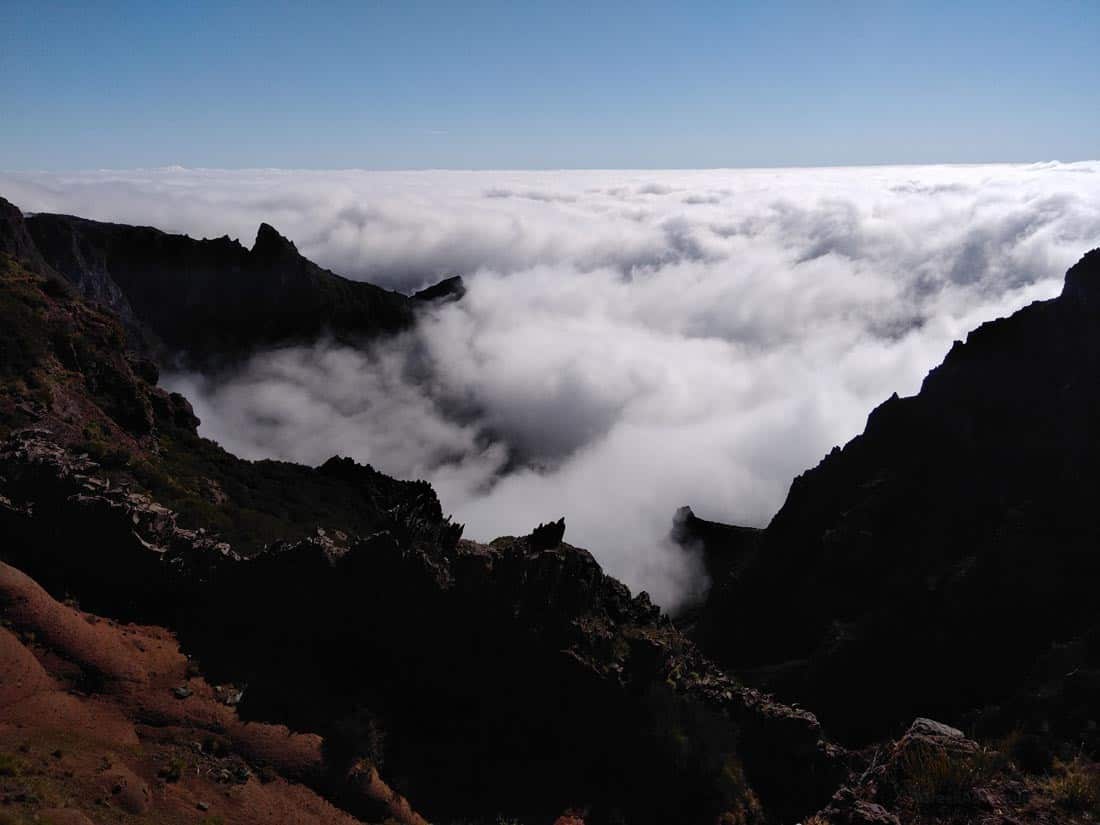 When you are at Pico Ruivo, and on a sunny day, you can have a 360-degree view of the island of Madeira.
With clear skies, you can see: Curral das Freiras, Porto Santo, Desertas, Ponta de São Lourenço, and many more locations.
When you start the route from Pico do Arierio (Arieiro), you can exit it at Achada Do Teixeira.
How to Hike Pico Ruivo from Pico Arieiro?
To get to Pico Ruivo, you start from Pico Arieiro at the radar dome, next to the parking lot, and over the souvenir shop. So that starting point is easy to access.
It is only 20km from Funchal through an excellent road that ends with a big parking space.
If you want to do this with a guide, then get this tour.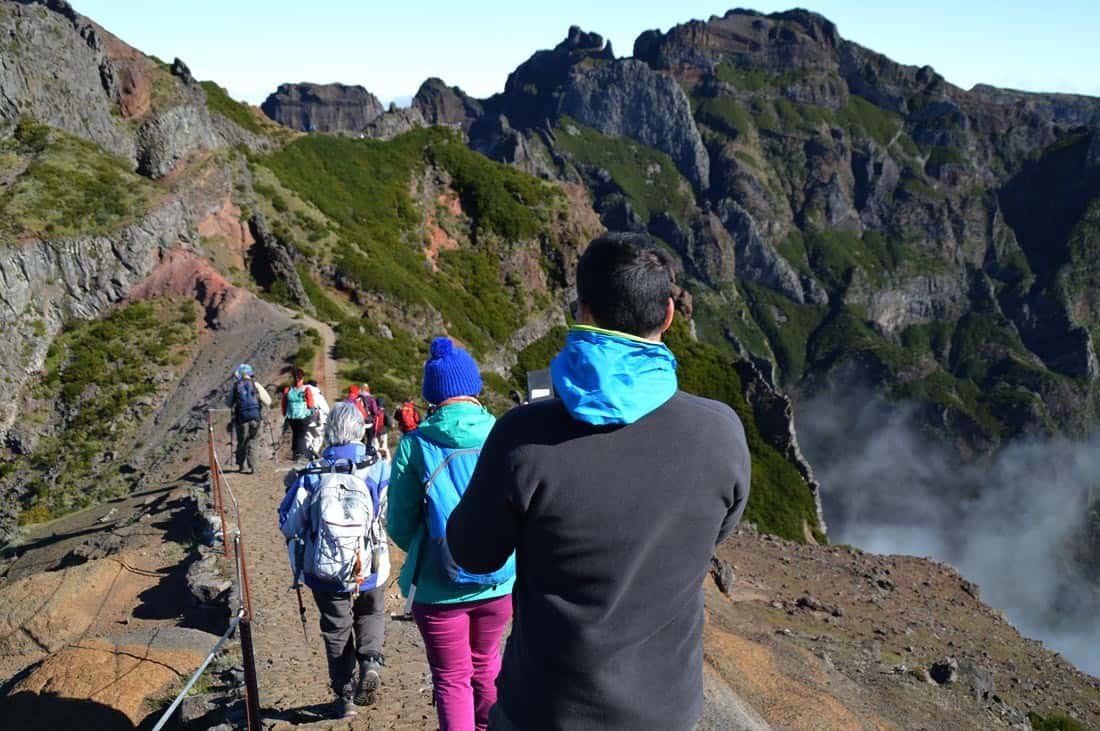 Better start early in the morning to avoid the crowds as in different spots along the path, things can become from crowded to dangerous due to narrow pathways and steep stairs.
Expect a well-signed route.
You can also take the small alternative way to Pico das Torres. It will be a shame not to visit that one.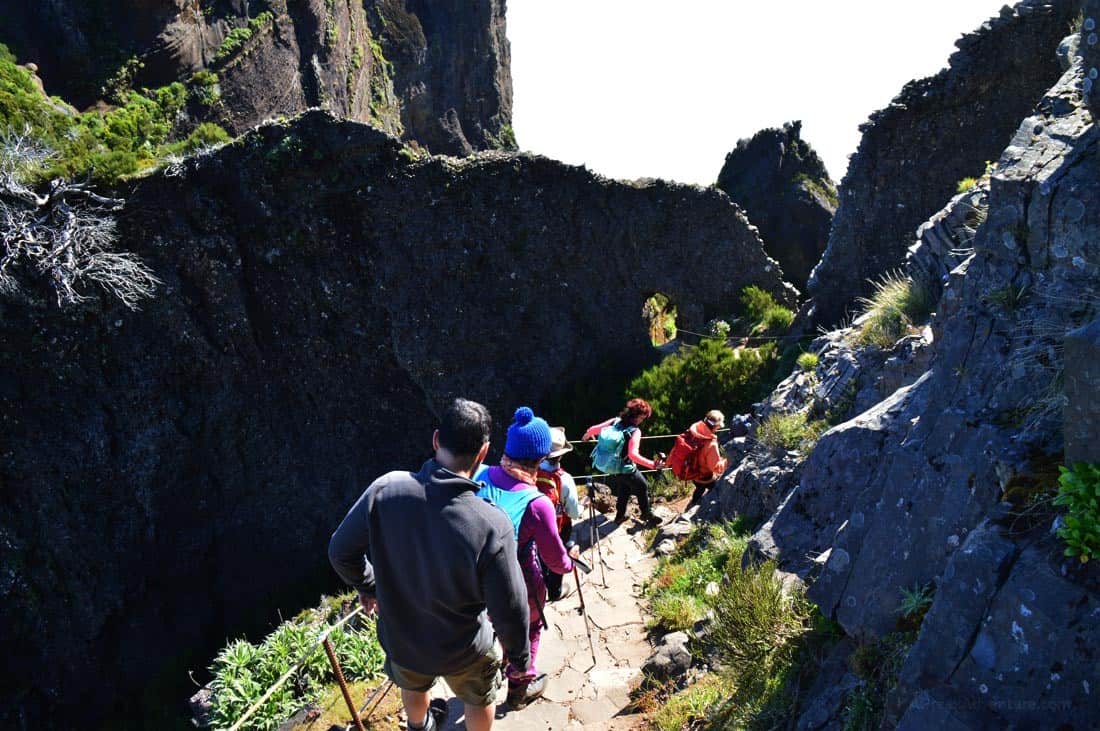 The view from almost all route points is stunning.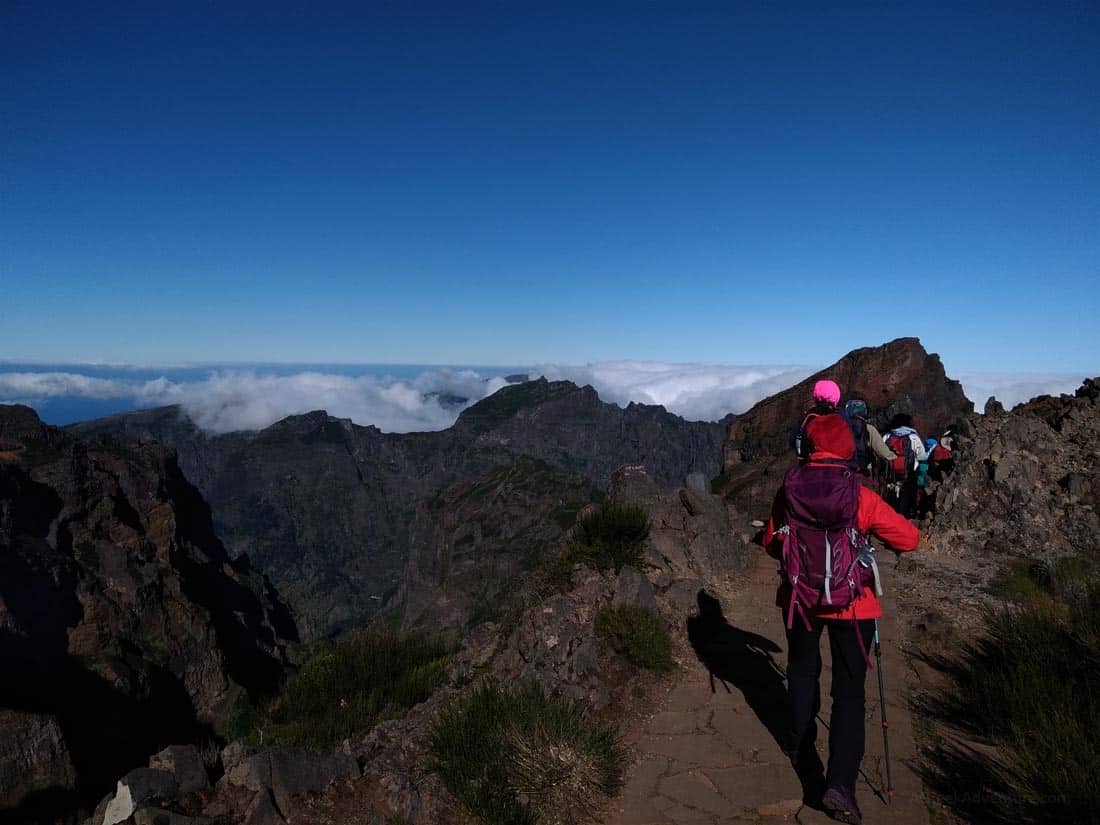 FAQs about the Pico Ruivo & Pico Arieiro Route
How long does it take to do this hiking route?

The walk takes around 3.30 to 4 hours to complete (one way), depending on how.

What is the official title for this route?

The official name of this walking route is Vereda Da Areeiro. You may see it like that too.

What is the height of Pico Ruivo?

The height of the Pico Ruivo is 1862 mt.

Is there a Natura Park in Madeira mountains?

The whole mountainous area is part of the Central Mountain Massif (integrated with the Natura 2000 Network).

Is this route suitable for all?

The route requires relatively good physical condition. If you have a fear of heights, then that is not the best route for you. If your feet are not in good condition it is best to avoid it. It gets strenuous at various points. There are different locations with stone carved steep stairs, plus more with actual iron stairs. Your quadriceps will get challenged.

What is the weather along the route?

Expect sudden weather changes, from cold to hot to drizzle, then hot again. At many unprotected points wind is challenging strong.
The Weather in Pico Ruivo
Better not be deceived by the ascending difference between Arieiro and Ruivo.
It may sound like 1818 and 1862, respectively (so you think the difference is just 50mt), but that is not the actual situation.

At the central peak of Torres, you need to go way down, only to go up by climbing different kinds of steep steps.
That difference is from 300mt to something less to 1000mt.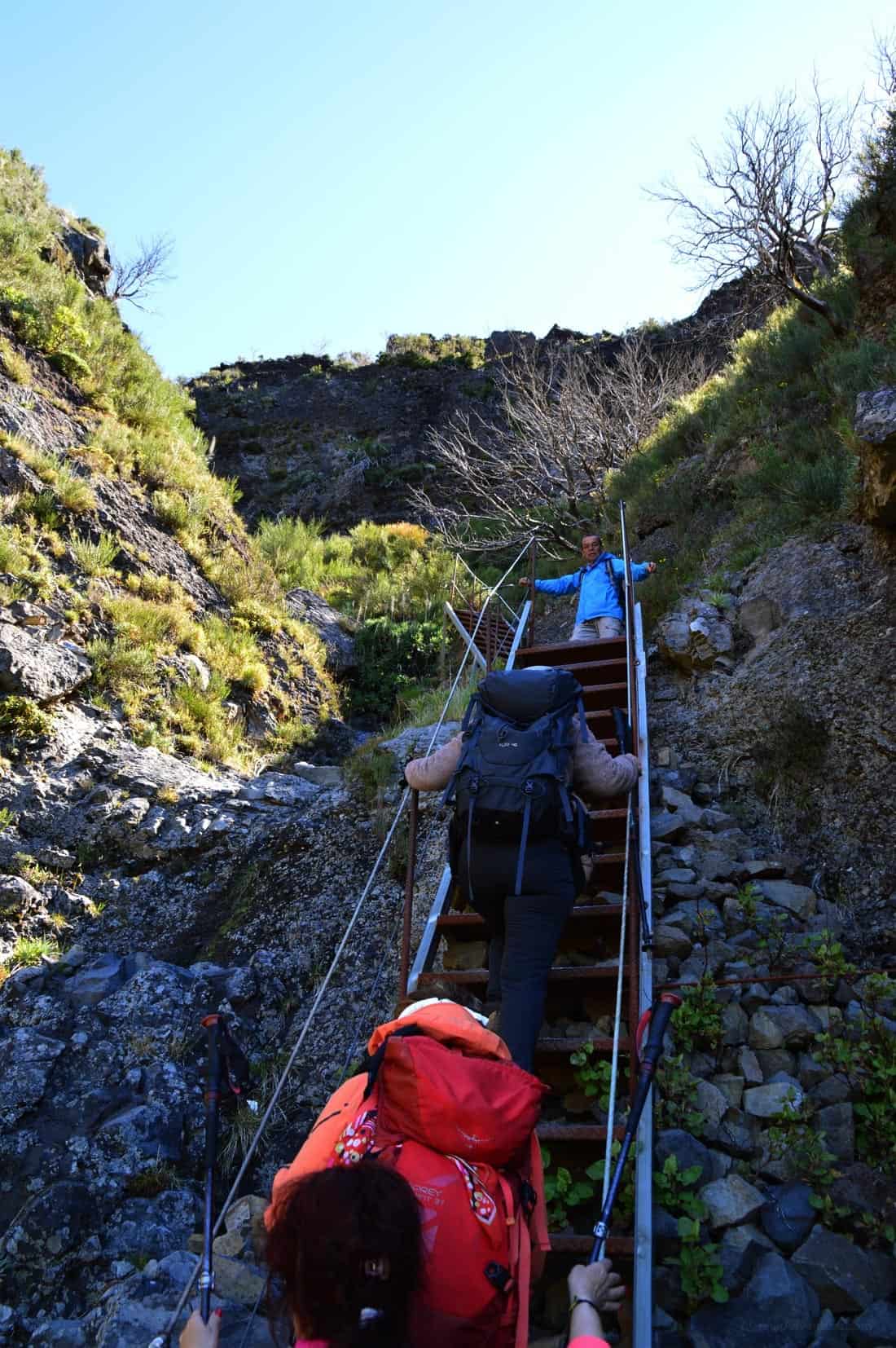 Along that walk, you will encounter strong winds, mild or intense rain, intense sun, while all these three may change as you walk.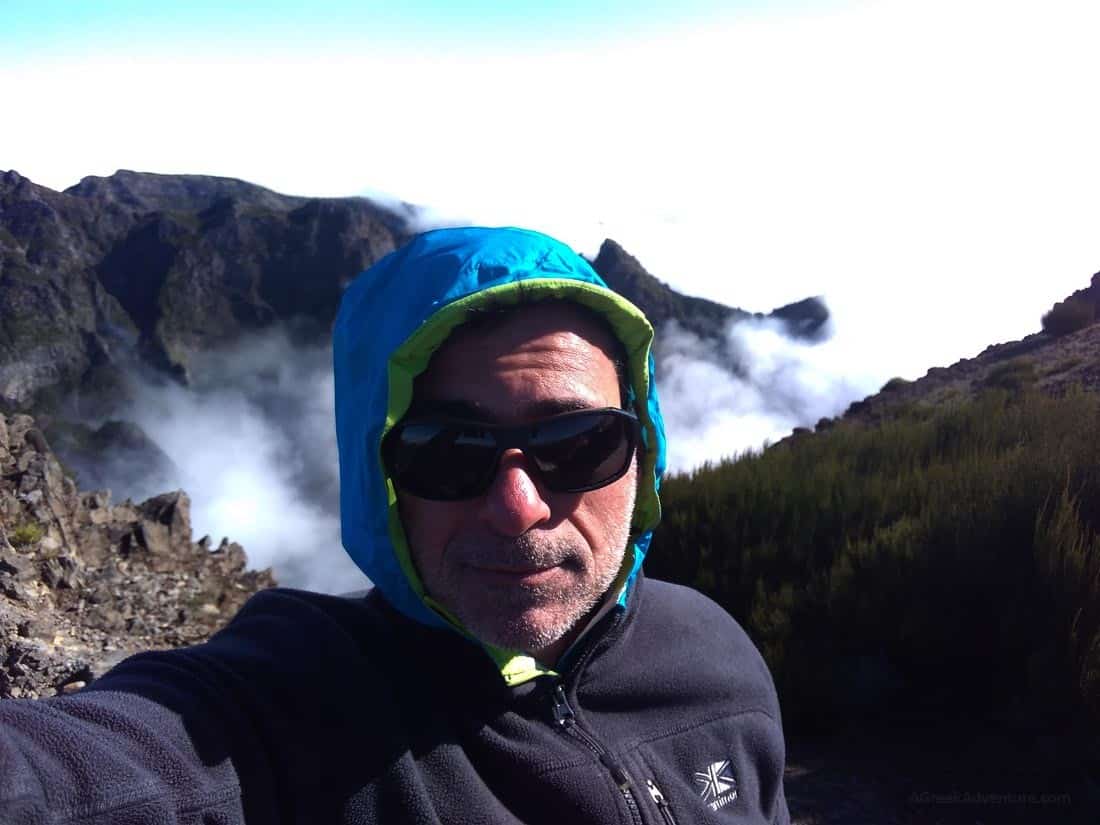 Having a strong wind blowing behind you as you descend on stone-carved steps takes lots of your attention.
People think that wearing regular sports shoes is safe, but it is not.
You do need proper hiking gear.
There is no way to get protected from adverse weather conditions as you walk from Pico Do Arieiro to Pico Ruivo before arriving at the summit.
In wintertime, the mountain is closed.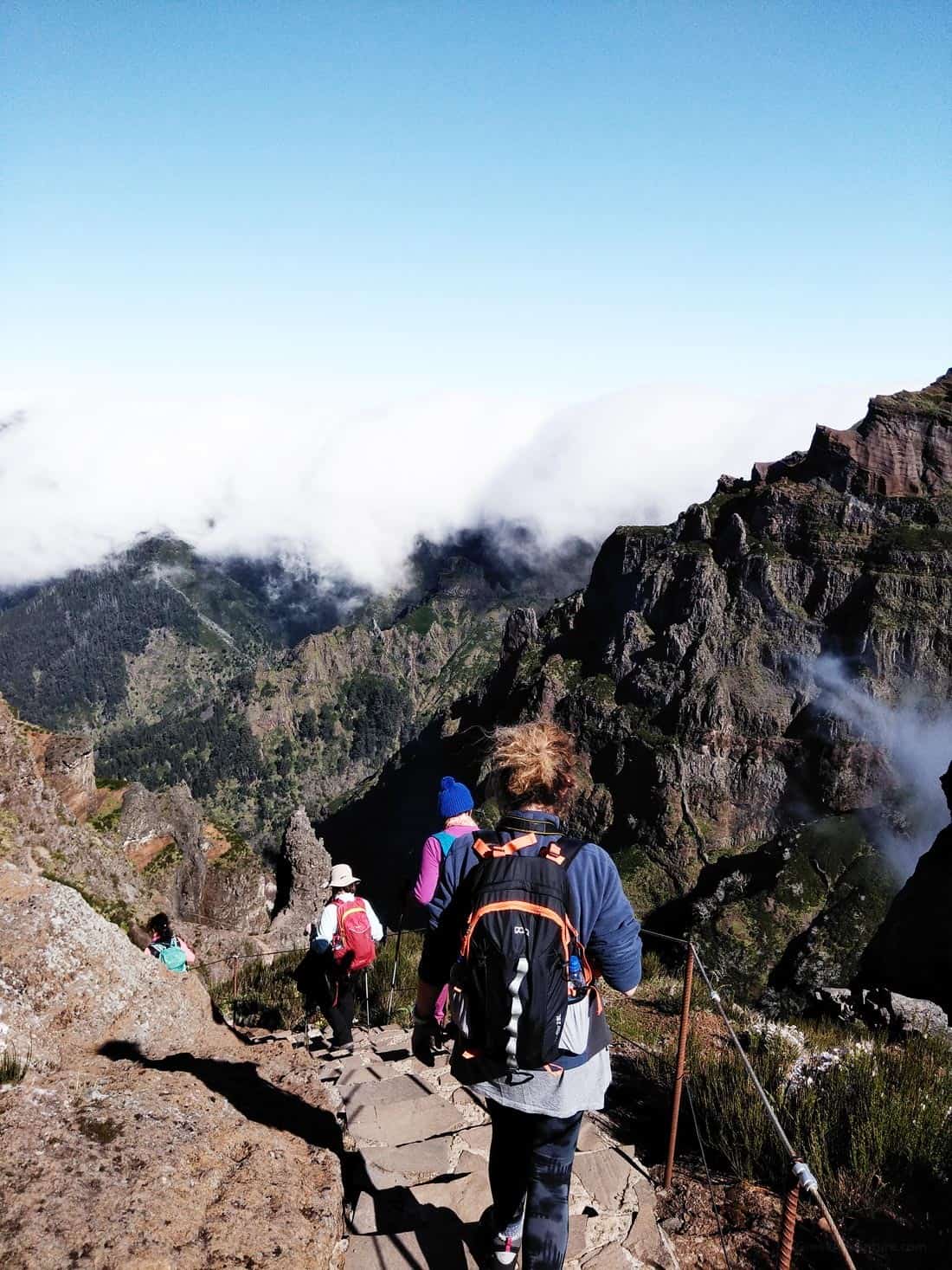 After that and towards Achada Do Teixeira, small stone builds "shelters" just to get protected by rain, but that is the only thing.

Arriving at Pico Ruivo
The moment you see the small shelter, you know that you are almost there.
However, you are not precisely there as you are in the trees.
When you arrive at the shelter, you need to walk uphill another 15 to 20 minutes to get to the very top plateau.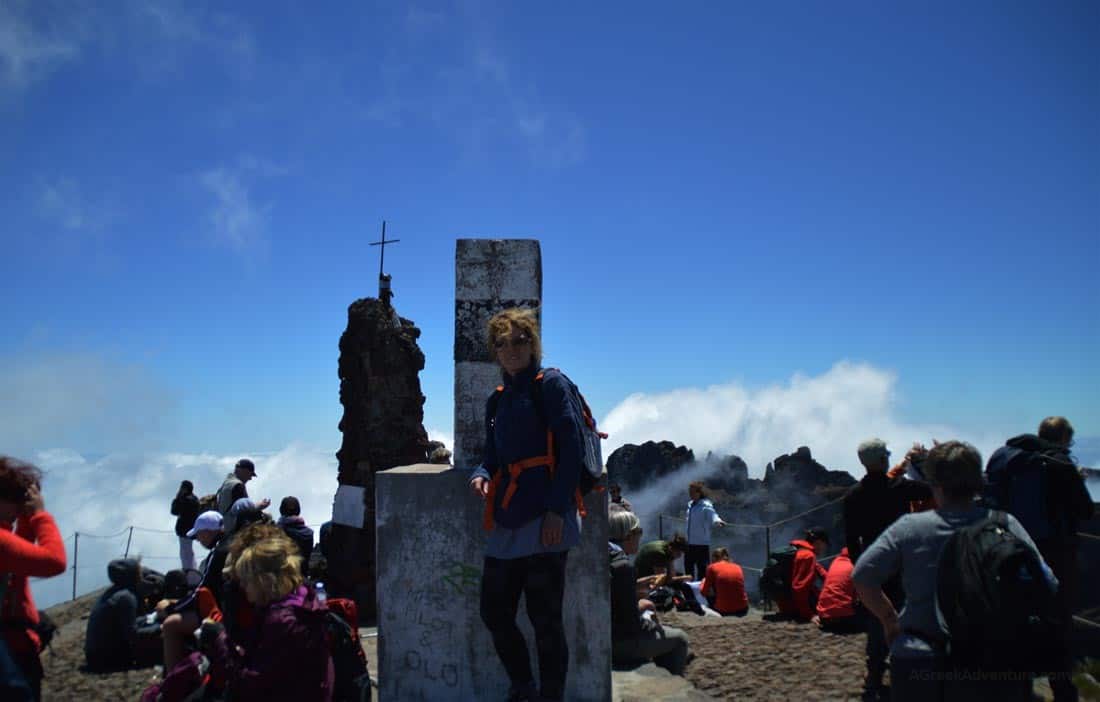 From there, you can admire the fantastic surrounding view.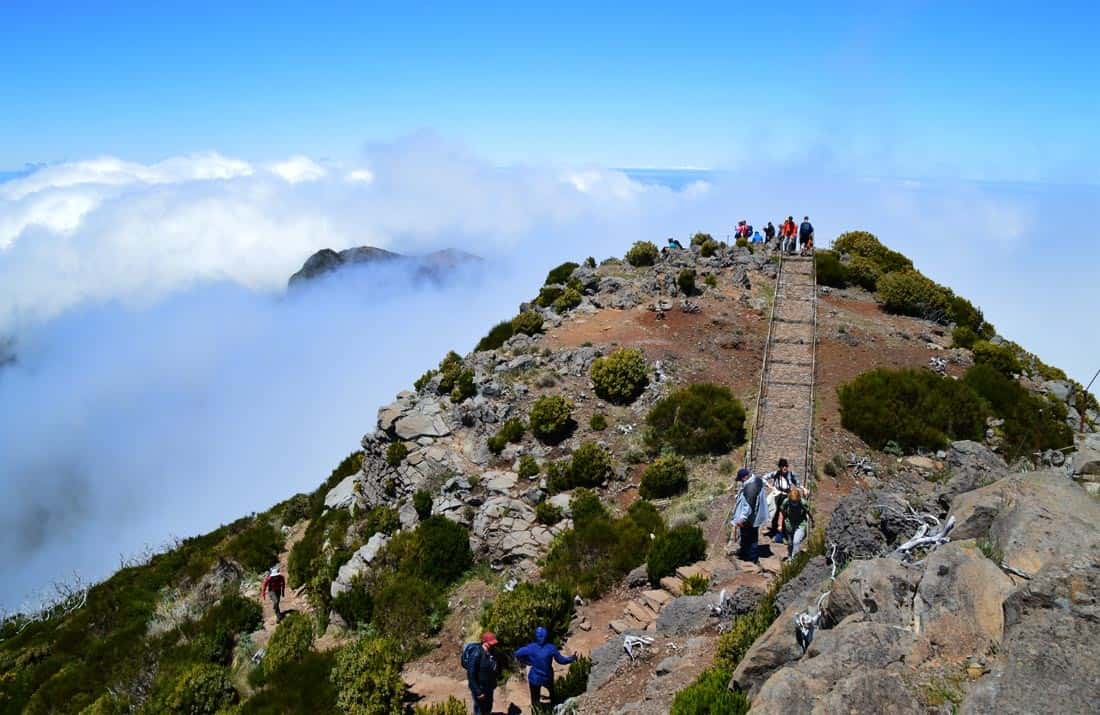 Take a break at the shelter or a refreshment (though it is a bit pricy).
The path to Achada Do Teixeira is only 2.2km from there, and it is downhill without many surprises, except maybe some rain.
It is spectacular how the weather changed all the time.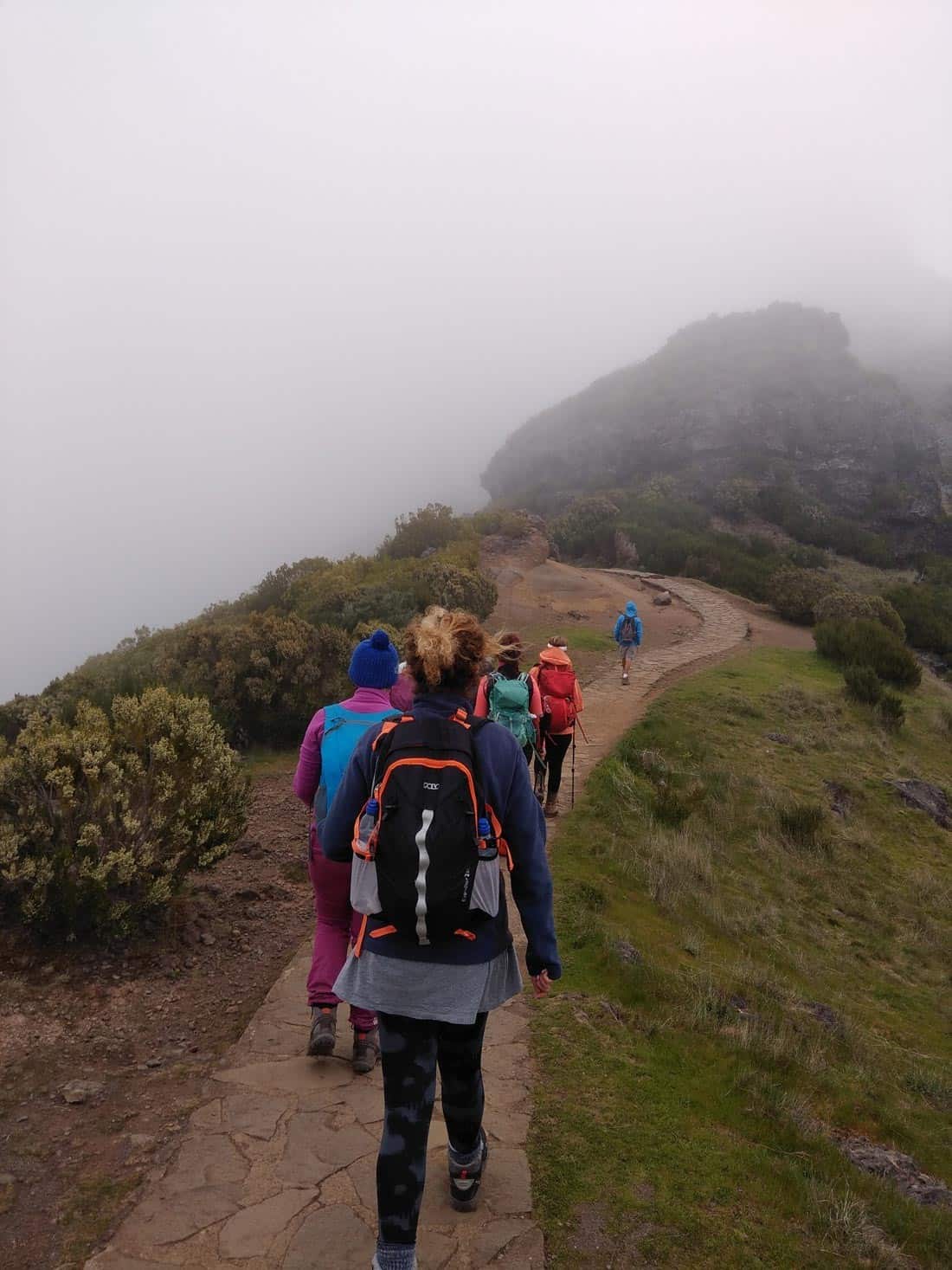 Hiking Tips for the Pico Ruivo & Pico do Arieiro
Before Traveling to Pico Ruivo or Arieiro
Our Thoughts for the Pico Ruivo Route
We were on an island with tropical forests doing all kinds of hiking next to Levadas.
That route was on the same island of Madeira but a completely different stunning experience.
There were points where the muscles of our feet were so overworked that we were making slow, painful ascending steps little by little.
Aren't such the ones that you remember as an accomplishment? Yeah, it was!
We suggest that you don't skip this experience as every single view along the route will give you different feelings and perspectives.
Being over the clouds is an experience by itself!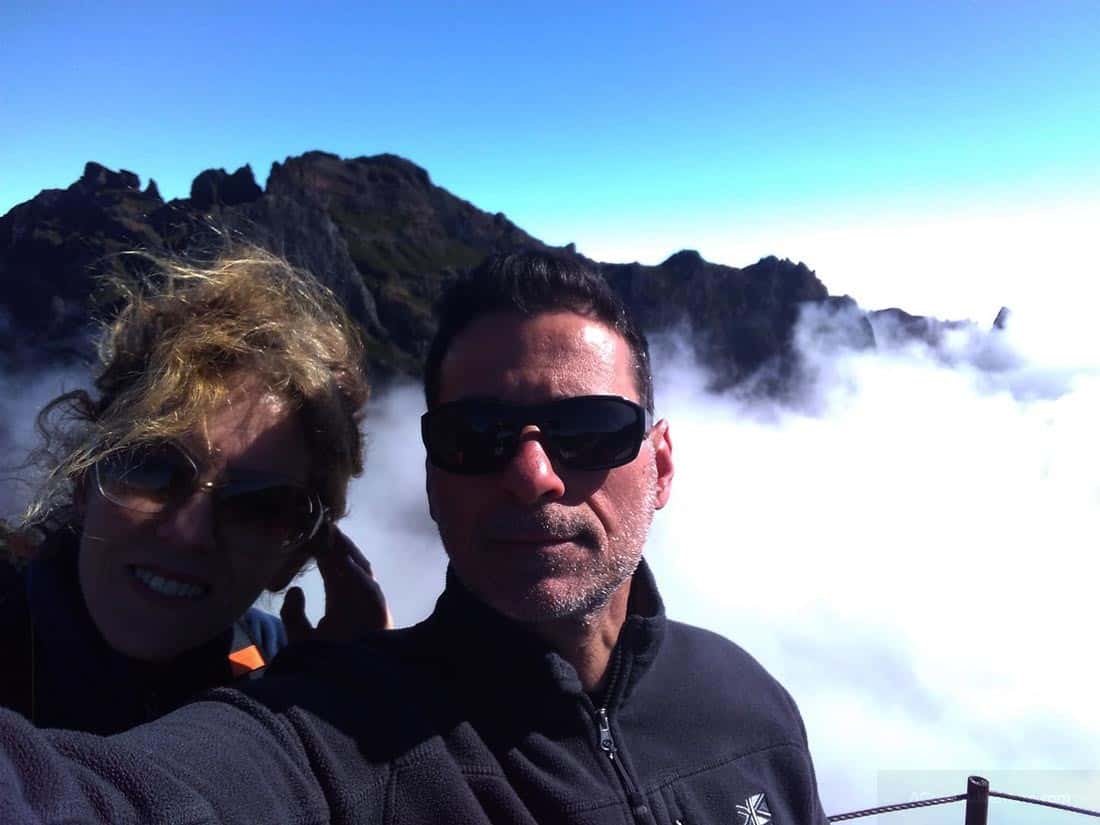 Enjoy.