What is the connection between Mont Saint Michel, 2 Greeks, a car, another couple of Greeks in London, and a turn of luck? In this series of articles, you will find out which are part of a multifold 8 days road trip in Europe. Part of that trip was to visit Mont Saint Michel in France.
On a tight budget. With a simple CoPilot GPS guiding software on a Samsung DUOS phone.
With a VW Polo that had to be returned to Greece. But most of all… with an amazing appetite for having lots of fun and explore culture in France and Italy.
Getting Lucky for Mont Saint Michel
Along with Maria we were trying to find a place to spend a few days at holiday season. We were mostly looking for in Greece, although Istanbul was trying to sneak in (with no luck).
We couldn't decide at all when -through Facebook- I read that a friend moved along with his fiance in London. As I talked with him about this and his trip there by car (since I have done this in the past), he mentioned that he was looking for someone to return their car to Greece. At first, I was not sparked by the idea, but Maria popped in to ask, "Hey, why don't we do it"?
And there it began… We managed to book everything for the trip in an amazing set of prices (perfect for the season), and we made the decision. We were to drive around 2500 km from London to Athens, Greece.
If you plan to go to London with kids, the read this.
Along the way, we managed to book delightful and reasonable accommodation in various places. The driving part was huge, but it was split into almost 8 days. I (Chris) was the driver while Maria was the navigator, organizer of things, finances controller, and -as always- an amazing companion.
From Calais to Visit Mont Saint Michel, France
We started from London (driving at the left side very carefully) and crossed the Eurotunnel from Folkestone to Calais. Thus, at almost 2,5 hours, we were in France.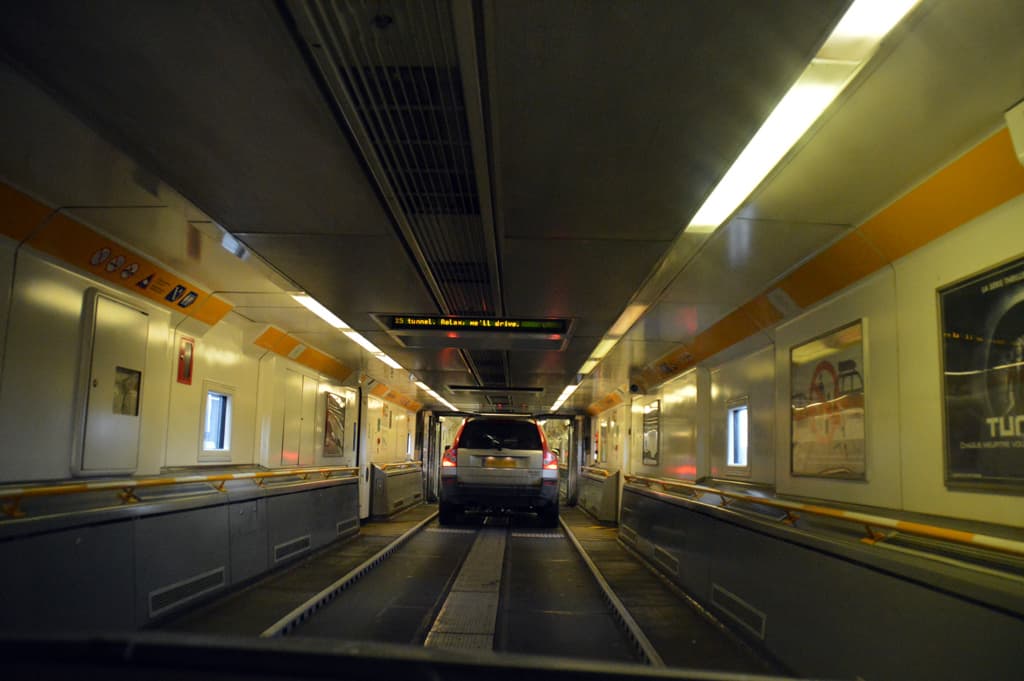 We landed in Calais, and although we thought it was not worth passing through that small city, we changed our mind and went for a quick tour before our goal to visit Mont Saint Michel.
The city is quite nice and picturesque with some very nice buildings (by the way, you will see many buildings in these articles since we are fascinated by old times architecture and churches). So we stayed there for around 30 mins so here are some pictures from a central square in Calais.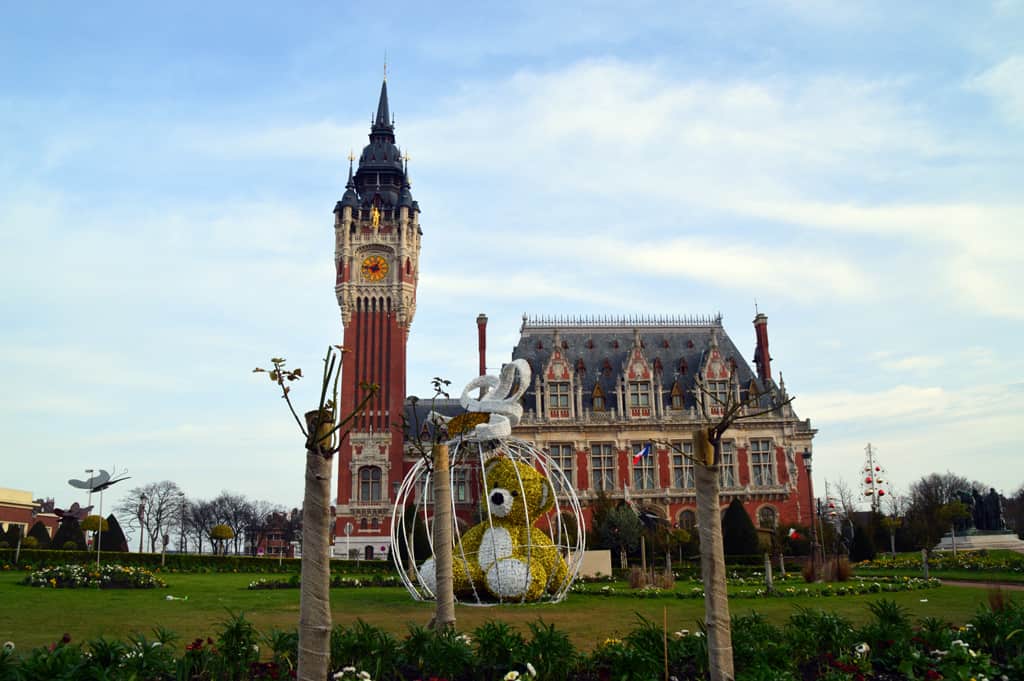 On the Road Towards Visiting Mont Saint Michel
After leaving Calais, we had to drive around 5 hours to get to Pontorson (next to Mont Saint Michel) village to leave our luggage and check for our accommodation. Have you ever driven through the French countryside? I can say it is really amazing. It's a sense of openness and largeness along with calmness. An enjoyable drive indeed.
The roads in France and Italy allow you to run at a higher speed than in Greece. They are better constructed, have huge parts of straight roads without many turns. The roads are mostly controlled with traffic cameras. We met no police on our trip. We used the Copilot software with our GPS, which has all the camera control points… Very useful… and amazingly accurate. This was the 2nd time I tested it on a Europe road trip. Still great!
On our way was also the city of Rouen. Well, since that city was on our path (ok… you got it), we also made a stop there before visiting Mont Saint Michel. Check these amazing photos. Rouen is a very nice city to visit with astounding buildings.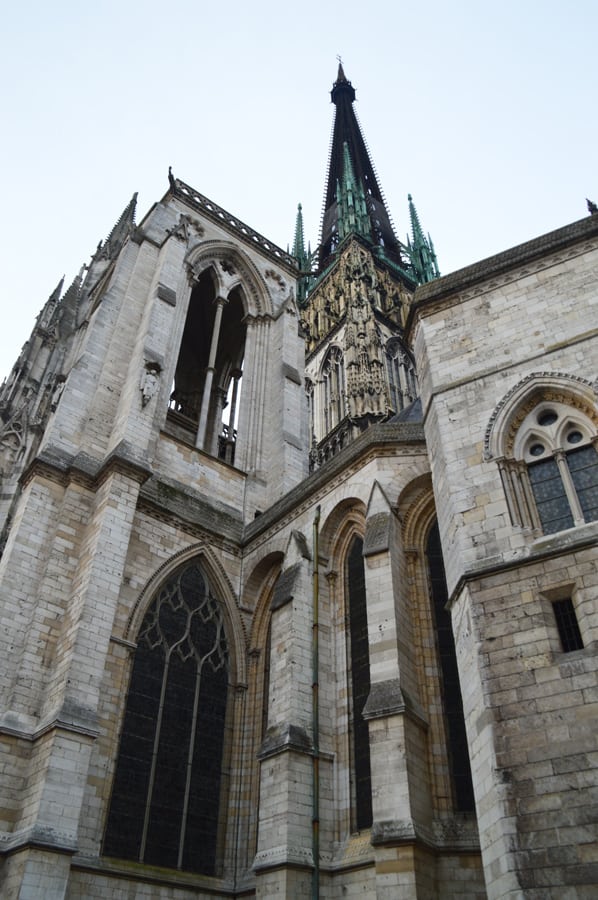 Finally: Our Visit to Mont Saint Michel, France
Mont Saint Michel is an island commune in Normandy. It is located approximately one kilometer (0.6 miles) off the country's northwestern coast, near Avranches.
Mont Saint Michel has been listed as a World Heritage Site by UNESCO since 1971. The abbey of Mont Saint Michel is a unique building: its plan is unlike that of any other monastery. Constrained by the pyramidal shape of the Mount, its medieval builders wrapped the buildings around the granite rock.
The main top building known as the Merveille, often regarded as the jewel of the abbey's architecture, is evidence of the architectural mastery of its 13th-century builders, who succeeded in perching two blocks of 3-story buildings on a steep rocky slope.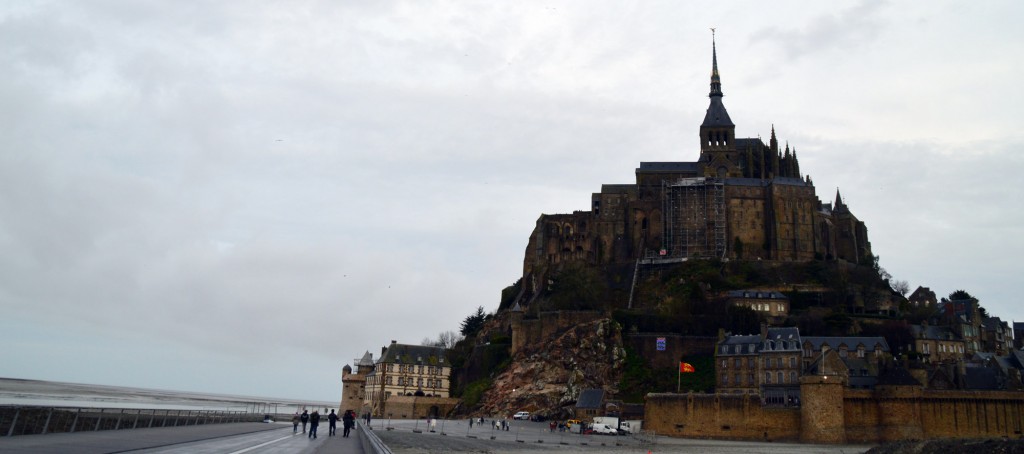 We arrived in Mont Saint Michel at night (1/1/2015), and we were drained since we drove for around 9 to 10 hours with all the stops.
However, Maria insisted on visiting Mont Saint Michel at night. I couldn't stop her or didn't want to (also didn't have the courage to do so), so we went back to the car and drove around 10 minutes from Pontorson to Mont Saint Michel.
The Mont Saint Michel used to be an island where access was easy or not, depending on the tide. Yep, that's right. You had to calculate the tide to find out when you could visit Mont Saint Michel. However, in 2014, a bridge was made connecting the land with Mont Saint Michel.
The access to Mont Saint Michel is very well organized. You leave your car to a parking lot and take a free bus to a location other than buses. The bus is free; parking is not.
As you approach it at night -and from far- the whole spectacle is… well, it's spectacular (can't find a better word). It's like a fairy tale castle city which is not huge in dimensions, or better, it looks like it is not as it has many different buildings and areas when you enter inside it. You will definitely spend many hours there.
We spent half an hour and went back to our room to rest and wake up early to visit Mont Saint Michel properly the next morning.
Maria was almost jumping up and down from her excitement since -for some strange reason- it was one of her dreams to visit Mont Saint Michel.
We stayed at L'Âme du Gourmand hotel. It had only 6 rooms, but each one was decorated according to the old French style. Our room (besides the great price, including a huge breakfast with local goods) was very cozy, and the hotel owner was a guy carrying a huge smile. Very friendly and giving. We ate a huge and healthy breakfast and prepared to explore Mont Saint Michel.
Visiting Mont Saint Michel at Daylight
At the entrance of this castle city, you meet the famous La Mere Poulard restaurant, famous for the Mere Poulard omelets. You will also find La Mere Poulard biscuits at most of the service stations in France. Prices are relatively good, but I think a bit high as… I mean… it's an omelet.
Well, not like that. It's a Le Mont Saint Michel – La Mere Poulard omelette. And if you think it like that, it's not an omelet but an experience! So, maybe give it a try when you visit Mont Saint Michel.
Many little souvenir stores exist at the entrance of this castle city, providing local souvenirs and medieval artifacts to Japanese Samurai swords.
For the latter one.. we still have no idea why. Perhaps because many of the visitors were Japanese and Chinese, I think a small portion were Koreans (but even that doesn't make sense).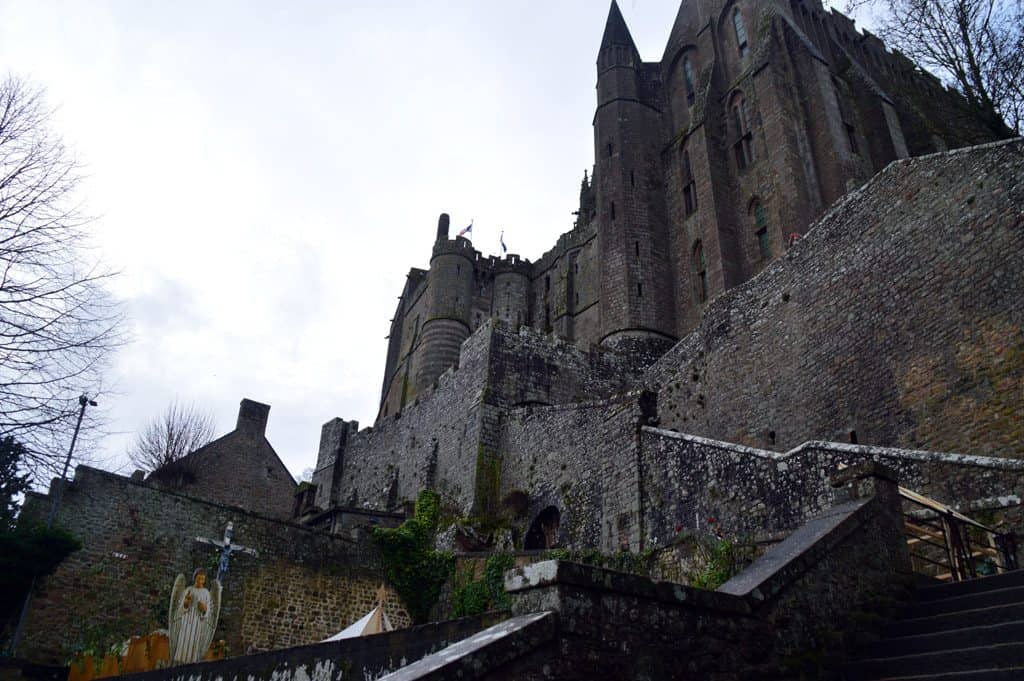 We moved up to the Abbey in order to explore this castle city. Thus the photos that follow.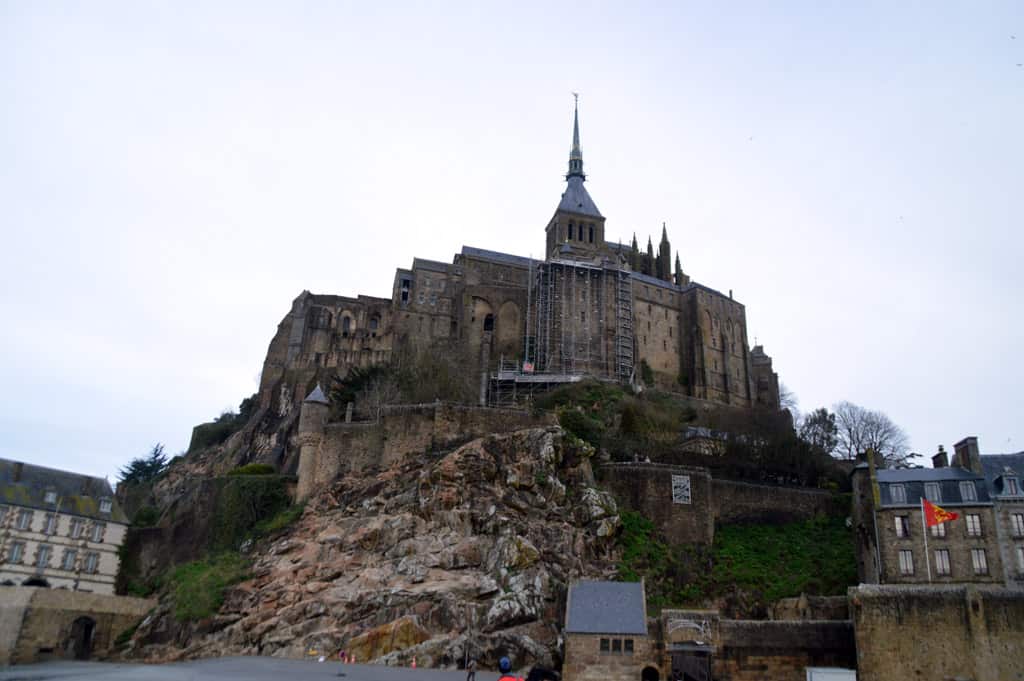 We saw and studied some quite interesting architecture and sculptures and learned about the usage of the different (many, many…) rooms of the castle.
Still, we wonder, why an Abbey needed so many different rooms.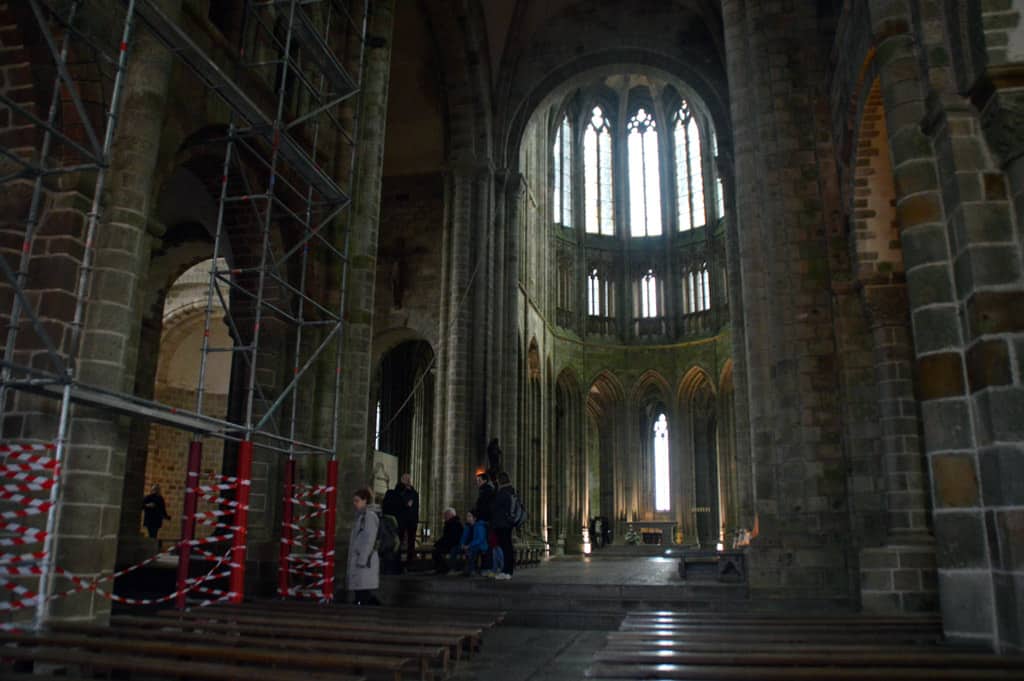 But all good things have an end. The time was getting late. We ended our visit to Mont Saint Michel and went back to the car to continue our road trip towards our next stop: Lyon.
Did you like our visit to Mont Saint Michel? Then also read: