Paris – the city of culture, art, and romance. This Paris itinerary for 7 days will guide you on how to see, do and taste and snap the best pictures in the beautiful capital of France.
The question is how to fit everything in and gain the most of your visit in 7 days in Paris (or less).
Paris Itinerary For 7 Days: Day 1 – Exploring Montmartre
Visually, be prepared for a real treat! Where this area of Paris is situated offers perhaps the best view of the city. You can see all the major monuments including the Eiffel Tower.
Not only can you enjoy this unique view but you are up close to the amazing and elegant 'Sacre Coeur'. Designed by Paul Abadie this place of prayer is unlike any other, overlooking and sharing its charm with all of Paris.
At Place du Tertre you will see a typical Parisian scene – artists, music, and flowers.
There are some fantastic tours taking place in Montmartre. Explore them from here.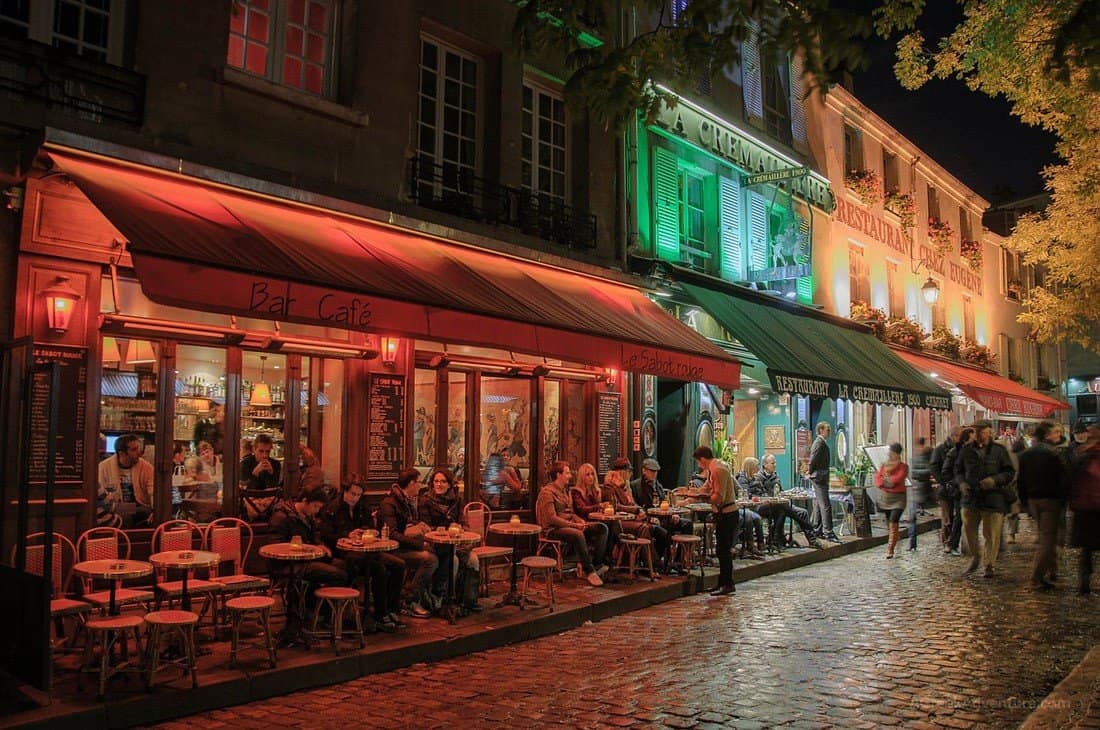 Take the metro to either Abbesses or Anvers and there is a funicular that will take you up to the Sacre Coeur.
The address is 35 rue du Chevalier de la Barre 75018. The opening times are 6.30 am to 10 pm and if you would like to attend mass there are several throughout the day: from 7.00 am, 11.15 am, 18.30 pm and 22.00 pm.
There is also a free audio guide. If you wish to climb up to the Basilica be ready to climb 270 steps!
Well worth it if you are fit and able. Absorb this place which may make you feel like you are in a French movie set, however, keep in mind that it is very commercial and you may wish to shop around before making purchases or buying souvenirs.
It would be a pity to restrict your visit to Montmartre to a morning or afternoon as it is somewhere to stroll, take in the culture and enjoy the scene.
"Chez Eugene's" will tempt the taste buds. Situated at number 17, it is comfy and cozy with a bright interior. The staff is friendly. The house special is 'boeuf bourguignon'.
There are also salads and vegetarian options. Non-alcoholic drinks are served but if you want to sample a 'good red' one there are no shortages.
Paris Itinerary, Day 2: Le Louvre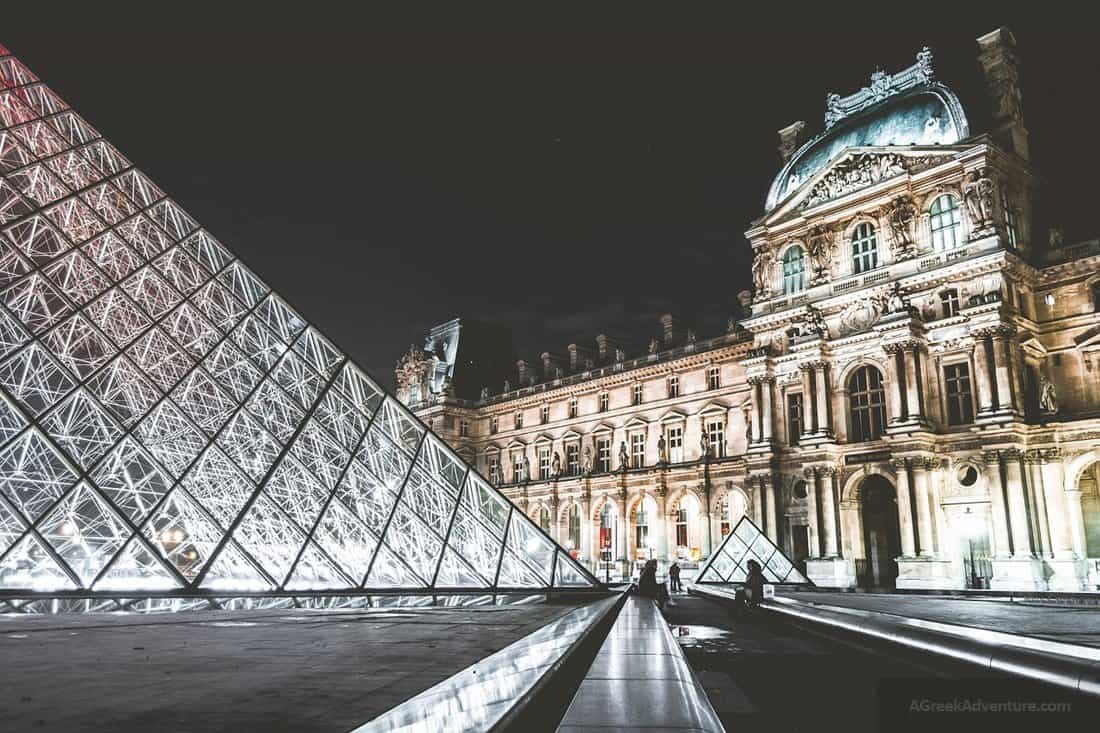 There lots to see, beyond Mona Lisa. At this very large impressive museum in central Paris, 80% of visitors queue up, take a photo of the Mona Lisa then leave.
However, there is so much more on offer here!
There are 40,000 works of art including Venus de Milo and the coronation of Napoleon.
Do skip the line, by pre-booking your admittance from here. The lines are long.
Of course, it is not only the artwork on display but the grand building its self which is awesome. The more recent pyramid outside the older building is actually one of five pyramids at the Louvre and it was designed by I.M.Pei. Parisians were at first horrified by this addition however they eventually came round to the idea and it is now a focal point of the city.
If you want to take in some culture, history and are willing to walk the Louvre is the place to be.
Within the 1st area of Paris, it is central and easy to reach. It is good to know a few pointers about this wonderful museum: the queue is long! However, the trick is to be savvy without paying a fortune.
On Wednesdays and Fridays, it is open late – until 21.45 pm and is not quite as busy.
It is 15 euros for entrance however there are other options including a two-day pass to skip the lines, allowing access to partner monuments and museums.
This can be a smart choice as you can visit the Louvre at your own pace and not feel like you have to cram everything into one day.
Assuming you are all ready with a camera in hand to do some serious art spotting it would be logical to dine in the "Cafeteria de la Pyramide" within the museum.
This will let you recuperate and plan the next part of your visit to the Louvre. The cafe has good reviews and it is stylish but be prepared for it being quite pricey.
Depending on your intentions you may wish to eat outside and there is an abundance of eateries on the nearby 'Rue Rivoli' and a picturesque garden just beside the museum: Le Jardin de Tuileries.
Paris Itinerary, Day 3: Pere Lachaise & Parc Buttes-Chaumont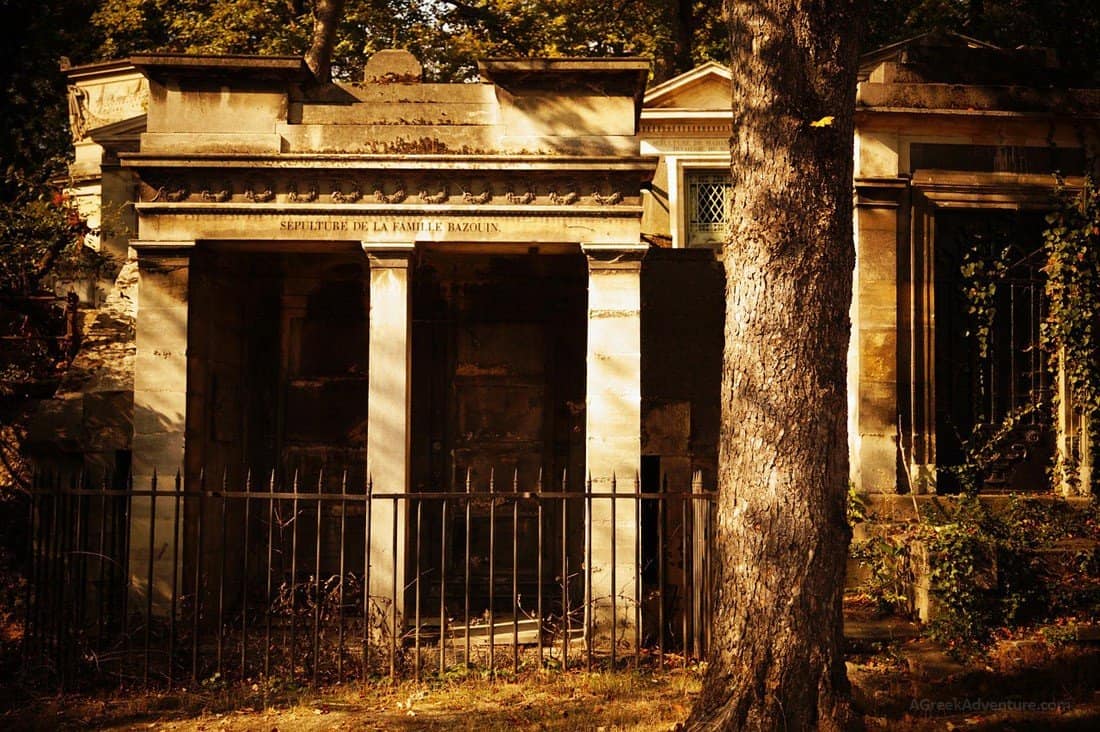 Seeing but also feeling! If you like places which are atmospheric then the cemetery 'Pere Lachaise' will not disappoint you.
Whatever your tastes there are likely to be the tombstone of someone you have heard of and has had a possible positive influence on you.
To know about the minute historical details of this place, pre-book with a guide from here.
If music is your thing, you may want to visit the grave of Jim Morrison which is quite something else – fans have made it their own shrine! Other musicians buried there include Edith Piaf and celebrated piano soloist Chopin.
Moliere and Oscar Wilde have their stones there too. After all that atmospheric stuff The Parc Buttes Chaumont offers a Parisian escape – it is a gorgeous man-made park on a hill with swans and boats.
The cemetery is open until 6.00 pm every night and can be reached by traveling to Metro stop 'Pere Lachaise', line 2 and 3. It is located at Boulevard de Menilmontant.
You could spend 2 to 4 hours wandering around this cemetery depending on your interest but it is the most visited in the world.
The nearby park Buttes Chaumont is located at 1 rue Botzaris 75019. Relax and enjoy this chilled-out park which has the least amount of tourists giving a truly authentic Parisian experience.
"Le Pavillon du Lac" within the Park will take care of your hunger pangs, rest assured. It is a modern-day restaurant where everything is homemade, seasonal, and delicious.
The chef is creative with food and gives a country feel to this restaurant right in the middle of the city. There is even an express menu for only 15.5 euros!
Guided tours are another excellent way to experience Paris, France. Follow this link for more than 20 private tours.
Paris Itinerary, Day 4: The Eiffel Tower & vicinity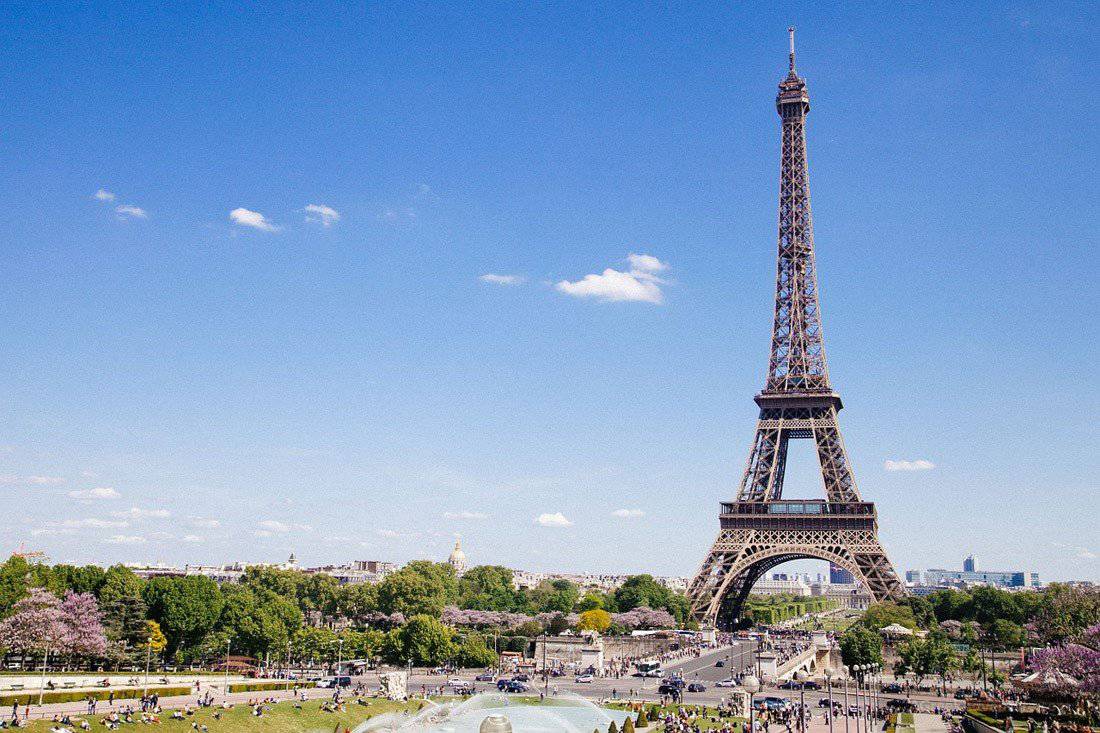 No trip to Paris can be complete without going to the Eiffel tower, it is a must-see and not only because it is beautiful but it is the iconic symbol of France!
There are two essentials and that includes going up the tower and going to a great vantage point to witness the wonder of it in full. There is a trick for the 2nd floor.
That is a huge waiting line. Get ahead by getting your ticket prior to arriving at the Tower.
The Trocadero is just opposite the tower and great pictures/footage can be taken. The area is surrounded by Haussmann designed buildings and it is all very impressive.
While in the area there is a military museum called 'Les Invalides' Even if you do not step inside, the building its self is worth a glance at with golden architecture.
If you do step inside you will see Napoleon's tomb and that is in the chapel which was built at the end of the 17th century.
Depending on the season, budget and whether you are fine with heights it is really worth venturing up the tower. Options are vast but a simple visit to the top costs 25 euros.
Many recommend the summit and the glass floor.
If you are feeling extravagant why not have a glass of champagne while up the top. For a guided climb with summit access, it is around 30 euros.
The Trocadero is a lovely setting and in the summer it is not unusual to see Parisians and tourists going into the fountains to cool down!
There are a total of five dining options located within the tower and one which is particularly appealing is the chic picnic, it is quite pricey at 41 euros however it is the Eiffel Tower after all!
If you want to escape from the touristy tower to dine then a great restaurant nearby is "Chez l' Ami Jean" at 27 rue Malar also in the 7th area.
The 'cuisine' is Basque (south of France, north of Spain) Mains are tasty, reputable and reasonable at 20 euros. Bon appetite!
Paris Itinerary, Day 5: The Latin Quarter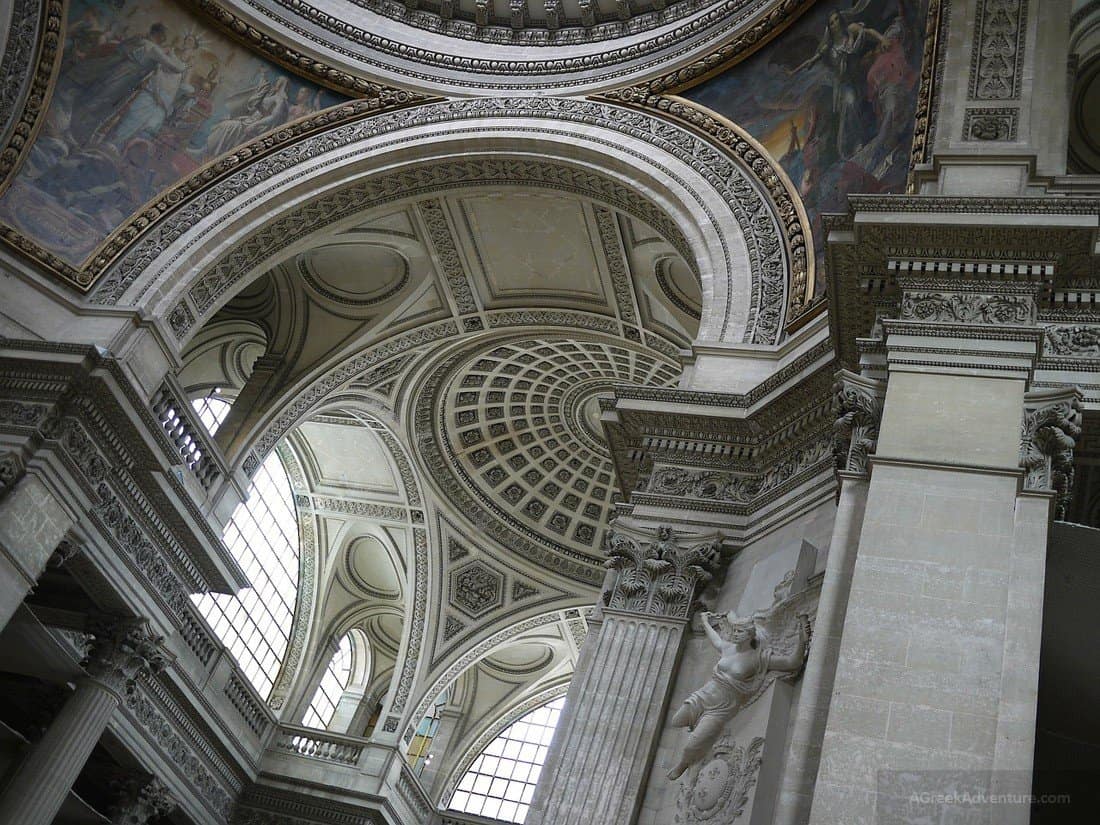 The quarter boasts the prestigious university of 'La Sorbonne', The Pantheon and a host of quaint characteristic places to eat.
The Pantheon has the tombs of what is claimed 'The great men' and the inscription reads 'To great men, Their country is grateful'. Some state that those who do not make it to the Pantheon go to 'Pere Lachaise' instead.
Here at the Pantheon is the burial place of Voltaire and Victor Hugo. There is also the rue Mouffetard which is frequented by many students and with its cobbled sidewalk, it is sure to win you over.
Take your time and stroll the Quarter, even if you get lost you will find some kind of hidden treasure.
Explore the Pantheon and take note of the great men for sure but do notice that Marie Curie is also laid to rest inside the huge dome building.
Walk along rue Mouffetard and maybe have a drink at one of the many bars/cafes at the 'Place Contrescarpe' which is bustling with natives, students, and tourists.
Cafe Delmas is a great place to sit and contemplate the beauty around you.
A hidden gem just close by at rue de Navarre is something rather unexpected, it is an actual ancient Roman theater full of history. You will rarely find it signposted and it is worth seeing.
The best crepes are in rue Mouffetard and you will find many people strolling with their lunch/dinner in hand. If you want to blend in they are delicious and be sure to ask for a 'Galette au Fromage' when at the vendor, if you would like one with cheese.
When it comes to dining in the Quarter, take your time and take in the aromas as you pass the various eateries.
There are a lot of Greek restaurants in this area but many classical French ones too.
Paris Itinerary, Day 6: Notre Dame Cathedral & River Seine Cruise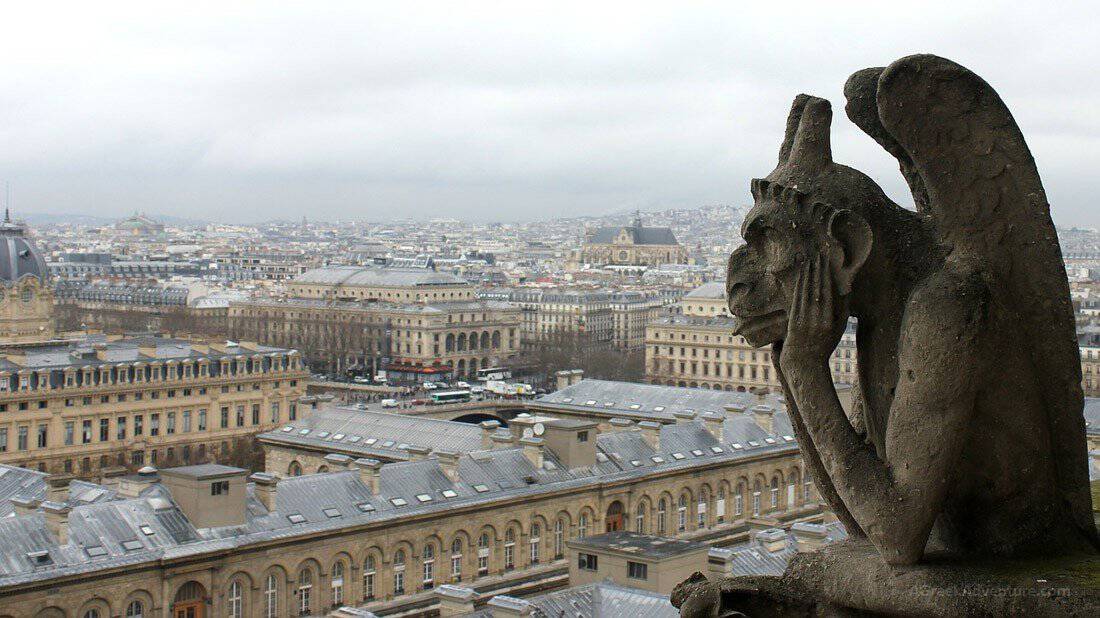 Sitting prominent right in the middle of the river Seine in 'Ile de la Cite' is the Notre Dame Cathedral. Named by the French as 'Our Lady' it is over 800 years old. It was completed in 1345 and is the place where Napoleon was crowned Emperor. Note, that in 2019 a big fire destroyed the dome of Notre Dame and restoration works can occur.
Not only is it historical but a stunning piece of architecture too. Inside you will find statues and many paintings. It is considered as a Catholic treasure. Inside there may be ceremonies going on which adds to the content of the visit. Best to do the cruise in the sunset or during night time.
An ideal complement after visiting the cathedral is a Boat cruise along the Seine, giving a full view of many sights.
Arrive at rue du cloitre Notre Dame, the opening is at 10.00 am and be ready with 10 euros.
If you are feeling energetic there are 402 steps to the top and this offers a brilliant view and you will also see famous gargoyles and the great bell.
Consider a boat cruise afterward – there is one called 'Bistro style seine river dinner cruise' this is great value starting at around 40 euros per person and includes a three-course meal.
It lasts for 75 minutes. This leaves from Ile de la Cite.
If you want to try the ice cream from "Berthillon", a world-famous ice cream parlor then you are in the right area. It is at rue Saint Louis. At 3 euros a scoop, it is not inexpensive but well worth it.
Flavors are unique, tasty and creamy and people will line up for those ice creams to cool down on a hot summer day.
If you go on the boat cruise your meal is taken care of otherwise head to 'Sur le Pouce' at nearby rue d'Arcole for a selection of French and European dishes.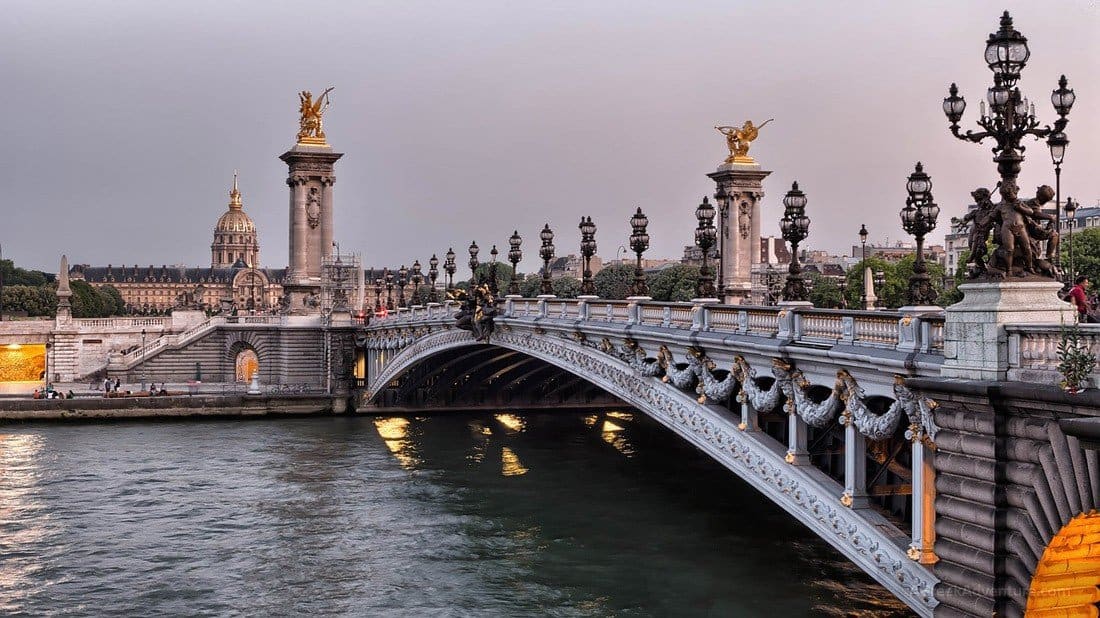 Paris Itinerary, Day 7: Arc De Triomphe & Champs-Elysees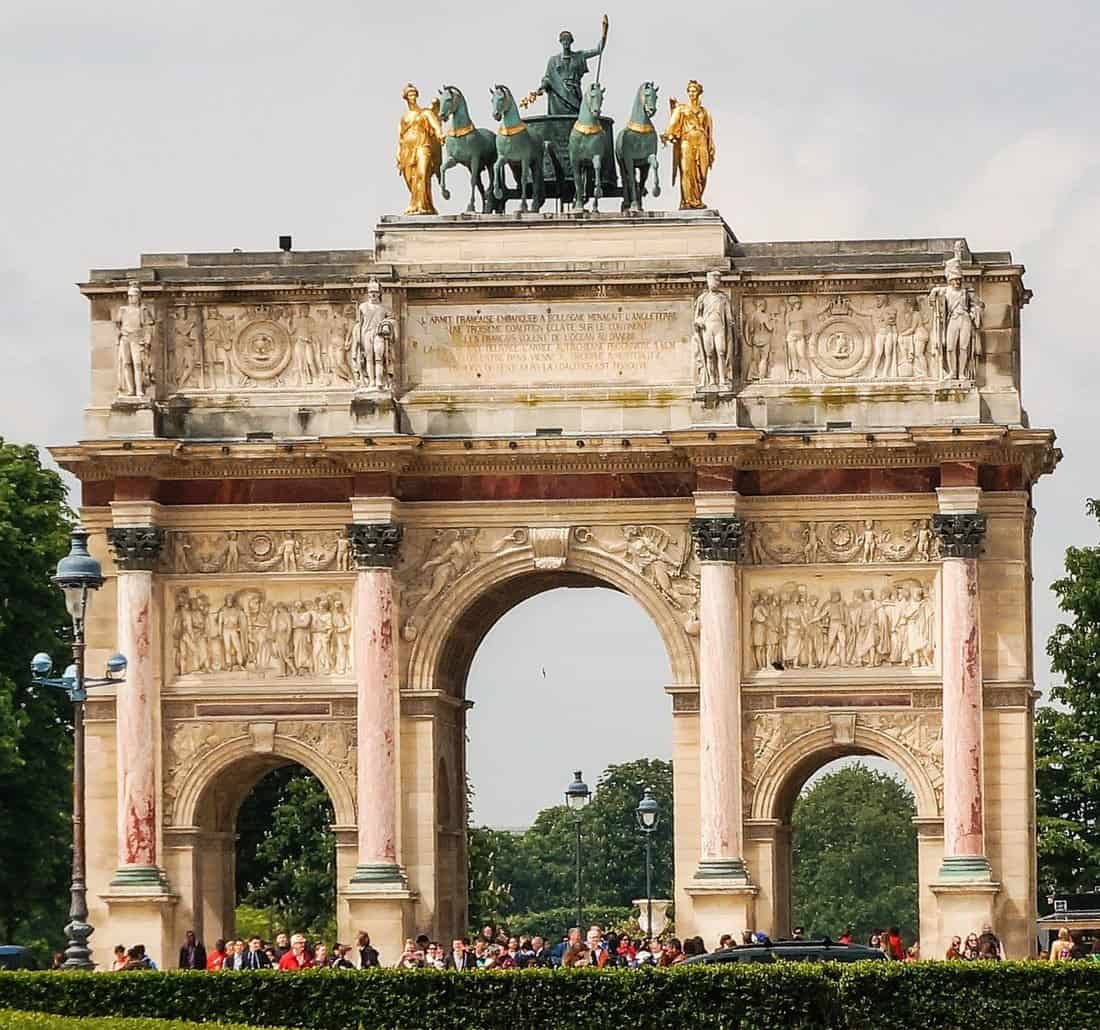 Known as the most beautiful avenue in the world, when you get there you will see why. Full of designer shops, cinemas, and restaurants there is plenty to see. The Arc is located at the end of the Champs Elysee and it is quite a walk but it is spectacular.
Right in the center of Avenue de la grande armee, it may look larger than on the TV screen.
It is a place of the unknown soldier and has been since 1921. It is significant to the French for this and as a work of art in its own right.
Stroll along the Avenue and do a spot of shopping if it is your thing, designer stores include Louis Vuitton. Have a coffee at one of the many outdoor cafes and watch the Parisians go by.
When you reach the Arc consider climbing up to the top, where the view is outstanding, you will see over to the area of 'La Defense', the business area of Paris.
At the opposite end of the Champs Elysee, you will find Place de la Concorde which is also noteworthy.
"L'Orangerie" at the four seasons hotel at 31 Avenue Saint George is known for a warm reception and refined dining. It is near enough the Champs Elysee but is not a tourist trap. Do not miss the 'amuse bouches' (appetizers )they are very much recommended.
In case you plan or fewer days in Paris (i.e. 3 to 5), then you can plan your days accordingly. Here is a guide for 3 to 5 days Paris itinerary.
Best Paris Itinerary 5 Days or Less
We are going to offer you some guidance on the ordinary things you may do in the city on a regular 5-day visit.
It is a destination you have no choice but to visit at least once in a lifetime. We are here to facilitate your visit to the city.
If you want to explore Cote d' Azur, then you need to visit our France section here.
Guided tours are another excellent way to experience you 5 days in Paris itinerary. Follow this link for more than 800 guided tours. Maybe a Day-Pass is suitable for you or/and your family. Check it out here. Always get travel insurance!
Paris itinerary 5 days – Where to Relax?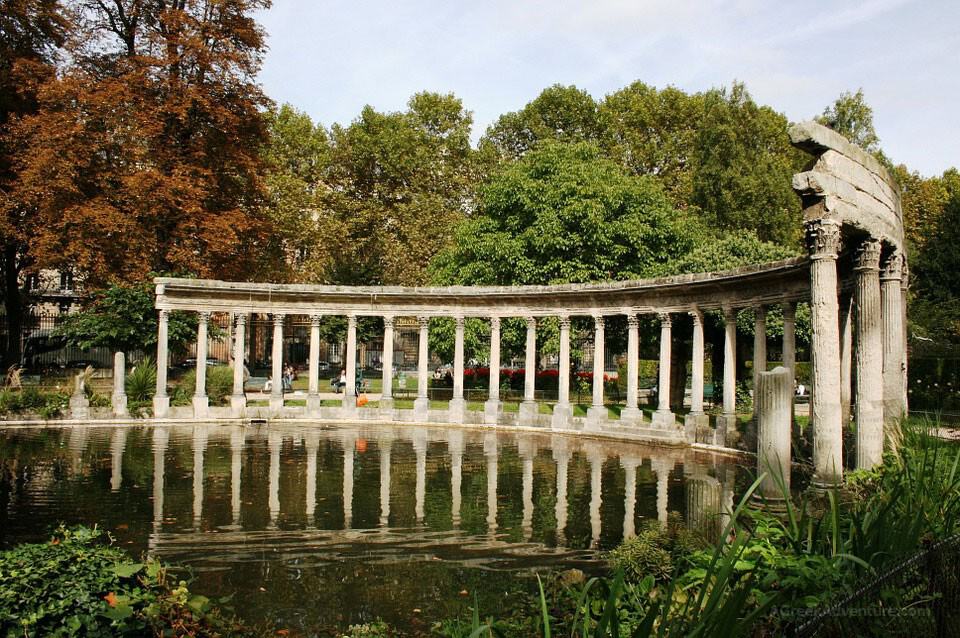 On your first day in the city, you should make it a priority to relax. You will generally have spent a lot of your time traveling into, out and about the city.
Paris has no shortage of facilities and parks that may provide you the opportunity to relax. Indeed, the entire city is dotted with parks, gardens, arboretums, and other open green spaces.
The following are the most prominent ones for your consideration for your Paris itinerary.
Parc des Buttes-Chaumont
This is a 61-acre park that is located in the northeast of Paris. The park comprises an artificial lake and numerous landmarks.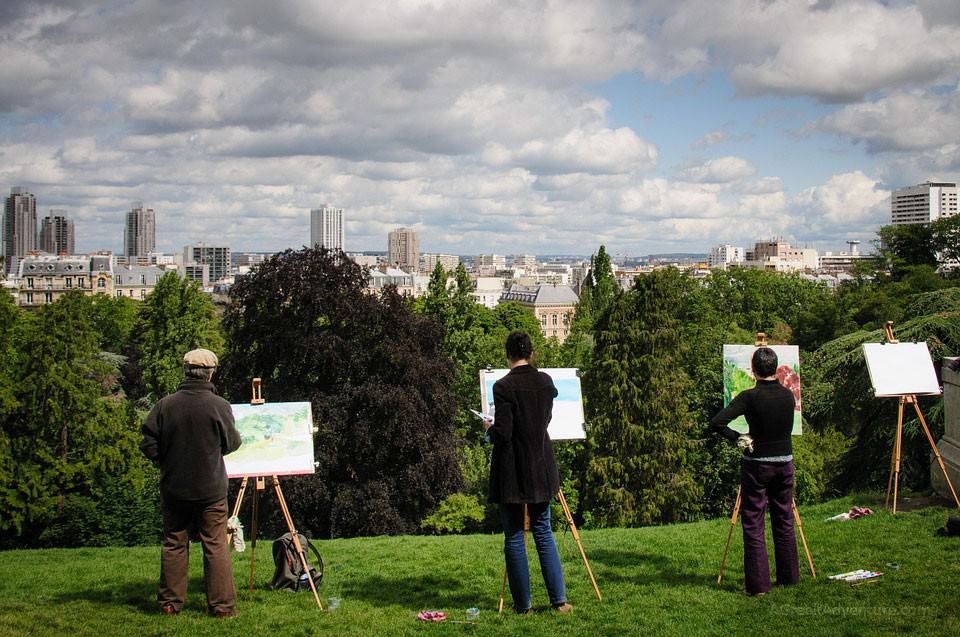 It is also green and breathtaking to behold. At the park, you may take photos at the artificial lake, sleep in the hot afternoon, hold a picnic, or just sit on any of the available benches and kill time!
It also offers panoramic views of the adjacent Paris skyline.
Tuileries Garden
Tuileries Garden is the 'celebration center' of Paris. It is the open space that Parisians consistently use to celebrate major victories, feats, and accomplishments. It is a public garden.
It is nestled between the Place de la Concorde and the Louvre. The park is very green, spacious, and relaxed. You may wish to pop in and just sleep out in the open.
What's more? You may even walk unhindered as there is plenty of space to do so.
Parc Monceau
Perhaps the most famous of Paris' parks, this Parc Monceau is located in the affluent 8th arrondissement of Paris. The park claims this stake by being by far the greenest and most beautiful.
It covers 8.2 hectares and has a beautiful dome at its entrance. This park confers excellent opportunities for photography. This is because most of Paris landmarks are not so far from the park's vicinity.
Atlantique Garden
Doubling both as a park and a garden, Atlantique Garden, covers around 3.4 hectares. Unlike most other parks, it is not located on the ground level. Instead, it is situated atop the roof that covers the Gare Montparnasse railway station.
It is spacious and free enough to let you stroll without hindrances. This is the place to rush to in between the full working hours of the day.
Boat Ride at Seine River


Paris is blessed with a long, deep, and wide navigable river. This is the River Seine. As part of your relaxation itinerary, you may wish to boat ride at the river.
This is especially the case when you happen to visit the city in the summer. The ride is relaxing, smooth, and charming.
By taking this ride, you will also get to explore Paris' downtown in a less congested manner.
Paris itinerary 5 days – What to see?
Just like parks and outdoor recreational facilities, the city of Paris has no shortage of breathtaking sites to behold. Indeed every corner, street, square, and block of the town has some structure of historical significance.
In your visit to the city, you have no choice but to walk around to sight-see these structures. Identified and explained here-under are the top five 'must-see' structures within the city of Paris:
Eiffel Tower
This is by far the most iconic signature landmark of the city of Paris. Constructed in 1887, this tower dominates the Paris skyline. Located at the 7th arrondissement, Paris, France, it for a long time was the tallest building in the world.
It is by far the most visited and photographed structure world over. It has been visited by a whopping 250 million visitors since it was open to the public in March 1889.
Arc de Triomphe
Your visit to Paris can never be complete or fulfilling without a stopover at this iconic structure. Located on the right bank of the Seine River, this structure was erected to commemorate one of Napoleon's victories (The Battle of Austerlitz). You will find this park great for photography as it is a famous landmark. You will use it to prove to your peers that you indeed visited the city.
Notre-Dame de Paris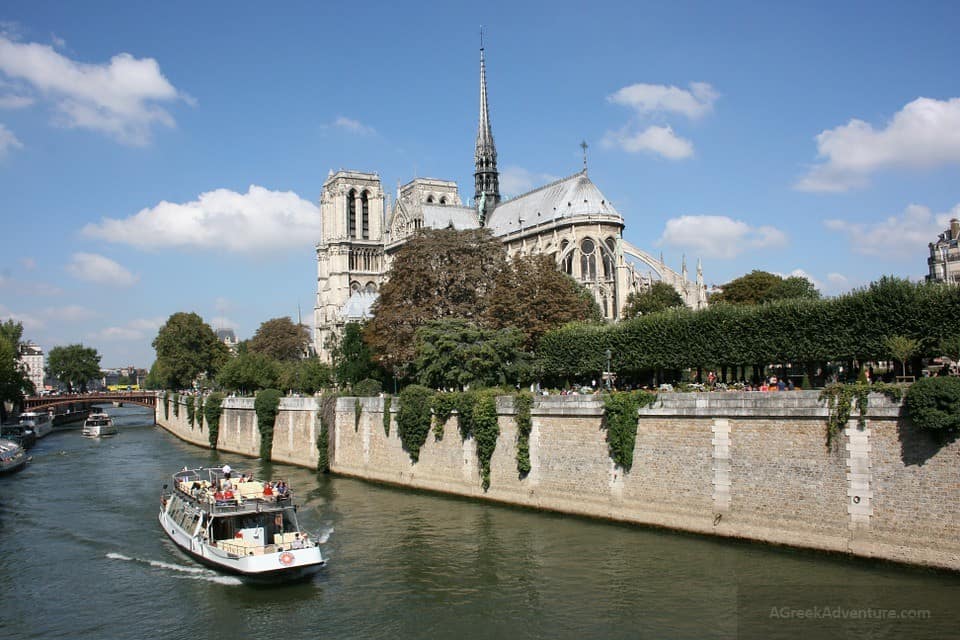 France has had a strong Catholic past. Perhaps no other structure or building exemplifies this strong Catholic past than the Notre-Dame de Paris. The cathedral illustrates the French Gothic architecture.
Among its breathtaking constituent parts are stained glass, arched roofs, and magnificent heights. It also safeguards Catholic's most essential relics like the Holy Nails, True Cross, and the Crown of Thorns.
You may pop in to capture these artifacts on camera.
Champs-Élysées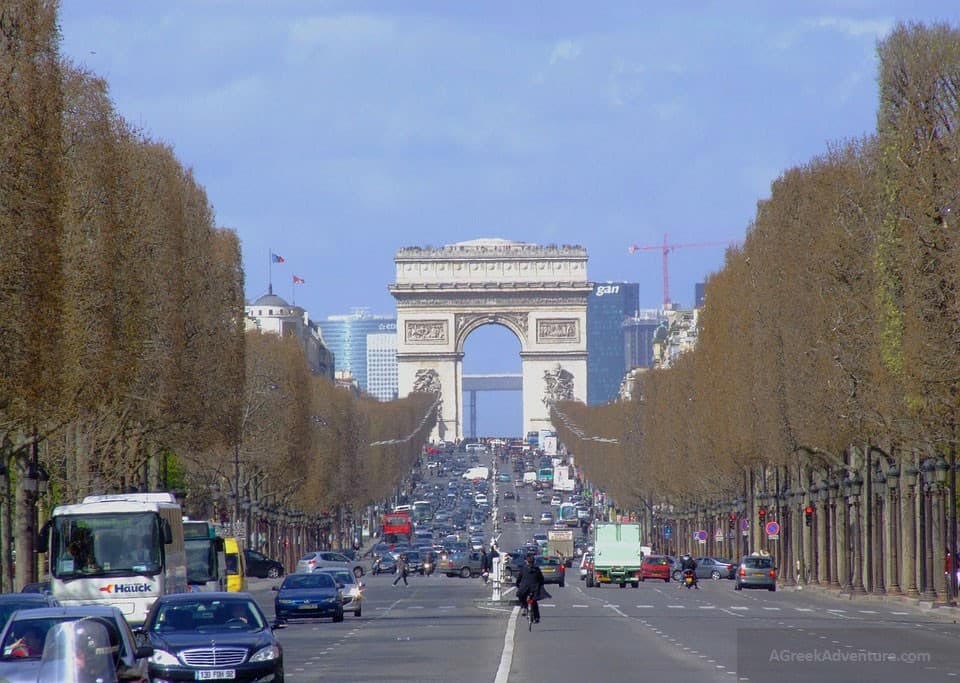 Do you like walking or cycling? If you said 'yes,' this Champs-Élysées, could as well be a desirable location of your liking.
It is a closed avenue that straddles 1.9 kilometers of downtown Paris. It is wholly reserved for pedestrians and cyclists and is completely closed to motorists.
Its location right at the heart of Paris means you will get to travel and sight-see many of the famous landmarks free of charge.
Palace of Versailles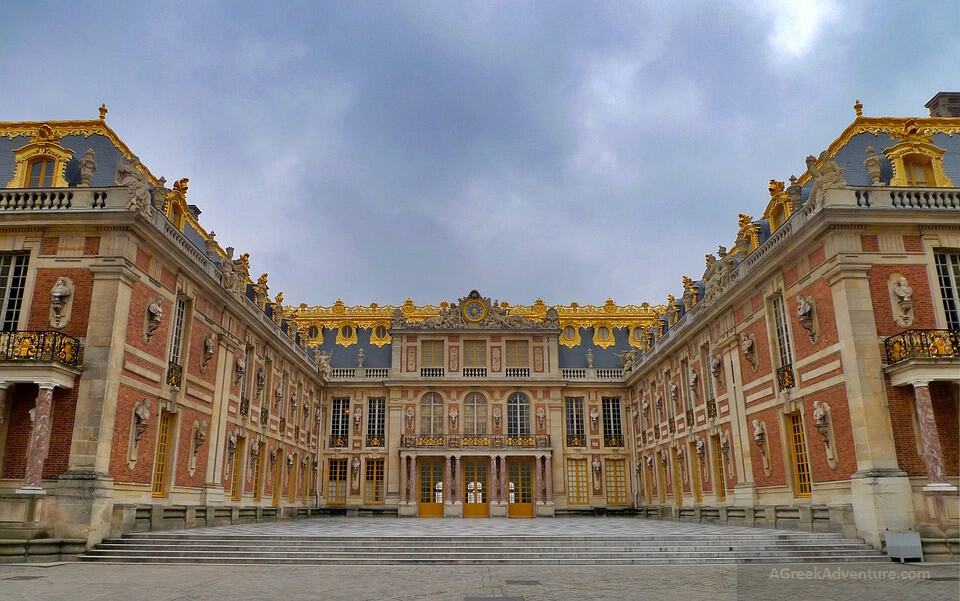 France was once a kingdom. All the kings of France used to reside in the Palace of Versailles. After the monarchy was abolished and the presidency instituted, the palace was converted into a museum.
It is a UNESCO World Heritage Site. In your visit to the city, pass by it to capture the magnificence and grandeur that are exhibited by it. You will also get a peek at France's rich history.
Paris itinerary 5 days – Where to shop?
You can never visit Paris and return to your native country without shopping. Indeed, France is a leading producer of all kinds of souvenirs and expensive items.
These include fashion clothes, expensive jewelry, watches, shoes, and electronics. For this reason, you have to consider spending some time in the various malls, boutiques, supermarkets, and stores that dot the city.
Of course, many know the trendy (and impressive) Galeries Lafayette stores. These are indeed a marvel of architecture. You can just sit and admire the beautiful building decoration along with any theme ones (Easter, Christmas, etc.). There are more than GF in Paris…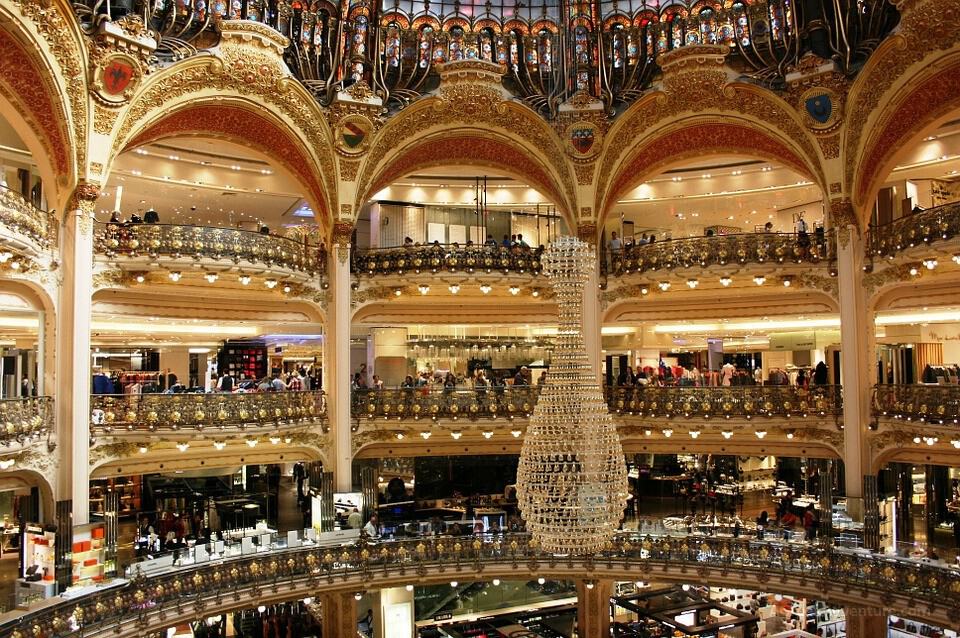 The ones explained below may offer the needed starting points:
Carrousel du Louvre
This is an underground shopping mall that is situated right in the heart of Paris. This is a one-stop shopping complex.
At this mall, you will find just about every other item you may want, ranging from electronics, food, clothes, stationery, and cellphones.
You will get to enjoy the benefit of reduced time wastage by popping into this shopping mall. This is because it does incorporate all your shopping needs in one.
Italie Deux
Italie Deux is yet another enormous shopping mall. In total, the mall comprises over 130 stores under one roof.
The stores collect and stock all manner of items. Most of the stores that operate at the mall together with the things they stock originate overseas.
This means you will not miss out on your favorite international brand while in Paris. You will still be able to enjoy the attendant benefits while in Paris.
Bercy Village
Bercy Village is a small shipping complex that is located at the heart of Paris. It is called a village because it comprises several buildings, shopping malls, and retail outlets that are detached from the rest of downtown Paris.
At this shopping complex, you will find all the famous global brands. You will also find cinemas, bars, restaurants, and boutiques. Its detached state absolves you from the congestion of the rest of Paris.
Passage du Havre
Unlike most other shopping complexes, this one comes in the form of an arcade. The complex mainly deals in the sales of clothing, apparel, and body care products.
At this shop, you will find clothing accessories, jewelry, multimedia products, ready-to-wear shoes, and fashions.
Some restaurants are located not so far away from the complex. You may pop in to enjoy the local Paris cuisines.
Paris itinerary 5 days – Where to Eat?
Food can never miss in any tour itinerary. You will get hungry from time to time. Moreover, when you visit a new place, you will often find new cuisines which are unavailable at your home of origin.
It is against these backdrops that you will have to make arrangements to spare some time to eat. Paris is dotted with innumerable eateries, each dealing in unique cuisines.
The following, however, are among the best of the best:
Septime
Septime has consistently ranked as a top 50 best restaurants in the whole world. The restaurant is located at 80 Rue de Charonne, 75011 Paris, France.
It mainly specializes in the preparation of local French cuisines. It nevertheless prepares several international cuisines too.
This arrangement allows you to enjoy whichever menu you may deem necessary. It, therefore, wards off the inconveniences that are often bound to arise while you are on the lookout for the right menu.
Le Cinq
Are you a lover of gourmet menus? Le Cinq is the place to visit while in Paris. It opened its doors in 2001 and has ever since been frequented by the lovers of local French cuisines as well as gourmets.
It is Michelin-starred, a mark of exemplary performance and quality services.
The quality of the food prepared is very high, indeed. You will part with a lot of money but derive greater returns nonetheless.
Restaurant Guy Savoy
This is yet another Michelin-star restaurant. The restaurant is located at Monnaie de Paris, 11 Quai de Conti, 75006 Paris, France.
At the restaurant, you will be able to taste fantastic amuse-bouche, soup tasting menu, bread oysters, Bresse chicken, pastry sorbet potatoes, mille-feuille, la Monnaie dessert, dry ice, and cart de Paris.
You will also enjoy the benefit of having to relax in a cool, spacious, and breathtaking ambiance.
Pierre Gagnaire
You may also wish to pass by this three-Michelin star restaurant. Located in downtown Paris, and preparing mainly the local French meals, this restaurant is a must-visit if you are cash-strapped yet still wish to enjoy the best that France may have to offer.
The interior of the restaurant is also cool and breathable enough to relax in. Walk in when you have some free time to catch your favorite meal.
Finished dining? Enjoy the Shows


You must spare a bit of your time to catch the various famous plays, games, shows, and musical concerts that the city of Paris has to offer.
The reason underlying this is pretty simple. The city of Paris has several theaters, opera houses, concert halls, and other facilities that are devoted to the furtherance of arts and music.
Below are but a few you may wish to start with:
Odéon-Théâtre de l'Europe
The top of the list of these facilities is Odéon-Théâtre de l'Europe. This is one of the six national theatres of France.
The theater screens several shows, performances, and skits from both local and international artists. There are no fixed schedules for these shows. As such, you cannot be sure to catch shows randomly.
However, the theater is regularly used to screen these shows such that you can never miss at least one show per week.
Théâtre du Châtelet
Unlike most recreational facilities, the Théâtre du Châtelet is both a theater and an opera house. As such, it is very convenient, especially for a person who is an enthusiast of both recreational resources.
It opened its doors as late as 2006 and has so far entertained scores of opera and music lovers. Do squeeze some time to catch these shows in your brief stay at the city.
Opéra de Paris – Palais Garnier
Opéra de Paris – Palais Garnier is one of the largest and oldest opera houses in Paris. It seats 1,979 people at a time and opens its doors regularly as opposed to most other facilities of its kind.
It opens its doors four times a week.
These are Monday, Tuesday, Saturday, and Sunday. Given its consistency, you will find it easier to schedule and reconcile your visit to the museum with your other activities.
Paris itinerary 5 days – What to explore?
As hinted above, France has had a long and rich history. France played a role in dominating Europe in the Napoleonic era, the liberation of Europe from the Nazis, the abolition of monarchies, and the spread of Christianity.
In your brief stay in the city of Paris, you may wish to visit individual museums, landmarks, and artifacts that are dedicated to upholding these feats.
Explore France and Europe's past. Below are some of the ones you may wish to start with:
The Louvre
The Louvre is a world-renowned art museum. It is also a historical monument that is located right in the heart of Paris. It is by far the most massive structure of its kind. The museum is an embodiment of the entire history, culture, and past of France.
It has been continuously operational for the last eight centuries. It is also home to Mona Lisa's painting by the Italian painter Leonardo Da Vinci.
Louis Vuitton Foundation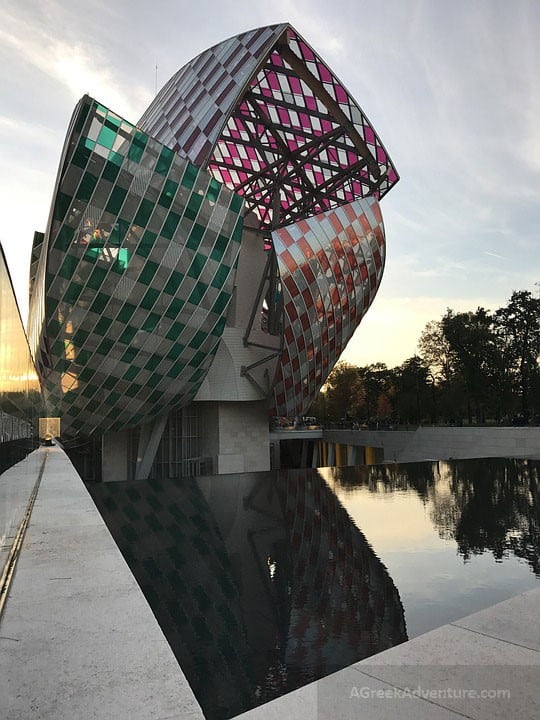 Louis Vuitton Foundation is a nonprofit organization that was founded in 2006 for the sake of promoting art and culture. The foundation has a museum within its building complex that occupies the Mahatma Gandhi avenue in Paris.
The museum mainly collects and showcases modern art and culture. This is the place to be in case you are intent on witnessing these items.
Its beautiful architectural design is also great for photography.
Carnavalet Museum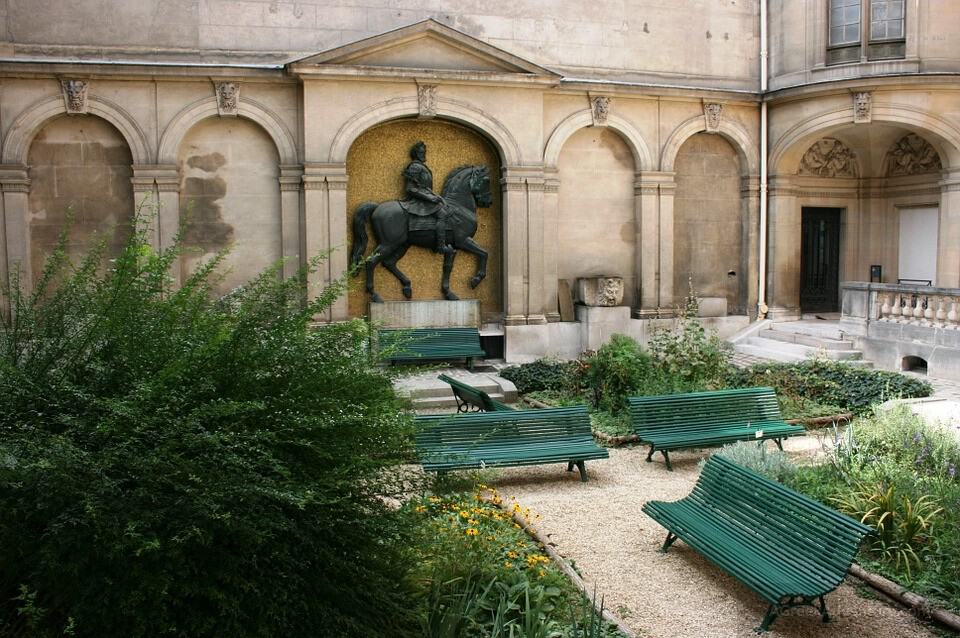 Given the significance of Paris, it is befitting that it has a museum that is wholly dedicated to its history and geography. This is the need that the Carnavalet Museum aims to meet.
The museum straddles two adjacent mansions. These are the former Hôtel Le Peletier de Saint Fargeau and Hôtel Carnavalet.
Spare some of your time while at the city to catch a glimpse of the developments that Paris has undergone in its recent past.
National Museum of Modern Art in Paris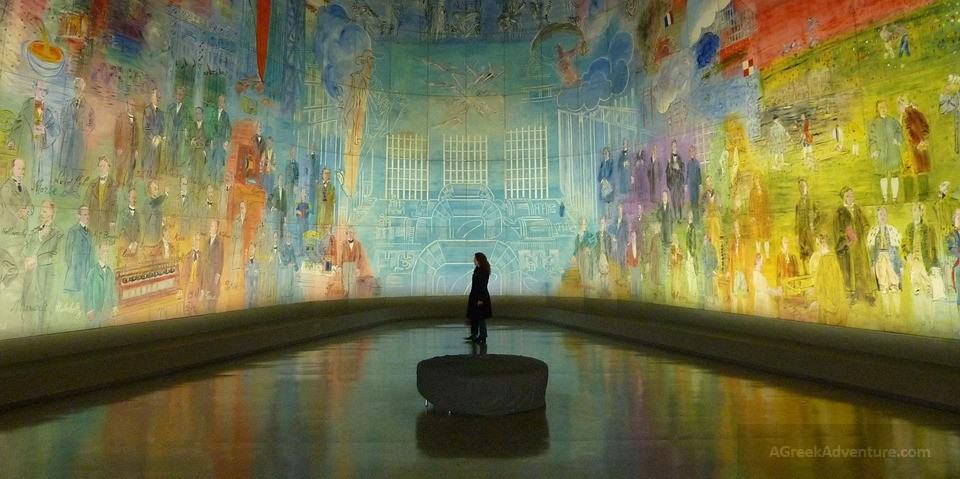 This is a state-owned museum of art. It has several branches across the entire nation of France. The museum collects and showcases art and other artifacts of historical significance. If you like high-quality modern art, then this should be in your Paris itinerary for 5 days.
It specializes mainly in the modern art collections of the 20th and the 21st centuries. The Paris branch is housed in the Centre Pompidou at the 16th arrondissement of Paris.
Being conveniently located, you will rarely waste too much of your time enjoying what it has to offer.
Grand Palais
While strolling at the Champs-Élysées, you may also consider popping into the Grand Palais. This is a large exhibition hall and museum that has strong historical significance.
The museum features a collection of the past of France more so as pertains to its role in both World Wars. Besides this, the architecture and appearance of the museum itself are also great to behold and photograph. This makes it a prime spot for photography.
Paris is awash with numerous art and paintings. This is evidenced by the various art galleries, paintings, and other artifacts. While in Paris, why don't you also spare some time to catch a glimpse of these excellent resources?
Even though the city is awash with numerous buildings and structures that are dedicated to these paintings, the following particularly stand out.
They should, therefore, be the first points of call for your visit to the city — a must-see for your Paris itinerary for 5 days.
Modus Art Gallery
Founded in 1996, Modus Art Gallery showcases a collection of modern and contemporary pieces of artwork. It is the place to visit if you are intent on having a peek at the various collections of art of recent times.
It opens its doors throughout the week, including the weekends. For his reason, you will get to enjoy the benefits of convenient and unhindered access to the facility at any point during your visit to the city.
Magda Dansyz Gallery
Located in Paris, and with branches in London and Shanghai, Magda Dansyz Gallery is a privately-owned art gallery.
It is also devoted to the promotion of contemporary art. Apart from this, it also promotes local talents of the various artists that the world has to offer at the moment.
The gallery also holds several international art competitions that you may wish to attend. (Time your visit appropriate to be able to do this).
Galerie J. Kugel
Unlike the first two art galleries, this one showcases antiquities. These are old objects that have historical significance.
The gallery collects and displays pieces of furniture, silver, sculptures, scientific instruments, and rock crystals that were used in years past.
Your visit to the gallery will give you a peek into the past of France without necessarily having to read tons of books. The tour also grants you the rare privilege of capturing these artifacts on camera.
Opera Gallery Paris
This gallery is wholly dedicated to the promotion and preservation of opera and its constituent items. Apart from the city of Paris, this gallery has branches in New York, Aspen, Miami, and several other cities.
If you are an opera enthusiast, you can never leave the city of Paris without sparing a moment of your time to visit this opera gallery. Your knowledge and appreciation of opera will never be the same.
Joyce Art Gallery
Lastly, you may wish to pass by the Joyce Art Gallery. This is a gallery that specializes in the collection, preservation, and displays of clothing apparel.
Moreover, it also engages in the sale of the same to various clients. This is a place you must visit if you are a fashion enthusiast.
You will also get to enjoy the rare privilege of purchasing designer attire at a meager price.
Best Places to Stay in your Paris itinerary
Here is a selection of the best hotels for your Paris itinerary, depending on the neighborhood.
The Best Hotels in the Marais, Paris
The Best Hotels in Saint Germain
The Best Hotels in South Pigalle
The Best Hotels in the Latin Quarter
The Best Hotels in the 7th
Tips for your Paris itinerary
If your schedule allows Versailles is magnificent and only a train ride on the RER away.
The bus tours are very useful but it is easy to feel rushed.
We didn't mention breakfast but the best croissants many claims are at the boulangerie at rue Vaugirard in the 6th area.
France is not only about Paris of course. Read these posts about Mont Saint-Michel, Lyon, Provence, Saint Tropez, Avignon & Eze. France was part of our road trip through Europe, starting from the UK.
Paris is great to walk around. Get proper all-day walking shoes. Also, read Best Travel Shoes For Europe.