And the trip moves on towards Lyon. Wait… Are you asking what trip? Then first read this article here about Mont Saint Michel. Our next stop (where we spend the night and next morning) was Lyon, France.
What are the things to do in Lyon France?
We have never been there before and we were curious about what to expect.
Of course, we have done our research prior getting there and since we have already been to Paris (you will read more in a future article), Lyon seemed like a good idea.
We were worried that the time we had to spend wouldn't be enough but eventually it was more than needed.
A few fast insights for Lyon France
It is not a city to stay there for long vacations but there are quite a few things to do in Lyon. I mean its beautiful but unless you have business to do there, the average tourist will become bored after a day. The city is divided in 2 main parts.
The "tourists old city" with great architecture and nice places to visit, plus the administrative city (as our hotel concierge mentioned it) where offices and public services are.
The city of Lyon carries lots of history. We have to say that it is a UNESCO World Heritage Site and was historically known as an important area for the production and weaving of silk.
However, apart from the sight-seeings Lyon is known as the capital of gastronomy for France and maybe the whole world (OK, maybe not of the whole world but if your are French you may stand for it).
Lyon is also known for its famous light festival 'Fête des Lumières', which lasts for 4 days.
If you want to read many more historical data about Lyon and its turbulent past, Wikipedia makes a very good reference.
Things to in Lyon: Just Explore it through walking around
If you stay near Place Bellecour (where we did) then you have access to many places. Near, are Place de Jacobins and Place Terreaux.
But most of the sight-seeings are at Fourviere Hill, where around are also the St-Just and St-Paul areas.
Check where you can spot all these things to do in Lyon in the map. The area circled near the river is the funicular station.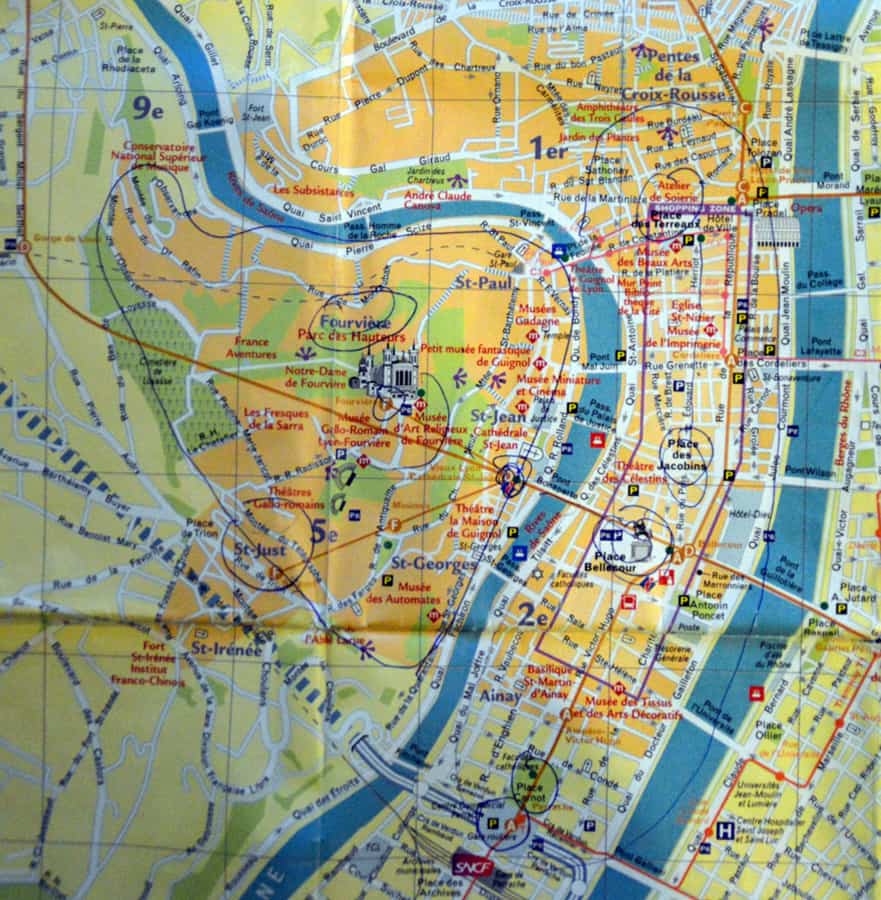 The best way to access all is to cross the bridge and then take the funicular towards the top of Fourviere. Before doing that we visited the Cathedral of St Jean.
So, we took the funicular and after 5 minutes we landed on the top of the hill. You can also walk up there by taking a circular road. At the top, the first thing you see is the Cathedral of Notre Dame de Fourviere.
Leaving the Notre Dame of Lyon, we walked towards the area of St Just, arriving at the ancient French-Roman theater.
Spotting any similarity to Epidaurus, Greece?
One thing we noticed in Lyon, many tourist visitors were Italians.
Its close to Italy, but it is not only that. Many shops (mainly dining ones) had Italian names/references. This is because the history of Lyon is related with Italy.
The weather was changing from moist to slight rain but eventually rain did not visit us.
We continued walking downwards and enjoyed seeing some picturesque roads.
See the theater of Guignol at the last photo and read about Guignol here.
By the way… here is what we called as "fat masked into a banana", with tons of sugar on it. We saw that one in many sweet selling stores.

Lyon had some amazing sweets and we managed to have Flan and Quiche Lorraine for breakfast.
Mid-day breaks where people enjoyed some mild wine or drinks are also popular and perhaps (when we did the same) we were the only people drinking coffee. Well, Greeks, what would you expect.
Additionally, people were very familiar with… cold. They were sitting outside enjoying their coffee or snacks.
The town was amazingly peaceful without noise and parking your car was amazingly freakingly cheap!!! If you have lots of things to do in Lyon, having cheap parking is bargain.
Only 0.60 cents per hour!!! We left our car the night we arrived and took it the next day and paid around 16 euro, in a closed secured parking.
Everywhere in our trip (France, Italy) parking was cheap except in Firenze (Florence) where even Open Parking with parking meters was expensive (3 euro per hour!).
Returning to Lyon main city, we had a walk inside the city to enjoy more of its aspects.
Yet, time went by and we had to go and pick our car and get ready to move to another country.
This time it was Italy and specifically the city of Verona, well known for Romeo and Juliet but not only.
Next article is about leaving Lyon and traveling to Verona.