Having a Lisbon food experience so to taste the Portuguese cuisine (Cozido à Portuguesa) was something we had in mind on our previous trip to Portugal's different cities.
During that trip, we mostly tasted "tapas."
Now we wanted to have an experience, guided by locals as we love quality in food and tasty ingredients.
So, we had a tour through Withlocals, and it was the right choice. Withlocals is one of the tour providers we decided to add to our suggestions for organized tours. We wanted to make sure their services are of the level we wanted them to be.
We booked with them and got assigned to a local guide. The guide's name was Luciana. She was a fantastic, funny and well-educated person. She got us through the small Lisbon food establishments, that had something special "to say."
Bottom line? We had lots of great food and fun!
Let us get you through our Portuguese food experience and show you where to eat in Lisbon.
Lisbon Food Tip: In our tour, we tasted around ten different flavors/dishes. Make sure to have space in your stomach; eat an early breakfast and book the Lisbon food tour after 1 pm.
Our first stop for tasting the Lisbon food tapas was a weird one.
Casa da India (House of India)
Wait. What? We were puzzled to see that name outside the tavern. We looked at each other, wondering if we were about to go into an Indian restaurant.
A second look at the -nearly- outdoors grill was enough. A fast cook was roasting chicken, pork, fish, squid in parallel lines over open fire/coals.
The tavern is at Bairro Alto, and you can get there through Metro. When you look at it from outside, it doesn't show as a fancy/touristy place at all. When driven to such areas by locals, that usually means you will eat good food.
Luciana explained that we would taste codfish and "bifanas." Bifanas are popular in Portugal. It is the most straightforward sandwich you can find.
Two plates arrived. The sandwich was distinct, but where was the codfish?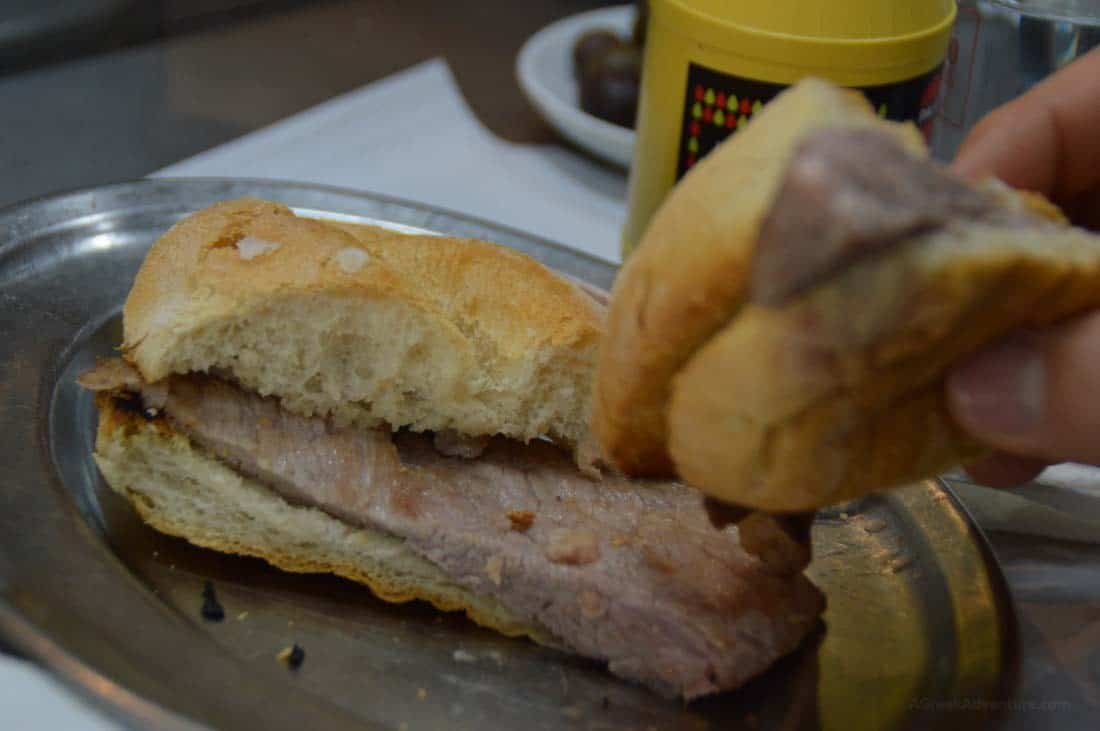 A small potato-looking delicacy was at one of the plates. That was Pastéis de Bacalhau, aka, Codfish Cake.
Yes, you read it thoroughly. It was a Codfish cake. Tasty. You can eat as it is or you can dip it into a spicy sauce that mainly enhances its taste. It is a traditional plate of Portugal. They cook cod and tuna in many ways.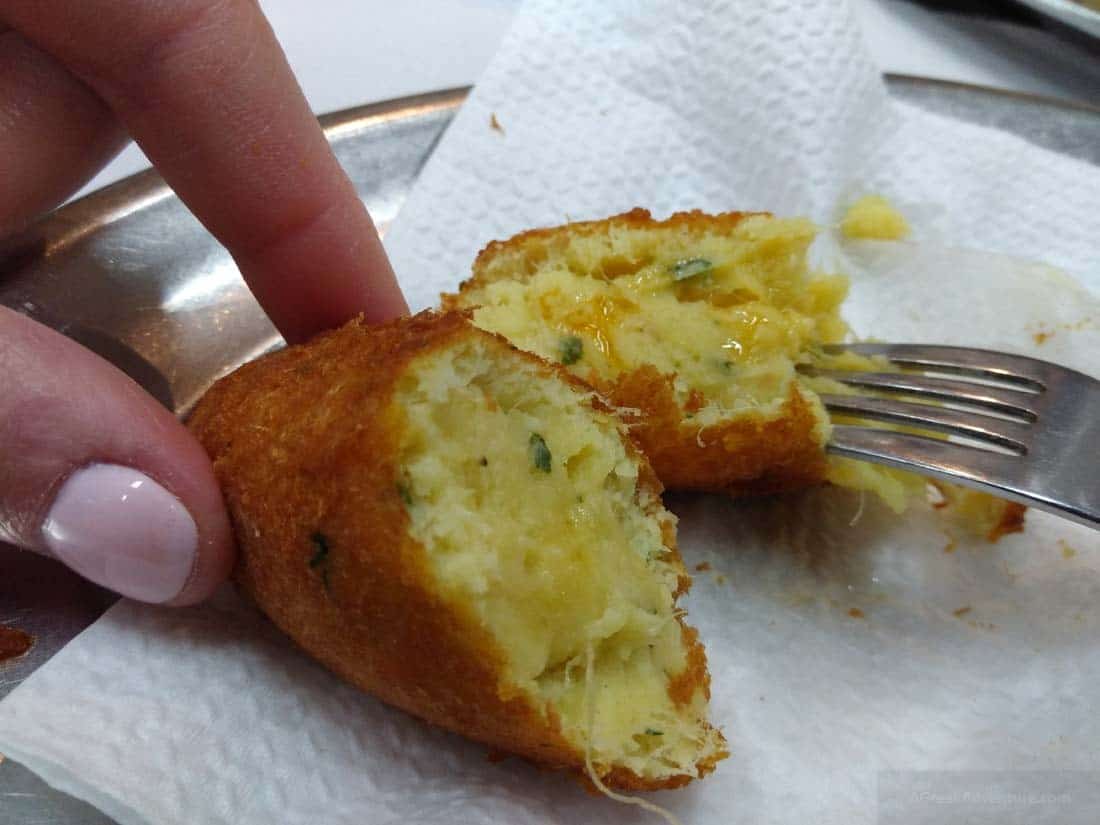 In other places in Portugal, codfish goes next to a liqueur (more on that in our upcoming posts for Madeira and our 50km hiking trips there).
The bifana sandwich was soft and well seasoned.
The tour was becoming auspicious one.
Pasteis De Nata in Lisbon
From cod and pork to dessert? Pastel de Nata was a turn-around!
Everybody has to taste this fantastic sweet. We had some during our previous trip to Lisbon, and we liked it.
Little did we know that we were about to eat the most fantastic and fresh one in Lisbon.
That was a completely different experience for our palate.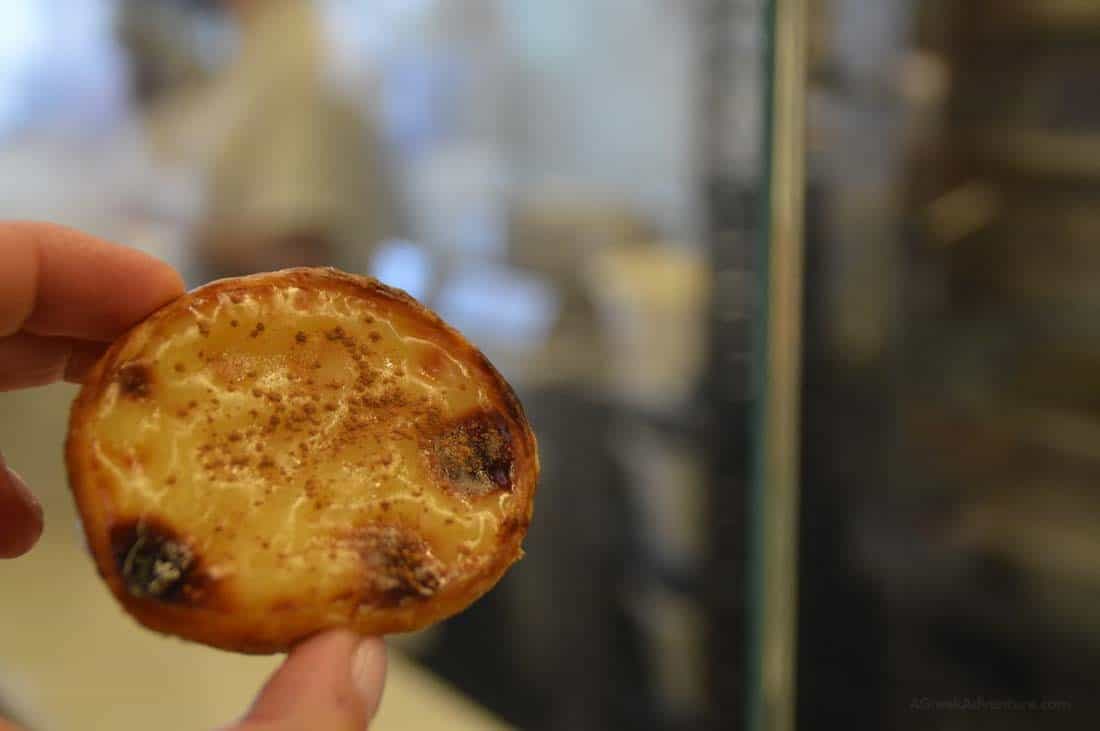 The "Manteigaria" shop, at Rua de Loreto, serves only Pasteis De Nata sweets. You can watch the pastry chefs make them.
New ones come out from the oven every 30 minutes.
That guarantees that you will eat something fantastic! We can't transfer the emotion, generated from such a fresh dessert. It was heavenly. There were lines of people waiting to get served, to get a couple of them!
A dessert was an out of the box way to start a food tour, right? Well, more surprises were expecting us along the way!
The "Bread of God" (pão de Deus)
The store was "A Padaria Portuguesa." A bakery with lots of sweets looking at you from the shop window. It was an open invitation to a sugary feast.
However, the secret delicacy to taste here was the "Bread of God," s covered with coconut. The filling interior is a buttery brioche-like bread.
It is fluffy, soft with lemon zest, a little bit of rum and an "idea" of vanilla.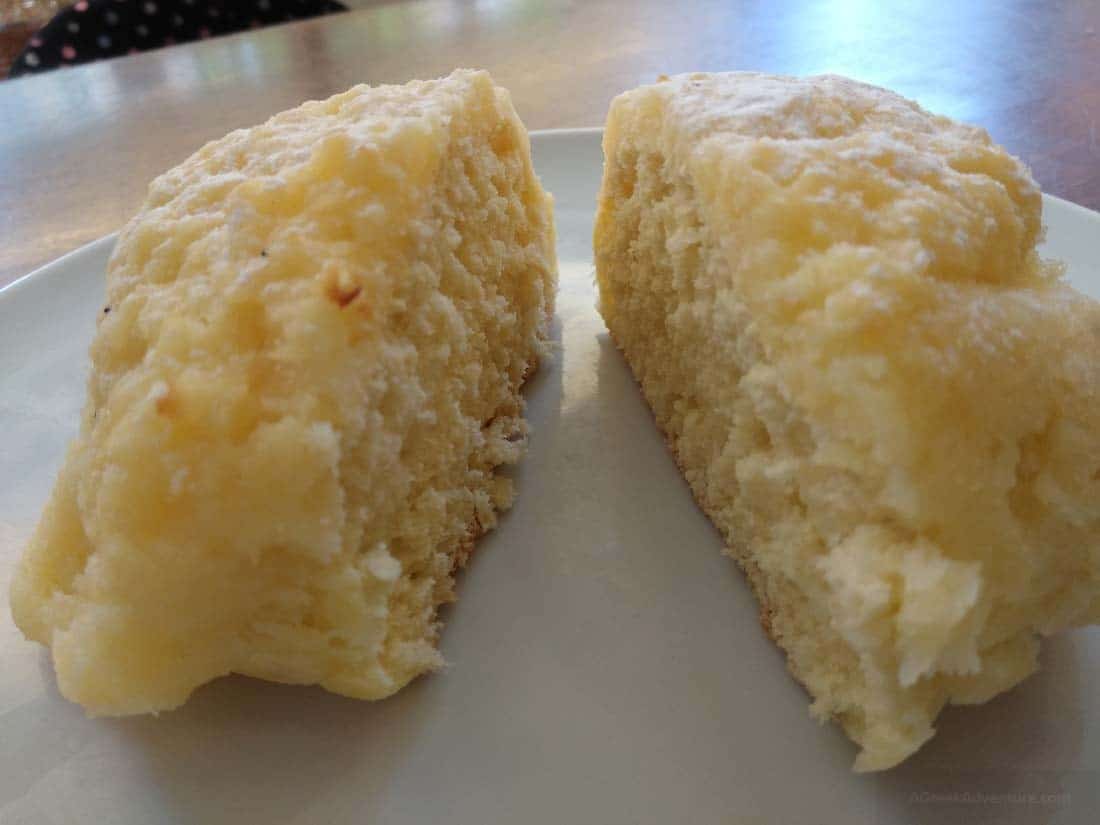 Such pieces of bread usually have dried coconut flakes as a topping, but in this shop, coconut covers 80% of the dough.
So far, we had two sweets in our Lisbon food tour. An unorthodox -maybe- way to start a food tour, but on the other hand, it puts a smile on your face, right?
Along our walk, Luciana explained things for the history of the city and the points of interest. Food and guided tour, all in one!
Tapas time!
Leaving desserts behind us (with a bit of sadness), it was time for Tapas tasting! We sat at Tasca Pombalina. A small busy tavern that served us with a tri-plate dish.
We had:
Octopus with onions
Chickpeas with cabbage
Chicken offals with red sauce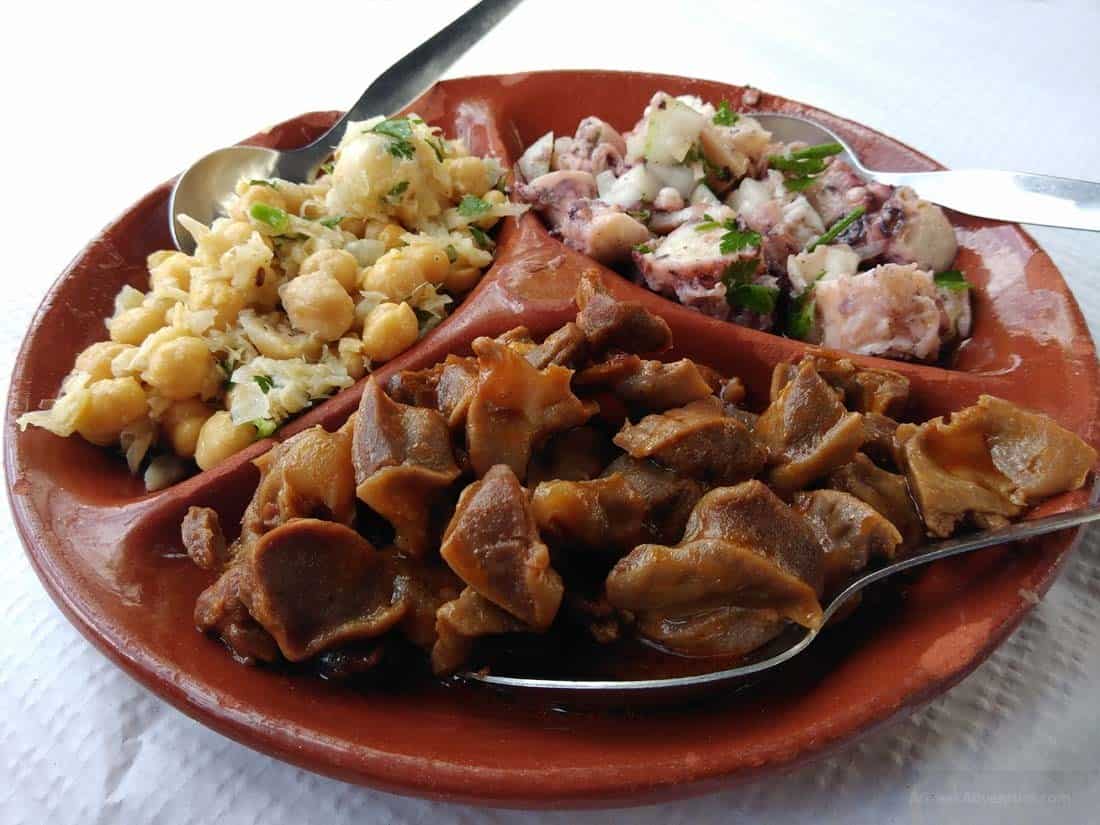 The food was plenty, and we couldn't finish it all!
I am not a huge fan of chickpeas (Maria likes them more), but these tasted good. The octopus was tender with a touch of vinegar, while the offals were chewy and with very little fat.
Food cooked like that was a new experience of local cuisine for us. We are familiar with octopus and chickpeas but not baked in that way. Nice surprise!
Lisbon Portugal Food Market(s)
For our next experience, Luciana took us through one of the Lisbon Food Markets.
Talking about lots of ham, traditional Portuguese cheese and "bifanas" (plain bread and pork sandwiches).
Do pass by the food kiosks and take the small bites of ham and cheese to taste.
There is a unique soft buttery cheese in Portugal that you have to eat it like that; wrapped in a slice of bacon.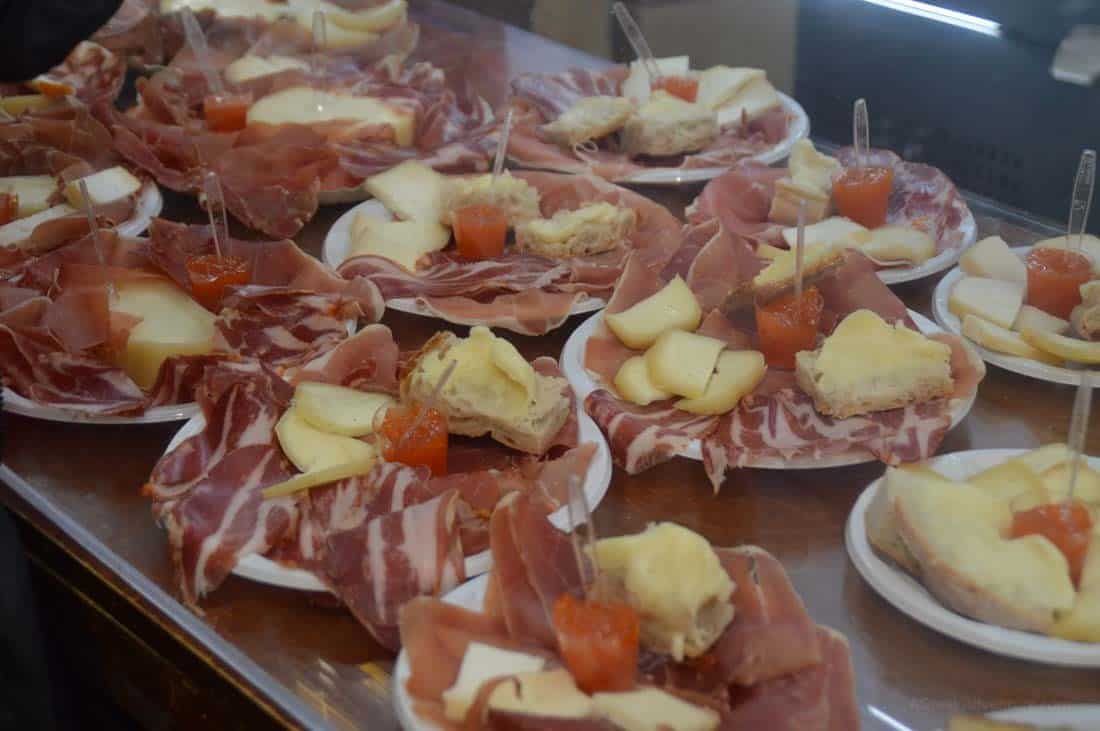 Do taste, taste more, and taste a little bit after that!
There is not only the food market in Lisbon.
There are more where you can shop and eat, while there are others that are all-under-one-roof restaurants. Such is the Time Out Market!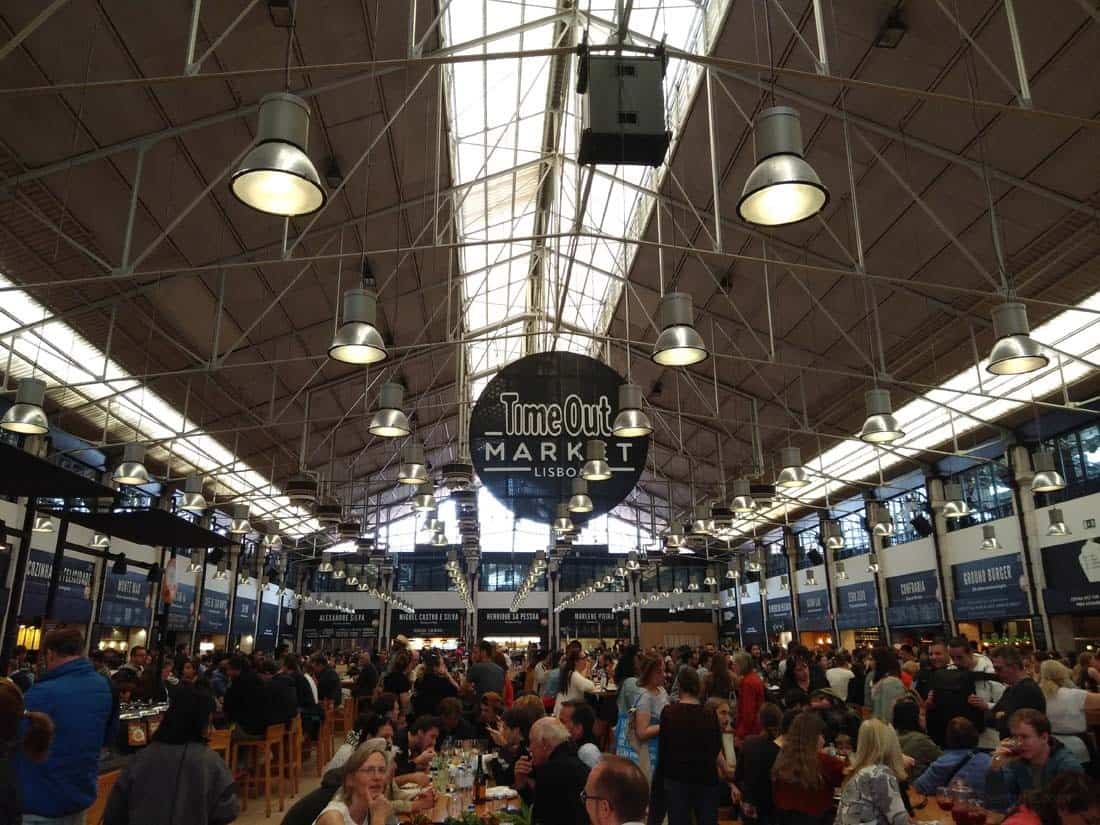 Tasting more Tapas and Lisbon Food!
We moved into the Alfama district, only to sit at another small tavern, with amiable people. The name: Tasca Sao Miguel.
A plate with Chorizo and two different kinds of cheese landed on our table.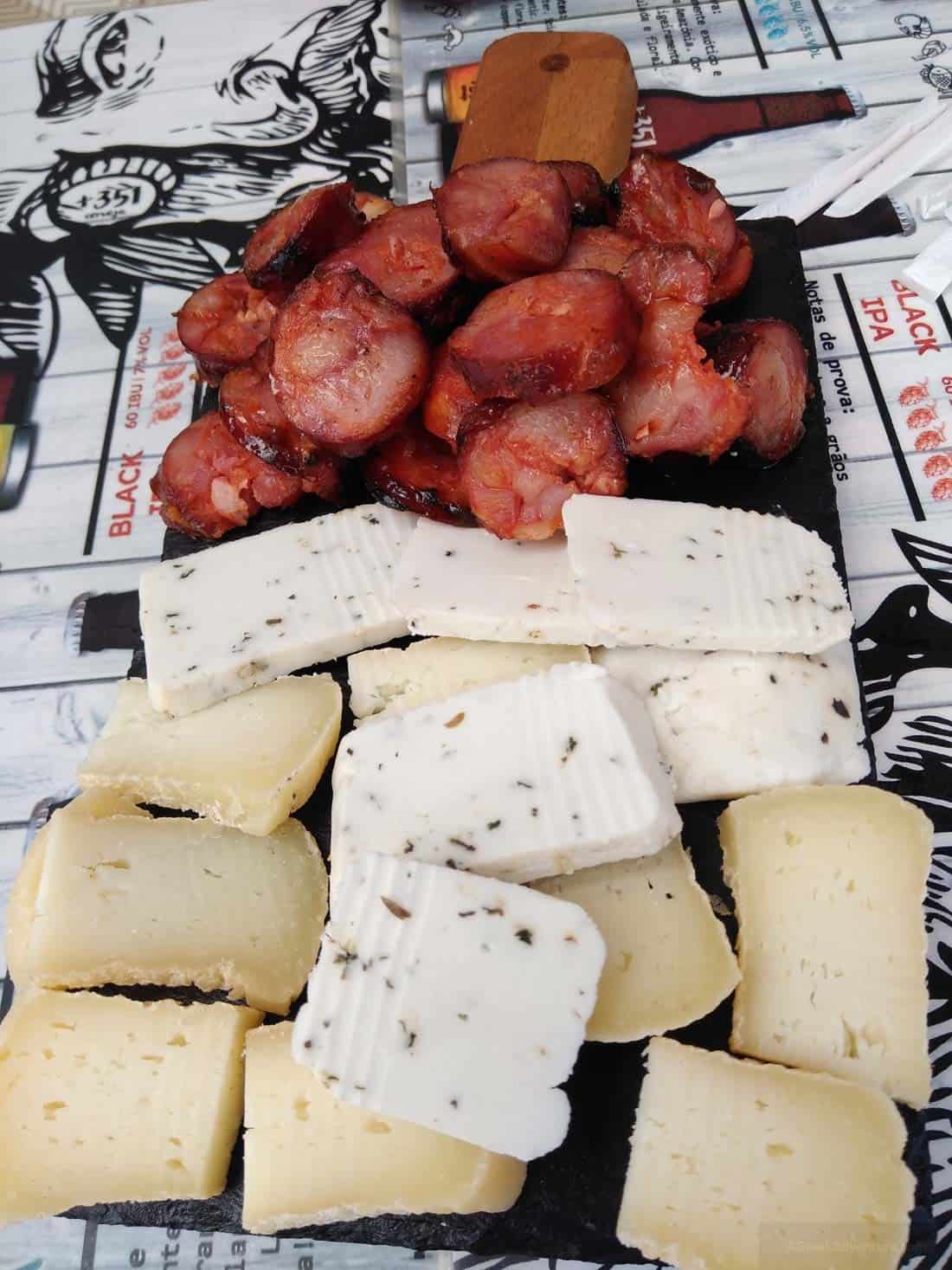 We washed that down with some sweet white wine while discussing with the owners on which quiet Greek island is best to visit in the summertime.
Just to let you know, we suggested Naxos and Ikaria.
We left the place, feeling more relaxed and smiley.
The wine may have to do something with that feeling, or it could be the fantastic chorizo. But, who cares…?
Drinking Ginjinha (Ginja) in our Lisbon Food Tour
A nice shot of this sweet drink was what we needed to complete a feast of different local Lisbon foods and clean our palates.
Ginjinha comes of cherries.
It is sweet and robust, s served in small plain cups or ones made from white or dark chocolate. That makes them even stronger.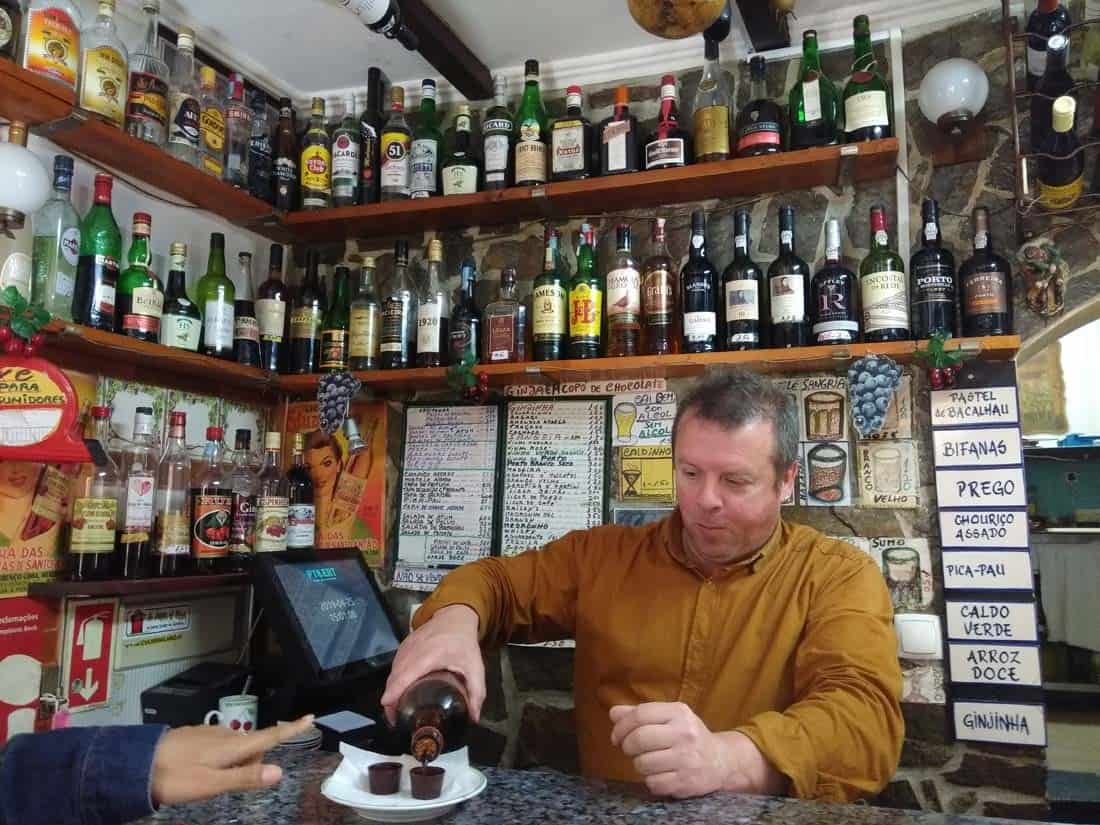 We entered the smallest standing bar (or shots bar?) ever seen in our lives, but the Ginja shots were perfect!
We had two for the road and like that we reached the end of our tour. After 3 hours of walking in the city and tasting so many things, that is quite an experience!
Overall Feelings For Our Lisbon Food Tour
Despite tasting all that amount of food, we were not feeling heavy. That is usually a sign of the excellent quality of the ingredients.
During our walk, we saw many new landmarks of Lisbon that we had no idea they existed, like the oldest bookstore in the world: Bernard Chiado (Livraria Bertrand), one of the oldest bars in Lisbon (A Brasileira) and so many more.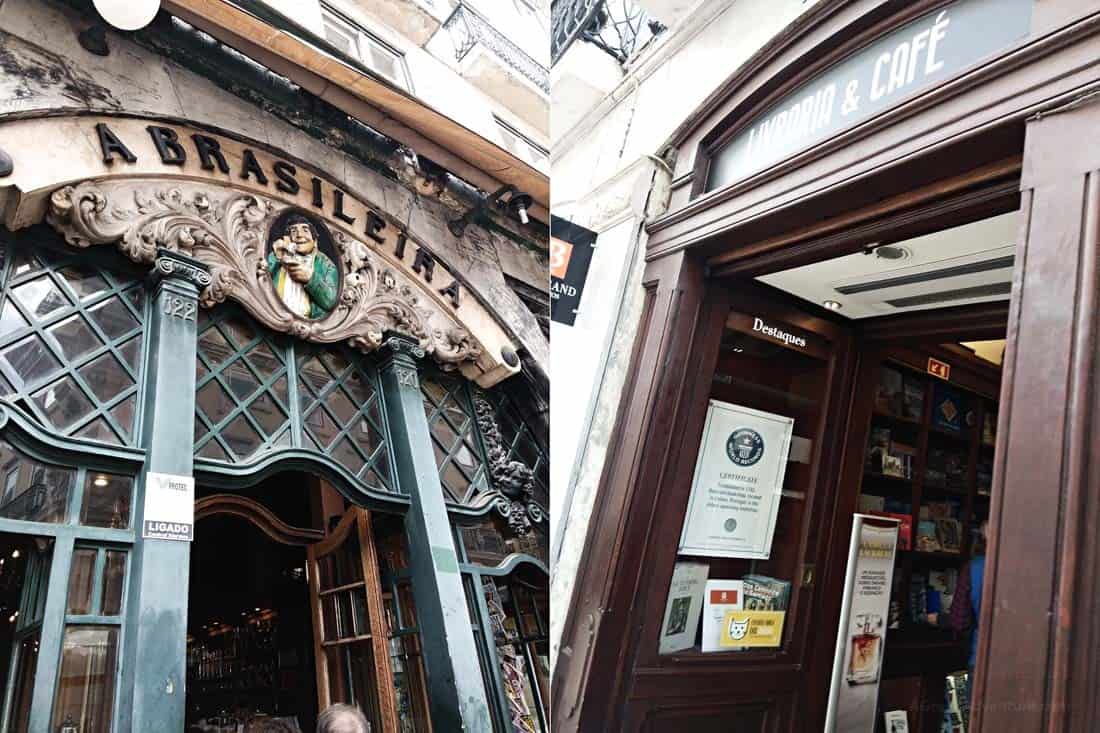 That day, was also the Freedom day for Lisbon, so there were tons of red carnations all over the city.
Lisbon is a fantastic city. When you go there, also make time to visit the towns of Sintra, Cascais, Porto, and Fatima. All are easy to reach by train or bus, or you can rent a car!
Make sure you book Travel Insurance for your trips (check here and here for different options). For booking, use this website. For more travel resources, check our designated page.
Have fun.