Are you going to Budapest, Hungary and you want to eat the best food in Budapest? Wait no more, as we were there, and we had a wonderful time tasting the classic Hungarian cuisine.
We would love to share all the insider tips for this here. As in Lisbon, we chose Withlocals for Budapest too. In case you didn't read about that experience, go and read it, please.
Also, read what to do in 3 days in Budapest.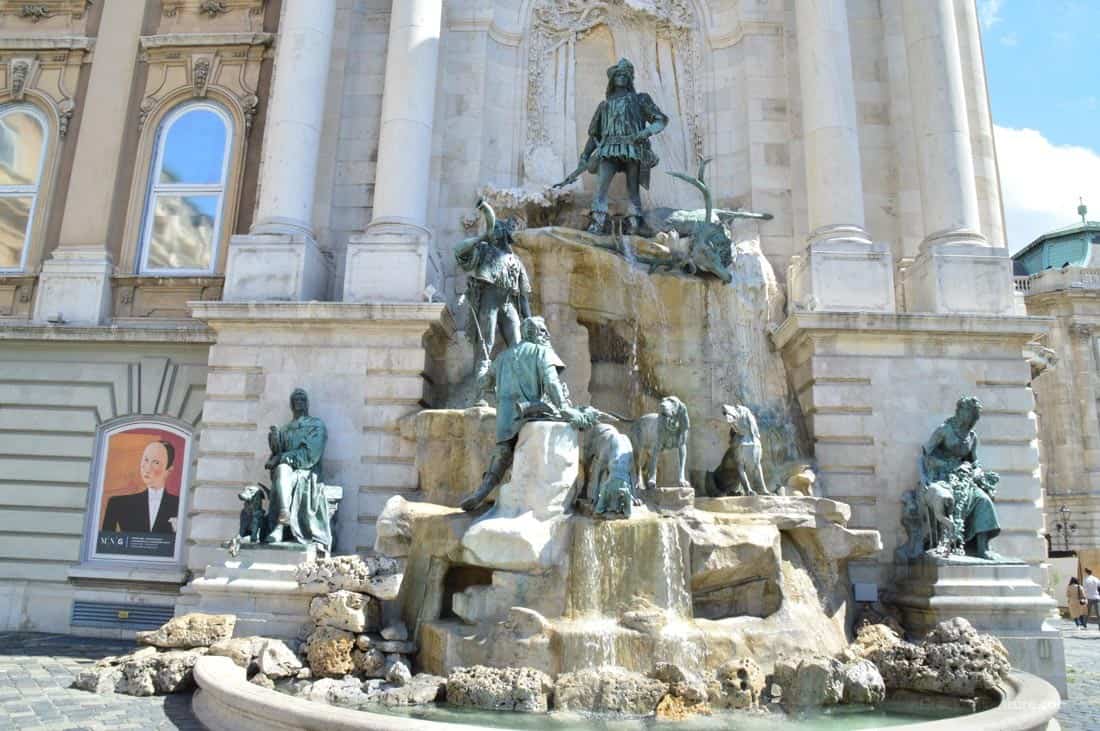 We are in the mood of experiencing various food tours these days, along with hiking and city sightseeing experiences.
We make our plans to see many things in cities, but when it comes to getting more in-depth in the off-the-beat secrets, we prefer someone from that city to walk us through.
Let us take you through our best food in Budapest's story.
Our Food in Budapest Tour
Our guide on that tour was Adrienne. A classy lady from Hungary, which indeed loved good food. She explained a lot of things for ingredients, drinks, and the origin of them.
We learned how to understand a good and real Goulash soup from a "touristy" one, and we tasted the good one. Same with sausages, the Palinka drink, fried bread, chimney cakes, and the famous wine with the soda of Budapest!
So, how to eat the best food in Budapest? Go to:
Arany Pince Restaurant
Hungarians say that to eat traditional Hungarian food, and on an excellent Goulash, you have to go down. That means you need to go to traditional Hungarian restaurants that are under the street level. So you walk down.
We entered one of the most beautifully decorated halls—a cozy and warm place. The chef was not speaking English well, but she had such a big smile, a very warm person!
We learned that Goulash is made with pork meat. It is a soup and not a stew (as served in some places). The soup has plenty of materials in it like pork meat, beans, vegetables, potato and such. It is not just juice.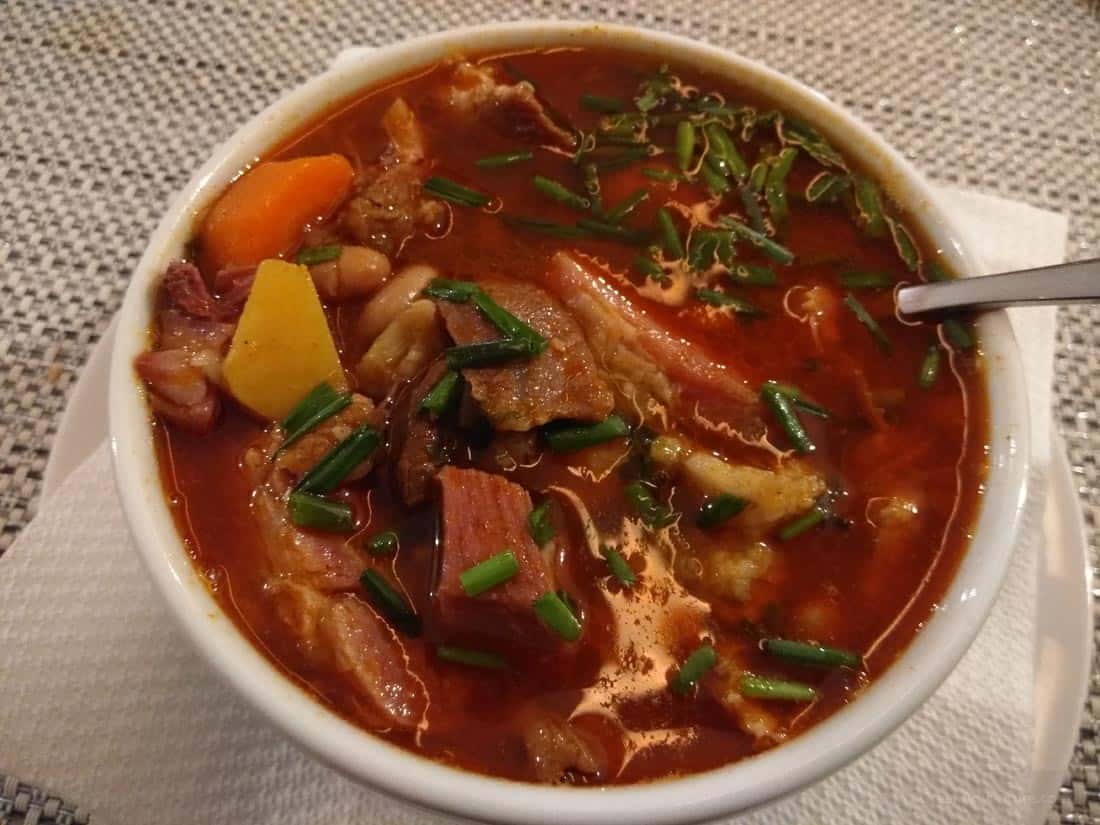 You get full of that. We consider that plate as one of the best foods in Budapest one must taste.
Hungarians also make Goulash with beef and chicken (mostly in summertime).
We got out feeling full. The tour was not just nibbling food around. We were served with good portions for each plate.
Thankfully, we didn't just move in from one restaurant to another. We walked through the city center, where Adrienne explained lots of things for different areas.
Belvárosi Disznótoros
This one looks more like a "fast-food" along with a butchery, but it is neither. There, pork is the king (but also serves beef, poultry, etc.).
You can even choose the part of the meat you want on the ground floor, and they cook it on the spot.
In that place, you will taste the meatiest Kolbasz Hungarian sausages, with very little fat in them.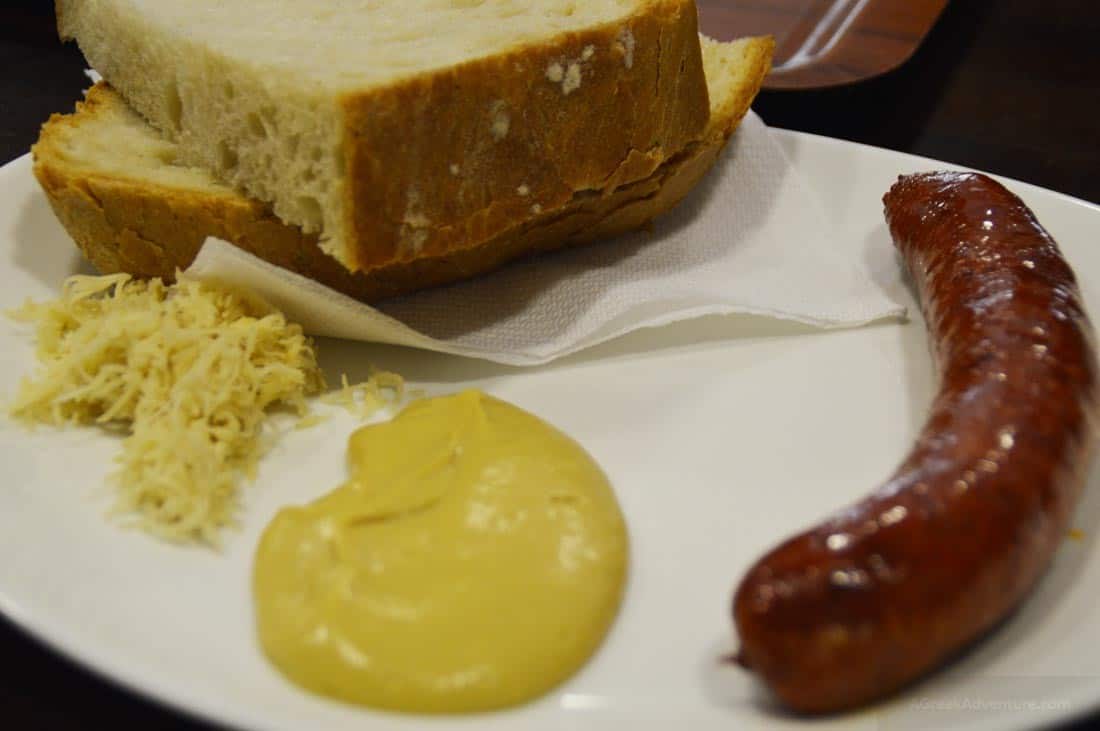 Eat them with horseradish, a salad made with braised cabbage, pickles, and braised carrots. Hungarians prefer to eat that with white bread.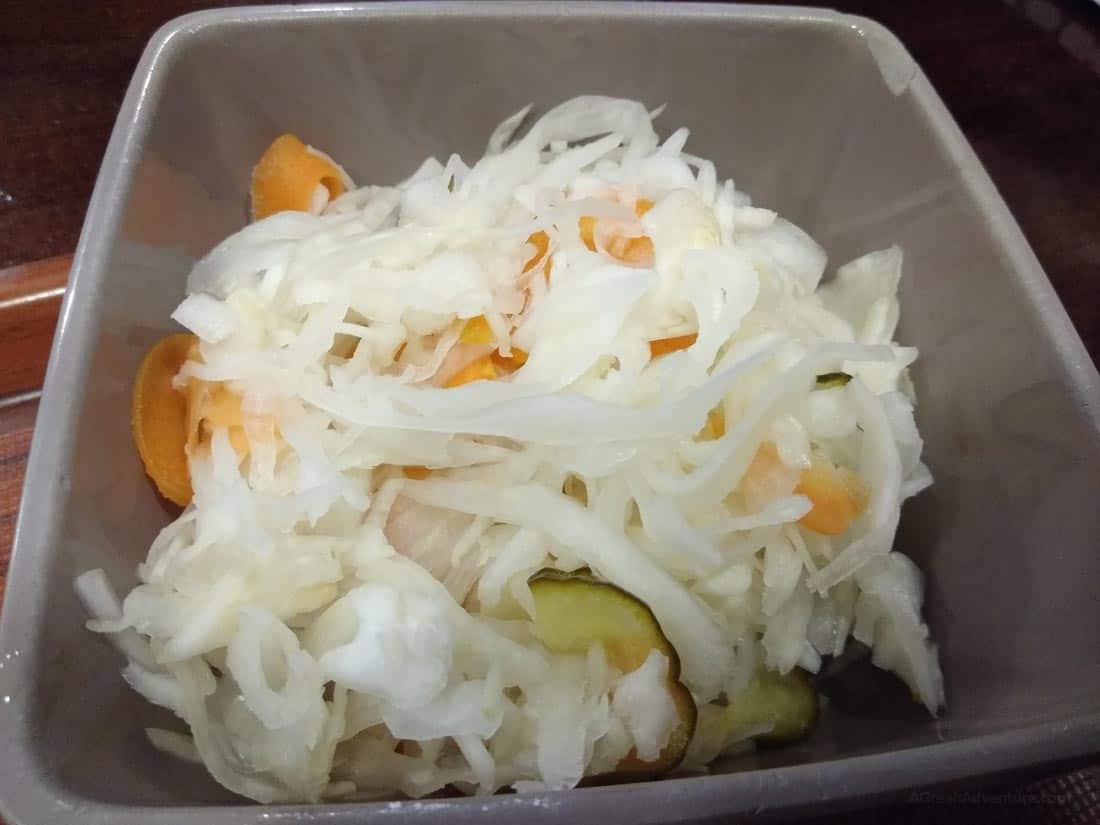 The place is a self-service one with lots and lots of people coming through.
Best Street Food in Budapest: The Caravan
There are lots of bars where the Caravan is.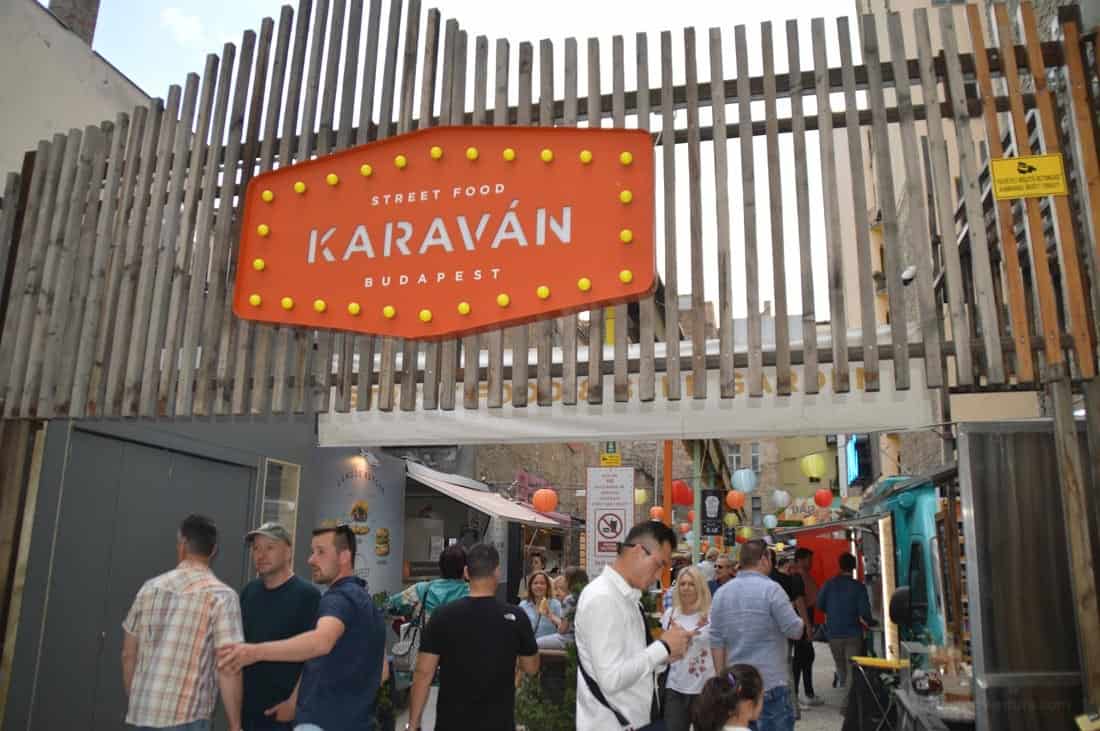 At some point (don't know precisely when), some guy took his food truck and placed it in an empty field close to the bars.
People were staying up late drinking and partying. What comes after drinking? You got it right. Time for some food to ease "the munchies."
That person had the truck in place, so people found a way to ease their hunger. You can guess how it goes. Soon, more found out and pretty soon, an area with many different food trucks (caravans) was developed.
You get in a food court corridor with food caravans (different ethnic cuisines) left and right.
The delicacy there is fried bread with yellow cheese flakes on top. The deep fried dough is more like a donuts one than of a bread. It is sweet, and the yellow cheese makes it even sweeter.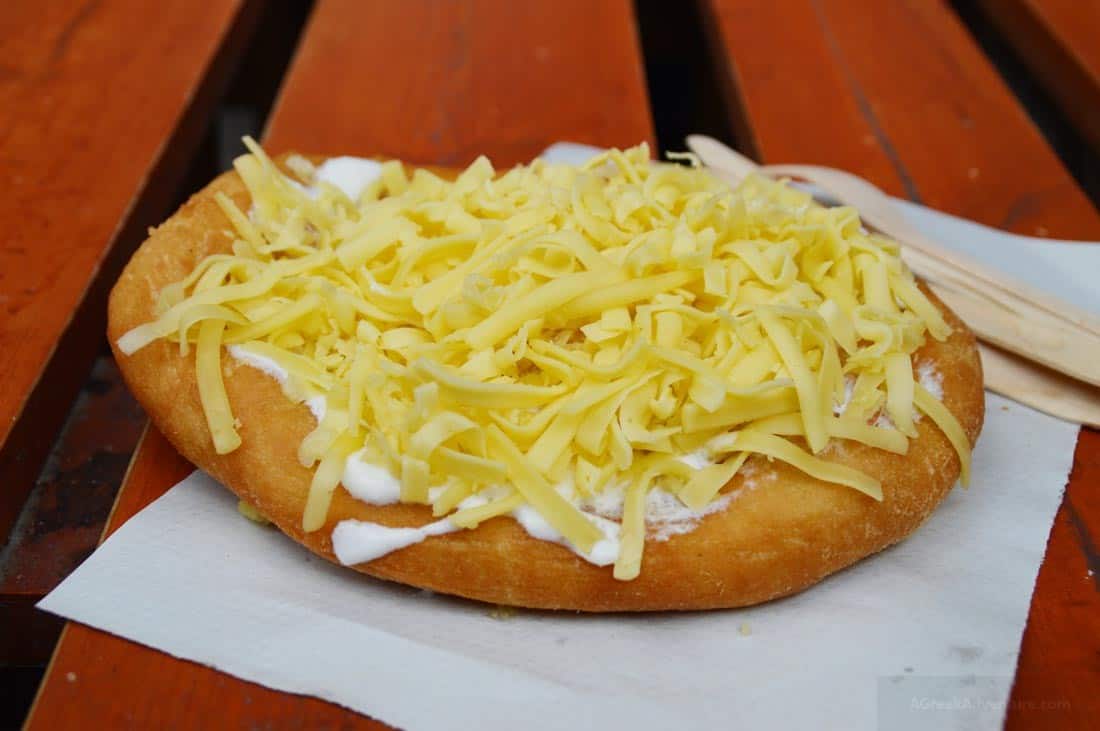 We split one in 3 as more would be way too much. We also had to reserve some space for the cake and some drinks.
Yummy! That is what you will eat in Budapest after some strong drinks.
Moving to the Chimney Cake of Budapest
We've seen the chimney cake before in other cities in Europe, but never tried it. Weird, right? It is the easiest cake to make, even with its variations!
The dough is wrapped in stripes, around a wooden cylinder, then dipped in sugar and then in cinnamon.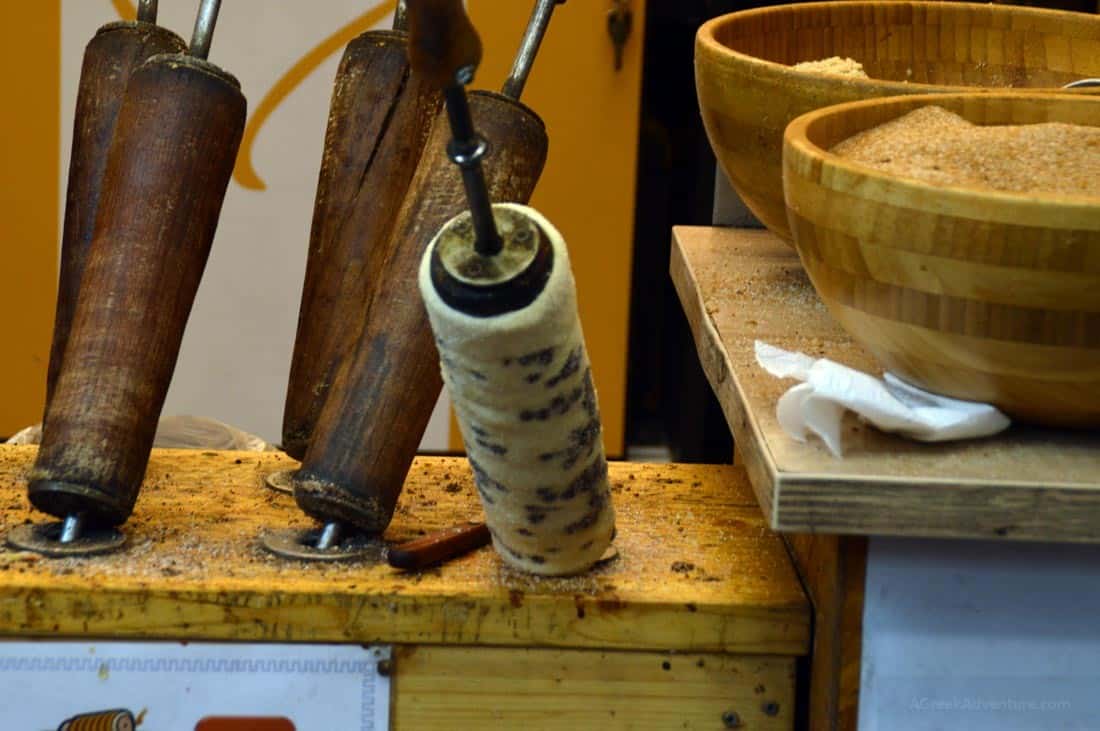 The cylinder is pierced with a skewer, and this is placed over the fire. The skewer whirls until it is ready, then it is taken out from the cylinder, and there you have it.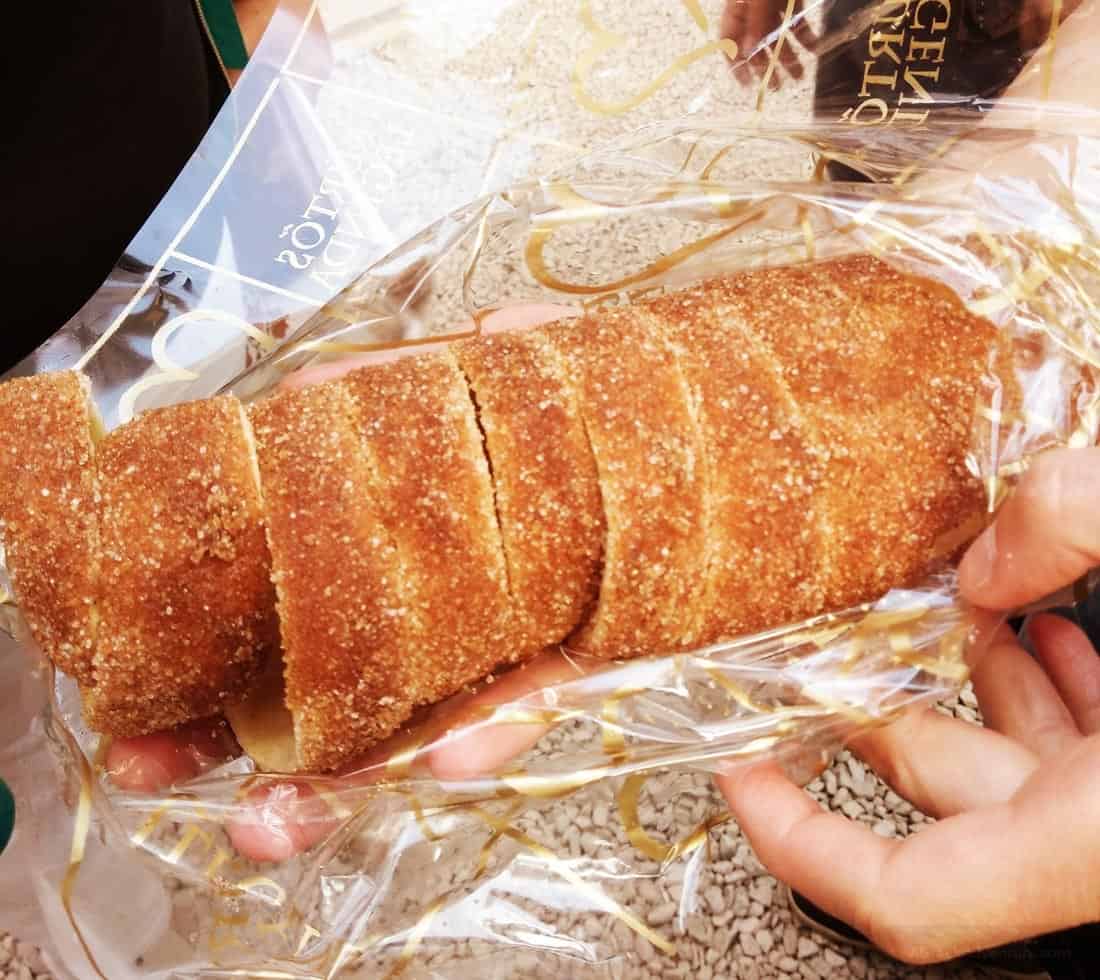 The cinnamon dip is the original chimney cake.
There are variations with chocolate chips, fillings in the chimney, and all kinds. In some cities or even in Budapest, you can get your chimney filled with chocolate buttercream, nuts, and all sorts of stuff.
Wine with Soda at Szimpla Kertmozi, aka the Ruins Bar
That is far from a pub. It is a have-fun ecosystem by itself.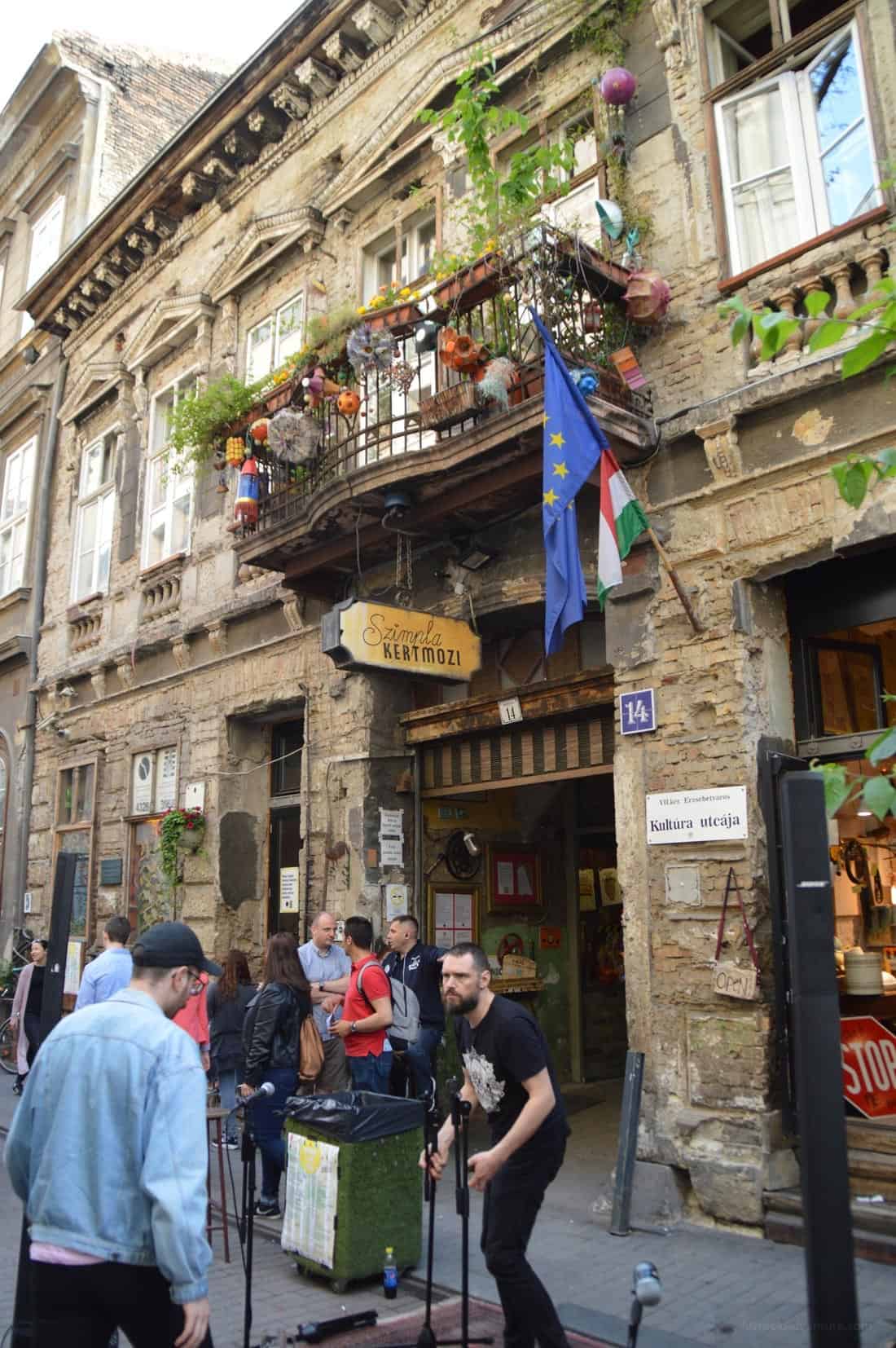 With "ruins," you may think something related to antiquity, but it is not.
It is called "ruins" because this prominent place was an abandoned and never renovated old house -or house complex- of Budapest.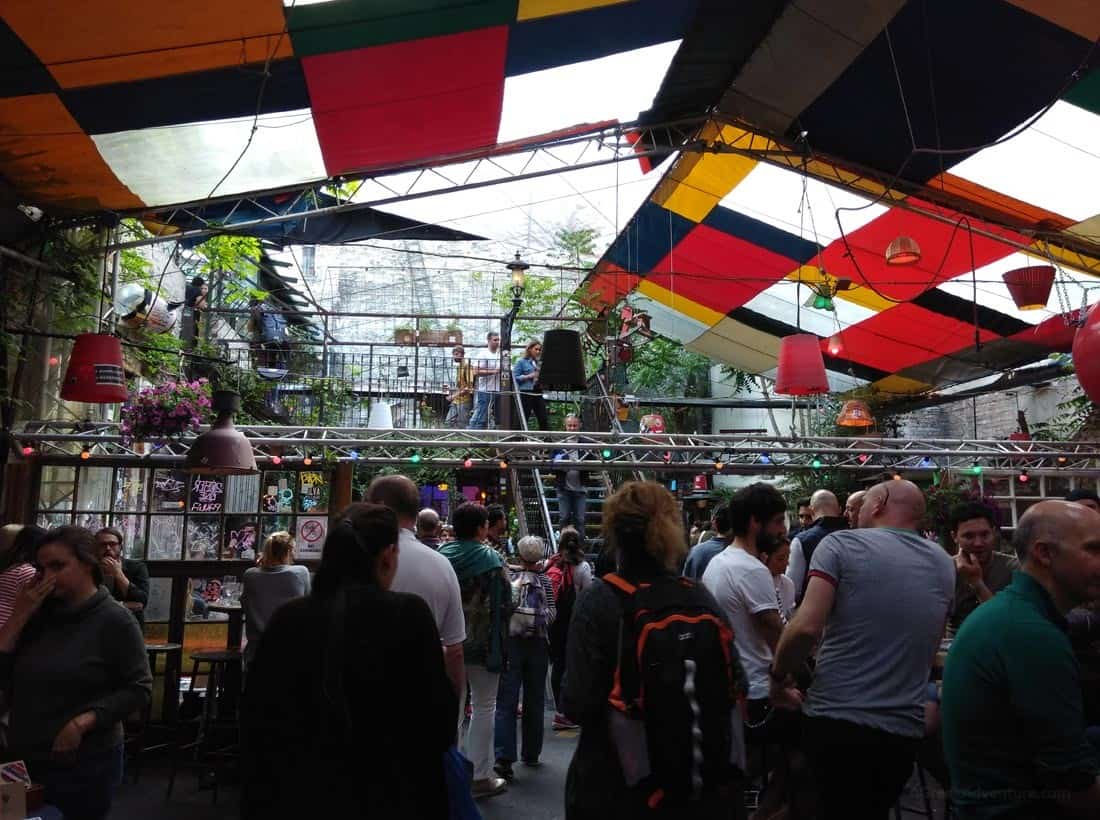 These days it is a place of free expression of art and of partying.
The story behind it is an intriguing one. Years ago, the government said that old houses in Budapest had to be renovated.
The owner of this place didn't have the money needed to do that. The place was prominent, and it would be costly.
So, he decided to keep it like that.
On top, he decided to decorate it with items that he would find as thrown away from other old houses that were to be renovated. In a few words: One man's trash was another man's treasure.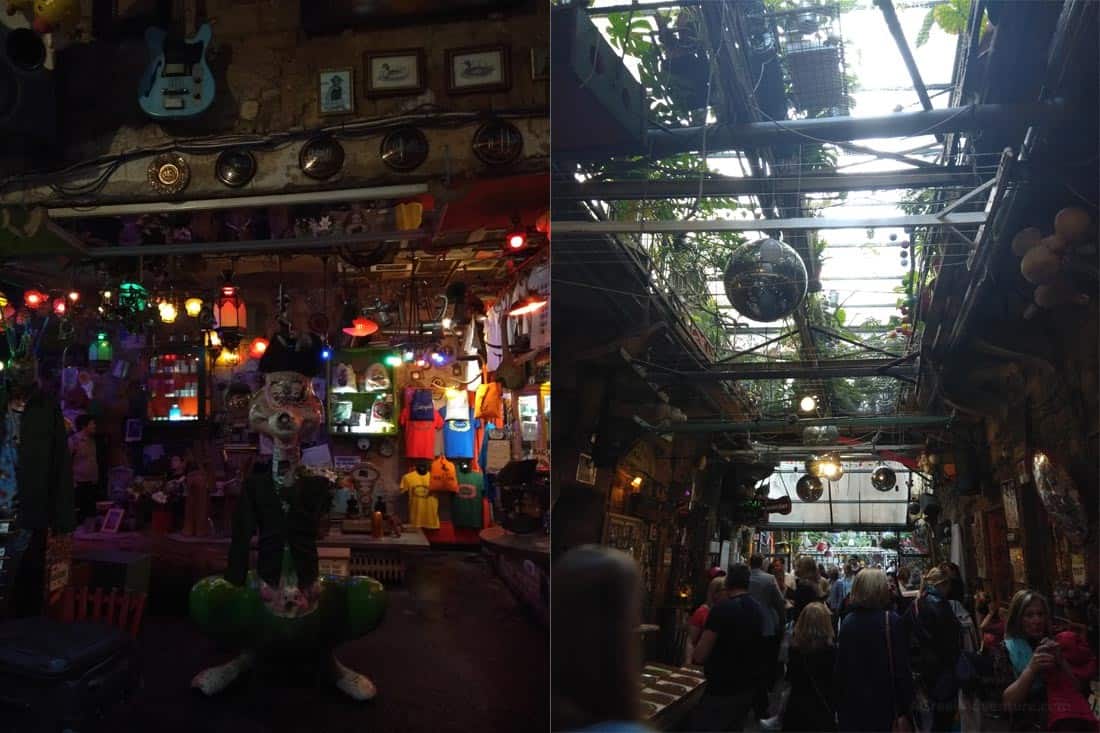 That exact styling became trendy.
All different areas, rooms that host different bars, chill-out places are decorated with a vast number of contradictory things. On top of that, there is green everywhere.
All walls are covered with things people write on them. You can leave your "mark" everywhere. It seems that such is not only forbidden but also indirectly encouraged.
You can get your drinks from the ground level and sit at one of the rooms on top.
It seems like decadence art everywhere with many paradox items as decorations. We have never seen anything like that. It is not just about graffiti. This place is a huge concept.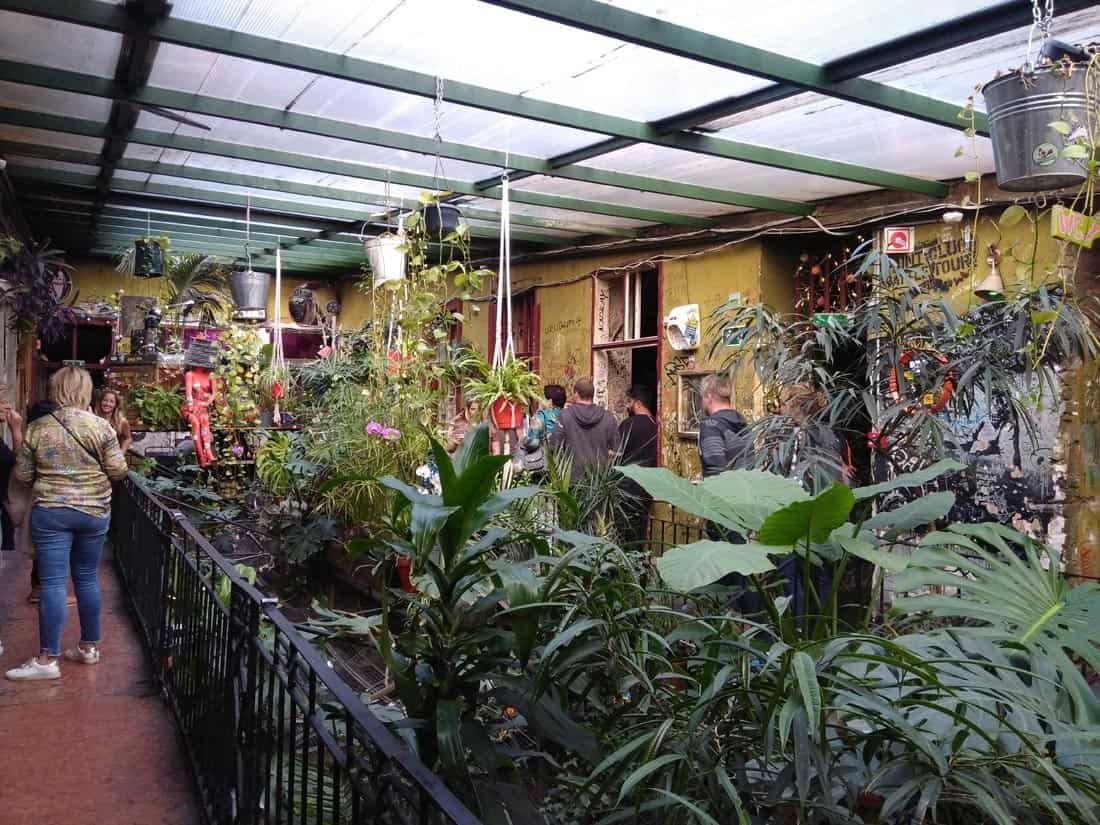 Beware of the wine with soda drink. You can get addicted to that!
We were feeling a bit heavy from all the food and such, precisely as Adrienne predicted. She again mentioned that we need to have a glass of Palinka!
She claimed that that one would speed up digestion, and Hungarians drink it for that reason.
So, we moved on to the Palinka museum.
The Palinka Drink, Museum and Bar
Yes, we had to go down there too. The Palinka museum is an under the street level establishment where you can:
Pay 13 euro p.p. and taste three different tastes of Palinka, or
Pay 10 euro p.p. to go through the museum, learn about Palinka production, play the interactive game(s) and at the end taste one glass of Palinka
Well, Palinka is over 50 degrees of alcohol drink. Having 3 of them each would be too much, and we wanted to visit the museum also. We chose option number 2, and we were right about it.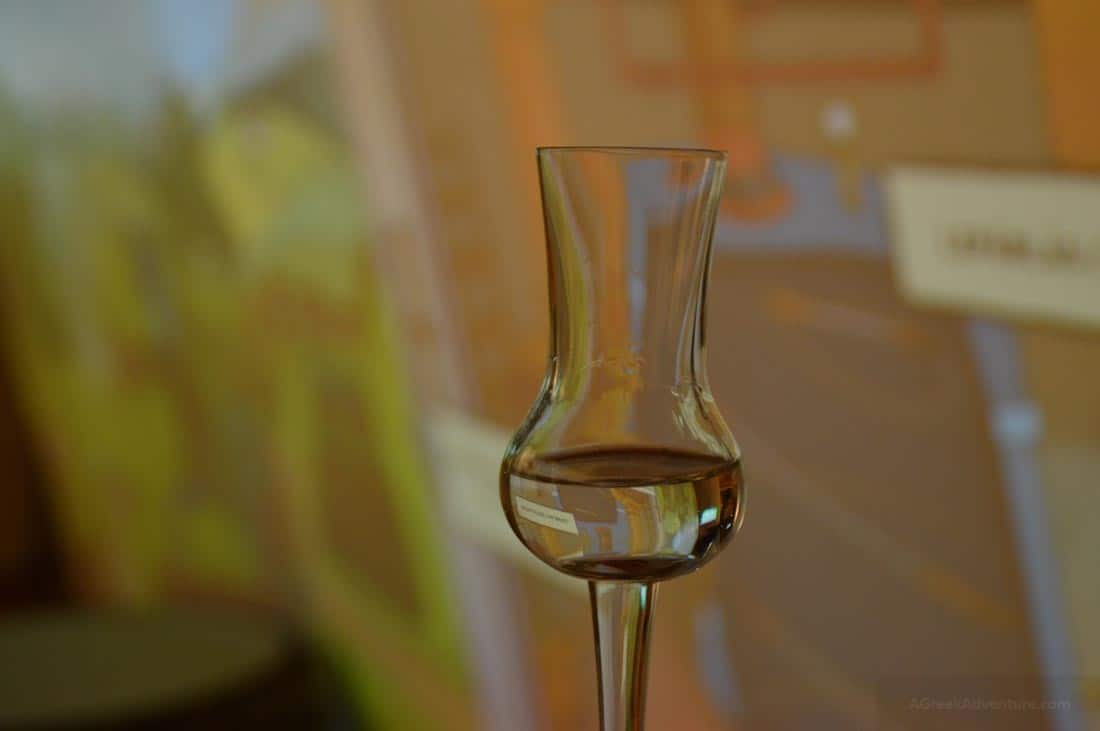 You can also sit at the bar and buy a bottle of the same in-house store.
The museum is not big but explains how this drink is made. It can be made from different fruits. It is made through the fermentation and distillation process.
The result is a pure liquid, which is strong in taste.
You can play a game they have, which resembles the harvesting and the production of the drink, along with a memory game that helps you to remember the fruits used in the distillation process. It was funny enough for us to play that.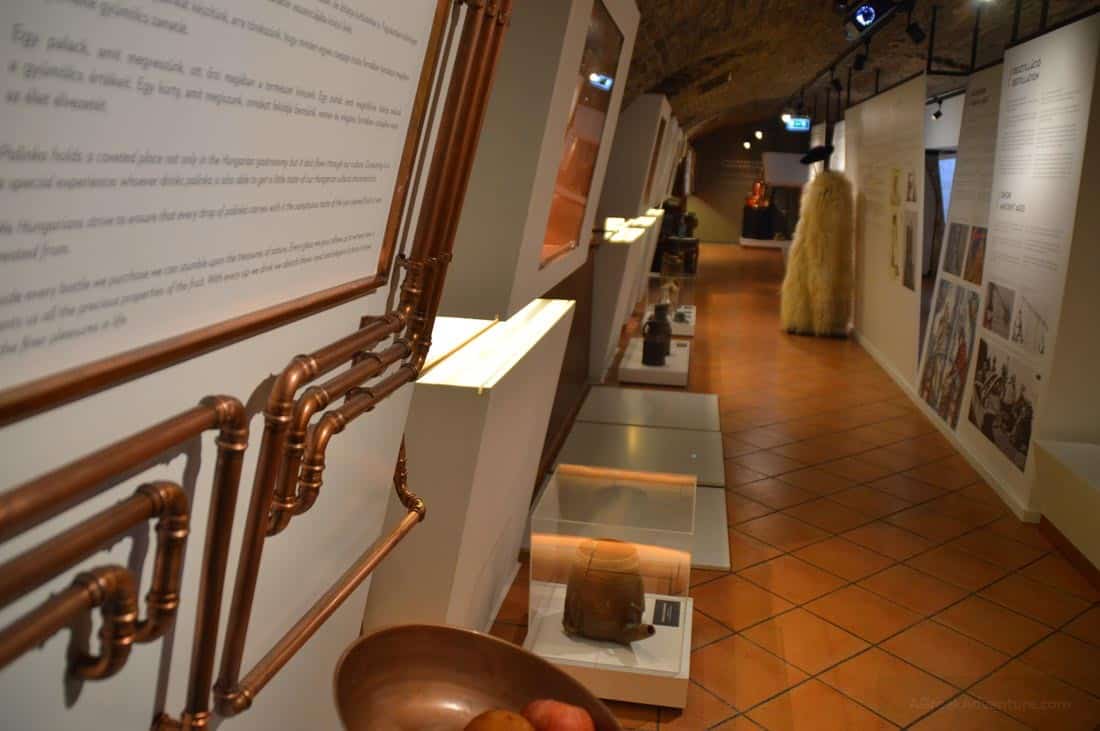 Guys and girls, let us tell you that in no more than 30 minutes from drinking just one glass from that liquid, we were ready to eat again!
That was our last stop for the day. Three hours flew very fast.
It would also be our last day in Budapest, and that was a nice closure.
Well, we had a couple of drinks later that night too in one of the numerous small bars in the city center.
Before and after tasting Food in Budapest
There are some fantastic places to visit in the city (separate post coming up). Along our food tour, we walked through the Gozsdu Courtyard (Gozsdu Udvar).
This courtyard has many small bars, cafes, and bistros at the left and right side of a corridor that goes through it.
It is like a patio, that changes from lunch to dinner to party area as the day goes by.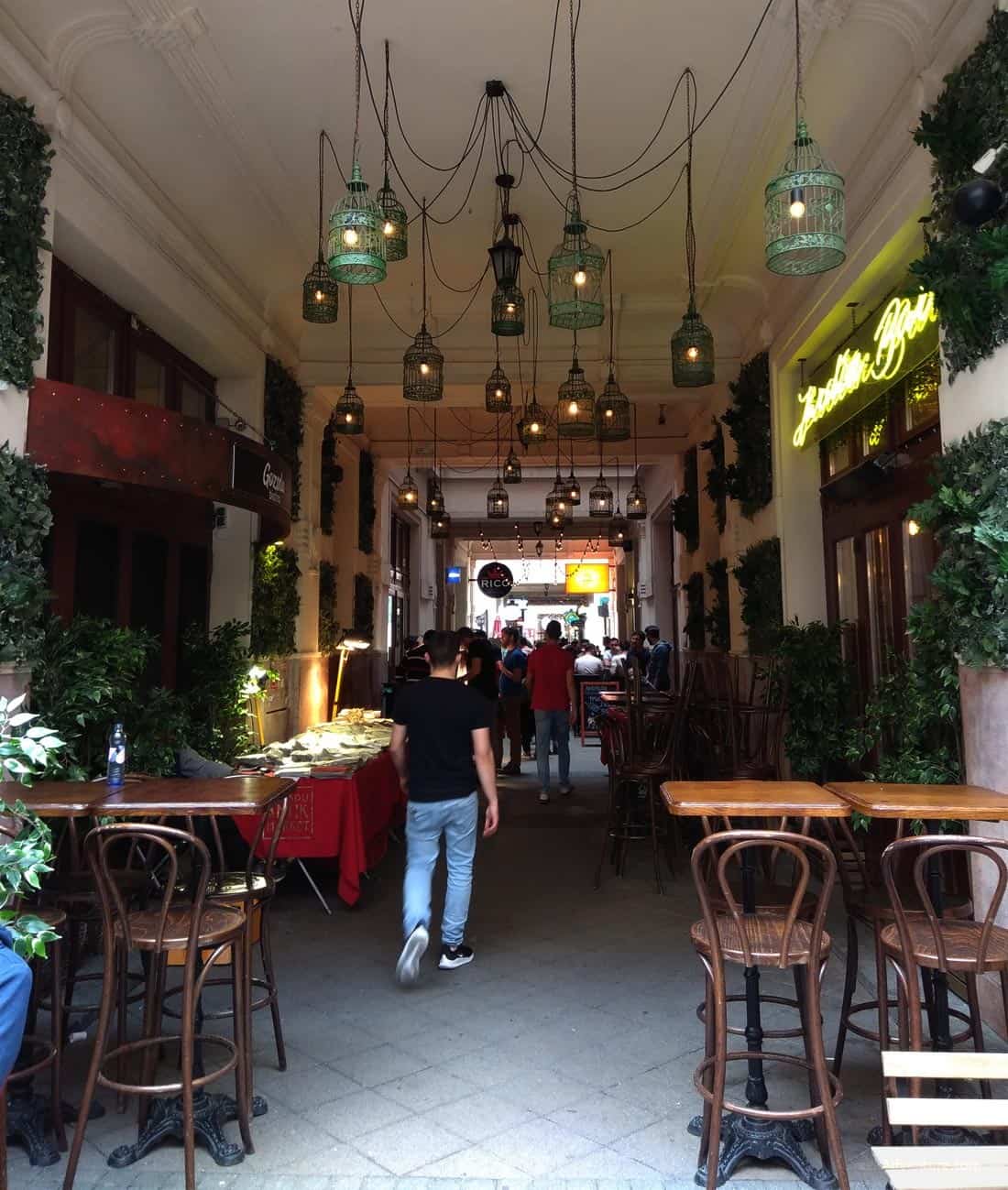 During the day, it is adorable and quiet.
Downtown Budapest has many spots like this one. Explore them as they are part of the daily life of Hungarians, and thus you can get closer to their culture.
Enjoy your food in Budapest and the architecture of that city!