We grabbed the bargain for a Budapest short break. First, we were thinking about spending a day in Budapest, but that is not enough.
We don't usually plan so much ahead unless the trip multi-day hiking or other outdoor activities. Budapest was the European Best Destination for 2019.
We knew we would be in Budapest, Hungary, for sightseeing.
The city has to show a significant history through its architecture, landmarks, and tasteful cuisine.
Please read our guide on eating the best food in Budapest (street food and restaurants).
Budapest appears in many movies where action movies related to spies were wholly or partially filmed.
Mission Impossible – Ghost Protocol, Red Heat, Hellboy II: The Golden Army, Transporter 3, Underworld Evolution, World War Z, A Good Day to Die Hard, Evita, and many more.
One of our bucket lists was to plan for our Budapest short break and experience as much as possible.
You need more than three days, as Budapest is a city of many layers.
Best Things to Do in Budapest Short Break Itinerary
Budapest carries lots of the Old European essence.
It is indeed a city with a sizeable historical center.
Furthermore, if you want to do what a good traveler must do (aka, walk a lot), you will see even more things in the center of Budapest.
Great architecture, luxurious SPA facilities hosted inside old buildings, even more castles, and great parks are everywhere.
Many think that it is a small European city when you compare it to other popular ones.
It is not that small. The city surprises you with how well it stands through the ages, far beyond the center, and you can experience lots even in a short break.
Why Walk through the Budapest City Center?
Of course, you need to walk. Walking is the way to get familiar with a place.
Get a hop-on/hop-off bus if you like but combine it with lots of walking.
Maybe you are a fan of river cruises in such cities. Usually, it is not the best option, as rivers are far lower from the street level, and as you sit there, you see things from a significantly diminished position.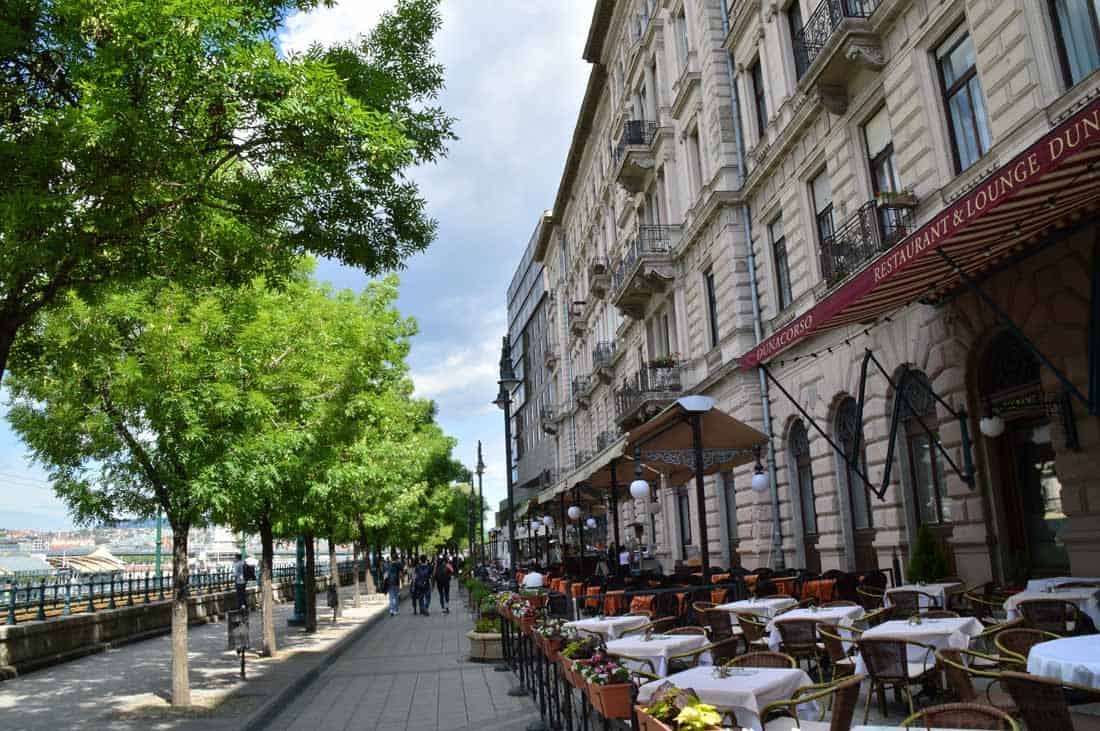 One emotionally charged area in the city center is next to the river. There, a memorial installation takes place.
You have seen that in pictures. The sculptures are of different kinds, sizes, and sets of boots and shoes sculpted in metal.
The installation is called "Shoes at the Danube River" (sculptor: Gyula Pauer).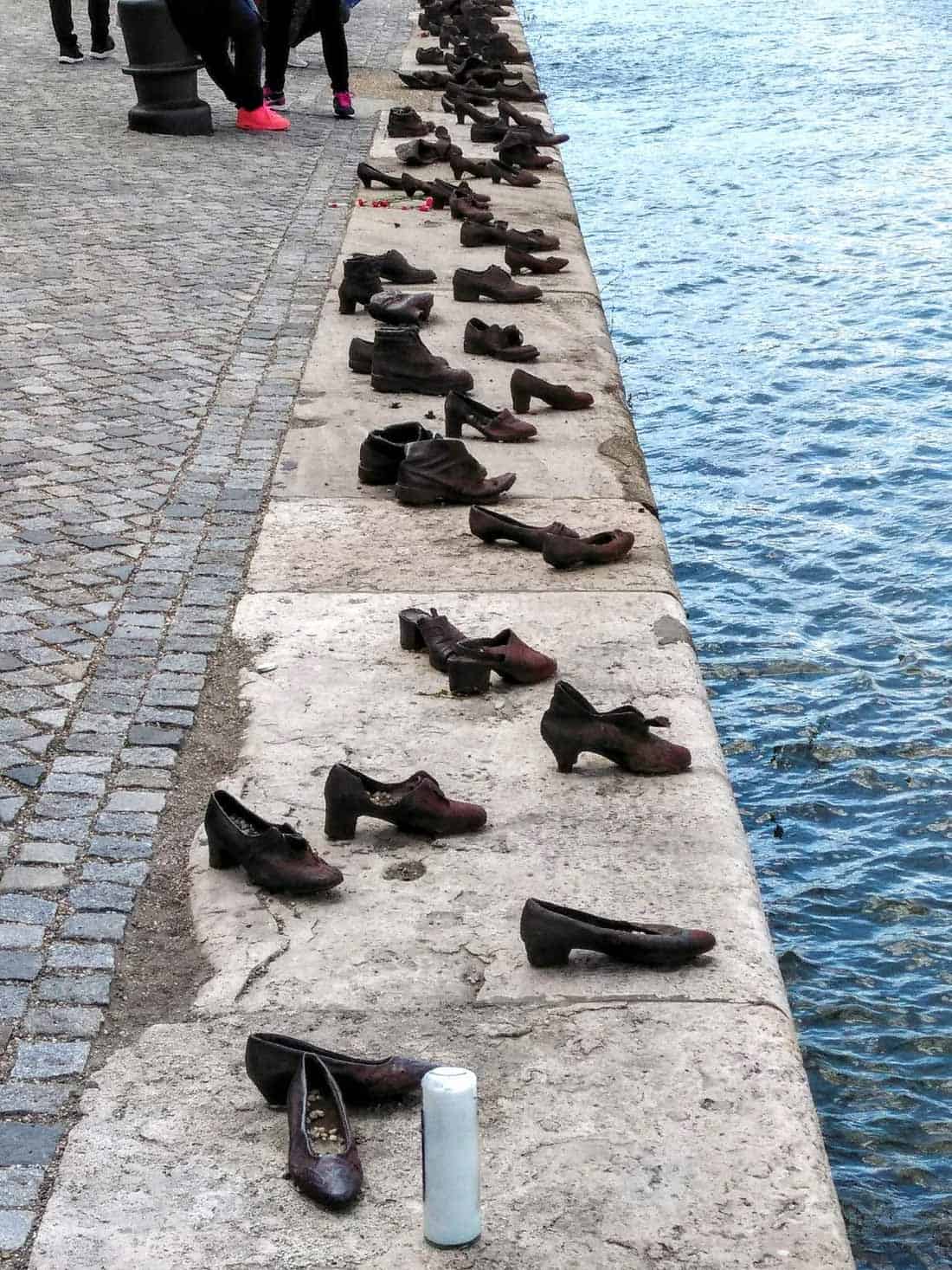 They represent the execution of Jews during the WWII period by the local fascist militia.
It is a true story.
People were aligned next to the river bank, ordered to take off their shoes, and shot to fall in the river.
Another one is the magnificent Parliament building, also related to the rough communist period of this country.
The underground museum presents and explains what happened during the Hungarian Revolution of 1956 with videos, pictures, and narrations.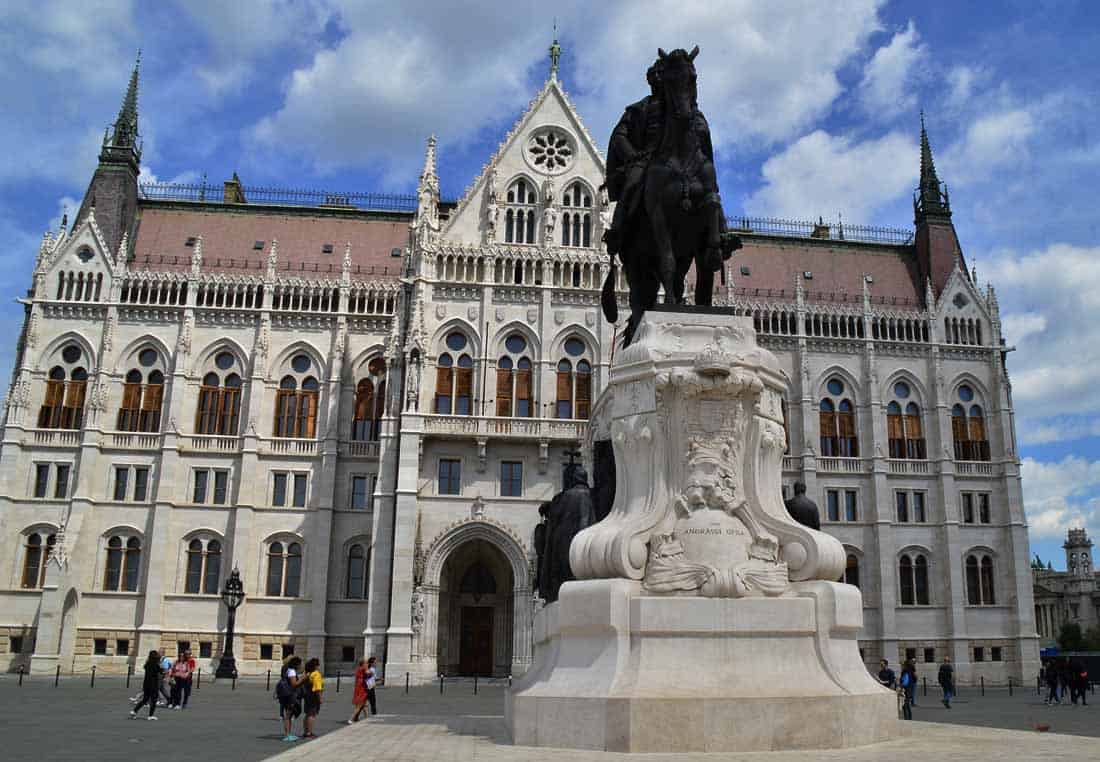 Next to the Parliament, stop and take a break. Have a peach frappé at Smúz. It is like a milkshake but (in our opinion) far tastier.
Visit the Vajdahunyad Castle, close to the Heroes Square (Hősök tere).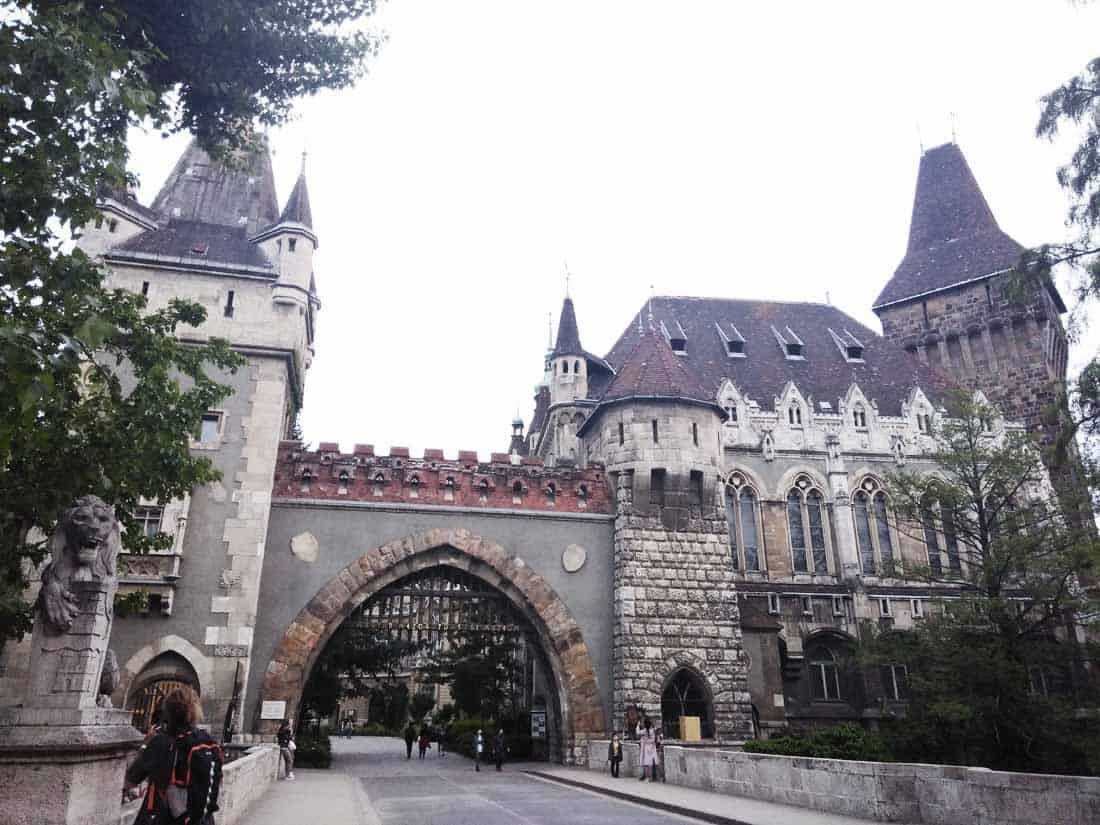 That vast area includes a castle and a park with lakes. You can rent a car-shaped kayak-like "boat" and get through the lake.
Walk the Széchenyi Chain Bridge, the first permanent bridge across the Danube in Hungary.
When built, it was one of the modern world's engineering marvels.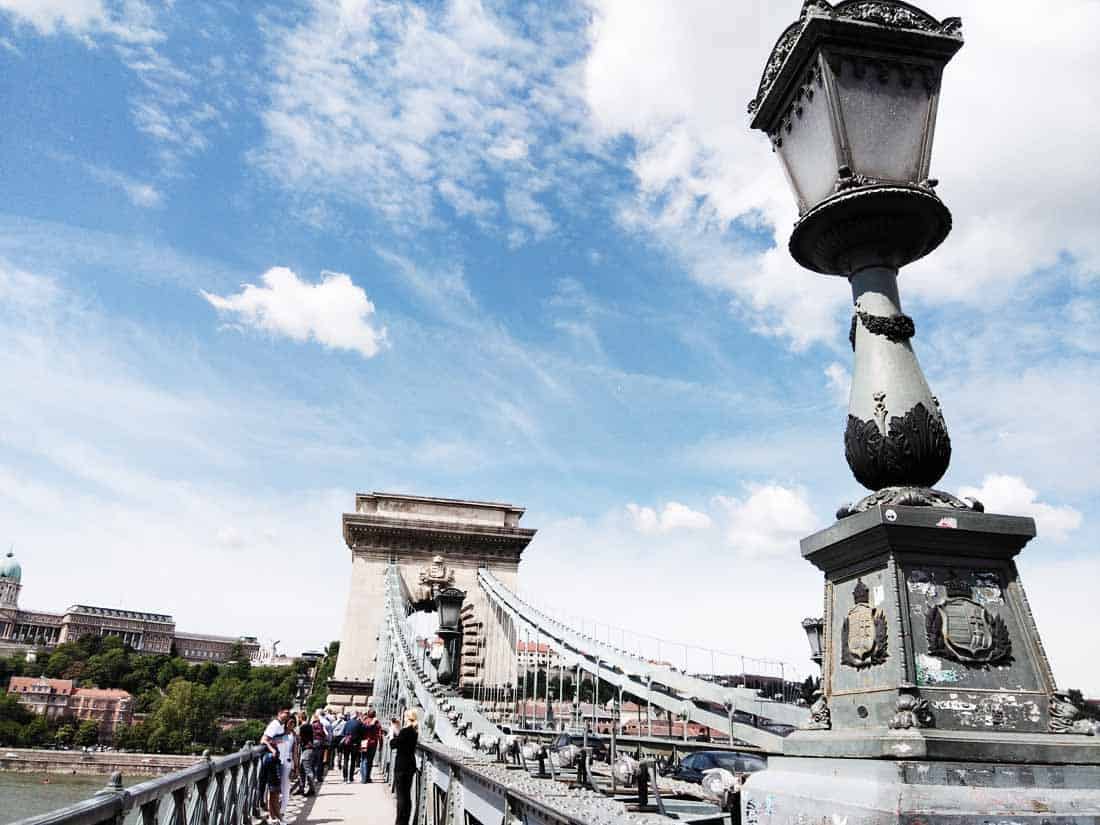 St. Stephen's Basilica. It took its name after King Stephen, the first king of Hungary. It is the largest church in Budapest.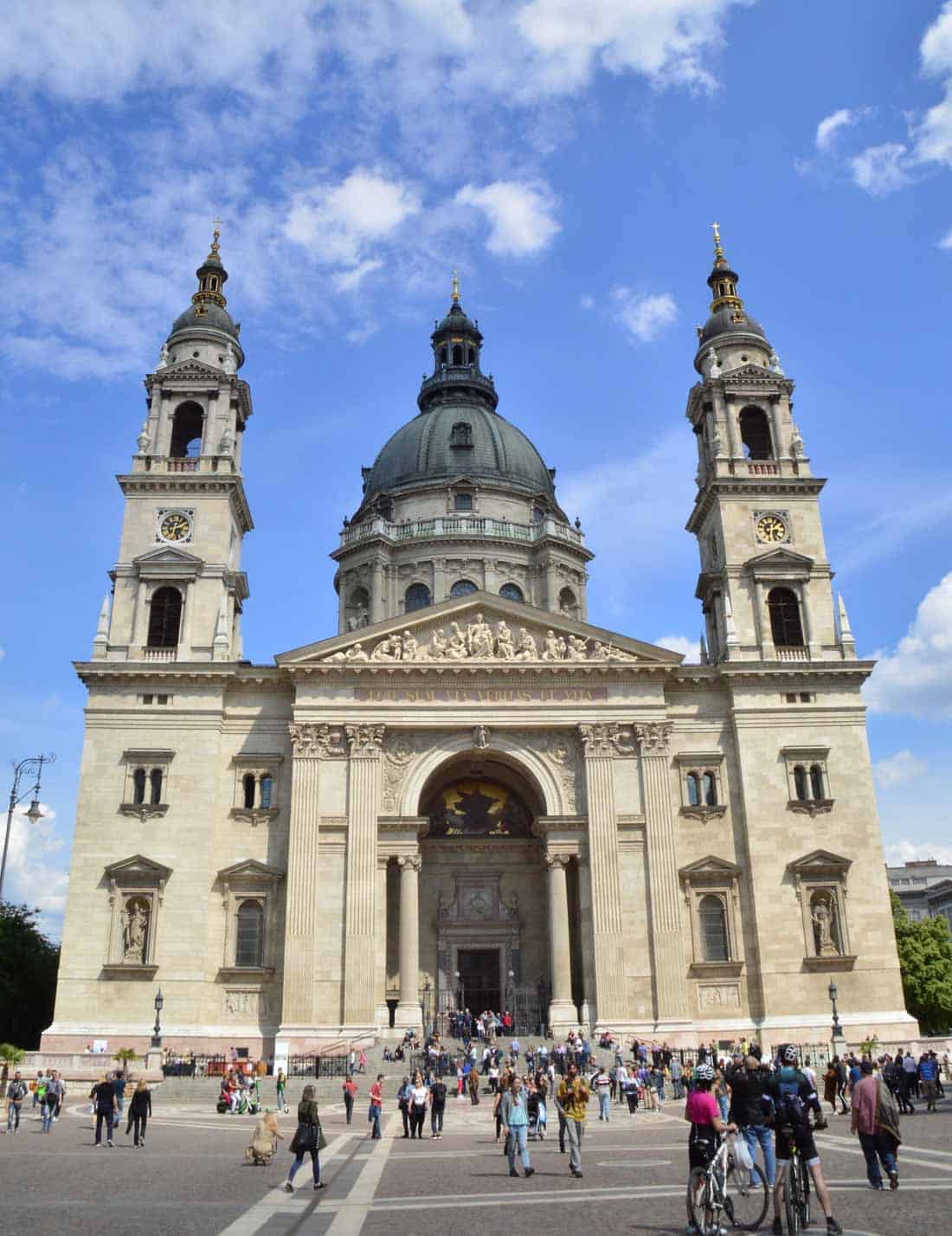 Why Explore Buda Castle Hill in your Budapest Itinerary?
We advise approaching the Buda Castle Hill area during your first or last day there, as this is a vast area, far from a simple castle.
Remember that you might spend half a day in this area, or even more.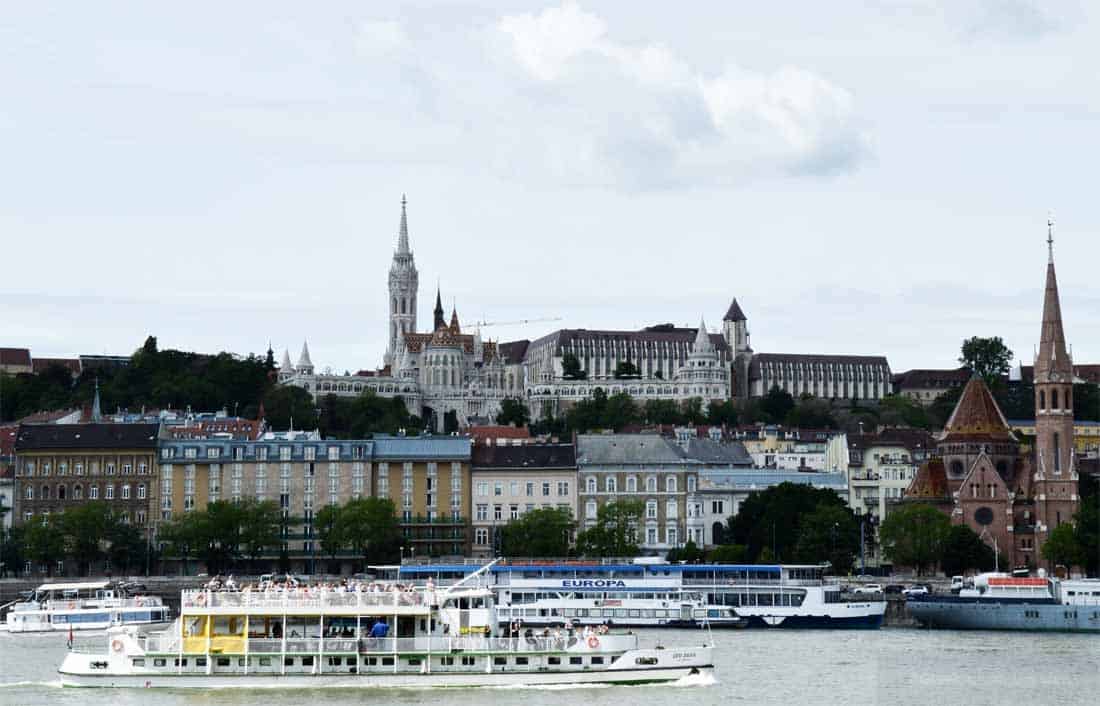 It is so big that the view of Budapest changes as you walk all around the enormous hill.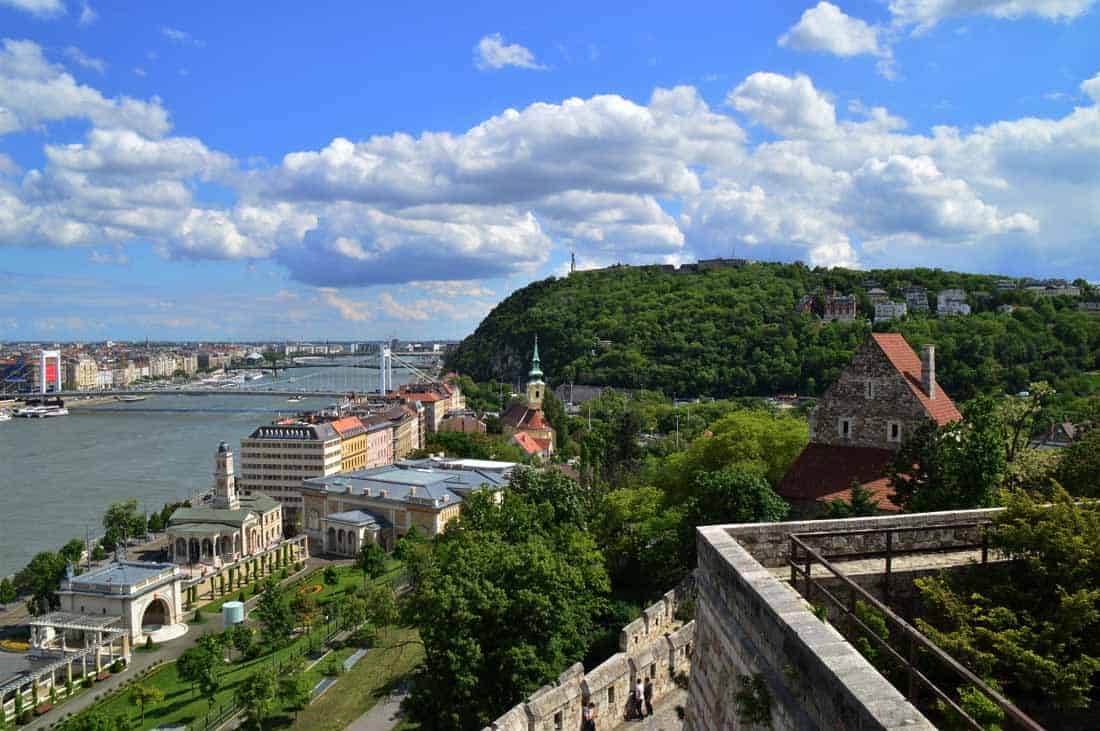 From this aspect (above), you see another hill afar that hosts the enormous monument of the Liberty Statue.
Fisherman's Bastion, near Buda Castle, is a structure that looks like a fortified wall surrounding part of the hill.
It is famous for its turrets and spires. You can pay a ticket and get through the towers for a view of the city of Budapest, though you can see the same from other corners of the same area, without paying anything.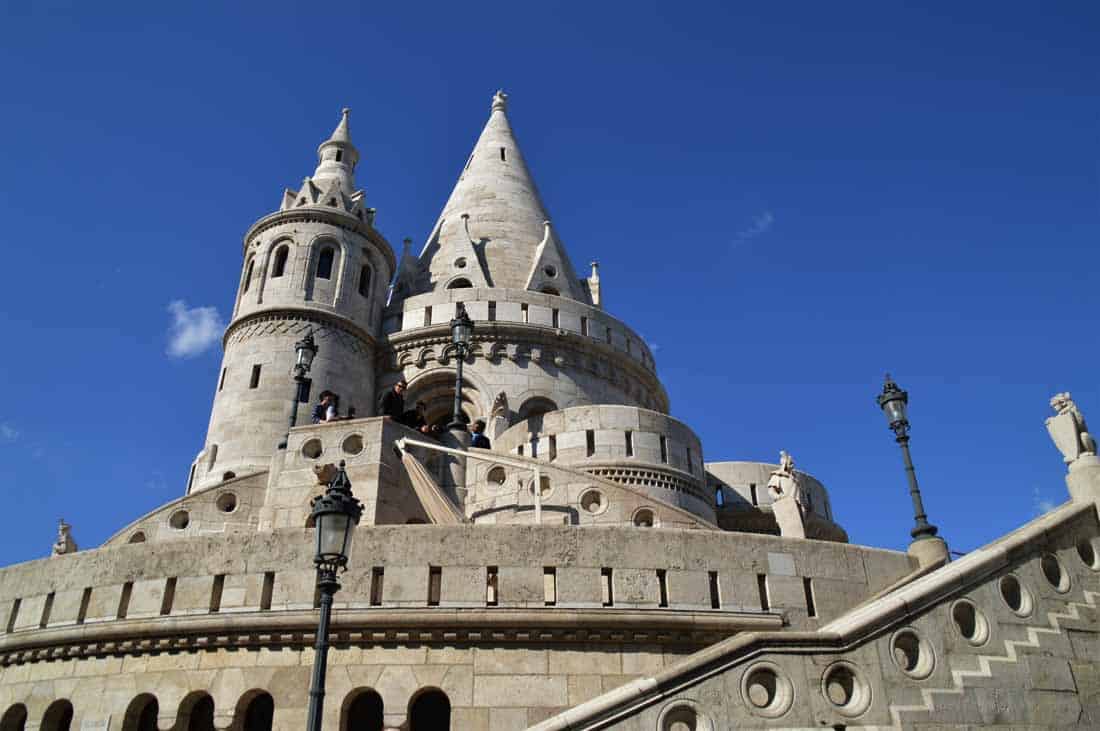 The amazingly looking Matthias church, with the famous Holy Trinity statue, is close to the bastion.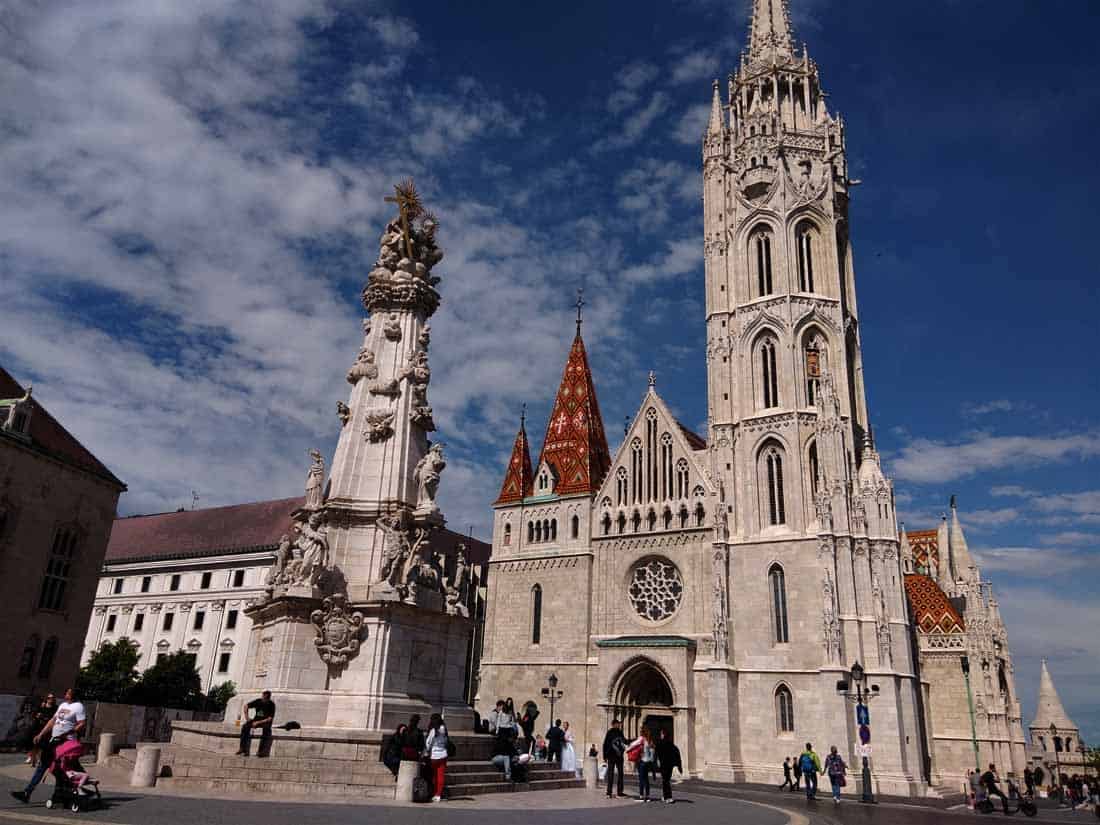 Matthias Fountain is in the court of the Buda Castle.
It is called the "Trevi Fountain of Budapest." Here is an exciting story for some secrets related to this fountain.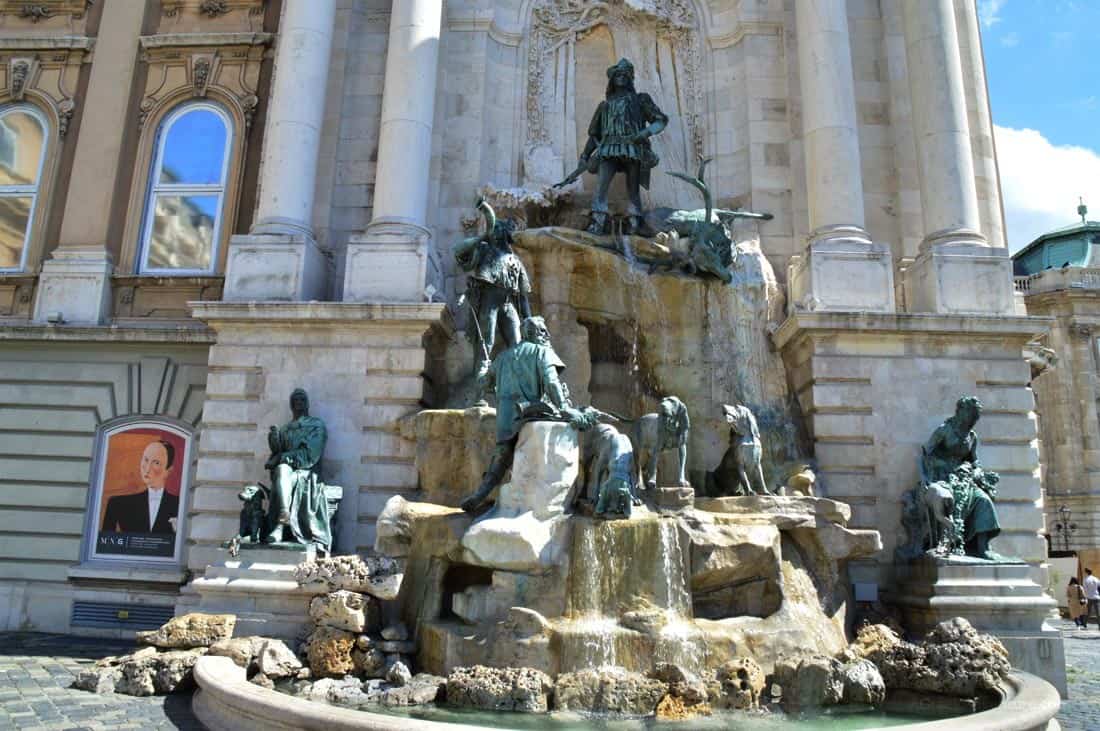 Budatower is also here. The church of Saint Mary Magdalene and the oldest building in Kapisztran square was built in the late Gothic style.
You can pay for a ticket and get to the top for a surrounding view.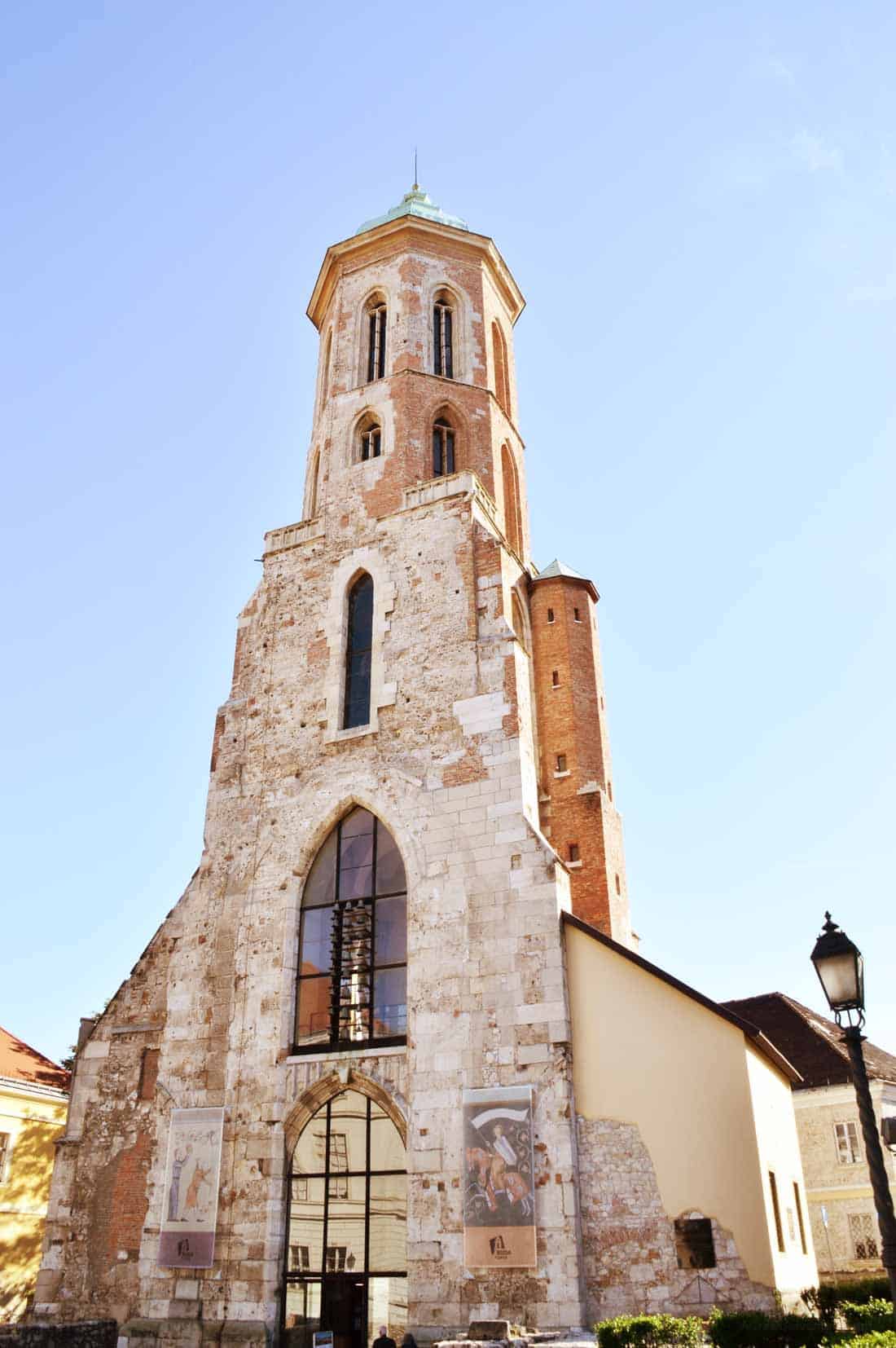 Why Visit the Margaret Island (Margitsziget) Park in Central Budapest?
If you have a few hours to spare and want to walk in -what we call- the Central Park of Budapest, then you need to visit this island.
You can walk there as you cross one of the bridges. It is in the middle of the river.
There are many recreational areas, a sports center, and many walking paths.
It is a nice break, and you can have fun walking through (you will need 2 to 3 hours to walk it) or rent a double-bicycle (or even a quad-bicycle).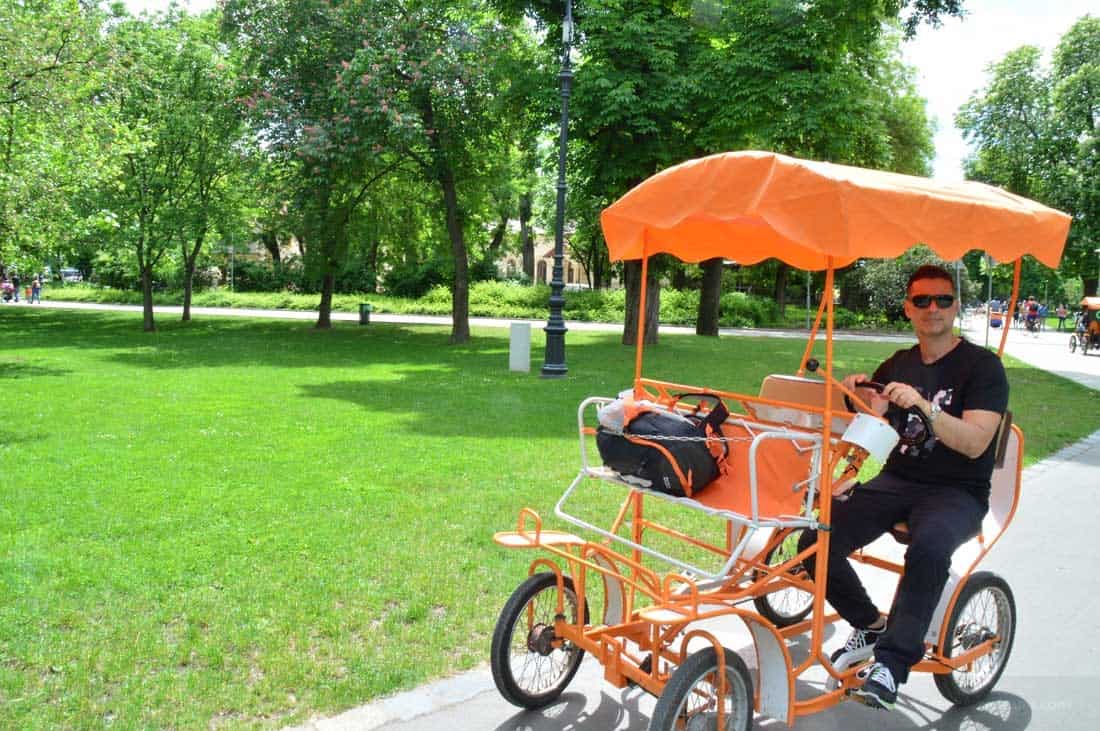 We had so much fun. We took one for 1 hour and stopped at different areas to take photos.
There are restaurants, cafes, bars, and many things for kids, parents, and couples.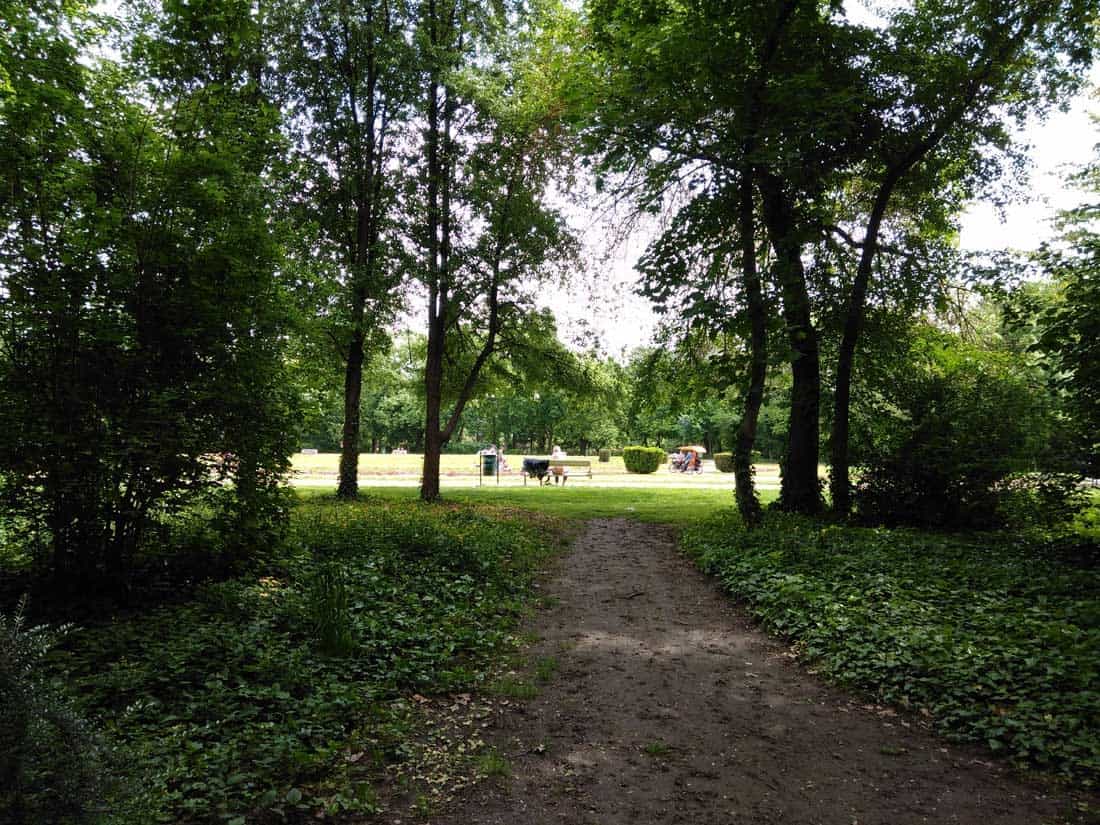 Budapest Short Break: Where to Eat?
Budapest has many intriguing foods to taste from "plain" sausages to "complex" Goulash, fried bread, and chimney cakes.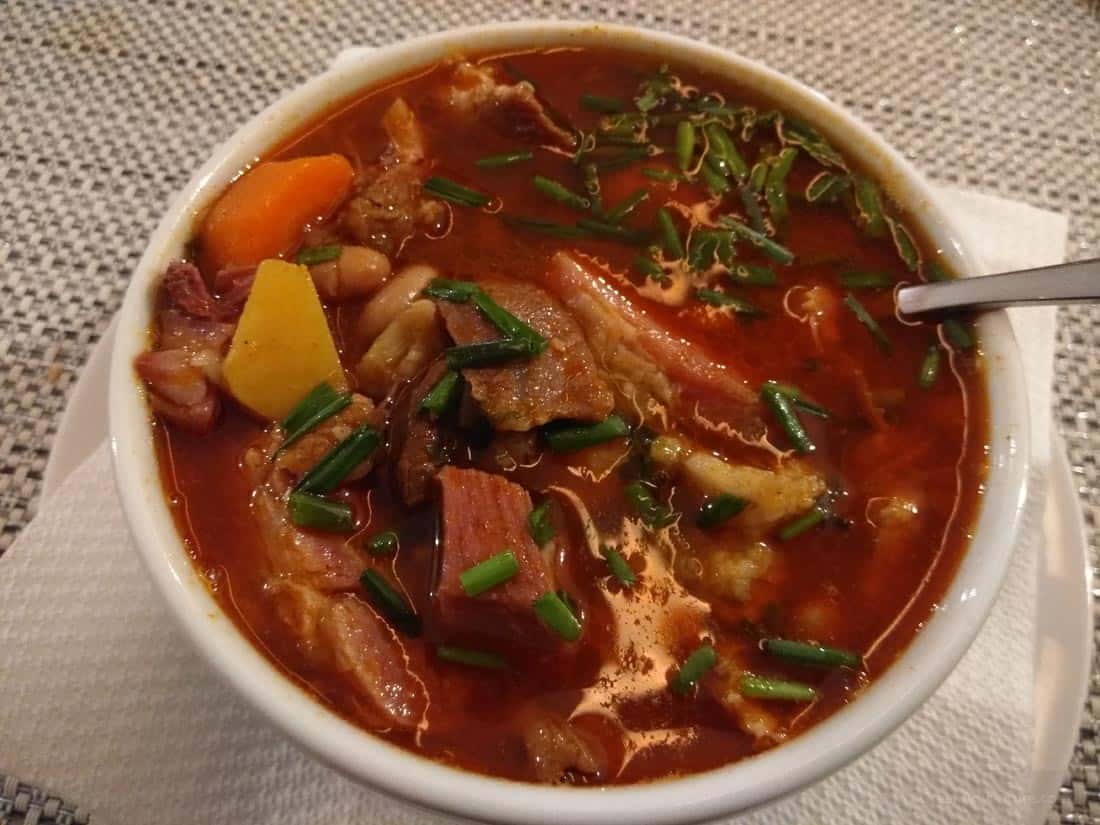 Seek out authentic local food and avoid any "tourist traps." We had both. Please read our full post for the best food in Budapest from here.
Do not neglect to drink the famous Palinka drink. Especially after eating a lot, it will boost your digestion process. Read our food post for that too.
Which Museums to Visit for a Weekend in Budapest?
Budapest was the European Best Destination for 2019.
Get the Budapest Card to access 17+ museums, tours, transportation, restaurants, and more.
For three days (or only a weekend), that are a whole lot of museums, and you won't be able to see them all.
One that is a must-see is the History Museum at Buda Castle.
Ιt covers an extensive range of the 2000 years of Budapest (once separated into Buda, Pest, and Obuda).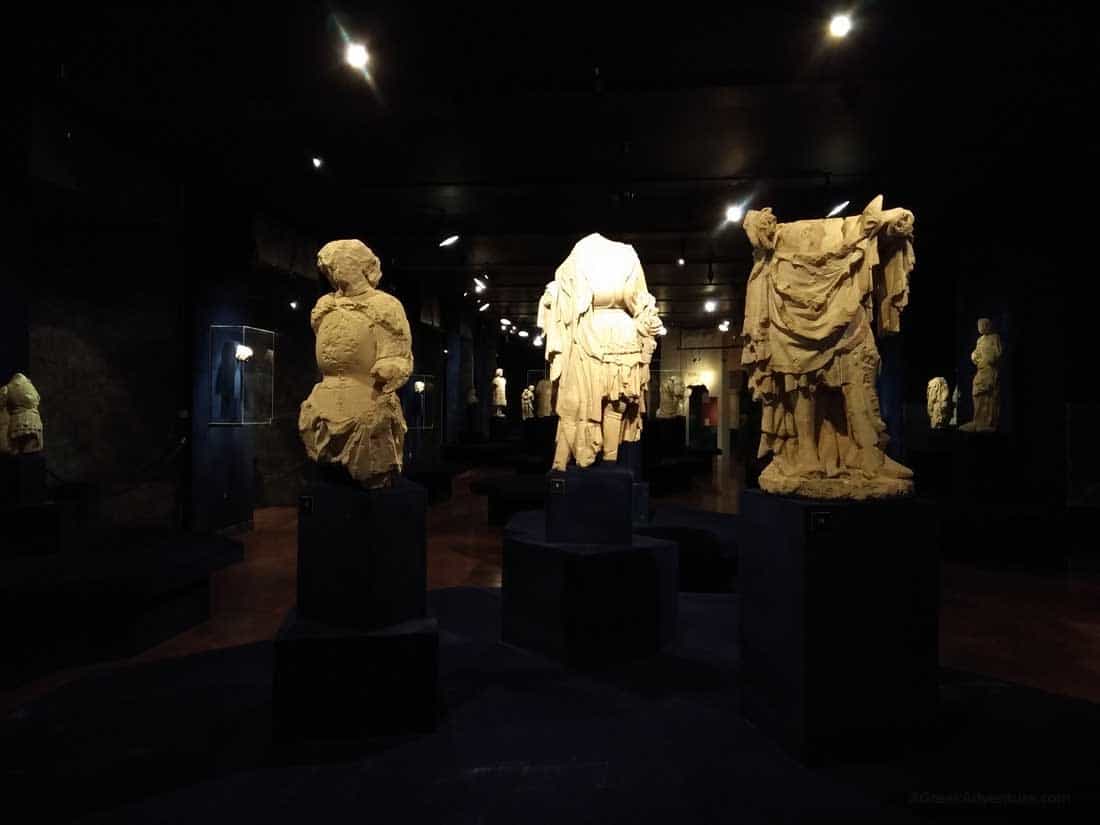 Exhibitions go back from Roman times to the present, all shown in beautiful palatial rooms.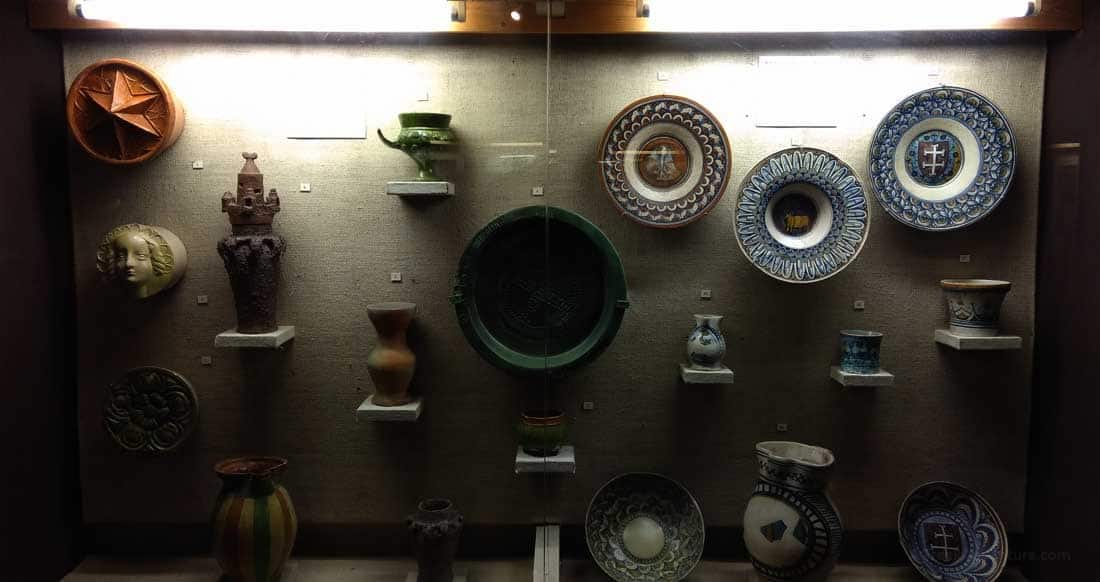 Beyond the History museum and with limited time in the city, choose to visit the next ones. Use this link for pre-booking on these (better book ahead).
Hungarian National Gallery
Museum of Music History
Museum of Military History
House of Houdini
Pharmacy Museum
Museum of Telephones
Hospital in the Rock
Essential Things to Know for your Budapest Short Break
Where to Stay for your Short Break?
Choose to stay in the center of Budapest, as all the things you need to see are there. The center is significant, and you will walk it anyway.
We went there in May, and the prices were reasonable.
Our accommodation was the BP Heritage Guesthouse, right in the city's center. It had a 9.5 rating on Booking.com, huge rooms, and well equipped, but a poor breakfast (we didn't expect that).
The weather during your short break in Budapest
Not so good during winter as the city is in the north of Hungary, close to Slovakia.
If you like cold, though, it is fine too.
In May, the weather shifted from warm to slightly chilly, but it was ideal for all our walking.
The best season to visit is from March to May (the best prices for accommodation too) and from September to November.
Summer is hot with more tourists, but not as hot as in a Mediterranean country (i.e., Greece, Italy, Spain).
There are some key events taking place in different months. Here they are so that you can plan.
March to May
Dance Festival
Macaron Day
Spring Festival
Budapest100
Rosalia Festival
OTP Bank Gourmet Festival
Beer Week
June to August
Summer Festival
Danube Carnival
Budapest Pride
Vajdahunyad Castle Summer Music Festival
Sziget Festival
Festival of Folk Arts
September to November
Jewish Cultural Festival
Budapest Wine Festival
Sweet Days Chocolate and Candy Festival
Oktoberfest Budapest
Design Week Budapest
December to February
Christmas Markets
Dance Festival
Also read: 18 Best European Cities You Should Visit In February This 2022
What is the Currency in Budapest?
Euro is accepted in Hungary but not in all places, and you will get your change in the local currency: the Hungarian Forint (HUF).
The analogy to the Euro is 320 HUF for 1 Euro (May 2019).
It is not if you think it is a huge difference (for Euro, USD, Sterling, and others) and you have a benefit. Prices adjust to the "strong" currency.
No worries about getting cash as there are Exchange kiosks everywhere.
Credit cards are fashionable but not accepted universally — the same as other than HUF currencies.
Budapest Nightlife & Getting Around in your Short Break
It is a very vivid city. If you plan to spend three days in Budapest or more, you will find lots and lots of options for dining and some pretty good cocktails.
We had some, and they were relatively good.
Buses and taxis are everywhere, along with trams.
You can get everywhere in the city when you learn to catch each other but trust us; you will walk most of the time.
If you have time, you can go to the famous Thermal Baths of Budapest. These are:
Széchenyi Thermal Bath
Gellért Thermal Bath
Rudas Baths
After walking so much, they can be a perfect option for relaxation.
The baths are inside glamorous old buildings that are part of the city's history. Széchenyi Thermal Baths are one of the largest bath complexes in Europe.
Time is valuable in a short break. Book a skip-the-line ticket from here.
It is a safe city, and we didn't have a feeling unsafe during day time. Keep in mind that on weekends people party a lot here.
Budapest is a fantastic European city, and it is worth visiting.
Did you like our post about a Budapest short break? Then also read The Country with the Most Castles in the World and After Hike Recovery: 10 Essential Tips on How to Ease the Agony.