You can't miss the capital of Madeira, Funchal city.
Either you heard it concerning the famous Cristiano Ronaldo, or got puzzled by the location and setting of Funchal airport; it is one of the places you will want to explore on the island.
In this post, we will share our experience in Funchal. We spent almost a week in Madeira, Portugal, doing hiking next to levadas and the famous Pico Ruivo.
We flew to Madeira from Lisbon, Portugal (Madeira is independent but is part of Portugal). Also, read our experiences regarding food and different cities in Portugal.
The city of Funchal (population: around 110.000) spreads in an amphitheatrical way. As you see the city from the sea, it seems like houses are climbing up the steep mountain.
Madeira is an island with tropical forests and mountains, but the majority of the points of interest in Funchal are close to the sea.
Since being the capital of Madeira, there are lots of things to do in Funchal. Plenty of options for nightlife, parties, food and a good number of exciting things for sightseeing.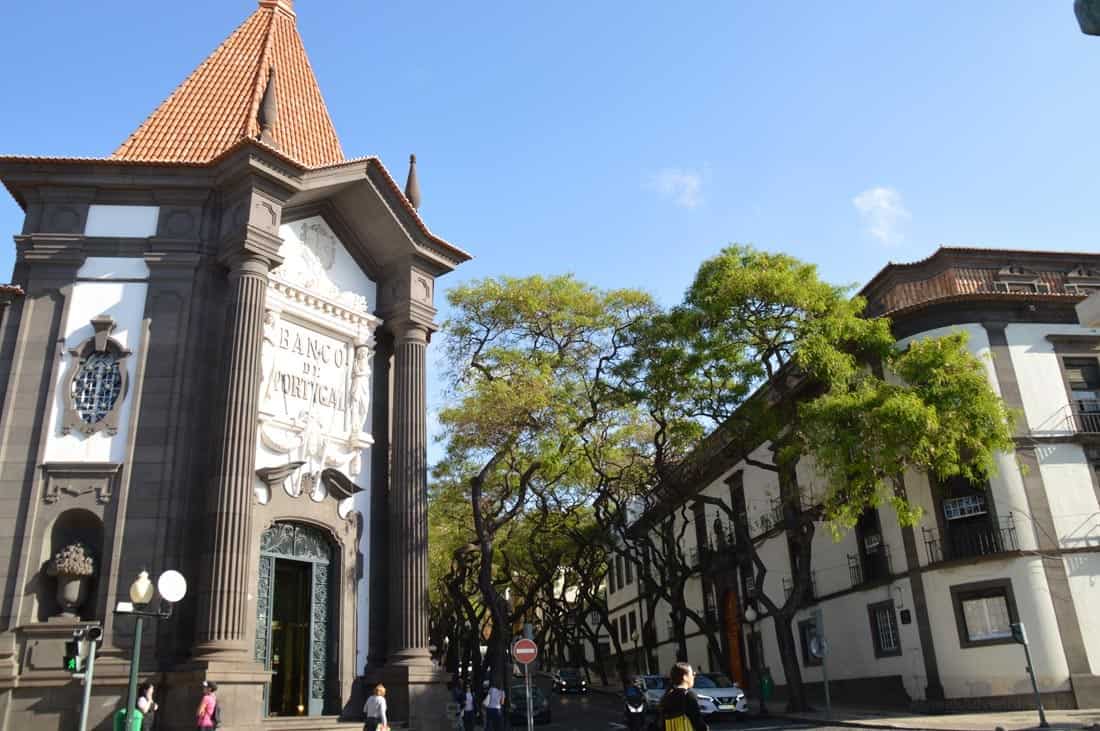 Taste the rum of Madeira, eat codfish and scabbard fish and their exclusive liqueurs.
Madeira is famous for its wines, and if you are a fun of good intense wine, you need to taste at least one.
Here are the things we did in Funchal, Madeira.
Walk Through the Old Town of Funchal
You cannot miss the Old Town of Funchal! Most of the bars and restaurants are in this area. Some of the most fantastic views towards the Atlantic are there too.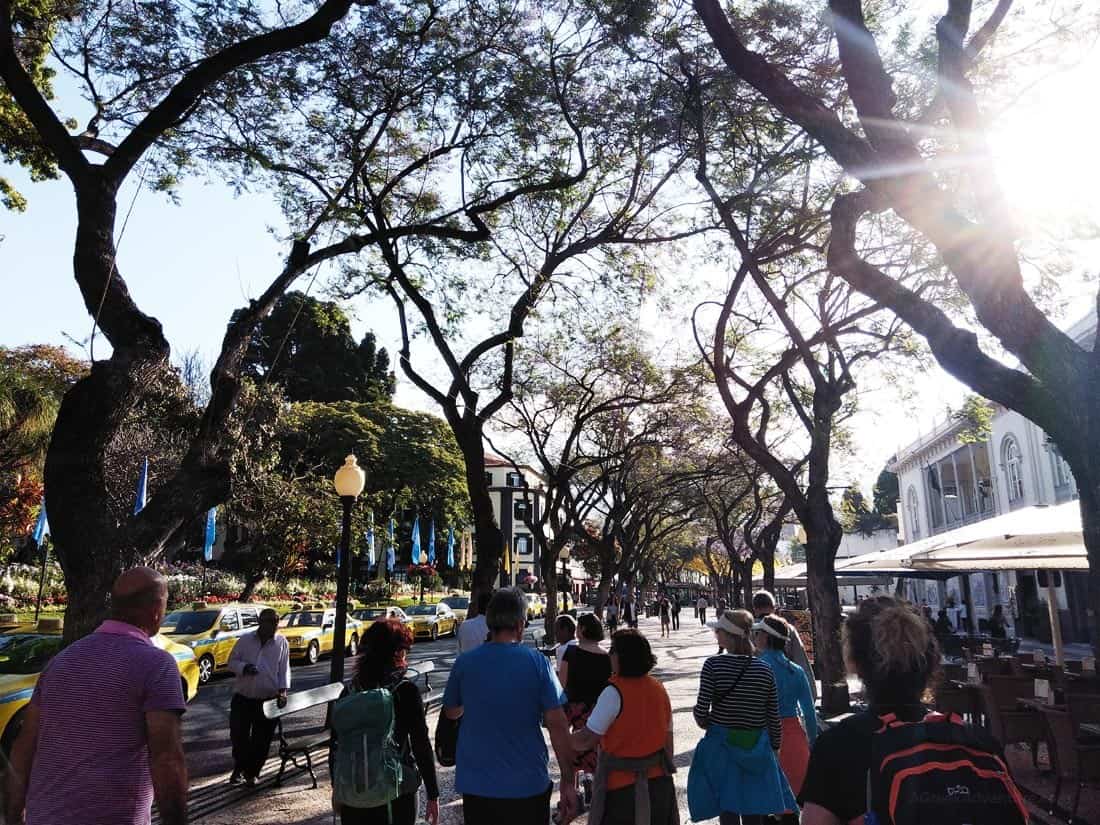 Walk on the cobblestone (and fantastically clean) streets of the Old Town, towards the fort of Sao Tiago.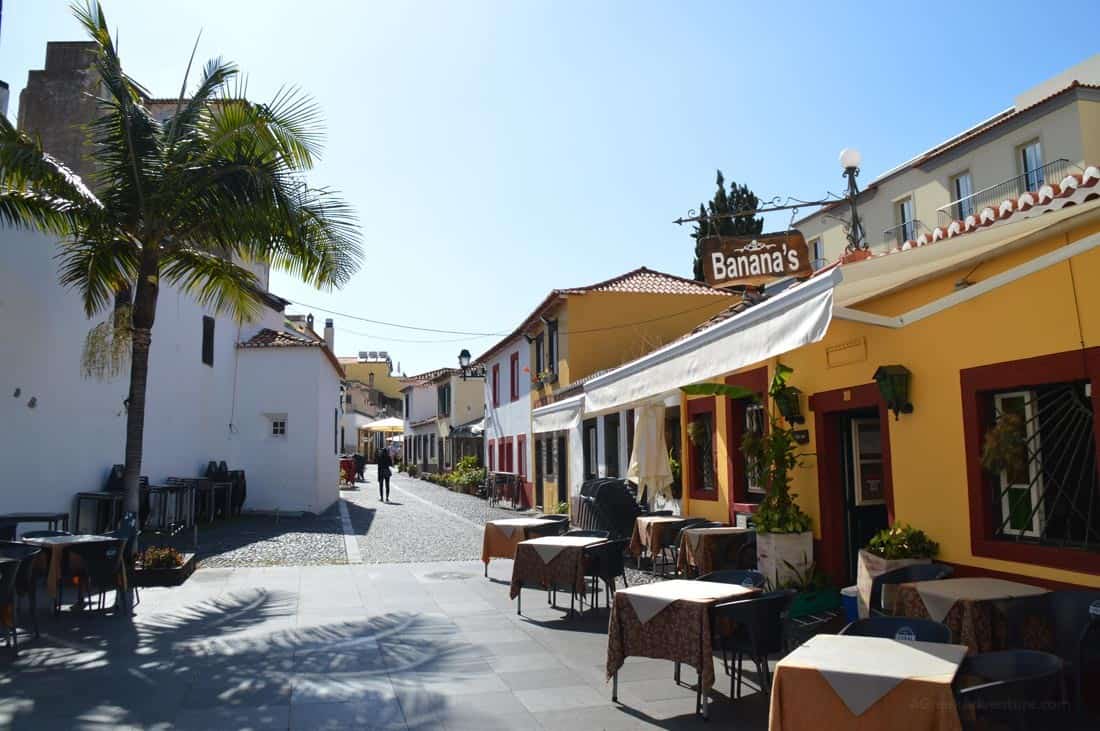 Allow yourself to get lost in the narrow streets. Don't worry. Eventually, you will get back in the Old Town center one way or the other.
Your walks will get to Rua da Santa Maria. Here you will admire the public art program called "Arte de Portas Abertas" (means: the art of the open doors). The artwork is a perfect example of how old elements of houses are transformed into pieces of art, that people enjoy and take lots of photos.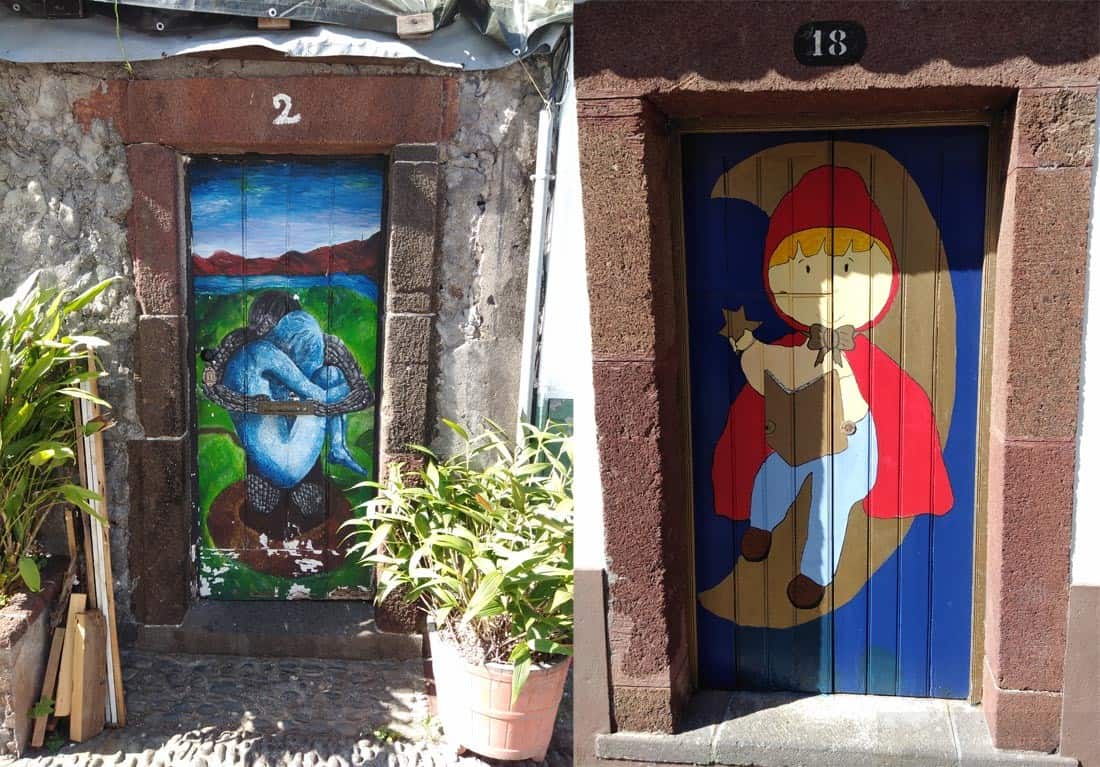 Visit Mercado dos Lavradores of Funchal. That is the big Farmer's Market of Funchal.
Meat, the fish, poultry but mostly splendid colorful fruits, are sold here.
Beware of the prices. Fruit prices are off the roof.

Make a note of the scabbardfish & codfish and how it looks (see below). Chances are you will eat plenty of it while in Madeira.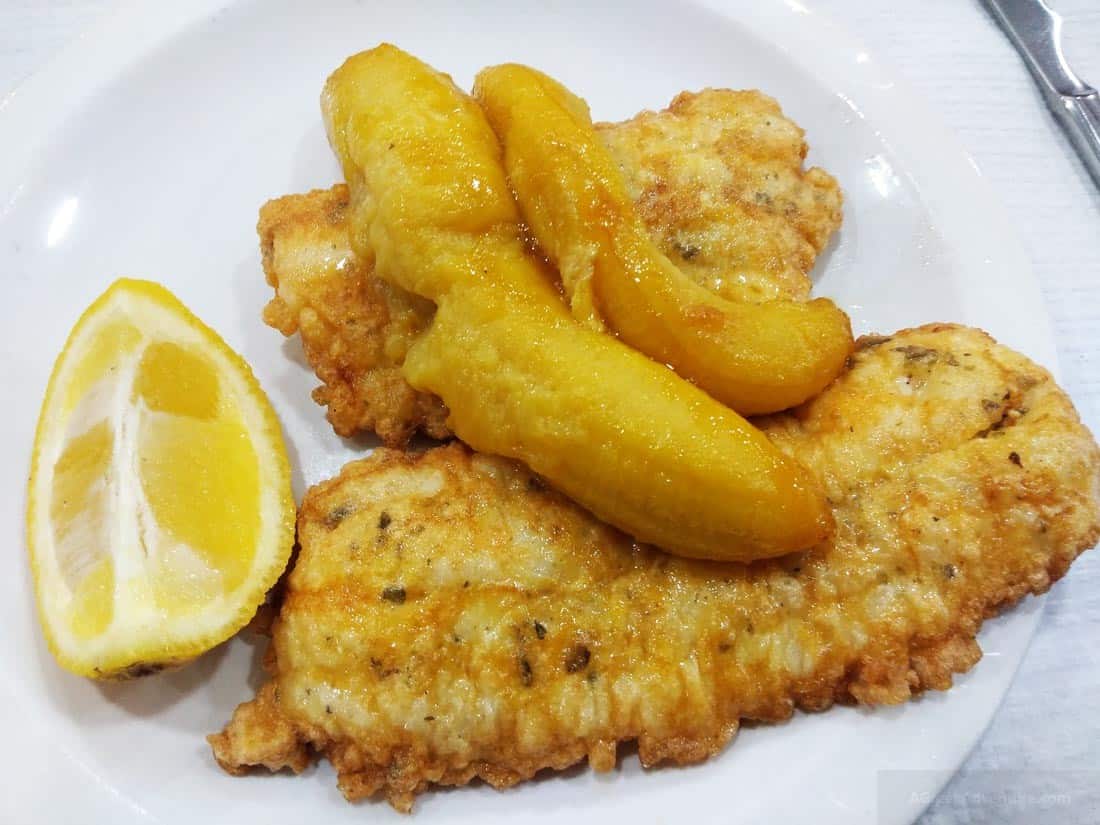 If you are lucky, you will bump into the colorful ladies, dressed with local traditional outfits and selling tropical flowers.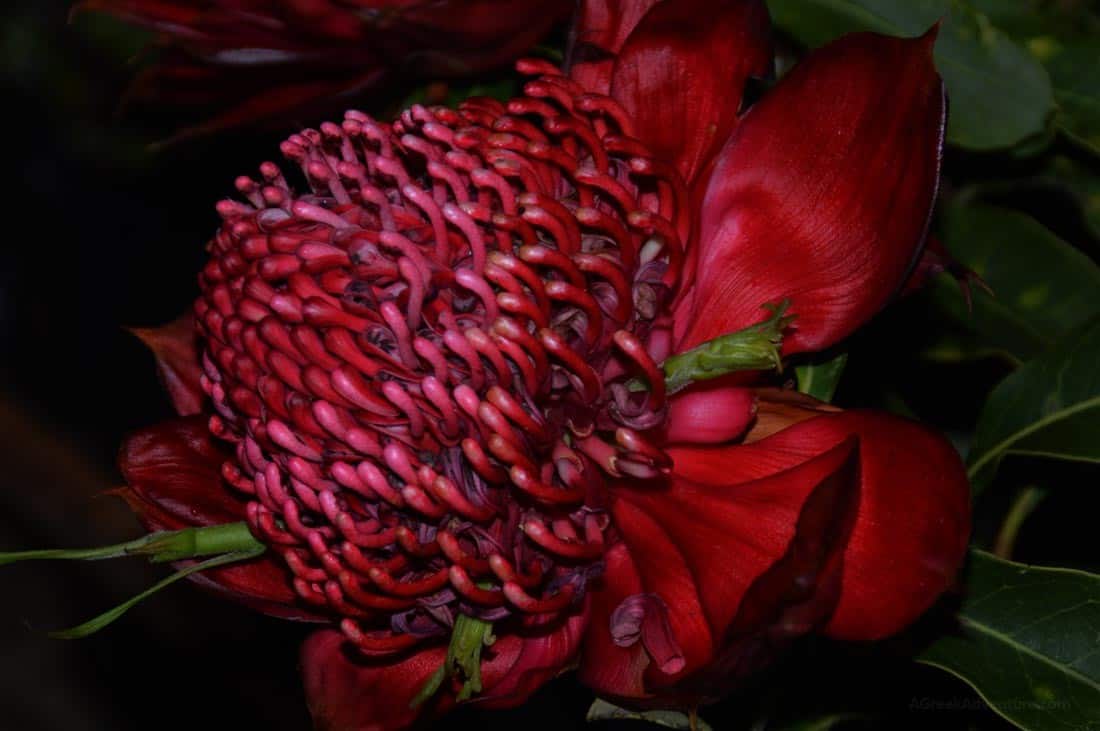 There are not (many) beaches in Madeira.
The city has created substantial swimming pools that are filled in with seawater.
Have a break at the cafe at the top of Rua da St. Maria. The view is fantastic.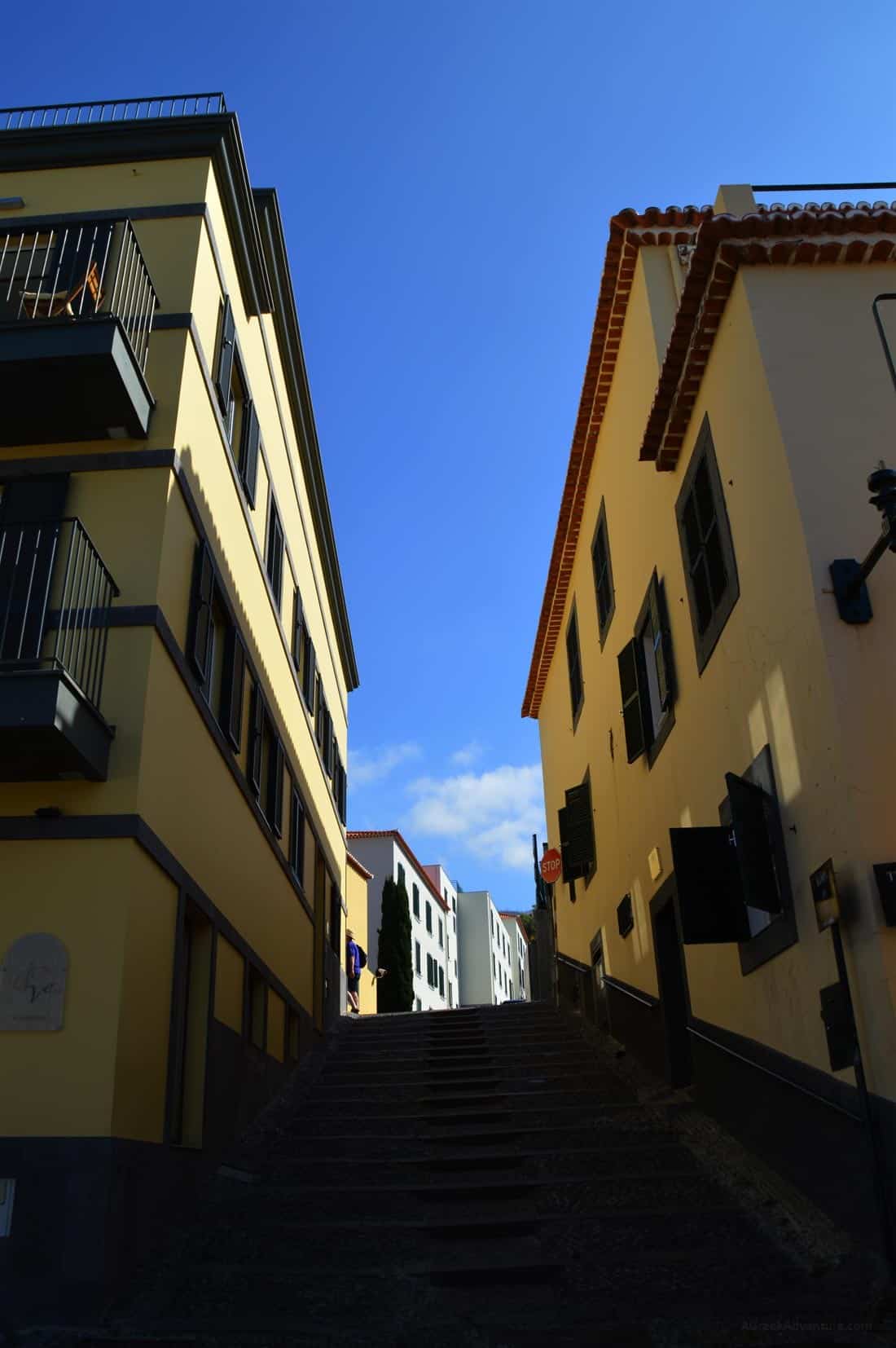 You can do this walking with a guide and learn even more for the history of Funchal. Click this and pre-book.
Fabulous Funchal Monte Palace & Gardens
There is no way someone to visit Madeira and Funchal and skip the Monte Palace (and the whole hill). The reasons are multiple.
Getting there with the scenic cable car is just one of them, though the ride is long with beautiful sceneries.
Tip: You can get to Monte in that way or by car/bus/taxi. You can get down from Monte in the same way, or you can take a Toboggan ride; if you dare.
Quinta Monte Palace is a complex that consists of many things. The palace history and its landmarks have a particular taste for Buddhism.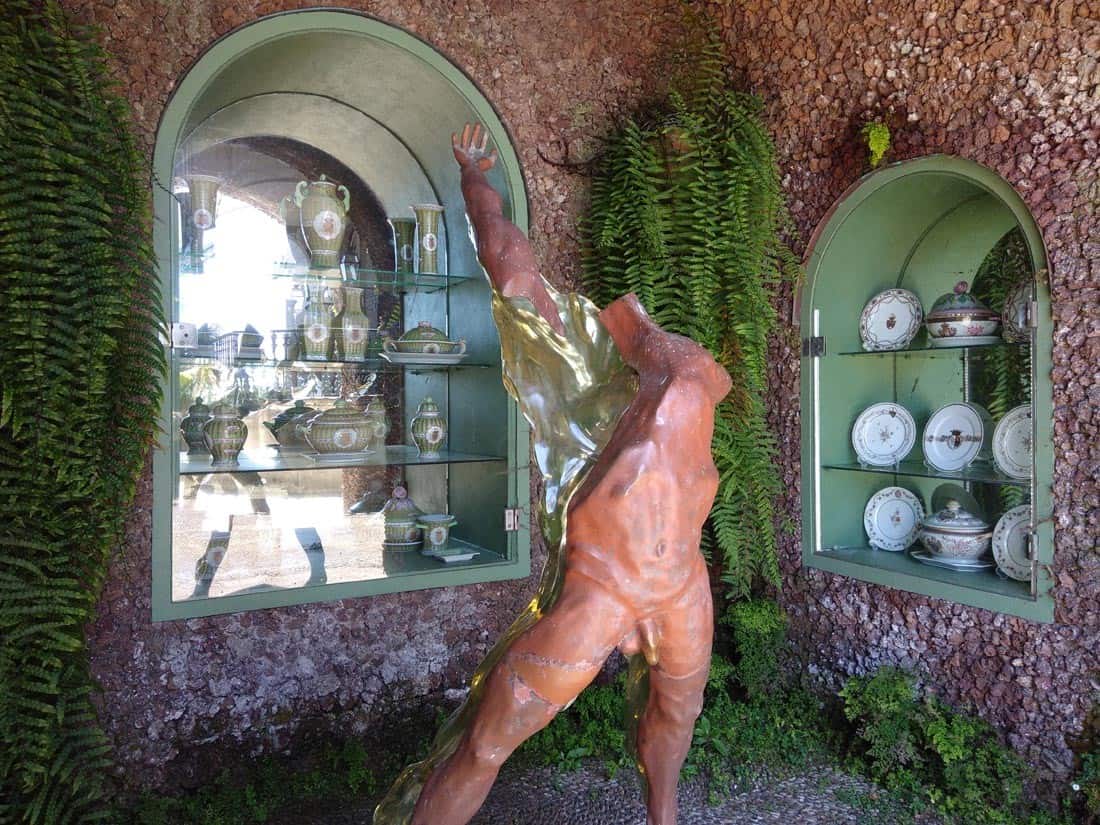 The Monte Palace Tropical Garden is open daily from 9.30 am to 6 pm.
You can spend 2 to 3 hours in this place if you want to enjoy it in a slow "zen" like pace.
Ticket costs 12.50 euros per person with free entrance for children under 15 years old (accompanied by an adult). You can book a discounted combo ticket for this, a Toboggan ride and the Nun's Valley tour from here.
The Museum
Right next to the entrance is the museum.
It is not significant, and during our visit, it hosted an exhibition related to African culture.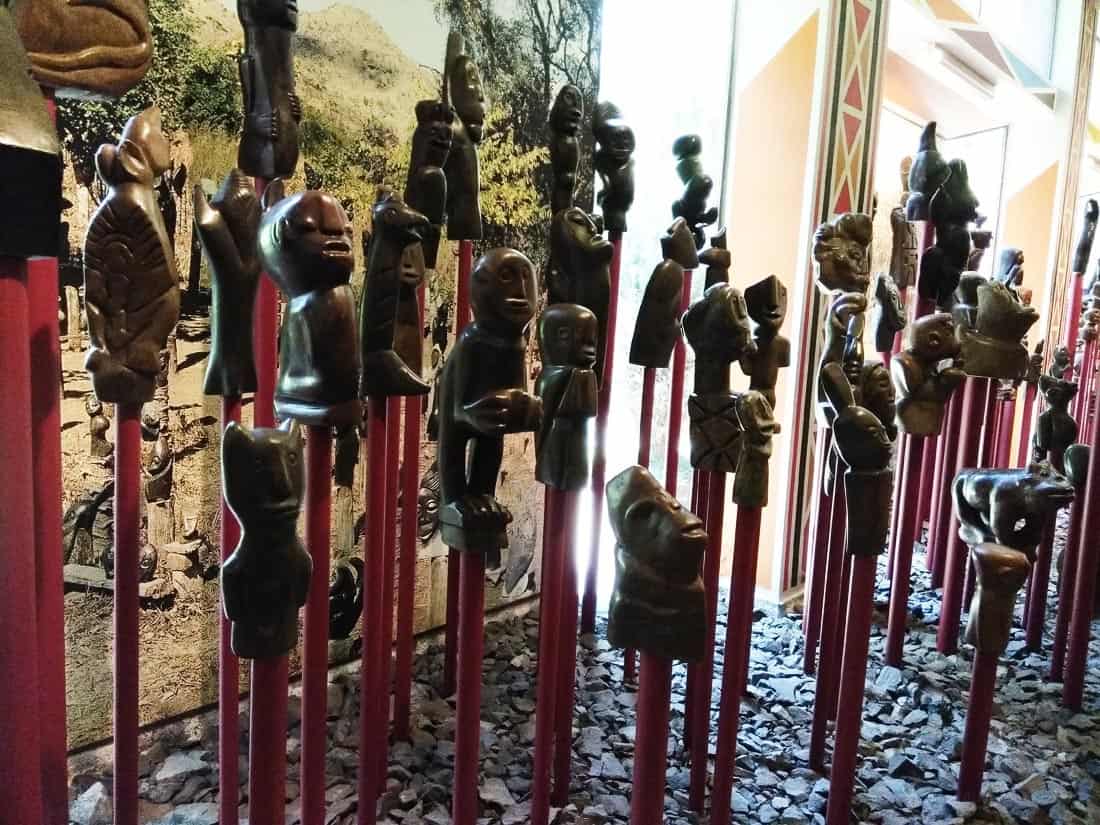 Artifacts were lovely, depicting the culture of that continent.
Don't forget to visit the museum at the ground level. That showcases a massive variety of impressive mineral rocks.
The Palatial area
The palace itself is not open for visits.
The whole area around and towards the castle is. At some point, you will reach this veranda where you see the palace but also the lake and all its sculptures.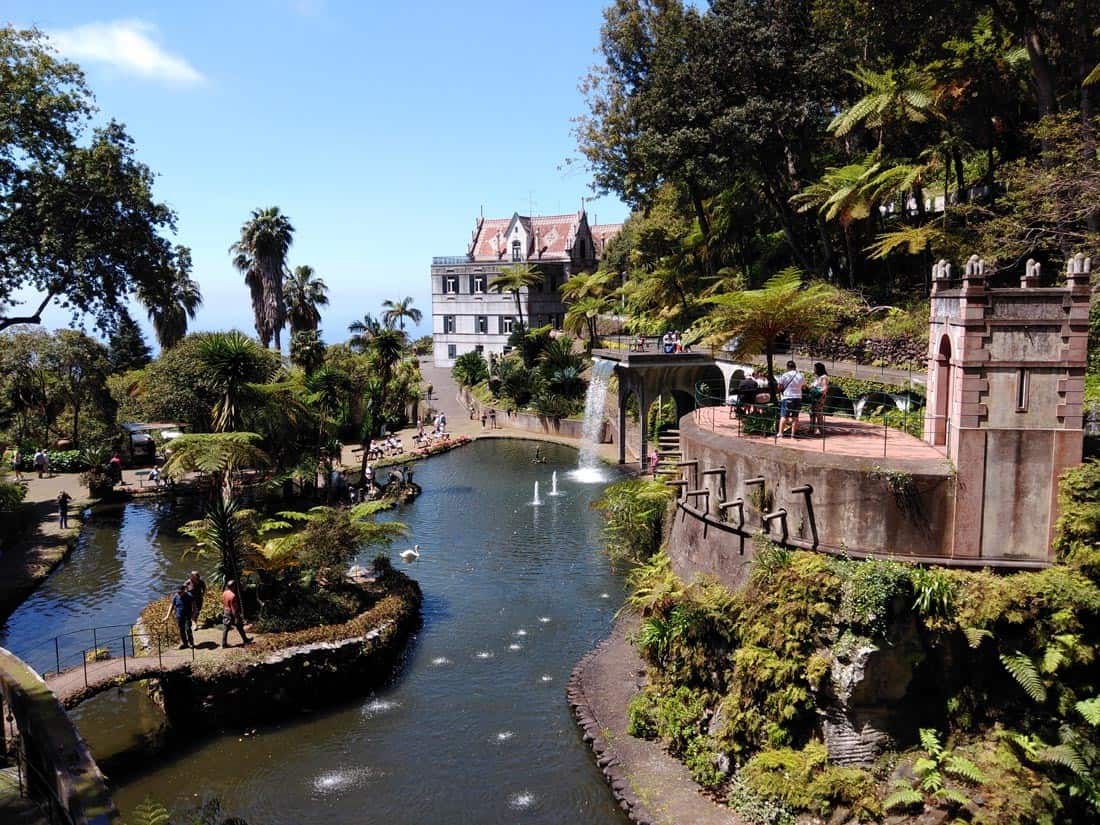 Here is a 360 surround video from this location.
The view of Funchal and the gardens from the palace veranda (a different one) is equally lovely.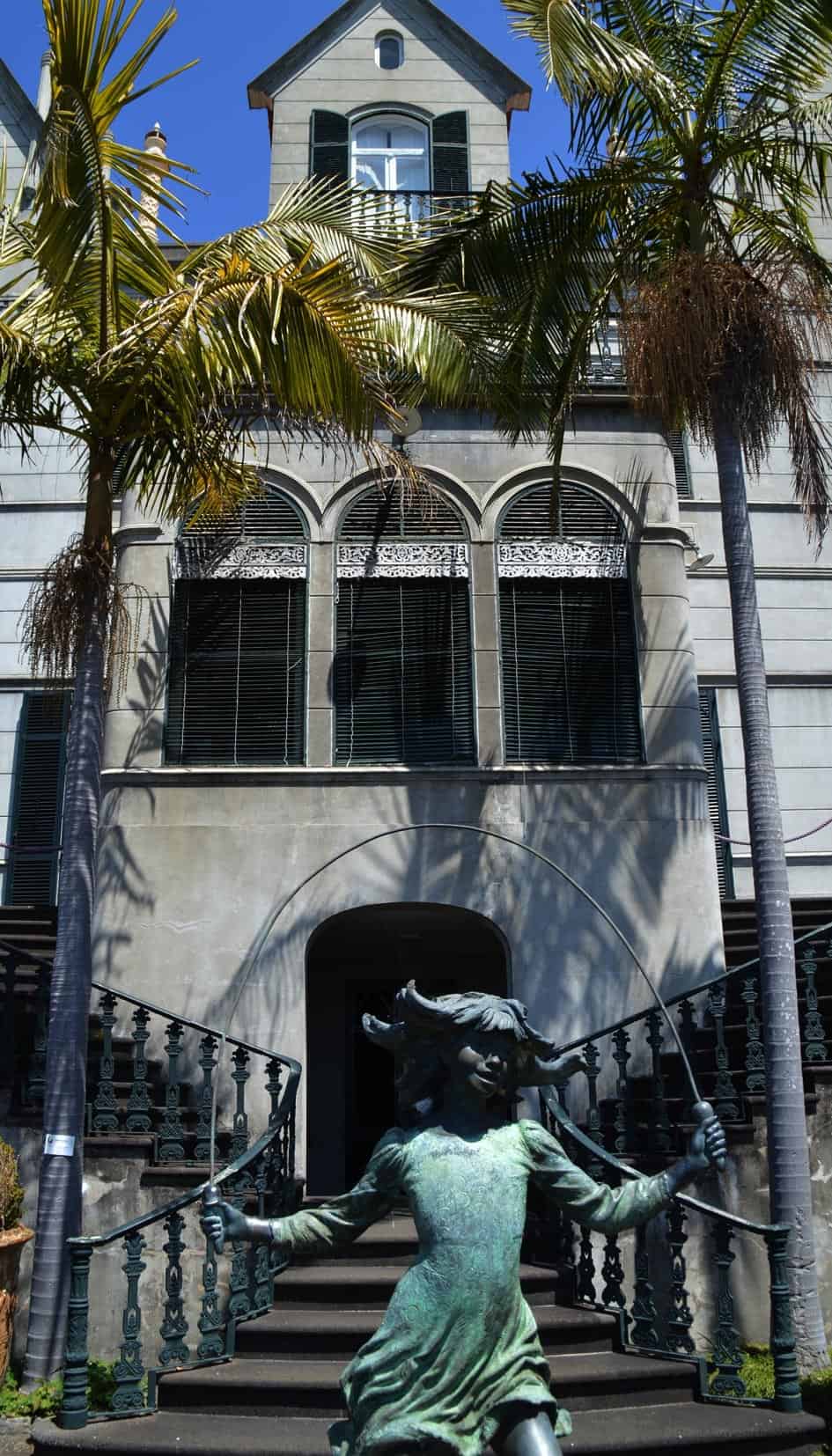 The Gardens
The gardens are the reason this area is famous. A vast variety of different flora, mixed up with some waterfalls, streams and open ancient art spaces will make your eyes pop.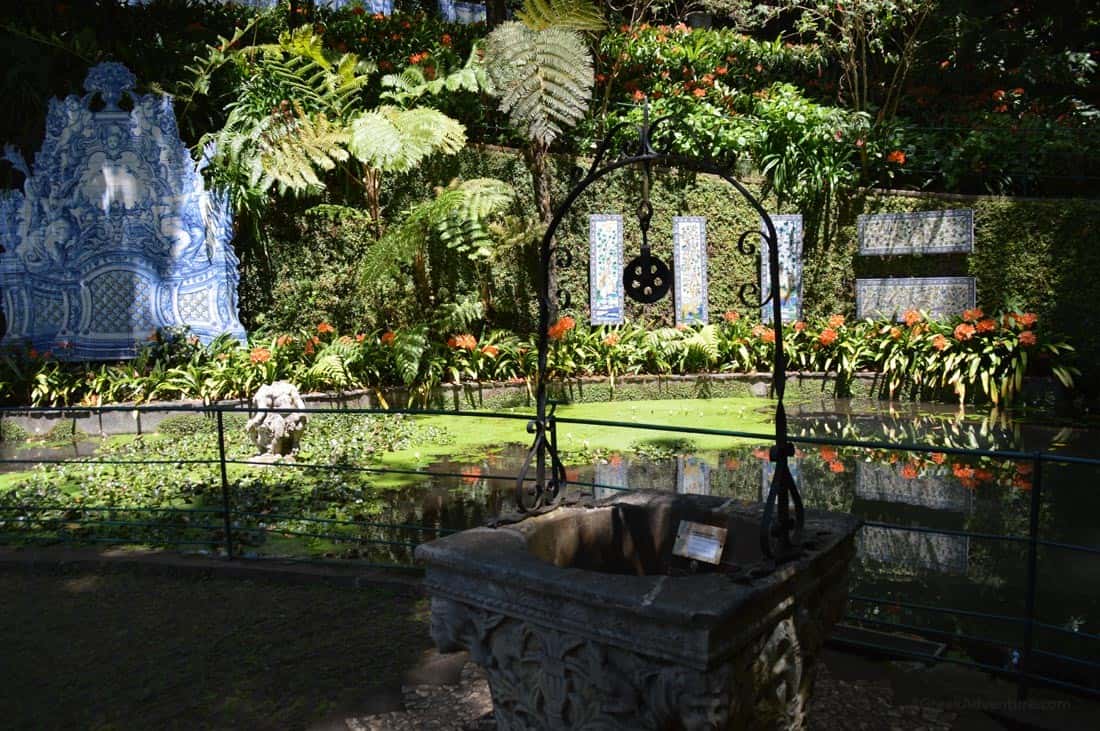 As said, the garden sculptures and art includes lots of Buddhism related elements.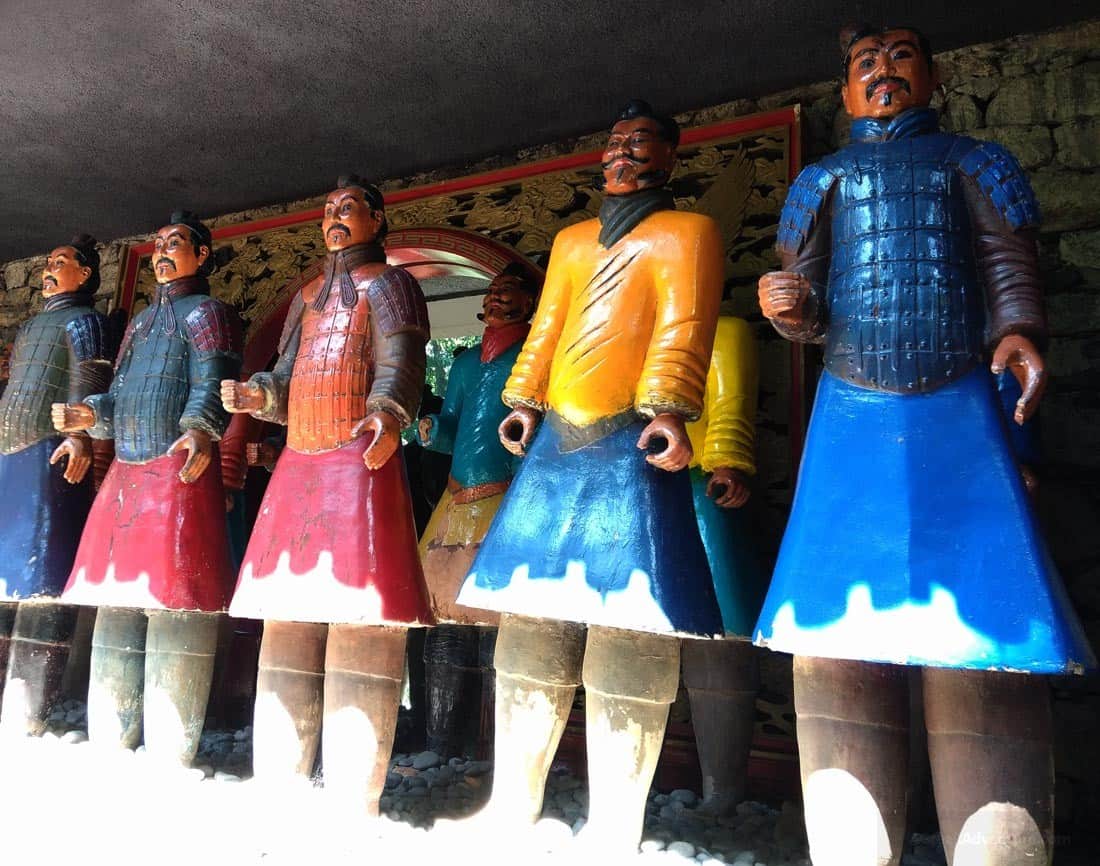 There are paintings and even Buddhist shrines everywhere.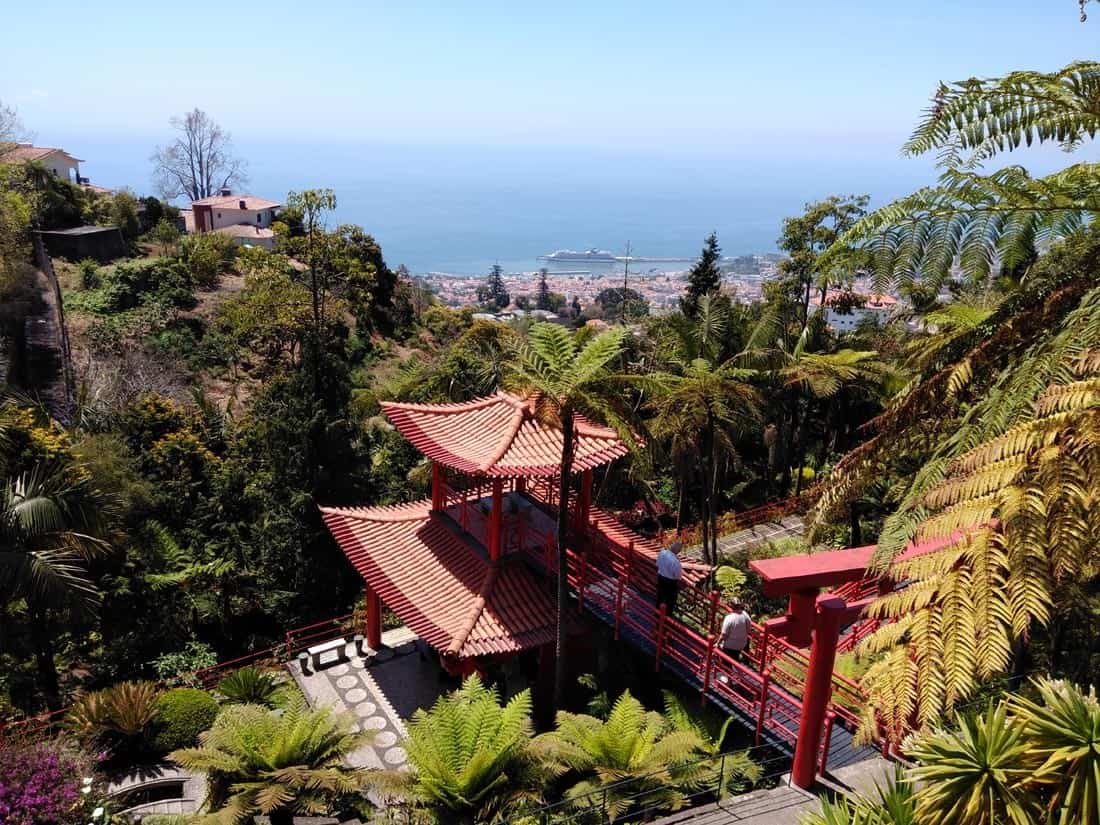 The reason for that is the strong influence and culture from China and Japan, with which Portugal has strong commercial relations.
You will notice a panel called "The Adventure of the Portuguese in Japan."
It consists of an iron structure with 166 ceramic plates which tell the story of a social, commercial, and cultural relationship between Portugal and Japan.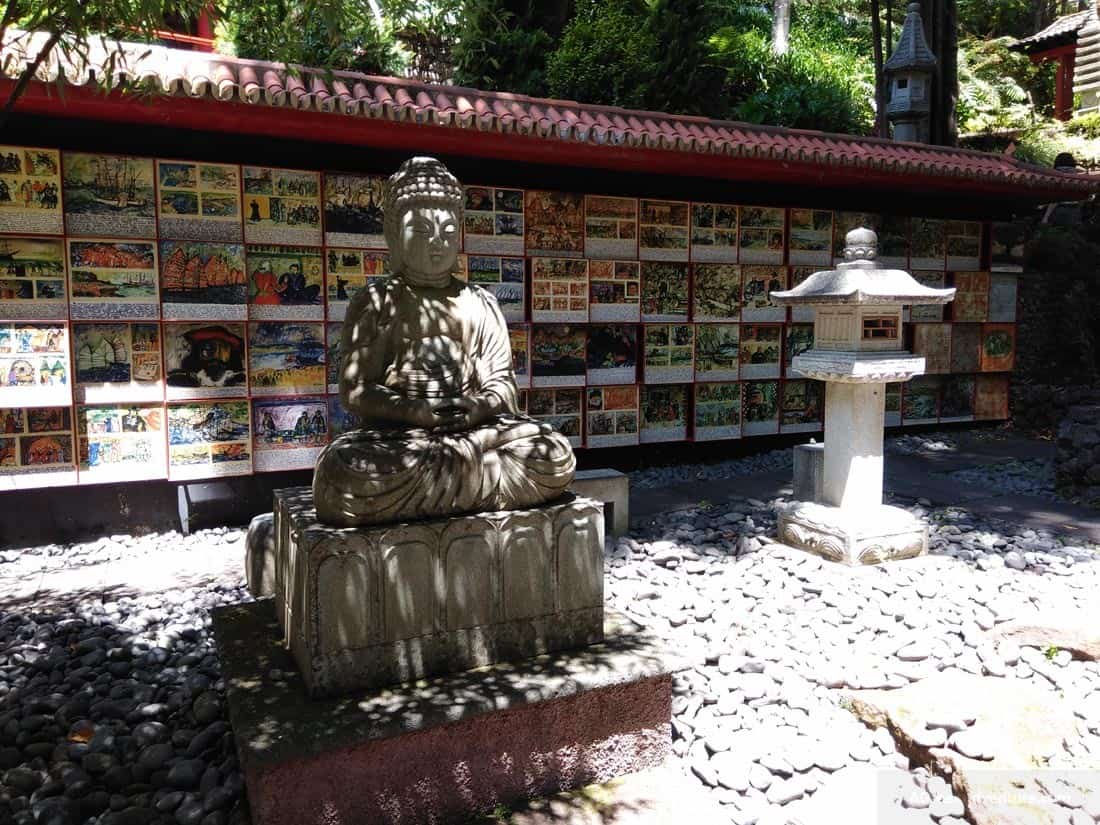 At the far end of the gardens, you will find a simple cafe for some refreshments. Nothing impressive but will do the job.
Monte Toboggan Rides
Get out from the same entrance (Caminho do Monte). There you will notice a team of people dressed alike, next to some wheel-less carriages.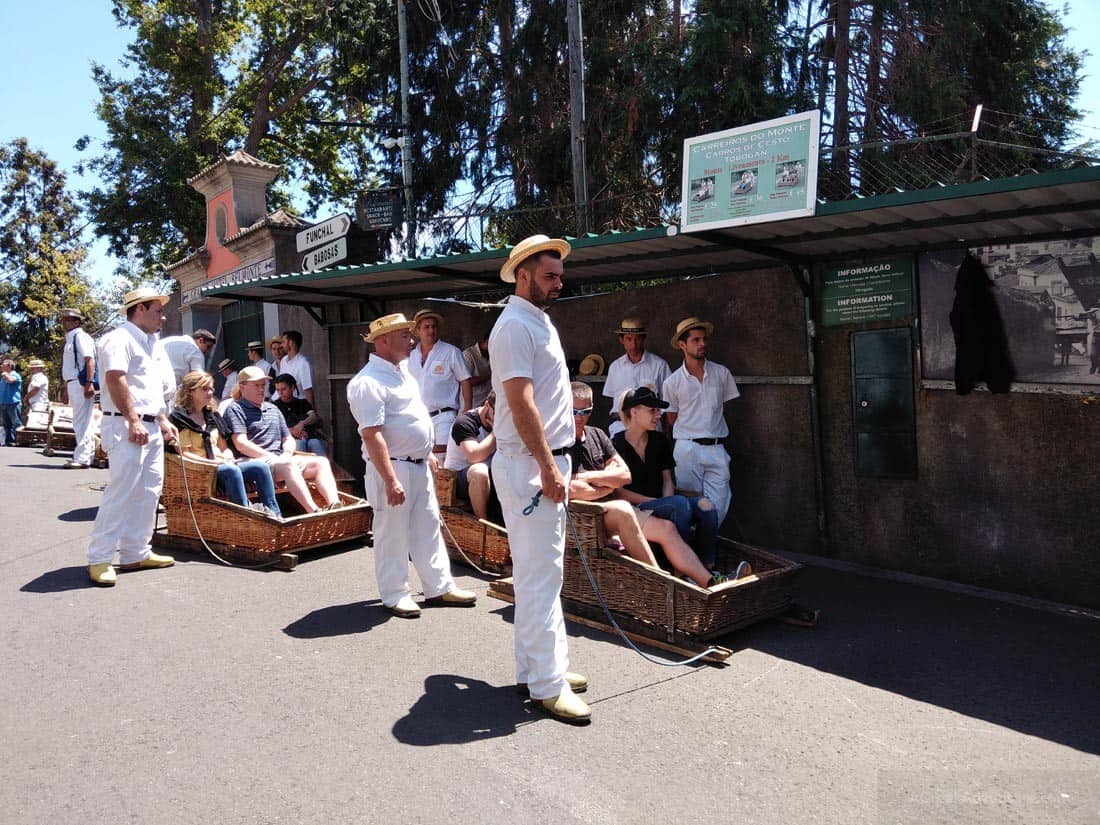 Did you hear about the Toboggan rides? You get into that wooden box, and two people take you sliding down to the feet of the hill. That can get you an adrenaline rush!
Watch the video. People were wondering how they manage to turn that thing in corners.
The fee is 25 euro p.p.
Visit Madeira Botanical Garden
This whole area was previously an estate. You can see it from the old house (now a museum) and the overall landscape, stone benches and such.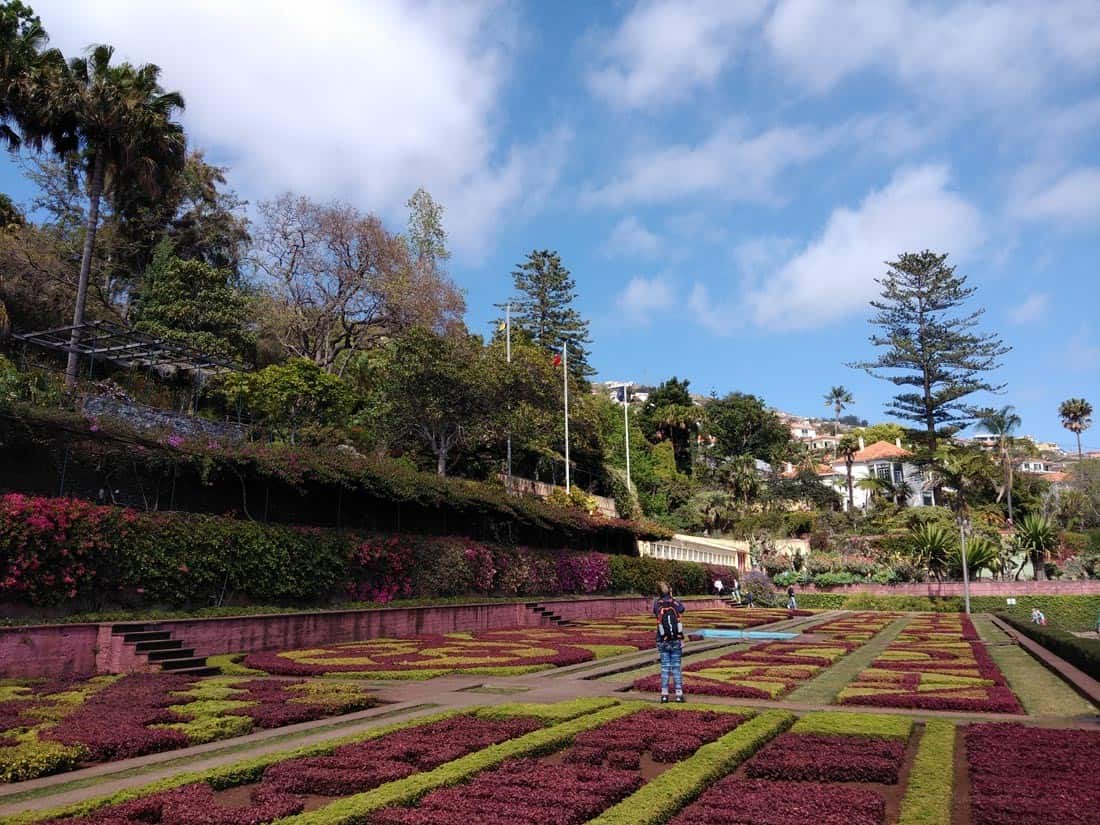 These gardens host a great variety of local flora. Don't know what is best there; the colorful gardens or the view to Funchal.
The garden covers an area of 80,000 m².
You can get the cable from here to land on Monte Parish.
Visit a Rum Factory
Don't leave Madeira without tasting their rum and see the whole sugarcane-to-distillation process. Rum distilleries are walk-through and open to the public. There are different brands.
Visit one and try the Poncha drink.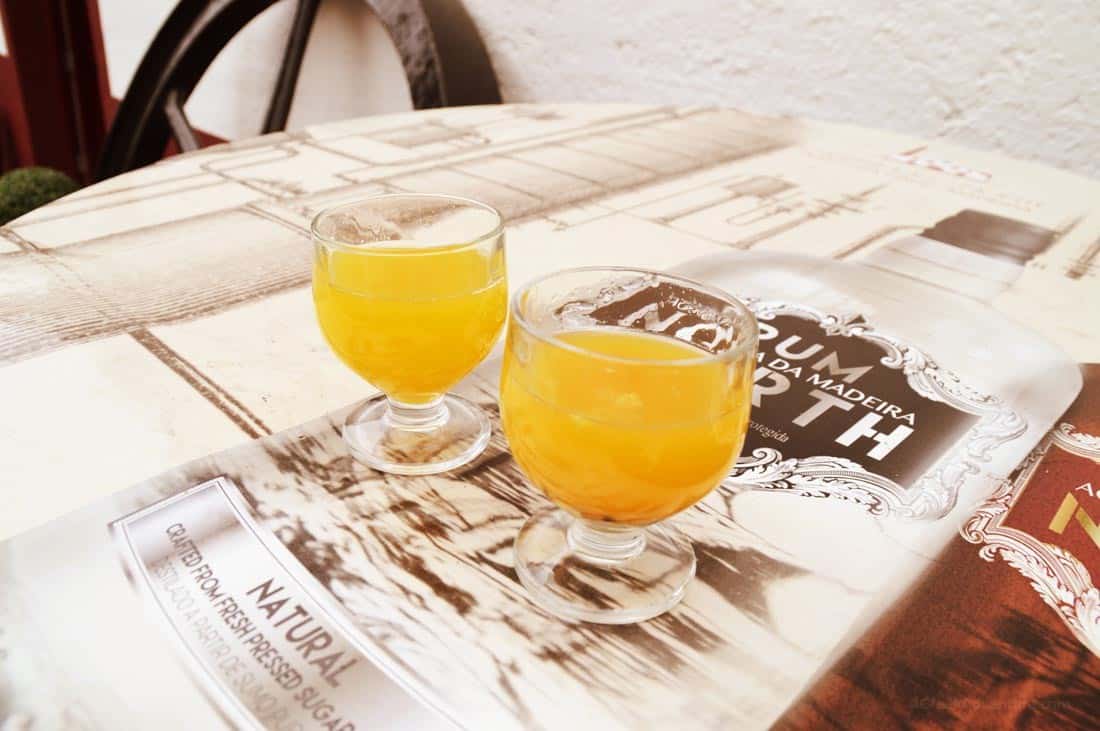 The drink gets distilled from sugarcane rum, honey, sugar, orange/lemon juice or with different fruit juices according to the version of Poncha. The traditional one is with lemon. It is a drink with a strong taste.
If you like drinking then you can look out and also taste these popular drinks of Madeira:
Coral (the local beer)
Nikita (flavors of ice cream, sugar, pineapple rings, and white wine or white beer)
Pé de Cabra (dry wine, black beer, sugar, chocolate powder & lemon peel)
Sidra (fermented apple juice)
Ginja (strong cherry liqueur)
Brisa and Laranjada (carbonated drinks made with flavors of passion fruit, apple, lemon, and orange)
Aguardiente de Cana (Sugar Cane Rum)
Rum
Vinho Verde (Green Wine)
Tim Tam Tum (Liqueur)
Aniz (Liqueur)
Licor de Tangerina (Liqueur from tangerine peels)
Cortadinho (hot drink made from wine, coffee, and lemon peel)
Facts about Funchal, Madeira
Portuguese is the official language
Allegedly the name "Madeira" means the island of "Wood" (there is an abundance of such)
The currency used is Euro
Despite being an island, don't expect sandy beaches and such
Ask locals on where to eat cheap, tasty and plenty
Six o'clock in the afternoon means plenty in Madeira. Most services close at that time. Even the hotel pool was not reachable after 6 pm, and we saw that time mentioned in many different areas. That doesn't stand for eating and drinking, though.
Where to Stay in Funchal in Madeira
Stay at a hotel that is next to the sea and has a pool. If you plan to go there from May to September, then that is the best option.
Since Madeira is not famous for its beaches but it is for its hotels, mountains, levadas, and forests you will spend lots of time exploring the island.
That is not an island to go and stay in the capital.
We stayed at this hotel, which was at an excellent price with huge rooms and a big veranda to the Atlantic.
It had a fantastic pool and a small dock from where we were able to swim in the Atlantic. That swim was a freezing experience but still a great one.
Do read our other posts for different hikes in Madeira. The island services are well organized and a hiker's friendly destination.
Always book travel insurance and plan your flights early. If you are a backpacker, then choose this travel insurance for backpackers service.
Have fun.