A low airfare price for exploring the best things to do in Dubrovnik flashed in front of our eyes on a Monday. So we thought, "Hey, what things are to do in Dubrovnik, Croatia? We planned to go there at some point. It seems like this low price is a chance to do that…".
A couple of hours later, we booked tickets, hotels and started making our plan on the things to do in Dubrovnik for three days.
We had only that much of time since we would then move to Ios island in Greece (stand by for this one).
Did you know that King's Landing from Game of Thrones was actually filmed there? Include that visit in your best things to do in Dubrovnik, Croatia, list.
Planning for Things to Do in Dubrovnik
This one was a rather last-minute trip. It was not intended, but an impulse. From the moment it was conceived to the point we were entering the airport we had only a few days to organize all. The idea was stuck in our heads when we did a little research on the things to do in Croatia (read this post).
Luckily, the things to do in Dubrovnik are concrete, so we knew we had to find lovely accommodation for a three days trip.
There we talked with locals and found out for more trips you can do with either Dubrovnik or Zagreb as a base.
What is the Currency of Croatia?
That was a surprise. Croatia is part of the European Union, but they don't use Euro so much. The official currency -still- is Kuna. One euro equals to -nearly- 7.5 Kuna.
That may seem like a good bargain, but prices in Dubrovnik follow the "euro" pricing logic. The items you purchase are expensive.
Budget for Things to Do in Dubrovnik, Croatia
Plan ahead for spending 3 days in Dubrovnik. A water bottle (250ml) is around 1.3 euros.
Food is costly, especially inside the Old City (Grad). Two persons, each order one plate of food and two drinks in total can be from 349 Kuna (47 euro) to double. It depends on where you want to eat. There are cheap eateries, but that means kind of street food (sandwiches and pizza slices).
Museums & landmarks entrance fees start from 80 Kuna and rise to around 180 Kuna. Nearly every museum or monument needs a fee to enter, even City Walls (yes, that's right). If you want to walk the city walls perimeter, then you pay for that.
There are just a few water fountains inside the Old City, with potable water. The biggest one is at the Main Gate entrance.
The bus tickets are at 15 kuna p.p. (that costs approximately 2 euros). The bus from the airport to the city center (where the main gate is) is 40 kuna p.p. (approx. 5 euros).
By the way, if you like Ice Coffee, then be prepared for a coffee with a ball of ice cream and whipped cream on top! All other coffee variations served here are hot.
What to Pack for Dubrovnik?
For 3 days in Dubrovnik in, i.e., July, expect the Mediterranean weather all over, along with some humidity. It is hot, and if you stroll inside the Old City and the Walls, it gets warmer. Everything in the old city of Dubrovnik is made of stone so that you can imagine.
Pack light summer clothes and maybe sandals or shoes that breath well. A hat and sunglasses along with sun-cream.
If you plan to visit the beaches (and you should), then bring proper attire. On many beaches, you will need water shoes, as they are rocky (in and out).
The whole city of Dubrovnik (old and new) is charming to walk through.
Read our guide on Ultralight Gear.
Few Words for The Dalmatian Coast Beaches
This part of the world is like concentrated beauty. All the coastline has to show spectacular green that ends down to the beach and waters with bright blue and deep green colors.
It is like a two-fold postcard. The coasts and cities at the Adriatic Coast look beautiful when you are watching from the shore, but even great when you watch from the sea. The history that comes with all the towns of this area is fascinating.
Castles and fortresses are so lovely and dominant. We understand why they were chosen as a filming location for large parts of the Games of Thrones.
Small island groups that are close to the mainland, add to the whole thing, and the sum is a treat for the eyes and all senses! If you plan for these, then allocate more than 3 days in Dubrovnik.
What to Do in Dubrovnik in 3 Days?
If you have up to 3 days, then your itinerary can be quite specific especially if you plan to have some leisure time too and not constantly walk up and down and around the city and nearby villages.
As said, you need to allocate swimming and relaxing time. Dubrovnik and surrounding areas are ideal for that. Combine leisure with culture.
If you plan to stay for 7 to 10 days, then you can do even more things by traveling in Croatia, while staying in different cities. You can also book organized tours and have Dubrovnik as your "home" base. There are plenty of such that last from 12 to 14 hours, and you reach up to Kotor or Budva.
You can also sail to other cities of the Dalmatian Coast. Sailing seems quite a beautiful way to experience the Dalmatian Coast, and we kept this in mind for future trips.
The Old City of Dubrovnik is one of the top beautiful cities for tourists in the country and is one of the cultural UNESCO World Heritage Sites.
Also read: 18 Best European Cities You Should Visit In February This 2022
Things to Do in Dubrovnik Town
Here is our itinerary for our three days trip for the things to do in Dubrovnik. Expect lots of cultures, as this place is part of European history, so it has some essential things to "narrate."
Dubrovnik is a tourist-friendly city and is spectacularly clean, day and night. You may don't know this, but even free camping is allowed in Croatia (with penalties if you don't leave the place exactly as you found it, i.e., clean).
Make sure you visit all the locations in Dubrovnik mentioned here, using a prepaid Dubrovnik Card. Read below why to do that.
Why Buy a Dubrovnik Pass for 3 Days?
You do need that card unless you want to pay for everything at their regular price. The Dubrovnik Card will cuts your museum and landmarks entrance fees by 50%!!!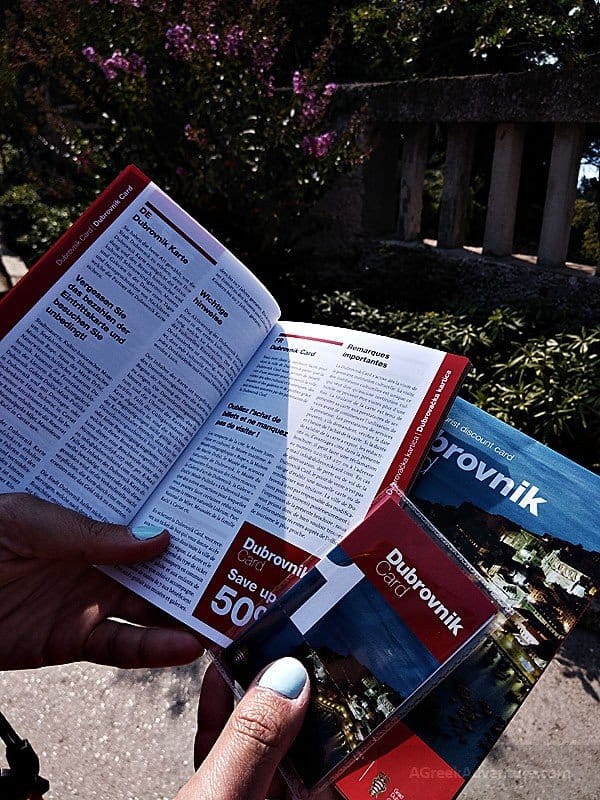 You can get it online, on your hotel or in the many Tourist Offices that are scattered around the city.
It comes in 3 different schemes:
One Day card: 180 Kuna
Three Days card: 225 Kuna
Seven Days card: 315 Kuna
Each provides you with different privileges on top of the museum entrance fees. If you want to go easy on a three-day trip, then buy the three days card. You can see all the museums in one day (if you want to go fast), except if it is Sunday as on that day some are closed.
With the One Day Card, you get a 24-hours free Bus pass while with the others you get even more. The cost from One to Three Days card is minimal.
On top of all other benefits, you also get discounts (5 to 15%) in restaurants, bars, and many other places. See all the details from here (note: in Hotels the card costs around 20 kunas more than purchasing it online).
The most affordable card is the one for 3 days in Dubrovnik. In that way you can spread your time quite well and have beach time too.
Onofrio's Fountain
This fountain comes with a sweet story behind it. Many fill up their water bottles here and also acts as a meeting point. That fountain was developed to solve the water problem of Dubrovnik along with the aqueduct system.
The architects contracted with the aqueduct project had to develop it under one term. If even a water drop was lost, they would be penalized ad the system wouldn't work as needed.
When the whole network was developed, then Onofrio della Cava takes over. He builds two fountains:
The Big Onofrio's fountain on Poljana Paskoja Milicevica, in front of the St. Savior church
The Small Onofrio's fountain under the Belltower next to the building of the City guard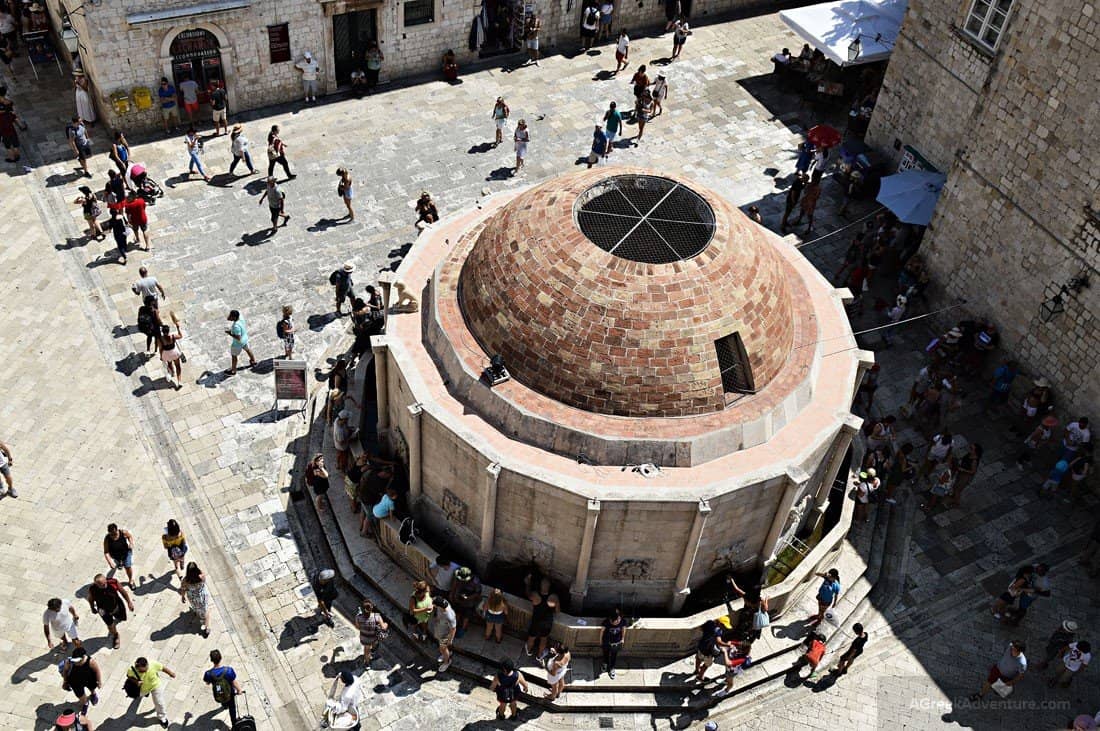 The picture above is from the big one and has 16 sides.
Strada of Dubrovnik
After filling up your water bottles, you get more rooted in the old city through the Strada.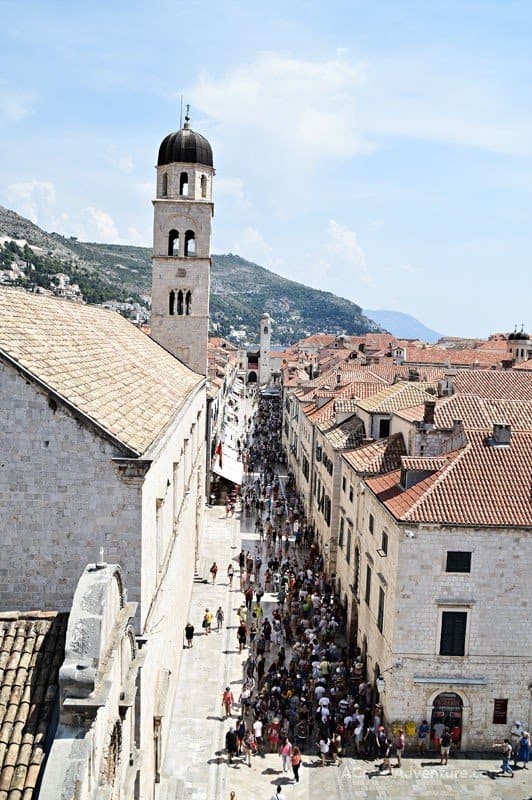 That is the main street of the Old City of Dubrovnik. You will see thousands walking up and down here, both in day and night. There are all kinds of stores, restaurants, sweet shops.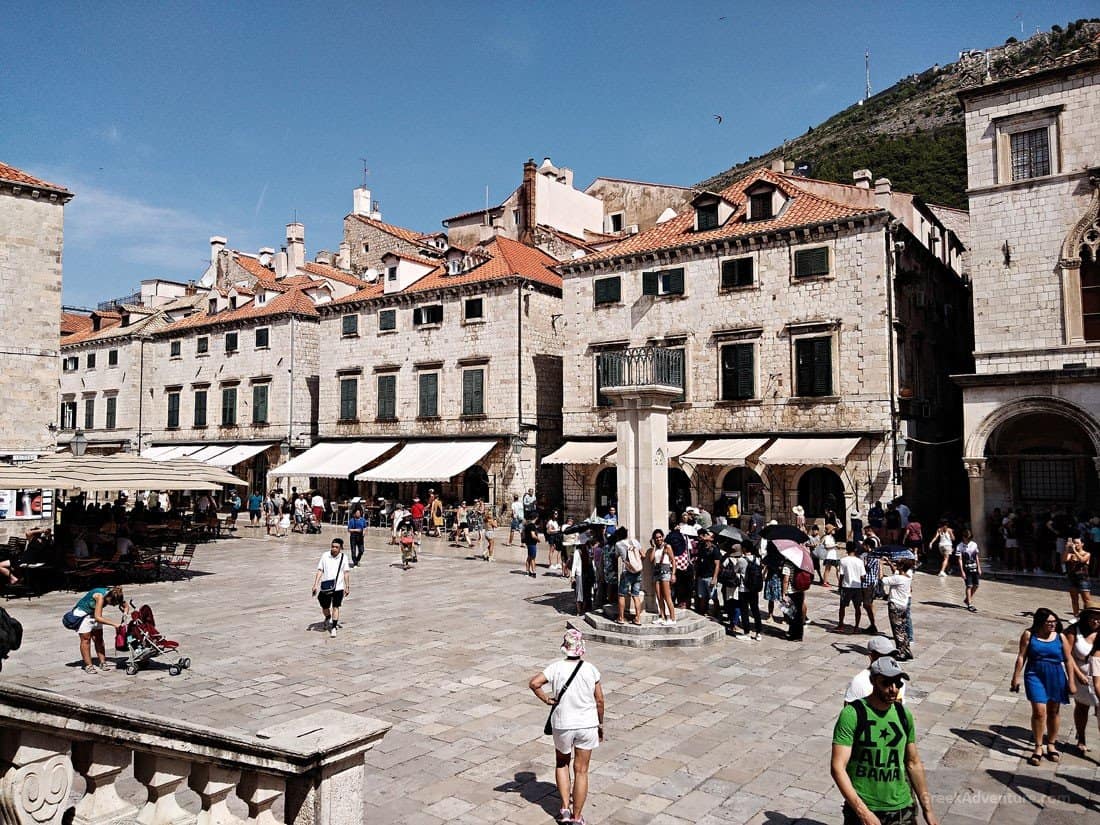 Strada ends up to Church of St Blaise square (the Patron Saint) and the Baroque Dubrovnik Cathedral is also here. Many sit to admire the surrounding architecture before moving on to the museums and the narrow alleys, or the small harbors at the opposite side.
Here is a video from the square at the far end of Strada.
Cultural Things to Do in Dubrovnik in 3 Days
Visiting the museums in each city/country we go to is a must for us. Museums are a concentrated way to explore the history of a country through the ages. So we used our Dubrovnik card to visit as many as possible.
Important note: Make sure to double-check via email or a call on which museum is open per specific day. For example, the Natural History Museum is not open on Sundays.
The visiting hours of the museums are:
March 22 – June 14; September 16 – November 2
Cultural History Museum (Rector's Palace): 9 a.m – 6 p.m., every day
Maritime Museum (Fort St John): 9 a.m. – 6 p.m., Mondays closed
Ethnographic Museum (Rupe/The Holes Granary): 9 a.m. – 4 p.m., Tuesdays closed
June 15 – September 15
Cultural History Museum (Rector's Palace): 9 a.m – 6 p.m., every day
Maritime Museum (Fort St John): 9 a.m. – 8 p.m., Mondays closed
Ethnographic Museum (Rupe/The Holes Granary): 9 a.m. – 8 p.m., Tuesdays closed
November 3 – March 21
Cultural History Museum (Rector's Palace): 9 a.m – 4 p.m., every day
Maritime Museum (Fort St John): 9 a.m. – 4 p.m., Mondays closed
Ethnographic Museum (Rupe/The Holes Granary): 9 a.m. – 4 p.m., Tuesdays closed
Dubrovnik Museums are not open on December 25, Christmas Day; January 1, New Year; and February 3, the Feast of St Blaise
Old Pharmacy at Friars Minor Franciscan Monastery
Get into this place and see an exhibition of all pharmaceutical tools, containers & grinders used to prepare medicines in the early days, along with recipes books.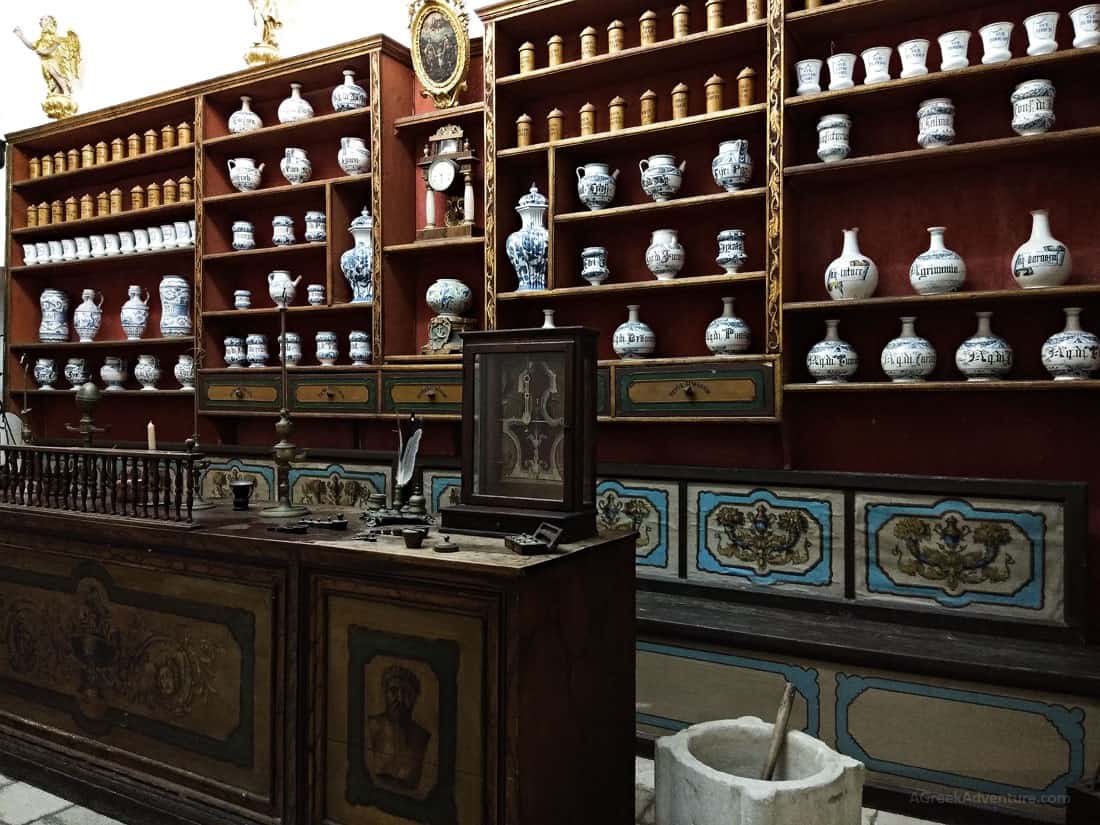 This place dates from 1317 and is the third oldest, still functioning pharmacy in the world.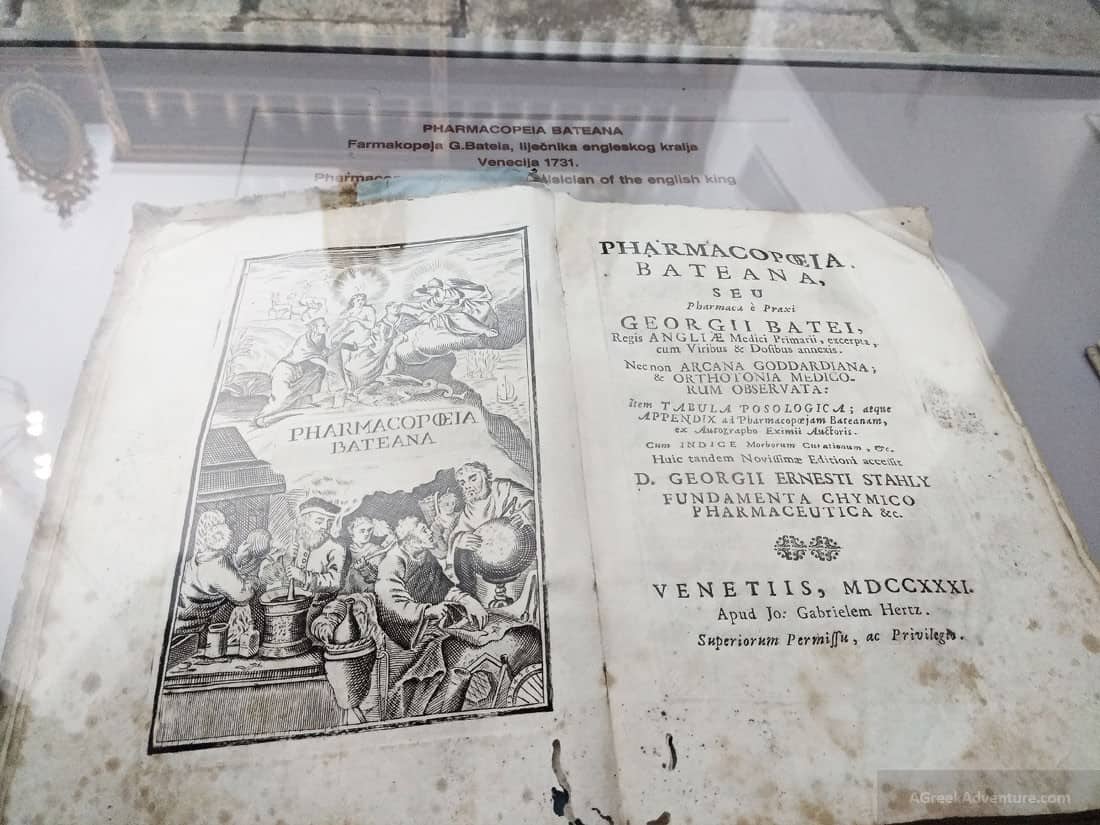 Dubrovnik Cultural – History Museum & Rector's Palace
This museum is two museums in one. You can explore the artistic and historical heritage of this place and related it to the Republic of Ragusa.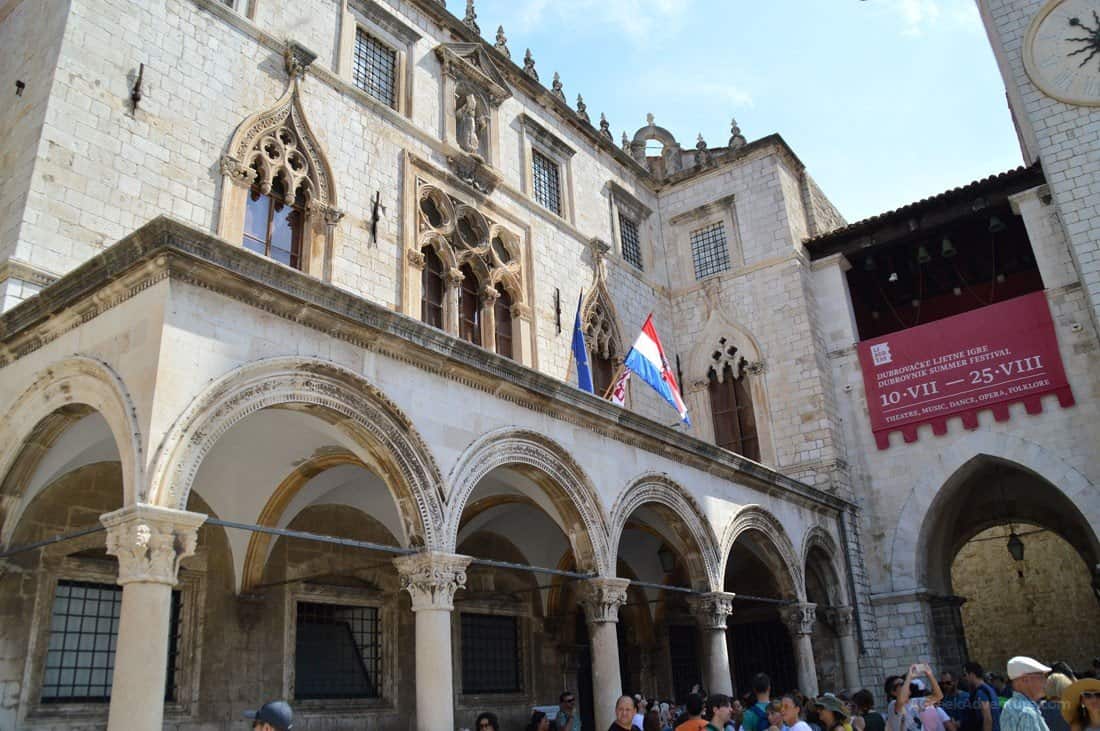 The building's exterior and interior is magnificent.
The time you will spend 1.30 to 2 hours.
Location: Pred Dvorom, 3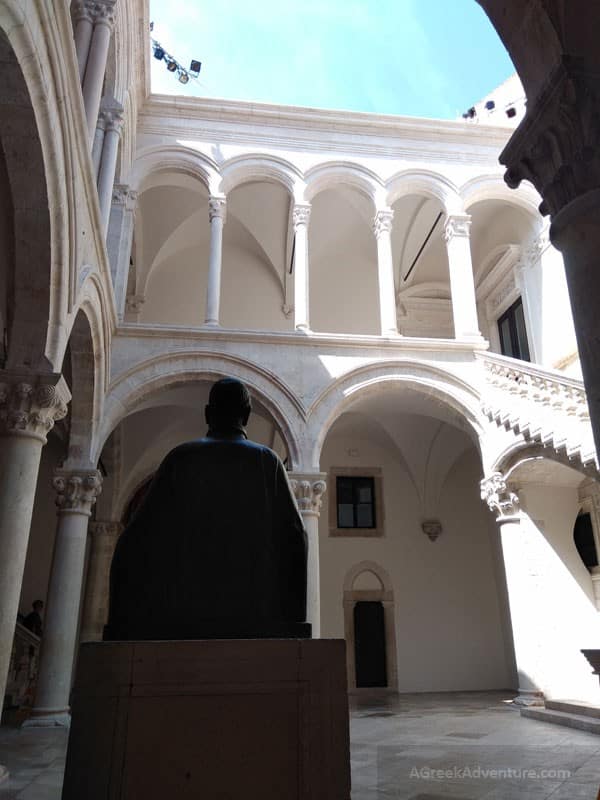 It represents a robust historical point as it used to be the seat of the Rector of the Republic of Ragusa.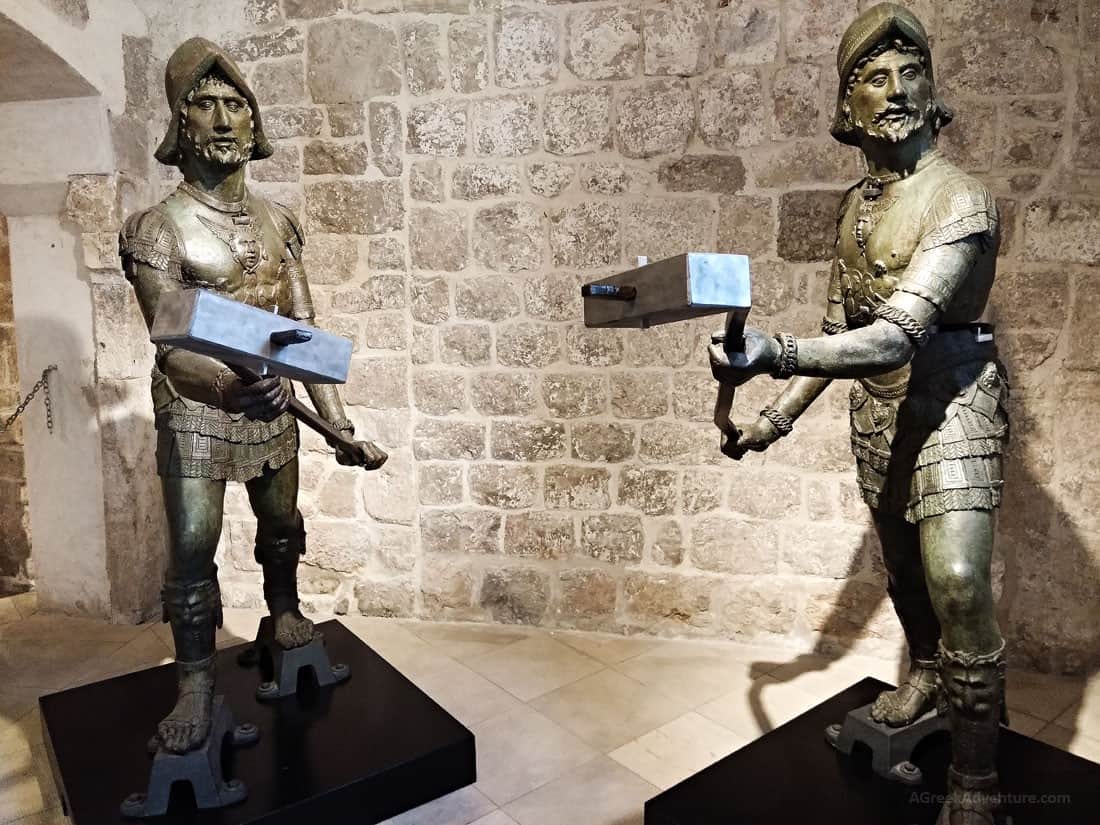 It also housed an armory, a powder magazine, the watch house, and a prison.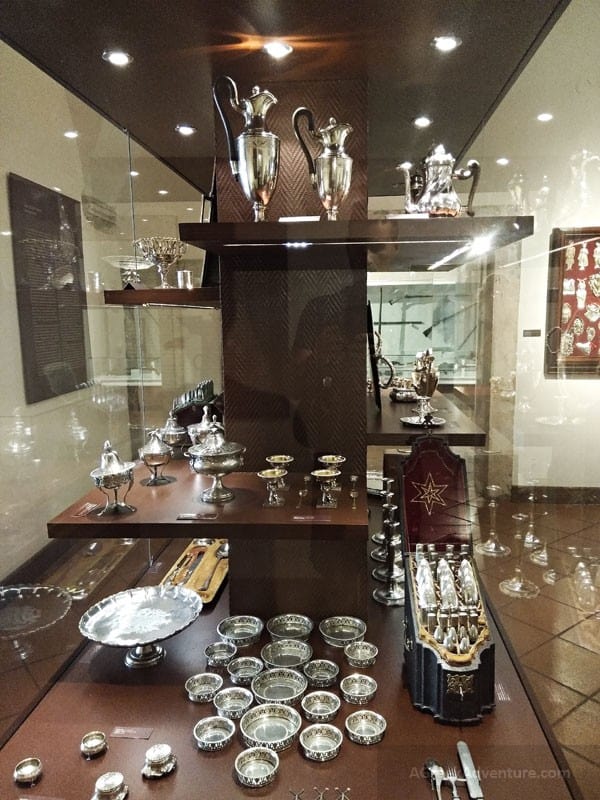 Dubrovnik Maritime Museum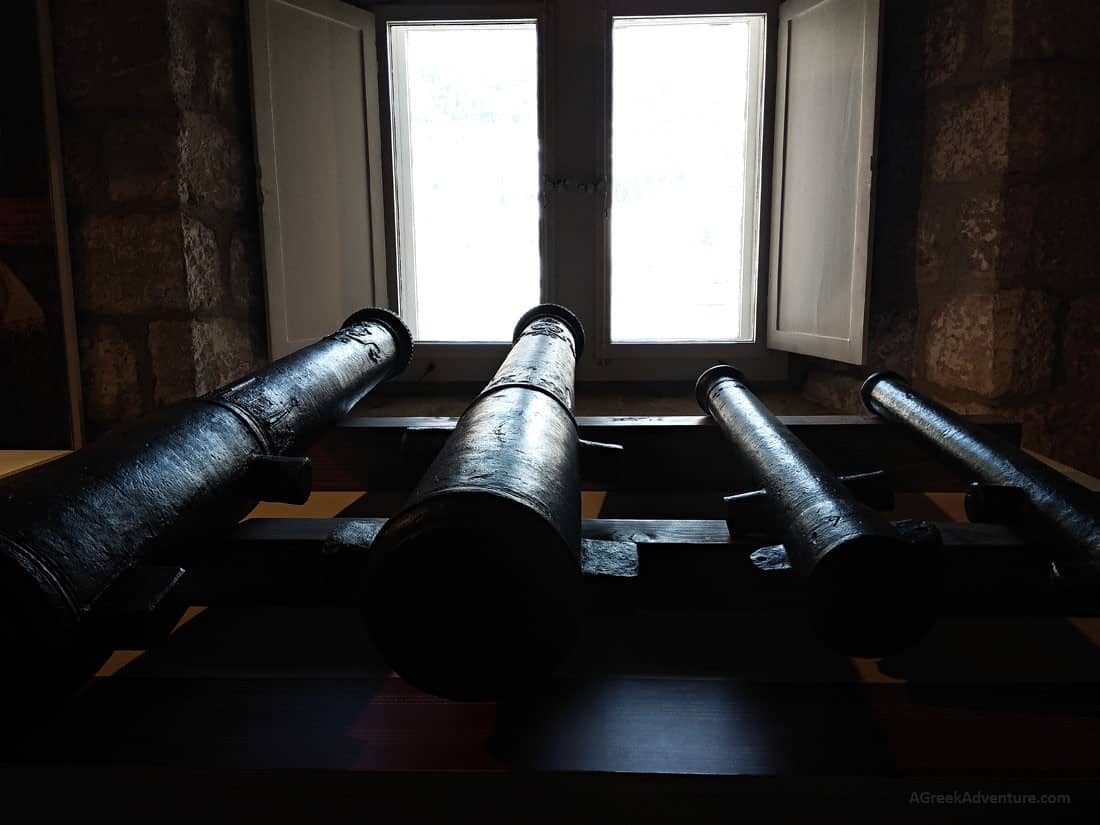 The naval history of Dubrovnik is here along with lots of exhibitions regarding ship parts, old navigation systems, and manifests.
The time you will spend 45 minutes to 1 hour.
Location: St John Fortress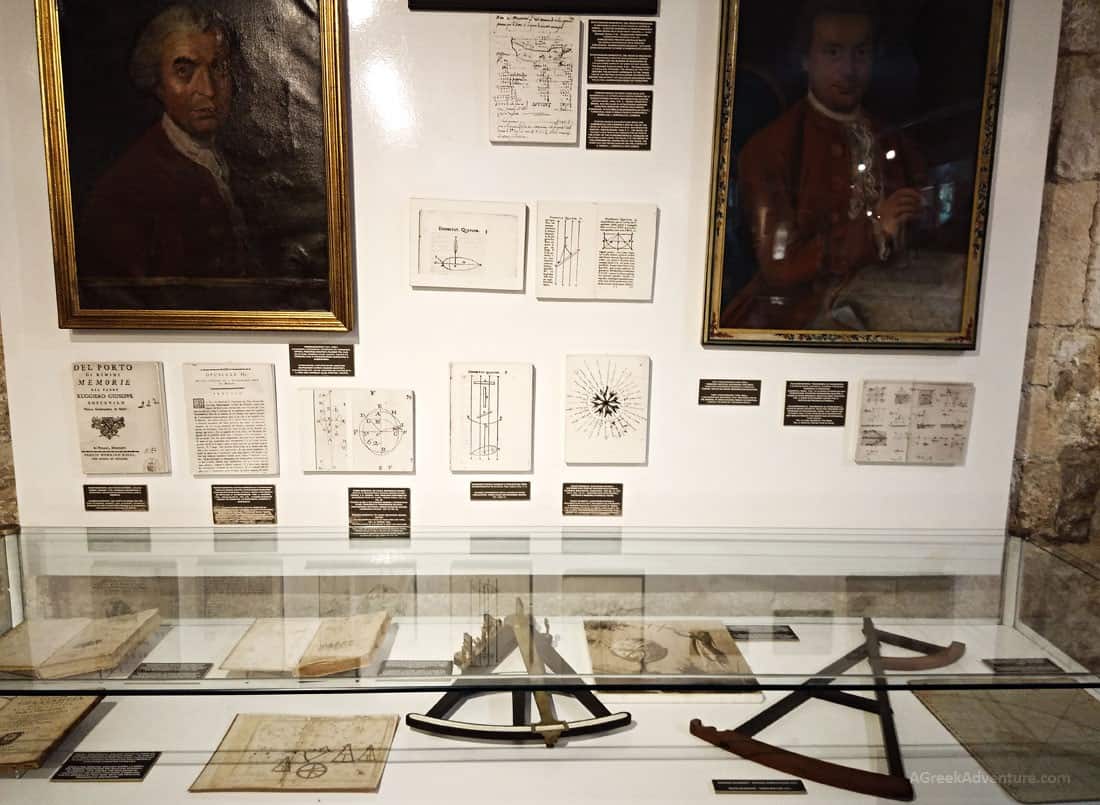 Ethnographic Museum Rupe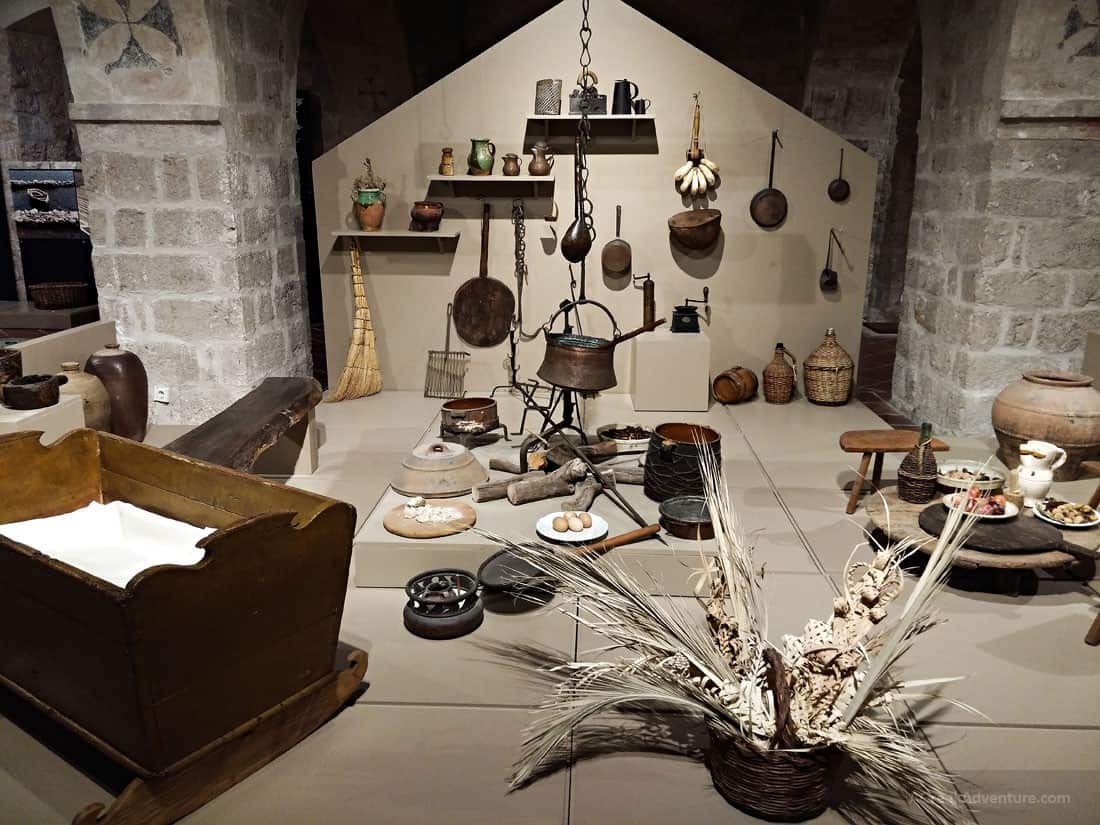 This museum will take you back to the 16th century. They used to store grains in this building's underground, thus the word Rupe (means: Holes). You will see traditional attire and themed settings based on local customs (i.e., Easter).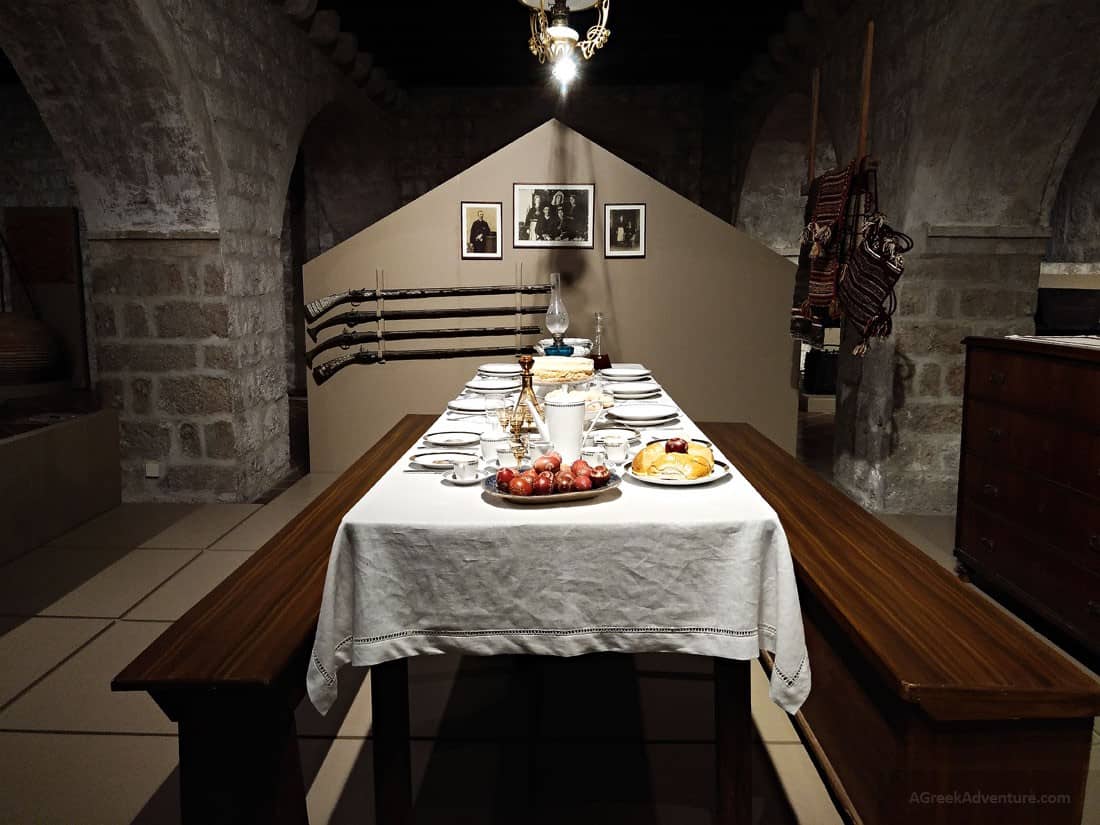 There is a sitting area where a film is presented explaining customs and their relation to the history of Dubrovnik.
The time you will spend 1 to 1.30 hours.
Location: Od Rupa Street, 3
Marin Drzic House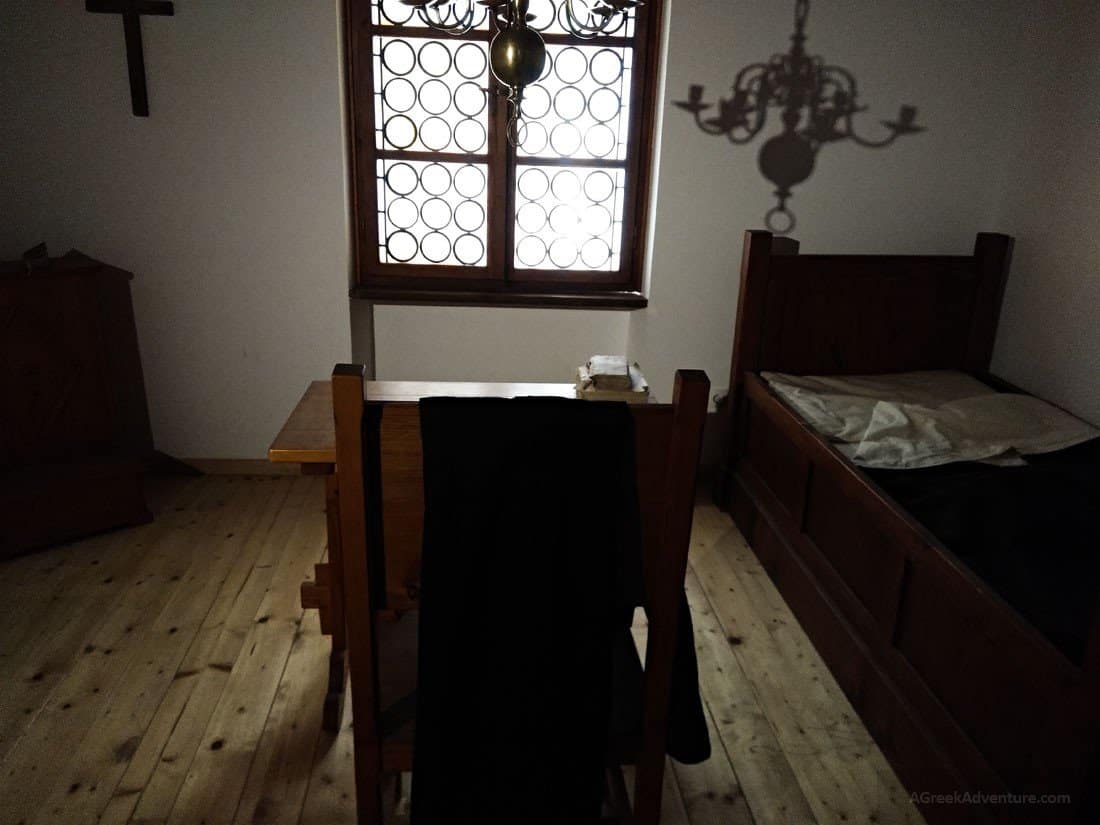 This house hosts some basic things about Marin Drzic, but the sign inside says that this house may not be his actual house.
Marin Drzic was a popular entertainer, maitre de Plaisir. Allegedly he wrote a series of comedies, yet he was also accused of plagiarism.
We didn't find a reason to visit this place, but since it was included in the Dubrovnik Card, we visited as well.
There are not many exhibits to see. Mostly posters, and some scary abstract ones.
The time you will spend 30 minutes.
Location: Široka ul. 7
Walk the Great Dubrovnik City Walls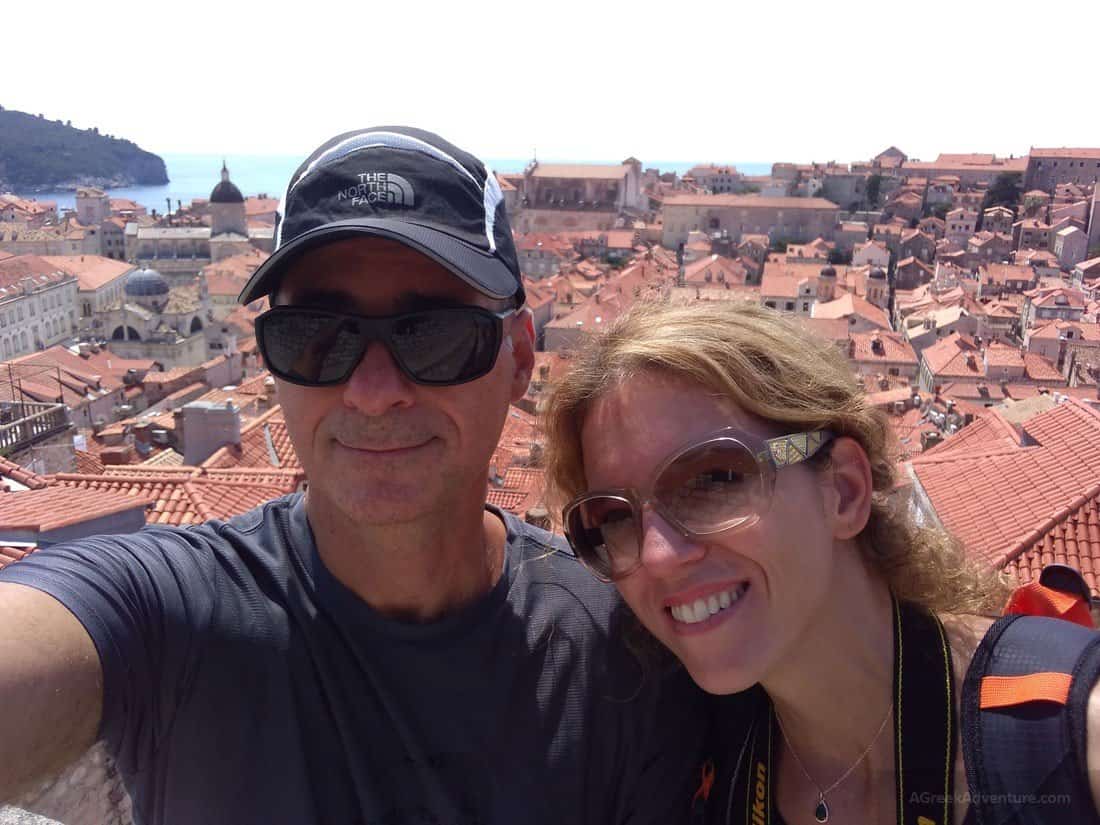 That is your opportunity to see the whole of the by walking all around it. The walk can easily take up to 2 hours, depending on your rhythm and stamina. There are two small shops with refreshments along the walking wall, plus a couple of small restaurants.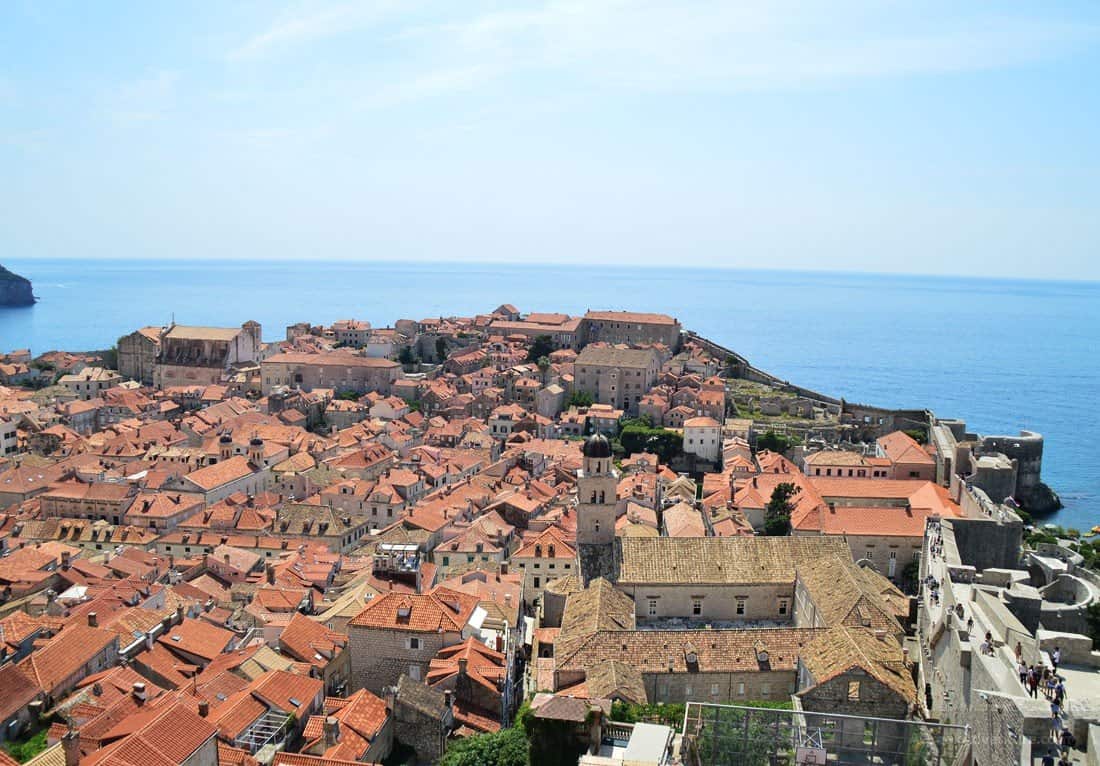 You will be on the actual fortification walls of the old city so that you will see everything in all directions.
In that way, you can combine the walk and sightseeing with a small lunch break.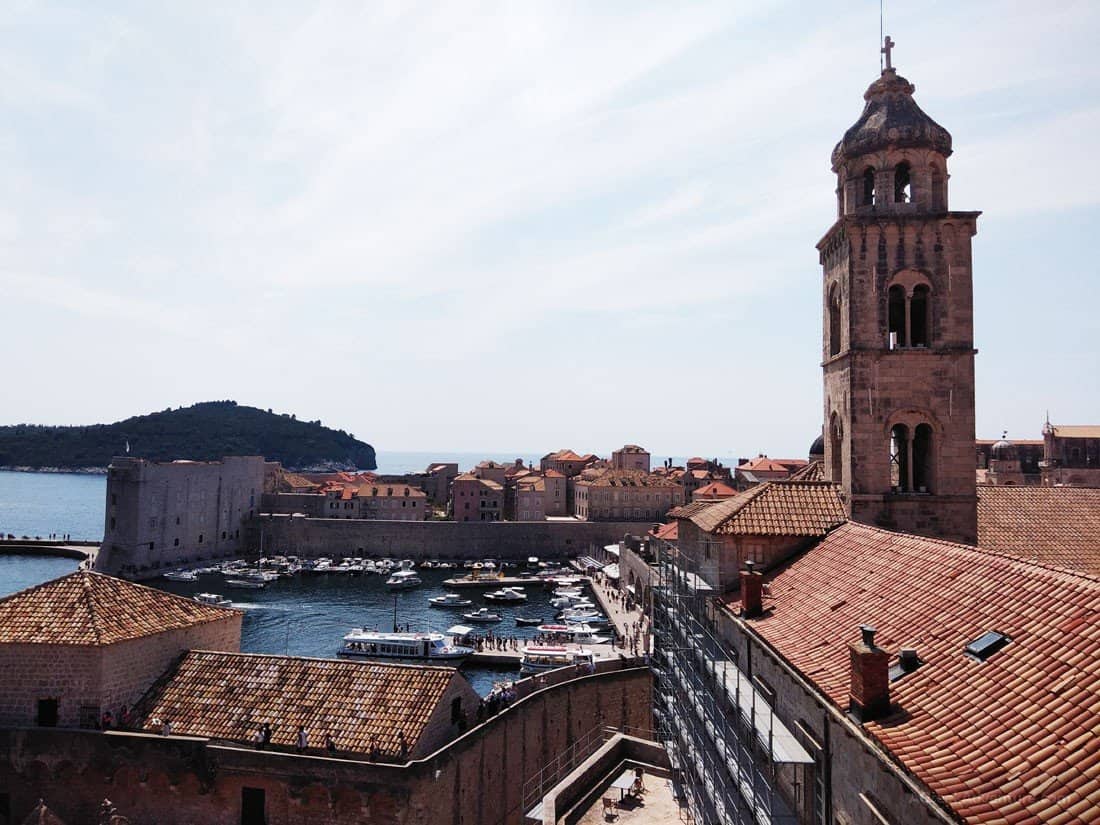 Dubrovnik Cable Cars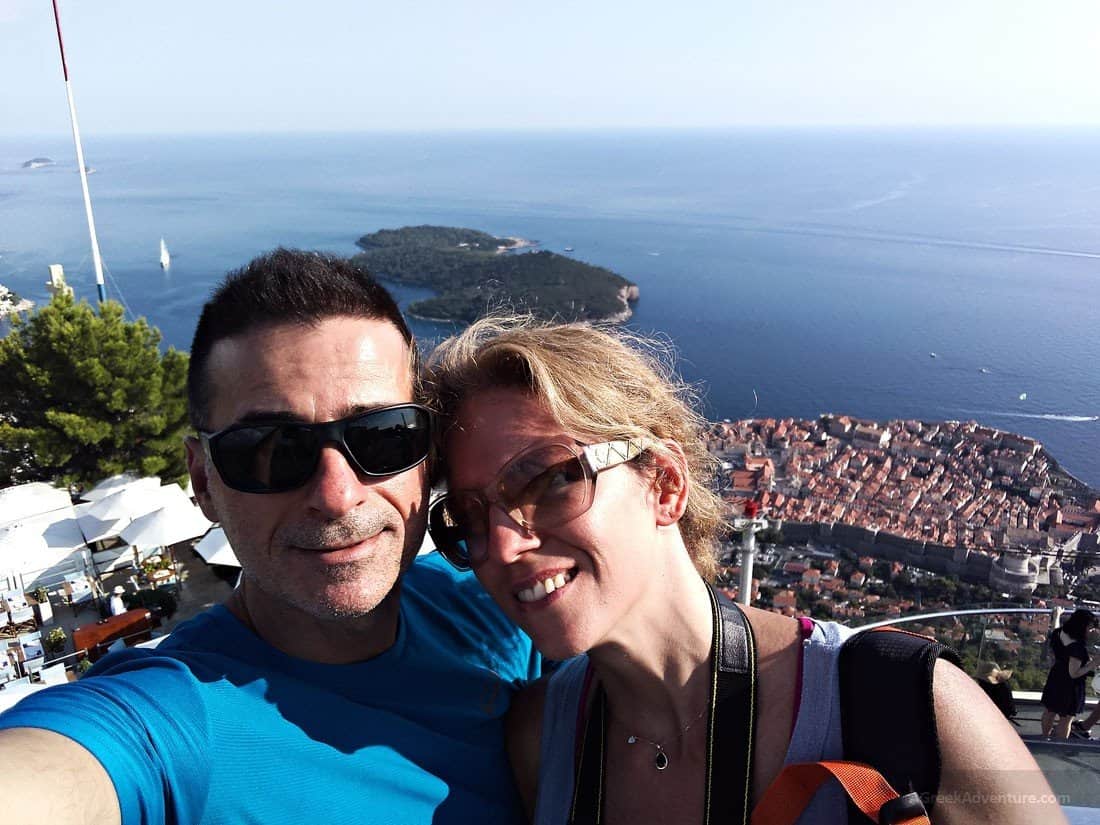 That is one of the things to do in Dubrovnik holidays, despite being a bit expensive. You can take the cable car (around 150 kunas round trip ticket per person) and get to the top of Mount Srd.
Yes, the view is breathtaking, and you can stay there as long as you like. You have two ways to get to the cable car tickets office and boarding area.
From Pile or Ploče gates. A 12 minutes walk behind the city walls from pedestrian sidewalks.
From Strada (Stradun), towards Buža gate, it takes around 10 minutes. Walk up the stairs, and after 1 minute, you will get to the tickets office. It is closer, but the steps are steep and a lot.
There is a restaurant at the top of Mount Srd, and you can enjoy the sunset with your dinner if you plan to be there at that time (locals recommend it). There are some tours offered at the top, but by searching around, we didn't find any good reason to attend to such.
See this panoramic video of Dubrovnik from the mountain top.
Dubrovnik Beaches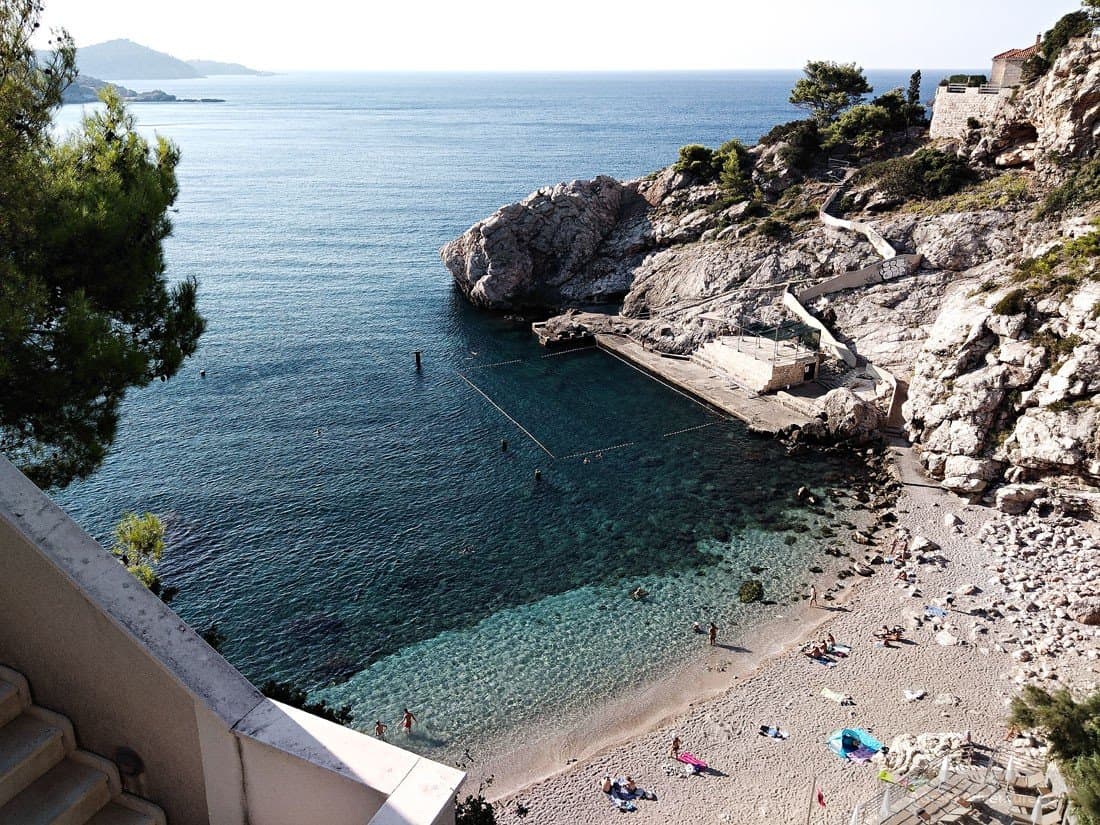 As said (and seen), Dubrovnic is next to the sea. That means lots of beaches. Beaches here are mostly rocky, with some having pebbles. That doesn't diminish their beauty, though.
This photo is from the Bellevue beach, and the view was from our room.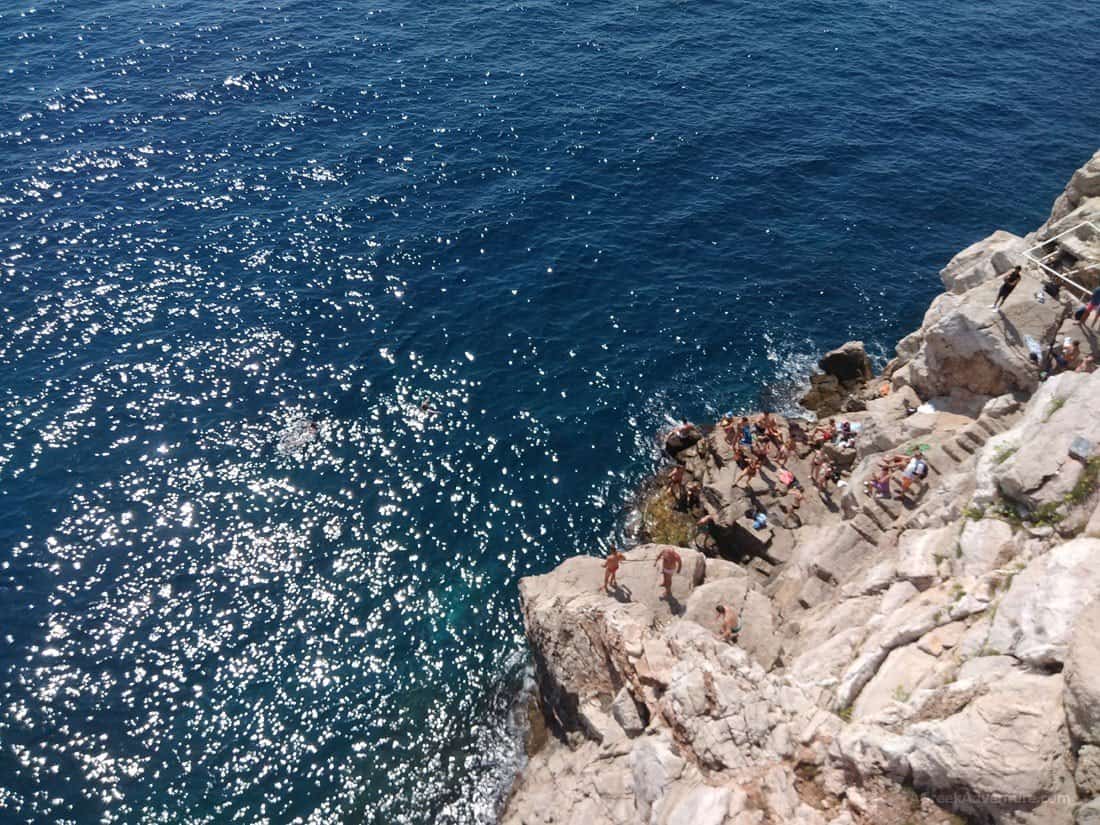 People will "make a beach and a swim" out of nothing. That is a beach as seen from atop from the City Walls. Lots of people in Dubrovnik engage in diving from high rocks, water-polo, and sea kayak.
Other beaches are:
Danče Beach
Buža Beach
Banje beach
Sveti Jakov Beach
Šulići
Uvala Lapad Beach
Veliki žal Beach
Copacabana, Cava, Lokrum
Porporela Swimming Spot
Fort Lovrijenac or St. Lawrence Fortress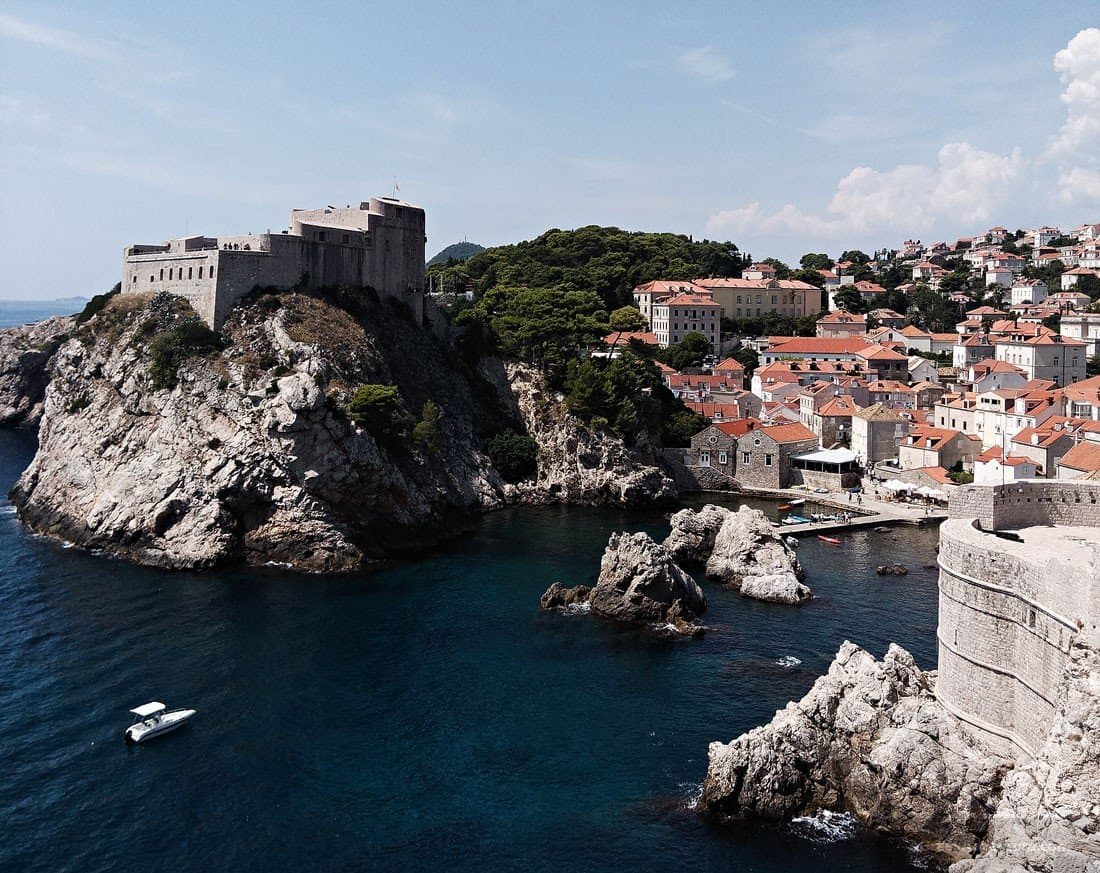 This castle is often called "Dubrovnik's Gibraltar." It is outside the walls of Dubrovnik (seen on the left side of the photo). This fort has almost zero things to see (exhibits and such), but it is a beautiful spot for pictures of the old city and a cool place for resting.
Many guided tours include it in their itinerary, and the small bay between the city walls and the fort served as a popular sea kayak station.
Sea Kayak in Dubrovnik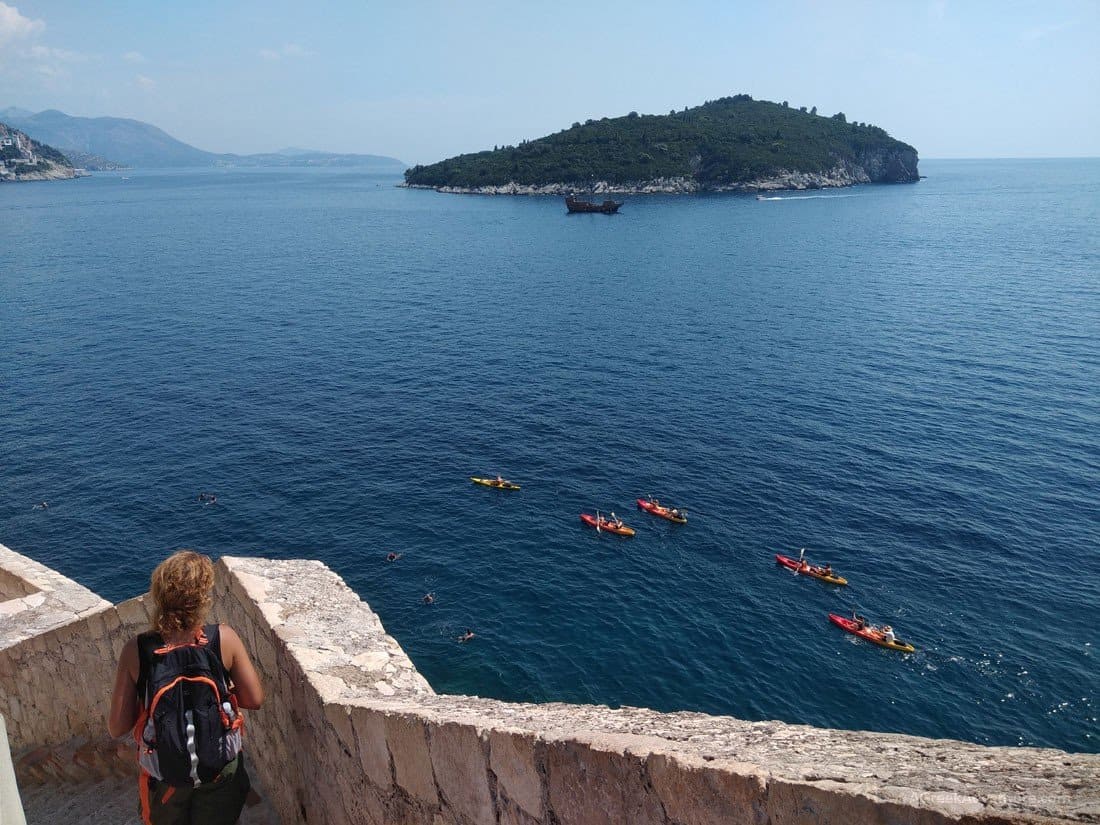 Sea kayaking could be one of the most popular activities in the area and logically along the whole coastline of Croatia. We saw many sea kayaks doing tours to the islands or along the coast.
They start from many different locations, even from the nearby Cavtat. We love sea kayaking too and have attended many tours.
Climb the Jesuit Stairs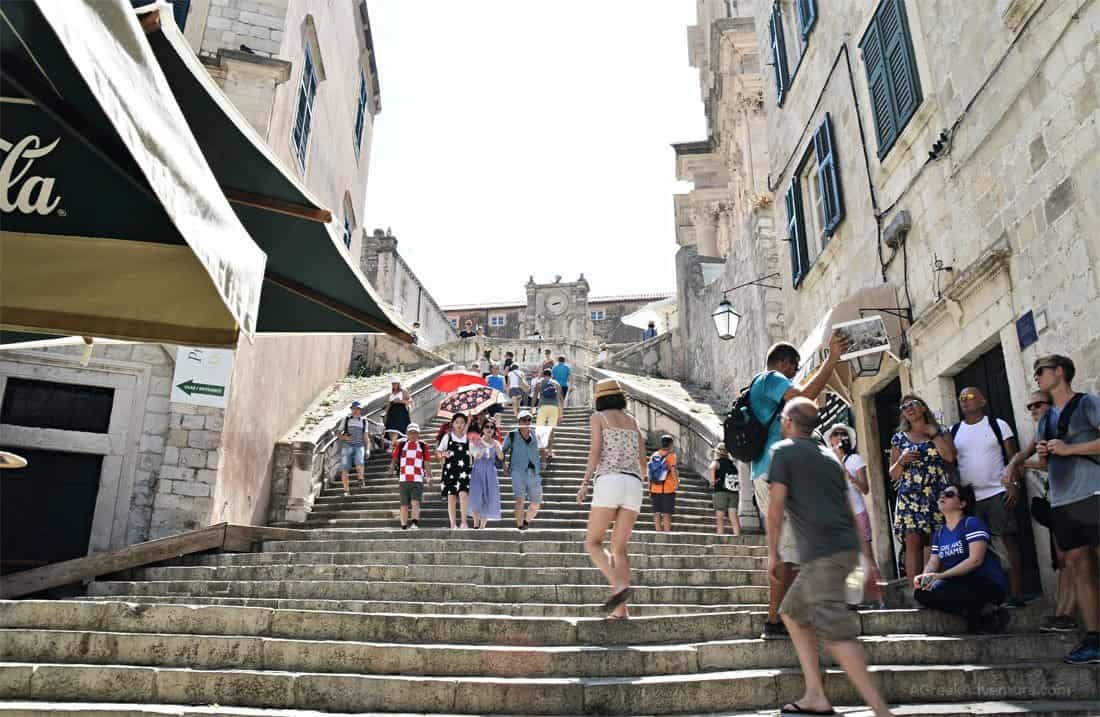 Beautiful spot in the old city. The stairs designed in Baroque style (by Pietro Passalacqua), are similar to the famous Spanish Steps in Rome. At the top, you will find the Uz Jezuite Street, along with the Jesuit Church of St. Ignatius of Loyola.
Strolling through the streets of the Old Town of Dubrovnik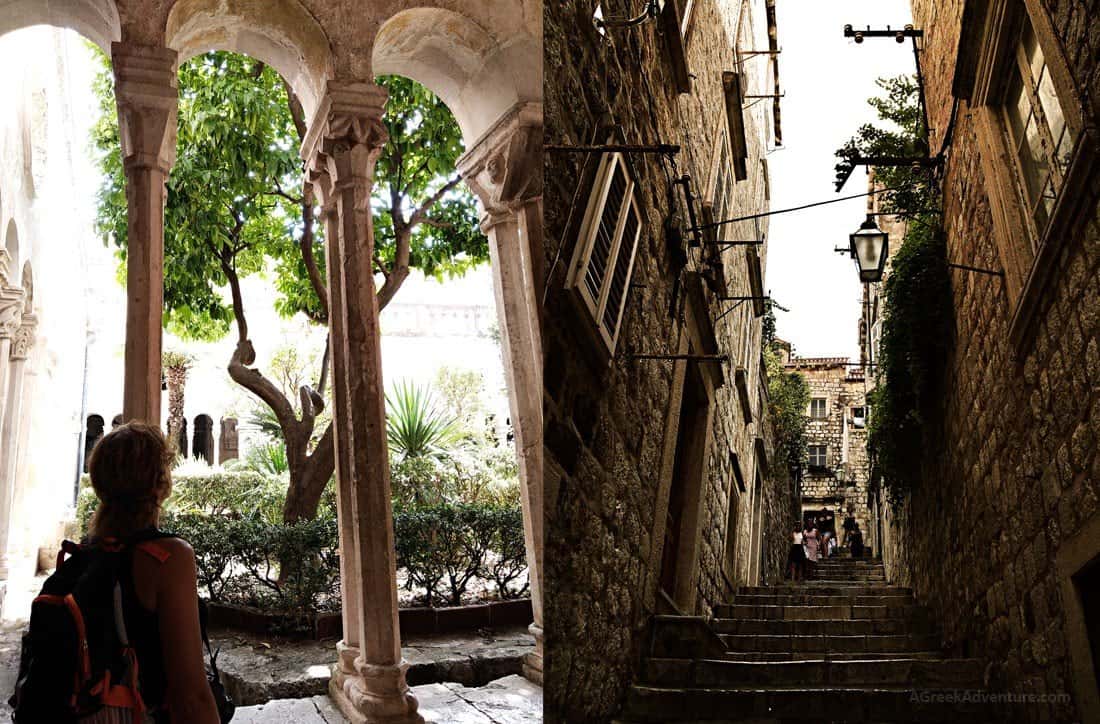 Allocate a few hours to walk through the narrow alleys and streets of Dubrovnik.
Despite the fantastic architecture, you will also meet many small wine bars and restaurants that serve great delicacies.
On the main street (Strada), you will find the Captain Candy store.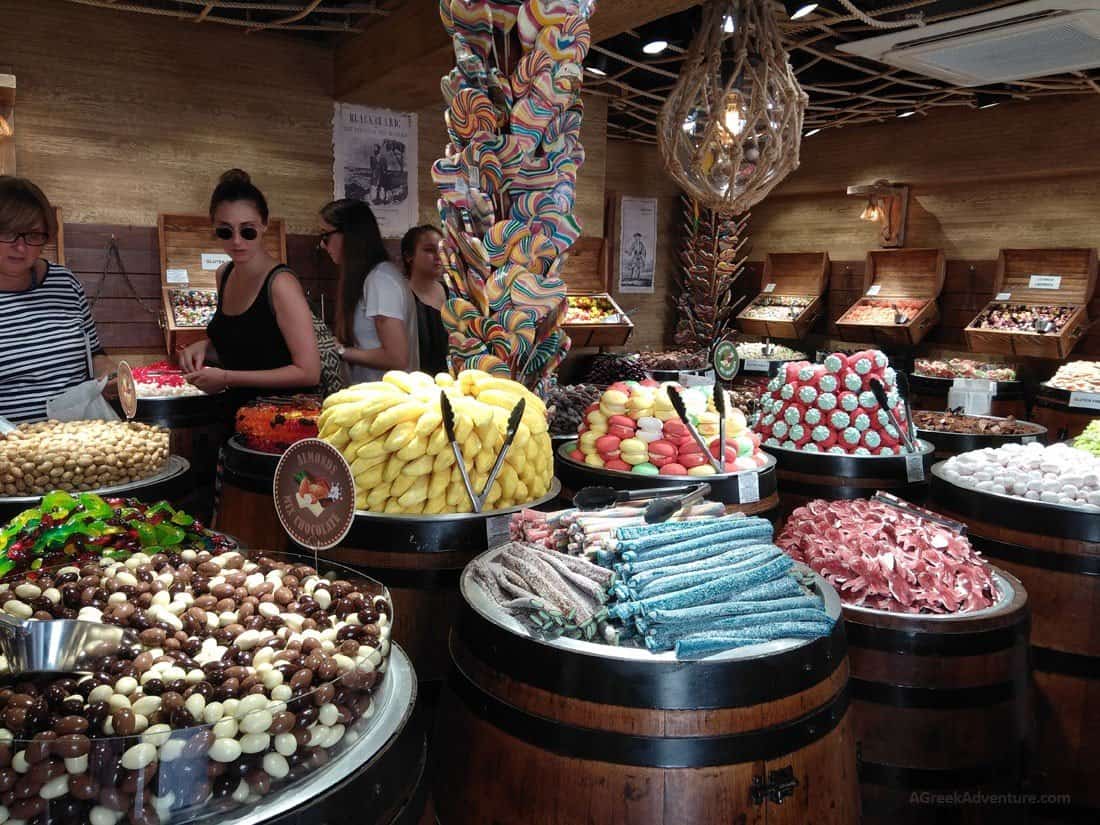 What & Where to Eat in Dubrovnik?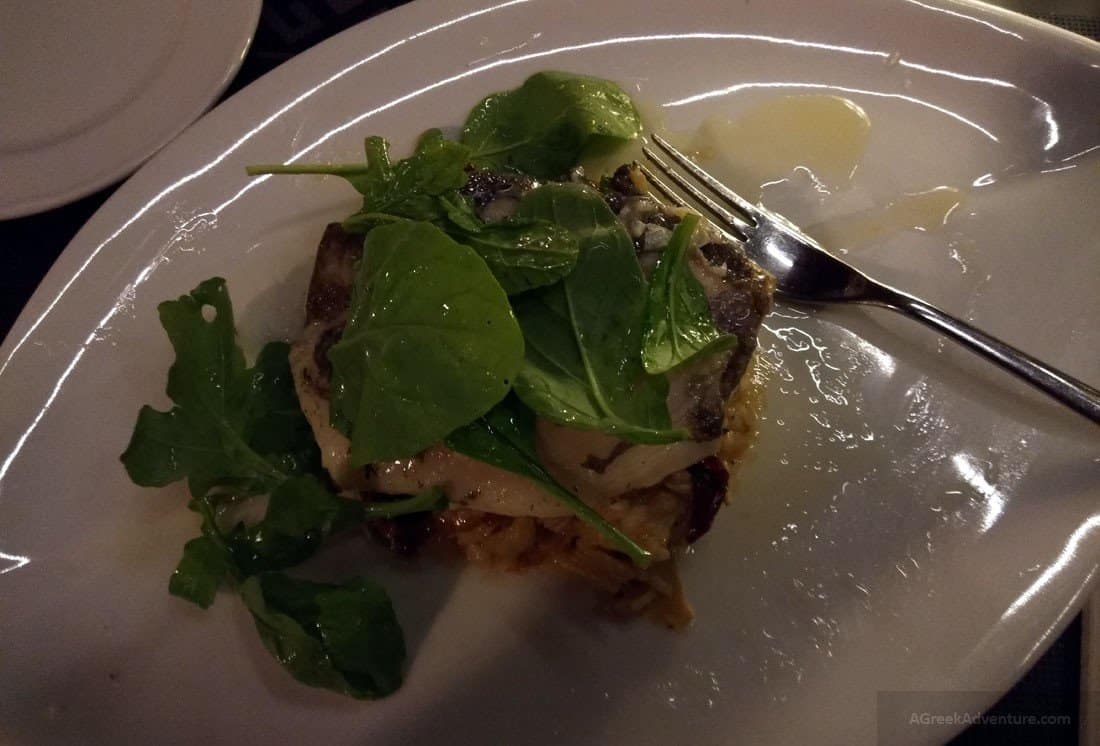 There are all kinds of food in Dubrovnik. Since the city resides by the sea, expect all local delicacies to be around fish and anything the sea provides.
We ate at different places. For a median price restaurant, we recommend Tavulin Wine & Art Bar as the food is really nice there.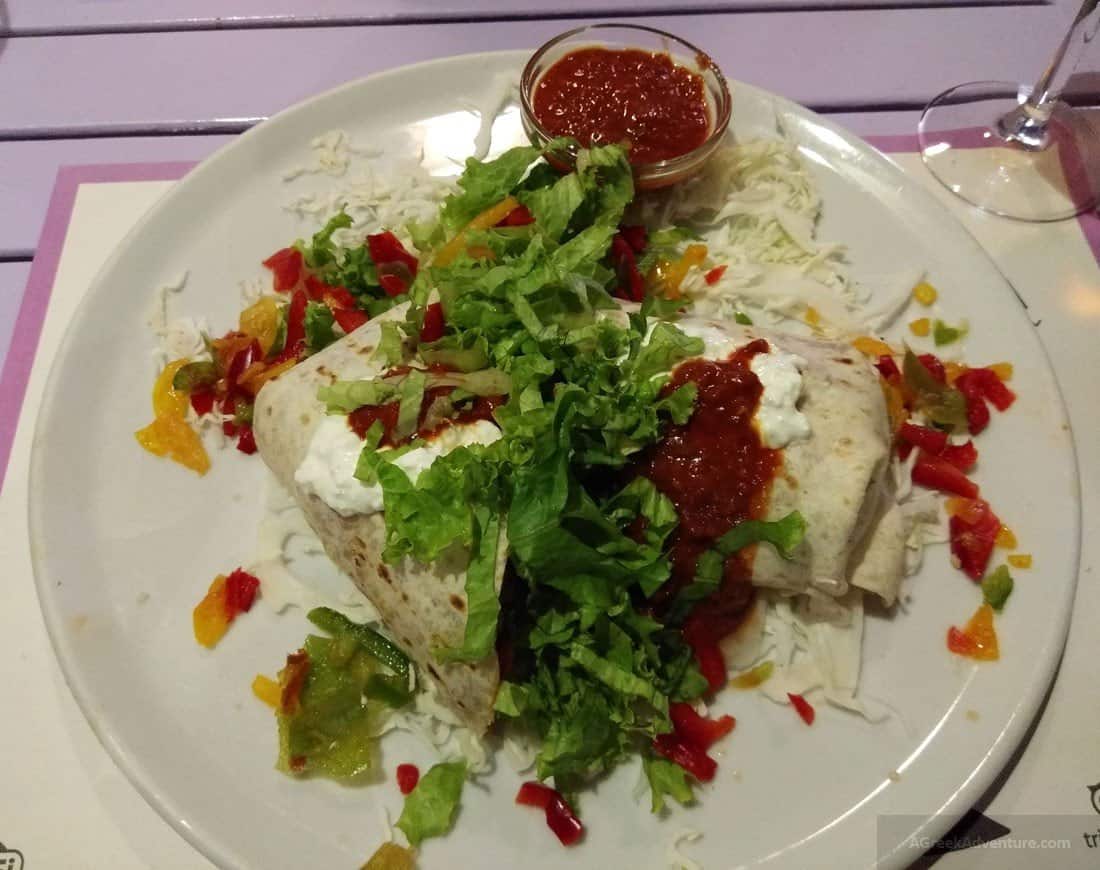 However, you can find splendid Japanese and Mexican cuisine too.
We spotted a Mexican food restaurant and got ourselves some Burrito con Pollo and Quesadilla con Carne, along with a local beer and margarita. The restaurant was Mex Cantina Bona Fide.
Where to Stay in Dubrovnik?
There are plenty of options, of course. You can't say that there are not affordable accommodation options in Dubrovnik, and services are definitely at the top level.
Since we had just a few days, we decided to go to a 5-star hotel. It was the Bellevue Hotel, only 10 minutes walking time from the Old City and had its beach! The hotel even had a private pool and gym and huge rooms with lots of amenities.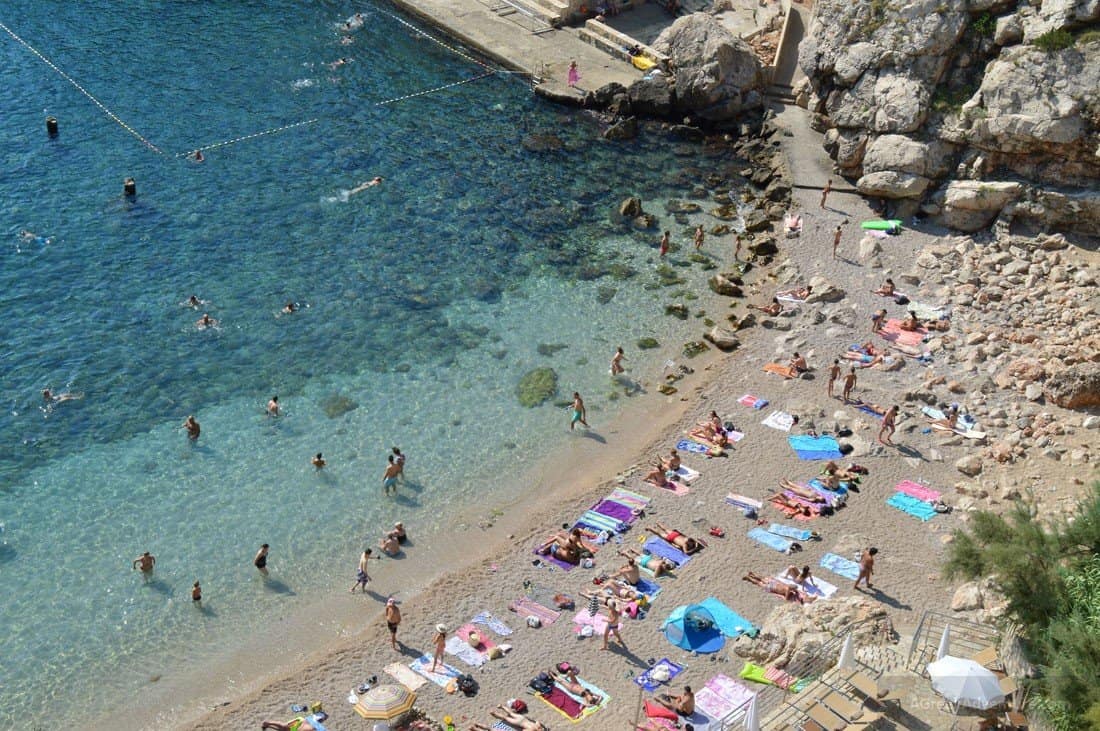 Even guests from nearby hotels came to swim on that beach. For hotel residents, there were sun lounges and all comforts.
For a thorough list of prices and accommodation prices, click here.
There are 2500 accommodation options in Dubrovnik, and keep in mind that local transportation is frequent and excellent. You don't need a car inside Dubrovnik.
Just make sure to get tickets before boarding the bus or have exact change. When you buy tickets on the bus, they cost three kunas more than getting them outside the bus.
The Adriatic sea is fantastic for a summer swim.
Visit Cavtat Village (30 minutes from Dubrovnik)
Tha can be a half or full-day activity. You can get there by taking the local bus (number 10). Cavtat has numerous beaches and great promenade routes.
Here is how Cavtat looks, but best is to read our exclusive post for Cavtat.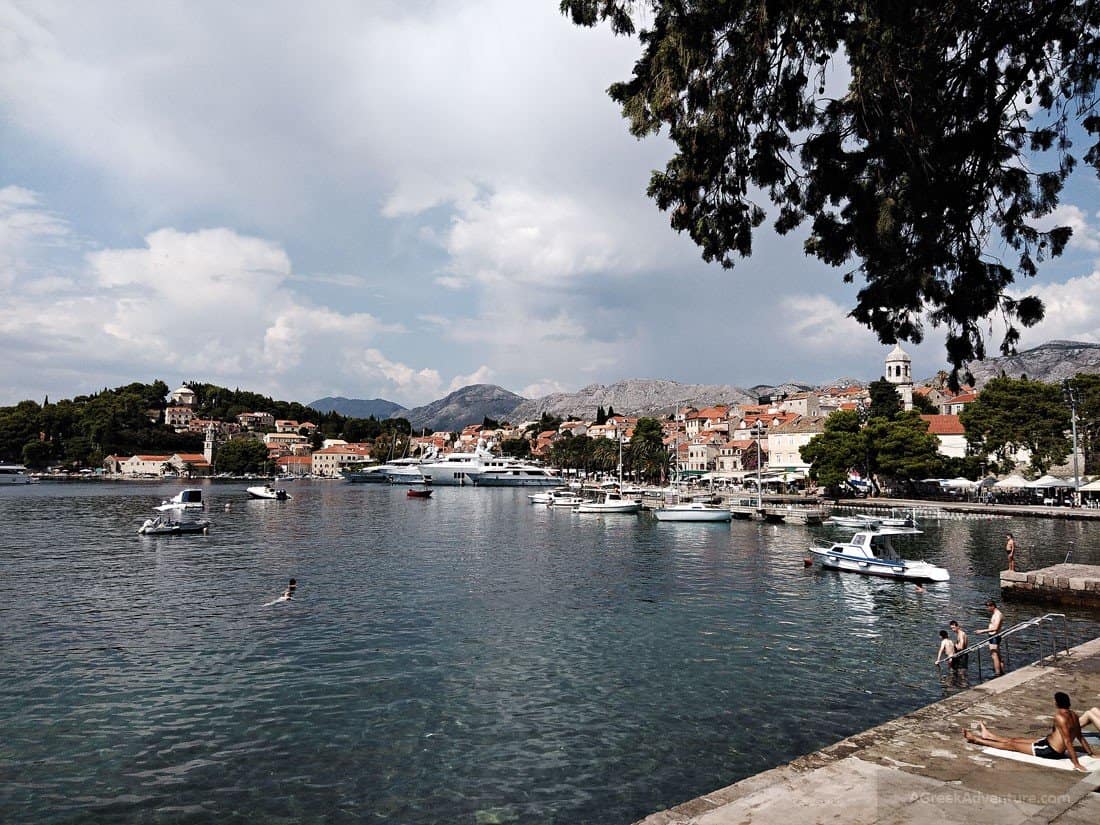 Weather of Dubrovnik in Summer
Weather in Dubrovnik follows that of the Mediterranean area. Hot summer and mild springs and autumn. If you want to avoid crowds, then go in Springtime; we went in mid-August, and didn't feel "crowded."
However, we think the best month to visit Dubrovnik is July.
Many people go into the old city bars and restaurants at night, and you see lots of people during that, but you don't feel like you can't walk or such.
Dubrovnik Map: Old & New City
Dubrovnik belongs to Croatia and is a city by the sea, famous for summer vacations both from tourists and locals. Since it is not an island, it can be reached even by car from any European country.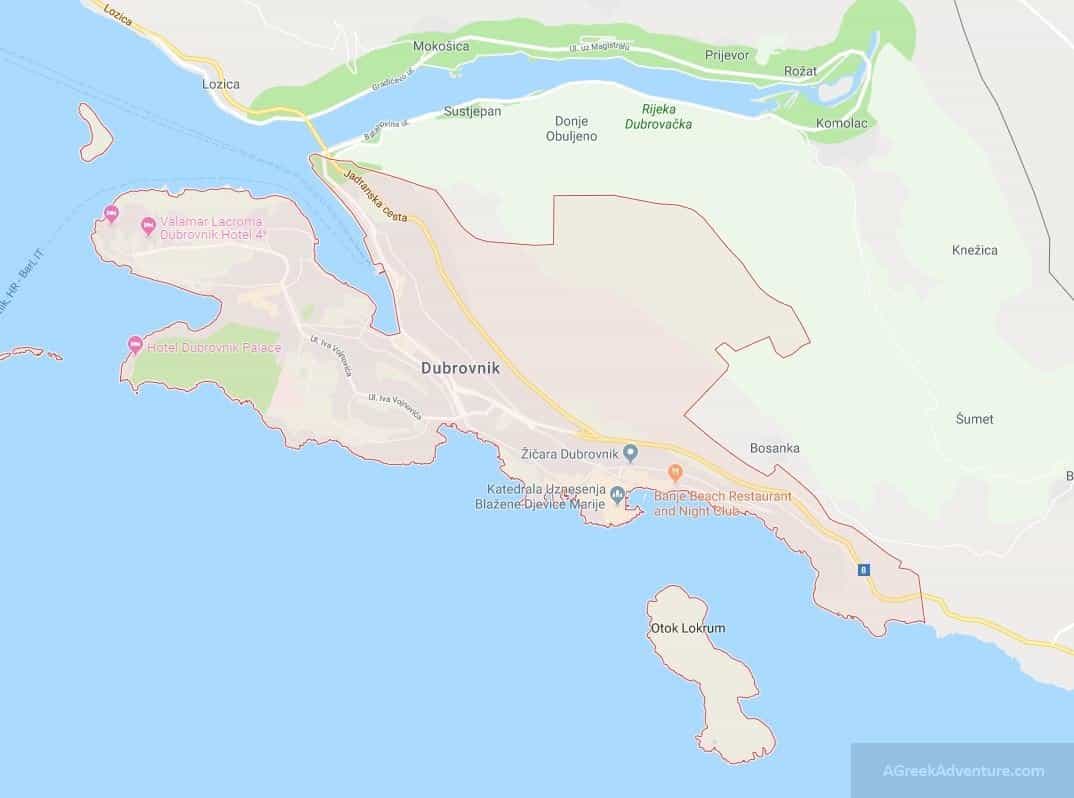 Here is a painting showing the Old City of Dubrovnik. Walls surround it. All buildings and fortifications are in good standing. They are renovated and well maintained.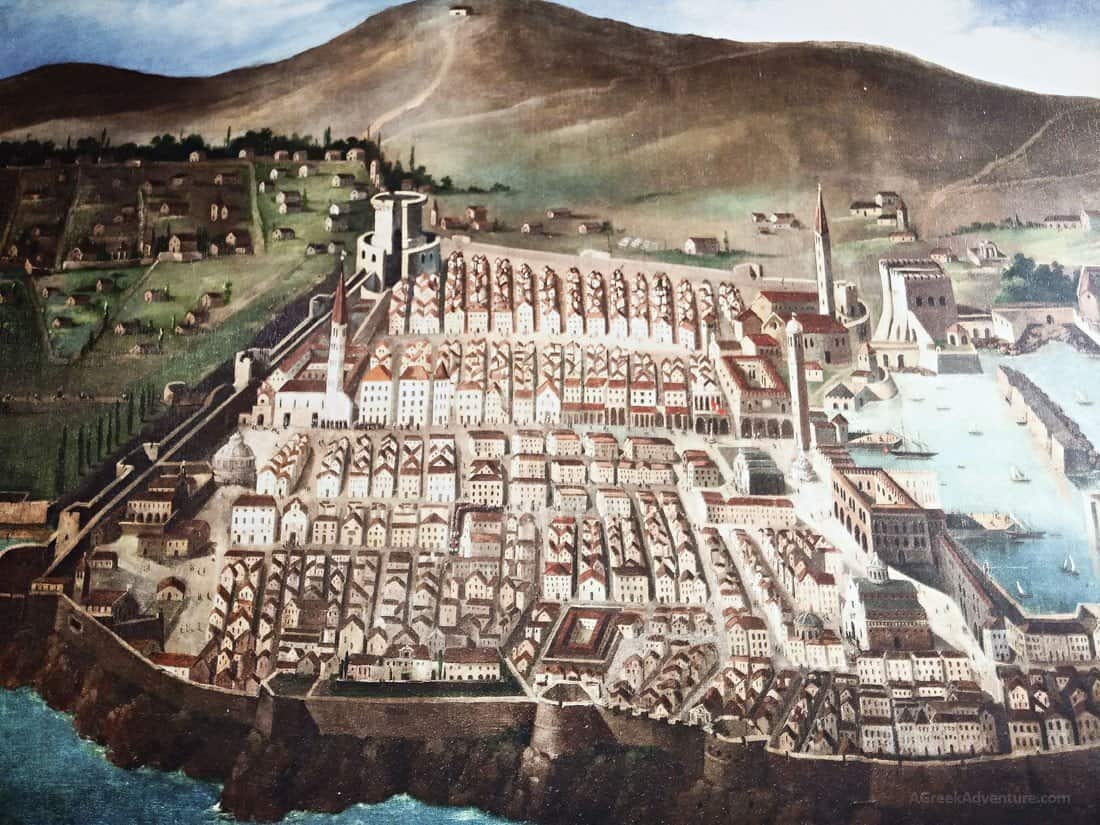 During the recent war, Dubrovnik was bombarded, but it was renovated excellently.
Walking around the walls of the old city will give an accurate view of the city from all possible angles. Reach up to the Pile Gate.
Things to Do in Dubrovnik at Night
As in many Mediterranean cities, the nightlife is one of the key elements to having fun.
There are a few bars in the old city, but there are many nice restaurants with excellent wine, and travelers seem to prefer these better.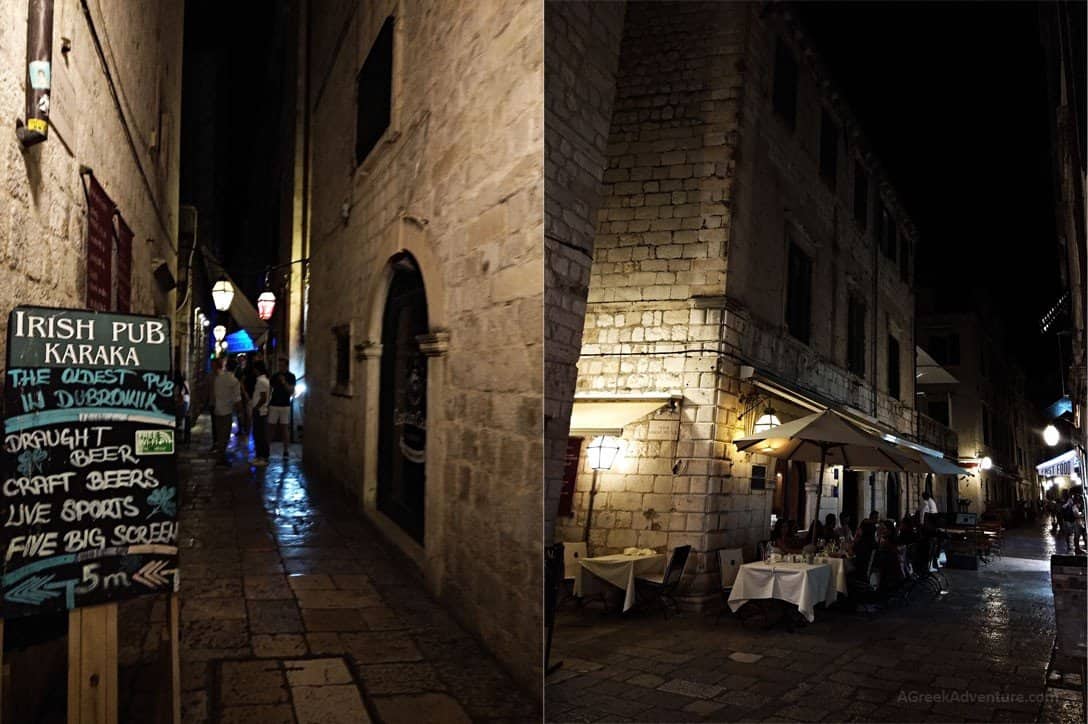 Dubrovnik Walking Tours
Most highly recommended guided tours in Dubrovnik relate to either food, Games of Thrones, visits to nearby islands for swimming and/or day tours to other popular cities. You will see many kiosks selling, such in the town.
Plan ahead (lots of crowds ask for them) and book them online, since some of them require some pretty good amount of time. These are:
You can have a look for all the available tours from here.
How to get to Dubrovnik?
Flights to Dubrovnik
You can fly to Dubrovnik airport from many European countries. These are Austria, Belgium, Czech Republic, Denmark, Finland, France, Germany, Greece, Italy, Latvia, Netherlands, Norway, Serbia, Spain, Sweden, Switzerland, plus Israel and Turkey.
Bus to Dubrovnik
You can get the bus from Italy (Trieste) that is run by Autotrans or from Bosnia & Hercegovina and Montenegro. Check the website of Dubrovnik Bus Station for more details.
How to Get to Dubrovnik by Ferry?
Ferries are departing from Bari port, Italy. The ferry line is in operation between March and October. It is the overnight journey that takes about 12 hrs.
Summary On Things to Do in Dubrovnik Croatia in 3 Days
There are lots of things to do in Dubrovnik, right?
We promise you that you will be amazed by this city, if not from the Croatia allover.
Nature and sightseeing you will encounter, along with great food and wine and top services, will make you want to come back and explore more of the neighboring countries. For example, you can travel from Dubrovnik to the Bay of Kotor in Montenegro.
Have fun and let us know how visiting Dubrovnik and Croatia were for you.
Here is a sum-up video from this experience!