This is not exactly a sport that I am doing. I am an avid hiker, and through this passion I have decided to work on the development of hiking tourism in Greece.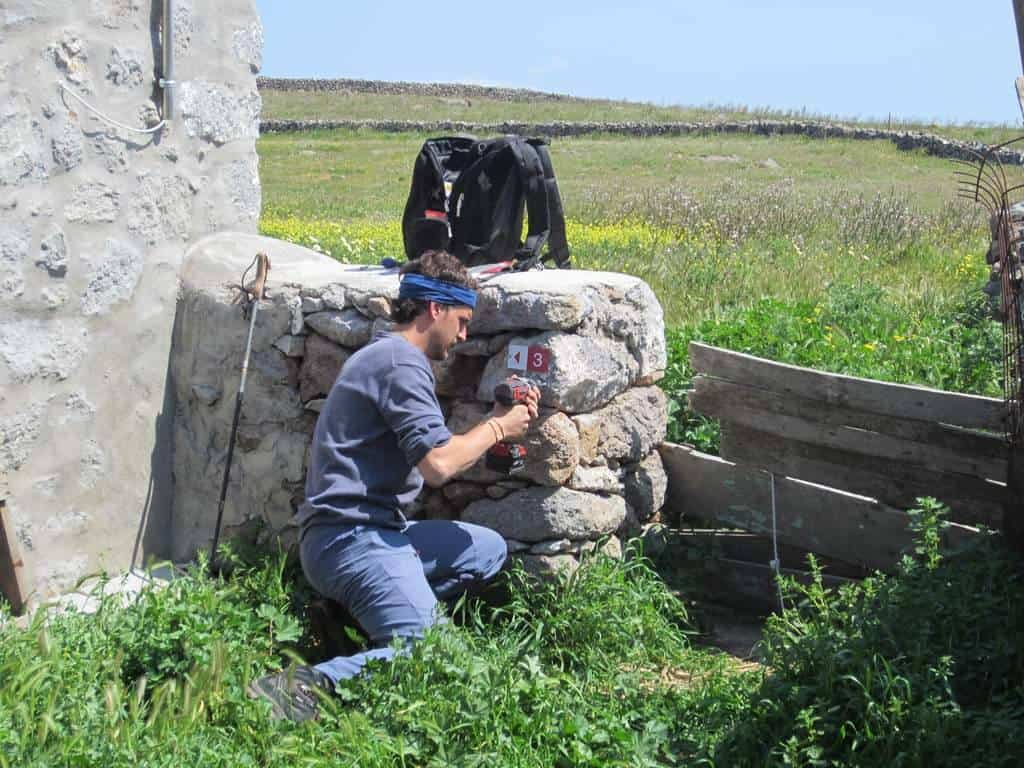 Place of residence
Athens and all around Greece since most of the time I am traveling
Sport/Activity
Development of hiking trails networks around Greece, as well as on the promotion of these trails.
Profession and educational background
MSc in International Relations (Paris), MSc in Environment and Resource Management (Amsterdam)
When did you start doing your sport and why?
I started working professionally in 2011, when I was asked by an NGO to make a study for trails development in former royal estate of Tatoi.
Do you have a saying or motto that you live your life by?
Caminante no hay camino, se hace el camino al andar (Walker, there is no trail, the trail is created as you walk) by the Spanish poet Antonio Machado.
What is the most challenging thing for you to do in your sport?
In my activity, the most challenging thing is to create a consensus amongst the locals, so that we all work together towards the even development of the project. Most often in Greece local communities are victims of internal disputes and concurrences. I try to prove every time that if we all work together, then the benefits would be bigger for everyone.
What has been one of your biggest accomplishments in your sport?
Perhaps having to say that after three years of working in this business I have sign-posted 7 trail networks, and created studies for another 10 projects. And all this during the crisis.
What is satisfying about your sport?
What I mostly appreciate in this work is that there is no such thing as an "office work" for me. When I am on a project, I have nature all around me, I meet nice people who give me the "keys" to discover their place in depth. I also have the feeling that I help Greece, even if this is just a very very tiny little stone that I am adding to the edifice.
What was the best advice you were ever given?
To strive for what I believe.
What are your heroes? Where do you draw your inspiration from?
The smell of plants, the sound of the wind and the appeasing heaviness of trees. It is also all these passionate people that I meet in different areas. I remember how strong I felt when in Kythera, an old man wanted to show me a forgotten path. He was about 80 years old at that time. We started the walk in the morning. As soon as we reached the beginning of the path, we realized that the bushes and the spikes had virtually covered it. Except of the dry stone walls that were right and left of the path. At once, he jumped on one of these walls and started walking on it, along the path. After about a minute, he turned towards me and told me that his father had built these walls some 60 years ago… I felt electrified.
What is your biggest challenge and how do you do manage this challenge?
The biggest challenge that I face would be the creation of a common promotion for hiking tourism in Greece.
How important is your equipment for your performance?
When I am "out there" correct equipment is very useful. I am not a fan of any specific brand. What I know though is that no shoes that I have bought have resisted for more than 6 to 7 months…
Why do you think Greece is an ideal place for your sport?
Greece offers everything for any type of hiker: from high mountains to small paths by the sea, paths passing through dense forests or paths crossing agricultural fields, paths passing by watermills and paths passing by ancient temples… In other terms, it is a paradise of old and new paths, the weather is good all year round, and everything is at human size.
Can you recommend 3-4 places in Greece ideal for this sport?
Well, the whole country is excellent, and offers unique beauties every time. If I may suggest some places, these would be: Kythera island in Spring and Fall, Karpathos island in Spring and Fall, Kalymnos island (especially if you want to climb as well), the region of Zagorochoria (in all times except in winter), and the region of Drama (all year round).
Anything else you'd like to share?
A video about our work: