Selecting the best hiking bra for women, for your outdoor adventure, and for the majority of sports activities, is an important decision. The correct hiking bra provides support to your breasts while relieving the stress applied to your shoulders, neck, and back muscles. Thus, the bras must be shock-absorbing and fit well to your chest-breast-back areas.
Hiking comes with lots of ups and downs that depending on the terrain, inclination, and breast size may a comfortable or a painful experience.
With our article, we help you to find the best bra for your body, along with explaining selection factors, like materials, impact level, design, coverage, and types.
Comparison Chart for the Best Hiking Bra
Here are five selections along with their features and evaluation of what makes them unique. Choose the one you prefer. We also suggest the one we would choose and why.
IMAGE
PRODUCT
1. Champion Women's Curvy Sports Bra

Flattering design
Racerback for hiking
Right size bottomband

Check Price
2. Under Armour Women's HeatGear Mid Impact Crossback

Crossback design
Snug fit
No chaffing

Check Price
3. Reebok Women's Puremove Sports Bra

For high impact activities
No chaffing
Very supportive

Check Price
4. Maidenform Women's Sport Ultimate Underwire Bra

Adjustable straps
Semi-sports
Good support

Check Price
5. Moving Comfort Women's Fiona Bra

Back hooks
Breathable
Soft fabric on straps

Check Price
Best Hiking Bra
This bra comes with great comfort and is very figure-flattering. The V-neckline creates natural curves.
The bra is built for cycling, running, and gym workouts and moderate impact activities in general, without show-through. It has a mesh racerback, upper cups, and straps for targeted, cooling airflow.
A wide, ultra-soft bottom band provides secure support.
Specifications
| | |
| --- | --- |
| Material | 88% Polyester/12% spandex |
| Sizes | XS to 2XL |
| Cups Type | Molded foam, not removable |
| Adjustable straps | No |
Features
Machine wash
Breathable mesh panels
Effective moisture wicking for sweat and quick-dry
Comfortable all-day wear
Odor control technology
Lightweight
What We Like
A hiking bra that doesn't come with the annoying "uni-boob" look. A great all-day comfortable wear. Low cut enough to provide cleavage and foam cups stay in place. It is good for hiking.
What We Dont' Like
Some clever adjustable straps or an easier way to take it off would be ideal.
Pros
Very supportive
Figure-flattering
Good for hiking
Cons
Maybe needs adjustable straps, but it depends
The Women's Armour Mid Crossback Bra offers strategic support at the right places with its strap design and is tailored for medium-impact activities.
Use it for cycling, weight training, boxing, and hiking.
The elastic band feels super-smooth & super soft and the 4-way stretch allows it to move in every direction. The fabric is moisture-wicking, dries fast, and super-light.
Specifications
| | |
| --- | --- |
| Material | 84% Polyester, 16% Elastane |
| Sizes | X-Small to XX-Large |
| Cups | Removable |
| Adjustable straps | No |
Features
R & L arrows on removable cups to easily put back in
Ultra-tight, second-skin fit
Soft, breathable cups for extra coverage
Crossover straps with feminine keyhole
Material wicks sweat & dries really fast & light
What We Like
The four-way stretch is a must and the detail of left/right on removable cups is a plus when you are in a hurry. The bra inserts that the bra comes with, give the option of more or less nipple coverage. No chafing.
What We Don't Like
The design part shows as "one-boob".
Pros
Excellent coverage
Well padded
No chafing
Cons
Breasts show as uniboob
Not for too much bounching
The Reebok PureMove Bra firms up and adjust for many activities. From weight lifting to cardio. There are no cut edges and that feels like not wearing it.
The breathable perforations allow for "steam" to be released and reduce sweating.
The motion-sense technology makes it firmer when you exercise, while it relaxes when you cool down.
Specifications
| | |
| --- | --- |
| Material | 73% Nylon/27% Spandex |
| Sizes | X-Small-Small to XXX-Large E&F |
| Cups | No |
| Adjustable straps | No |
Features
All impact training and running
Fitted; High support
Racerback
Moisture-wicking
Molded front panel and free-cut edges
Breathable perforations
What We Like
No hooks, clasps, underwires, or adjustable straps to get in your way. An athletic bra with an unprecedented amount of support. No chafing, no moving around even in long runs. Since it's supportive for running it is good for hiking too.
What We Don't Like
For some body types, it may be tricky to put it off or on, after sweating.
Pros
Very supportive
No bounching
No chaffing or moving around
Cons
When sweating, some may fiind it difficult to put it on.
The Maidenform Women's Sport Ultimate Underwire Bra comes with straps you can adjust, that allow better fit depending on your breast and chest structure.
The fabrics are moisture-wicking and their design defers the "uniboob" look quite well.
They are supportive.
Specifications
| | |
| --- | --- |
| Material | 82% Nylon, 18% Spandex |
| Sizes | 34A to 38DD |
| Cups | Foam cups |
| Adjustable straps | Yes |
Features
Adjustable closure
Moisture-wicking
Underwire frame
Signature shaping support keeps you front and center
Motion control cup helps minimize bounce
What We Like
They are supportive, reduce bouncing, and they are moisture-wicking as the other options presented.
What We Don't Like
Not ideal for hiking due to clasps and underwire frames. Such may cause irritations and scratches when wearing a backpack or a daypack. They seem like something between a regular bra and activities one.
Pros
Supportive
Moisture-wicking
Cons
Clasps on adjustable strapes are not suggested for bacpacking or any activity with lots of friction involved
The Moving Comfort Fiona bra comes with very good support, breathability and is moisture-wicking, as it transfers moisture from your skin to the outside of the fabric.
Molded cups encapsulate breasts for better support and a flattering shape.
Straps are lined with soft fabric for comfort.
Specifications
| | |
| --- | --- |
| Material | 88% Polyester / 12% Lycra |
| Sizes | 32C to 40E |
| Cups | Molded cups |
| Adjustable straps | Yes |
Features
2-way stretch power mesh
3 rows of hooks at your back with 3 adjustment positions
Bottom band ensures firm support
Neck and armholes design minimize chafing
What We Like
We like the support it provides and the softness. For many activities that don't come with lots of friction it is a good choice or for everyday use as it is easy to wear.
What We Don't Like
The back hooks are not suitable for hiking when you carry a backpack or a daypack unless you wear more clothes on top of this. There will be friction and irritations.
Pros
Adjustable
Soft materials
Good breasts support
Cons
Not ideal for hiking with a backpack or daypack
Our Selection for Hiking Bra
The Champion Women's Curvy Bra is what we suggest for hiking. It combines all the good parts for such an activity. In hiking, you don't usually run and the bouncing is moderate, but you need the support and breathability. That makes it a very good choice, instead of going for a much more firm or other high-impact solution that is good for other types of activities and sports.
How To Choose The Best Hiking Bra
As in all technical clothing, the same details, and features that distinguish them from regular clothing, also exist in hiking bras. Here is the information you need to know before you make your selection.
Bras for hiking have a purpose and a health reason to exist. That is why studies that claimed a bra is not needed were largely and easily debunked.
Type
You may be surprised to learn that the first technical bras were made by combining two jockstraps. The original thought was that since these items provided the support needed for the sensitive parts of men, the same would work for another part of a female body. This occurred around 1977. So, less bouncing was the motivation behind the creation of such bras for women.
The same principle is still followed today. Today's sports bras for hiking are made to support women's breasts against their chest area, using compression that is achieved with their design and materials.
On top of the "support" factor, and depending on the breast size, there are more bras combinations where breasts are encapsulated to reduce bounce. Therefore, there are bras that are of the first or the second type, and others that combine these two types.
Moreover, there are bras that claim that they are more suitable for hiking in summer or hiking in desert bras and of course the regular bras for hiking.
Design
The design of the bra is not only about the aesthetics, but for its structure, which (along with the materials) has the most important role in its efficiency. The design of the bra consists of 3 structural factors. These are:
The straps
The cups
The band (the side panels are also part of the band)
The band is important and its design should make the bra fit properly under your breasts. The best is to be at least 2 cm wide as it provides nearly 70% of the support.
The rear part of a hiking bra usually comes with a full race back design or with straps that either crisscross or run down your back. The same straps usually have various designs that allow ventilation.
The most popular design is the racerback. When you are moving or even running, it stays in place. Even the cinching detail makes sure that the straps stay closer to your body. That, too, provides extra support.
Depending on your body shape and upper torso, a racerback option may put more strain on the mid part of the top of your back muscles (trapezius muscles). This leads the choice to another option: the adjustable straps. Such straps are usually thinner and the "buckle" that allows the adjustment may irritate your skin, when you carry a backpack or even a light daypack for long and sweat a lot.
Sizing
Let the confusion fly in, right? With so many sizes available it is not by chance that many women suffer for years, wearing the wrong hiking bra (even normal). Sizes change per model and they also change per brand. The main problems focus on the circumference size and the cups.
Now, when it comes to bras for hiking you have to choose carefully. There is a lot of bouncing involved while walking for hours, going uphill and downhill, or running and you need extra support. Most sizes in this category range from X-Small to X-Large Plus, but you will also see the "typical" number-with-letters sizing too. To find the best possible size when ordering try to follow the following rule. The best is that someone else does that for you.
Measure the width of your chest at its widest point
Measure the circumference under it
Decide from which brand you want to buy one and which model from that specific brand
Double-check and then buy.
Coverage
Coverage has to do with two things. First, how much of your breast is exposed, which in relation to the design and the materials help with the extra support. The second is with the nipples part. If you are sensitive in that area you may want to choose a bra with pads, especially when you wear a summer hiking bra with thin layers of technical t-shirts. It is up to you and how comfortable you need.
Material
The prevailing materials as in most technical clothing, are polyester, spandex, merino wool, nylon, lycra. You won't find silk or cotton for hiking bras.
All these materials are moisture-wicking and quick-drying. They should also be odor-resistant, breathable, and soft. You won't find such qualities in normal bras and since lots of friction happens while moving, you don't want any irritation on your chest and armpits or shoulders.
Impact level
There are three types of impact levels.
Low-impact level: For activities and movements with a very low degree of bouncing, like lounging around the house, in an easy walk, or in a yoga or pilates class.
Medium-impact level: With a small degree of compression. They fit snug to the body for extra support and are suitable for yoga, golf, hiking, weight training, cycling.
High-impact level: For activities with lots of jumping and any with lots bouncing. They can be worn for more dynamic activities like running, kickboxing, or HIIT.
The medium support option is the one that is usually preferred in hiking.
What's The Difference Between Hiking Bras And Sports Bras?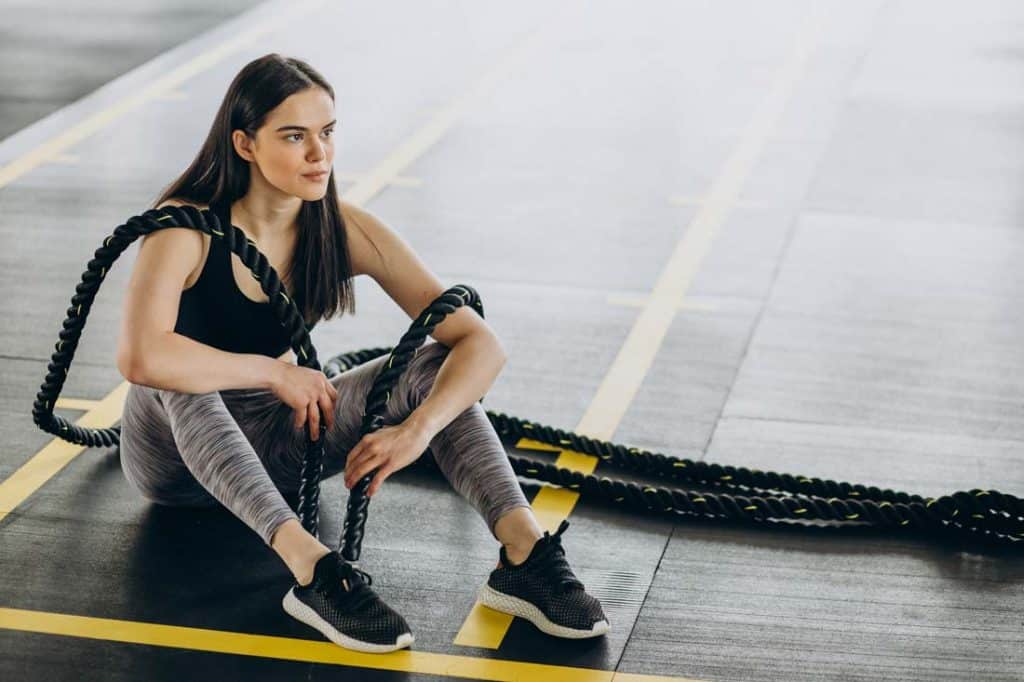 More and more the distance between these two types is reduced. However, bras for hiking tend to be lighter as you won't do lots (if any) of running, which creates lots of bouncing, which in its turn demands the best support. As such, hiking bras can be a lighter and more breathable choice, especially in summer hiking.
The best is to avoid any activities bra that comes with clasps and hooks as these -especially with a backpack- will rub against your skin and that is not shown when you just try it on, but when you wear it for hours.
If you liked this article about the best hiking bra, consider checking out our other reviews below: