Are you going to Sicily and looking for the best Sicily Beaches? Sicily is ideal for summer months.
We've been in Sicily for a good number of days. That South East of Italy island is a beautiful destination for sightseeing and summer vacations too.
Here are the best Sicily beaches to have in mind, after reading our extra posts for Cefalu, Taormina, Palermo, Catania, Agrigento, and Syracuse.
In all these places you will find the best beaches in Sicily. Read this post for the best things to do in Sicily.
Best Sicily Beaches in all Coasts
So, are you looking for a premier European destination to unwind this coming summer? Consider the Mediterranean island of Sicily.
It is by far the largest island in the Mediterranean. With an area measuring 25,711 km², this island indeed provides impressive beach facilities for your enjoyment.
Sicily's suitability as a holiday destination is proved by the fact that it hardly experiences the wide seasonal fluctuations in weather and climate as is the rest of continental Europe.
That means you can visit it just about any time of the year.
We have sampled the best Sicily beaches in our post. We are going to explain them alongside the resources which they have for you to explore.
Taormina
Taormina is a picturesque Italian holiday resort. It is situated at the base of Mt. Etna and strategically above the Ionian Sea.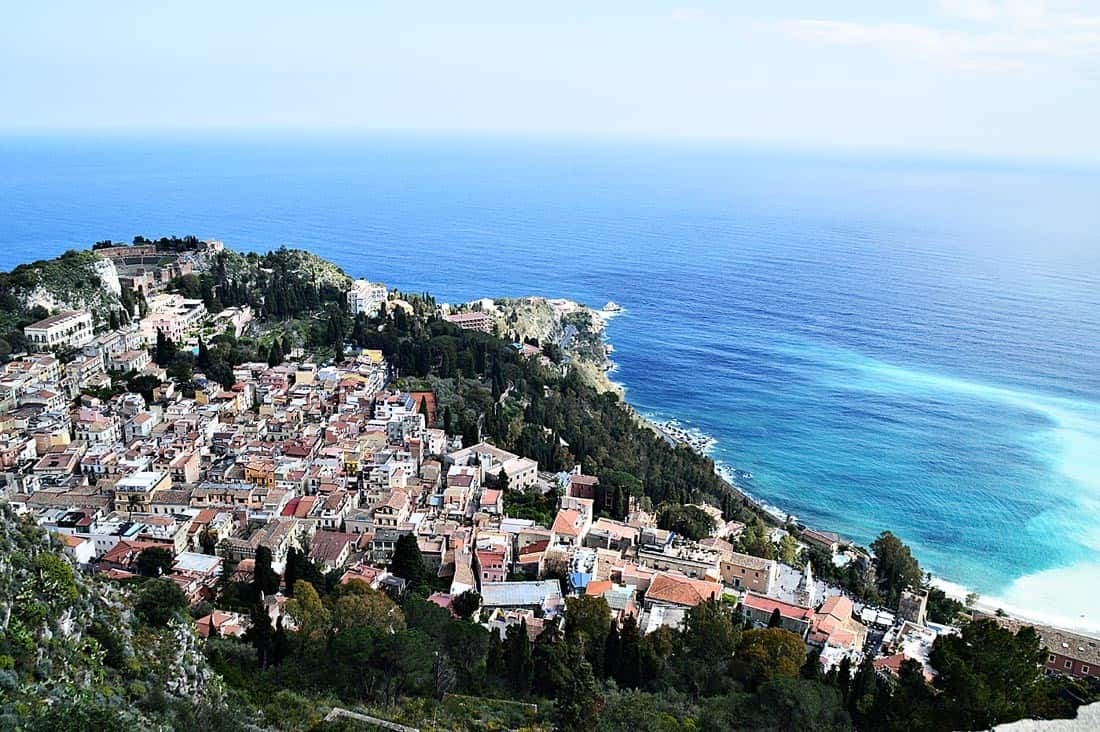 The town is a famous fashion destination for the lovers of sea activities. Throughout the resort are numerous hotels and restaurants.
A cable car also exists which connects this Sicily beach resort to the other adjacent destinations.
Read our experience in Taormina.
Apart from the usual beach activities like sunbathing and swimming, this resort city also provides numerous other opportunities. For instance, it is right next to the tiny island of Isola Bella.
That is a nature reserve which showcases numerous attractions inspired by nature.
Have you seen the "Big Blue" movie with the freedivers? Part of the movie takes place in these Sicily beaches.
San Vito Lo Capo
Located at the northwestern Sicily, this seaside town overlooks Mt. Monaco and is sheltered from the harsh external weather elements.
Its beaches are unlike any other in Sicily.
On the whole, they exhibit some clear azure waters, are adorned with some white sands and have numerous palm trees around and about.
The culture of this town is also strange and one of its kind. Each afternoon, the shops in the city are locked, and the streets dead quiet.
If you are not taking the afternoon siesta, you are on the beach. What a beautiful place to go and spend some quality time?
Palermo
Palermo is the capital of this Italian autonomous region. Throughout the city's wave-washed strands are numerous beaches.
The two most outstanding of these are the Mondello and La Piazza.
Generally speaking, the Sicily beaches west of Palermo are well-maintained and appropriately equipped for your comfort and proper stay.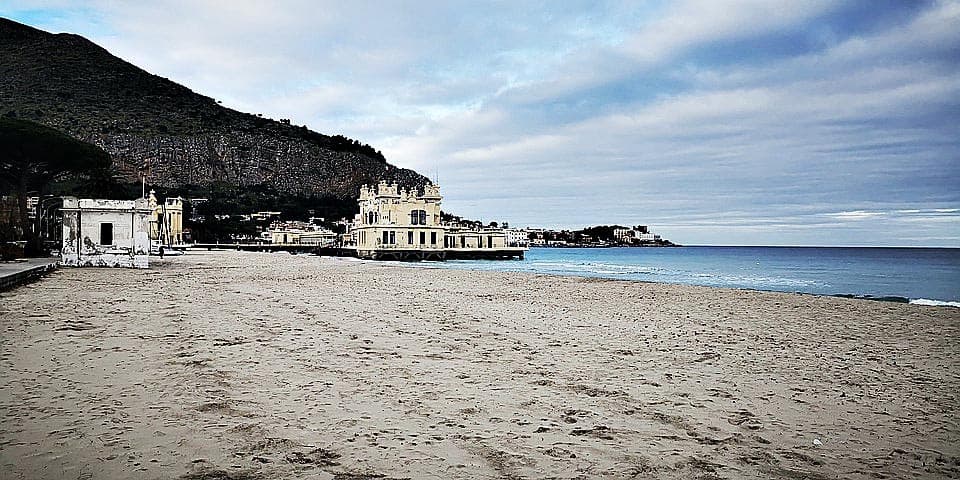 They possess deck-chairs, beach umbrellas, and the elegant multi-colored wooden cabins. To make the best of your time while at Palermo, you must time your visit appropriately.
If you are a bathing enthusiast, May to September is the best time to visit. If you like swimming though, the spring to autumn would be your best time to pay a visit.
Close to Palermo is Isola Delle Femmine (Island of Women). The place has a nature reserve and two beautiful towers (15th century), while it extends to a small island with the same name.
One of the towers is on the mainland and the other on the island. The church is also beautiful (built around 1850). Some say that the name of the place came from being a female prison.
Anyway, the place is excellent for summer holidays with lovely beaches and plenty of water activities.
Here is our experience in Palermo.
Cefalù
This northern Sicilian town features long sandy beaches. It is a picturesque and historic town with a beach with shallow waters.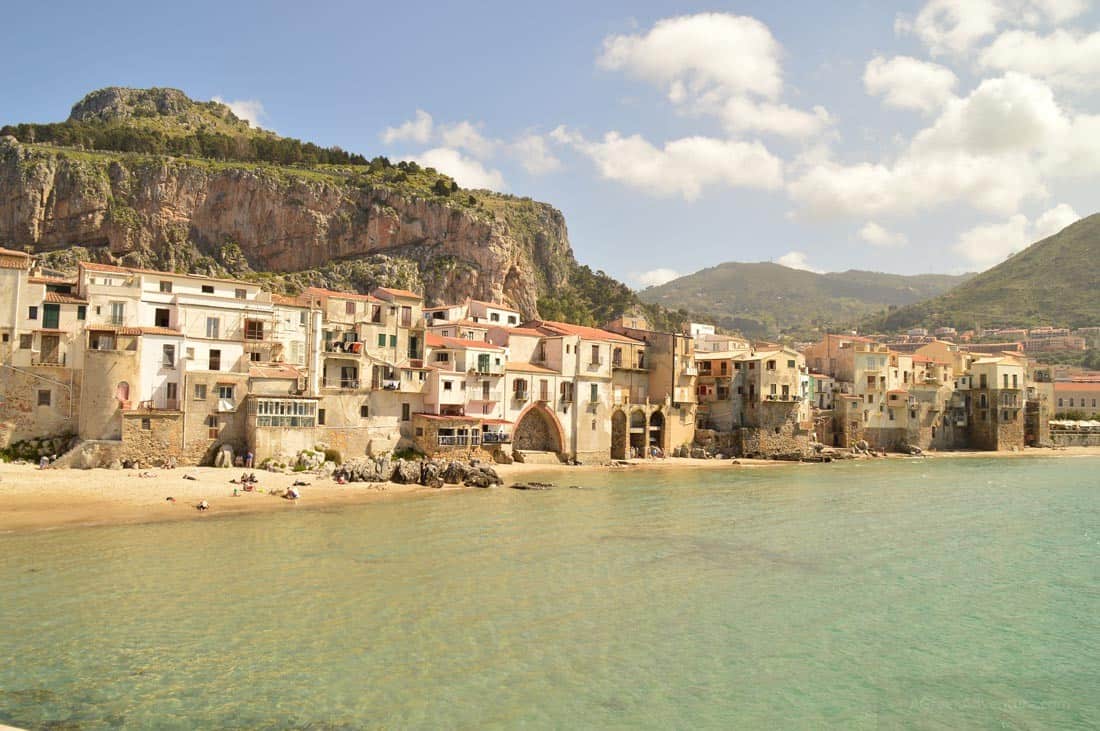 Its strategic location on the rocky headland also provides breathtaking views of the adjacent Mediterranean Sea.
What's more? Many decent transportation links serve the city.
Cefalù is an embodiment of the Italian past. That is because it developed from the numerous fishing villages which graced Italy's history.
Cefalu is the place to be for sightseeing and photography. It is seen in numerous archaeological sites and ancient buildings. Cefalu is a historical gem.
Catania
Catania stands apart from the others in that as it has an international airport.
Apart from this, it also avails to you a comfortable 18km stretch of white sandy beaches to explore, relax, and enjoy.
Active nightlife does exist here. That is evident by the existence of numerous night clubs, bars music concerts, and restaurants.
It, therefore, follows that this is the place to be if you are a nightlife enthusiast.
Syracuse
Syracuse is a Sicilian beach city right at the length of the Ionian coast. The town is generally famed from its ancient ruins.
This notwithstanding, its coastal strip of Syracuse has perhaps some of the most beautiful beaches that the entire island of Sicily has to offer.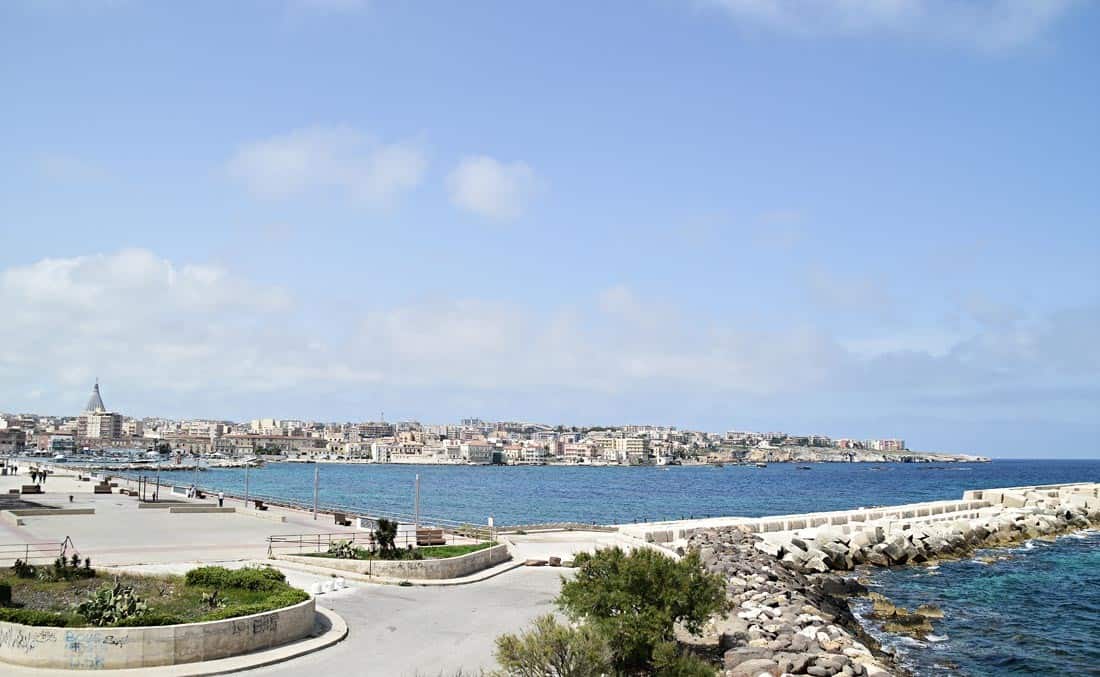 These Sicily beaches are surrounded by some incredible natural scenery, which is excellent to behold.
Your visit to this beach, therefore, gives you so much more than you bargained for. You get to enjoy the water sport, beach activity, and excellent sightseeing opportunities.
Close to Siracuse (12km away) is Fontane Bianche, another summer holiday destination. That is an ideal choice among Sicily beaches, for kids. The waters are warm and calm, and the beach is sandy.
Sciacca
Sciacca is in its bare form and shapes a fishing port city. Located in the south of Sicily, this venue is an embodiment of numerous attractions.
From excellent ceramics, thermal baths, religious gatherings, and ample fishing fleet, the untold wonders of this city never cease to amuse.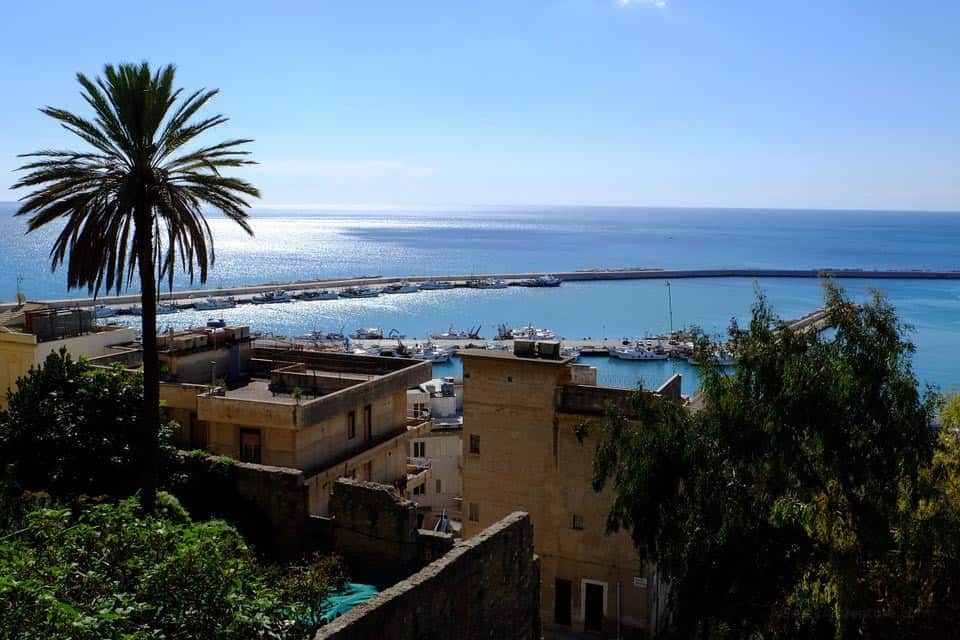 Visit this locale is as a layover in the course of a journey to any destination in North Africa or the entire Mediterranean world.
You may as well also time your visit accordingly to take part in the numerous festivals which happen in the city year-round.
Licata
Licata is a seaside resort city that is situated right at the heart of the southern portions of Sicily. The beach is full of historical attractions and a couple of other natural wonders.
At its east are numerous white sandy beaches while its west side is dominated by a series of cliffs and pebble beaches.
Take your time to visit this area to swim, enjoy some water sport, and also sunbathe.
After you are through with those water sports activities, you also want to explore other attractions of the area.
In particular, we recommend that you try out the various traditional cuisines on offer.
Trapani
Trapani is an enchanting parcel of land. It comprises some spectacular coastlines which have alternating cliffs together with endless sandy terrains.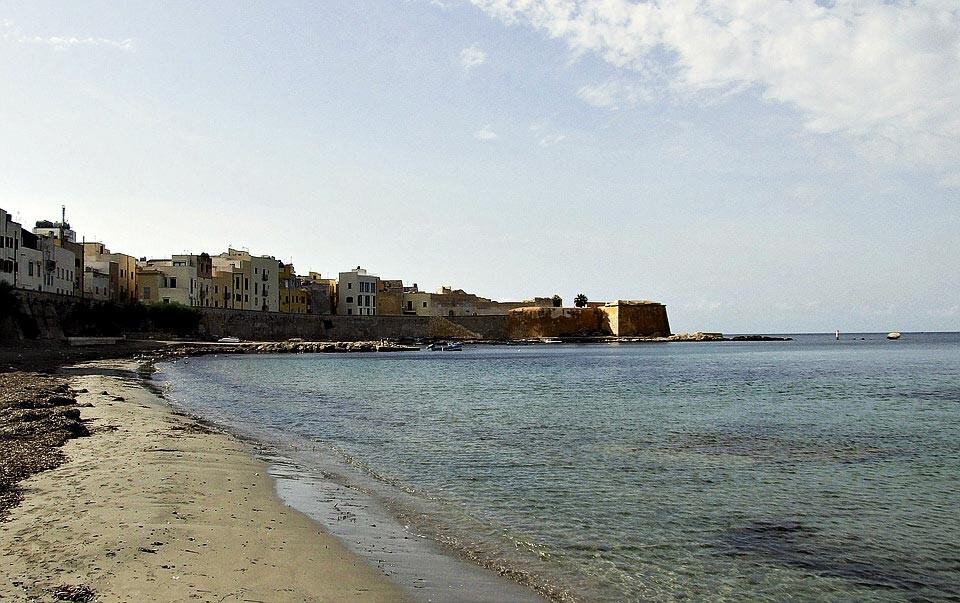 Along the entire shoreline are some valuable naturalistic spots, cliff seafronts, and sandy strands. You may wish to relax, sunbathe, and even swim if you so desire.
Owing to the picturesque nature of this location, you might also want to take some photos or simply relax.
Capo d'Orlando
Capo d'Orlando is not one but numerous beaches that span a total of 14 km stretch. The beaches draw quite many watersport enthusiasts ranging from holidaymakers and revelers.
From viewing the Aeolian Islands on the horizon to swimming, and boating, the opportunities that Capo d'Orlando provides you are limitless.
There are also numerous cultural shows, events, and exhibitions in this beach city. To catch the best of them, you have advised us to time your visit accordingly.
By far the most fascinating of these are the blues and the Villa Piccolo clubs.
Acireale
Acireale is an elegant baroque town. Located at a stone-throw distance from Catania, the beach rises a hill which overlooks the adjacent Ionian Sea.
Even though Acireale is predominantly a beach city, it is only significant for relaxation, not really for water-related activities.
This beach is a beautiful place to escape from busy city life. That is because it confers to you some breath of fresh air, not to mention its detached location.
Given also that it attracts fewer visitors, you will find it less congested and highly breathable.
Mazara del Vallo
Mazara, by its conception and design, is a city dedicated to all things hospitality. As you stroll around and about the town, you will come across numerous eateries, hotels, casinos, and high-end restaurants.
What is more striking, though, is the cosmopolitan nature of the city.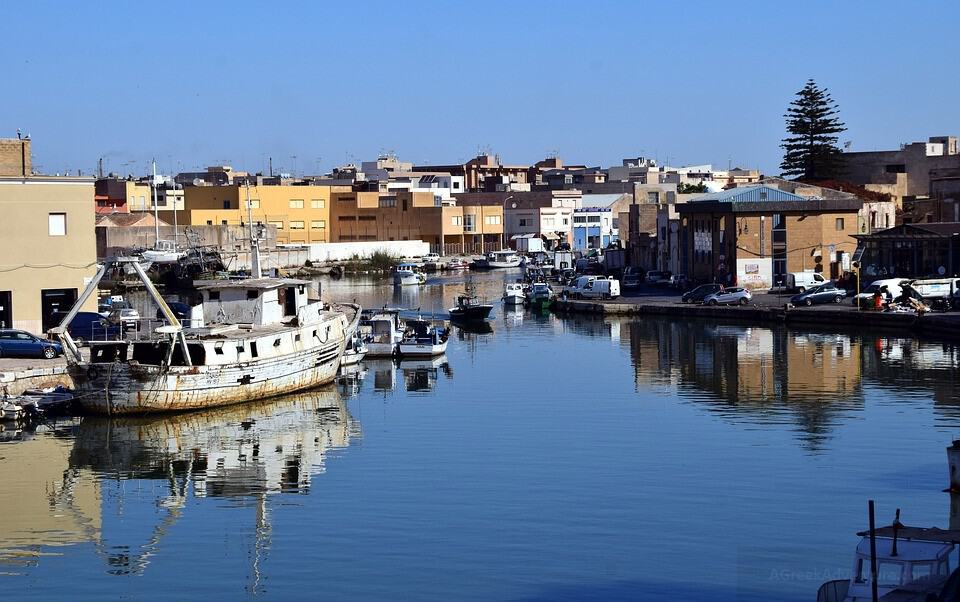 That is the place to fish, dive, relax, and swim.
If you do not like any of the water sports, you can still take some of your time to gaze at the anemones, daisies, and wild orchids that surround the area.
Porto Empedocle
Are you a lover of nature? Do you just want to go to a beach and spend some of your time gazing at the breathtaking wonders of nature?
You have this Porto Empedocle for your consideration! On the whole, this beach offers breathtaking natural attractions over and above the ordinary beautiful beaches.
Among the attractions that await you here are medieval structures, excellent opportunities to take memorable photos, and only a chance to take some rest and relax.
For your curiosity, this village is the birthplace of two renowned Italian writers, Andrea Camilleri, and Luigi Pirandello.
Castellammare del Golfo
Who said going on a holiday overseas ought to be that expensive? You can and indeed deserve spending the least to go for such a holiday.
The Castellammare del Golfo is the place to retreat to. It does have a rough sandy beach right behind its harbor.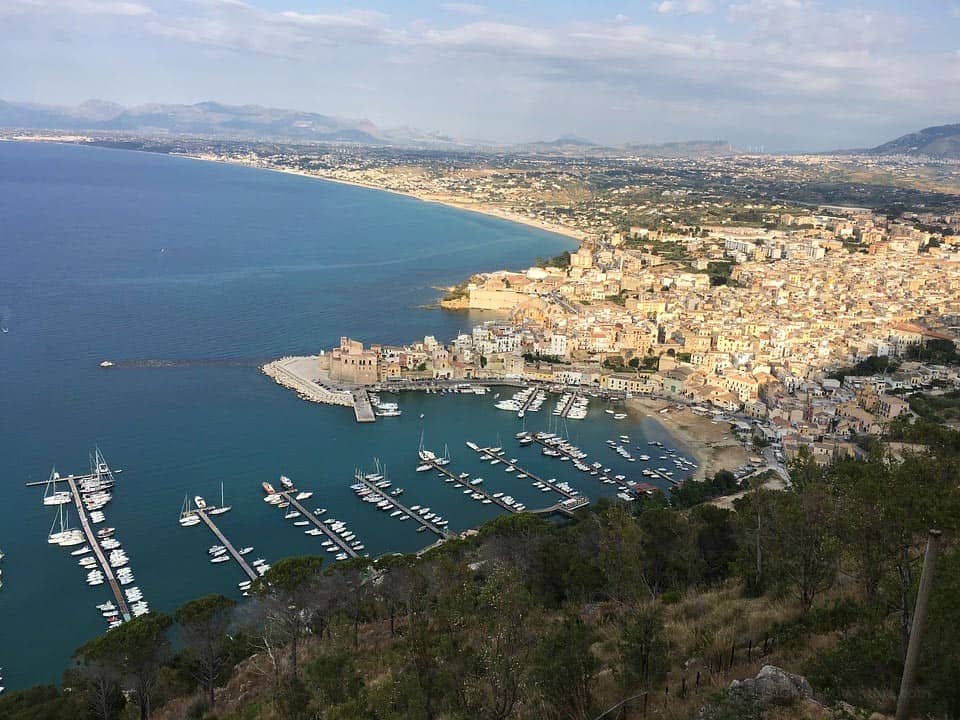 Yet another beach is to the east of the medieval castle which sits atop a cliff. What makes this beach cheap is the fact that it has an excellent public transport system, which is cheap and affordable.
It also contains numerous beach establishments for your overall satisfaction.
Marsala
Marsala has two main beaches. These are Lido Signorino and Punta Tramontana. Both of them are sandy and have clear adjacent waters.
Over and above this, the two beaches are equipped with numerous relevant facilities which are intended to make your visit worthwhile and very enjoyable.
The summerhouses which are easily reachable by car are by far the most notable.
Marsala beaches are the places to consider going to if you want to sunbathe, adore rocky terrains, or simply want to enjoy some quiet time with that 'someone special.'
Gela
Gela is one of Sicily's most ancient communities. Its coastline extends roughly 24 km and is adorned with fine and golden sandy beaches and dunes.
Along the coastline is some Mediterranean flora which contributes to the beauty of the land nearby.
On the whole, Gela is the place for beach and water sport. Some of the activities that revelers engage in while here are jogging, canoeing, diving, and beach volley.
You might also retreat to the archeological ruins that are located around the beaches for sightseeing and photography.
Avola
Christened 'the grand canyon of Sicily,' Avola is a seaside village nestled in the southeastern portion of the island.
It is so-called as it is a beautiful destination which makes for a great place to spend your vacation while on the island.
Its coast is somewhat unusually transparent.
The beaches themselves are long, sandy, and expansive enough to accommodate all your small children.
This expanse also provides for elegant and romantic strolls which are great for relaxation. You want to spend your romantic evening here!
Favignana
Visiting a beach need not necessarily mean swimming, sunbathing, or engaging in a water sport. You can just do so for the sake of a short trip.
If you are such kind of a person, we recommend the Favignana Sicily beach.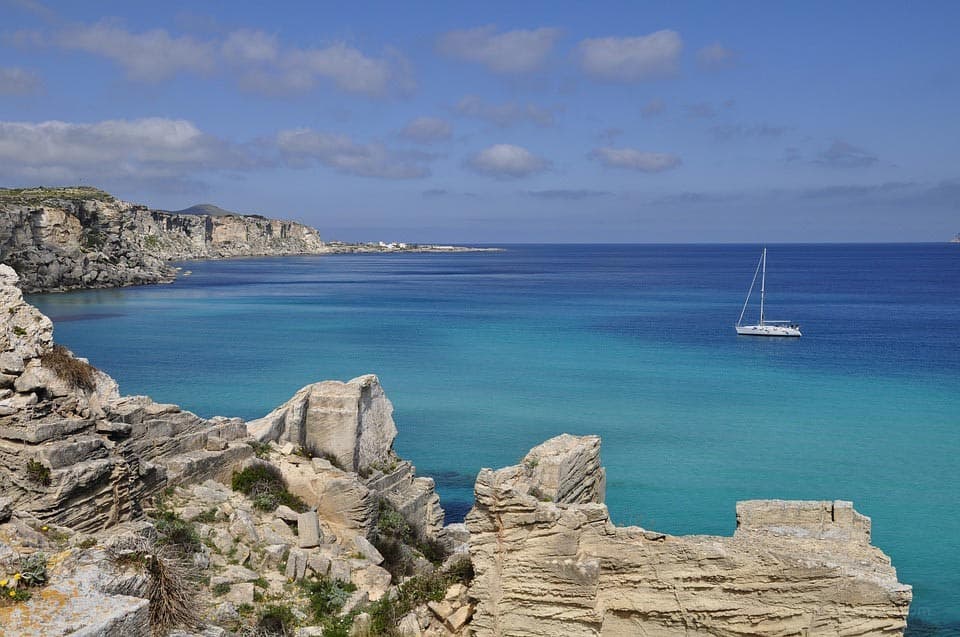 This beach is rocky and hence unsuited for water-based activities.
However, its secluded location, sheltered harbor, and sweet breezes make are ideal for relaxation.
Also, it offers you impressive views of the surrounding environment. Be wary of the jellyfishes which may attack you from time to time.
Giarre
Giarre is a tiny village within the island of Sicily. It is home to Sicily's most famous beach, Fondachello.
The adjacent sea is quite clear not to mention that it is constant bombardment by the strong winds.
Its strand is also cleaner and unusually cooler than the rest of the island as a result of this.
Summer is the best time to pay a visit to this city-cum-beach. It is at this time that the area experiences many events and concerts which add flavor to your visit.
Further to this, the beaches are well-equipped because of the possession of numerous beach resources.
Scala Dei Turchi
Scala means stairway, but this is not one. Prepare for a long white cliff, between Realmonte and Porto Empedocle (Agrigento). The beach is of a soft, limestone and blinding white sand.
When you look at it, you admire what an artist's nature can be. The Scala is beautifully carved by the wind and sea, creating patterns on the white terrain.
It looks quite a bit like Milos island beaches if you ever been on that Greek island.
Of course, some say that walking on the Scala is like walking on a vast white meringue.
Ready for the Best Sicily Beaches?
A visit to Sicily is a must if you indeed are a true beach enthusiast. The numerous facilities and amenities this excellent geographic locale has to offer are simply inescapable.
Apart from the beautiful Sicily beaches, have a visit to the Vendicari Nature Reserve. It was established in 1984 by the Sicilian Region.
The Reserve is in the mid-distance between Noto and Pachino (Syracuse). It is occupying about 1512 hectares. There is an entire ecosystem inside the reserver that lives undisturbed.
Admire the breath-taking landscapes and dense vegetation. All open to a clear sea, very long stretch and golden sand beaches with crystal clear water.
From the observation cabins, you can admire Flamingos, Herons, and Storks that hang here before reaching the definitive migratory destinations.
Apart from the best Sicily beaches we present here, also look at this post for the best seven beaches in southern Italy.
Its Mediterranean location further makes it suitable for a visit year-round. This stems from its lack of substantial seasonal variations in weather and climate, and as such, the Sicily beaches are a delight.
What are you waiting for? Rush to your calendar and find the best time to do so right away! You do not want to visit alone, do you?
Consider bringing your family too! You want them to enjoy the impressive wonders and resources of the city as well.
Are you intrigued? Read our experiences in the whole of Italy, so far.
Also read: