If Ortygia, Agrigento, Palermo, and Cefalu look picturesque to you, then Taormina Sicily will blow you away.
It combines a fantastic hill city along with a great beach and incredible architecture and is at the Ionian Sea, at the east coast of Sicily.
The coolest thing ever? You can move up and down from the beach (way uphill), into the city, with a funicular (3 euro p.p.).
Taormina is considered one of the most expensive cities in Sicily, Italy. Many celebrities prefer this place along with the Italian Riviera seaside cities.
To get into the city, you need to park outside of it. There are small buses that take you there. Almost all roads are stone-paved.
Taormina is very close (around 40 minutes by car) to Mount Etna (Aetna) volcano. From there you can stay in Taormina and do a half (or less than that) day trip to Etna.
We first visited the outskirts of Etna and then moved to Taormina as we were driving from Catania.
Visiting mount Etna (Aetna) near Taormina Sicily
Etna is Europe's highest volcano. It is an active stratovolcano, belonging to the Metropolitan City of Catania, between the cities of Messina and Catania.
The volcano has been responsible for some significant catastrophic events since the old times, up to recent years. It still smokes.
This volcano is by far the single largest source of tourist traffic in the area. Indeed, many holidaymakers who choose to visit the area do so exclusively to behold the mountain.
That is because the mountain incorporates unique sceneries and a couple of monuments.
What's more? The entire site has been a designated UNESCO World Heritage Site as from 2013. To make the most of your visit here, arm yourself with a digital camera.
Take as many photos as you probably can as these will showcase to anyone that you once paid a visit to the place.
There is not just one crater, but around 400(!).
This as the magma tries to come to the surface and breaks through from different points on the mountain.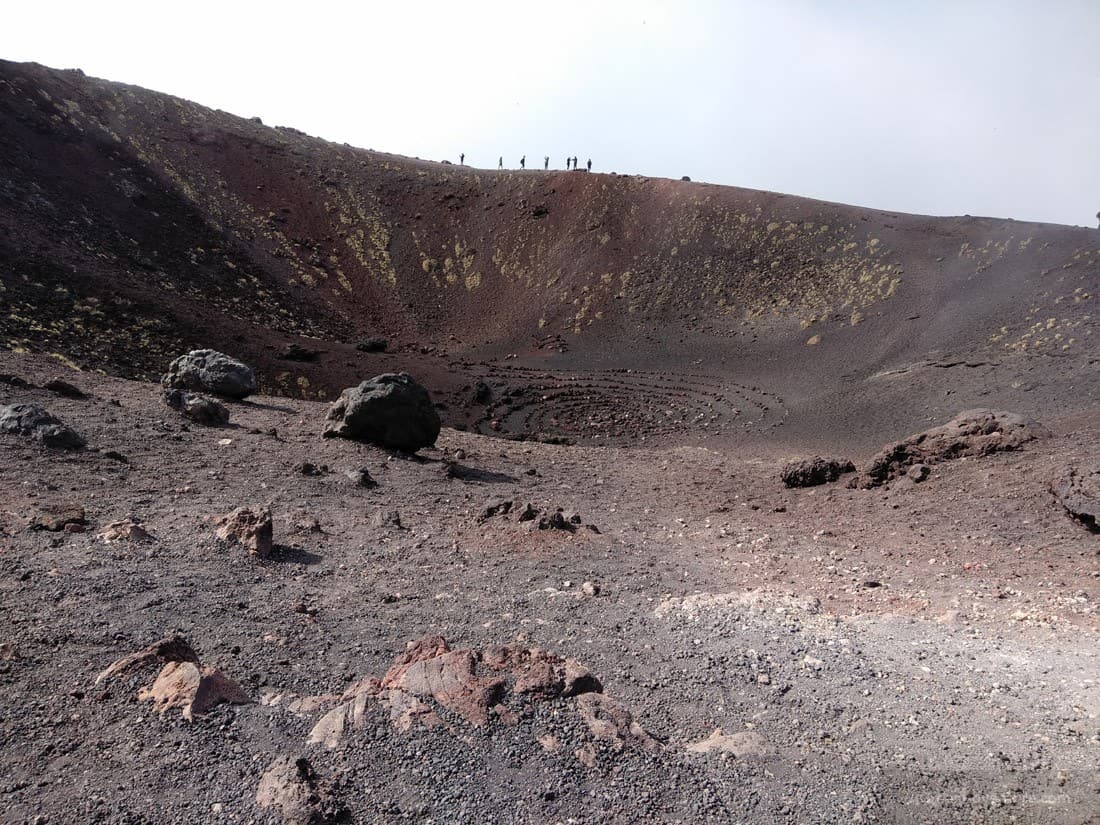 Organized tours will take you there, or you can drive your car. The top is reachable (with guide) and is at around 3000mt.
You can go to the top (if weather permits), but you need a license & a guide (around 60 euro p.p.). You don't need a permit for the lower levels.
This site can be beneficial. There is a lift that takes you to the top, starting from the bus/car parking lots where tourist cafes exist.
Don't go for the top without prior booking your time there.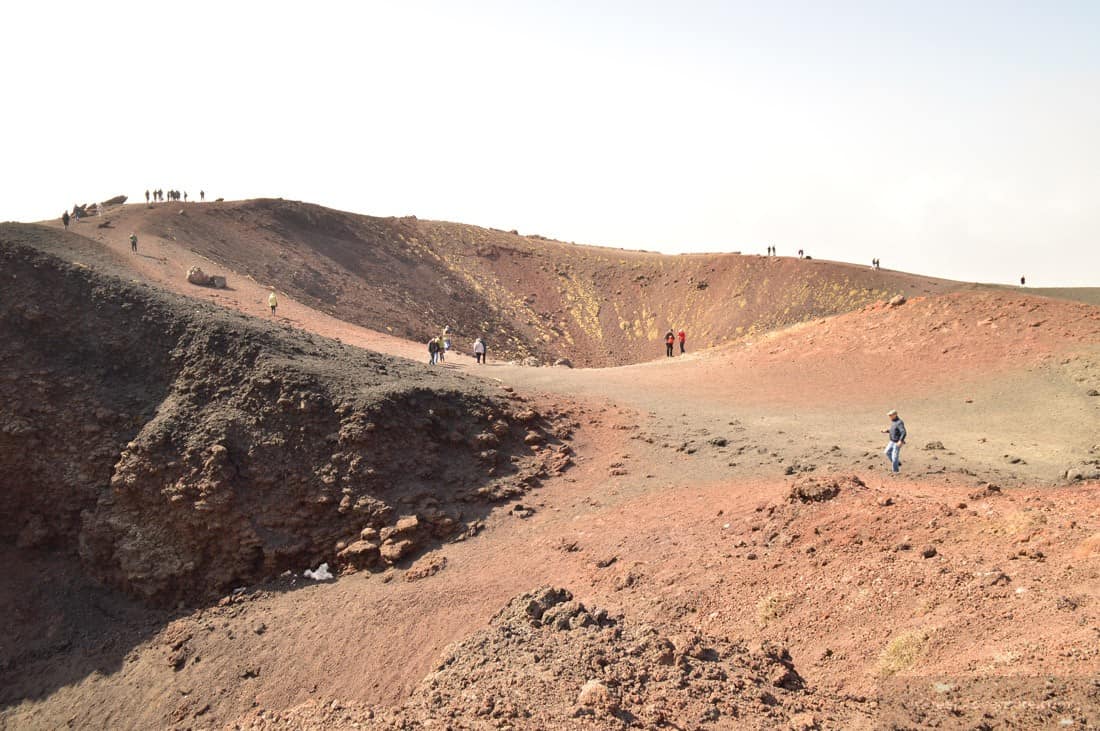 Best time to be there is early in the morning, as later on clouds sum up.
Temperatures vary. Even if you see lots of suns, better come with layers of clothes to be able to shift them around during your hiking.
When you drive down from Mount Etna seek to buy the famous honey of Aetna that comes from orange flowers, inside Zafferana Etnea village.
Exploring Taormina, Sicily
Leaving Mount Etna and in just 40 minutes (or less) you will be in Taormina.
Approaching the city from the top will give you a lovely perspective of how beautiful it is and why many (celebrities too) prefer it.
Some scenes from "Godfather" were filmed here. In 2017, Taormina hosted the G7 Summit.
The Ancient Greek Theatre of Taormina, Sicily
It exists in the most prominent spot of Taormina, with an unparalleled view to the Calabrian coast, the Ionian coast of Sicily, along with the spectacular cone of Etna.
The most active part of the ancient theatre of Taormina, Italy is its scene. The seats are carved into the rock.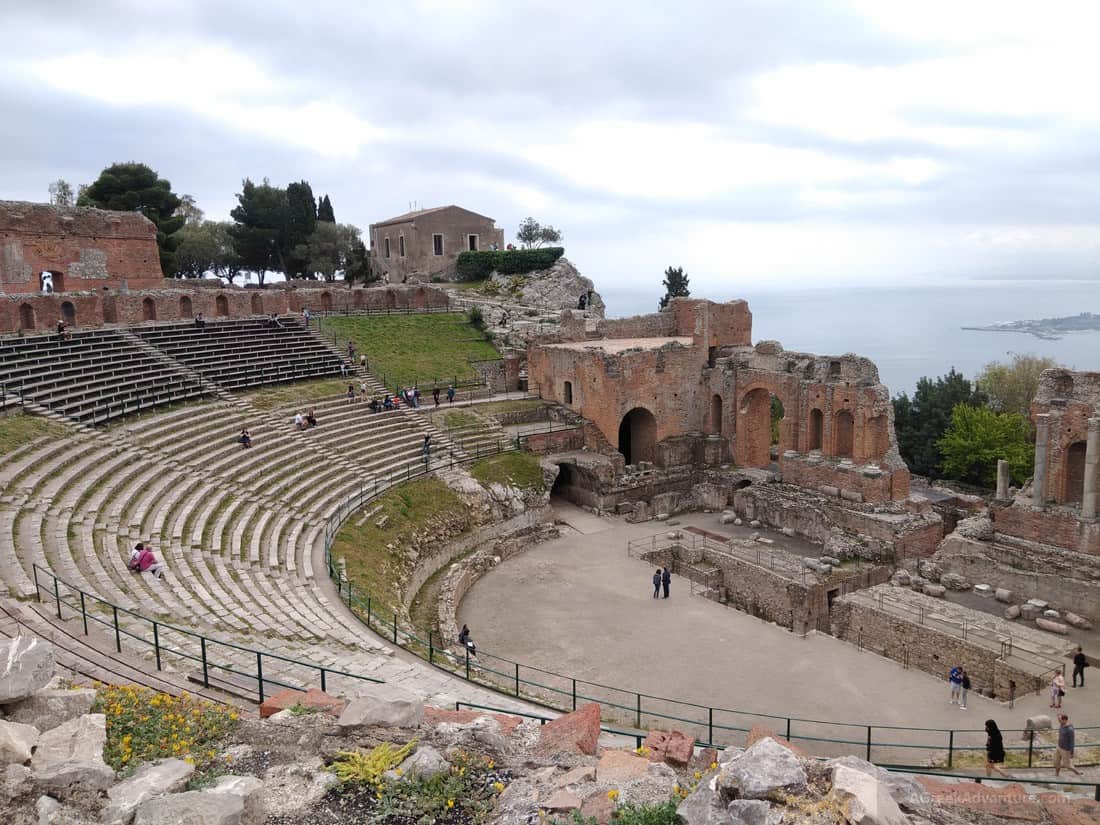 The Greek Theatre of Taormina ranks as the 2nd largest theater of Sicily. The first one is in Syracuse.
For the last 60 years, the theater hosts a wide range of theater, concert and award ceremonies, along with operas and ballets.
This "Greek theatre" traces its roots to the Greco-Roman era. Its diameter is 120 meters (390 feet) and is built mostly of bricks.
Though mostly meant for matters tourism, this theater is still open for performances in this day and age.
You have to time your visit appropriately though to catch any performances.
If you do not find any ongoing plays, worry not. That is because you may still take pictures of the facility.
Use the pictures to remind you later that you once visited the area. Its surrounding area is also fresh and perfectly suited for matters relaxation.
Here is a video on how it looks.
Walking around the city of Taormina Italy
We suggest that you visit the theater first, leaving plenty of time to explore the whereabouts of Taormina city. Here is a quick view from above.
Taormina is one of the most popular summer destinations. Sicily has quite a rocky coastline, but in Taormina, you will see a sandy beach.
Do you love a Sicilian "dolce vita"? Then this is one of the places.
The name comes from the Greek word "Tavromenion," which relates to bull horns. Before your walk or to cool down, grab some gelato or granita.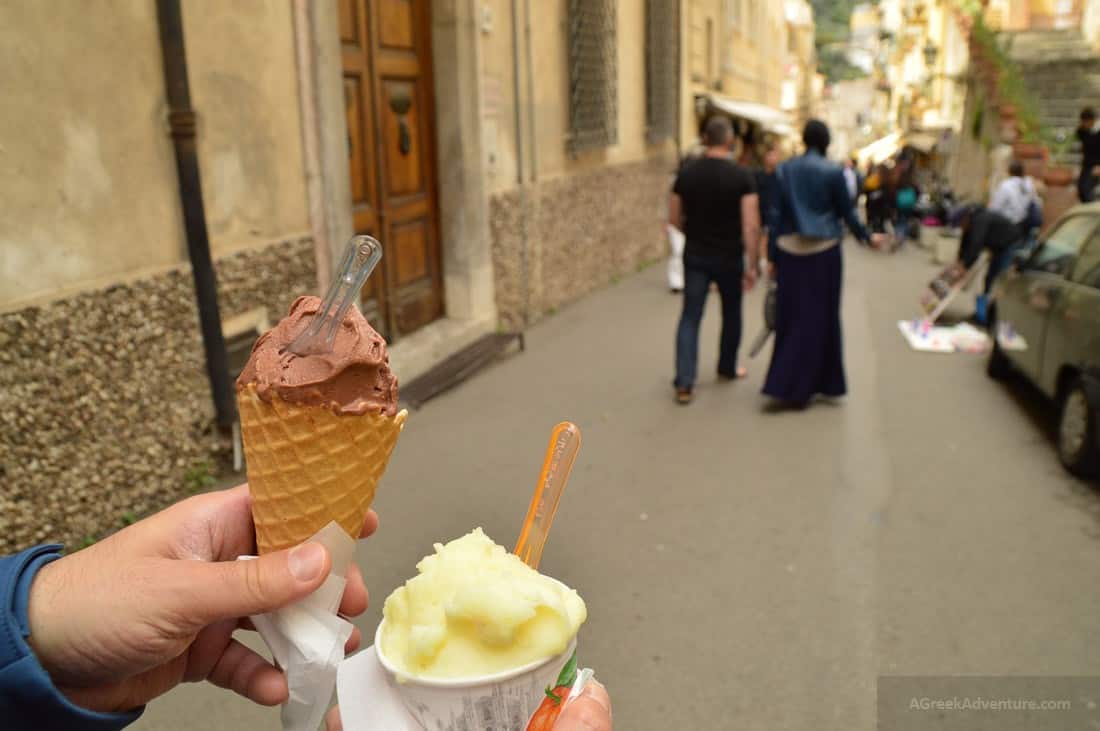 See how beautiful it is from all different angles.
To get this picture, you need to climb to the very top of Castello Saraceno.
You can go by car, but we suggest to take the stairs. They are a few, but the view climbing up is rewarding.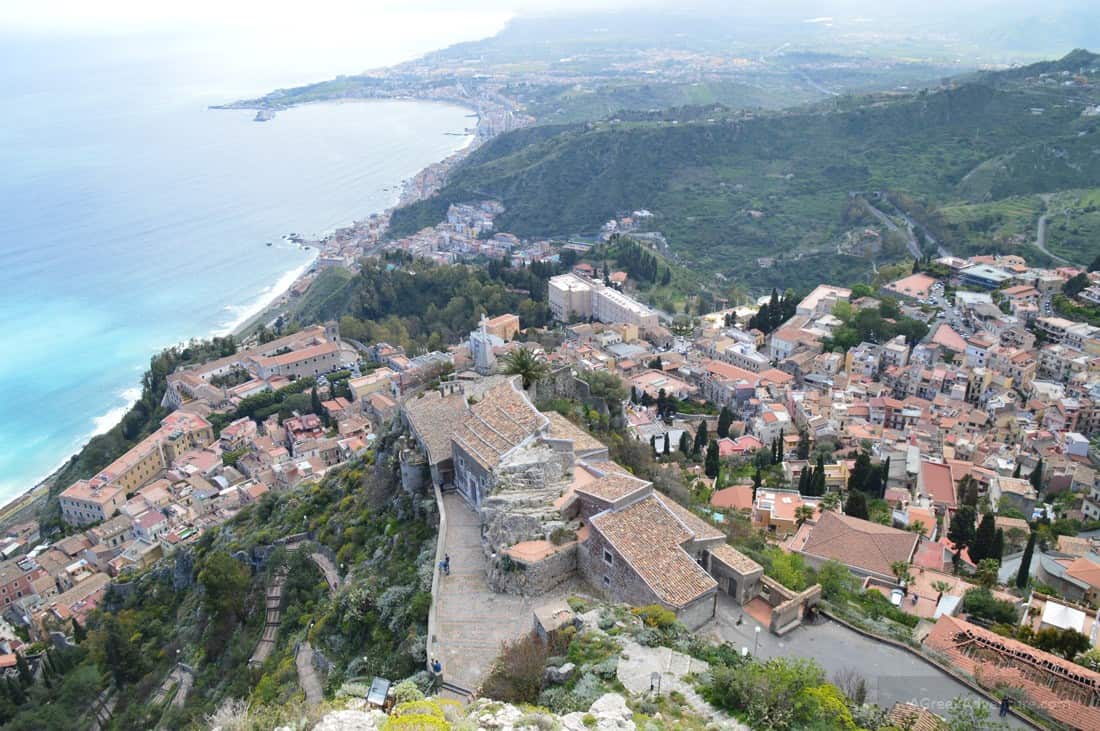 It is unknown when the castle was built. Most probably it was the antique acropolis of the Greek town of Taormina, Sicily. Here is the Church of Madonna Della Rocca, too.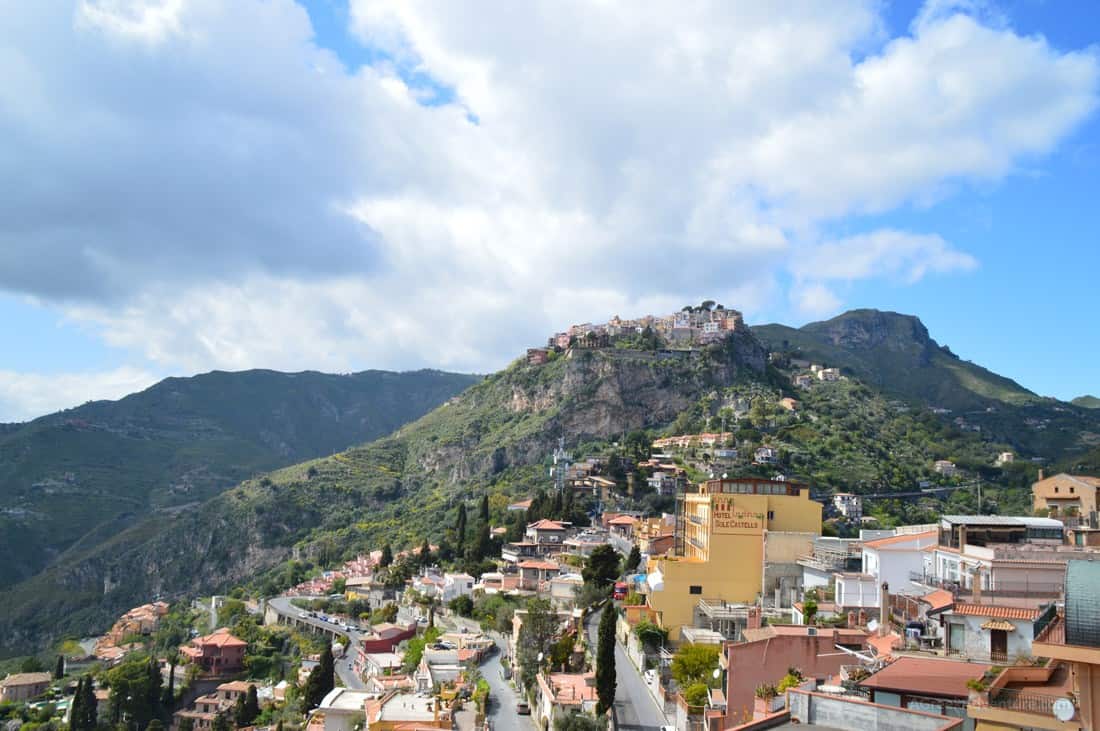 This below is the Duomo (Cathedral) of Taormina and looks more like a fortress than a religious building. Notice the large rose window at the facade. Near here is Palazzo Corvaja.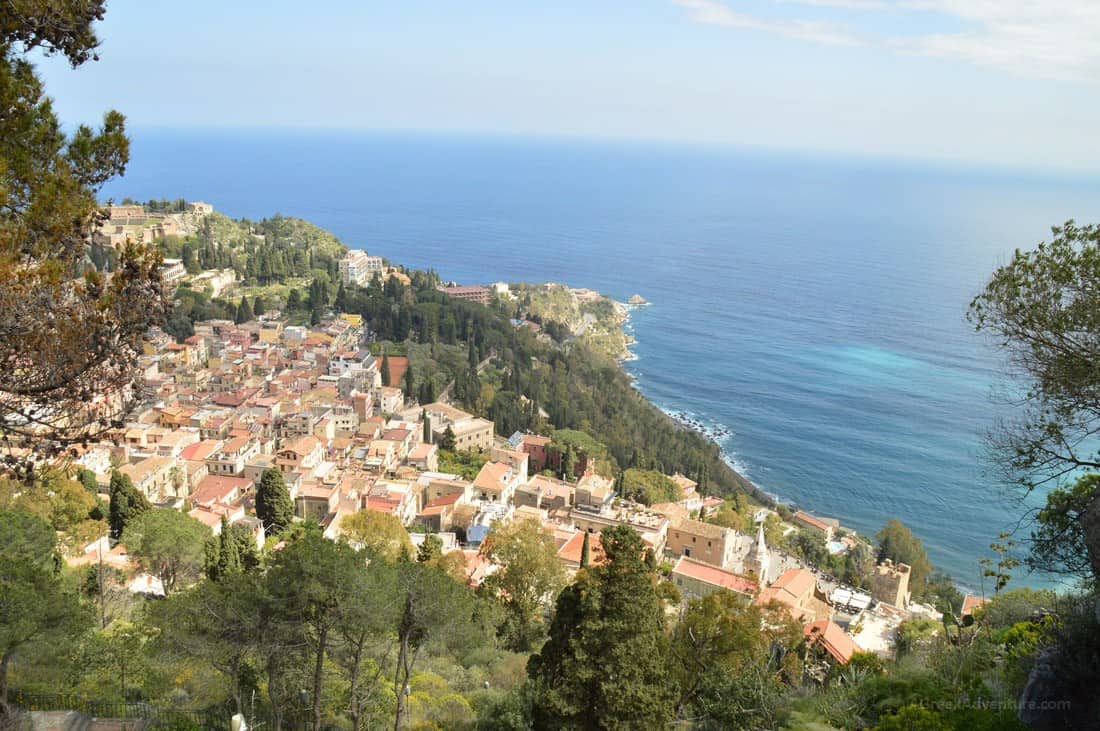 The Corvaja Palace houses the tourist office and the Museo di Arte e Tradizioni Popolari.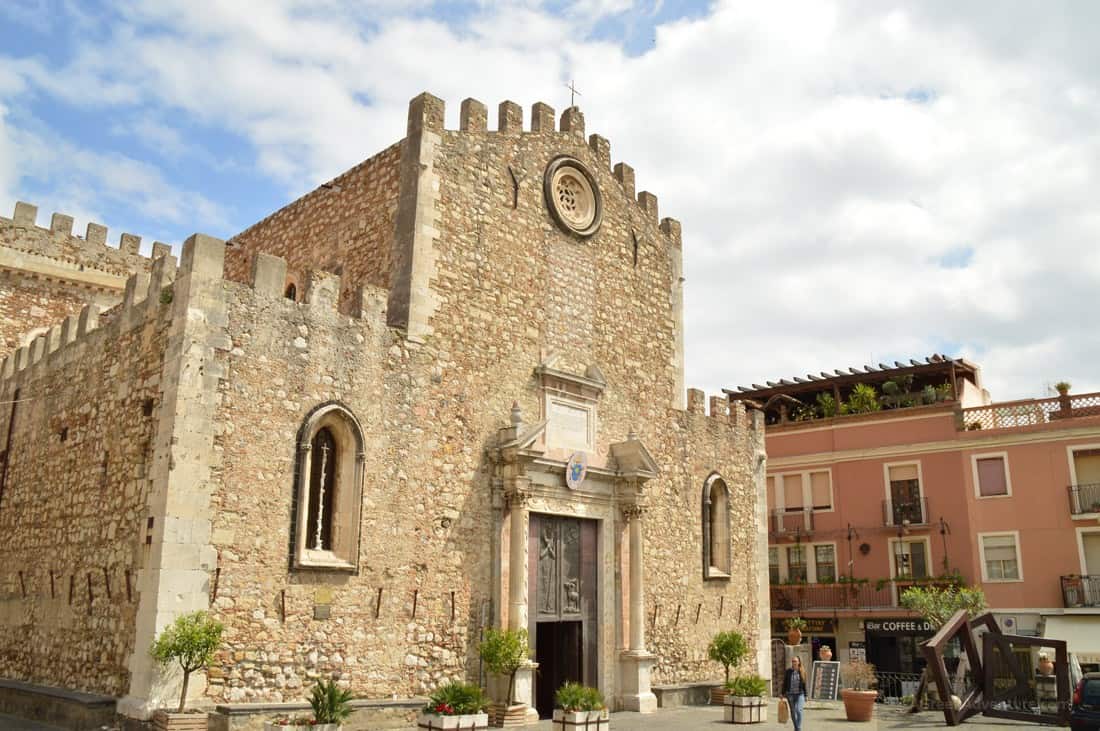 The fountain in Piazza Duomo in Taormina Italy. It is also located in Piazza Duomo.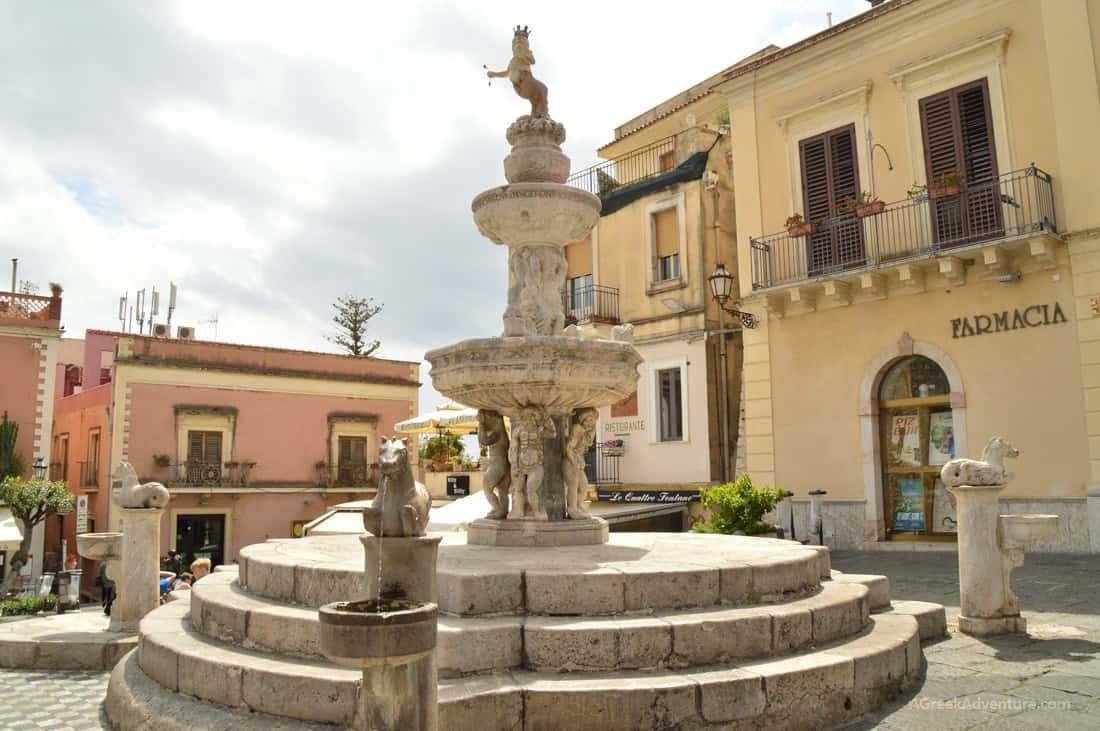 The fountain was built in 1635 in the Baroque style. Statues of mythological ponies face opposite from the fountain.
There is a Minotaur at the top of the two central basins. The Minotaur is the emblem of the city of Taormina and is in a female version.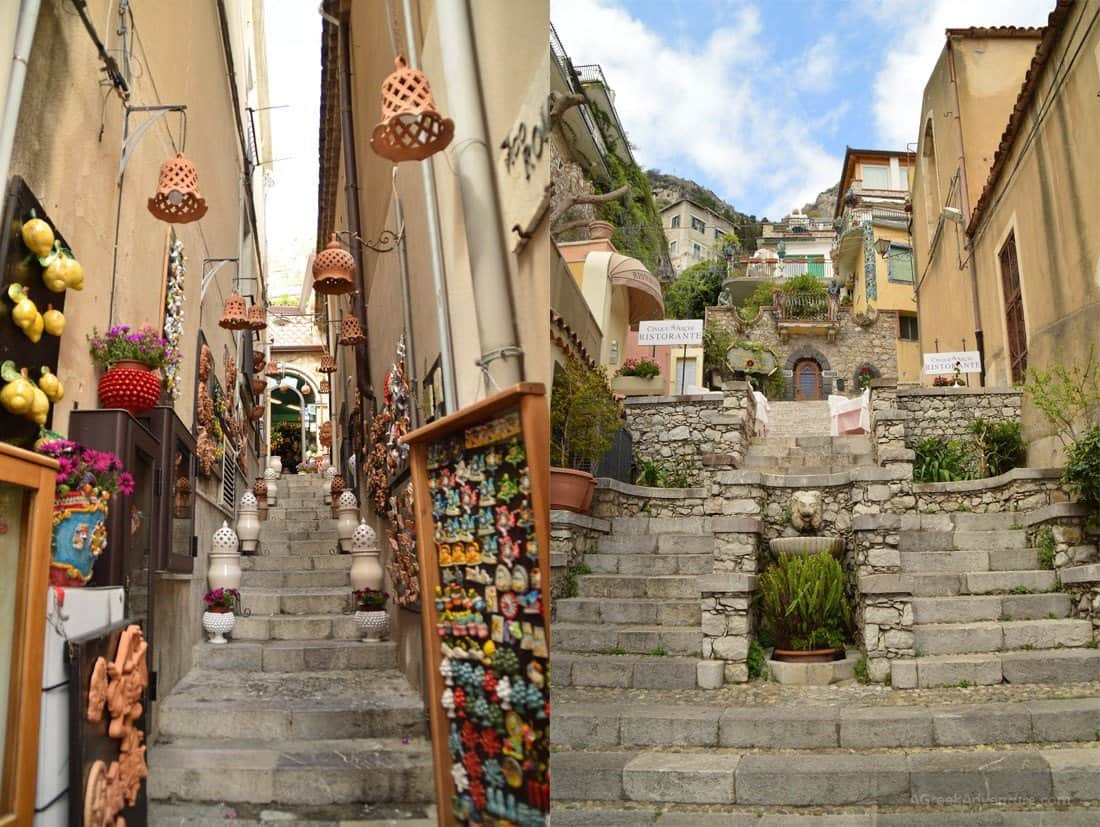 The church of San Giuseppe in Taormina Sicily (below) built in the Baroque style and dedicated to St. Joseph, and you will find it next to the Clock Tower.
The church faces onto Piazza IX Aprile.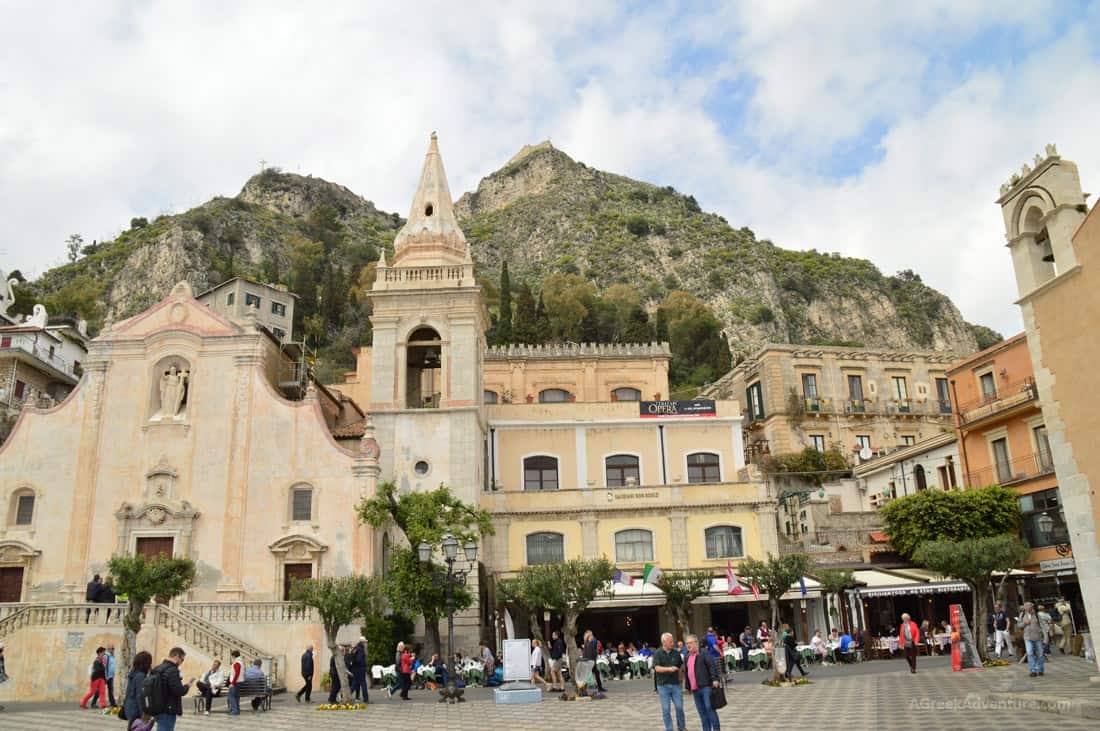 Look at that part of the beach! It was a bit cloudy that day, but when the sun came out, the waters near the shore were bright white!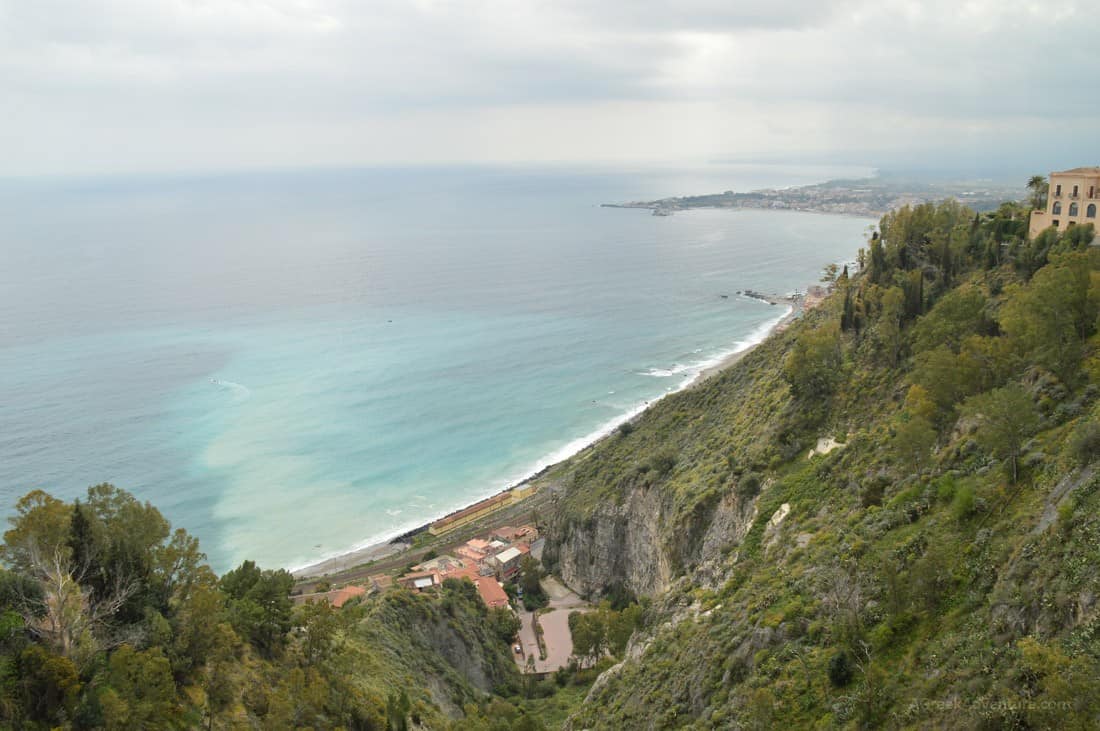 Isola Bella
Isola Bella is a beautiful nature reserve in Taormina. Year in year out, it experiences some recurrent blooming of the flowers and vegetation.
Initially, it used to be a barren rock. Now it also provides you breathtaking views of the Lago Maggiore blue waters. A visit to this place opens a world of opportunities.
You get an excellent opportunity to relax and breathe fresh air. Being isolated, you also get to spare yourself of the risks of noise pollution.
Adjacent to the garden is the small fishing village. If you understand Italian, stroll there and converse with the locals too.
Corso Umberto
Running right across Taormina is the Corso Umberto I street. It connects Porta Catania to the Porta Messina.
The street follows in the footsteps of the ancient Consolare Valeria. These are ruins of the Greco-Roman settlements of the years of yore.
A walk here takes you back in time.
You also get to behold other tourists from all walks of life. Either side of the thoroughfare is lined with elegant shops, restaurants, and other facilities.
Do stop by to purchase some memorabilia for your future reference.
The main square exists halfway through, where you may stop by and relax.
Cable Car
Fancy cable cars or want to enjoy some ride?
There is indeed a cable care which interconnects the center of Taormina Sicily with the adjacent satellite beach of Mazzarò.
Also located within a comfortable radius of the cable car is the Isola Bella beach.
To get to the cable car, you have to start at Via Luigi Pirandello. The vehicle departs the station after every 15 minutes.
It stays operational for 12 hours a day, typically from 8:00 AM to 8:00 PM and costs €3. Your rides will give you a chance to behold the skyline and horizon.
Giardini Naxos
Giardini Naxos is a commune within the more extensive Messina metro. It is a seaside-resort which sits in between Cape Schisò and Cape Taormina.
Being a resort means it is home to many hotels, hostels, restaurants, and accommodation facilities. Detach to the place to have time to relax.
As you relax, try the local cuisines sampled from around Italy and Greece. Mediterranean diet is a famed world over for being healthy.
You too will get a slice of this health. Do not forget your camera behind.
You will need to take plenty of shots. In your free time, walk around the place to unwind.
Public Gardens of Taormina Sicily
Lastly comes the public gardens of Taormina. The garden itself is full of trees, birds, and grass. Jointly, these yield an environment that is very cool and relaxing.
That is because it contains many species of trees and birds. Examples are cacti, palm, and flowers.
You have the garden for your consideration if you want to relax.
The benefits extend beyond that. The garden also provides beautiful views of the town below.
Consider also walking around freely and looking down at the town below. The skyline you will behold will live a mark in your heart.
FAQ's for Taormina Sicily
How to get to Taormina Sicily?

There are a train and bus from the airport that takes you there.

What is the weather in Taormina?

The city has mild winters with few rain patches from November to February. Things get hot after the end of May to end of August. Some times there are thunderstorms in August.

Do I need a car in Taormina?

Not. You can walk your way through. Just take the cable car to get to the beach!

Are there any beaches?

Yes, Mazzarò and Isolabella. However, walking down to Isolabella means going up and down 300 steps.
What we think of Taormina Sicily
Isn't it a beautiful city? It is also preferred from Bon-viveurs like D.H. Lawrence, Oscar Wilde, Goethe, Alexandre Dumas, Tsar Nicholas II, Elizabeth Taylor, and Greta Garbo, to name a few.
Taormina gets extremely busy in July and August and virtually "shuts down" between November and Easter. We went to Taormina during Easter time, and there were lots of crowds from all over the world.
We hope you visit Taormina and like it as we did.
Enjoy.