There is a a huge amount of stories and things to do in Palermo Sicily. Even board games like "Night Falls in Palermo". Mafia is really connected with this city, but that is the least from what this city has to show to a traveler.
It was our first time to enjoy "cannoli" and a really nice vegetarian menu in a "fast-food" style small restaurant. We visited Monreale, saw Palermo from church roof-tops, had a private tour inside the mansion of one of the oldest families of Palermo by its owners.
We walked a lot around the city exploring all the things do in Palermo as a visitor.
Things to do in Palermo
Make sure to have a couple of days at least for Palermo. There are many things to do in Palermo and near the city. The Old city by itself is a separate experience.
You can explore many of the things to do in Palermo options with private tours. See here.
Inside the Old City of Palermo
You pass the gate of Porta Nuova of Palermo, medieval gate to enter into the historical town center in Sicily, Italy. Doing that seems to be a jump back in time as buildings and nature change.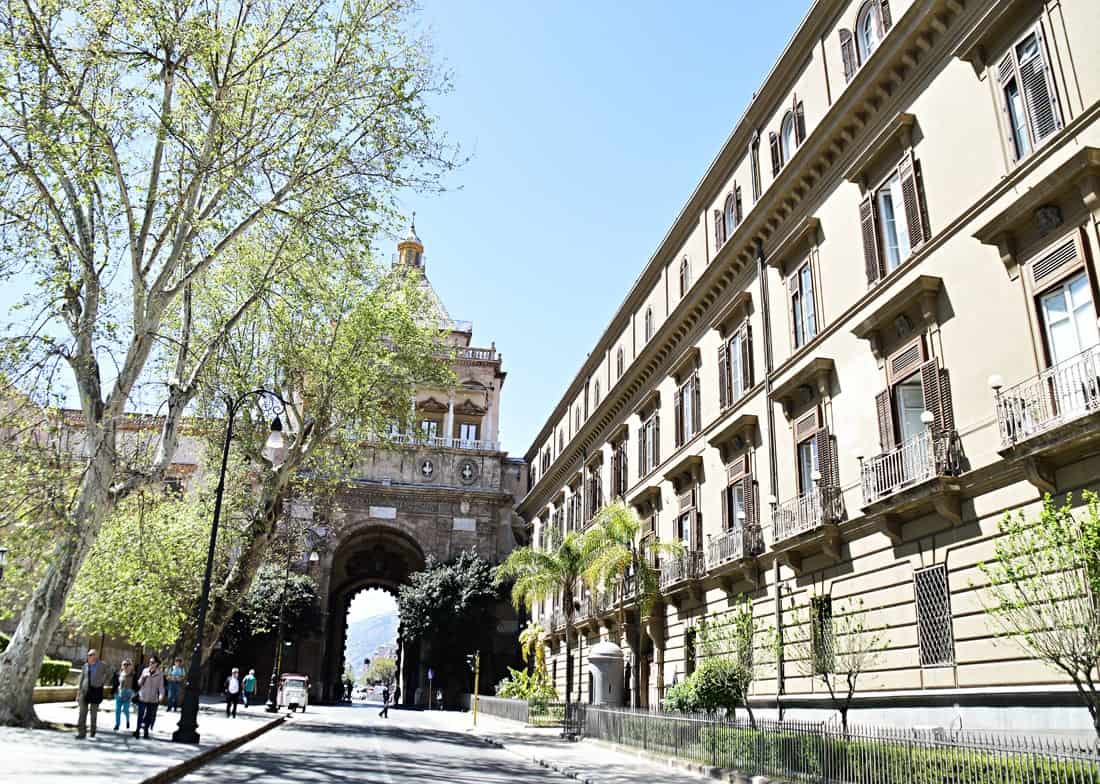 Duomo of Palermo
A few minutes walking after the Porta Nuova you arrive at the Duomo.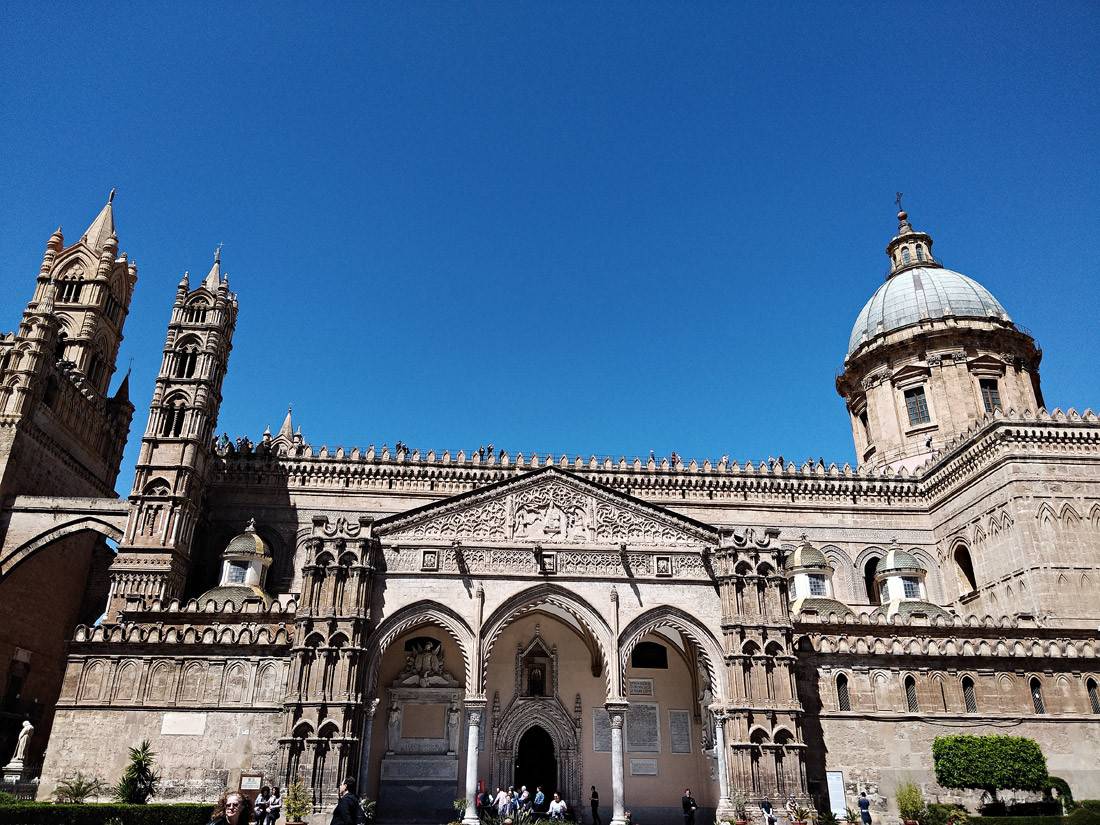 Go and read your posts for Catania, Taormina, Syracuse, Cefalu, Agrigento. There you will find out that each city in Italy has its own "Duomo". Duomo means Cathedral. Each city has one.
The Cathedral is characterized by different styles since Norman, Arabian and Byzantine architecture as applied. The temple was built on the site of an older basilica, used as a mosque in the 9th century and largely retains the Norman style.
It is best to take the narrow stairs pathway (ticket is 5 euro p.p.) and get to the top. From there you can have a good view of the surrounding historical centre, but not all of it.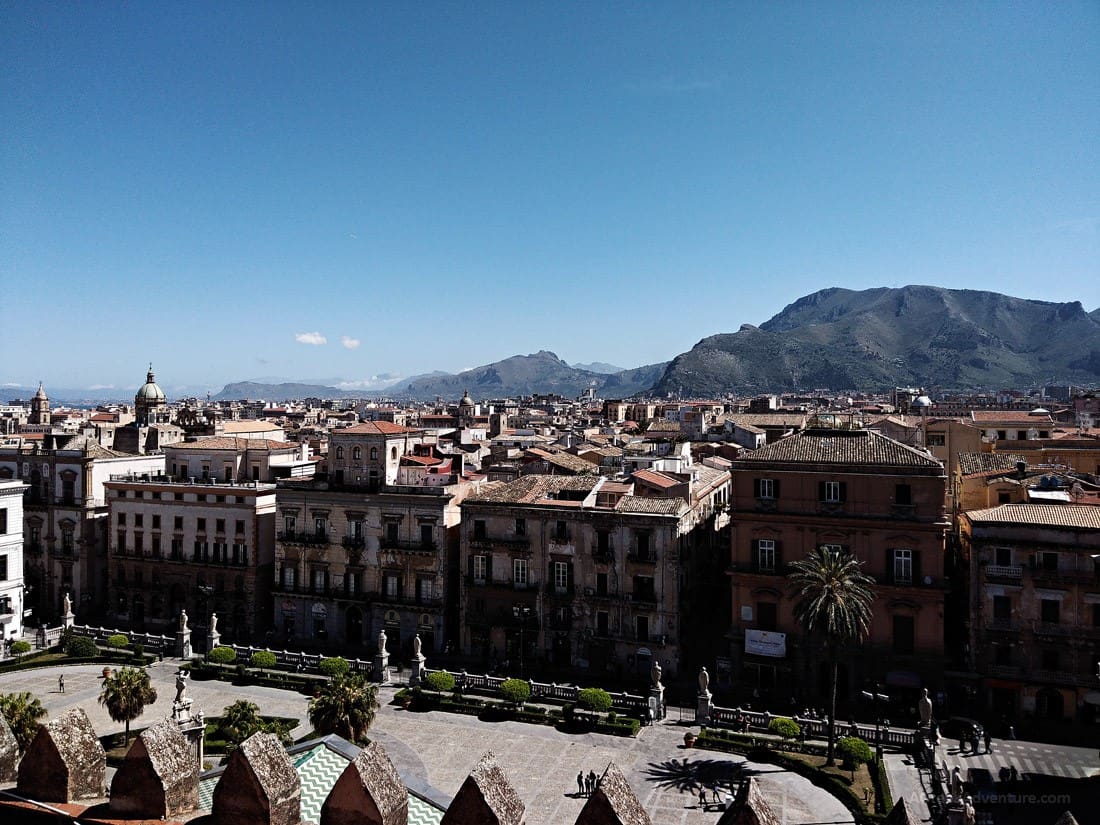 You will be able to see the influence of the additional Arabs style in architecture and decoration of the exterior.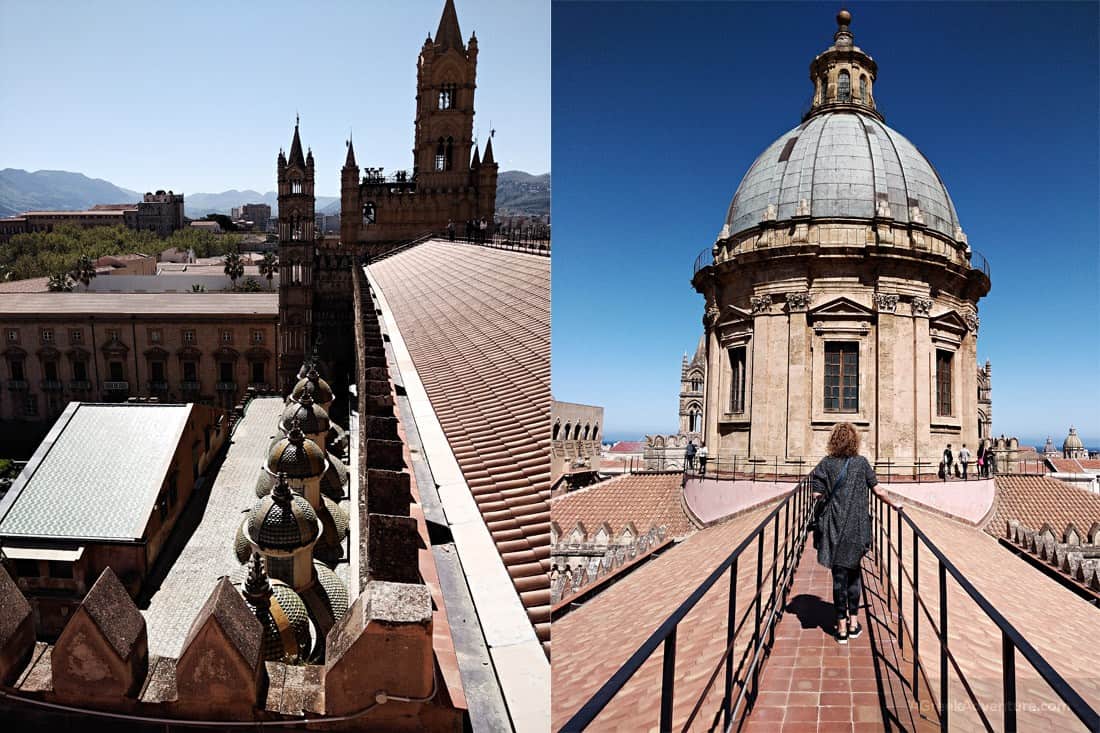 Quattro Canti
A Baroque square where the historic quarters meet: Loggia, Kalsa, Albergheria and Capo. It is rather imposing when you are in the middle of it, but nothing more than that. As you take the main road passing the Duomo, you will get to that point after 5 minutes.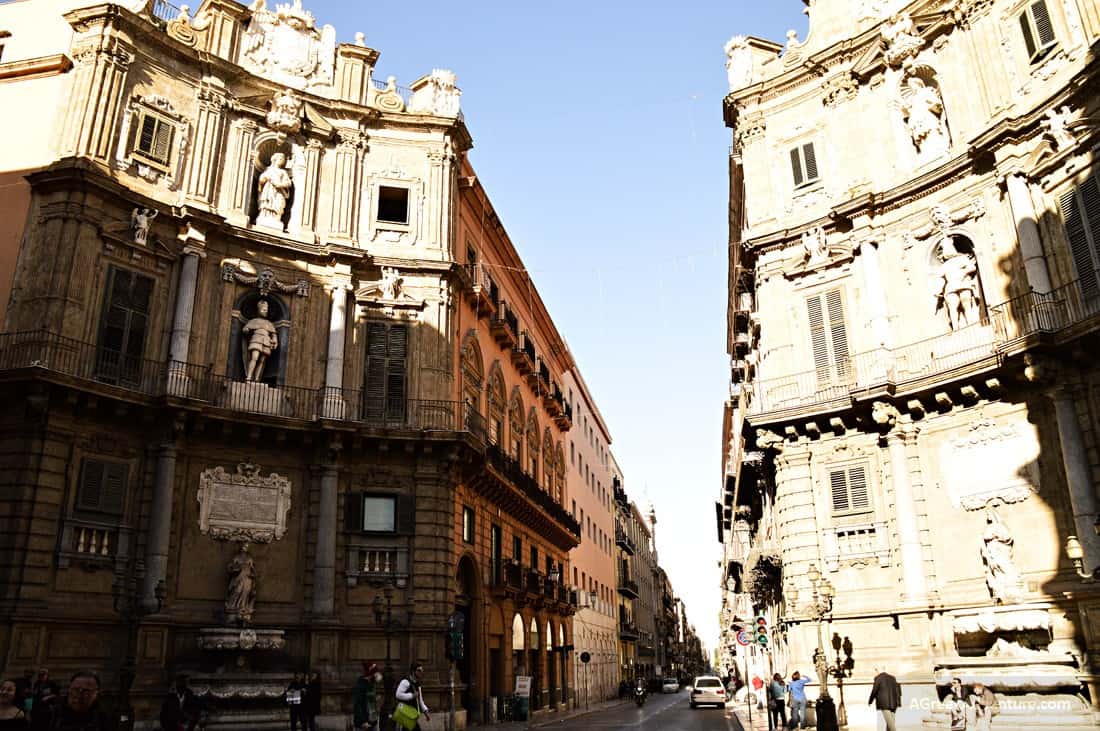 Private Palace Tour – Palazzo Conte Federico
We had no idea that this one of the top 2 things to do in Palermo. It was discovered by pure luck.
We were strolling inside the historical centre, when we turned around a corner and saw a sign mentioning an old palazzo (palace). We stood outside reading about what was that about, only to find out that it belonged to one of the oldest families of Palermo.
See this yard…
It was so beautiful looking at its inner yard. A smiling girl (proved to be from Brazil) explained us to whom this belonged and that every 1 hour, private tours were held (takes about 45 minutes).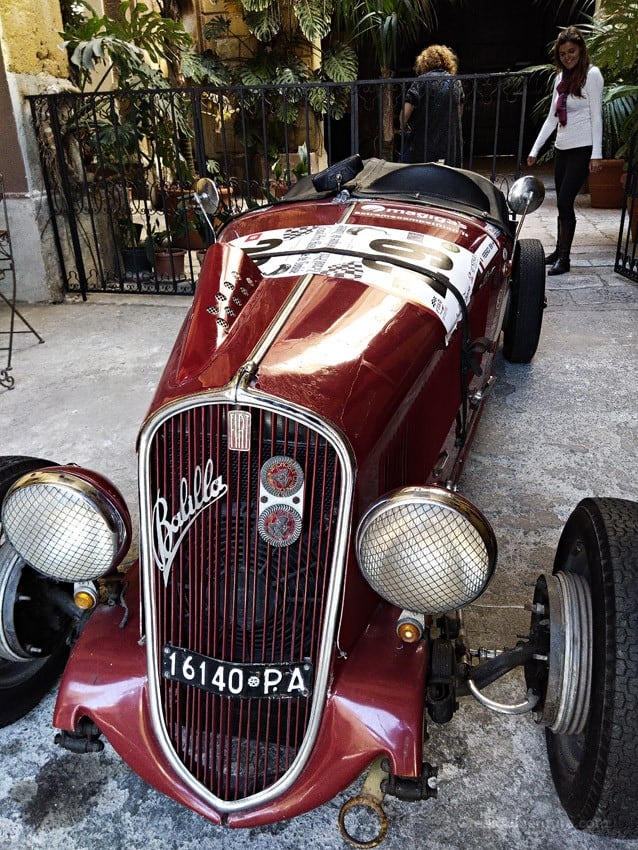 That was one of the highlights in Palermo and it was personal and with extreme care.
The tour (10 euro p.p.) was conducted by the son of the family, Andrea Federico. His excitement about the history if his ancestors (even of his parents) was so vivid as we moved from room to room that took us in.
Each room has a special story to tell and he explained many of the historical facts that took place in there.
There are lots and lots of rooms in this multi-floor palazzo. Each room had a different decoration and theme. Ceilings followed along.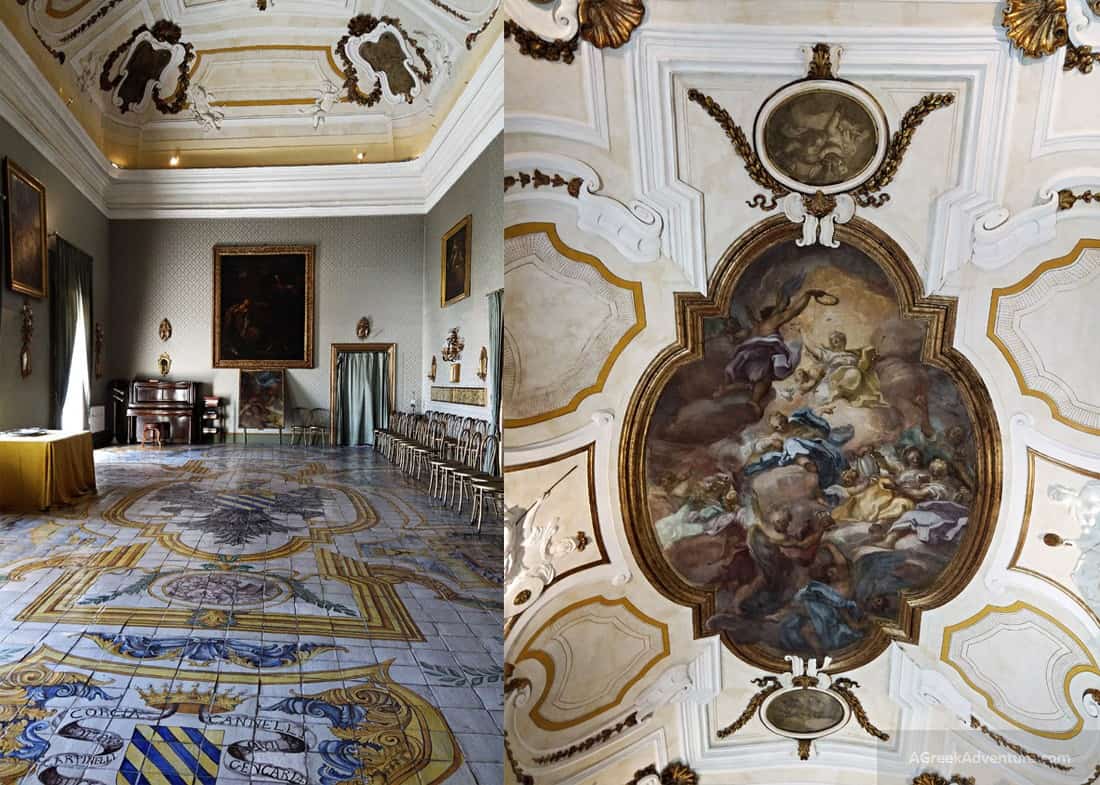 The weapons room. The family has a tradition with fencing.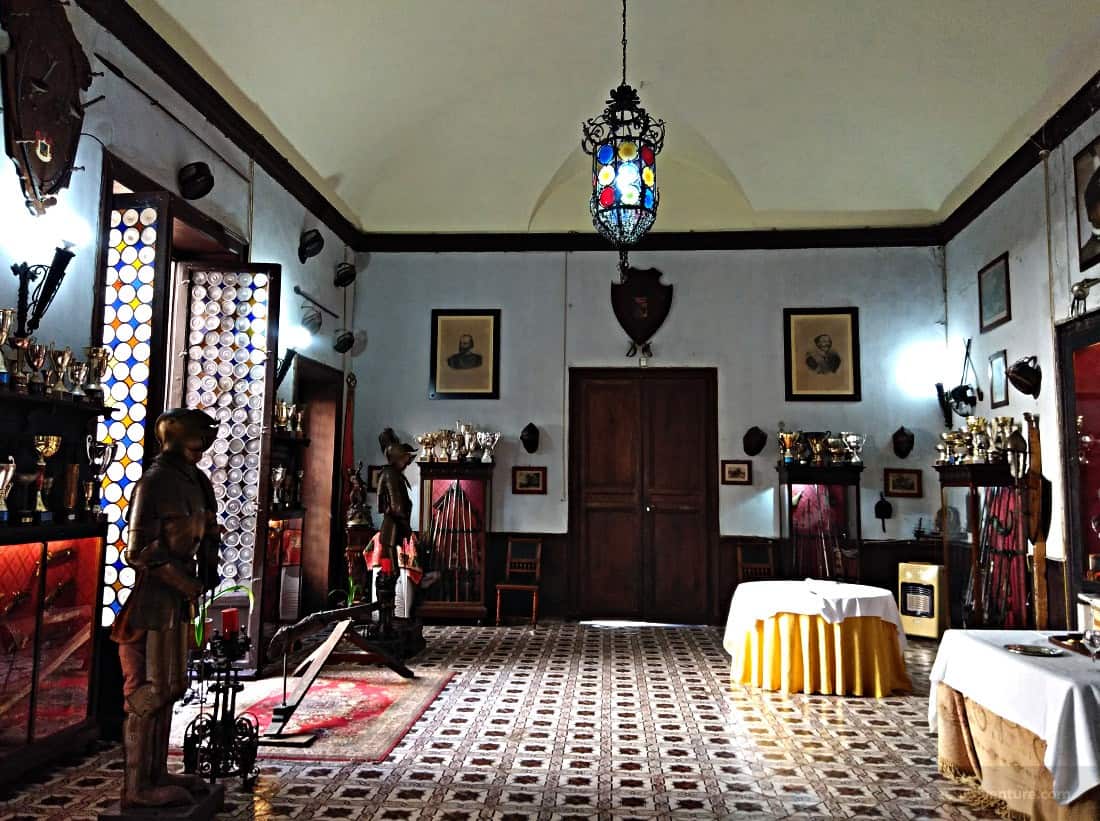 Trophies room (one of many). Countess was an opera singer (below right) and now is a triathlon athlete too. Everything this family does is highly competitive and focus on achievements. At the left is Andraea Federico.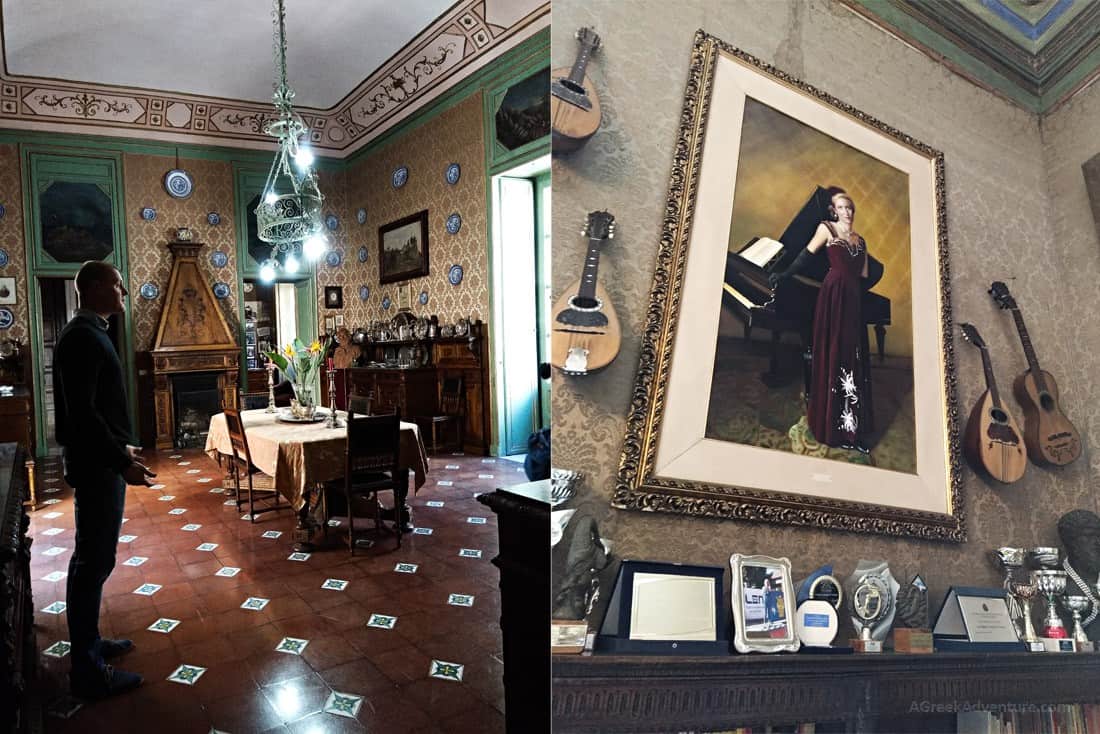 A music room.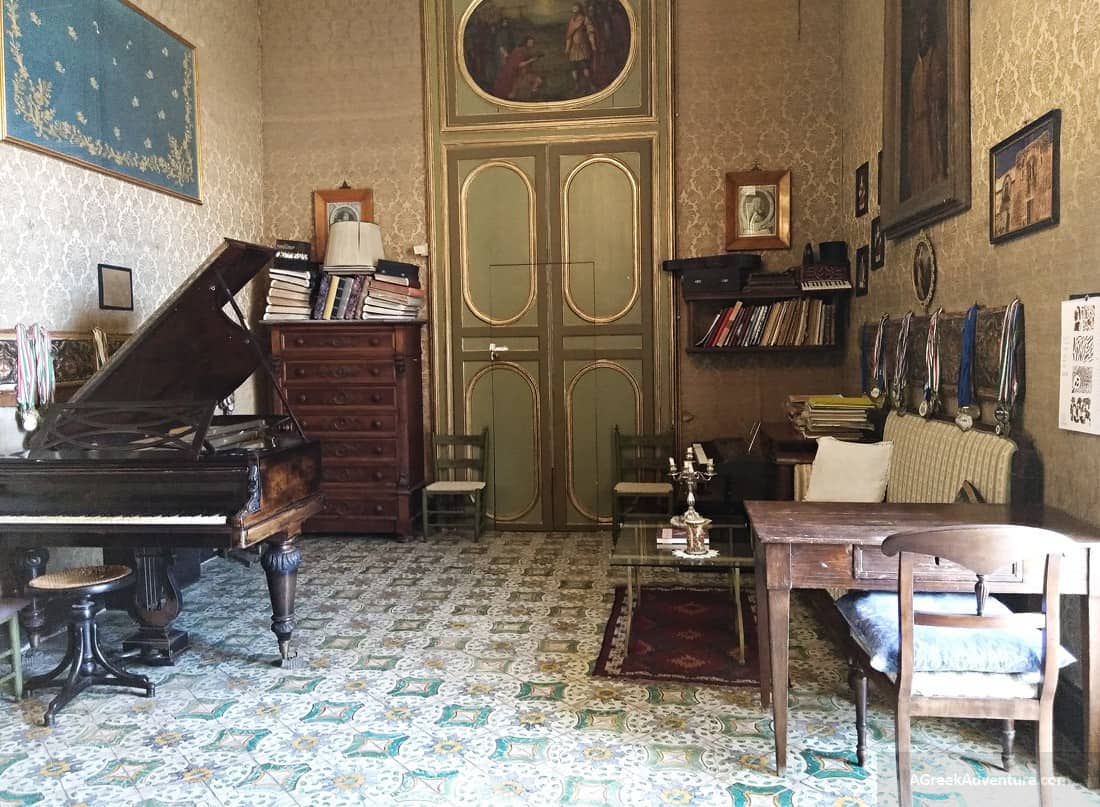 The old cuisine.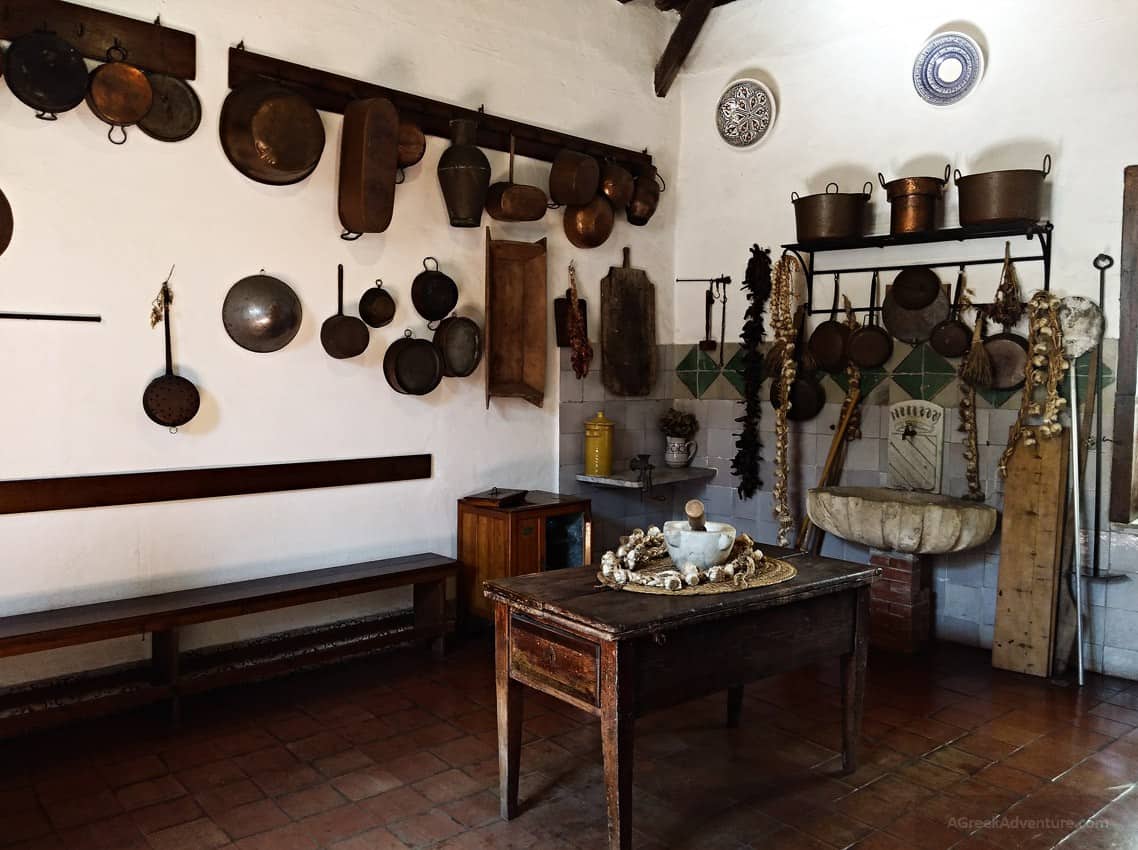 Everything in the palazzo was beaming importance and achievement.
We left the Palazzo Federico feeling really nice and positive. That was a great feeling from such a private tour.
The Capuchin Catacombs
One of the morbid tours you can see. Decaying bodies everywhere, exposed. Even of children (infants to teenagers). The reason for that? Catacombs were not just for priests. From some point on in history, rich families used to "bury" their own in the same way.
Pictures were not allowed and we didn't take any. We wouldn't post them even if we had as there are some things that need to remain inside the limits of ethics.
We really don't understand for the reason of such place to exist but many (even priests) claim that the reason is the "Memento Mori", a reflection to mortality and of the vanity of earthly life.
Well… who knows?
Duomo di Monreale near Palermo
Near Palermo lies another Duomo (of course). Sicily is a highly religious place. This Cathedral is one of the greatest examples of Norman architecture anywhere.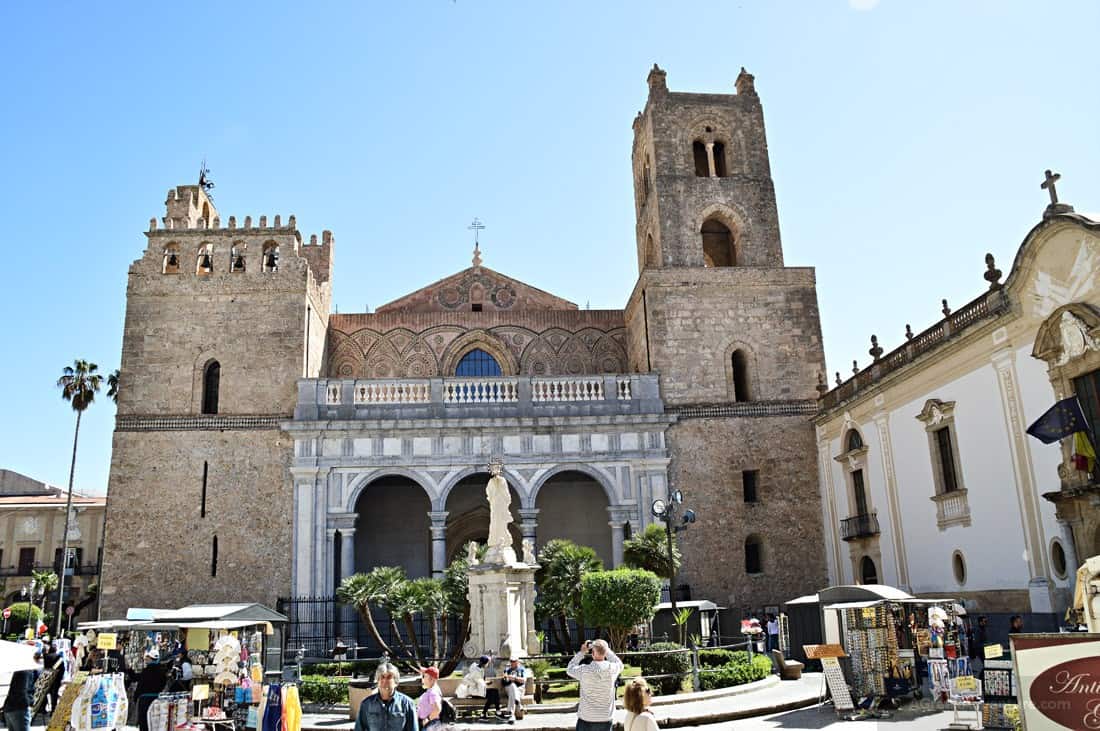 It is also a UNESCO World Heritage Site, along with the Cathedral Churche of Cefalù.
The outsides doorways and their arches are enriched with carvings and inlays as a combination of 3 styles: Norman-French, Byzantine and Arab.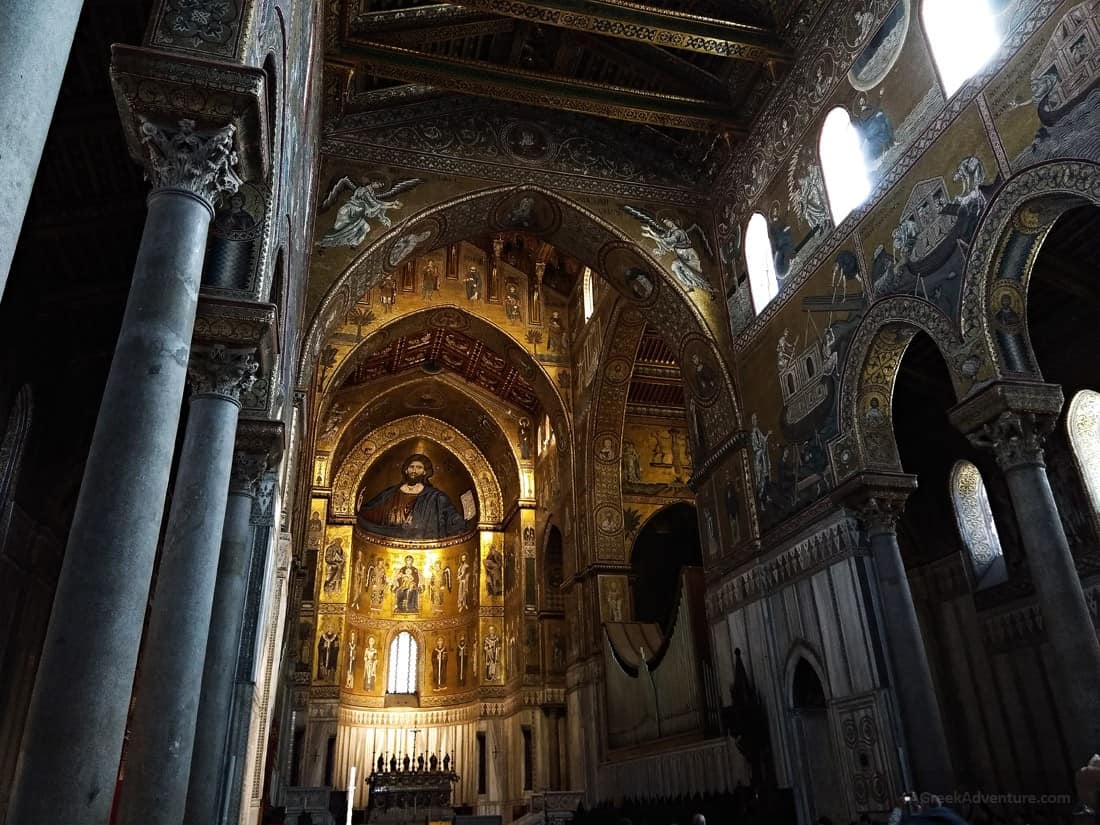 We learned that the cathedral was build after a feud between the local religious leaders and the King. Different elements in the church point that out too. For example the seat of the King is higher than the one of the archbishop. The painting behind the King's seat shows Christ blessing the King, not the Church leader. Therefore the King was considered directly under God/Christ and not the clergy.
You can explore many of Palermo options with private tours. See here.
Eating in Palermo, Sicily
There are lots of (pasta/pizza/tratoria) places to eat in Sicily as in whole of Italy. But we checked to find a place to eat and the Mercato Excelsior was really popular. In fact it is… a Mall.
The Mall had different small "fast-food" restaurants with different options of food to eat. But fast-food in Italy doesn't mean low quality as in other countries and the food was really good here.
We went to the 2nd floor and noticed a small Vegetarian style restaurant with just a few tables. We ordered a series of dishes, so to try as many as possible and it was delicious food in very reasonable prices.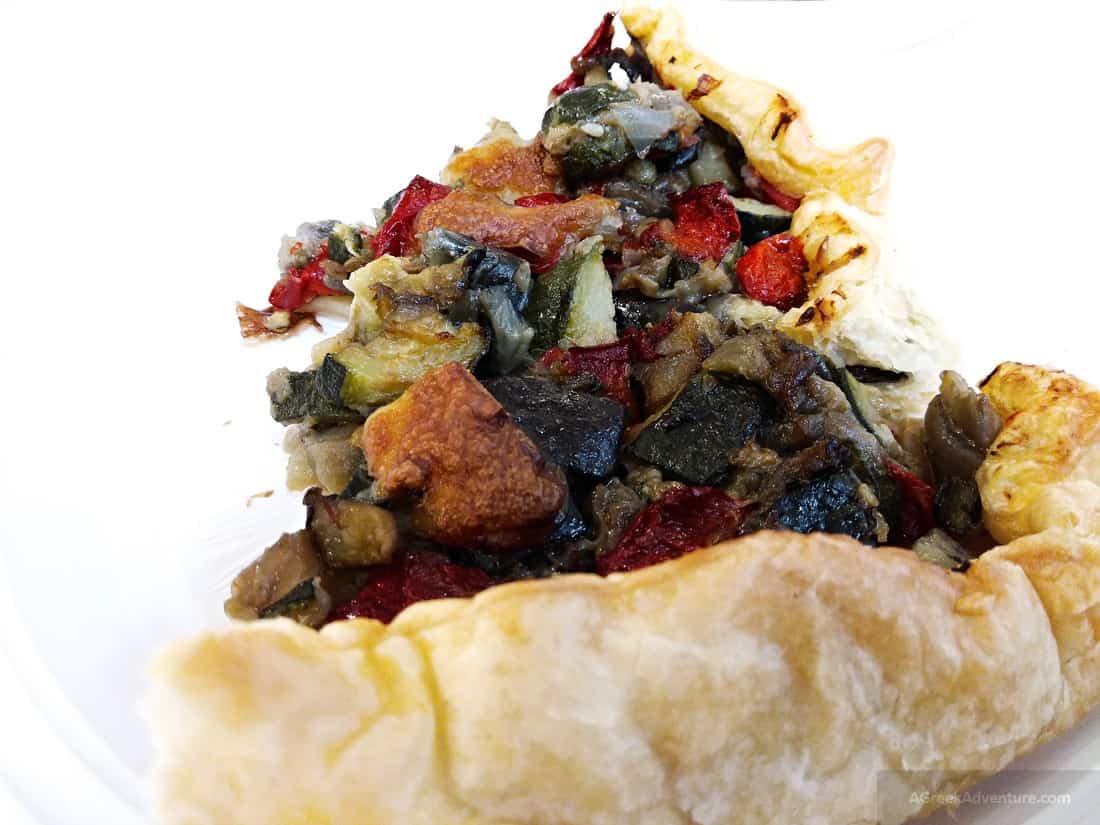 Even the dessert was something we never heard before (apple with onions, in some sweet syrup).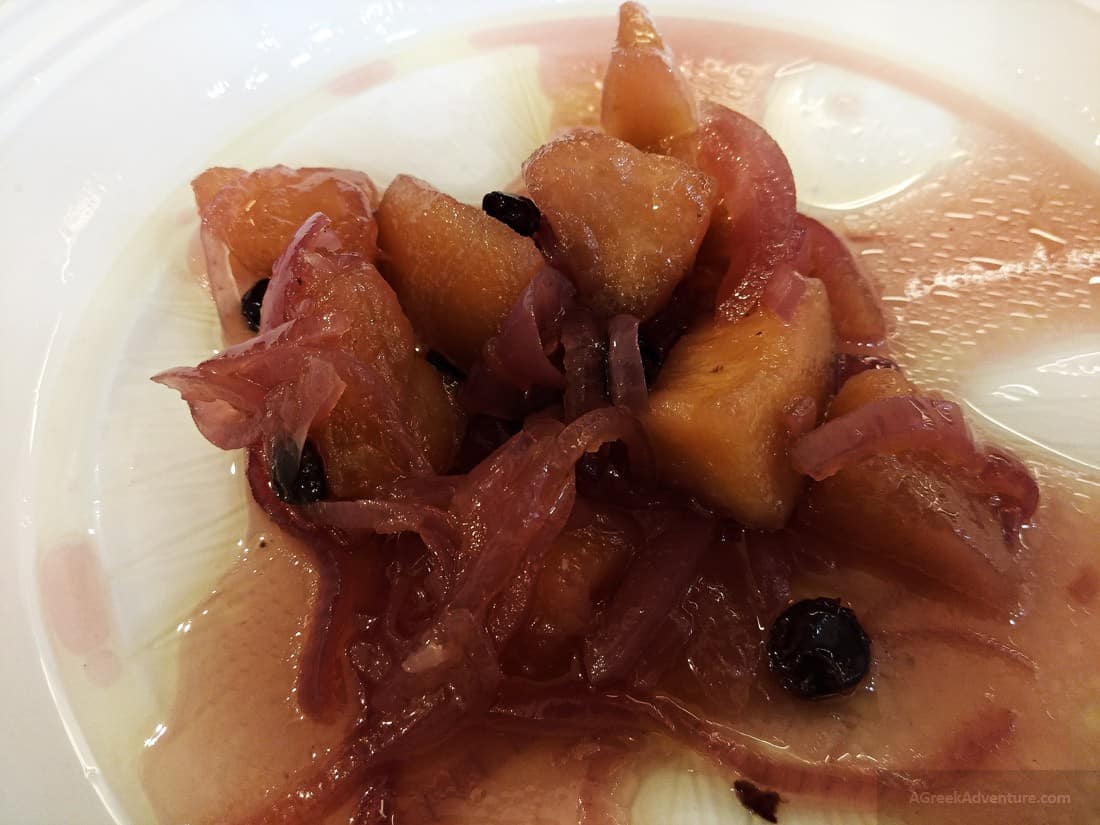 While you walk up and down the streets you will temped to get into the many small "dolce" shops and get some cannoli. Well… do get some cannoli. There are traditional and any-flavor-you-like options.
We got some.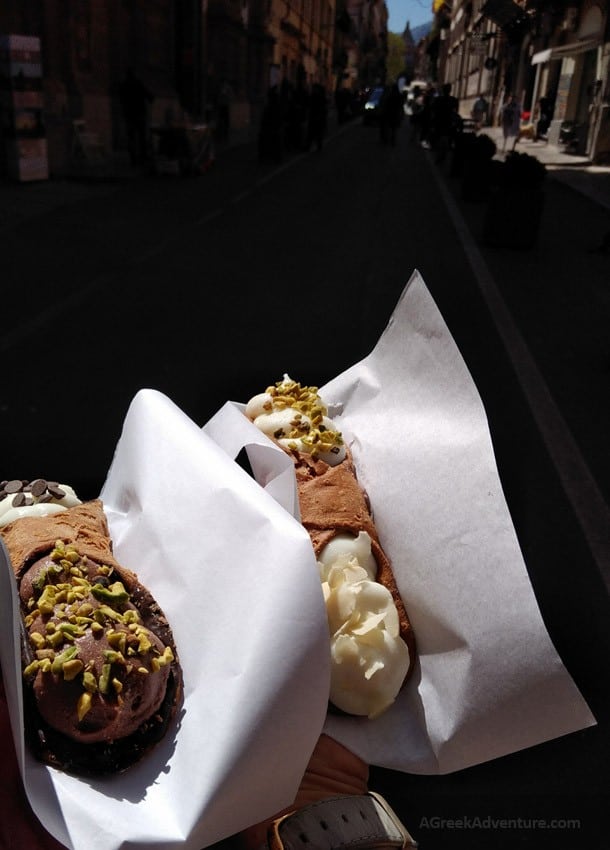 Palermo is an interesting city with lots of history, closely weaved with religion and drama. There are even Mafia tours to take!
Special Organized Tours in/from Palermo
If you need a guide to take you around then these tours are for you. Perhaps Palermo is a case where such tours are a necessity.
Best Hotels in Palermo Sicily
Following are a series of accommodation options for all tastes and budgets. These are handpicked and well researched.
Palco Rooms & Suite: In walking distance from the main squares and monuments of Palermo. Views to Teatro Massimo.
Hotel Plaza Opera: Stylish design, in the heart of the modern & financial center of Palermo.
Hotel Principe di Villafranca: In the "Liberty" district. great to experience the youthful and fresh lifestyle of Palermo.
Artemisia Palace Hotel: A 4* hotel, incentral Palermo, near Piazza Politeama.
Hotel Villa Esperia: Near the renowned beach of Mondello.
Alma Hotel: In central Palermo.
Palazzo Brunaccini: Boutique hotel with 18 beautiful rooms, in central Palermo. It used to be a palace.
Grand Hotel Piazza Borsa: A 4* lavish hotel. The building itself dates back to the 16th century.
Liberty Suites: In walking distance from every tourist attraction apart from Mondello.
Palazzo Gallo: Peace and quiet throughout your stay, and a rather homey feeling.
Bio Hotel: In the modern city center. An eco-friendly hotel.
Hotel Wagner: "Old World" charm.
Grand Hotel Villa Igiea Palermo – Mgallery by Sofitel: Luxurious hotel with a lot of history. Great location and breathtaking views.
Hotel Columbia: In a shor walk to any of the major monument attractions throughout Old Town.
Hotel Bel 3: On Baida Hill, a 20-minute drive away from the centre of Palermo.
Albergo Athenaeum: An 80 rooms hotel in walking distance from the the old town & Ballarò (best-known markets in Palermo).
Hotel Porta Felice: A 4* boutique hotel in the heart of Palermo with a wellness centre.
Hotel del Centro: Situated on one of the busiest and noisiest streets in Palermo.
Do enjoy your time and things to do in Palermo and lets us know what you think!
If you travel abroad don't forget to book your flight and accommodation for your things to do in Palermo. Make sure you get travel insurance too. If you are an extended traveler, do see these travel resources.