Night hiking is a very different experience than regular day hiking. Hitting the trail at night is not the same as during the daytime. Hiking the mountains at night is thrilling and challenging but also rewarding.
While the basics seem to be the same, you get to enjoy nature alone or with a group of friends, you need to be aware that there are fundamental differences.
It takes a little more preparation, but the result can be quite a memorable and enjoyable time.
Seeing all the stars in the clear night sky is a mind-blowing experience and a different good idea. Your depth of perception changes while walking in the woods at night, and that makes it more exciting and adventurous.
Here are some tips on how to be prepared for this kind of hiking.
Hiking at Night and Exploring
Trekking on the paths in the dark alone is suitable for those who have good physical readiness and good orientation ability.
Less experienced hikers shouldn't go on a evening hike without an expert guide. You will also need some quality hiking and backpacking resources for the trekking trip.
Choose a path that you know very well and have already followed several times in the daytime.
Don't venture alone, but bring a couple of friends with you.
Take on night trekking with a headlamp and carry a spare flashlight. Either way, take a few more batteries with you.
You will discover that night hiking is a new experience where your other sciences became heightened because your sight won't be your primary means of exploration.
7 Things to Take Care in Multi-Day Night Hiking
1. Sleeping Bag

A sleeping bag is required. If you don't have a bag, buy it or borrow it. On mountains, the nights are generally cold, no matter the season.
2. Camping Tent

Having a lightweight camping tent is almost mandatory. If you don't have a tent, borrow it, or ask who has a place for you in theirs.
3. Thermal Blanket

Don't rely too much on a long-term weather forecast that often has nothing to do with the situation on the ground.
For trekking at night in the middle of winter, bring a thermal blanket with you in case of emergencies. Choose a route with southern exposure to lower the risk of running into snow and ice.
4. Dresses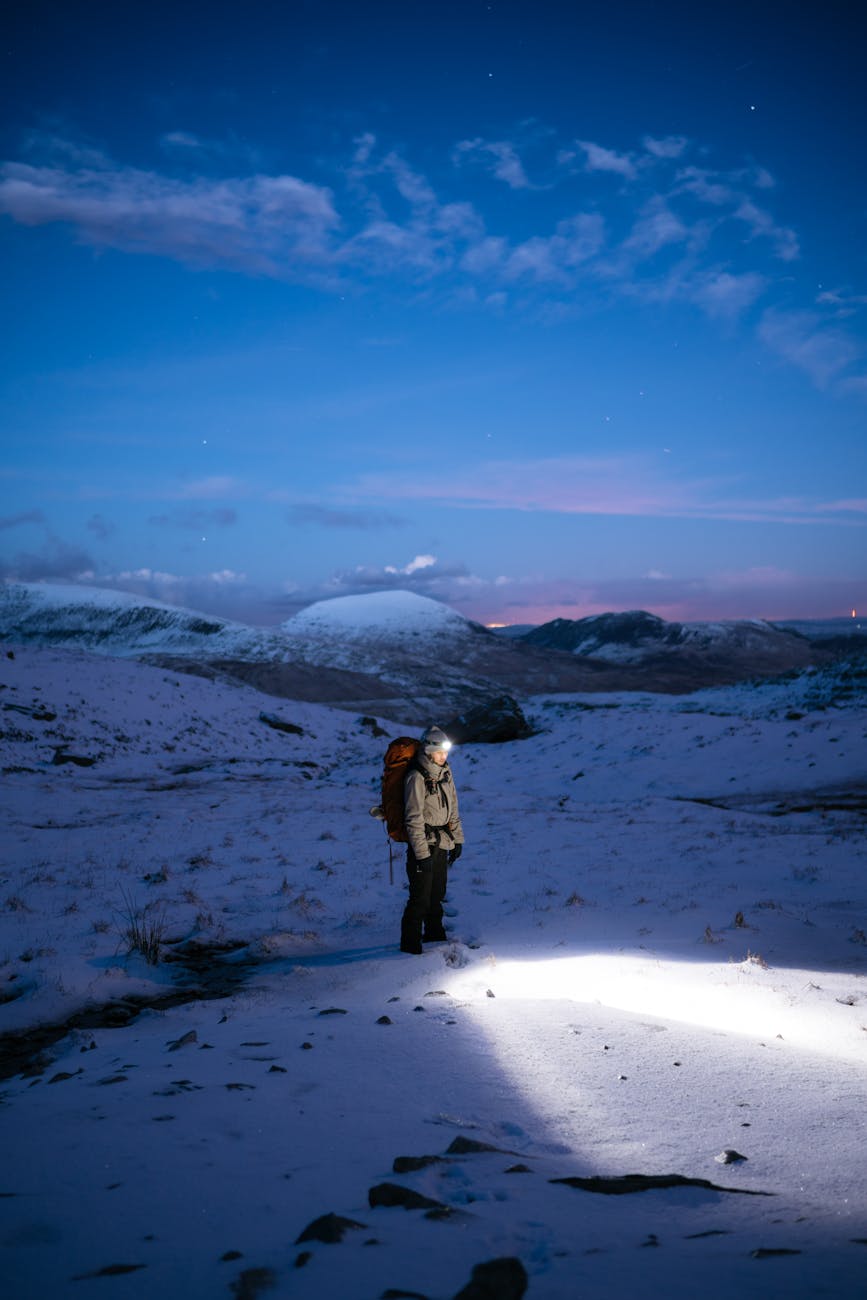 Dress in layers. Even in summer, weather can change rapidly, and temperatures may drop at different trail points. Carrying different extra layers will help you to control your temperature.
It is not easy to find your way in the dark, so it is better if you use a compass.
Also read: Why Do Hands Swell When Hiking?
5. Trekking Poles

Have trekking poles. Stumbling upon every little thing or going downhill gets more tricky during nighttime.
6. Lightweight gear

Go lightweight with your gear.
Bring extra batteries for the gear that needs such (i.e., GPS)
7. Snacks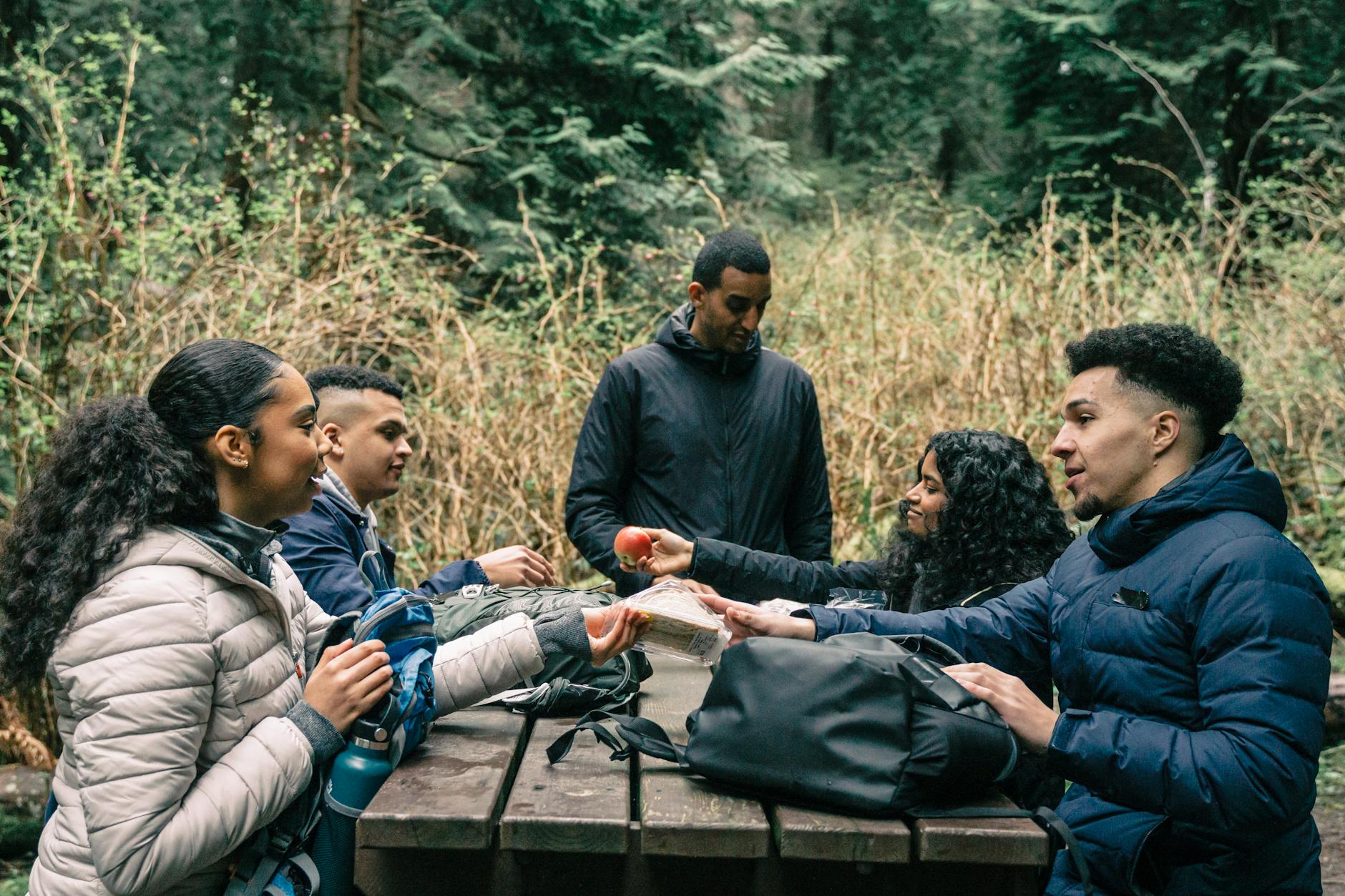 Have some snacks. Depending on long you will hike during the night you may get hungry
Keep your backpack well organized. You don't want to take all things out just to find one of them
Also read: How To Select the Best Hiking Hats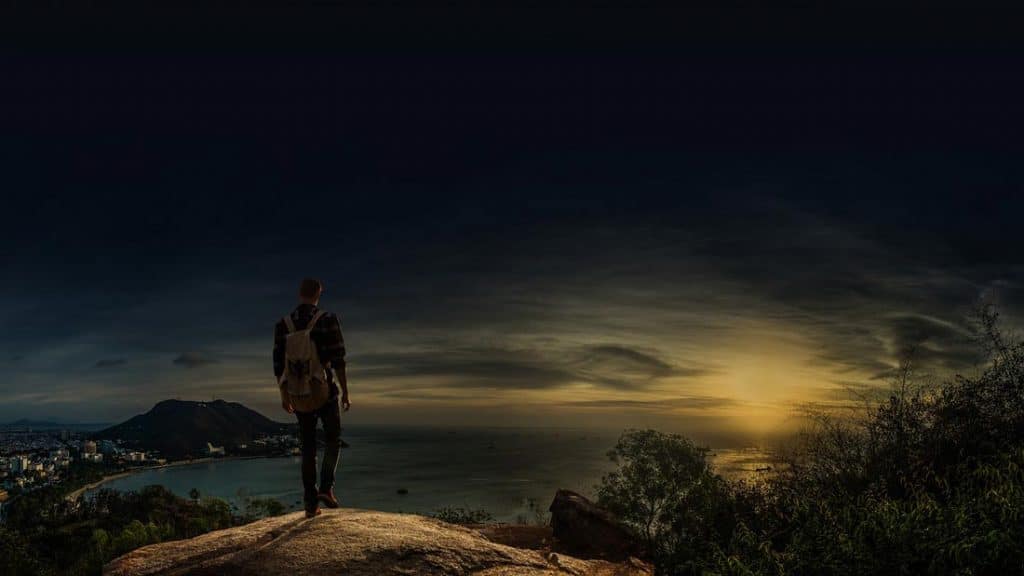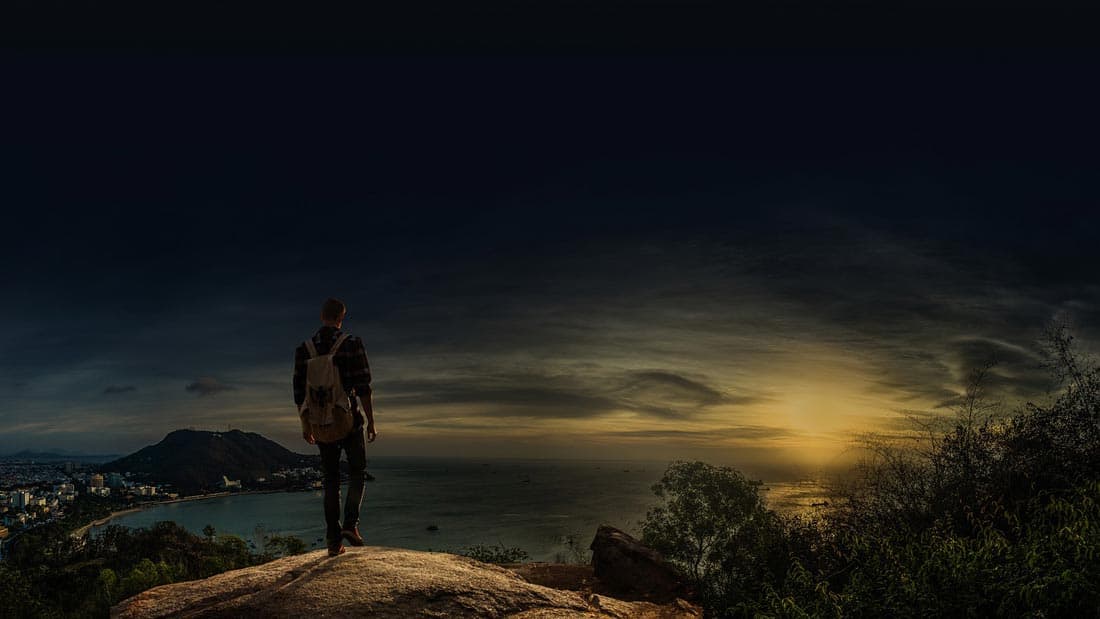 5 Great Benefits of Night Hiking
1. Night hike teaches you to know other traditional ways of life.
Trekking occurs in rural environments where ancient trades are preserved, which are increasingly unknown among urban areas.
People who live in those areas maintain traditions and lifestyles that can make you wonder about yours. There is life beyond the crowds and asphalt of big cities.
2. A night hike helps you manage stress.
The contact with nature, breathing fresh air, and listening to the song of the birds connects you with another dimension, far away from a stressful working period in the city. It is widespread to feel a sense of pleasure at the end of the hiking.
3. Night hiking helps you sleep better.
By controlling stress and anxiety, together with fatigue derived from physical exercise, hiking at night helps you fight insomnia. When you get to bed, you fall deeply asleep, and the next morning you wake up full of energy.
4. It increases your environmental responsibility.
Hiking at night puts you in touch with Mother Nature and allows you to discover many of her secrets. In the end, it is nature that put us here on this beautiful planet. Hiking helps you become aware of how important it is to preserve that.
5. It allows you to discover new regions.
Hiking at night can take you to environments that you didn't even know existed. Discover new landscapes, incredible enclaves, and idyllic surroundings that you didn't even know were so close to you.
Also read: 10 Best Different Types of Hiking Explained
Social Benefits of Night Hiking (or Any Time)
You meet new people: Hiking helps you expand your circle of friends and meet people.
There is always time to start conversations during the march since the atmosphere is peaceful and relaxed, and everyone is more open than on a stressful day at work.
You can practice it with your family: Hiking can be practiced as a family activity, unlike other sports activities.
You can not only go with your partner, but with your children as well. However small they may be, you will always find a route tailored to all family members.
It teaches you to live with others: During night hiking, you learn to help and live with others. It is normal to share water, food or help others when they need it. A simple band-aid or some shared traveling rations can lay the foundations for a good coexistence and friendship.
Cons of Night Hiking
Please don't get lost or hurt: Be careful; it is not easy to find your way in the dark, so to follow a path in complete safety, it is good practice to follow paths that are well known.
If you want to go trekking at night on a path that you have never walked during the daylight, always rely on an expert guide to hike safely.
In a dense forest, the view is reduced, so even the path that is well marked during the daylight is not so easy to follow at night.
The signposts arranged on the ground or the trunks are designed to be seen during the daytime.
During the night hikes, you might miss some of them, so it is essential to have a light source with you.
The best tip here is to try and organize a hike on clear nights with a full moon.
Go slow: When walking in the dark, you should move slowly, stretch your arms forward in case of reduced vision, and pay close attention to where you put your feet.
Rushing during a time with reduced invisibility can only be hazardous.
Watch Your Pace: You must keep a steady pace to maintain an effort throughout the journey. If you have to climb a mountain, remember that you must also lower the speed and that if fatigue sets in, you are much more likely to suffer a fall or twist your ankle. Relaxation, coupled with exhaustion, can cause you to lower your guard.
5 Helpful Tips for a Great Hiking at Night Adventure
1. Bring a friend or go hiking in a group
The best advice that we can give you is to don't go night hiking alone. Bringing friends can help in many ways.
It is good to have someone around to don't get lost or have someone to talk to. Also, if an accident occurs, you have people around you who can help.
Although hiking can be practiced individually, it loses many of the benefits derived from sharing experiences.
Going alone is only less safe since no one can help you if you lack water, food, or have suffered some setback, or have lost yourself in the bush.
Of course, there are other benefits to not going alone.
If you go alone, you must be very clear about the itinerary and check the route before leaving. You must tell someone the route you are going to hike.
2. Bring a Good Light Source
You must make sure that your flashlight (or headlamp) is working correctly and that you have stored a spare one and some extra batteries in a backpack pocket.
The type of such device is important. Even if you have a powerful one, don't underestimate the headlamp.
Trekking at night has the advantage of stimulating all the senses except the sight. If you start a trekking route at night with a torch in your hand, you will not fully enjoy the walk because you will have to hold the light the entire hike.
That is very cumbersome if you love walking, supported by a hiking staff.
An LED one can be the right answer to your needs. It has a high autonomy; it is light and small in size.
Also, a Led device has an adjustable light beam with an intensity that can vary from 20 – 25 lumens for the most "open" paths and 35 – 40 lumens for more uneven tracks and adverse conditions.
If you are in a team of people, avoid blinding your companions: if you have to turn to them, cover the light beam with the palm; otherwise, the sudden bright light of the flashlight can cause blindness, which can lead to injury.
Some extremes may even carry night vision goggles, but it depends on your budget, the terrain, and how adventurous you want it to be.
3. How to Best See at Night Hiking
There are some do's, and dont's when it comes to hiking at night. Follow these simple guidelines.
Give time to your eyes: Your eyes need some time to adjust. Don't force it. It will happen naturally.
Don't directly focus on a strong light source: When you look at strong lights, you get temporarily blindeness. Then the process of adjusting to night vision starts all over. Avoid looking at headlamps, lanterns and high lumen flashlights.
Perihperal vision helps you to adjust: Don't look straight on a luminous object. It can help to turn your a head a bit and use your peripheral vision.
Red light is good: When you buy a headlight, see if it comes with a red light setting. It is better than the normal harsh white light and your eyes will adjust faster, as they are less sensitive to red light wavelength. Red light is weaker than red, and your vision can be less affected during your walking.
Get gear with brightness settings: For any light source you use, make sure they come with a variations of light settings. Such are usually found at headlamps and flashlights.
Use the light only when needed: Proper etiquette (and battery life) dictates that you use your light source only when needed, and definitely not against someone elses eyes.
Also read: Natural Remedies to Tame Seasonal Allergies in Hiking
4. Plan your Route
Even if you go with a guide, it is good to check the difficulty of the route, the distance, and the unevenness that you have to climb.
This will allow you to carry the right gear or the amount of water you may need, for example.
Planning the route avoids having to improvise, something that is not advisable. Above all, you should assess whether you are qualified to do it.
It is also best to try a familiar trail than a completely unknown one.
5. Wear Gloves
The hands have contact with the outside much more than any other part of the body during a hike.
They are the part of the body most sensitive to the cold, along with the feet.
Some durable hiking gloves weigh nothing and can be very useful in the early hours of the morning or when you reach the top of a mountain.
If you cross asphalt roads during your route, keep in mind car lights. During the nighttime, objects seem far from what they are, but they are closer.
Are you ready for your first time night hiking? Have you ever done any? Also, consider reading this: After Hike Recovery: 10 Essential Tips on How to Ease the Agony and you may also like Best Camping Flashlights,