One tourist who fell in love with Palawan hailed it as the "single most beautiful place on Earth" and it is no wonder why Palawan has that effect on anyone.
This southern island of mainland Luzon has the largest number of tourist spots all crammed up in one province.
From its sugary-white sandy beaches, otherworldly rock formations, diverse flora and fauna both on land and in water, dozens of world-class diving sites and very hospitable locals, Palawan will make you fall in love with it at first sight.
Palawan's most popular municipalities:
Puerto Princesa
As the provincial capital, Puerto Princesa is the center of everything in Palawan. It is the main gateway to the island and is home to the famous underground river and cave system which is among the New 7 Wonders of Nature.
Puerto Princesa is not as interesting as the other spots though, which is not surprising as cities are typically less favored in terms of nature trips.
If you are lucky, you can do island hopping in Honda Bay and get to watch dolphins and whales in their natural habitat.
Coron
The less popular twin of El Nido but equally beautiful, Coron looks very much like El Nido in terms of the spectacular rock formations and karst cliffs protruding from the turquoise waters but there's so much more to Coron than that.
Instead, it is visited for its wreck-dive sites that are among the best in the world. Coron's undersea escape is awe-inspiring.
Generally, Coron is much wilder and more laid-back than El NIdo. Local lifestyle is much simpler and so one will not easily find simple pleasures like ATMs in this part of Palawan.
If you are looking for a night life, Coron will leave you disappointed.
El Nido
The most sought-after in all of Palawan, El Nido is the place to be if you want to splurge and experience the ultimate tropical getaway.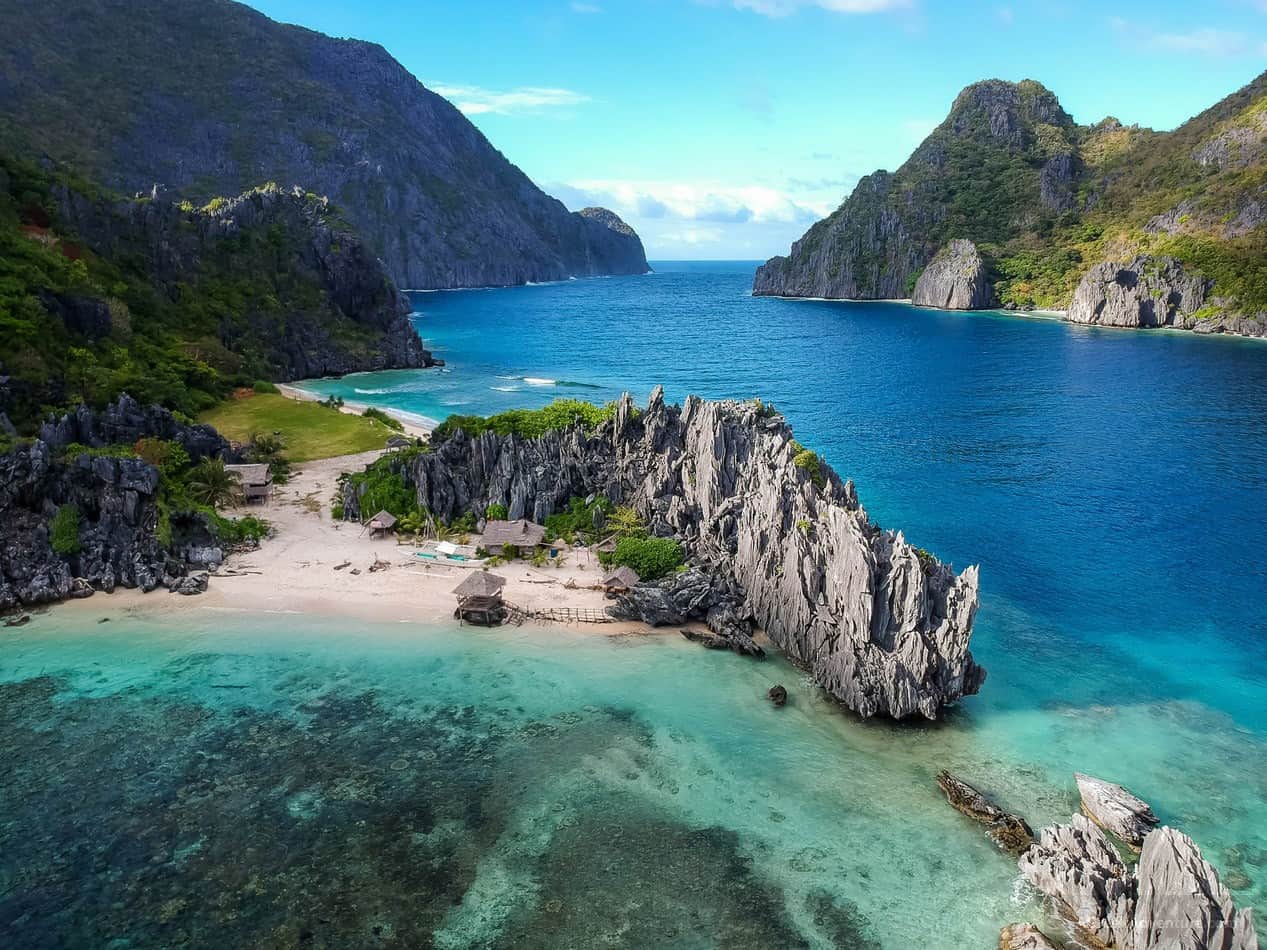 If you love the beach, El Nido will be your beach paradise. There is no shortage of white sandy shores on the island and if you do island hopping tours, which you must, you will find numerous other islands and hidden beaches that are simply amazing.
How to get there
By Air
Going to Palawan by air is the easiest and fastest way of getting into the island. Puerto Princesa has the international airport where most tourists arrive to.
There are regular flights daily from Manila to Puerto Princesa and numerous airlines ply that route. Another option is to fly directly from Manila, Cebu or Boracay to Busuanga Airport in Coron to save you the hassle of a 5 hour journey from Puerto Princesa to El Nido.
By boat
There are ferries that go to Palawan from other coastal provinces in Luzon like Mindoro. There are regular fast ferries from San Jose Mindoro to Coron, Palawan and travel time is 3-4 hours. But if you will be coming from Manila then travel time will be at least 18 hours.
Where to stay in Palawan
Palawan offers different kinds of accommodation for every budget. Whether you are a backpacker or a celebrity, the island has something for you.
El Nido has more expensive places to stay than Coron and Puerto Princesa but it is also not difficult to find a hostel or a small guest house if you need one.
If you want to stay in an exclusive resort to celebrate a special occasion, your best chance to find a Maldivian kind of resort is in El Nido.
These hotels offer all inclusive packages to Palawan which lets you see the whole island and also includes transfers from Manila. Puerto Princesa, on the other hand, is packed with a lot of boutique hotels and resorts that is ideal if you want a comfortable place to stay for a short time.
What to do in Palawan
There are many things to do and see in Palawan. The island has everything for nature lovers, adventure seekers and beach bummers.
The main activity on the island is of course island hopping especially in Coron and El Nido. Your trip to Palawan without the island hopping can't be a trip at all.
Other things to do are:
Wreck-diving in Coron (there are dozens of Japanese shipwrecks from WWII in the waters of Coron)
Swimming and snorkeling in the clear waters of the twin lagoons
Bird watching – Palawan is home to more than 600 species of birds and some are endemic to the island.
Cave exploration and boating in the underground river and cave system in Puerto Princesa
Hiking in both Coron and El Nido's karst mountains
Try out on exotic foods like the crocodile sisig and tamilok
Beach hunting in El Nido
Swimming or kayaking into the secret beach
Paddle boarding and canoeing among the mangrove forests
Beach parties and bar hopping in El Nido and Puerto Princesa
General Tips for Palawan
Since Palawan has now become very popular, a lot of small boutique hotels can easily get fully booked at least 3 months in advance and so it is recommended to plan way ahead to ensure that you get a slot in the hotel of your choice.
Weather in Palawan is subject to monsoon seasons and typhoons so make sure to check weather forecast before your trip. Best time to travel is between April to June and December to February.
There are no ATM's in Coron so make sure to always bring enough cash with you.
Tipping in the Philippines is not very popular but very much appreciated.
If you have limited time to spend in Palawan, you can skip Honda bay island hopping tours in Puerto Princesa (except for the underground river, it's a must) and head directly to El Nido because island hopping in El Nido is far better.
So, ready for Palawan? Looks like a really interesting place, isn't it? Find more about Asia travel from our dedicated section.