Apart from Europe, Asia has a series of world-class best places to travel in December on a Budget.
December is traditionally the month when people worldwide go on their winter vacations.
Most places have a pleasant climate in the December and winter months, which makes the prices of airfares and hotels and room rates soaring.
At the end of the article, find a guide that will help you to see all the necessary resources for budget travel.
Places to travel in December in a Budget
We are here to tell you the best places you can visit in December on a budget!
With the advent of new modes of accommodation, such as serviced apartments, local homestays, shared accommodations, hostels, and even camping out in the open, your dream vacation doesn't have to be out of reach.
We will see the places you must travel in December on a budget during the high holiday season!
Bhutan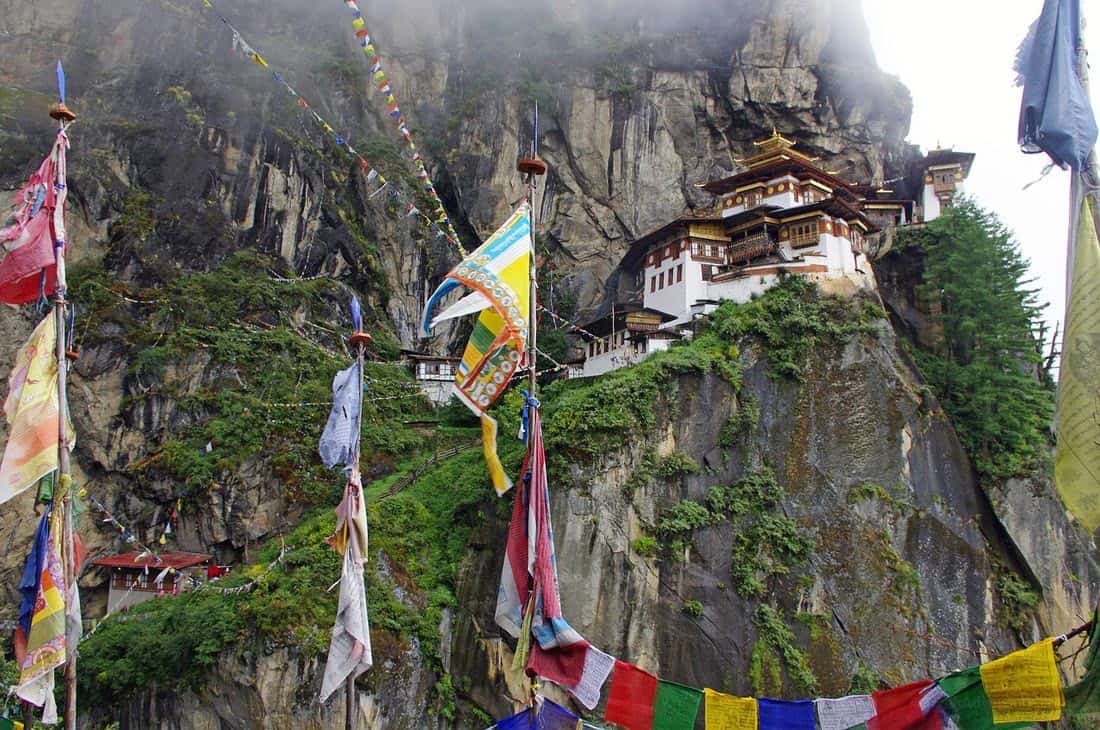 Bhutan is a landlocked country in the East Himalayas surrounded by India and China. Bhutan is Heaven on Earth, filled with scenic valleys, snow-clad mountains, and fresh snow-fed glaciers.
It is primarily a Buddhist country with several monasteries dotting the landscape.
The most suitable time to visit here is from October to December, as temperatures drop below zero levels in January. It is also the time when most traditional festivals happen.
Bhutan currency value
The Bhutan currency value is the same as the Indian rupee value, i.e., 1 USD = 70 INR.
Bhutan Visa charges
It will cost around 40$ to get a Bhutan visa. Note, you have the only option to book an organized tour with a Government-authorized tour operator, which would cost you 250$ per day.
That includes 3* hotel accommodation, food, and a tour with a guide.
Places to travel in December in a Budget in Bhutan
The Rinpung Dzong, overlooking the Paro valley, is an excellent example of Buddhist architecture. It is a monastery and fortress used earlier to protect the country from Tibetan invasions.
At an altitude of 3989 meters, Chele La Pass is a beautiful spectacle with views of the Paro and Haa valleys on either side. The 22000 feet of Mount Jomolhari can be seen from this point.
The 169 feet tall statue of the Buddha Dordenma is a popular place situated at the foot of the Paro Valley made of gold and bronze. It is a must-visit place in Bhutan.
The Taktsang Monastery, also located in Paro Valley, is a religious site of Guru Rinpoche, a revered Buddhist figure. The Monastery is built on a cliff and gives panoramic views of the lush green forests in the valley below.
Chomolhari is well known for its trekking circuit. It begins at Paro and spans 7-15 days for the complete circuit. It is mildly strenuous, with splendid views of glacial lakes, snow-lined slopes, and rare flora.
A few more monasteries can be visited Drukgyal Dzong, Tashicho Dzong, and Punakha Dzong, the better-known Dzongs in Bhutan.
You can also check the beautiful sites to tour in Bhutan!
Overall Cost
Farmstays and homestays are available as cheap as US$20 per night.
Food is primarily local and straightforward as most places practice sustainable tourism here.
Travel is by bus or taxi. An average five-day stay in Bhutan would cost US$200-300 per person.
Philippines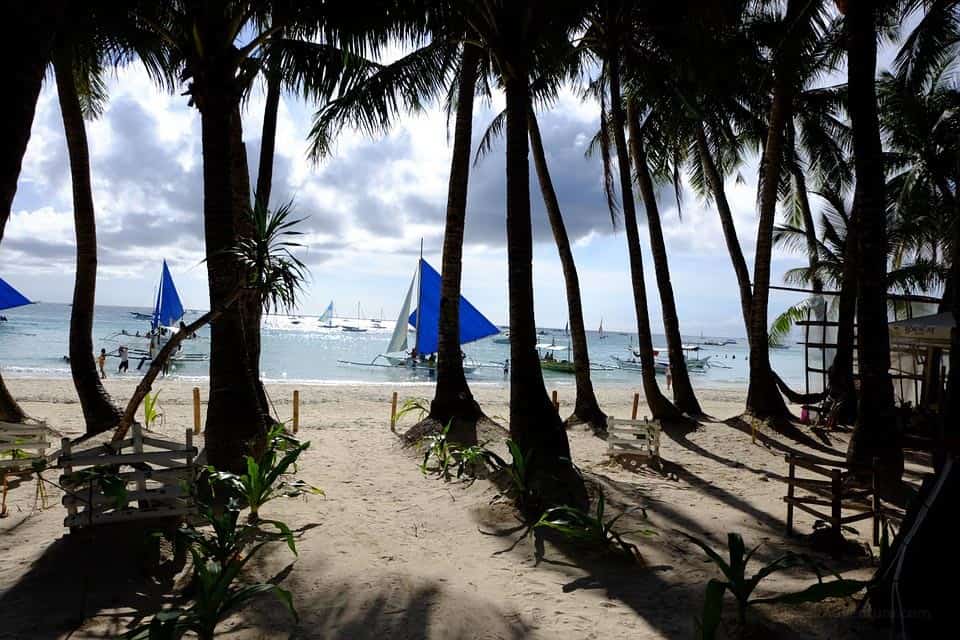 The Philippines is the best place to go if you are looking for a budget trip.
It has fantastic beaches, a tropical climate, and plenty of water sports, not to mention island hopping and trendy nightlife.
The weather in December ranges from 22 degrees to 32 degrees Celsius, which makes this a perfect time to visit this place. It has more than 7000 islets, so it's easy to visit the country multiple times.
The scenery in the Philippines is diverse as it has steep mountains, tropical beaches, private sanctuaries, and historical landmarks in different regions.
Philippines currency value
1 USD = 52 Philippine Peso
Philippines visa cost
You can get a Philippines visa for free for a stay of up to 30 days!
Places to Travel in December in a Budget in the Philippines
Palawan: This should be at the top of your list if you want a pure beach stay with beautiful sea views. Puerto Princesa is the town from where Palawan is approachable. You shouldn't miss the Puerto Princesa underground river, a World Heritage UNESCO site. Flights are available from Manila and Cebu to Puerto Princesa.
Boracay is a famous island, as it consists of more than 12 beaches. It has many stay options, and getting here requires a flight from Manila to the closest airport at Panay island. The boat then brings you to Boracay.
The Island of El Nido has spectacular ocean views and sandy and sun-kissed beaches. There are secret lagoons and jutting limestone islands that rival the beauty of the Phi Phi islands or the Halong Bay. El Nido is accessible by land or by flight.
Coron's beaches are also pristine and suitable for shipwreck diving, snorkeling, and coral watching.
Cebu is the most popular destination in the Philippines, known for its colonial history, beaches, waterfalls, and nearby beaches. It has functional connectivity by air and ferry. It is also close to Bohol, which is a must-visit to see the iconic Chocolate hills. Dolphin encounters can be had on Panglao Island nearby. Other beaches to explore are Siargao, Divagate Islands, Britania Islands, Siquijor Island, etc.
Visit the Banaue and Ifugao rice terraces to see the well-preserved culture of the local population. Sarada is one more place where you can see the bizarre spectacle of the hanging coffins. It is known for its waterfalls, caves, limestone mountains, and hill-tribe atmosphere.
Also, check the most unexplored Masasa beach in Batangas, Philippines.
Overall cost
Stay in the Philippines can be ridiculously affordable as plenty of backpackers hostels, dorms, and hotels are available for around US$20. Local food is available at shacks on the beaches for less than a dollar.
You can plan a trip to the Philippines according to your budget. You could visit just one island or traverse the entire region as every island has the utmost beauty. Island hopping is by public ferries, around US$4 per trip.
Stay, food, and travel would cost around US$50 per day.
Sri Lanka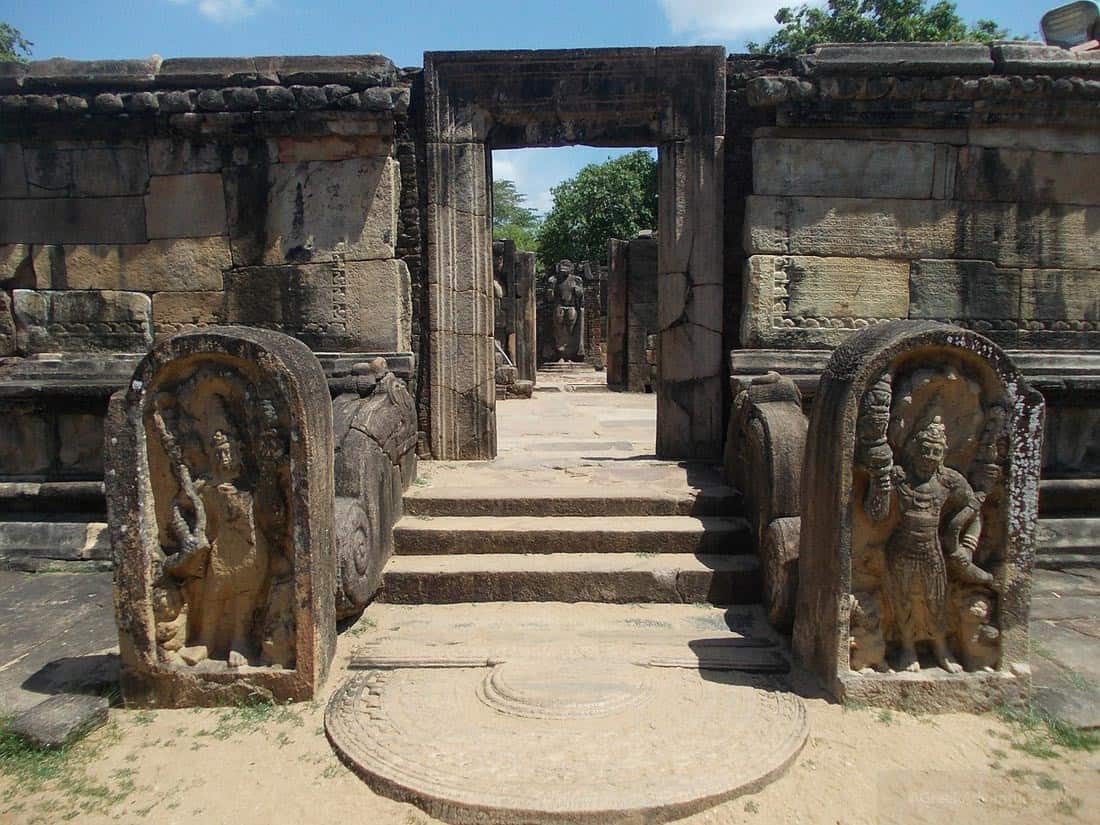 Sri Lanka is heaven for holidaymakers.
It has something for everybody with a perfect mix of beautiful beaches, mountainous towns, historical architecture, and city conveniences.
There are two parts to Sri Lanka, and the best time to visit the western and southern coasts is from December to March, when the weather is dry and pleasant.
Sri Lankan currency value
1 USD = 176 Sri Lankan rupee
Sri Lankan Visa charges
You can get a Sri Lanka visa for 30USD. You can get it on arrival or apply it online from their official website.
Places to travel in December in a Budget in Sri Lanka
Wind and kite surfing is popular, so if you are interested, the Meddawatta, Weligama, Mirissa, and Midigama beaches offer this sport. The climate in December is just suitable for these sports.
The hilly areas experience rains during the monsoon, so there is dense greenery all around by December. Hiking and trekking are popular options in the Horton plains and near Ella Rock.
The Yala National Park sees a significant influx of migratory birds during this season. Wildlife safaris and stay options are available inside the park.
Tea Plantations organize their picking from December. Thus, staying at the hill stations of Nuwara Eliya and Horton plains gives you a refreshing view of bright green tea plantations.
Colombo's capital city is where to go shopping, dine, and enjoy the western-influenced lifestyle. The golden triangle featuring the iconic religious landmarks of the country is a must-visit for history buffs. Sigiriya, Polonnaruwa, and Dambulla are the three spikes of the triangle and abound in natural beauty too.
Overall cost
You can go to Sri Lanka by railway and bus transportation. Otherwise, you can hire a taxi, although it can be more expensive.
Sri Lanka is abundant in local homestays and guest houses. Even the locals leave their homes for short stays and provide food to travelers.
So a holiday in Sri Lanka can be as cheap or as luxurious as you want it to be without compromising on the experience.
Stay, food, and travel can cost US$80 per day.
Cambodia

Cambodia is a small nation between Thailand and Vietnam in South East Asia. Untouched as yet by the crowd of tourism that afflicts neighboring Thailand.
It is slowly becoming a go-to place for tourists seeking a vacation in nature's lap.
As it is in the tropical belt, the climate is temperate to hot all year. However, November to March is the best month to tour this place.
Scores of ancient Hindu and Buddhist temples, beaches, and lush forests are the trademarks of Cambodia.
Places to travel in December in a Budget in Cambodia
Phnom Penh is Cambodia's capital and home to the Royal Palace. The Palace has a Pagoda on its southern side which is one of a kind, constructed with almost 5 tonnes of silver and Italian Marble. It houses a life-sized statue of Buddha entirely in gold and diamonds.
A tuk-tuk can be hired to explore the town with its local culture. Boat cruises on the Meyking river can take you from Phnom Penh to Siem Reap in 3 days.
Siem Reap is a quaint little resort town with French and Colonial-style architecture, local markets selling souvenirs, a cosmopolitan dining scene, and traditional apsara performances.
Note: It will take 7 hours to get to Siem Reap from Phnom Penh by bus, which is the cheapest way to get there. One, three, and seven-day passes can be purchased and are pretty affordable, starting at USD 37.
There are over 36 temples that can be toured at the 402-acre Angkor Wat complex.
The largest temple in the world is beautiful to behold with its intricate architecture and historical importance.
However, take along a hat and lots of water as the heat can get tiring touring this place.
The southern coast of Cambodia is a tropical paradise nestled between lush coconut trees and lagoons.
The beaches are pristine, and the big resorts have not got here yet, so local bed n breakfasts and homestays provide a cheap, peaceful stay.
Some beaches to visit are Koi Thmei, Saracen Bay, Lazy Beach, M'Pai Bay, Coconut Beach, and Long Beach.
Sihanoukville is a scenic beach town and has historical importance as the last place where the US fought the Vietnam war.
It has several resorts in the area and provides snorkeling, boat rides, and kayaking activities.
Battambang is home to the famous Bat Caves. Take a tuk-tuk from the town at dusk and get to the Bat Caves. See the incredible spectacle of thousands of bats flying out of the caves together.
The vision lasts for around 1 hour.
Although Battambang is 7 hours from Phnom Penh, don't miss this experience as it appears in not so many places.
Cambodia tourist visa cost
You can get a Cambodia visa for 30 USD for a stay of 30 days. You can get it on arrival or pre-apply it online.
The overall cost per day in Cambodia
The railway does not have much presence in Cambodia, so traveling by bus and taxis are the best ways to get around. Food, stay in mid-range hotels, and travel by public buses can require a budget of US$50 per day for one person, making Cambodia a must-visit destination this December!
Vietnam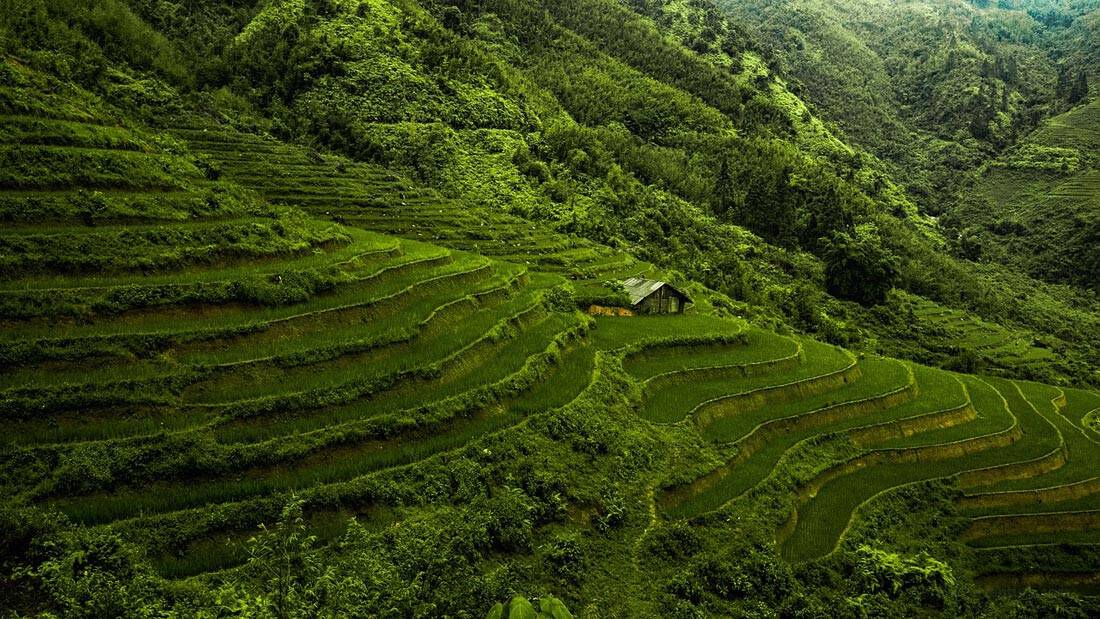 With its temples and pagodas, endless stretches of paddy fields, unsullied beaches, and warm hospitality, Vietnam is a popular destination for budget travelers in December!
You step foot in Vietnam through Ho Chi Minh, the capital city.
Ho Chi Minh is a blend of old and new, with former French buildings and architecture, modern-day skyscrapers, malls, and swanky dine-outs.
Places to travel in December in a Budget in Vietnam
A one-day tour in Ho Chi Minh can cover historical landmarks in the city, such as The War Remnants Museum, Notre Dame Cathedral, History Museum, and the busy Saigon Post office. The Saigon Opera house conducts performances in the evening, which you could combine with a walk through the city's local markets.
The Cu Chi Tunnels, 70 km from the city, are a reinforced version of the tunnels used by the Vietnamese soldiers to move around secretly during the Vietnamese War.
The next place to visit would be Mui Ne, in southern Vietnam. It is a beautiful beach town with plenty of hotels and resorts. It is well known for its majestic white and red dunes. Dune tours are very cheap at $5, and you could do hot air balloon rides and quad biking for a little extra.
The next stop would be Da Nang, a stopping point to visit the Marble Mountains. There is a cluster of five mountains. They are made of limestone and Marble and are a sight to behold! Local Buddhists call some caves and tunnels to pray and meditate. Trekking can occur on the hills.
Phong Nha-Ke Bang National Park is a UNESCO-protected park with a bountiful forest area. It is home to the world's most significant cave system Hang Son Doong. The natural beauty is most magnificent here, and you can bike through the mountains too.
Halong Bay: The crown of Vietnam, Halong Bay is a World Heritage Site in the Gulf of Tonkin. It is a cluster of more than 2000 limestone islands with lush forests surrounded by turquoise and green waters that make for a breathtaking sight.
You can stay in Hanoi or Halong city and book a cruise to tour these fascinating islands.
Note: A day cruise should cost around US$60 and up to US$150 for an overnight one.
Vietnam visa cost
The stamping charges are 25 USD, and the visa letter fee would cost around 5 USD. In total, you can get a Vietnam visa for 30 USD.
The overall cost per day
The Best way to travel around Vietnam is by bus. Airports are available from Hanoi, Da Nang, and Ho Chi Minh with regular flights, so there is high-grade connectivity between all tourist places.
Stay at mid-range hotels, eat the local food at local restaurants, and travel by bus around the country should cost US$50 for one person per day.
Singapore
The city of Merlion is said to be the dream destination of any traveler wishing to visit South East Asia.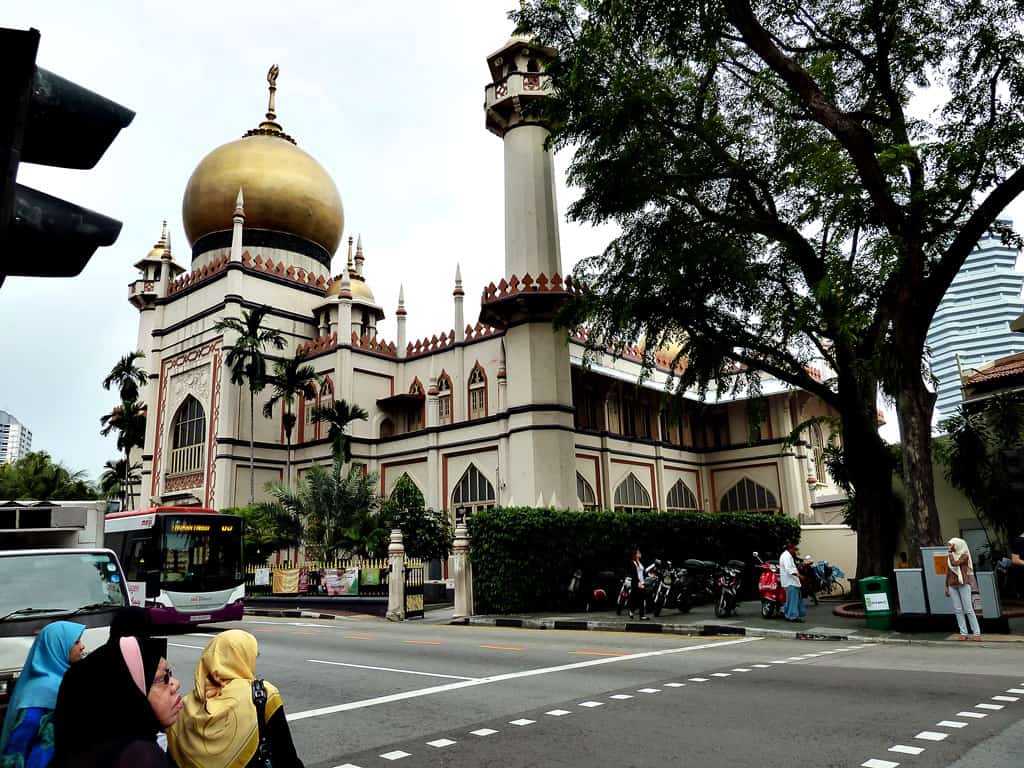 A combination of east meets west, with a melange of cultures adding to its vibrant social scene, Singapore is a beautiful place to explore in December.
It is considered a little pricey by many. It has developed its hospitality industry to include guest houses, short-term rentals, shared accommodations in apartments, and budget bed n breakfasts.
Tip: Avoid popular tourist areas and go for areas that do not have much tourist presence, and you will get good deals. Since travel in Singapore is highly convenient, with excellent bus and metro connectivity, you can easily access any area.
Singapore Visa cost
A Singapore visa would cost you around 30 to 40$ (Processing fee 30 Singapore dollars + service fee extra if processed by authorized agents).
Singapore Currency value
1 USD = 1.40 Singapore dollars
Places to travel in December in a Budget in Singapore
Sentosa Island: Located in the southern part of Singapore, Sentosa Island was originally a military fortress.
It has changed remarkably over the years into a beach holiday destination for tourists traveling to Singapore. You can access it by cable car, bus, and metro.
The beaches are full of life, teeming with nightlife, good food, drinks, and hotels.
There is iFly Singapore, an adventure park, and Resorts World, which has all the luxury brands for retail therapy.
Universal Studios is a movie-themed amusement park with themes like Transformers, Jurassic Park, and more.
An underwater world with 2500 marine animals is an enjoyable visit for families with children.
Read our post from our experiences in Singapore.
Visit the Singapore Night Safari at the zoo to see lions, tigers, leopards, orangutans, and a giant panda forest. Jurong Bird Park is a magnificent place to see hundreds of birds of distinct types in the immediate vicinity. Clarke Quay is the hub of nightlife in Singapore. Weekends are lively and full of people milling about the clubs and restaurants here.
The Merlion statue symbolizes Singapore's humble beginnings as a fishing village. It overlooks Marina Bay, spouting water from its mountain in a fountain. Orchard road has the best malls and luxury hotels in the city.
The city's Chinatown area will take you right into the bylanes of a little China, with small Chinese food stalls, shops, and buildings with Chinese decor. There are an Arab street and a Malay street along the same lines. Similarly, Little India is an area where you can find Indian food, products, and religious places of worship.
The sights at Marina Bay are best seen at night, with all the lights glowing. The Singapore Flyer gives a bird's eyes view of Singapore's skyline, reaching over to Malaysia's Straits of Johar too. Visit the Marina Bay Sands to explore the Gardens by the bay, Infinity pool at Skypark hotel, and the Double Helix bridge. It is the first curved bridge in the world built in the shape of human DNA.
Note: The food at restaurants can get quite expensive. There are many stalls scattered along with the interiors of the city. There you can get local as well as continental cuisine. Parottas and chicken are the favorite street food in Singapore.
The climate in Singapore is tropical, so it is pleasant throughout the year. However, occasional thunderstorms do occur without warning.
Overall Cost
Travel is by bus and metro rail, which connect every nook and corner of the city. Food and Overall Cost can cost around US$80 – 150 per day for one person depending on the area and standard of stay.
Thailand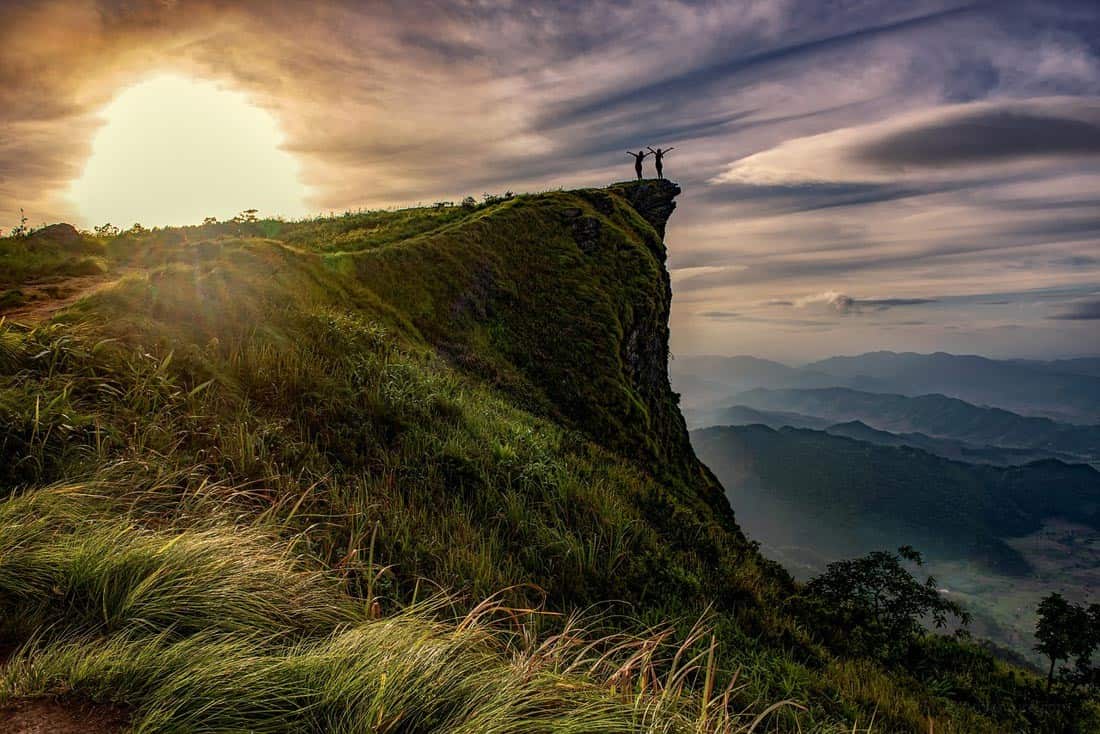 Thailand has long been a dream holiday destination for many.
With its long stretches of sandy beaches, turquoise clear waters, and international culture, Thailand gives the best vacation experience one could ever have.
Places to travel in December in a Budget in Thailand
Phuket
Beaches: Kata and Karon Beaches have the right mix of nightlife, restaurants, and watersports. Kamala, Bangtao, and Mi Khao beaches are quieter, with sprawling resorts and a peaceful family atmosphere.
The most distinctive feature in the seas of Phuket is the Phang Nga Bay. Small limestone islands with thick vegetation jut out from the water dramatically.
James Bond Island and Koh Panyee are two famous spots in the Bay. You can take a boat and cruise along the islands leisurely, making for a breathtaking experience.
The seas near Phuket are home to many other small islands, the Phi Phi Islands being one of the best. They are tiny islets surrounded by the endless expanse of the azure blue Andaman seas. You can spend a day or two here.
Krabi
The most famous island in Krabi Province is Ao Nang. It is a hub for long-tail boats that can take you island hopping to other islands such as Ko Hong, Koh Poda, Koh Gai, and Railway.
Thung Teao Natural Park is the most arresting highlight of Krabi island. Home to tall trees in ever-changing shades of green, the waters in the Emerald Pool are beautiful and bright, with a surreal aura of untouched beauty. It is accessible from the island of Ao Nang by taxi.
Klom Thong Hot Springs is the scene of natural hot springs flowing from within the volcanic chambers of Klom Thing.
Two hours from Krabi, the Khao Sok National Park is the oldest rainforest in the world. It is a beautiful place for trekking, watching animals like deer, bears, monitor lizards, various rare species of flora, bamboo rafting, and camping.
Bangkok
If you are fed up with the endless beaches around Thailand, then Bangkok will add the fun element into the mix. The capital city of Thailand, Bangkok, is known both for its vibrant nightlife and culture.
The Chatuchak market is a thriving market that sells everything from clothes to antiques to crockery.
Explore the floating markets in Taling Chan market and Bang Ku Wian. They are an exciting experience. You can float in boats and buy fruits, vegetables, flowers, and more from vendor's vessels.
The night markets are also colorful, with hundreds of people teeming through the stalls.
Go on a dinner cruise over the lovely Chao Phraya river in the city.
Get a glimpse of the Grand Palace, the former abode of Royalty in Thailand.
Also, check the top sites to hit in Thailand!
The overall cost per day
Phuket and Krabi have international airports, so getting there from any major global city is convenient.
You could backpack across the islands or choose to live in luxury resorts. Travel between the islands is usually by ferry and is cheaper if you rent bicycles or motorcycles.
Bangkok has some of the world's best affordable hotels, so food, stay, and travel would cost less than US$80 per day on a mid ranges budget.
Nepal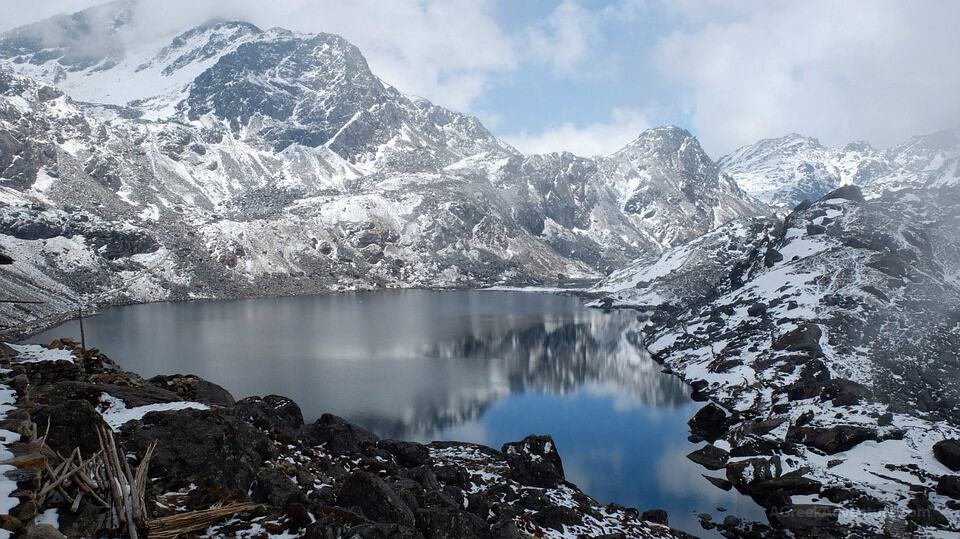 Nepal is a mountainous country nestled in the lap of the Himalayas.
Natural beauty abounds in this area, where you can soak up fantastic mountain views and experience the warm hospitality of the native Gorkhas.
You could be looking for a backpacking adventure trip or a luxury vacation; Nepal can offer you the best of both worlds.
December is an excellent time to visit Nepal as the climate is dry and cold, with temperatures going from a maximum of 22 degrees to minimum 5-degree Celsius.
It is one of the worthy places to be considered for budget travelers!
Nepal visa charges
It would cost you 30$ per adult for a stay up to 15 days and 50$ for a stay up to 30 days!
Nepalese currency value
1 USD = 113 Nepalese rupee
Places to travel in December in a Budget in Nepal
Your holiday will begin in Kathmandu, the capital city of Nepal, with an international airport.
The Pashupatinath Temple is a UNESCO World Heritage Site and a must-visit for any tourist.
The Boudhanath Temple is a Tibetan pilgrimage center known for its large stupa. About four hours from Kathmandu, the scenic town of Nagarkot offers spectacular views of snow-clad mountains, including Mt. Everest.
You might rent a taxi for the day to visit Nagarkot. The cost of a plane ride is around US$170. Don't miss the plane rides, which give a panoramic view of Mount Everest, and regularly fly from Kathmandu.
Pokhara is the second-largest valley in Nepal. It is in the Annapurna Range, which acts as the gateway to the Himalayas.
Many adventure sports are available in this area, such as skydiving, mountain biking, trekking, rafting, zip wire flying, and paragliding.
You could stay at Pokhara and explore all the places nearby. Some of the places to check out are:
Lumbini, the birthplace of Gautam Buddha. There are over twenty monasteries built here by numerous countries, and Buddhists come here to meditate.
The Annapurna Range offers a fantastic opportunity for hardcore mountain trekkers. You go around the Annapurna range, Mustang Valley, follow the Kali Gandaki river and end the trek near Muktinath. The complete trekking circuit can take three weeks.
The Chitwan National Park has Royal Bengal Tigers and one-horned Rhinos as the star attraction. At 1000 sq km area, this park is the most well conserved national park in Asia. It is at a distance of 150 km from Pokhara.
Mount Manaslu is the world's 8th largest peak. The Manaslu circuit in Nepal is one of the most robust trekking regions and one of the most beautiful. The trail has tea houses on the way, stop make halts, and the hospitality of the locals leaves you feeling welcomed.
Overall Cost
Kathmandu has options from luxury hotels to let-out bungalows. An average stay with food and travel in the city would cost around US$50.
Busses and taxis are the most convenient way to get around the nation. A 50 km distance by taxi would cost around US$35. Cycling and trekking can further reduce your costs.
Helpful Information for Budget Travelers
Are you a Backpacker? Then use this travel insurance service that is especially for backpackers.
Not a backpacker, or do you prefer an alternative travel insurance company? Use this service
Do you prefer hostels? Then use this service
For couch surfing, use this website
For any other accommodation options, use Booking.com
For your flights, use Skyscanner or see the alternative travel resources here
In case your flight delays, know your rights
Do you plan to hike a lot? Then read this recovery after the hiking article.
For affordable hiking gear, see this website.
If you prefer to pre-book organized tours, use this service or this one.
If you are more of a book guide fan, then get such guides here (sometimes roaming charges are enormous)
Conclusion on Places to Travel in December on a Budget
These are the best worthy places to visit in this December on a budget with your family.
Remember that these places are not only budget-friendly but very beautiful too!
Please do let us know your comments and feedback!
Did you like our article about the best places to travel in December in a Budget? Then also read: