The fourteen best zoos in the world chosen below are significant attractions in their cities and bucket list destinations for animal enthusiasts.
In addition, they're world-renowned for their contributions to saving flora and fauna worldwide.
Spectacular layouts strive to recreate an animal's natural habit while providing guests with a safe, sometimes interactive, and exciting viewing experience.
When your travels take you to these parts of the globe, add these outstanding zoos to your itinerary. See all 14 of them and not only the number 1 zoo in the world, as each is fantastic for its reasons.
Top 14 Best Zoos in The Word
1. San Diego Zoo

San Diego Zoo, located in the heart of the city, is famous for its conservation initiatives and stunning design, including some cageless enclosures.
In cooperation with China, the Zoo was instrumental in figuring out how to breed giant pandas in captivity, a conservation program that is one of their most famous.
The list of other projects in progress is too long to list but benefits species and organizations worldwide.
Exotic, native, rare, and endangered plants from its accredited botanical garden liven up the 100 acres and provide shade for animals and human guests from year-round sunshine.
Popular exhibits include the largest colony of koalas outside of Australia, polar bears (yes, they live in the sunshine, too), elephants, Galapagos tortoises, and many more amazing animals.
Tips: San Diego is home to other major theme parks, including the Zoo's sister park, San Diego Zoo Safari Park.
Most visitors see both in addition to LEGOLAND California or SeaWorld. This means you have many ways to save on San Diego Zoo tickets, through combo tickets and sightseeing passes.
2. Singapore Zoo
Wildlife Reserves Singapore showcases the region's biodiversity, animals from around the world, and the importance of conservation across their four parks.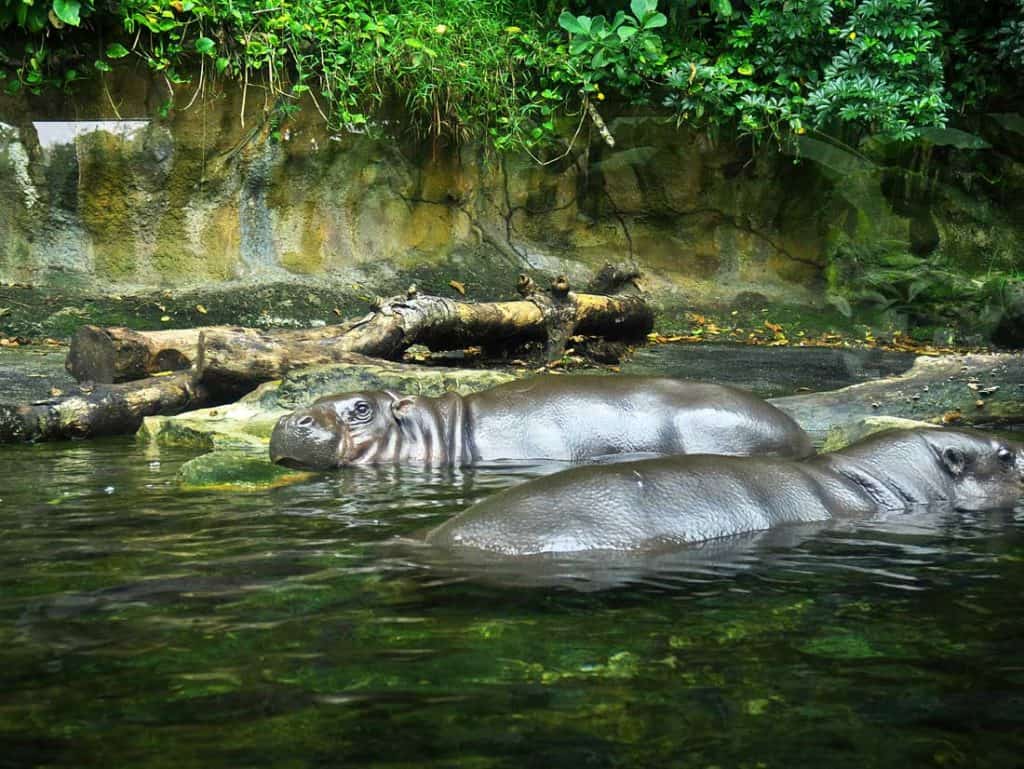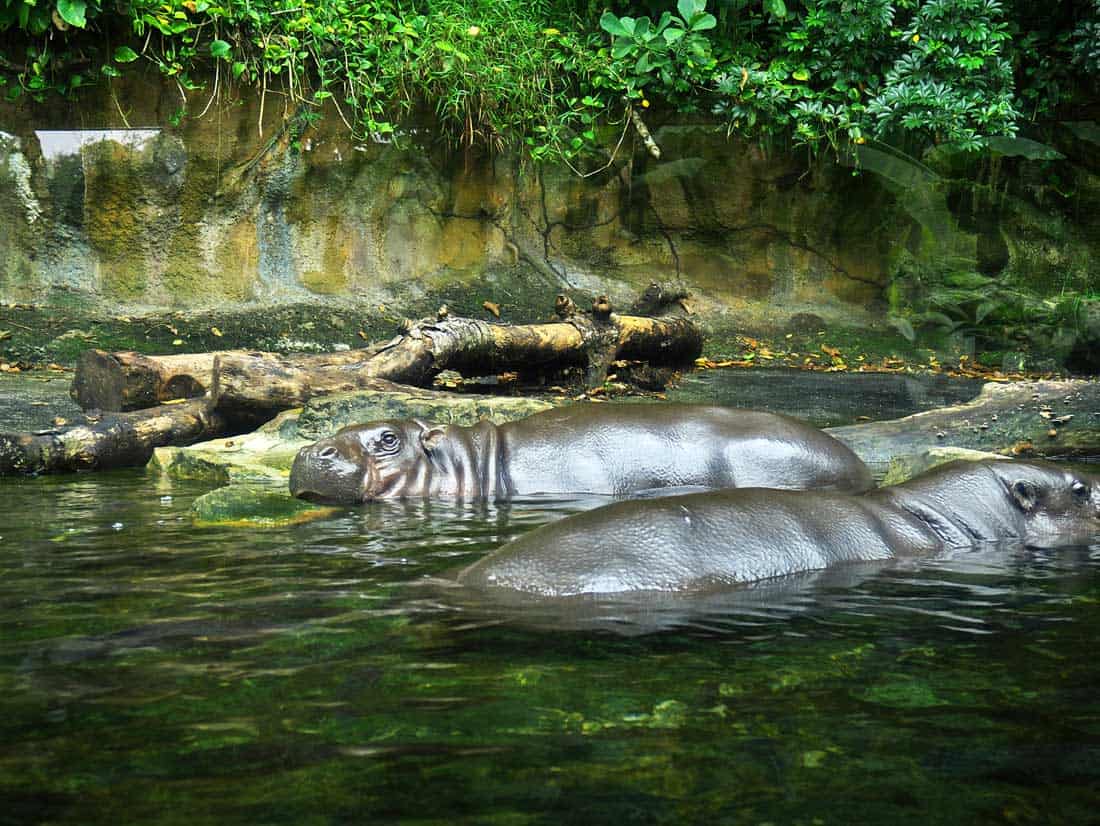 Singapore Zoo is the most popular, and its open-concept format makes it one of the unique best zoos in the world. It's set in a rainforest environment with exhibits designed to mimic an animal's natural habitat and allow some animals to roam relatively free. You might spy an orangutan swinging above you as you go about your day.
Highlights include the rare white tigers and orangutans. You'll see larger animals, too, like elephants, lions, hippos, and giraffes.
Speaking of giraffes, check the schedule for feeding times and head over to the platform to feed them a snack. You can also walk through the Australian Outback exhibit, where eastern grey kangaroos and agile wallabies hop around you.
Tip: It's worth booking Jungle Breakfast with Wildlife. Not only will you have a snack international breakfast fare, but the orangutans will come down from the trees to join guests for photos. And you can save with multi-park tickets purchased through Wildlife Singapore Reserves.
3. Vienna Zoo

Did you know that the world's oldest continuously operating zoo is located in Vienna?
The Tiergarten Schonbrunn (otherwise known as the Vienna Zoo) started as an animal menagerie in 1792 at the famous Schönbrunn Palace.
Yes, it's one of the best zoos in the world and set in a spectacular UNESCO World Heritage Site.
You'll find most major zoo animals here, like various exotic cats such as Siberian tigers, giraffes, and polar bears. The star attractions are undoubtedly pandas.
Yang, a mother panda, became an international sensation for rearing two twin cubs without human intervention in a zoo setting. And the Zoo's conservation efforts include successfully breeding pandas and other endangered animals like the batagur turtle.
Don't miss Tirolerhof, an authentic farmhouse from the Tyrolean region of Austria transported to Vienna. It's at the far end of the Zoo, but children love its farm animals like sheep, cows, and goats here. Some are rare breeds.
There's also a restaurant and organic food shop, so plan this stop around mealtime.
Tip: You can bundle tickets to the Tiergarten Schonbrunn with other Vienna attractions on the highly-rated Vienna Pass to save money.
4. London Zoo
London Zoo in Regent's Park is also one of the best zoos in the world, but it is considered the first scientific zoo, a facility for scientists to study animals.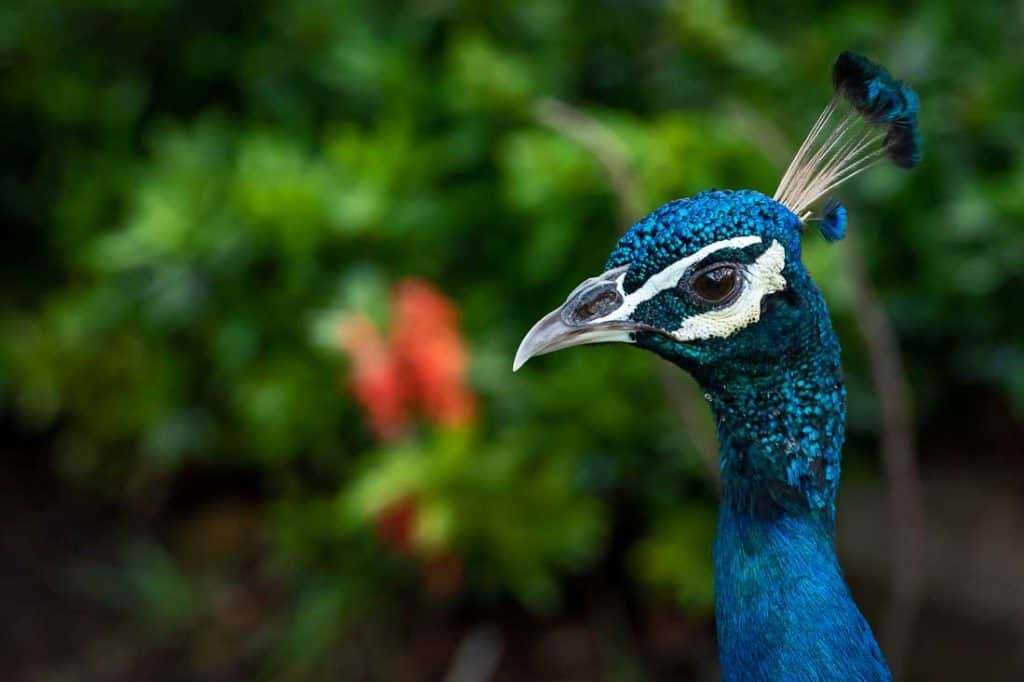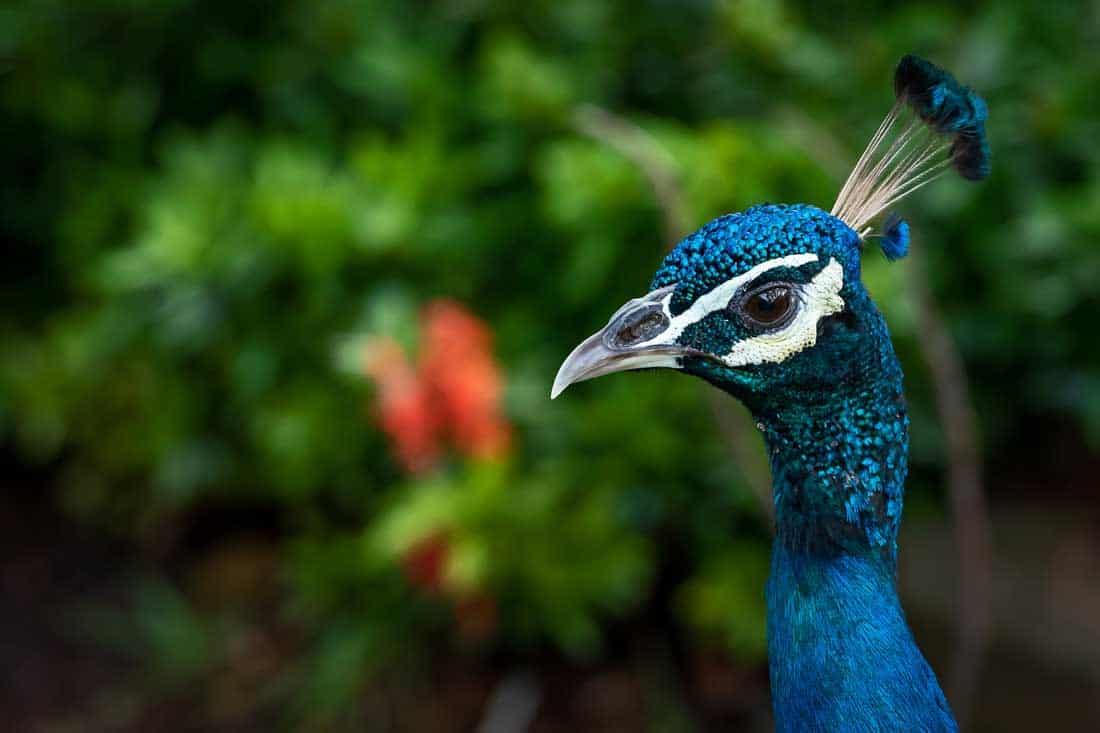 It opened to the public in 1828, and its other firsts include the first aquarium, the first children's zoo, the first insect house, and the first reptile house. Speaking of the Reptile House, it was featured in the scene where python said to Harry in Harry Potter and the Philosopher's Stone.
The Zoo participates in breeding programs for over 130 species on the conservation front. Animals and works with governments worldwide to help stop the illegal wildlife trade.
Its location on the northern end of Regent's Park is quite beautiful. Regent's Canal splits it, and fun to walk over bridges from one side of the zoo to the other as canal boats pass below.
The Zoo is home to elephants, the Sobell Pavilion for apes and monkeys, Penguin Beach, and many more animals to see — over 750 species.
Tip: There are quite a few ways to save money on visiting the London Zoo. You can try one famous sightseeing passes, like London Pass or London Explorer Pass, that helps save money in London. The popular hop-on, hop-off sightseeing buses also stop here.
5. Melbourne Zoo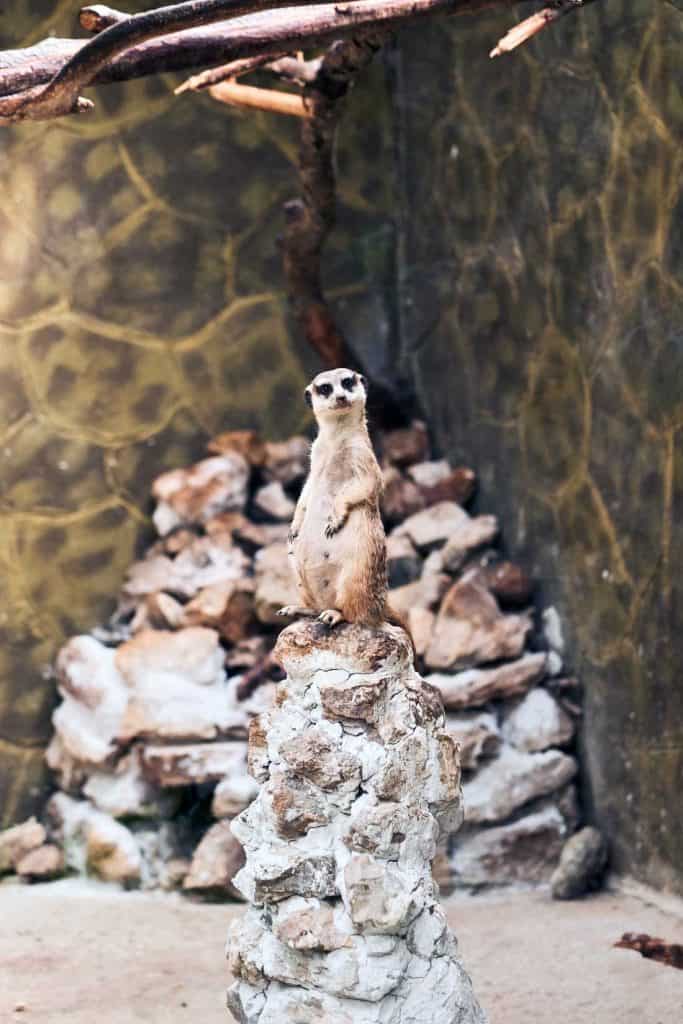 One of the best zoos in the world and the oldest in the country is Australia's zoo. It started as a place for domestic animals to acclimatize after long journeys to Australia. It was modeled after the London Zoo.
Eventually, exotic animals were added. The Zoo is organized into bioclimatic zones designed and landscaped to cater to the needs of each region's animals.
Of course, native animals like kangaroos, wombats, emus, and koalas are highlights.
You can even learn more about them on a unique Australian Wildlife Tour that starts before the Zoo opens to the public (and even feed kangaroos some breakfast).
Part of the Zoo's conservation efforts involves a master plan to save 27 local species, like the Mountain Pygmy-possum and Tasmanian Devil, from going extinct over the next decade.
Trail of the Elephant provides an opportunity to see Asian elephants up-close as they wander freely through their exhibit. You can take free guided tours of the trail given by Zoo volunteers and see otters, Sumatran Tigers, and the other residents of Asian villages.
Tip: Kids under the age of 16 visits Melbourne Zoo for free on the weekends and holidays.
6. Bronx Zoo, New York City, USA

When you think of the best zoos in New York, there's little doubt that one name comes to mind: The Bronx Zoo. Located within Bronx Park on 265 acres with a river running through it and housing over 6500 animals from more than 700 species (and still growing!), this famous zoo has been around since 1899!
You can explore all corners without getting too far away because their exhibits allow visitors up-close encounters like no other place I know – make sure not to get lost while exploring these gorgeous grounds…
7. Loro Parque, Spain

Loro Parque is your destination if you are looking for an up-close and personal experience with some of the most colorful animals in all creation. They have everything from monkeys to bears; not only will they teach visitors about evolution but also give tours so that people can see these magnificent creatures firsthand!
8. Beijing Zoo

The Beijing Zoo is a great place to go if you're looking for family time and entertainment. The pandas always draw crowds, but there's so much more than just them! You'll find almost 1000 different species in this large zoo – including many animals that can't be seen anywhere else on Earth, like giant pandas or elephants (although they're not exactly common). And tickets cost only $15/person, which means an affordable adventure without sacrificing your budget too severely either way 🙂
9. Berlin Zoo

The Berlin Zoo is an incredible place with a war-torn history that dates back to the 19th century. The zoo covers just under 90 acres and features many different animals, including polar bears! It's also accessible by public transportation to get there quickly, whether on foot or via bus/tram stop near your hotel.
Tickets cost about $19 for adults while children aged 16 & under always enter free – make sure not to wait until after 5 pm when an entry gets much more expensive because they close off some areas.
10. Chester Zoo (UK)
Chester Zoo in the United Kingdom is one of the country's most popular wildlife attractions and is renowned for its conservation efforts, expansive enclosures, and diverse range of species.
It was founded by George Mottershead and opened in 1931. Mottershead was inspired to open a zoo without bars after visiting a zoo in Manchester and witnessing the conditions animals were kept in. It spans about 125 acres and is home to over 35,000 animals, representing more than 500 species.
One of the most significant developments in recent years is the "Islands" project. It's an ambitious expansion aimed at recreating the environments of six Southeast Asian islands.
They operate numerous conservation projects both in the UK and worldwide, from protecting orangutans in Borneo to safeguarding the native wildlife in their local area.
The zoo has multiple play areas for children, gardens for visitors to explore, and a range of eateries and shops. The gardens are a significant feature, with plants from around the world.
11. Taronga Zoo (Australia)
Taronga Zoo in Sydney, Australia, is a standout destination for numerous reasons. Perched on the shores of Sydney Harbour, the zoo offers unparalleled views of the Sydney Opera House, Harbour Bridge, and the city skyline.
Their "Zoo Adventures" programs are tailored for school groups, while various daily talks and shows enlighten visitors about animals, their habitats, and conservation needs.
The zoo is dedicated to sustainability. They've undertaken initiatives to reduce waste, conserve water, and educate visitors about sustainable practices. They aim to inspire visitors to make more environmentally friendly choices in their own lives.
Taronga Zoo offers restaurants and cafes with various food options, a cable car for an aerial view of the zoo, and picnic spots where families can relax.
12. Toronto Zoo (Canada)
Toronto Zoo is nestled in the vast urban expanse of Canada's most populous city.
It's not just its impressive size that draws attention but the intricate tapestry of experiences awaiting its boundaries.
As you wander through the sprawling grounds, you're taken on a global journey that encapsulates Africa's heart, the Americas' forests, and the mysterious realms of Asia. Every corner of the zoo offers a window into the habitats and ecosystems of our planet.
Integral to the zoo's mission is its dedication to learning. Interactive exhibits, guided tours, and engaging programs provide rich learning experiences.
A visit to the Toronto Zoo is a holistic journey that educates, inspires, and fosters a profound appreciation for the intricate web of life that binds us all.
13. Zoo de la Palmyre (France)
Zoo de la Palmyre emerges like a gem amidst the rugged beauty of the landscape where the gentle hum of the coastal breeze mingles with the distant calls of exotic creatures, creating an anticipatory melody for its experiences.
It brings together the rich tapestries of wildlife from the dense jungles of South America to the vast savannahs of Africa. Every path taken within the zoo invites the visitor into a narrative, where the animals are not just exhibits but ambassadors of their native habitats.
Enclosures are more than just spaces for viewing; they are realms crafted with care and insight, allowing animals to exhibit their natural behaviors and providing visitors with a glimpse into the wild heart of our planet.
The zoo is a beacon for education and conservation. Through interactive displays, guided tours, and expert talks, it strives to ignite a sense of wonder and responsibility in its visitors.
14. Henry Doorly Zoo (USA)
Situated away in Omaha, Nebraska, the Henry Doorly Zoo is a sprawling sanctuary where the wonders of the natural world converge.
The Desert Dome, for instance, stands as a testament to this ambition. Beneath this architectural marvel, one doesn't merely observe a collection of desert flora and fauna, but rather feels transported into the arid landscapes of the world's deserts.
The magic of the nocturnal world comes alive in the Kingdoms of the Night exhibit. Here, the mysteries of caves and swamps are unveiled, showcasing a world where the absence of light fosters unique adaptations and intricate ecosystems.
The onsite scientists and conservationists tirelessly work towards unraveling the mysteries of the animal kingdom and developing strategies to safeguard it for future generations.
Wrap Up for the World's Best Zoos
Hopefully you found this list of the world's best zoos helpful and entertaining. Now, don't just head straight to your favorite one – take some extra time out for all these incredible destinations!
Have you been to other Zoo's? What is -according to you- the best Zoos in the world?
If you find this list of the best zoos in the world helpful, consider checking out some of our archives below —