The natural beauty of Oregon is incomparable. Nature remains untainted and patiently waiting to be discovered and seen in every corner of the state, whether along the coast or in the heartlands. When you decide to take a walk through the wild side of Oregon hiking trails, you are signing up for a treat, and in this article, we will tell you exactly where to find it.
We have prepared a list of some of the most attractive and scenic routes so that you can make the most of your tryst with nature. Leave all your earthly worries back at home and feast your eyes – and maybe bring something back for your friends and family! Make a video on your smartphone on the go with a video montage maker and make them jealous for not joining you!
But enough said! Let's dive into the best Oregon hiking trails you can take to relax and reconnect with nature!
1. Ecola State Park

Nothing worth doing is ever easy, but that's the fun of trying your luck with Ecola State Park! You walk through the many routes that take you through the forest and then emerge on the cliffside, blinking into the sunlight, only to be greeted by the fabulous view of the Pacific Ocean in all its grandiosity. Stand spellbound as you watch the waves crash into the tucked-away beaches.
As you make your way through the walk, you might be greeted by the sight of a lot of wildlife. Depending on your luck, you stand a chance of running across deer, elk, or even whales! If you brave the cliffs, though, your efforts will be rewarded handsomely! Just keep in mind that most climbs and walks are rated moderate in terms of difficulty, so some prior trekking experience is necessary.
2. Humbug Mountain Trail

If you want to give yourself a worthwhile challenge and make every step of it enjoyable, then there is no better trail for you than the one leading up to Humbug Mountain. At 5.1 miles long, this loop trail is nothing to sneeze at, incredibly inexperienced. The first mile will require frequent breaks, but there are a ton of roadside benches for you to sit and rest your legs.
Humbug Mountain is the tallest mountain along the Oregon coastline, and the summit offers a genuinely grand view. The Douglas firs and wildflowers that accompany you on the way up and down are absent at the summit, allowing you a truly uninterrupted vista. Be careful on the way down, though, for it is quite steep. Carry enough water and stay prepared for your knees to carry some strain on the decline.
3. The Oregon Coast Trail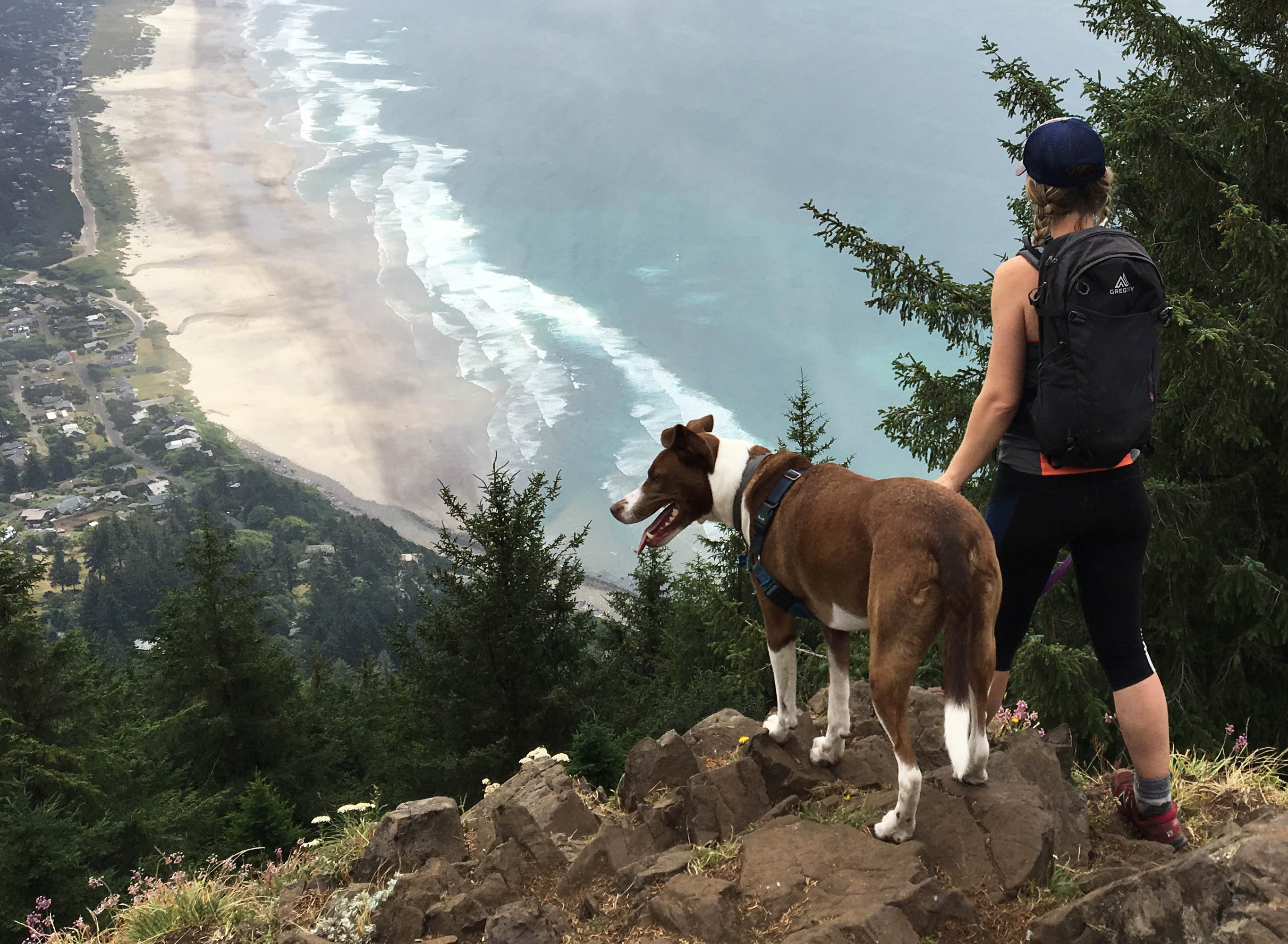 Do you want a coastal hike but are not sure about which route is best for you? In that case, we have some good news! You might not have to choose at all! You could hike along the entire coast and turn it into one of the biggest adventures of your life! It's no hyperbole, either. This 400-mile trek is full of beautiful beaches and coastlines, and though many hikers attempt portions of it, very few try to go all the way in one go.
Running from the California border in the south to the Columbia River in the north, the scenery changes drastically from sandy shores, rocky cliffs, quiet forests, and bucolic little seaside hamlets. There is no shortage of sights with which to charm your senses, but if you attempt this monumental hike, please make sure to have a good map and stick to designated routes to avoid stumbling into private property.
Pro Tip: Pay closer attention to the southern stretch as it is far more remote, and make your plans between June and September to make the best of the dry season.
4. Silver Falls State Park

If a hike through the very bosom of nature appeals to you, then Silver Falls State Park has everything you seek. There are as many as 16 different hiking trails that you can choose from, and they all take you through the most beautiful of landscapes. The main highlight is the Trail of Ten Falls, which is excellent if you are a fan of waterfalls.
Most of the hikes here are not very hard and can be done in a day at most. However, there is something for everyone. For those hikers who are just starting, this is a perfect place to get some reps in. The sheer abundance of plant life will also be intriguing to many. The park is home to innumerable Douglas firs, cedars, ferns, and wildflowers. It is a magical place indeed.
5. Lolo Pass Trail to Bald Mountain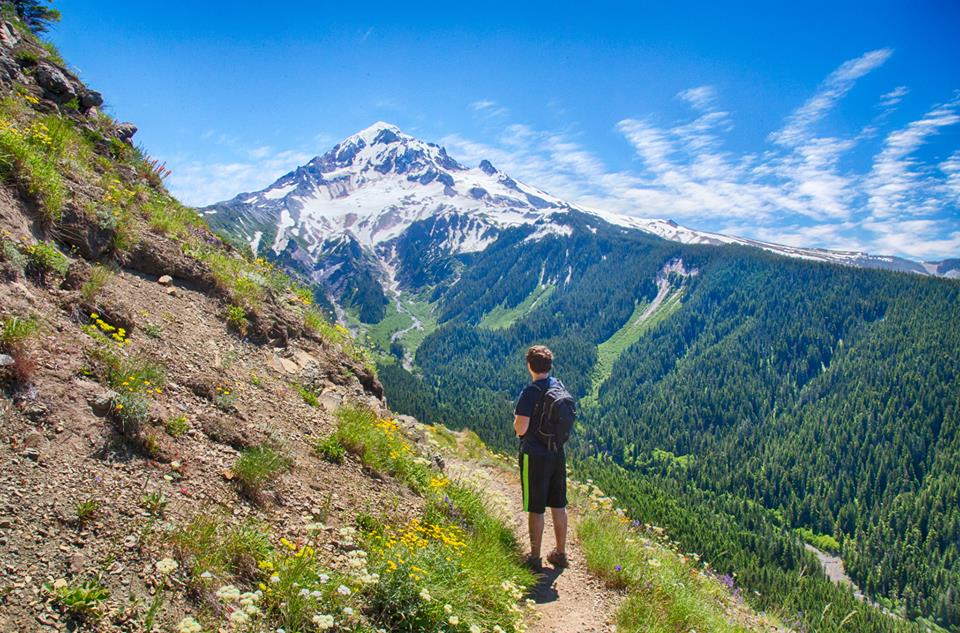 The first couple of miles of this 6.1-mile route will take you through Mount Hood National Park on a steady uphill track. However, if you stick with it for the initial climb, you will be rewarded with astounding views of both Mount Hood and Mount Adams. Be sure to take pictures and videos! This is a moderately difficult climb but boy, is it worth it.
The trail towards Bald Mountain is marked by the sign to Muddy Fork off the Timberline Trail. Make your way to the top of the mountain to get a spectacular view of Muddy fork Valley, with Mount Hood standing right there before you. Continue, and you'll come to something you really won't expect: a four-way intersection! It rarely gets better than that!
6. Tom, Dick, and Harry Mountain Trail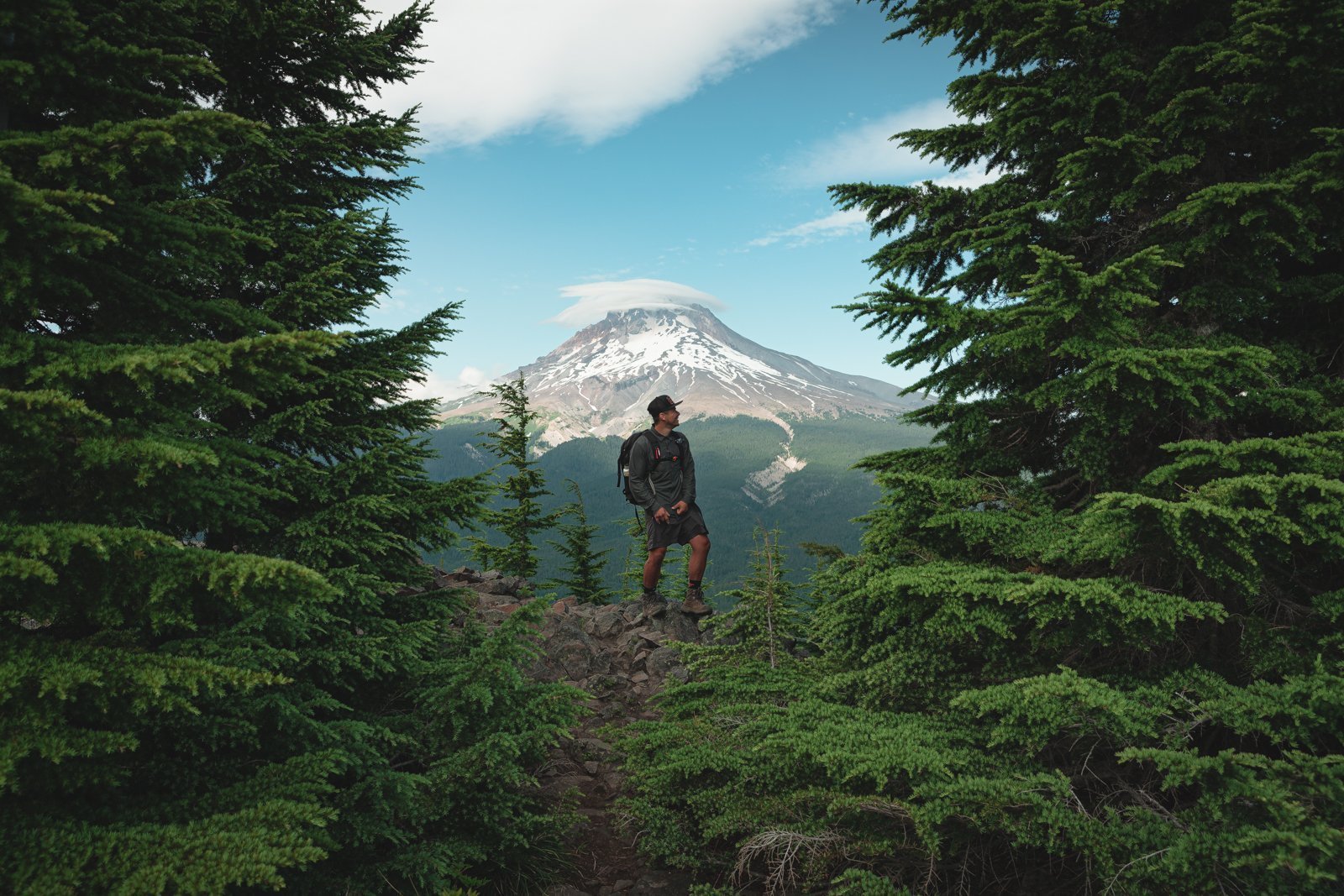 Now, this is a true Oregon classic! Tom, Dick, and Harry Mountain get a lot of attention all year round, especially during the season. You can find the starting line just off US Highway 26 near Mount Hood Skidbowl. This is due to the combination of the trail being easily accessible and Mount Hood's view from Mirror Lake.
Reaching Mirror Lake will open up spectacular views of Mt. Hood all around, but it's a well-known resting place and promises to be quite crowded. If you want seclusion, keep on hiking until you reach the top. If you're lucky and the weather is clear, the view of multiple snow-capped peaks will be sure to dazzle you!
7. Painted Hills Hiking Trails

The Painted Hills region in eastern Oregon is a sight that most hikers never forget. The John Day Fossil Beds are nearby, too, beckoning adventurers to check it out! With numerous routes taking you to wondrous vistas, you'll be a winner no matter what trail you choose.
If you want to admire the hues of orange, red, and yellow permeating the rock, then the Painted Cove trail is an easy hike you can take. Otherwise, an easy starting point is Carroll Rim Trail. There are many more routes you can choose from, but be sure to keep your camera handy.
8. Tumalo Creek Trail to Tumalo Falls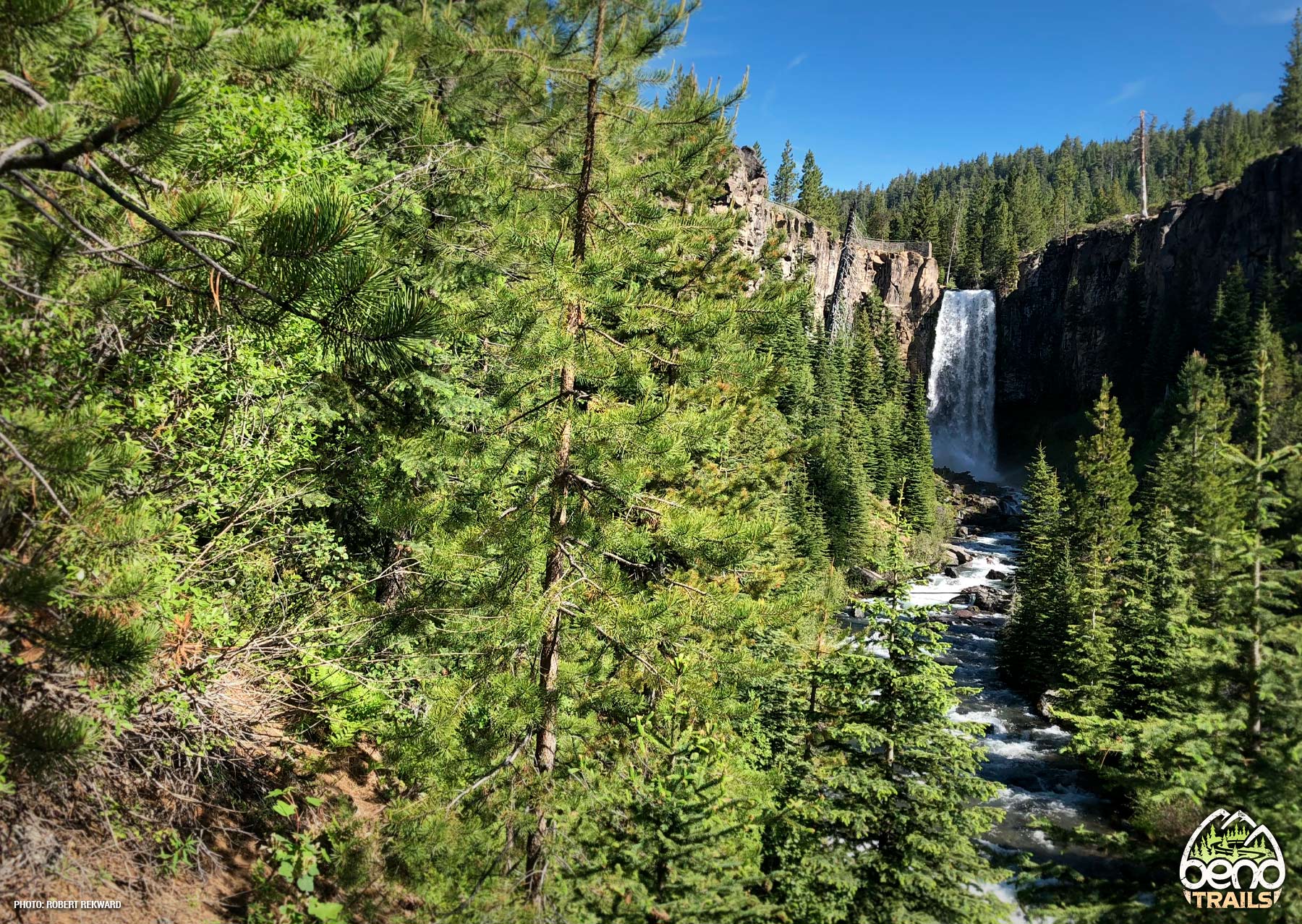 Tumalo Creek is located in the Three Sisters Wilderness, a popular place for hikers to go. To make the most of the experience, go early to beat the crowds. The Tumalo Falls will be there to greet you right as you start. Don't worry, though, because that's not the only waterfall you'll be seeing. Anywhere up to seven waterfalls can be seen on this trail, depending on how far you go.
The path is 6.5 miles long and challenging enough to make your heart beat faster, but that's about where the difficulties end. It's easy to lose your sense of exhaustion while surrounded by nature, and this trail brings that in spades.
9. Tillamook Head Traverse, Seaside & Cannon Beach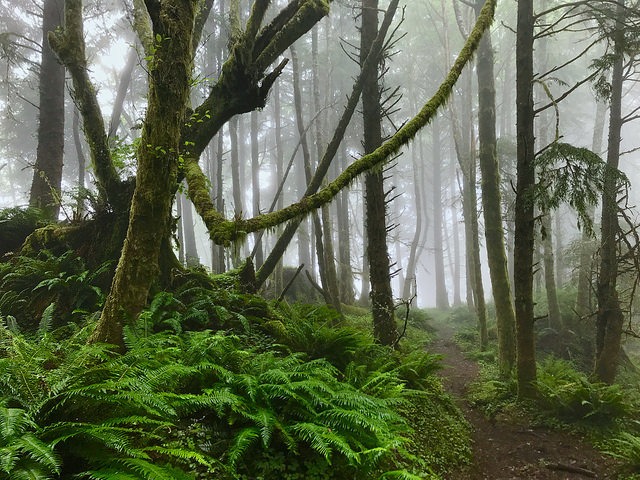 This hike will be an adventure like no other as you explore the lush forests and beautiful coastlines on Tillamook Head. You can follow in Lewis & Clark's footsteps by trekking up this mountain, or take one of many trails that lead into Ecola State Park for some fresh air with incredible views!
10. Pacific Crest Trail

The Pacific Crest Trail is the best hiking route for those who want to challenge themselves and experience wilderness in its purest form. Starting at Mexico, it winds 2,650 miles across rugged terrain before ending up near Canada; but this isn't just any old trekking path – completing all of these footsteps takes around six months during which time there will only be snow on their way (April through October). Many brave souls attempt an arduous northbound hike every year so if you've got what it takes then get yourself over here!
11. Timberline Trail

The Timberline Trail offers a stunning view of Mt. Hood, and it's easy to see why this 40-mile loop can be done in three days when you go mid or late summer. The best time for hiking would probably depend on your elevation needs as some parts may require snowshoes due to them being so high up there!
12. Eagle Creek Trail

For those looking to go the distance, this family-friendly hike offers an amazing turnaround point at Punch Bowl Falls and a great swimming hole. From here you can explore farther along in a steep canyon before coming back down again!
Conclusion on Oregon Hiking Trails
There is no shortage of adventure in Oregon hiking, but you need to plan to get the most out of it.
Do your research and bring your camera. What is more, you won't want to forget the magnificent scenes. And what can be better than going on a virtual trip around the already-known places once again?
Related post: