Do you plan for campgrounds in Oregon and the best place to camp in Oregon?
Whether you're looking for an accessible campground or a stunning secluded place tucked away in luscious greens, the state of Oregon has just what you need.
Camping in this beautiful state is an undeniably fantastic experience that should be on everyone's bucket list.
There's no such thing as the best place to camp in Oregon; Rather, it should be "places" because this beautiful state is a reflection of nature.
Pitch a tent, canoe through the river, roast marshmallows, short hike trails, or simply enjoying the serene beauty of the places here in Oregon will give your tired bones and mind the ultimate pleasure and rest.
Just be sure to pack everything there is in your camping checklist to avoid inconveniences during the actual camping.
If it's your first time in this state, you might not know where the best spots to set up camp are.
That's where we come in, so sit back and relax because we'll list out the best places to camp in Oregon, ranging from pristine lakeside campgrounds to forested state parks.
There are locations for mountain biking, with excellent biking trails and drinking water.
Top 7 Best Places To Camp in Oregon
Oregon is in the Pacific Northwest, and a West Coast state. It has Washington State to the north and California to the south and borders Idaho and Nevada. If you are interested in exploring Utah, then read this.
Natural Bridge Campground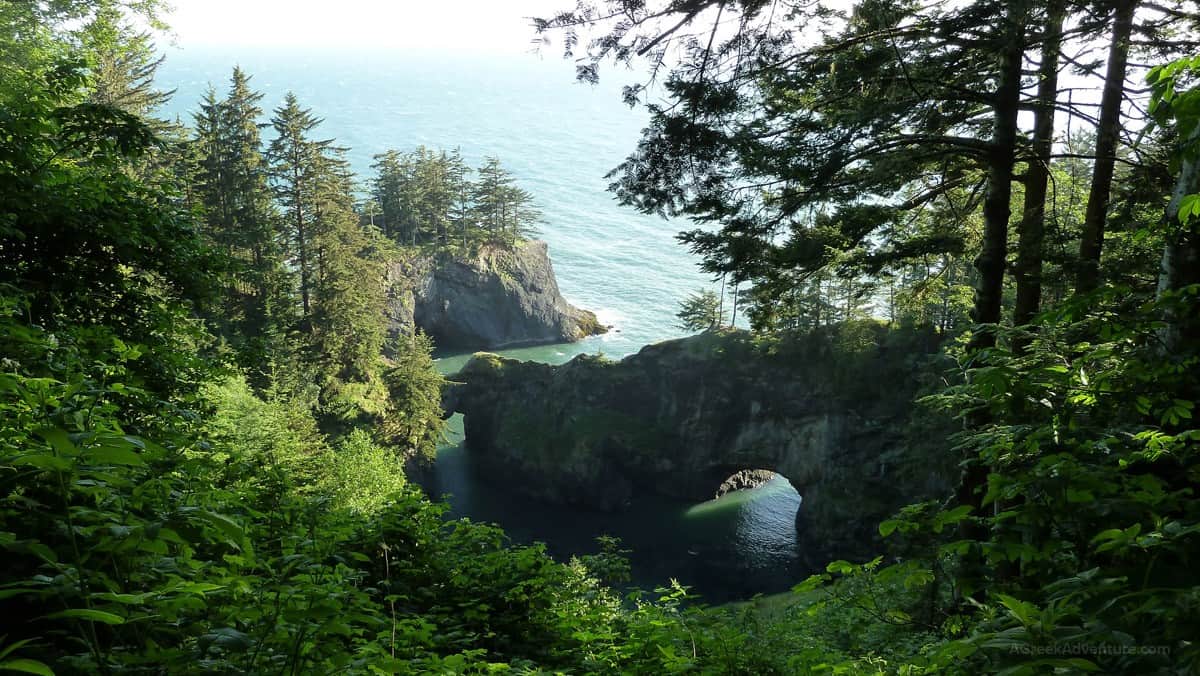 The heavily wooded campground stretches along the scenic Upper Rogue River, with majestic hardwoods and conifers creating shaded sites in between the hefty 17-campsite area.
The campground is probably one of the largest in Oregon. It echoes spaciousness. It's awe-inspiring. It has stunning cascading rivers.
It has bathrooms, grills, and offers a lot of exciting activities for the family. The best thing about this place is it provides a quarter-mile frontage of the historic Rogue River.
Whether you wish to camp in an RV or stay in tents, this park allows both.
Their parking space is as big as a single campsite.
Each campsite is so vast that facilitators can easily squish 100 tented boys into the open spaces shaded by the enormous Douglas firs.
Don't be surprised if you see hikers coming from all over the place because the campground is a part of the Rogue River Trail.
However, they can only gaze in envy because to anyone who snagged a campsite beside the river because it's the best of them all.
This place is indeed a nature paradise. Few campgrounds can rival its beauty.
With flowing rivers, cascading waters, human-made bridges, and nature-carved rocks, you'll surely never run out of things to marvel at this campground.
The video below only offers a peek at what this campground hides.
Harris Beach State Park Campground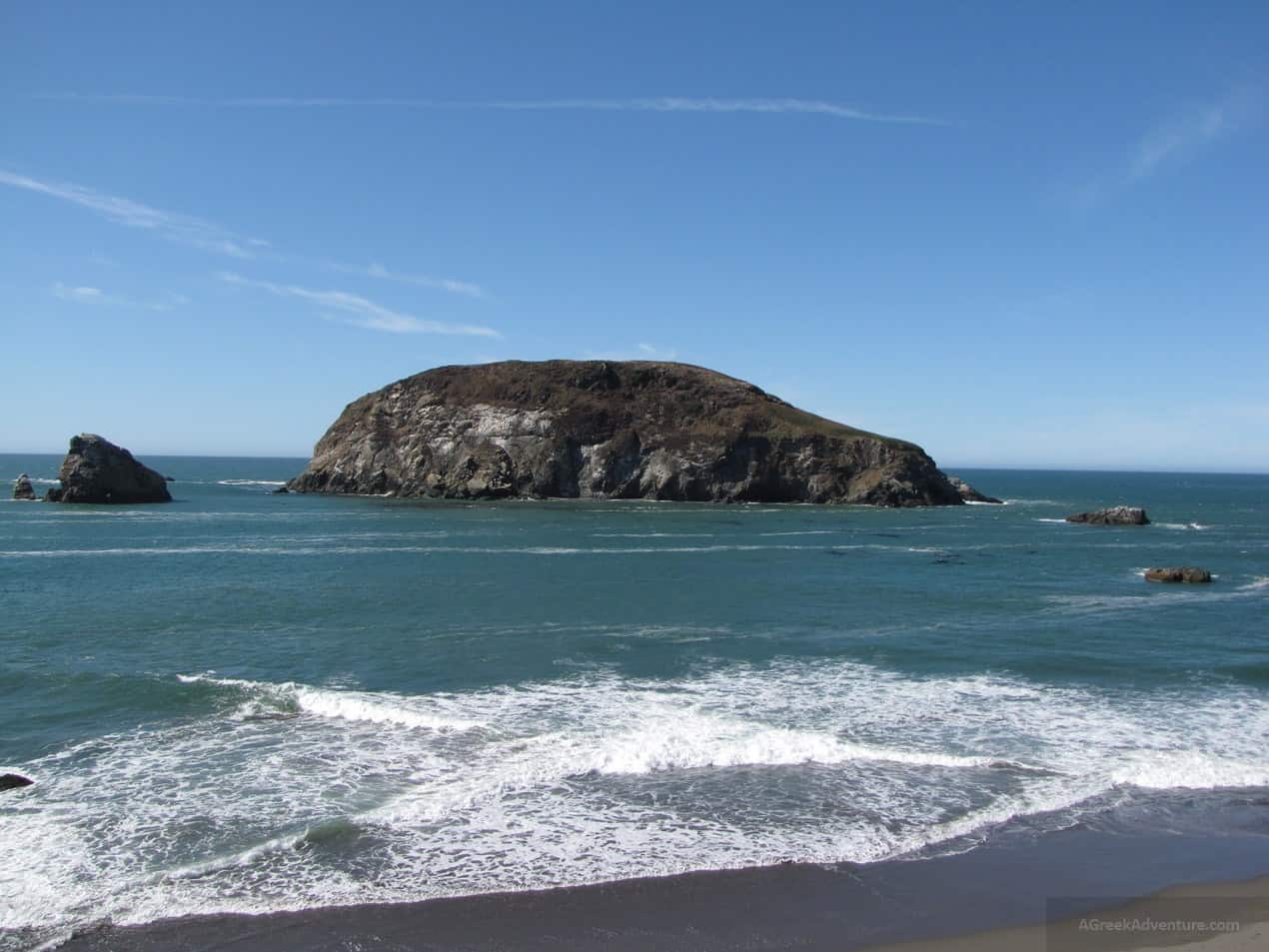 If you love breath-taking sunrises, Harris Beach State Park is the place to be. There's an excellent campground situated in the dense forest just beside the lovely beach!
The campground sports accessible flush facilities, hot showers, picnic tables, and semi-private sites for camper convenience.
But as real blue campers, we don't live for convenience, right? We live for adventures and discovering things only a few have seen or experienced.
And that's precisely what this state park has to offer. Located within the park's premises is the largest island off the Oregon coast, Bird Island.
Bird Island is a wildlife sanctuary and breeding site for rare birds. The park also owes its popularity to Bird Island as many bird watchers convene here to witness the flight of rare birds.
If bird watching doesn't spark your interest, we're quite sure nothing will beat the joyous feeling of walking barefoot on the coast dotted with sea stacks just before the sun paints the sky orange.
The park emits a different feel and beauty as the seasons change. Many are drawn to the dramatic gray skies of winter, while others only return here during the fragrant spring.
For us, the best time to visit this park is during the dry months of summer and fall when the days are warm, and the sunsets are the most gorgeous.
If you haven't been here, perhaps this video below will convince you to put in on your bucket list.
Cape Blanco State Park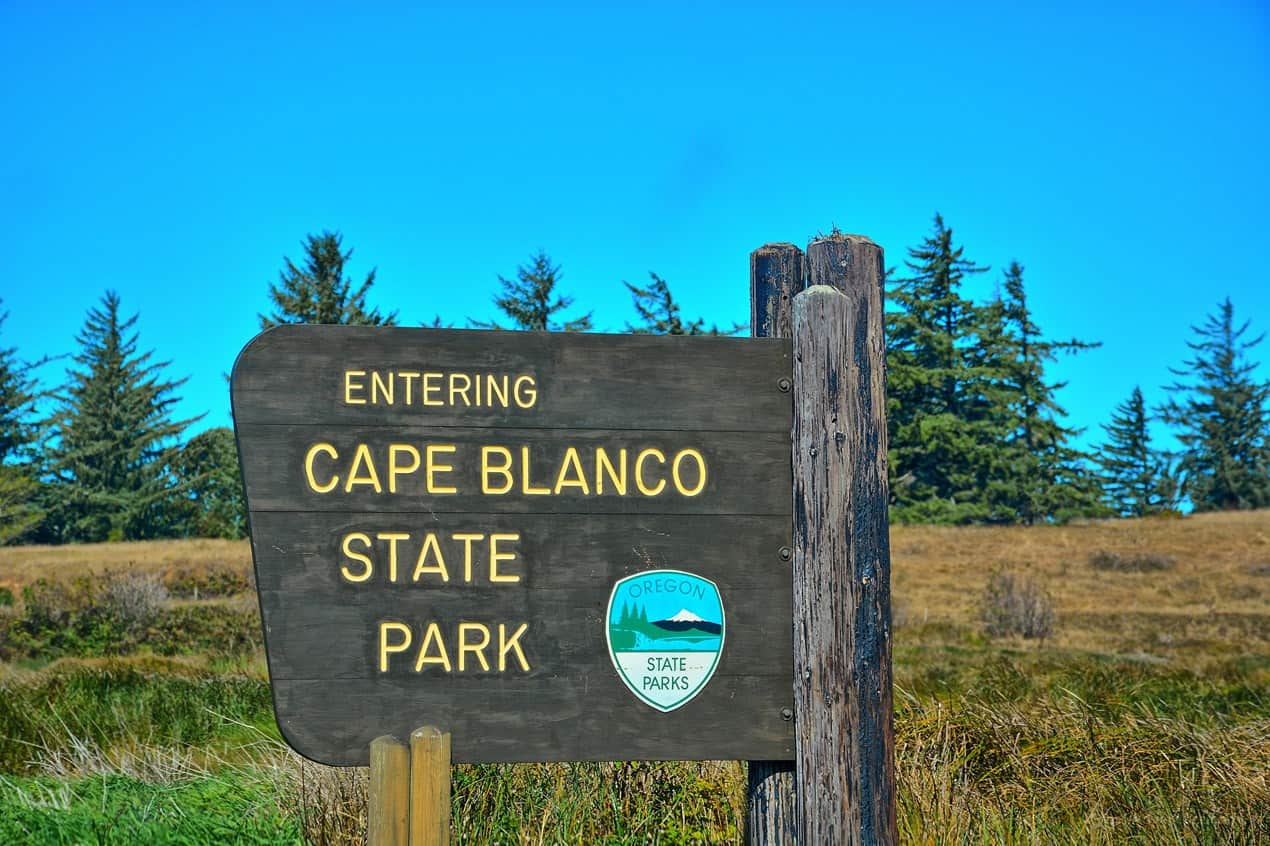 Located at the Westernmost point in Oregon, Cape Blanco is perhaps the windiest camping spot in the state.
Gusts of wind regularly clocking in at 184 mph have twisted the unwavering spruces along the highway leading to the Cape Blanco Lighthouse.
The 1,880-acre park is the ultimate destination for campers and travelers seeking tranquillity and expecting lazy days ahead.
Aside from the beautiful lighthouse, the park also features the historic Hughes House, hiking trails, beach access, fishing and wildlife viewing, horse camps, as well as a large campground with 58 electric campsites.
The main attraction of this park seems to be the Cape Blanco Lighthouse, which stands atop a 245-foot headland.
It's quite a walk up to the lighthouse, but it's all worth it because your jaw will drop at the sight of the vast ocean.
Furthermore, nature and wildlife lovers can enjoy the marine mammal watching activity offered, as well as forest exploration and climbing incredible rock formations.
At the offshore rocks lies a sea lion colony inhabiting the area, which will surely amaze and surprise every kid and adult present.
The most unusual activity we did in this place was when we hiked over 8 miles of trails to nowhere, and we're just surprised and humbled by the spectacular views of woodlands, ocean vistas, dolphins leaping out of the air, and many more.
Have you ever been in a situation where you aren't expecting anything useful, but nature wouldn't let you leave without giving you something beautiful that you end up not wanting to go?
That's what this place feels like. Oh, never forget to go for a sunset walk along the headland beaches to cap your day off!
Do you want an overview of this island paradise? Watch the video clip below!
Lost Creek State Recreation Site
Lost Creek State Park is found 7 miles south of Newport, Oregon. The area is developed for having fantastic picknicks and beach activities. It is also great for whale watching, beachcombing and admiring fantastic sunsets.
Crater Lake National Park, Southern Oregon
Crater Lake will fill you with awe. It was formatted 7,700 years ago, after a violent eruption that caused the collapse of a tall peak.
Here is the deepest lake in the USA, fed by rain and snow. It is also considered one of the most pristine in the world, with crystal clear blue waters and a stunning Cascade Mountain Range.
The lake provides some dramatic scenery when it is -sometimes- covered by clouds in wintertime.
The depth of the Crater Lake is 1,943 feet (592 meters). That makes it the deepest one in the US and the ninth deepest in the world.
The National Park was founded in 1902 and preserves the natural and cultural resources of this area.
There are two campgrounds: The Mazama Campground and Lost Creek Campground. The first one hosts RV's and tents, except in June, with reservations. The second one is for tent campers only, without reservations (first come, first served).
Both campgrounds are in the forest, south of the lake. They only open during summertime. They both have picnic tables, fire ring with grill and (metal) bear box for food storage.
Deschutes National Forest Campground
The DNF and camping area are located on the eastern slopes of the Cascades in Central Oregon and hosts more than 80 campgrounds, with a variety of picturesque sceneries.
The different areas provide camping options ranging from walk-in areas to rustic ones and they can accommodate RV's and trailers.
It spreads to more than 1.6 million acres (6474 km2), enveloping different ecosystems. The forest expands to more 9000 ft from the lowest point (lake Chinook) to the South Sister summit (the highest point at 10.350ft).
There are five wilderness areas within the forest where visitors will be stunned with awe, from the different alpine lakes and summit views.
This location is ideal for day hiking or a multiday backpacking trip.
Lost Lake Resort And Campground
The campground is situated nicely between the Lost Lake and Mount Hood. The view of the lake and of the glaciers are spectacular.
There is a variety of campsites on-premises and serves all kinds of visitors (singles, couples, and families).
No tent? No problem. There are yurts, cabins, and lodges. A large general store is also available for you, so you need to bring less stuff from home. You can even buy your firewood there.
Each site comes with a picnic table and a fire ring. Note that you have to book no less than 3 nights.
You will be surrounded by amazing flora and fauna and fantastic rugged terrain.
Do you plan for lake activities? Then you will find options for canoeing, kayaking, stand-up paddleboards and fishing.
Do you love hiking? Then, there are lots of trails to hit, ranging from 1/4 mile to over 100 miles and they are good for biking too. You can also do birdwatching, swim, explore the waterfalls, do stargazing or attend live music events.
There is something for everyone, no matter their age and interests.
Final Thoughts on Best Place To Camp in Oregon
There you go, the most beautiful and relaxing places to camp in Oregon!
If you're heading to Oregon anytime soon, do check out the Natural Bridge Campground, Harris Beach State Park, and Cape Blanco State Park for a quick day trip or even a week-long stay.
We promise you. They're worth spending time with instead of staying at hotels or inns. After all, nothing can relax the human spirit like nature.
Hey, camper! Have you ever been to one of these camp spots?
Can you tell us about your experience?
Can you suggest other stunning camping places in Oregon? Hit the comments section below!
Oh, and don't forget to share this post before leaving. Happy camping!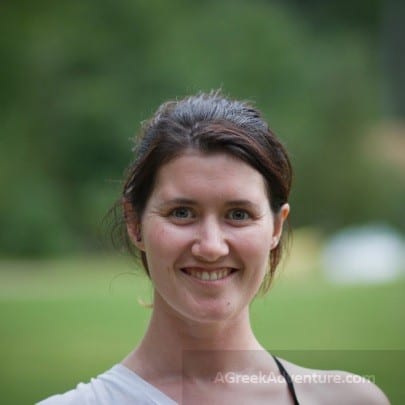 Christina is a young blogger who is very passionate about her work. Her long experience has a blogger made her an expert on different niches like home, outdoor, lifestyle, leisure, etc.
As a blogger, she believes in quality content and backs up all of her posts with relevant research information. It is her goal to share this quality information in the form of guidelines, reviews, lists, and other types f blog posts to her readers. She believes in constant exploration and evolution as a blogger. You can learn more about Christina at Rainy Adventures
Also, check this great and comprehensive checklist.