To visit Vilnius in Lithuania was something we had in mind a couple of years ago, knowing we would return to Minsk a couple of times. You see, Minsk and Vilnius are in different countries but no more than 4 hours by train among each other.
Many from Minsk visit Vilnius, the capital of Lithuania as the country is part of the European Union, while Minsk (in Belarus) is not. You can easily access Vilnius by plane, car & train from many countries.
Is Lithuania in the EU?
Yes it is. Lithuania is a full member of the European Union with all the goods this means. Being in the European Union has a good range of benefits and things to experience. Euro currency is just one of them. Wide knowledge of English is a key element.
Finding many who speak English is not very easy in many countries that still relate to Russian Federation (i.e like Belarus or… Russia), so after being 15 days in Minsk, it was a nice surprise to communicate in English in Vilnius.
Also read: 18 Best European Cities You Should Visit In February This 2022
Old City of Vilnius
It was end of February and it was cold. This sets the old city of Vilnius in a different mood. The key things to experience, happen indoors.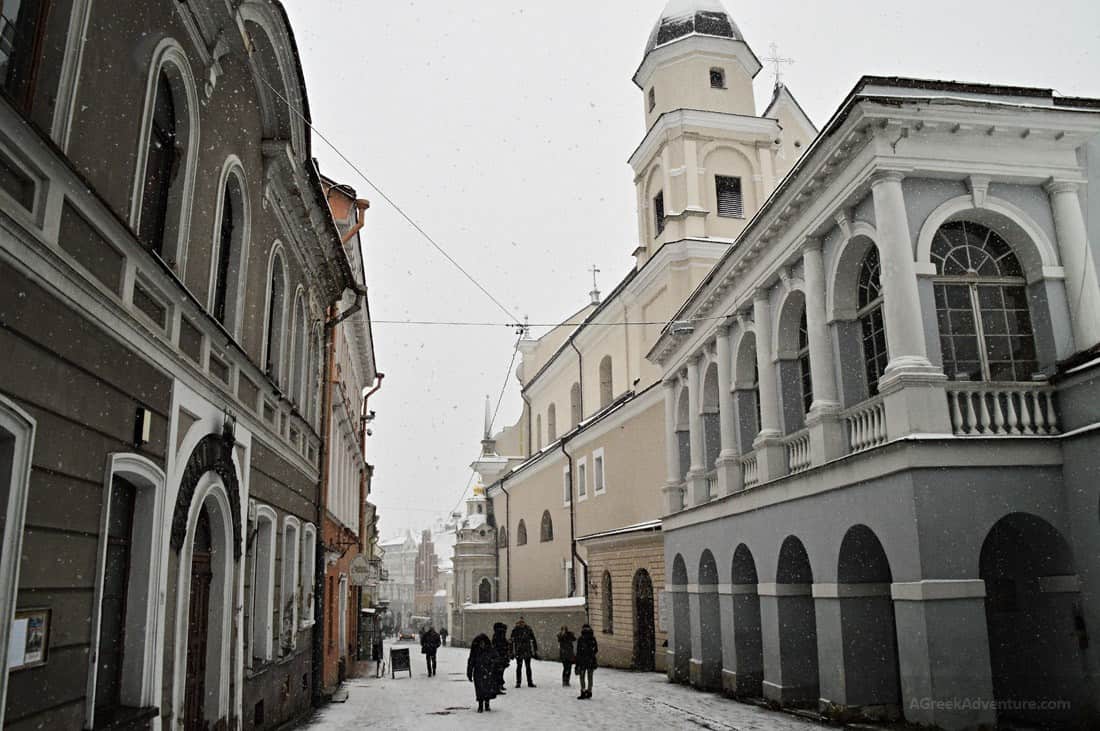 This mostly means culture and food but the city has a vibrant nightlife too.
The old city of Vilnius is not that big. You can half a day exploring all the sightseeing's. The sightseeing's to visit are each in a normal walking distance from each other. Since, the old city is mostly paved with cobblestones, you may find yourself doing some balancing exercises due to ice and snow.
There is a good variety of small cafe's and restaurants. The whole feeling balances towards a European essence, along with a Russian one.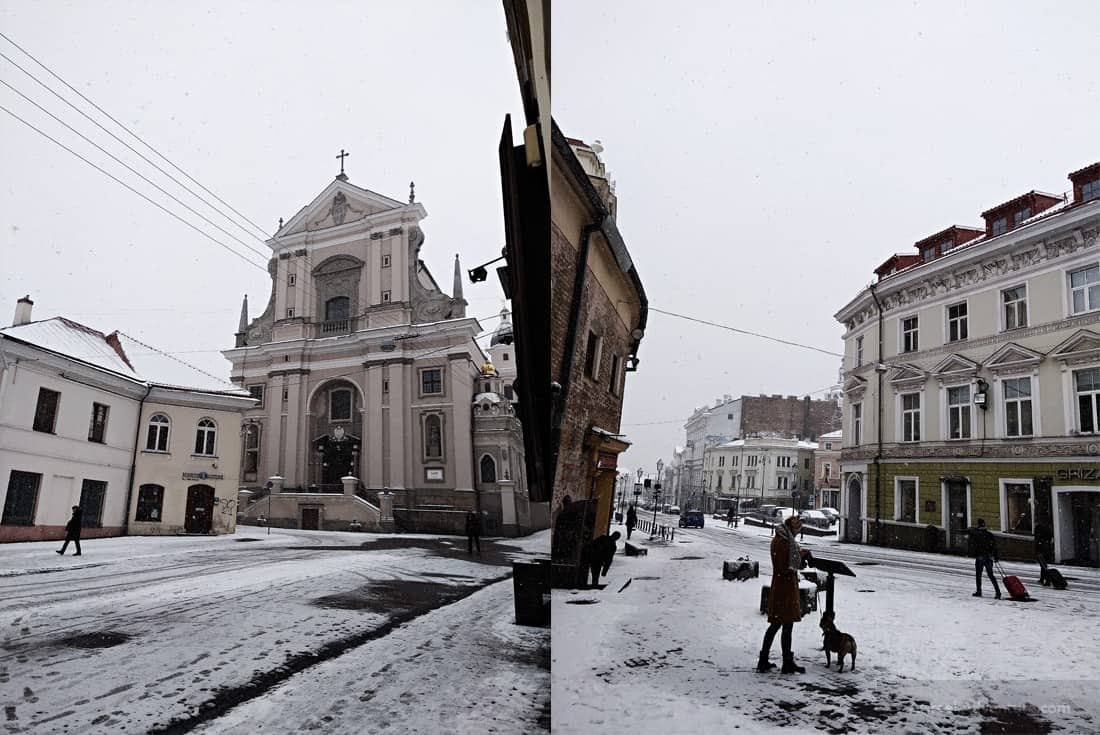 As the country had troublesome experiences with wars and poverty too, the religious factor is strong here with many churches all around the city of Vilnius.
Best Museums of Vilnius
We wanted to visit a couple of museums of Vilnius, to get closer with the history of this city. We did that and in one of them we had a really nice surprise as a Virtual Reality tour was available for the mere price of 1 euro. Wearing a VR headset we were "inside" the making of history of Vilnius.
Palace of the Grand Dukes of Lithuania, National Museum
The palace (Lietuvos Didžiosios Kunigaikštystės Valdovų Rūmai) has been remodeled, destroyed and rebuild multiple times.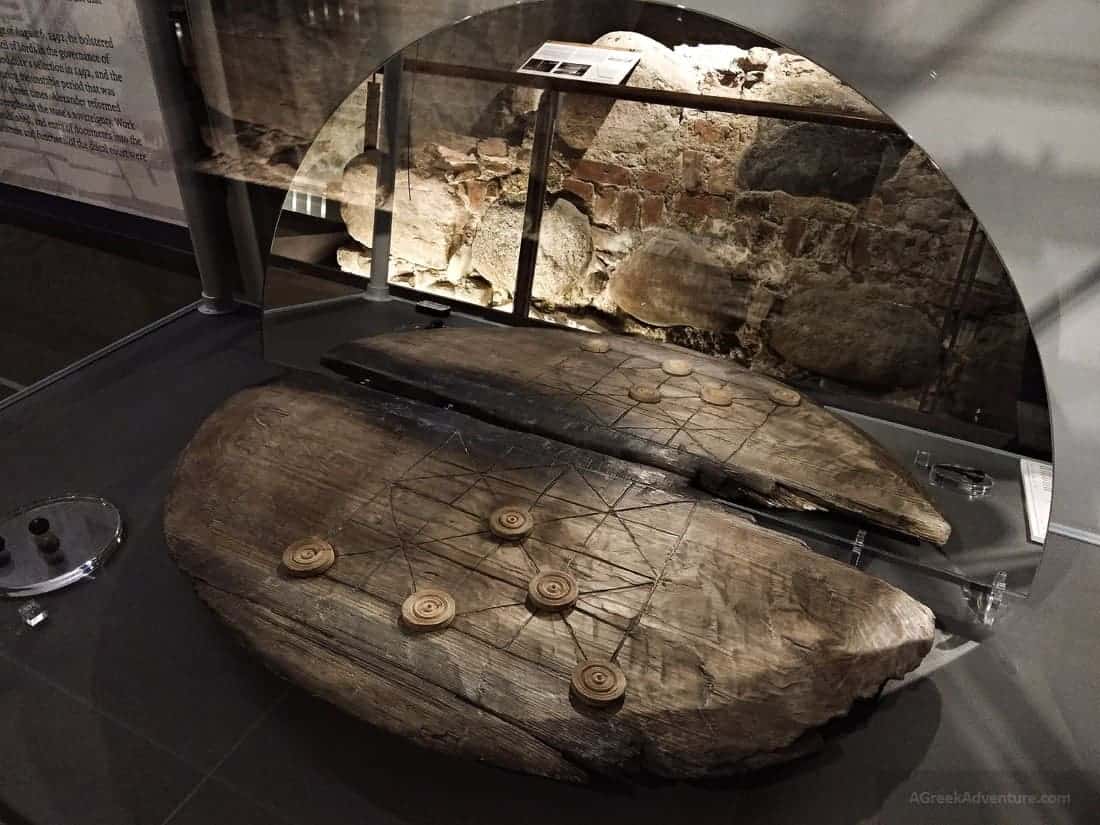 For four centuries, this palace was the administrative, cultural and political center of the Polish–Lithuanian Commonwealth. However, the palace was demolished in 1801. In 2002, the construction of a new one started (ongoing process). That is the palace seen from outside.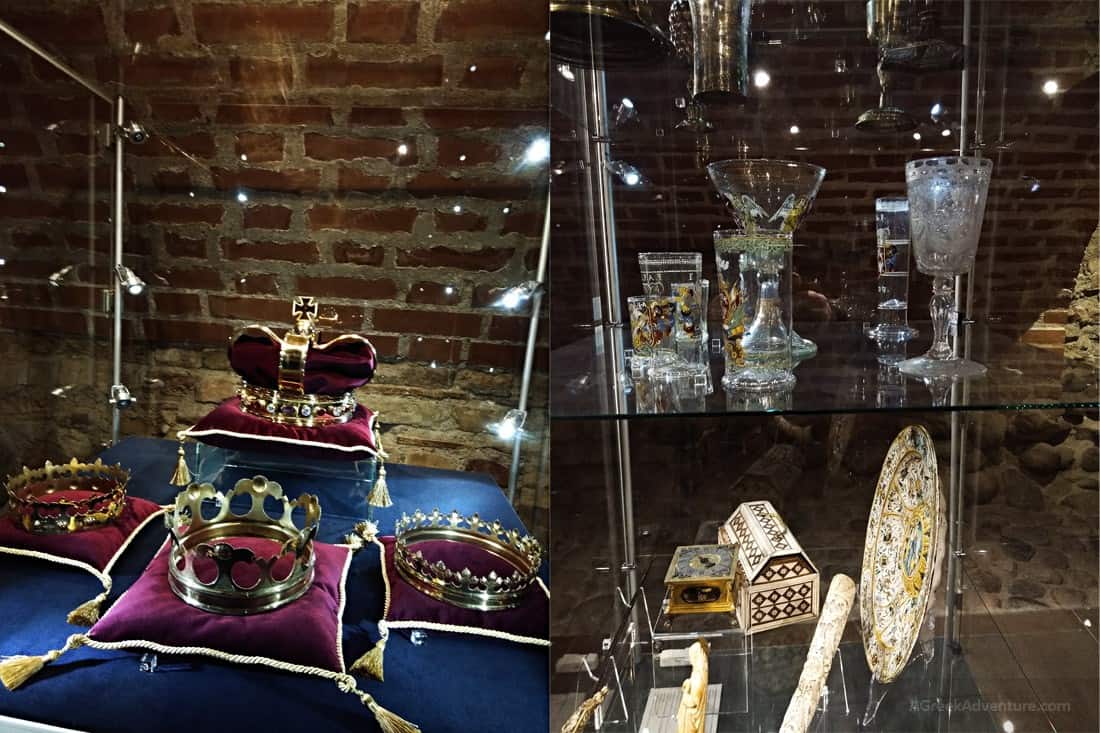 The museum is located under the main courtyard. It hosts a good number of treasures, paintings and artifacts from different eras.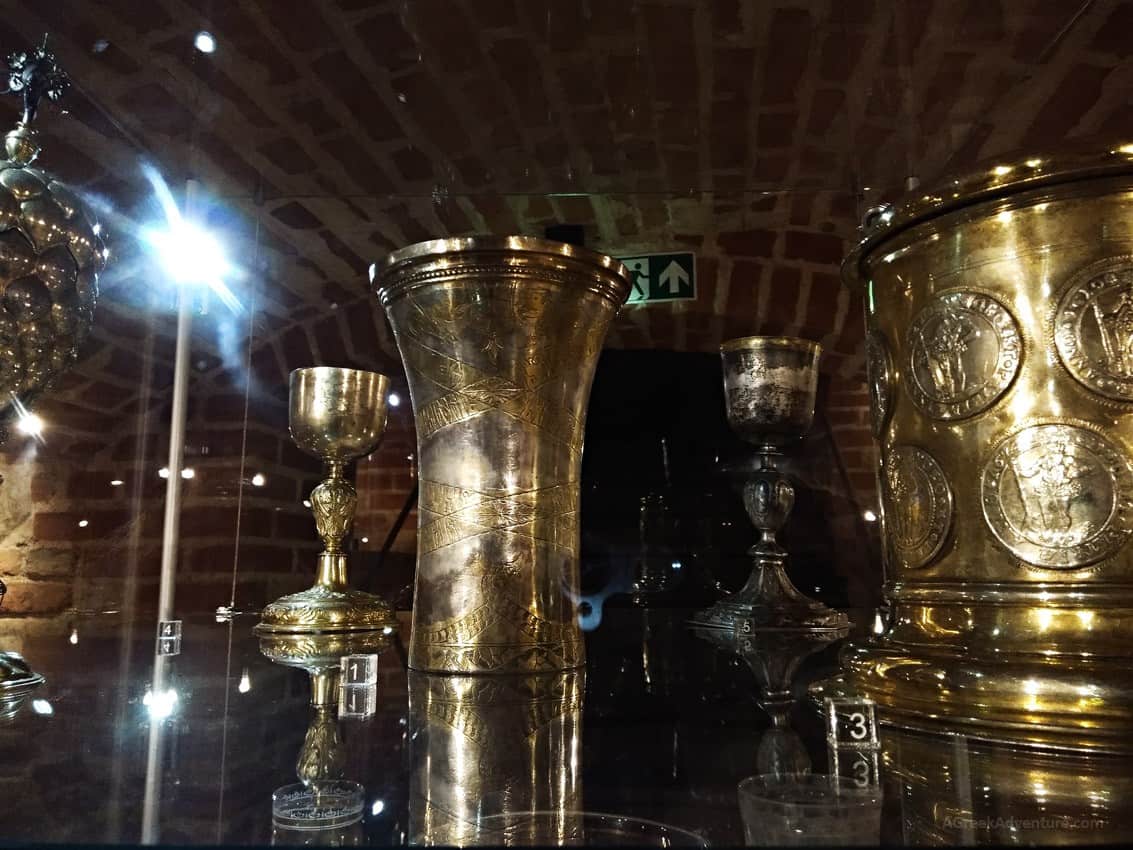 The exhibition covers two millennia of Lithuanian history.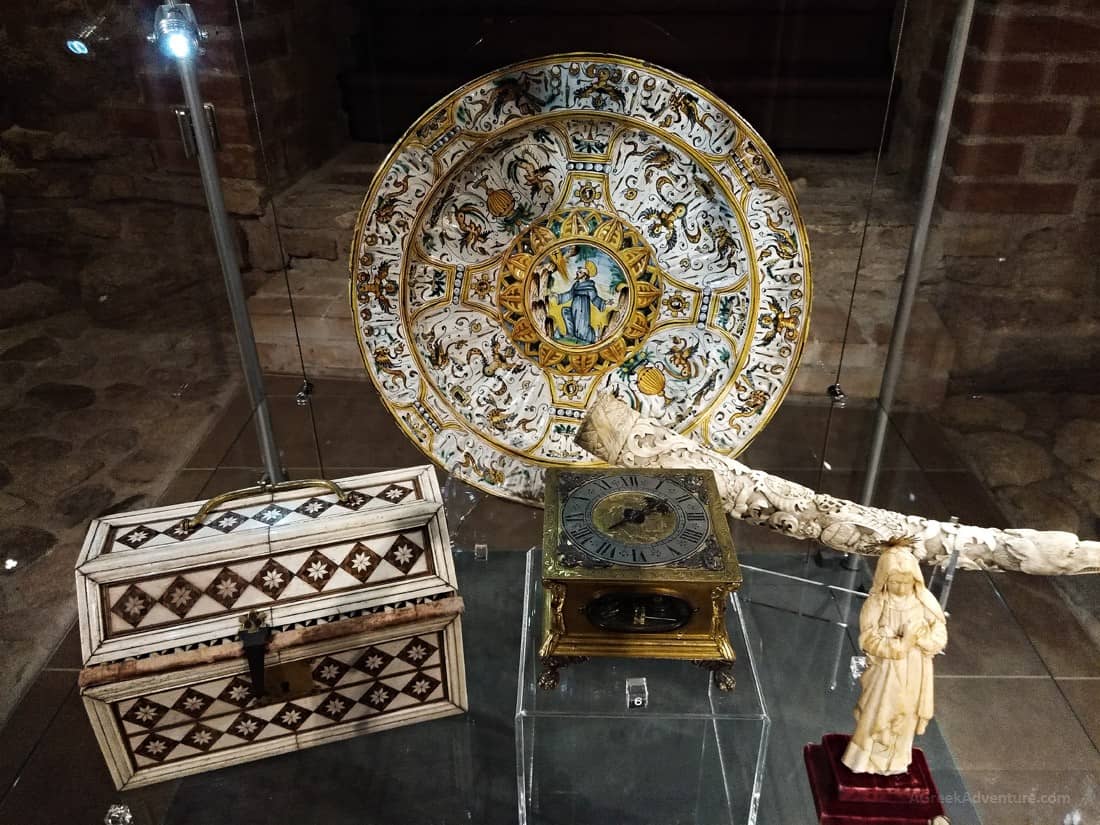 On top of the numerous artifacts exhibition, this is the one which additionally offers the VR experience. In a 15minutes time, the VR experience will get you through all the different stages this castle was build and why.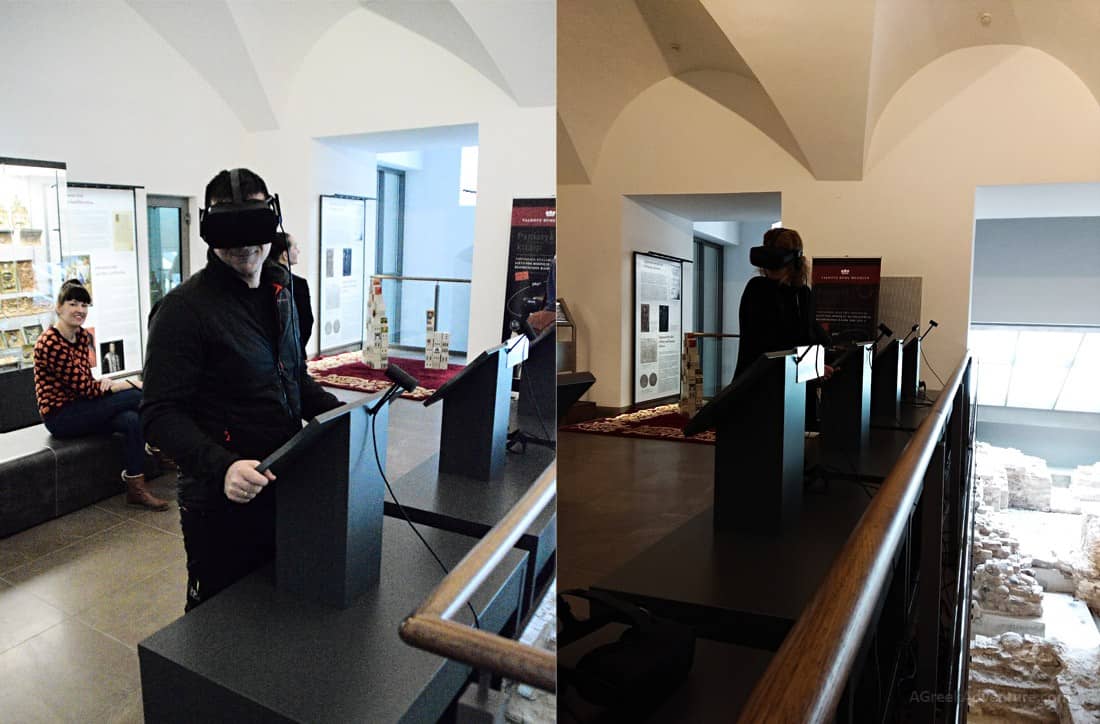 Be prepared for getting through rivers or fly on the sky, in a VR way.
National Museum of Lithuania
A good amount of work has been done here for the visitor. Far from just exhibiting different cultural related artifacts, the country has extensively build complete houses inside the museum to show how people lived.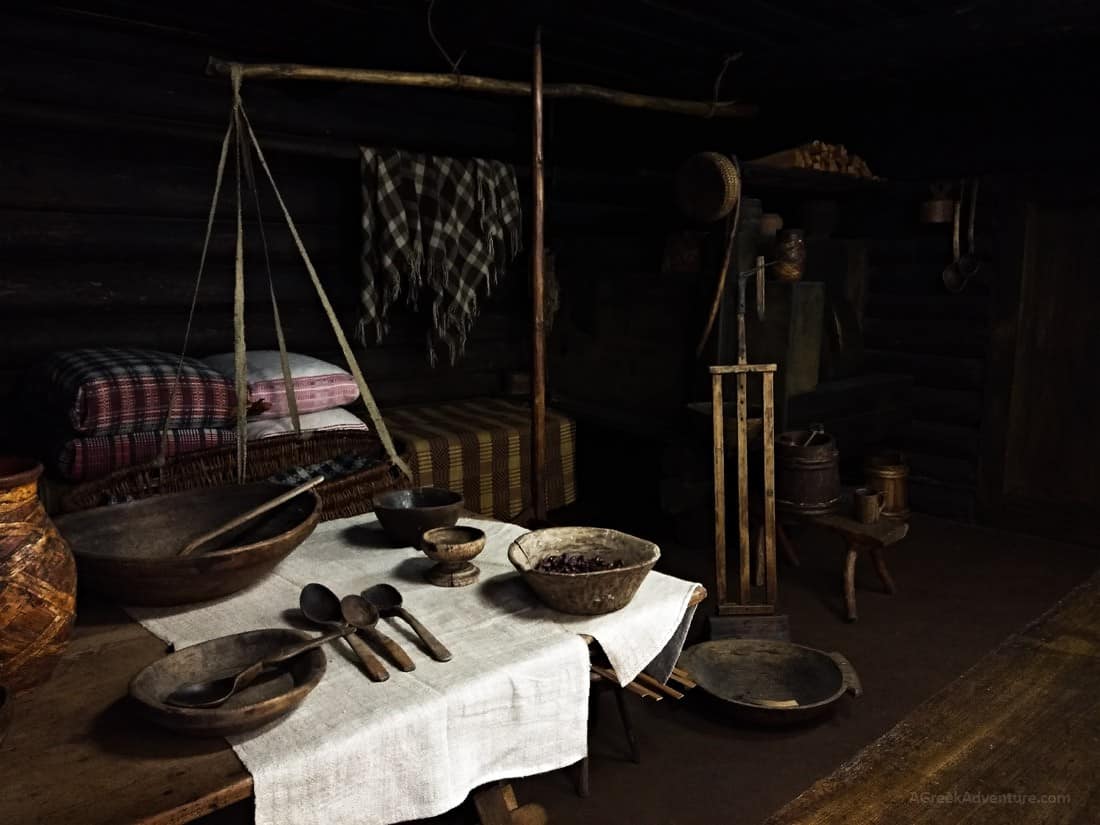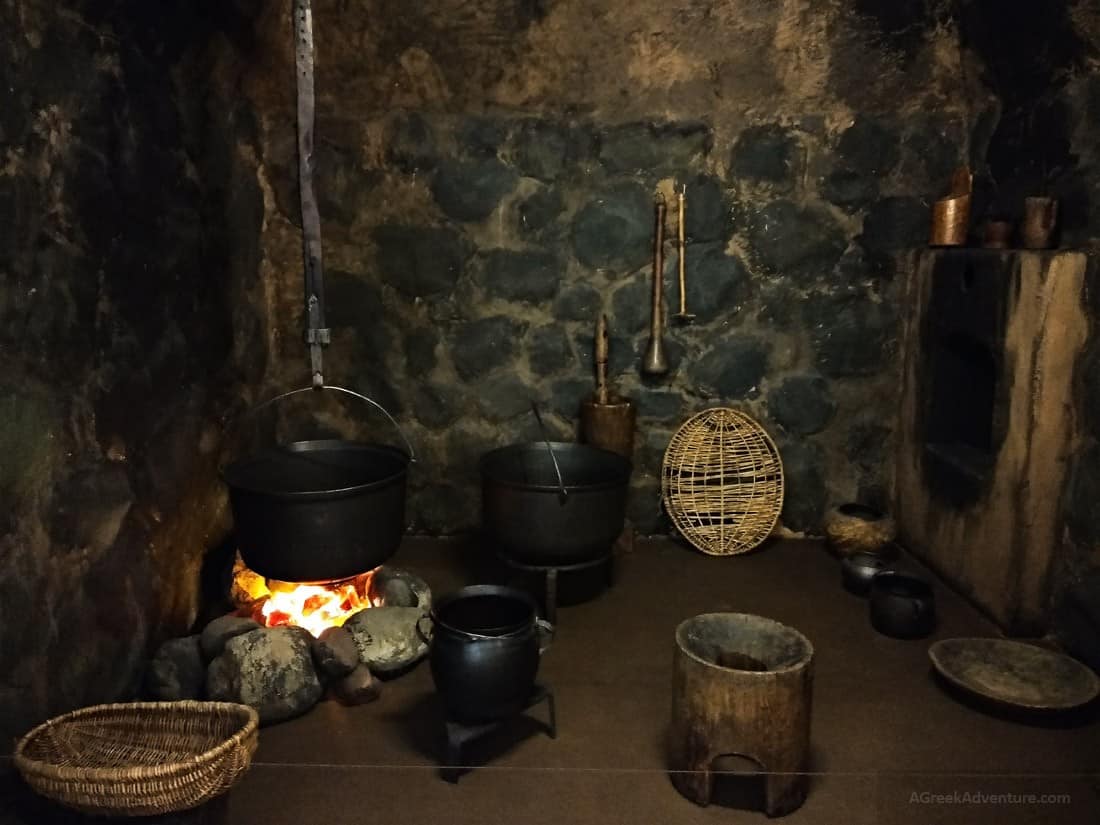 This concept reminded us of the war museum of Minsk, where the same concept to show the life of partisans was used.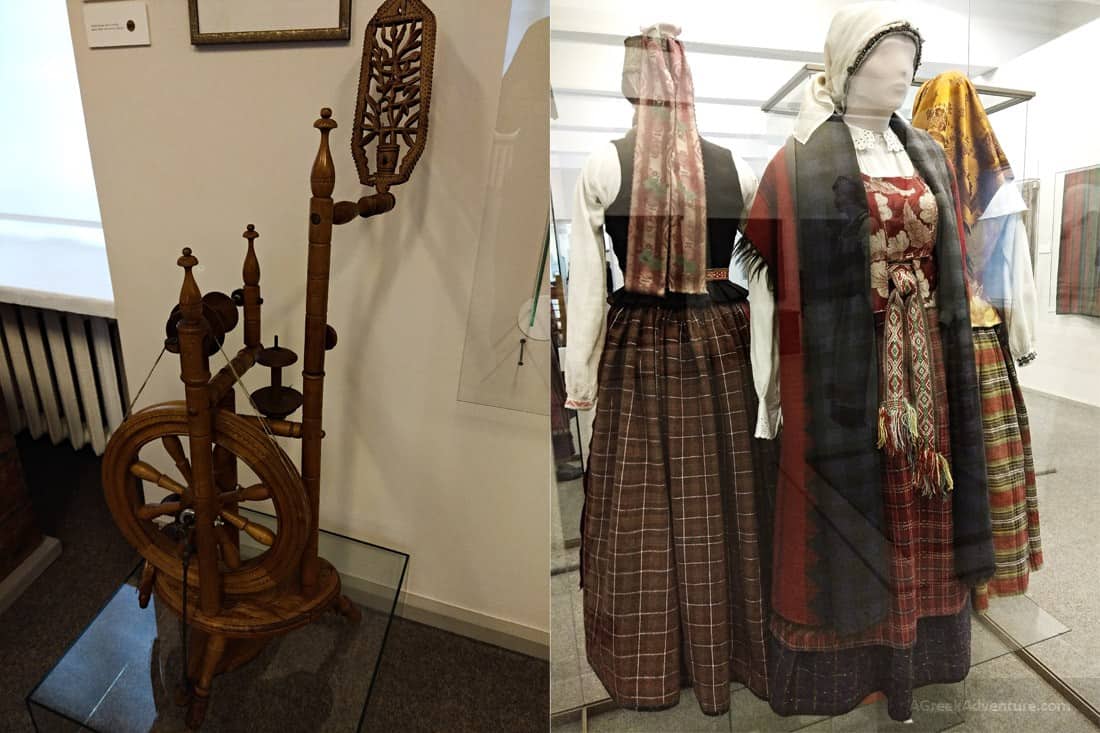 In all our travels we always try to visit the National Museum of each country to get deeper into the nature and history of their place.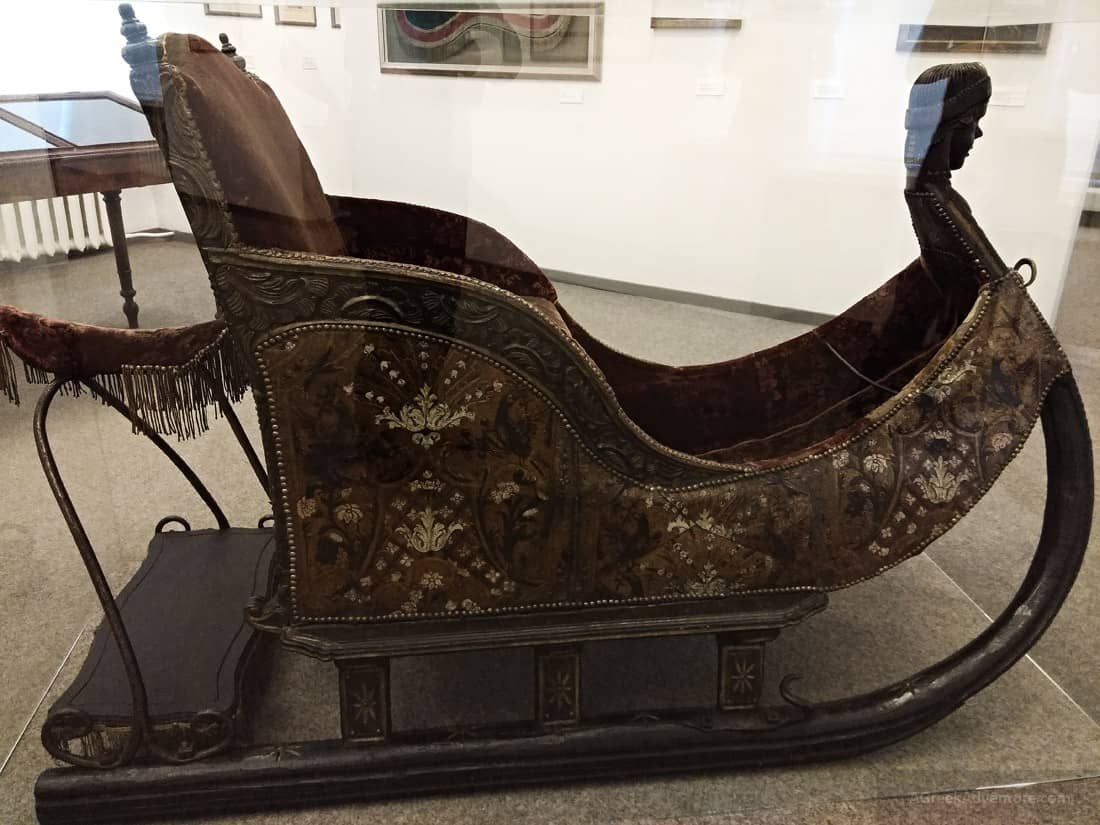 The Vilnius Cathedral Bell Tower
The Bell Tower, is one of the oldest and tallest towers of the Old City.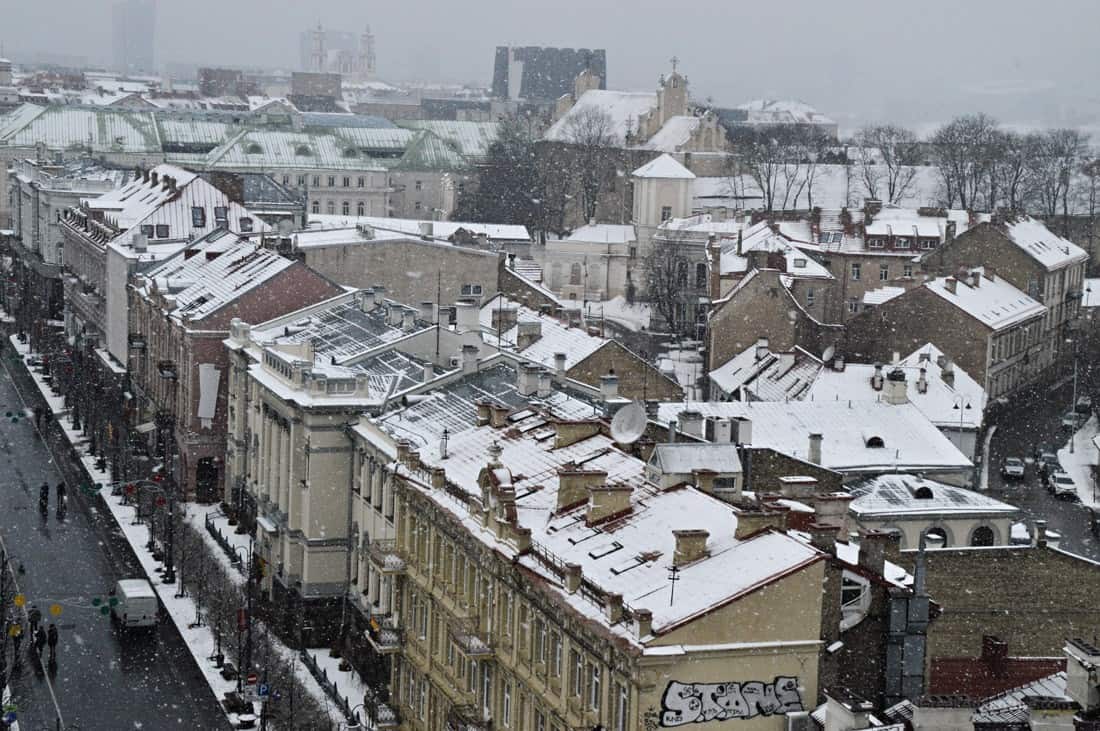 Get to the top for a beautiful panorama. Along your (many stairs) way to the top you will see the exposition of the bells & the old clock of the city along with the historic pictures of the reconstruction this tower.

Isn't this picture looking weird? Like an out-of-this-word multidimensional thing?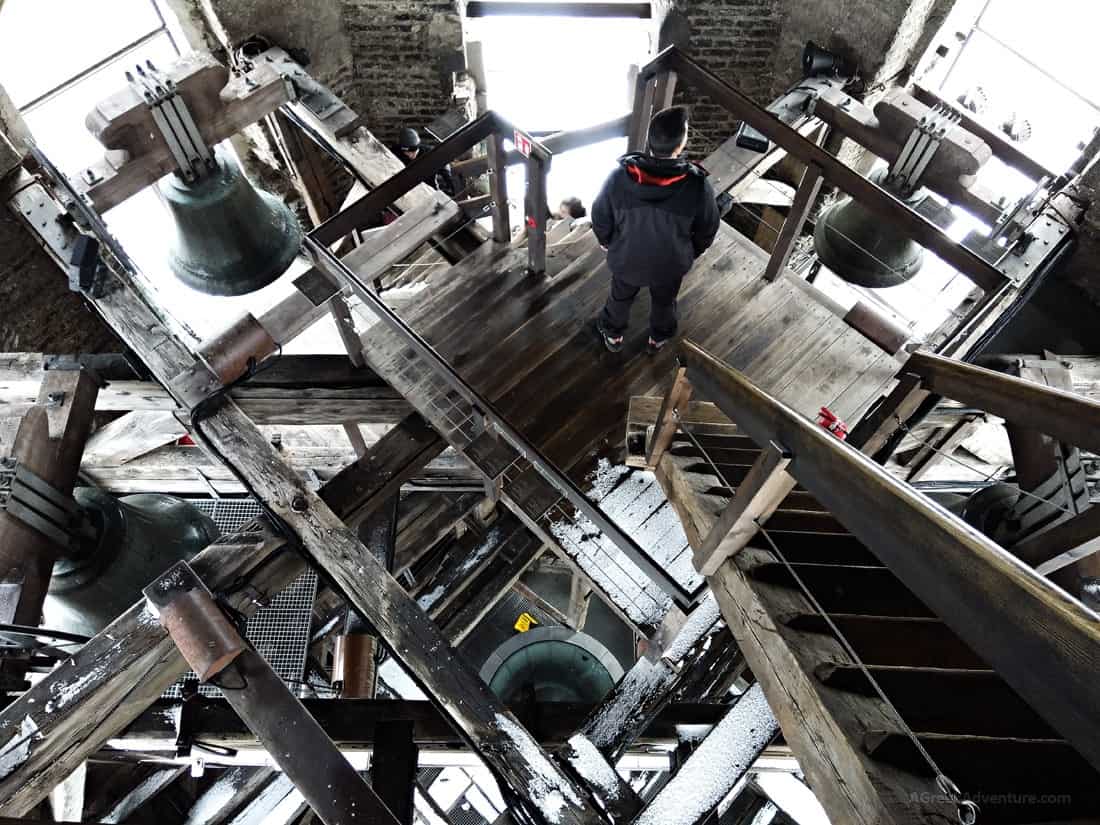 Opening time: 10 a.m. to 19 p.m. (Weekdays & Saturdays). In cold season it closes 1 hour shorter.
Eating in Vilnius
We stayed at a very nice art hotel, called "Art Hotel Moon Garden" close to the upper gate that leads into the old town. We had our meals in two different restaurants and we strongly suggest them for their good food, really nice feeling and traditional character.
You may want to check more hotel options for Vilnius from here.
We suggest that you must go and eat at Senoji Trobele, and Amatininku Uzeiga. Both have that traditional look and serve great food.
Amatininku Uzeiga is located inside the old town, while Senoji Trobele took us around 20 minutes walking time to go there (from our hotel). However, the walking time will be rewarding. We walked on ice/snow to get there but the staff was really fun and the food was magnificent.
If you go during the hot season, both restaurants serve in tables placed outside. Senoji Trobele has a nice garden too.
Conclusion on Vilnius
These cities tend to show a completely different "face" in different seasons. We plan to return to Vilnius during summer time at some point. From our experience in Minsk where the city completely transformed to another one in summer, we are curious to see how Vilnius does this.
Enjoy!
Do read the