Here is the final one from Cairo and the best things to do in Cairo, Egypt. You can also read our post for Alexandria, Egypt from here. 
It was our last day in Egypt, and our schedule was that it would be devoted to archaeology. We felt like Indiana Jones, by visiting the museum, pyramids, and all related to Ancient Egypt.
We can't describe the feeling. The famous Cairo museum was something extraordinary for us since the wooden framed showcases, and all the statues, artifacts, and ornaments create the mystery feeling.
You were feeling like some mummy would jump from some corner, pointing its bonny fingers. And yes, we saw real mummies too, in a special conditions chamber they have them exposed.
Here we go then with our trip in Cairo, Egypt, moving through time and mysteries.
Things to Do in Cairo: The Cairo Museum
Let us tell you that we were fortunate to be at the Cairo Museum, with photographs being allowed. I think this hasn't happened for around 15 years.
Photographing elements of the museum were not allowed at all until 30 days before we arrive in Cairo. The day after we were there was the last day this was permitted!!!.
The building itself is quite impressive, and it kind of prepares you for the feeling you will receive going inside.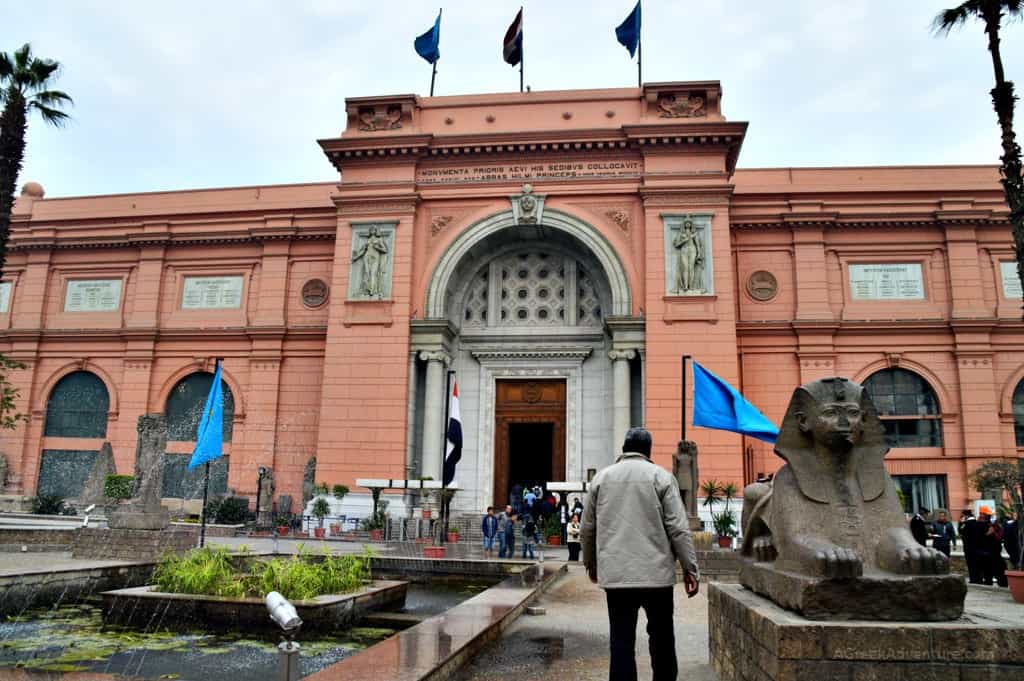 Now, here are the artifacts from its interior.

We were lucky to have a very knowledgeable guide. Since you can spend many hours in the museum, he explained to us all the key points to understand about the different kingdoms of Egypt and how Egyptian culture evolved.
He explained these concerning the artifacts pointing to the differences we saw in art elements, materials, and the scope of these.
For example, we didn't know that during the Middle Era of Egypt, no art was created.
Through the photo below, we "read" if the person was alive or dead when his statue was made.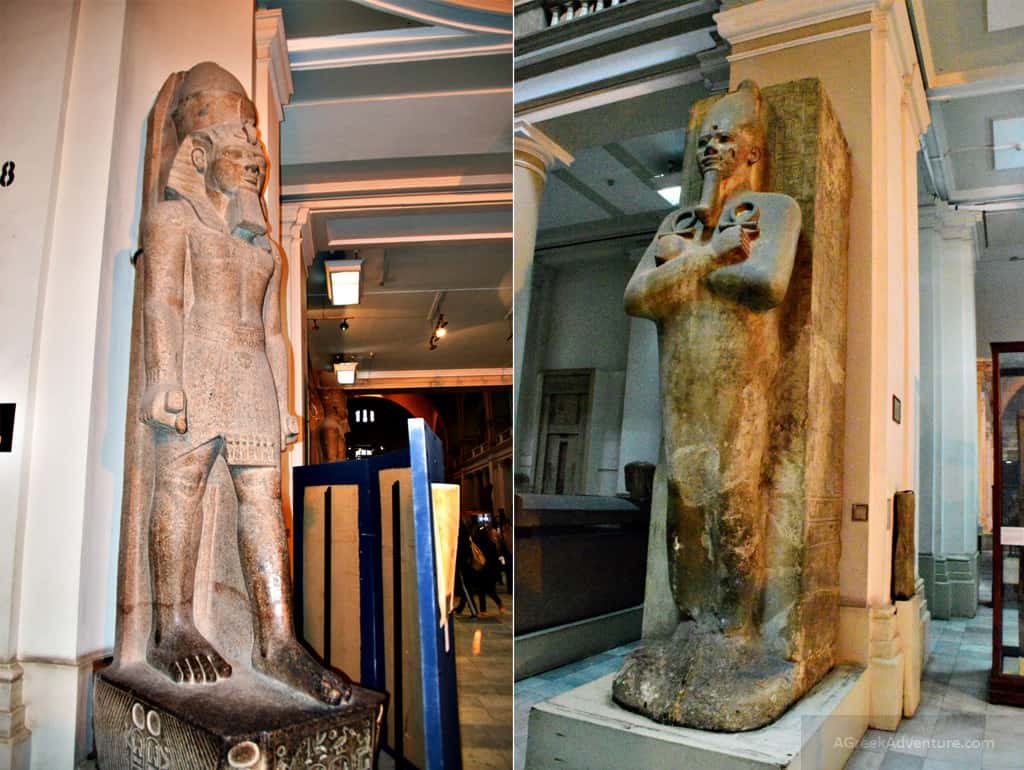 Left: A straight beard and one foot in front of the other means that the person was alive during the statue creation.
Right: Hands crossed, beard pointing up, and legs kept together, which means the person was dead when his statue was made.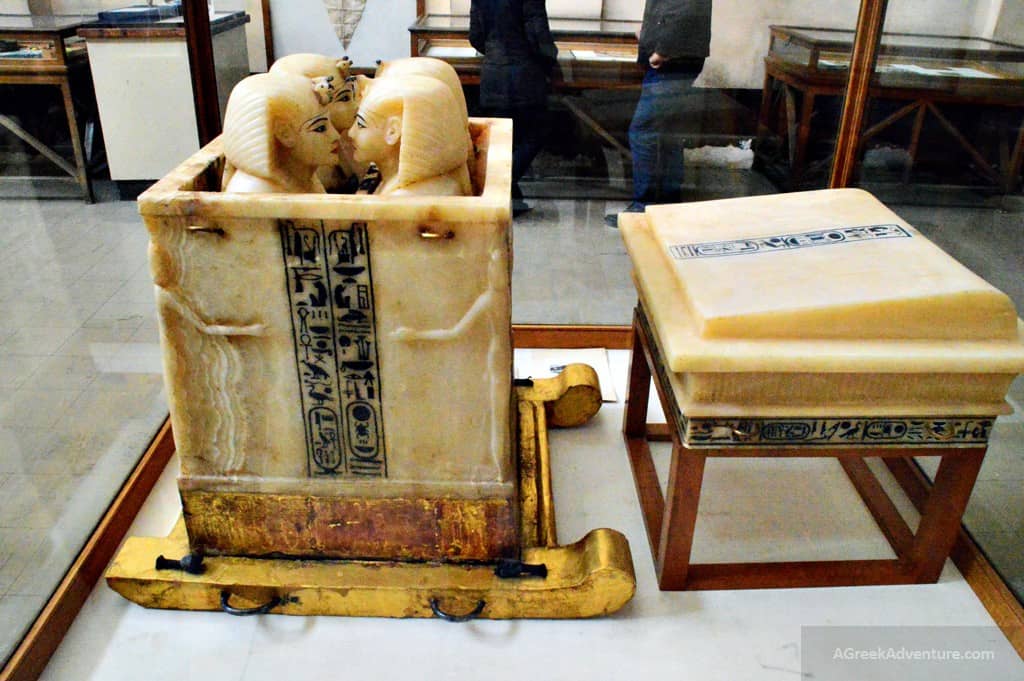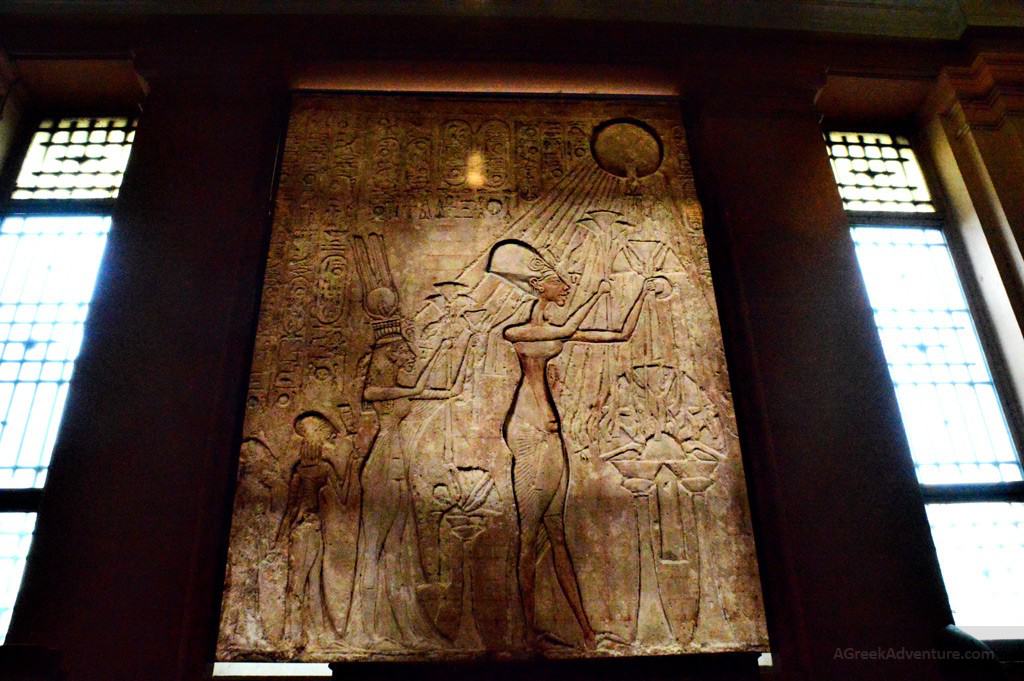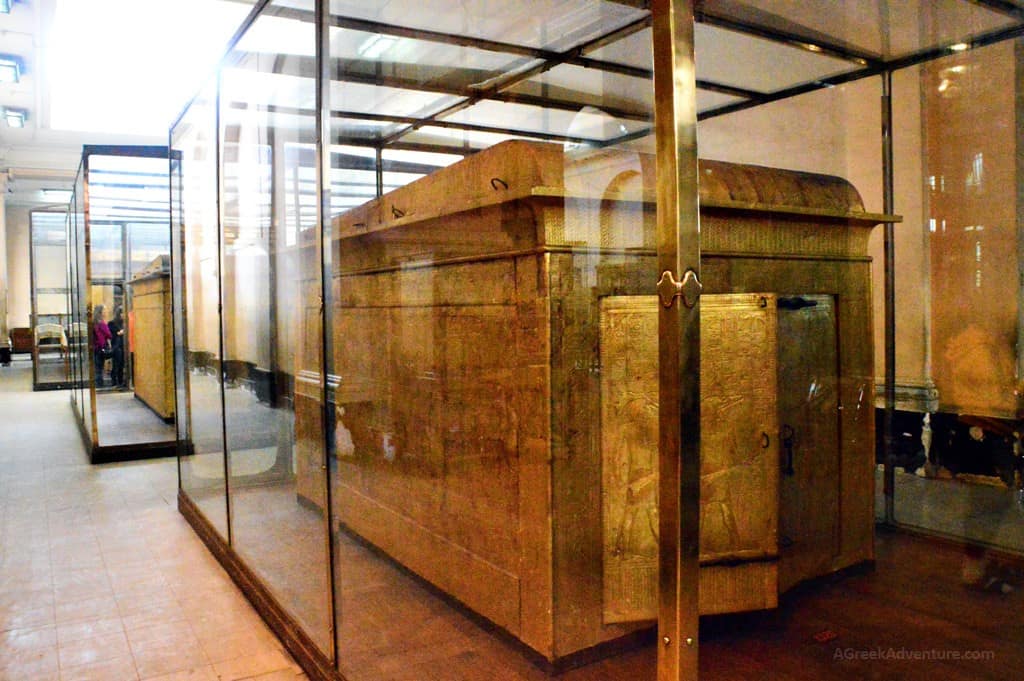 Here is King Tut's actual burial mask. We've seen it in films and documentaries but it is highly impressive when seen up close.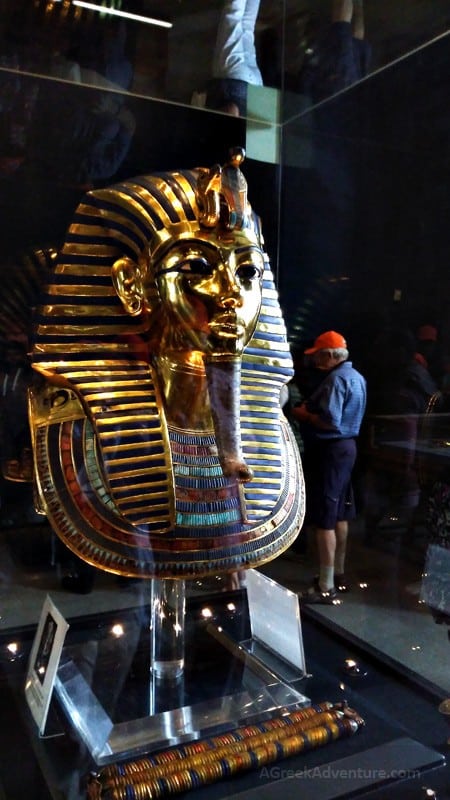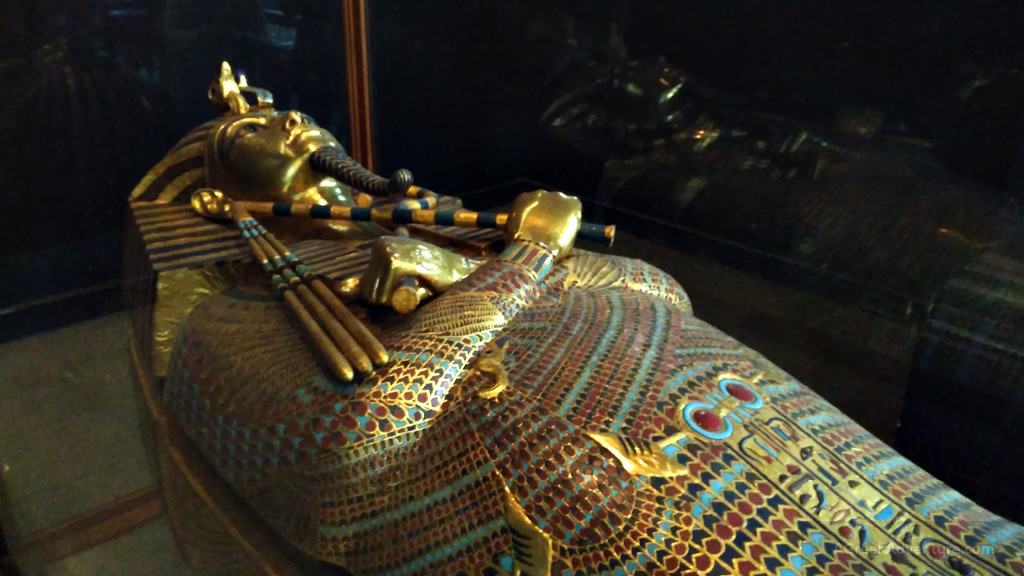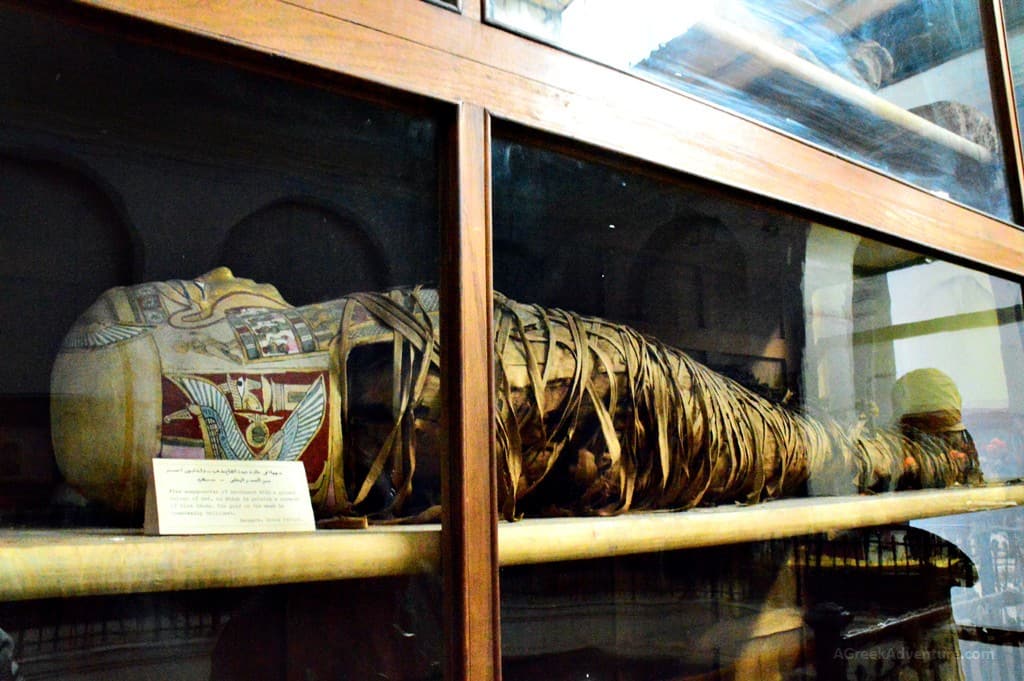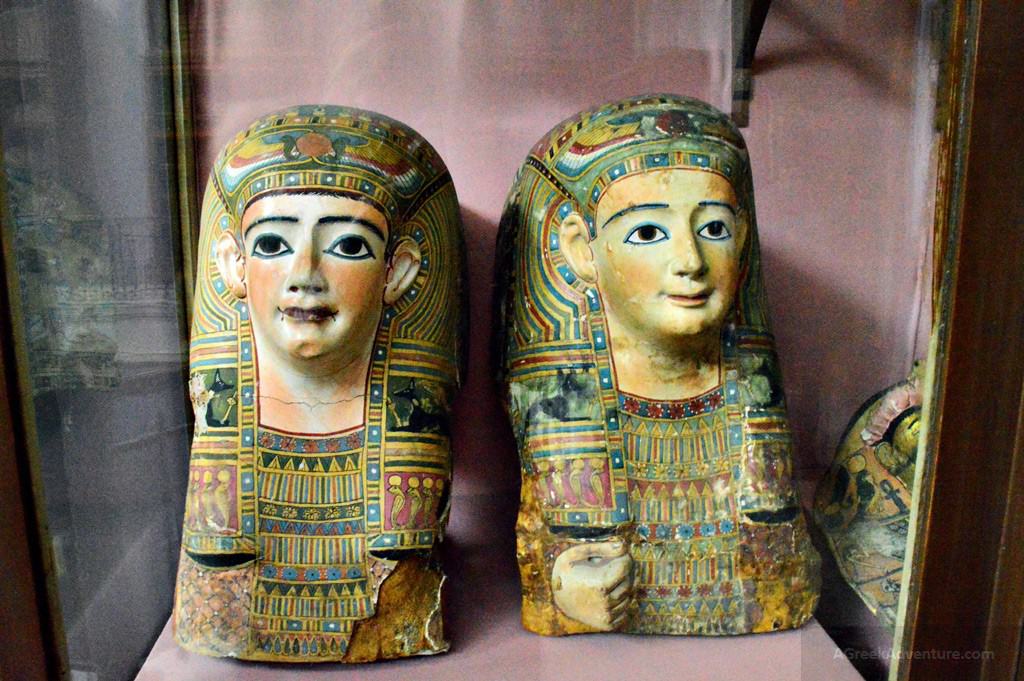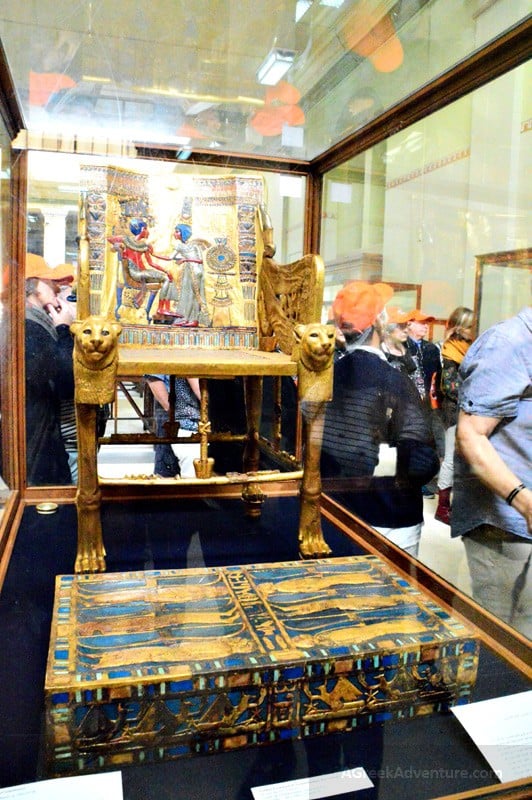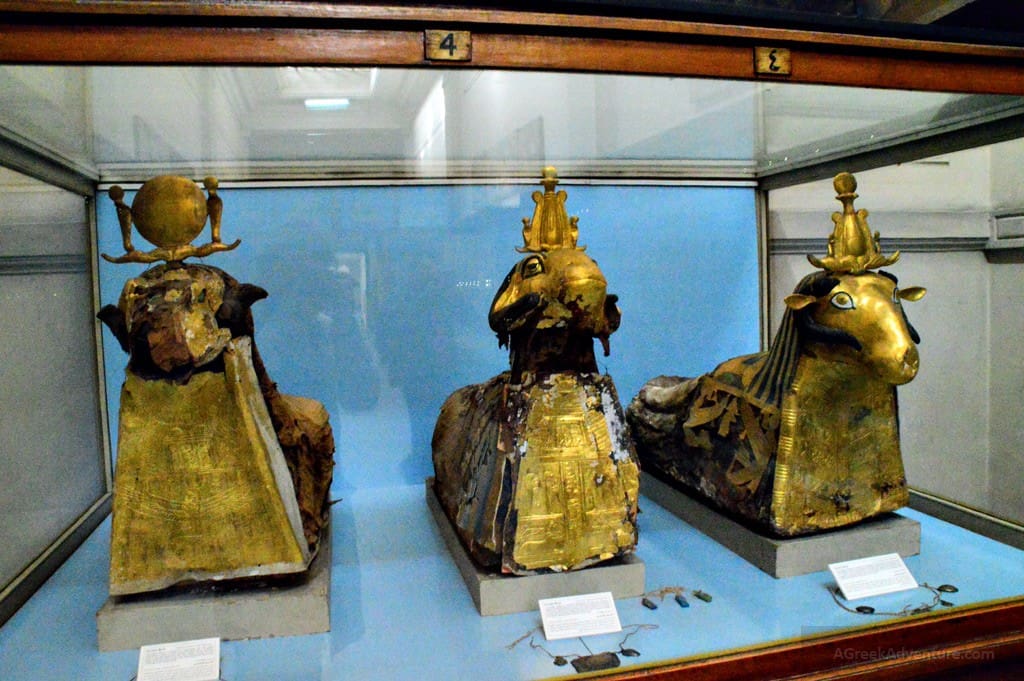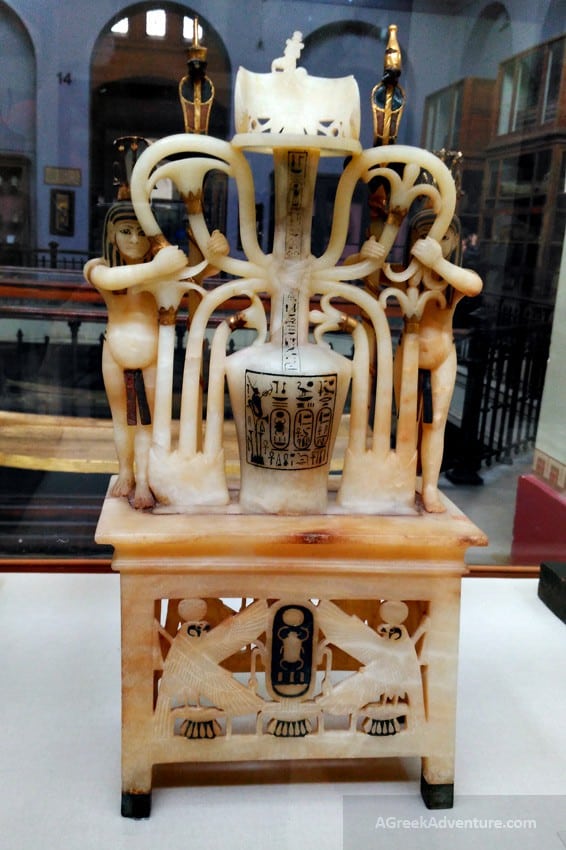 That is just a tiny sample of the photos we took and the thousands of exhibits of the museum.
Making Papyrus
After leaving the museum, we were intrigued by the other things to do in Cairo, Egypt. Our next stop was a shop where they were making and selling papyrus.
We were about to observe how papyrus was made (and is made). We also bought a decorative one at a very nice price.
Things to do in Cairo: The Pyramids of Giza
This is supposed to be the spectacle for which people fly in from all over the world. Yet, for us, the museum was far more interesting.
If you don't know it, pyramids are tombs. Yes, that is the case.
The pyramid's shape and way of building them were meant to be like that so to avoid tomb mongers to get the treasures.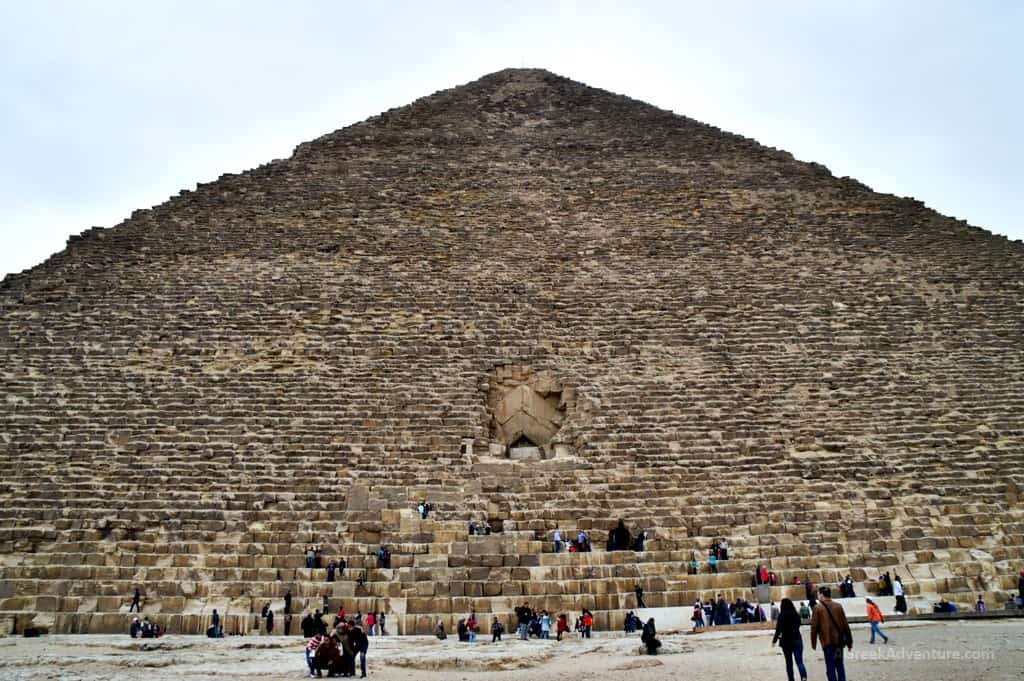 Of course, that wasn't successful except in some specific cases. Before the Giza pyramids, another type of tomb "building" was used: The Mastaba. And they were robbed too.
Years passed, and Egyptians tried many ways to avoid robbery of treasures. For example, the actual entrance was hidden.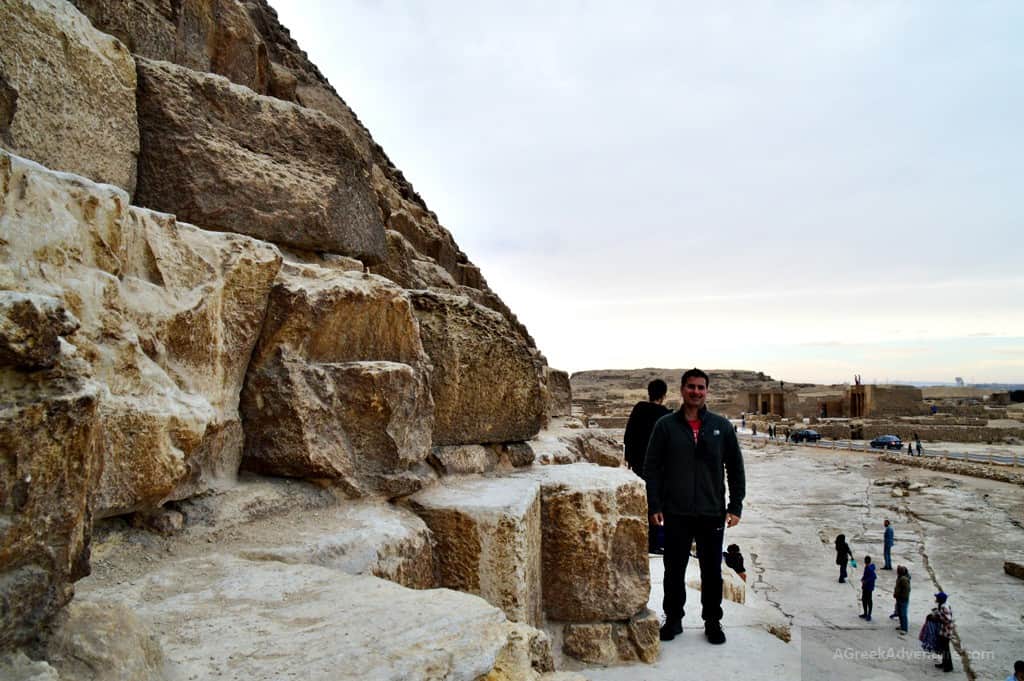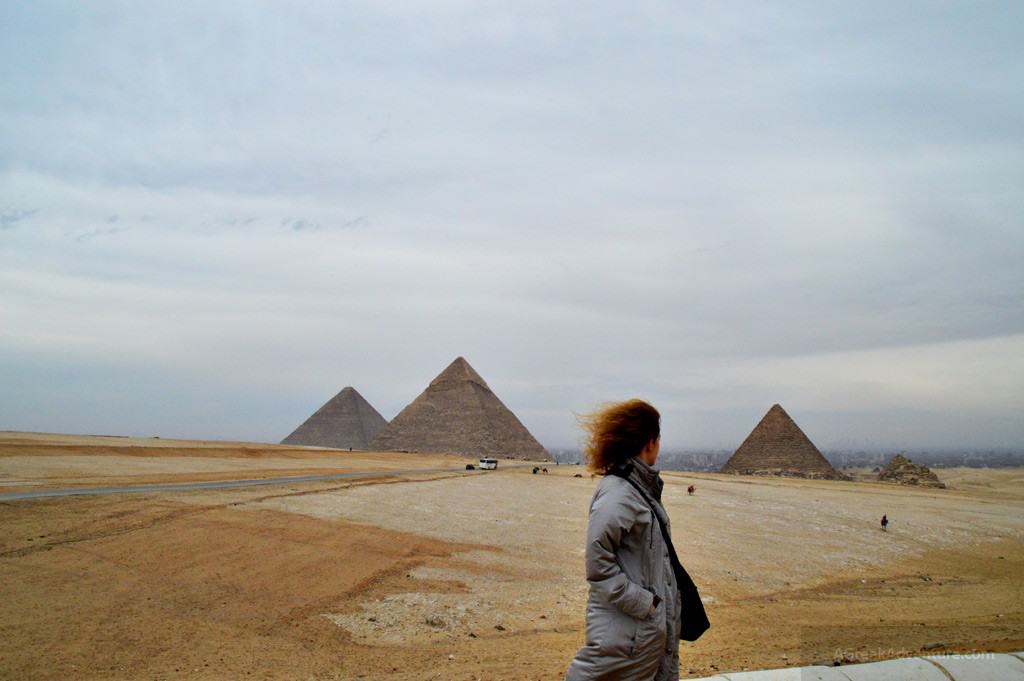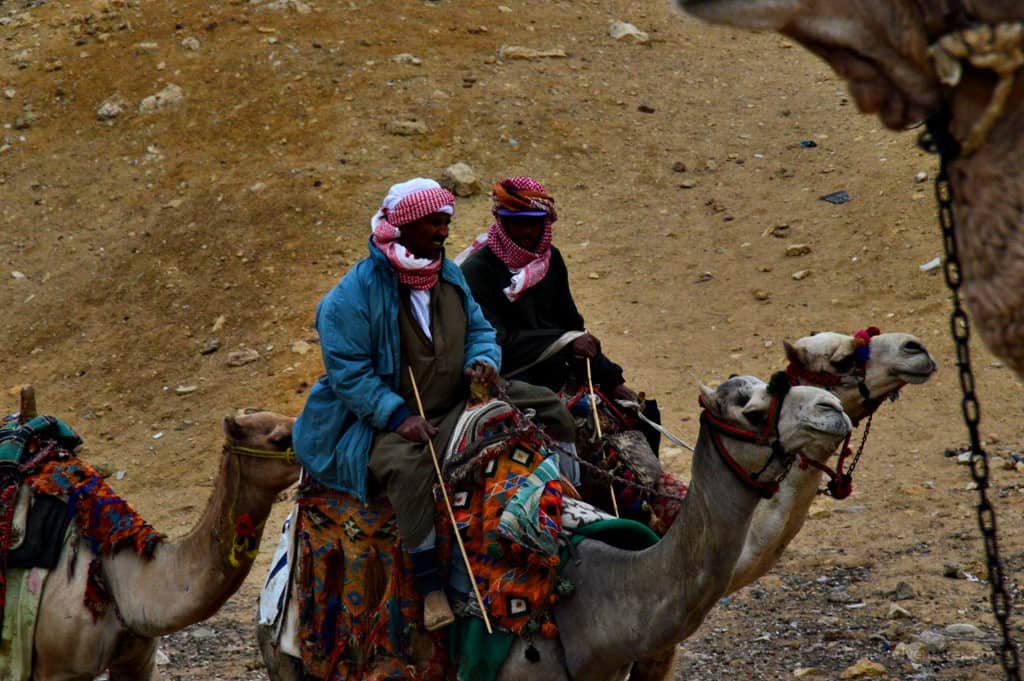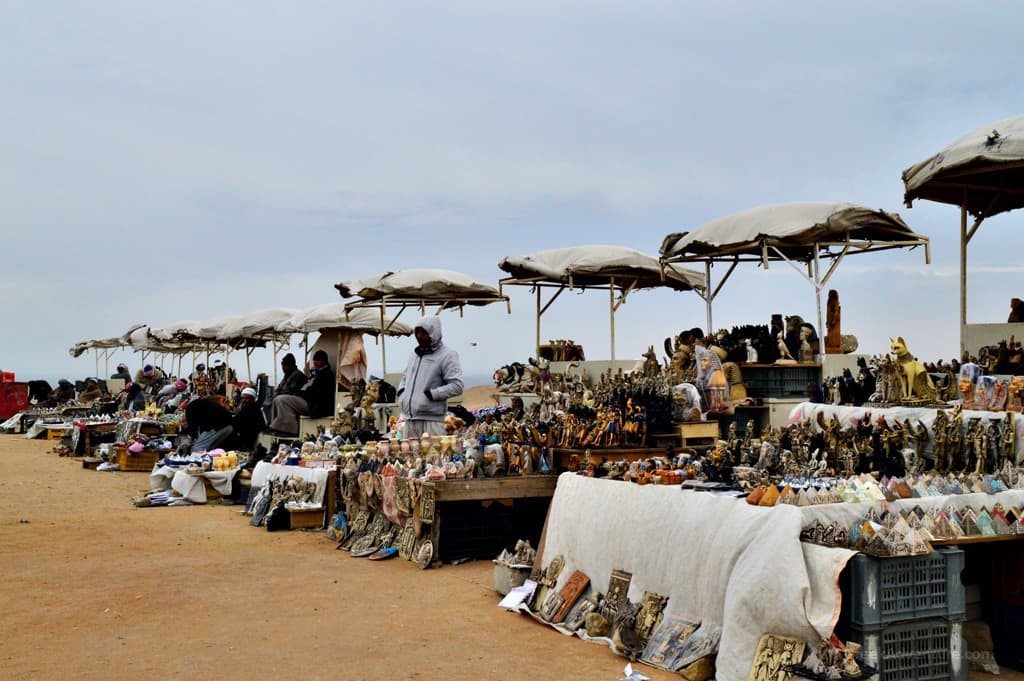 Our guide warned us not to give in for this kind of rides.
If you go there, you will see that they will jump all over you, trying to get you to their carriages.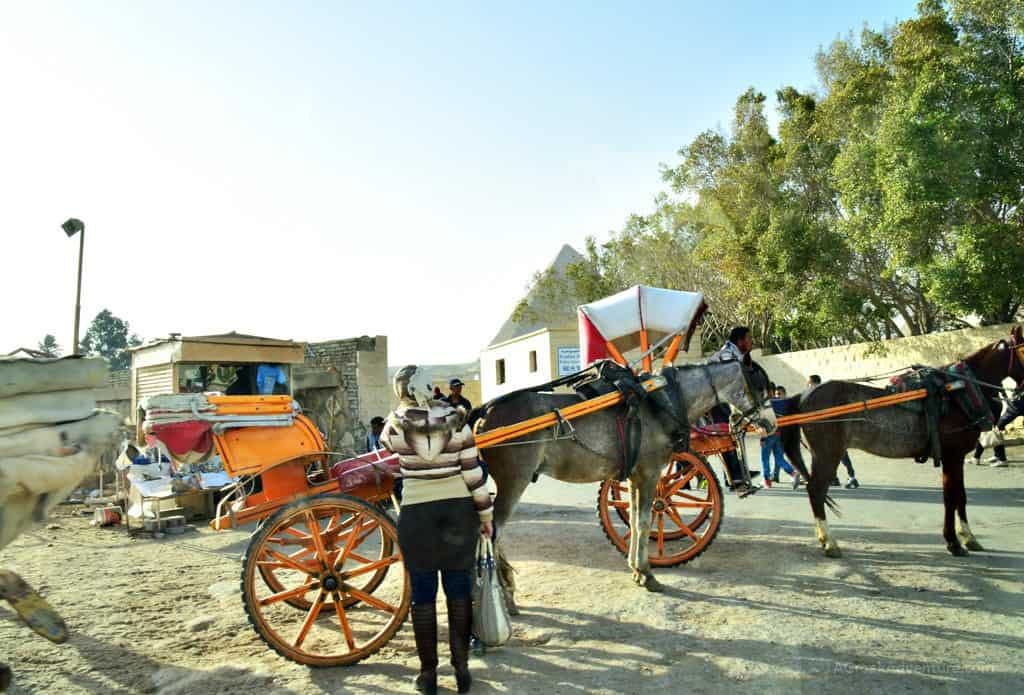 The price is not high, but since you are there with a guide and bus/van, there is no reason to rent such. Also, did we mention that they are filthy?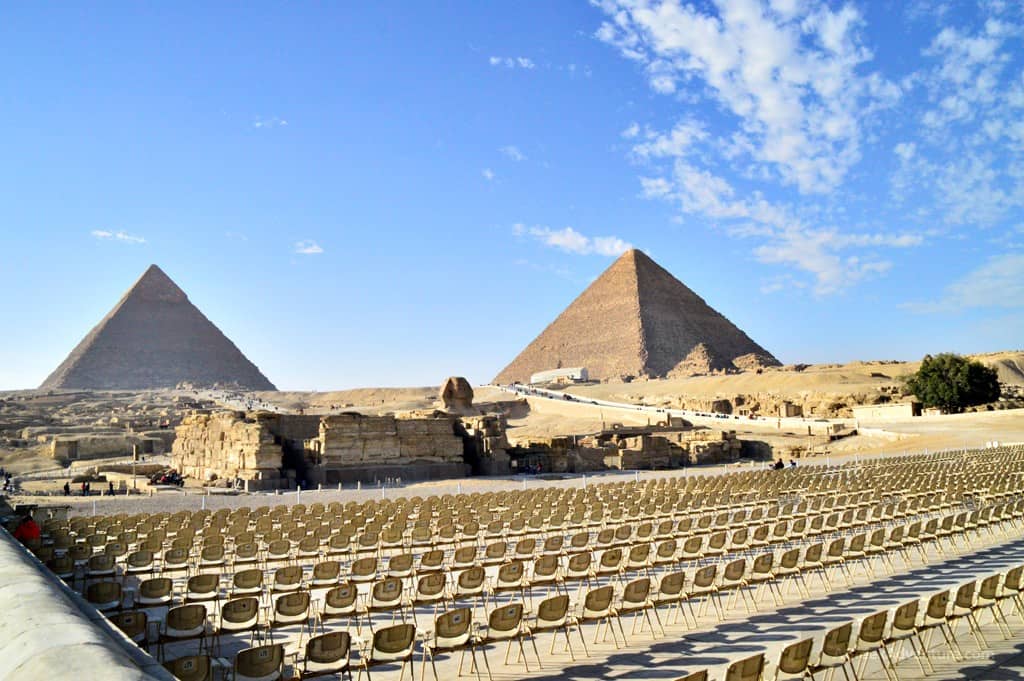 And here is the Sphinx itself from up close.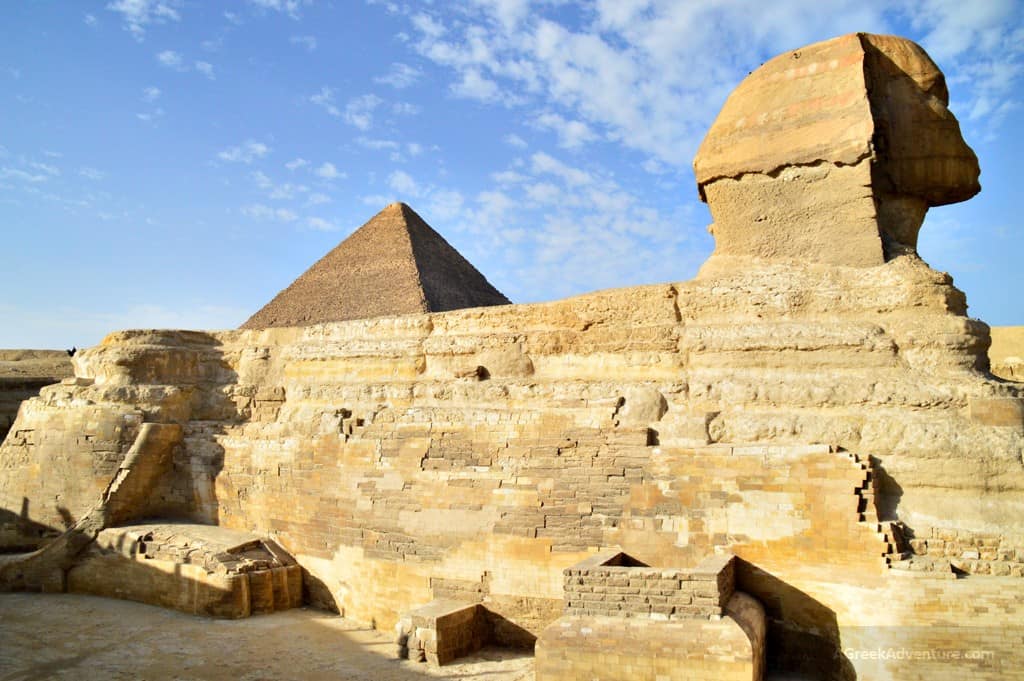 Guess what. There is a wishing well everywhere. Even as a dry well.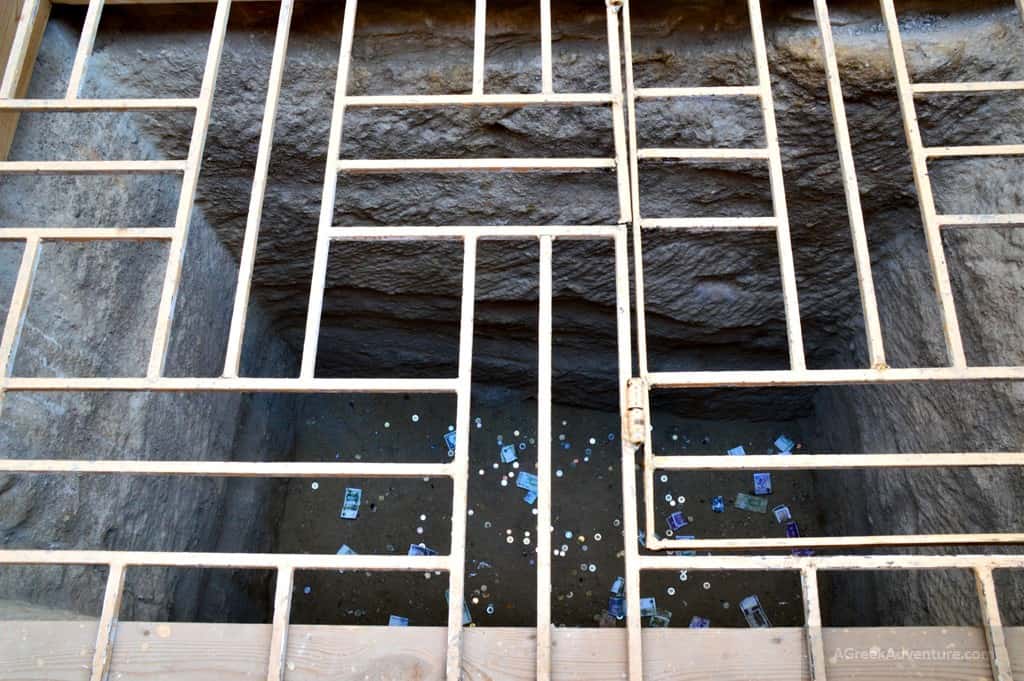 We went into one of the pyramids. In case you are somewhat claustrophobic, avoid it. Other than that, you will go through a narrow and not tall at all corridor, to end up in the burial chamber.
Ok, it is an experience after all, right? Unfortunatelly, taking photos was not allowed.
Last Night at Cairo: The Khan el Khalili
This is a Cairo-by-Night experience.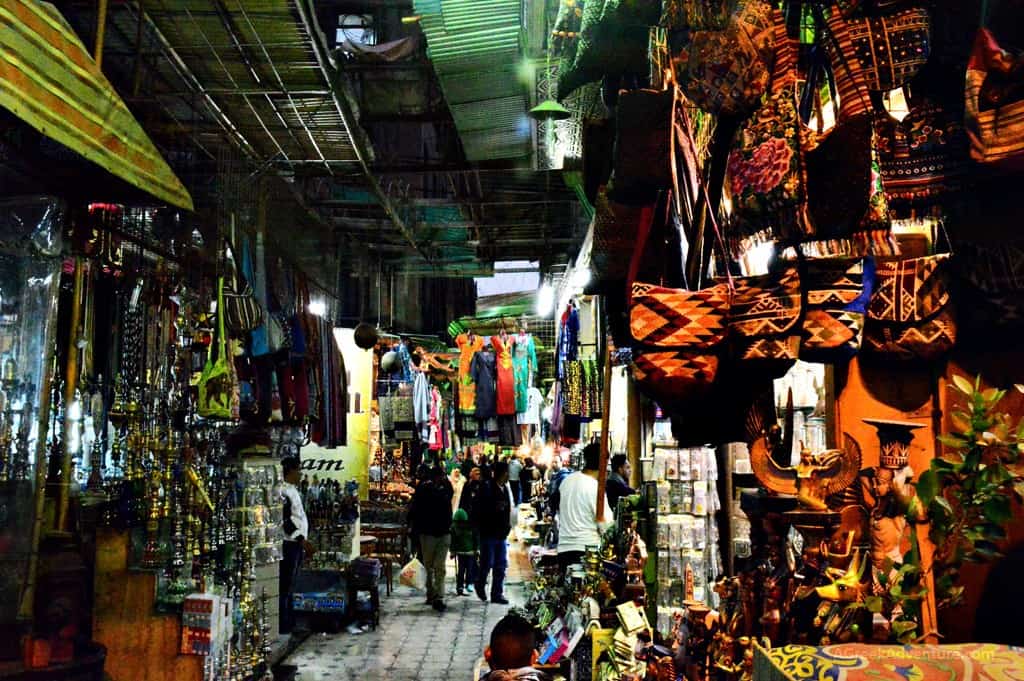 You can find all kinds of things in the market, mostly oriental decorative items, street food (avoid non-cooked), coffee and tea houses, and such.
If you have ever been to Istanbul, then look the same but on a far smaller scale.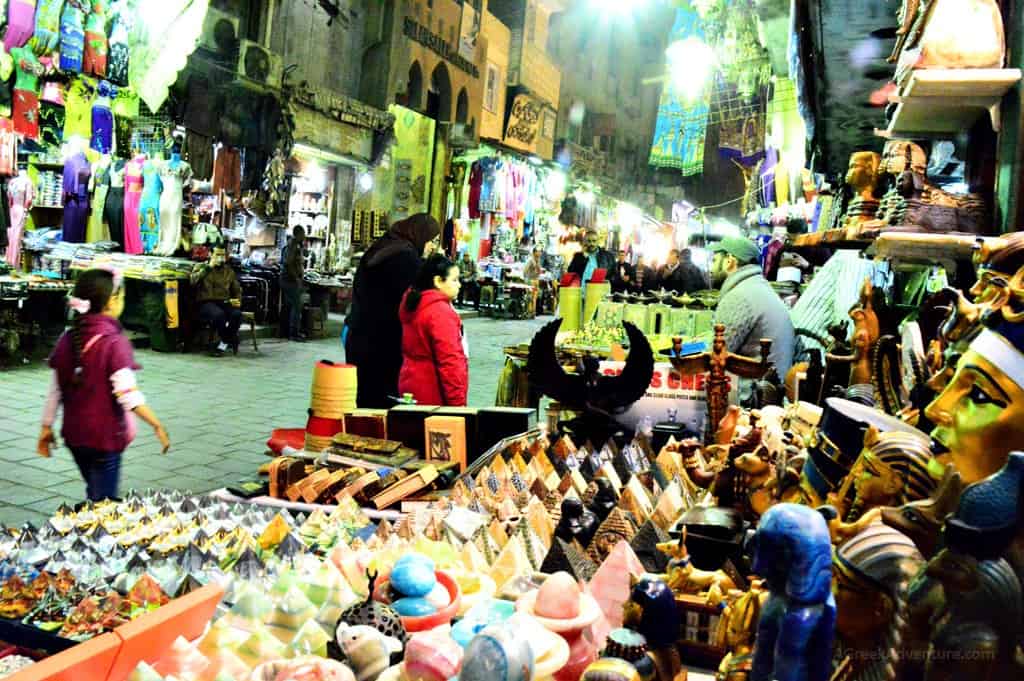 Prices are very, very low, and you can bargain for anything for a better price.
Most items do not cost more than 4-5 Euro/USD, so keep in mind not to bargain too much since families are living with amounts that may be too small for you.
Just bargain for the fun of it. Sellers expect that.
So, dear friends, that was just one day! We managed to experience all these fantastic things to do in Cairo.
If you plan for a cruise in the Nile, then read this post too.
Stand by for more adventures. Until then, say "cheese" to our friend!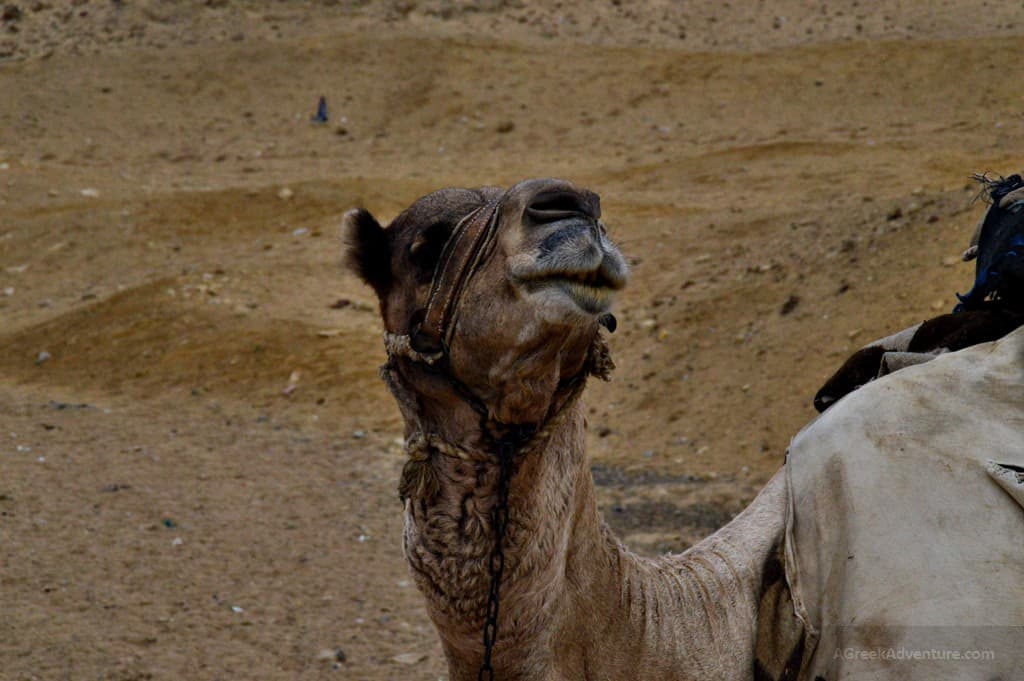 Things To Know in Cairo: Before You Go
This list aims to drive you through the traps and knowledge for things to know before going to Cairo Egypt. It was our first time there and it was quite different from going to a European country or the USA. We consider our experience very valuable and as you will read along you will see that it is very important to know specific things before going there.
Overall it was a positive experience, but it was like that only due to a set of rules and a specific framework that led to that positive outcome. Read about all the goods and the not so good ones.
Here are the ground rules for Cairo Egypt.
1. Use a travel agency
It is safer to book through a reputable agency. The agency will take care of any kind of paperwork and will arrange for you to have a guide there. In our case, we were very lucky since our guide also spoke Greek, apart from English, Arabic, etc, and he was living there and was a certified tour guide too. His name: Dimitris.
2. Ask your travel agency about the "actual" money you will spend
Ever heard of "bachtsiss"? This is an amount of money expected by all those that provide you with some service, no matter if they are paid already by an agency (Dimitri was excluded from that but even our bus driver was expecting that). It is what we call "tip" or "gratuity" or "pourboire" in Europe and the USA. This money is extra and there are "minimum" amounts expected. Your guide will tell you about this too.
3. Follow the instructions of your tour guide
We really hope that you will have a great guide like the one we had. Knowledgeable and willing to protect us from many cases where our money would be a waste to spend (tourist "traps"). Locals can be obtrusive (not hostile) in their effort to get any (Egyptian) pound from you, especially in tourist locations (i.e. Pyramids). We cannot stress enough the importance to have a knowledgeable guide that really knows local history.
Our guide managed to take us through the Cairo museum key-sections by semantically separating information for different Eras of Egypt according to their achievements. So, he showed these to us in many details and explained how these developed through history. This can save you lots of time from just wandering around in a huge museum. Also, we learned that the government of Egypt plans to build a new, bigger, and far modern one.
4. Avoid: Tap water, fresh raw uncooked vegetables
You will see that the city of Cairo -located next to the desert- that hosts 19 million people is not a clean one. When you are about to visit Giza and the pyramids you will see rivers filled with garbage. Dust, dirt, and fog are everywhere. We were instructed to consume only bottled water and cooked food, so we suggest the same.
5. Do not take solo night walks or walks in dark alleys during day time
Especially if you are a woman. You are in a country where the majority of people follow the Quran. Women are allowed to many things (i.e. than in Saudi Arabia) but still… Especially blonde young women are an object to attract the eyes in "many ways". Maria and I walked through Cairo with a local as our guide all the time and just as a company to a Nile cruise ship. We could feel the tension around. Lots of poverty. Do not flash jewelry around. Better safe than sorry. Take a taxi. It is very cheap. Just to know, 1 Euro/USD= approx 8 EGP and taxis in the city usually cost around 20 EGP.
6. Especially for Women: Respect Local Culture
Ladies, as already mentioned, you are going to land in a country where Quran rules mostly. Women, there are treated differently by men. That doesn't necessarily mean bad. So, in relation to men and women, their culture permits different things but also has a fair/safety valve to avoid extremes. Women are required to dress solemnly. Totally avoid mini skirts or hot pants. If you go during winter or other seasons where the temperature is around 20 degrees you are fine without them.
7. Road traffic and driving "habits"
The best day without traffic? Friday for sure and maybe Sunday. On all other days expect tons of delays along the roads. Even on major highways. Example: driving from/to airport to/from Cairo center is around 15-20 minutes, but it can take from 1 hour to unknown. Thus you may hear the term "Egyptian time". Other times small distances can take more than 3 hours.
People drive like crazy without any kind of respect for rules. Do you want to cross the road to get to the opposite pavement? It is like a Russian Roulette. You just pray and place your foot down and hope that the signal that you do to the coming car will be respected.
Almost all cars have dents from hitting each other. They pass each other in a 2 cm distance and you have to be a Kung Fu master of foot breaks. Our group was a 6 persons one in a comfy mini van. Many were the times where we said "We are going to crash!!!". We never did though. So, yes, drivers maybe "crazy" but their Kung Fu is good, Obi-Wan.
8. Safety Measures first
Since the latest events in 2011, Cairo (and logically Egypt in general) saw a decline in tourism. On the streets, you see a lot (but not too many) of policemen or military police with automatic weapons moving around. At some places, i.e. along the road towards the airport, you will see army urban armored vehicles, blocking the street for random checking of cars and drivers.
However, the feeling we got was that of safety rather than of a threat. For example, when we had to enter a hotel to pick up other group members we had to stop the van at the gate and our driver had to give his phone number and personal data every single time.
Also, a police dog (K-9) sniffed all around the car and they also checked the trunk and in some cases under the car. When we had to enter our hotel we had to pass that along with another gate (in every different hotel entrance) and a baggage scanner. To be honest, not all the time the gate beeper was buzzing we received a more thorough search…
At the Pyramids, we had to go through the same plus a thorough visual scanning from the guards there.
9. Currency: Piaster vs Egyptian Pounds
Check your change when you pay in USD or Euro. You don't want Piaster for change. You want Egyptian Pounds only. Piaster is used but it is an old currency that is removed from the market.
Hot Tip: If you come from a country with Euro currency you may get more Pounds per Euro if you exchange in Cairo and not in your airport of departure. If you stay in a nice 5-star hotel (i.e. we stayed at Ramses Hilton) then they have in-house banks that work 24/7 and lots of ATMs that accept credit/debit cards just fine.
10. Transportation
Either use the agency minivan or a taxi. You can go i.e. to Giza with 20 EGP (a bit more than 2 Euro). Always agree on the price before taking the taxi, and not after.
Avoid public transportation. You will see tons of minivans in Cairo, plus buses. The ones that are something between a bus and a minivan are all over. People tend to jump in and out, while an assistant to the driver may hang out from the open door while the vehicle is moving in order to yell to people waiting for a bus to board. Add heavy traffic to such and you get the idea.
11. Cairo by night
If you go with a group, the schedule is predefined. We think that there are different "tourist traps" but even from such, you will get a nice experience at a fair price. Also, what each traveler likes or not is subjective. Yes, we too, saw the belly dancers and a performance from a colorful whirling Dervish and had a 2-hour cruise along the Nile.
12. Food
Forget pork and all products related to pork. Here chicken and lamb rule. Additionally, you can eat amazingly cooked vegetables, rice, different kinds of meatballs, etc. Also, there are some great desserts, but we concluded that Istanbul was far better for these.
13. Go to the Bazaar and argue on the price
It is not called a bazaar for no reason. You go there and find tons of local souvenirs. They tell you a price. Bargain a 90% discount! Yes, that's the spirit. Egyptians love to discuss the price back and forth. Locals say that you must not pay for the price you are served with.
The final one can be very low and this means you pay the actual price. Do not forget though that a traveler also supports the local economy when they buy something. So, do consider that when you are asked for 50 EGP, this actually means that you pay around 6 Euro/USD.
Yet, do it for the fun of it. Bargain the price, then -as part of the whole thing- say "no, thank you" and slowly walk away. There you will learn the final and actual price!
The "No Problem" mentality in Cairo, Egypt
You will hear that many times. Locals tend to use this phrase in every difficult situation. Had a car crash? They will solve it by using the "No Problem, my friend". Delays? Who can control them? So… No Problem.
The "No Problem" mentality can definitely save you from lots of anxiety.
So, from these points, you can realize that Cairo, Egypt is a place where you can have lots of fun, but by taking care of some ground rules first. Stand by from our exclusive article on what you can do and see in Cairo Egypt, along with Alexandria.
Have fun.