We found out that it is pretty intriguing to create a small post to describe even part of the sight-seeings of the city of Istanbul Turkey.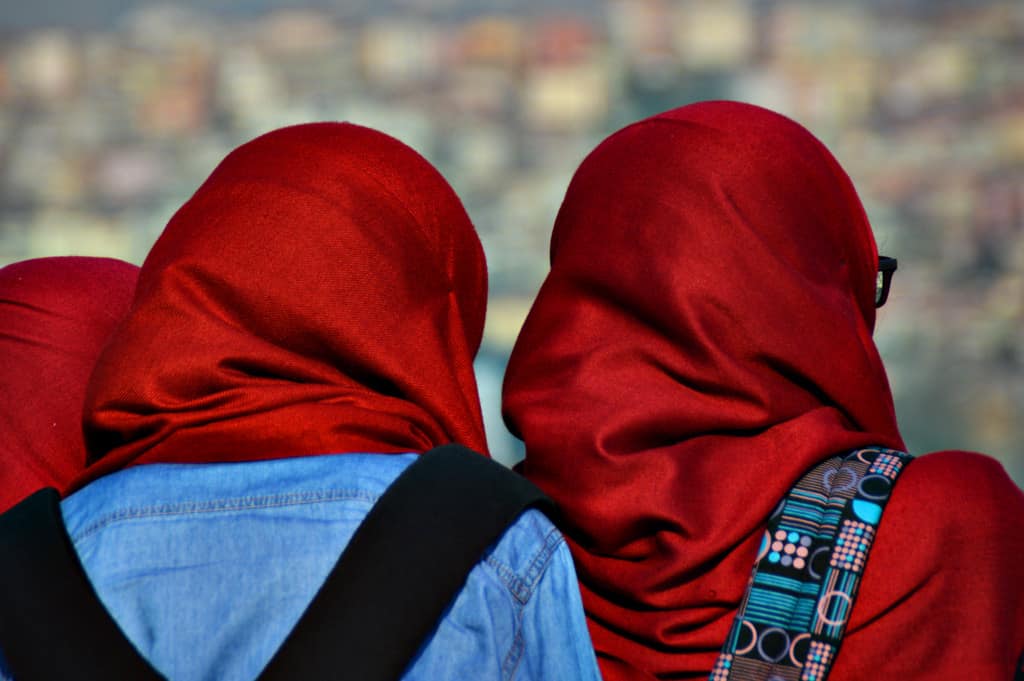 I mean, you cannot even only have one photo per case. Every spectacular site has tons of different views to provide, wherein their turn creates different feelings.
We decided to have a multi-page post (you can navigate at the end of the page) to cover all aspects of our experience there.
The eating and drinking part of Istanbul was an experience by itself; that is why we published it a few weeks ago. So, here we go.
Hagia Sophia Museum in Istanbul Turkey
The place is massive and stunningly beautiful. We already knew that it used to be an Orthodox Temple, but when Istanbul (Constantinople) was conquered, it was turned into a Mosque. Hagia Sophia is now a Museum.
The exciting part is that all the fantastic mosaics were covered with plaster then painted with Muslim paintings. Then, during the years, another two coatings of plaster were added! Some years ago, and since Hagia Sophia was characterized as a World Heritage site from Unesco, restoration started.
A large part of the internal decoration has been revealed, but the experts calculate that an additional fifty (50) years are needed to uncover the mosaics under the plaster fully!
Hagia Sophia means Holy Wisdom (the name is Greek). Its dome is slightly smaller than the Rome Pantheon. It was designed by a mathematician, a scientist, and a physicist.
A fantastic decorative wealth was removed from its interior when Istanbul was conquered. The rare decorative tiles from Istanbul Turkey can be found in markets around the city transformed into plates, priced at 3000 Turkish lire or more!
The Blue Mosque of Istanbul Turkey
It took its name after its interior blue decorative tiles and is still used as a mosque. It is also known as Sultanahmet Mosque. It was built as a counterweight to Hagia Sophia (not even close). The number of tiles sums up to 20.000! Sultan Ahmet died before it was finished.
The Basilica Cisterna of Istanbul Turkey
It was an aqueduct (not now), and you may have also read about it in Dan Brown's "Inferno." The whole place is vast, dated back to the Justinian era, and is very close to Blue Mosque. Its dimensions are 132 m in length by 65m wide. The structure consists of 336 columns. Another exciting part is that most of the column capitals are either in Corinthian or Doric Style.
At its far end, two enormous Medussa heads lie down. One is at its side, and the other is upside down. The origin of this goes back to the Pagan worship as Medusa was related to water. People throw coins and wish their dreams come true, like in fountains around the world.
The Church of Baloukli in Istanbul Turkey
This Orthodox church is related to a strange legend. The day Istanbul was conquered (named Constantinople), a monk was frying three fishes. Another monk told him that the city was defeated, and the first one did not believe it. He said, "I will believe it only if these three fishes that are half fried already, be alive again." At that moment, according to the legend, the three fishes jumped out and landed in the fountain water and are still there. The visitor can see three fishes that are red from one side but.. who knows…
Top Kapi sacred place in Istanbul Turkey
You can see the Top Kapi complex from almost any place in Bosporus. Now it consists of different museums and functional buildings (like the Judge's Court). One of the museums hosts the 3rd largest diamond globally (yep, we saw that too). Another one hosts the armory. The gardens are equally beautiful, along with the view to Bosporus.
The Egyptian Market in the city of Istanbul Turkey
This marketplace consists mainly of one main street where at its left and right, many little shops exist, which sell many goods, herbs, spices and sweets, and silk products. Sometimes, it is misunderstood for the Capali Karsi market, which is different from what you will read about here.
The Grand Bazaar (Capali Karsi) Market of Istanbul Turkey
Let me close that jaw for you. This place is h-u-g-e! To better understand its size, know that 30.000 people work in that market! Hundreds of corridors are entangled, and each one has a vast amount of shops and thousands of people walking around. Here you will find all the gold and jewelry shops, herbs, decorative, clothes, sweets, restaurants…, everything.
We were walking for around 2.5 hours, and we only had a quick passing through. There we bought some very nice glasses to drink our Turkish tea, which I enjoy. The tea was purchased from the Egyptian market. Please make a note to buy it from the shops located inside the market and not from the exterior ones.
A Cruise in Bosporus Istanbul Turkey
Take that cruise! Bosporus is a strait that holds the position of a natural border between Asia and Europe. Bosporus is also a sea of legends. Along its shores, one can see a combination of Castles, Kemal Ataturk's yacht, Galata Serai private and artificial island club, the oldest building of Istanbul (now renovated), Palaces, and lots of people fishing. You will imagine another era and get inside the actual feeling of what this area means for locals. Istanbul itself is a city that expands both to Europe and Asia. It is that huge—a city of around 20.000.000 locals. Bosporus stands in the middle, and it is beautiful.
Patriarch Headquarters & Megali tou Genous Sxoli of Istanbul Turkey
Patriarch headquarters is the Orthodox Archdiocese of Istanbul Turkey, and is considered the first in the Order of all Archdioceses of the World. It is located in the area of Fanari. Fanari was once of the best areas of Istanbul and a place where knowledge poured out. Nowadays, the general area is not so well preserved, but the Archdiocese stands strong.
Megali tou Genous Sxoli (freely translated as Nation's Great School) is a school and is the oldest – and still functional- Educational Foundation of Hellenism. The school has operated since 1454 and provided quite important graduates to the world.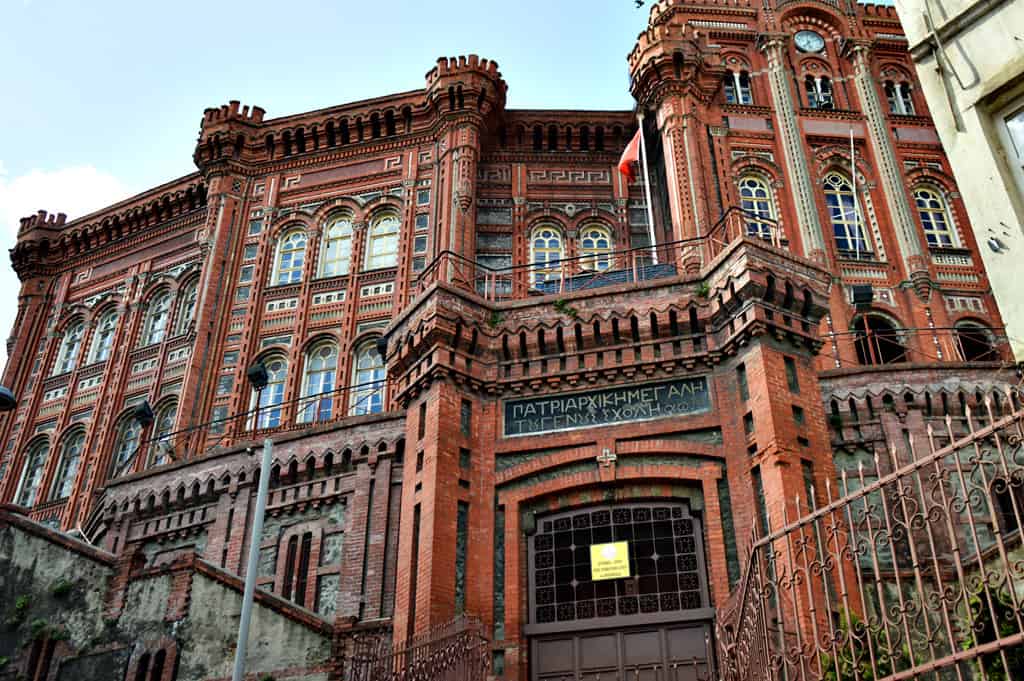 The Church of Panagia Vlachernon of Istanbul Turkey
Another legend is related to this church too. Besides the great importance this church had for many Byzantine emperors, it was said that a Patriarch named Sergios used the icon of Panagia (Virgin Mary) to eulogize the resistance of the citizens against Avarians and Persians (circa 626 A.D) by running up and down the city walls while holding it. Legend supports that there a great hurricane appeared out of nowhere and destroyed the fleet of the enemy.
The island complex of Prigkiponissa (means Islands of Princes) of Istanbul Turkey
The island complex is located at the Marmara Sea. While some claim it took their name by princes and officials going there to rest and meditate, others say the name occurred from them been there after getting "gently" exiled. You can land there by ferry. Of all nine islands, the most known are Chalki and Prigkipos. Chalki hosted the Holy Theological School of Chalki, which was active until around 1971.
Prigkipos is another picturesque island which we visited. The island doesn't have to offer much, but it is suitable for a nice one-day trip. When you are there, rent a horse carriage and go to the top of the island. The ride towards there is nice since you pass through roads with many old-style buildings, full of trees.
We had the opportunity also to attend the Holy Friday mass, which is performed a bit differently here.
This was the view we had from the harbor before departing for Istanbul, Turkey.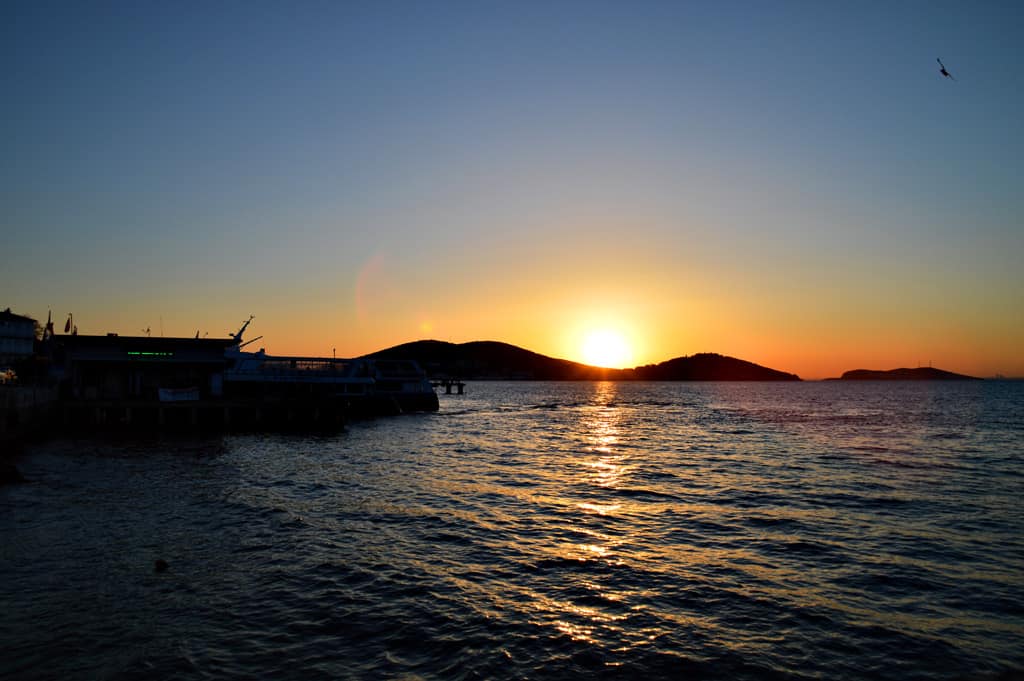 Istiklal and Taxim square in Istanbul Turkey
Taxim square got well known everywhere lately since there happened a mini-revolution against the government and lots of conflicts. The square itself is not something worth seeing. The most excellent part is the Istiklal street that starts from the square and ends up in the Galata area. Istiklal has lots of shops to eat and have sweets. It is a commercial stone-paved road where people like to walk up and down all the time. Trust us… it was lots and lots and lots of people.
Eyup Hill and
Pierre Loti Cafe
This is maybe the best way to finish a day in Istanbul Turkey. Eyup is considered a sacred place and carries lots of history to prove it. It can be reached either by car or a funicular. The best part is the view from Pierre Loti Cafe. Sit at one of the small traditional tables there, under the shade and order your tea or coffee and… gaze.
The view is spectacular and so relaxing. Both sides (European/Asian) of Istanbul are visible. You will most probably relax in a few minutes.
That was one fantastic walk-through of Istanbul. We were there for four days, and we didn't get bored even for 1 minute, as we were absorbing the legends and history of this city of Istanbul Turkey, where Greeks influenced a lot too. See our other food-related article for Istanbul.