Are you planning a trip to the Swiss Alps but don't know what to visit first?
We're telling you that the Swiss Alps are a must-see!
Those jaw-dropping beautiful mountains take 65% of Switzerland's territory, making it an alpine country.
The mountains attract thousands of visitors because of their beauty and countless fun things you can do once you get there.
We're starting with some of the most attractive alpine towns and seeing what they offer to the interested tourists to explore the Swiss Alps. The Swiss Alps can be part of a day trip from Zurich.
Also, read this post on things to do in the country.
Interlaken inthe Swiss Alps
In the heart of the Bernese Alps, surrounded by Lake Brienz and Lake Thun, is the resort town of Interlaken. Due to its high altitudes, this area is among the once characterized as the Top of Europe (here is a guided tour for that).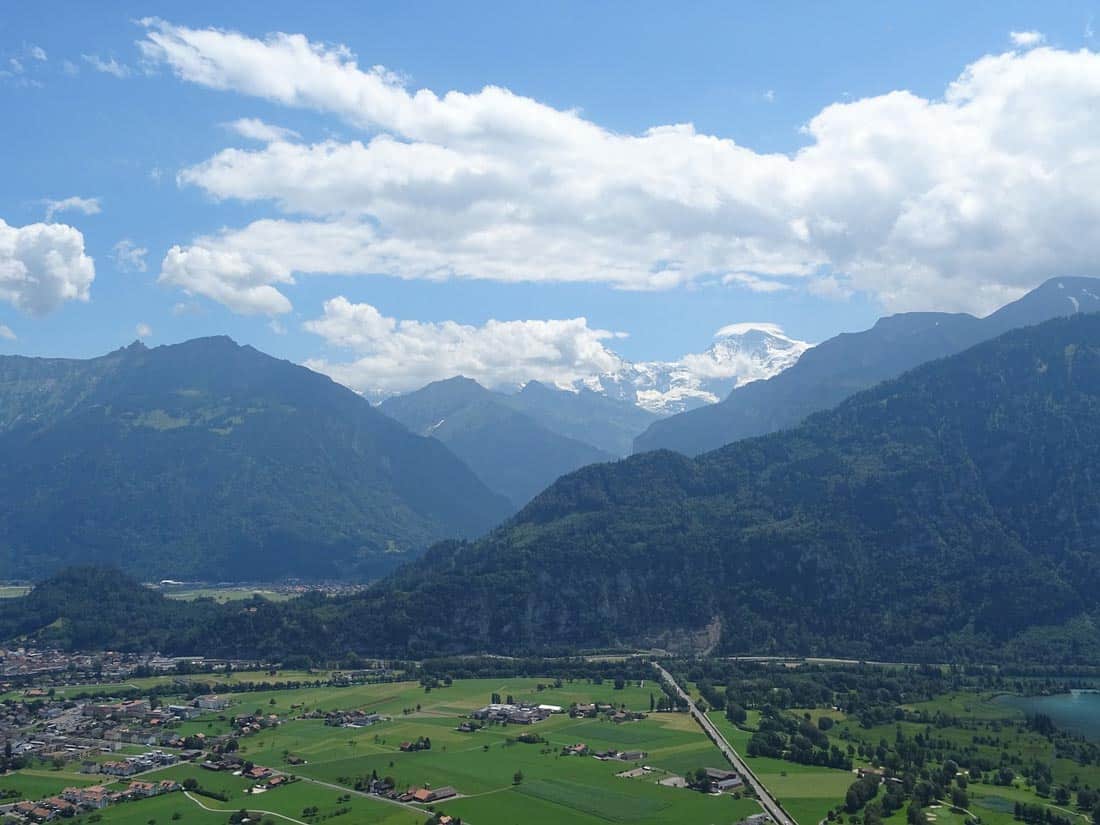 In case you're wondering, the town got its name because of its position in the center of two lakes. The town is known for its proximity to the Bernese Alps and as a way to reach them and the lakes.
What to do in Interlaken, in the Swiss Alps?
Surrounded by some of the highest mountains of the Alps like Eiger, Monch, and Jungfrau and blue and turquoise lakes, it is a place that attracts all types of people:
Adrenaline-craving people and those who prefer the calmness of this place.
Depending on what type of person you are, you can choose from several activities offered there:
Hike the marvelous trails
Which is one activity which is cheap and also rewarding?
What else but hiking?
Interlaken offers many trails through which you can walk for hours and enjoy the most fantastic mountain scenery you have ever seen in your life.
Depending on your experience as a hiker, you can choose from a bunch of hike trails:
Wasserfall Loop (easy hike)
Eiger trail – Kleine Scheidegg (intermediate hike)
Panoramaweg Richtung Faulhorn – Schynige Platte Loop (expert hike)
Adrenaline-fueled activities
Paragliding
Nothing is better than having a view of the whole region from above. This activity can be booked beforehand through several companies.
Skydiving
If paragliding wasn't thrilling enough for you, there is always another option to try. Dive into the sky and experience the beauty of the mountains from high above by booking skydiving companies.
Rafting Excursions
Besides air adrenaline, you can also experience water adrenaline through river rafting excursions. We recommend rafting in one of the most known rivers Lütschine where you'll get a guaranteed adrenaline rush. The town is known for its variety of rivers, so you have countless options to try rafting.
Visit the highest railway station in Europe.
At the summit of the Jungfraujoch is one of Europe's most elevated railway stations. It's open to visitors all year long. To go up there, you have to change two trains.
The starting point of the train is the station you select.
When you arrive at Kleine Scheidegg, you'll have to change trains from there to the top.
On your journey towards the summit, you'll see mesmerizing views of the Eiger and Monch mountains. On cloudless days you can also view Italy, Germany, and France.
Get on a hot air balloon.
Whenever you feel like you've seen all that the town has to offer, Interlaken proves you wrong.
This time by providing a full view of the town from the comfort of a hot air balloon.
Not only emotionally thrilling but also a hypnotizing activity.
Visit the village of Grindelwald.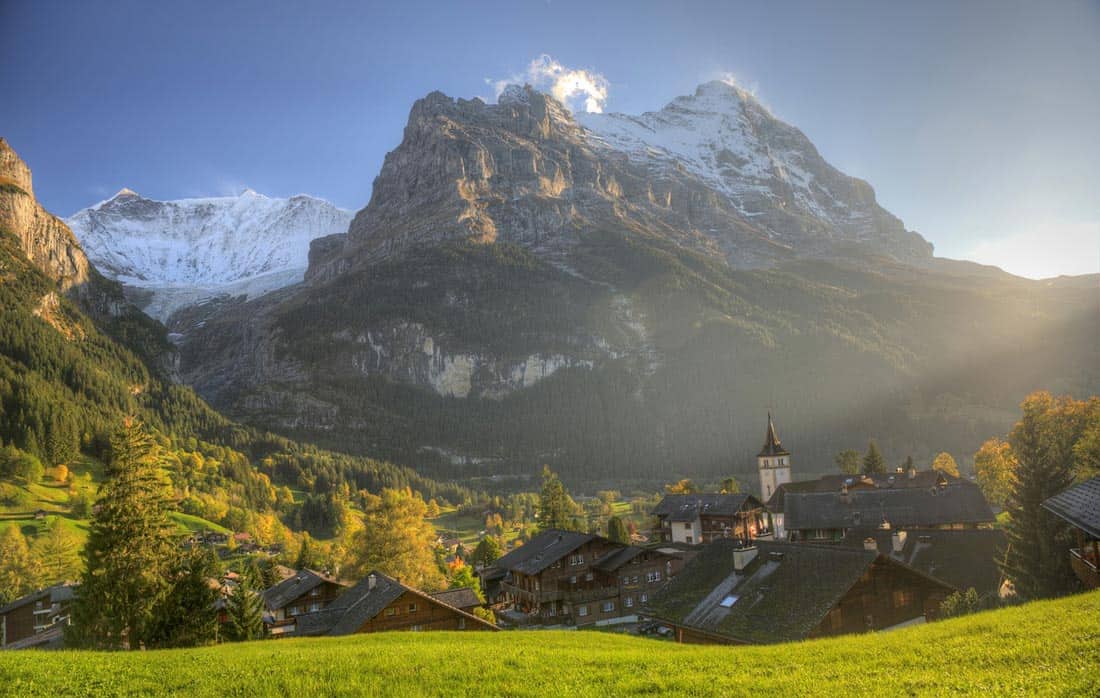 The name of this village must remind you of a character from the Harry Potter franchise. However, it has nothing to do with it except that it gives you a magical feeling whenever you're there.
If in Interlaken, make sure you find time to visit this place that looks like a fairytale with mountains that tower it and beautiful turquoise lakes.
How to go there?
If you are flying to Switzerland, the nearest airport is Bern. From Bern, you can use the public rail system.
If you want to drop by near the city, you should take the West train.
However, even if you choose the other one, Interlaken East, it's not a problem since it is a small town, and you can navigate it easily.
To book your train rides to these magnificent places, use this service. For booking your hotel, use this, and for finding the best flight, use this one. Explore this site with all the deals to get your hiking gear at the best possible prices.
Zermatt
Zermatt is one of the cutest towns in Switzerland.
It is located in the canton of Valais and is surrounded by high mountains such as Matterhorn, Monte Rosa, and Gornergrat, among others.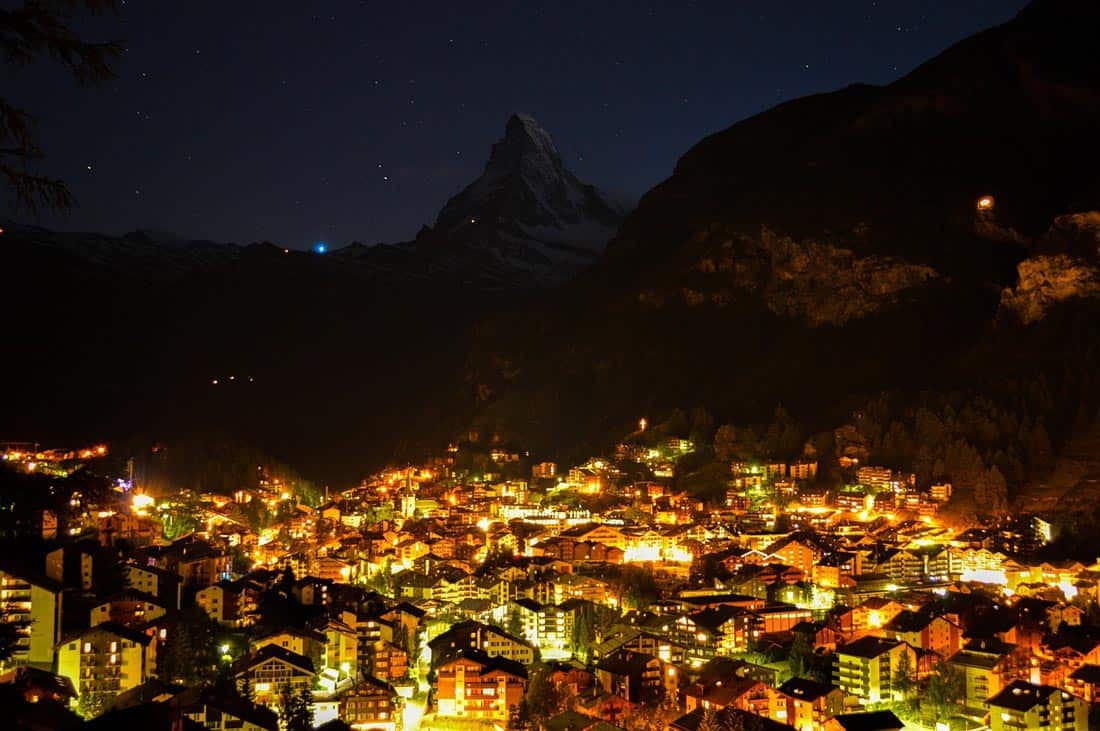 It is a mountain village, and it offers visitors a range of activities related to them.
There is snow all the time, making it one of the best destinations for skiing.
What to do in Zermatt?
As a town surrounded by natural wonders, you will have much to see during your trip. We hope you have time on your hands to view them all.
Hop on the train and visit Gornergrat
Not only will you reach the summit of the Gornergrat, but you'll also get to see a breathtaking view of the Matterhorn along the way.
The starting point is the station. Up to the top, you can go by the cog railway. The whole ride lasts only 30 minutes.
However, you'll have a marvelous view of lakes, tunnels, and forests of larch and stone pine in those minutes.
See Klein Matterhorn
Klein Matterhorn is known as Glacier Paradise.
This mountain is the closest you can get to the actual Matterhorn mountain. However, you'll not see the view of Matterhorn as we know it, but you'll get to see it from a different perspective.
At 3 883m, this is the highest mountain in Europe, accessible by aerial cable car.
Do some skiing
It is considered to be one of the best ski resorts in Switzerland.
It holds the title of the best ski resort there due to a biannual survey voted by skiers. The skiing piste here is 238 km and is suitable for all skiers.
The mountains are filled with snow all year round, making it one of the most frequented.
Go on a Helicopter Cruise and Paragliding
If the view of the Matterhorn from below is not enough for you, you can see it from all angles through helicopter cruises organized there.
Prepare to be left speechless by the view of the Matterhorn peak.
Paragliding is another way to experience the magic of this place. Many companies here offer their paragliding services to fulfill your wildest adventurous dreams.
Walk to Gorner Gorge
This place has exceptional beauty.
The serpentinite rock in this place is 220 million years old. It's only 15 minutes away from the end of the village. This place is closed for visitors from mid-October to the end of June.
To witness a unique natural phenomenon, you should visit Gorner Gorge in September between 15 -16 and see for yourself how the water of the glacial lake turns into a turquoise color.
Try Ice Skating and Curling
For ice sports enthusiasts, Zermatt provides the opportunity to play curling in the six outdoor ice rinks.
In the third week of January, it organizes a competition in which 60 teams compete.
Many ice fields are offered to the tourists to ice skate. All levels of ice skaters are welcomed, even the children.
Those ice fields are available every day.
How to go to Zermatt?
If you are flying in from a different country, the nearest airports are Geneva and Zurich.
From there you can choose from a range of means of transportation.
By train
It is a car-free town.
The road leading to the town has been closed five km from the city. You can drive in your car until you reach Täsch, leave your car in one of the parking spaces, and get a coach. 
By taxi
You can go by taxi if you don't want to get on. However, the same rules apply. You're going to have to switch taxis in Täsch.
By rental cars
There are companies in Täsch and Zermatt which offer rental vehicles. The vehicles are available to be used on the Täsch-Zermatt road.
St. Moritz in the Swiss Alps
What can we say about St. Moritz besides being the chicest and fanciest place to visit in Switzerland?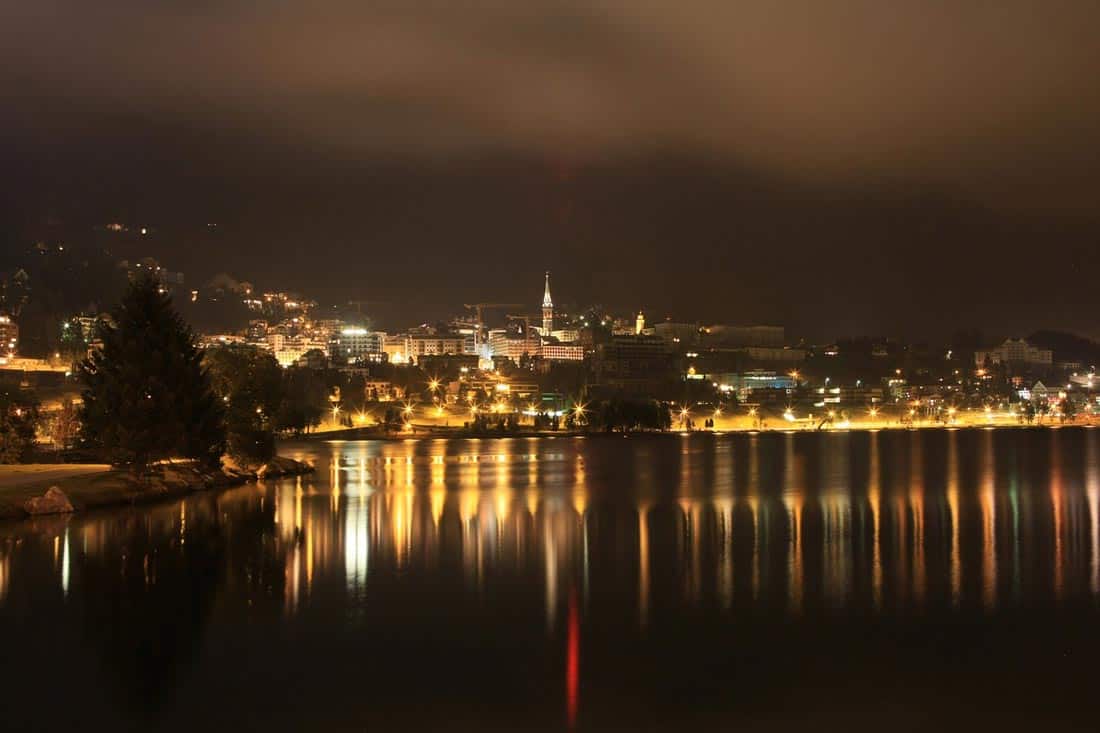 If you want to go there, be prepared financially because it will cost you an arm and a leg.
It is the second most expensive vacation resort in the world. However, whatever money you'll spend there, it's going to be worth it.
What to do in St. Moritz?
There is so much to do. You won't know what to choose to do first. We're going to suggest a few activities down below:
Lake of St. Moritz
Even though this lake is never warm enough to jump on it, you can go and do many activities there, depending on which season you're there.
In the summer, people go and do their physical activities there. Runners and cyclists use the road beside the lake, while rowers use the early morning clear water.
In the winter, the lake is frozen, so people use it as an arena for horse racing, cricket, and polo matches.
Go skiing at night
Skiing is a great activity. Imagine how great it can be to do it at night. In the winter, the runs in the nearby Corvatsch open from 7 pm until late at night. The town provides this opportunity to its visitors.
Take the Glacier Express
Also called the "Slowest Fast Train," it is an 8-hour trip to Zermatt.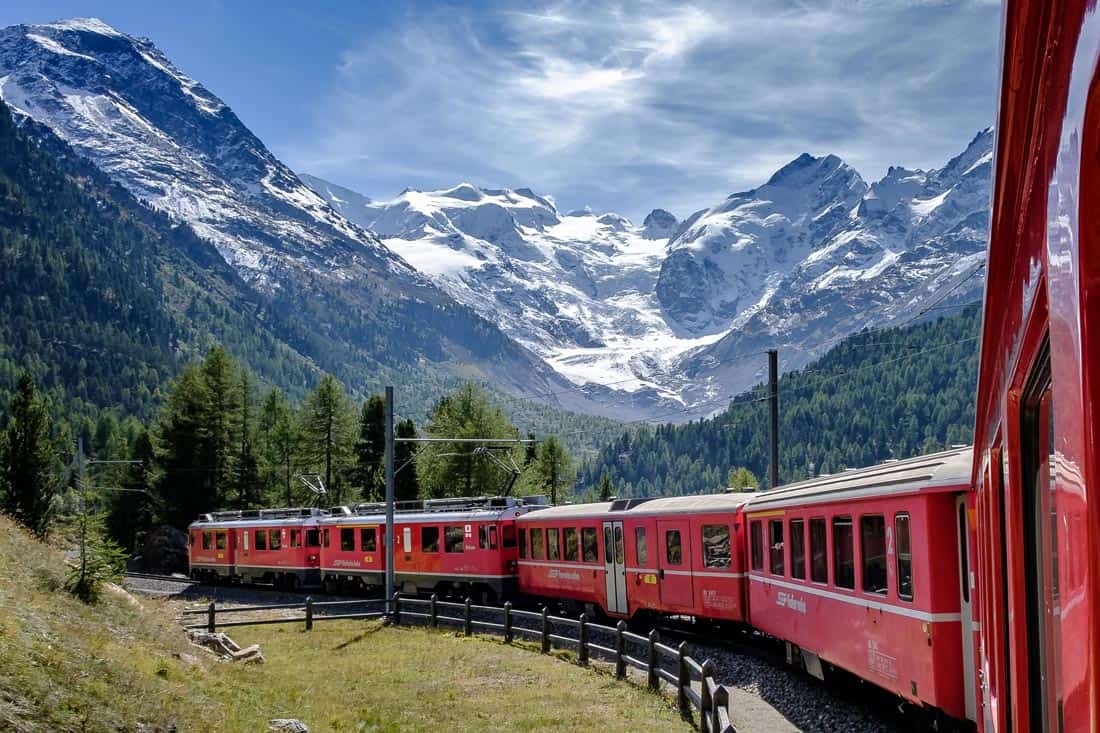 In that ride to the Oberalp Pass, you'll pass 291 bridges and get through 91 tunnels. This is another way to get to see the best of what the Swiss Alps have to offer.
Try Celerina Bobsled Run
Celerina Bobsled Run is the only natural ice bob run in the whole world. It is available from the end of December to the beginning of March from 9:30 am – 12:30 pm.
Don't miss this opportunity to enjoy this ride and feel the high-speed Olympic riders must feel.
Make use of the skis.
What else can you do in a town famous for its ski runs and hosting the Winter Olympic Games? Skiing, of course.
However, before you do so, you'll need a ski pass, which you'll have to pay. The prices change depending on how many days you plan to ski.
How to go to St. Moritz?
St. Moritz is nearest to the airport in Zurich. It's only four hours away. How you decide to go there is in your hands.
By car
If you want to arrive earlier at your destination, you can choose to travel by car. You can choose a rental car if you don't have a car but still want to ride one.
By train
You need to take one from the airport to the Zurich train station, and after that, you buy a ticket and travel to St. Moritz.
The whole ride will take from 3.5-4 hours. If you have to choose between a car or a train ride, choose the latter.
On the way there, you'll have a chance to see why the Swiss Alps are widely known.
The reputation of the Swiss Alps is convincing enough to visit them. However, if you need a push in this direction, we hope we have persuaded you to go over there.
Have fun and enjoy the mighty Swiss Alps!
We want to thank Diana Bajraktari for her additional feedback on this post. Diana's current obsession is Switzerland. Also, read 7 Best Cities for Honeymoon in Italy and Best Dolomites Hiking Trips.