Here is a guest post from Roger for all the things to do in Switzerland. We love to host guest posts from people who love the country they live in.
Switzerland is a fabled land of mountains, chocolate, watches, and money. And if you ever travel there you will find that all of those are true.
But what most people don't know is that there is an endless amount of unique experiences to be had too.
What are the Things to Do in Switzerland in 2020?
Anything from throwing yourself off a perfectly good dam to stuffing yourself with cheese til you (almost) can't stand the sight of it anymore.
This Alpine wonderland has it all.
In this post, I am going to share 10 epic things to your travel bucket list for 2020.
Ready to roll? Let's get started… Here are the fun things to do in Switzerland.
Ride A Train Through A Mountain To The Top Of Europe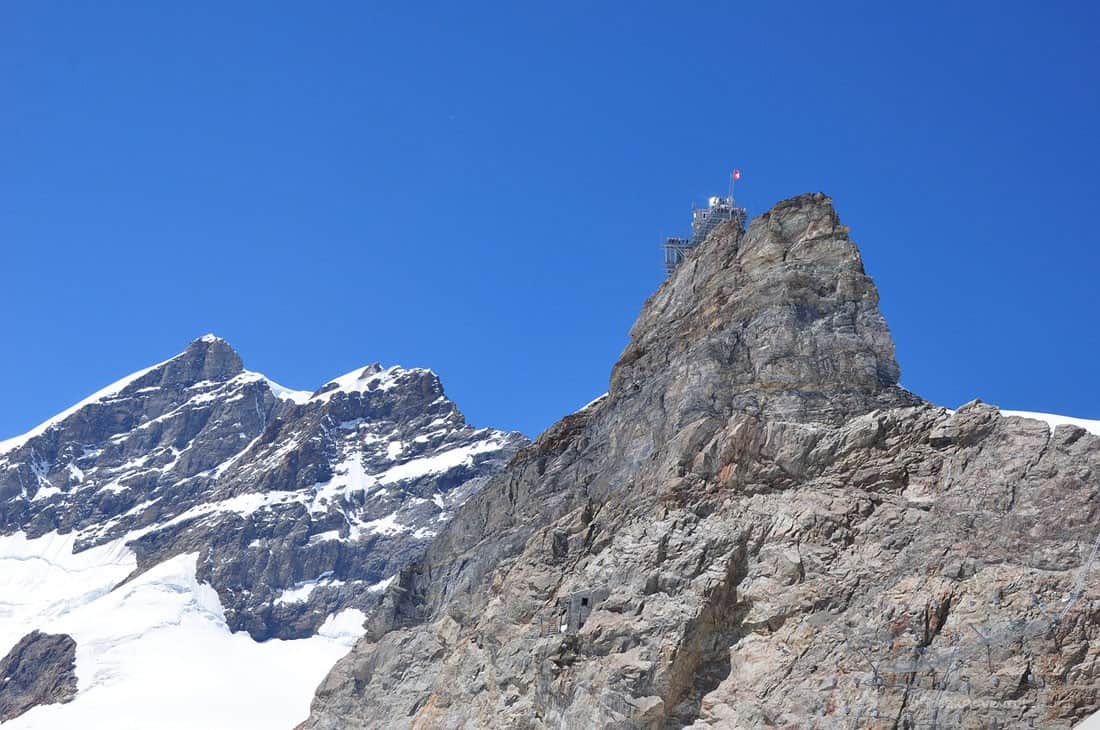 You might have heard that the Swiss build a lot of tunnels.
After all, the country is filled with mountains, so, it's either up and over, or plow through with a tunnel.
The Swiss do both with top-notch Engineering!
On top of these amazing everyday feats, the Swiss have also managed to build the highest train station in Europe: the ​Jungfraujoch​.
And, to get to this stunning location you have to pass through a mountain, literally!
The Jungfraujoch sits just behind the infamous Eiger mountain right near Interlaken. And to get to it, these crazy guys built a tunnel right through the mountain.
Not only that, they created a few windows that peak out the front of the Eiger, and a stop at a glacier too.
For me, the Jungfraujoch, complete with its views of Switzerland's longest glacier (the Aletsch) is a Switzerland must-dos thing.
Shoot Through The Longest Tunnel In The World
Continuing on with the tunnels theme is the recent opening of the ​Gotthard Basis Tunnel connecting the North and South of Switzerland.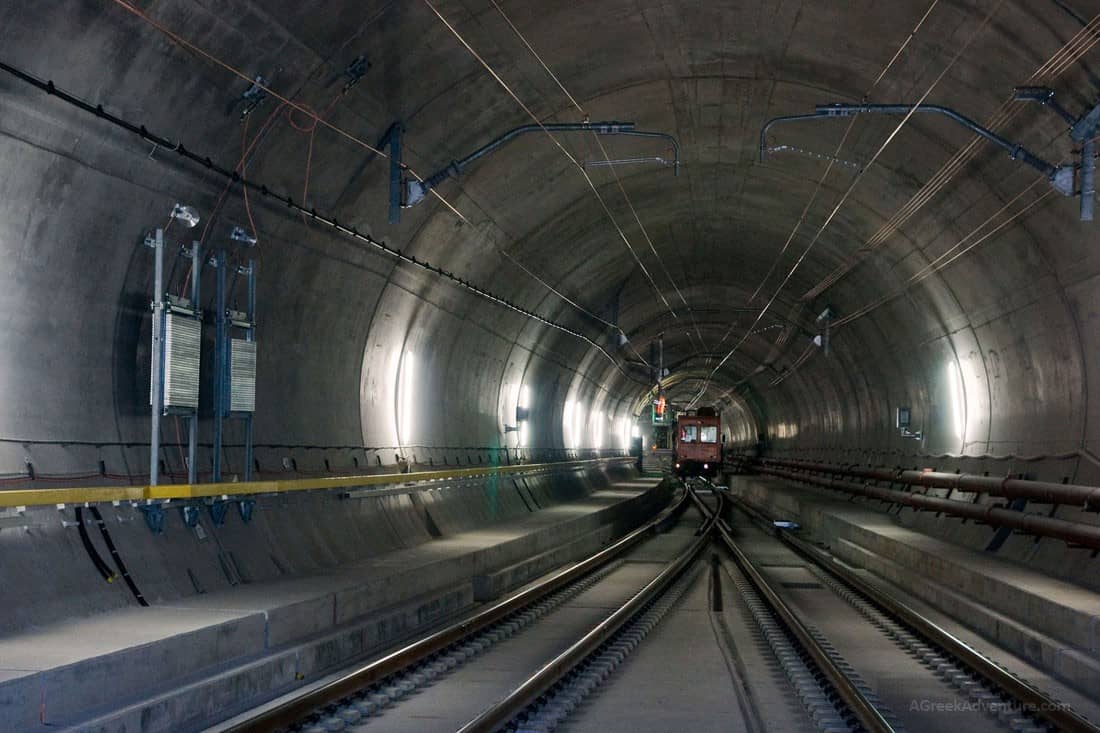 Unless you are a tunnel freak you may have missed all the news, but if you need to head South, it's an amazing feat of engineering to check out from the comfort of your train:
Here are some Gotthard tunnel statistics to blow your mind:
The tunnel is 54 km (33.5 miles) long
It takes approximately 20 minutes for a train to pass through it
The train reaches speeds of 250 km/hr (155 miles/hr) on the very straight track
The journey between Zurich & Milan is now over 45 minutes shorter thanks to the tunnel
Any train heading from the North of Switzerland to the Italian part (or even Italy) will pass through it. Trains to Milan, Locarno, Lugano and anywhere in that region.
Just remember to be on the lookout for Erstfeld, the stop just before you head into the tunnel.
Jump Off The The Verzasca Dam (Like James Bond)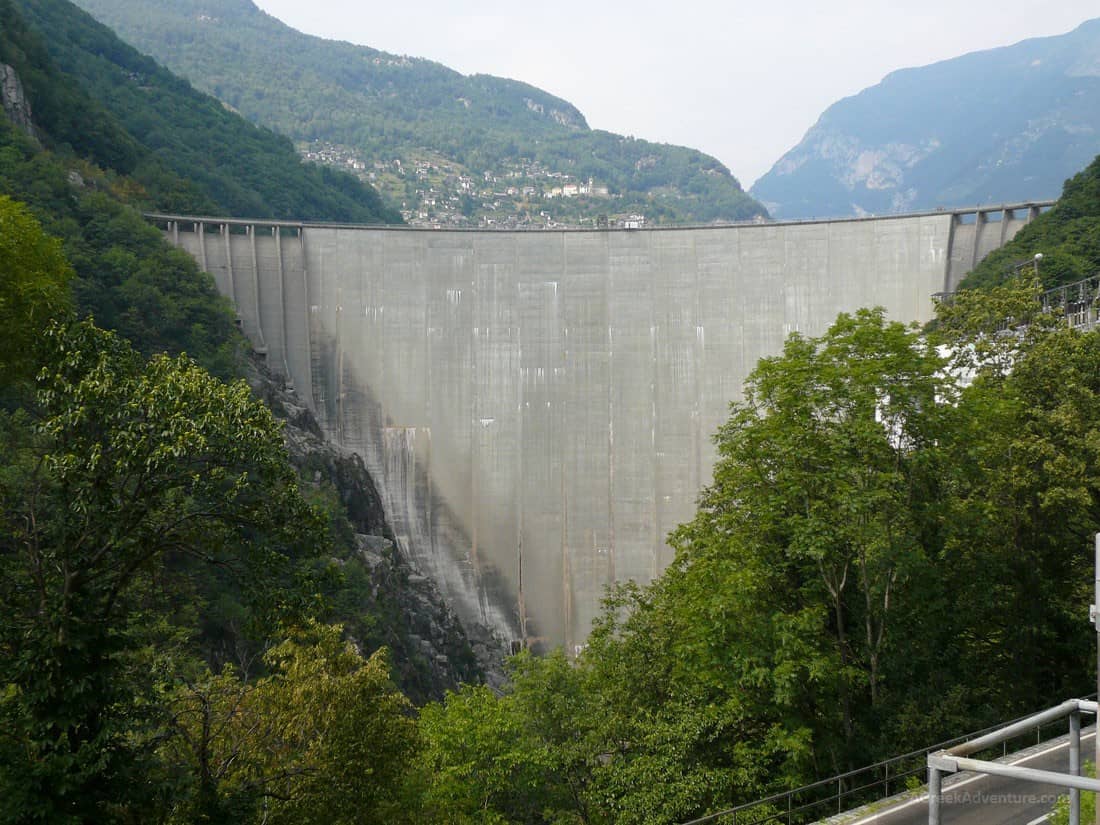 Switzerland has a history of appearing in James Bond movies, and with all the mountainous scenery it's really no surprise.
Mr. Bond has dodged wrongdoers on Swiss mountain passes.
Fought them on gondolas high above the valley floor However, the opening scene in the Golden Eye really took things to a new level.
Do you remember it? That scene where James Bond launches himself off the dam​ by doing a bungee jump right to the bottom.
Of course, he makes it look quite simple and not so scary, but my heart was in my throat for sure.
Well, guess what? You can do that too.
If you have the cajones! Just head down to the Verzasca valley in the south of Switzerland (via the Gotthard tunnel mentioned above) and ​sign yourself up!
It's in a stunning area of Switzerland, a valley just outside of Locarno, where you can also do the canyoning I will mention in the next section.
So, even if you don't intend on throwing yourself off a dam, it's a stunning view nonetheless and one of the cool things in Switzerland.
Slide Your Way Downstream
When all that snow in the Swiss Alps melts, it creates some stunningly blue and fast-running rivers.
And to make the best use of this, some creative Swiss tour operators have come up with a crazy activity called: Canyoning.
Canyoning involves squeezing yourself into a wetsuit, then throwing yourself down a river, often off waterfalls, to create one heck of an experience.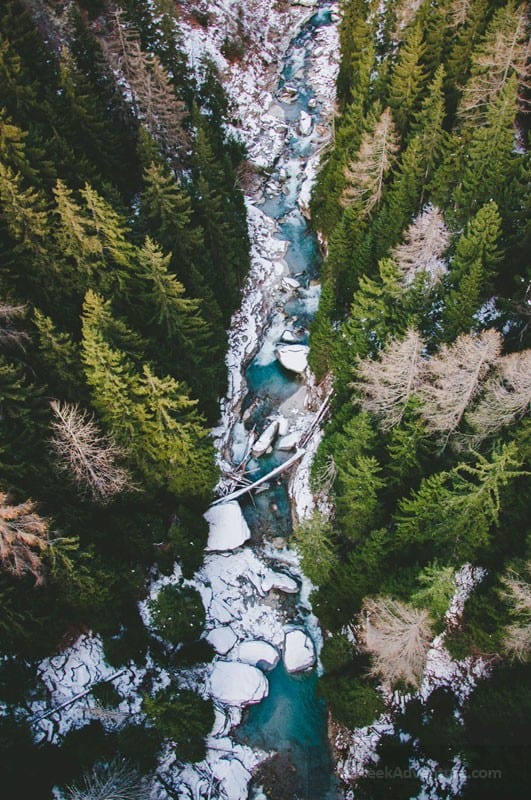 There are a number of places you can do this including ​the Verzasca Valley​ (if you are doing the Bungee off the dam you can do both in one day) or Interlaken (where the Jungfraujoch is).
So, you can usually combine a few things in one region.
Take A Helicopter Ride Over The Alps
Sure, there are helicopter rides everywhere around the world, but none quite like the one I took last year in Zermatt.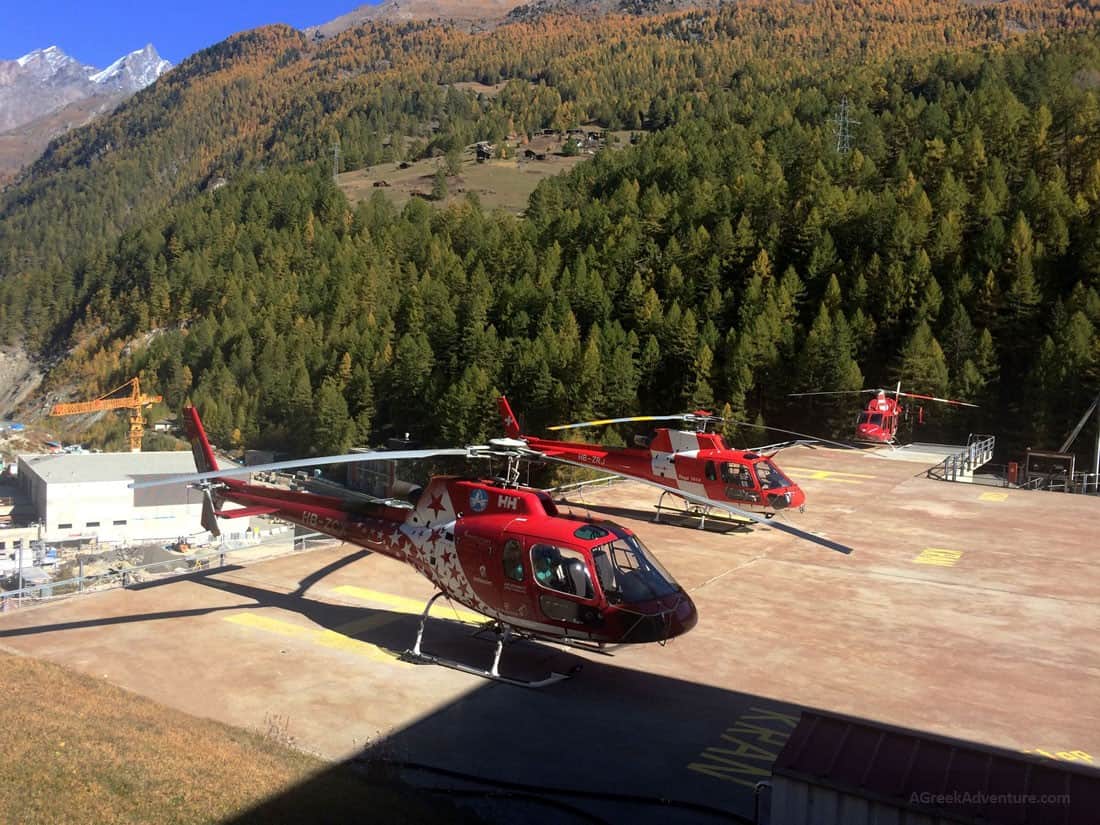 Zermatt on its own is worth a visit.
It is a car-less town, right in the heart of the alps, that is as quaint as any alpine town can be. And, to top it all off, it is surrounded by some of the highest peaks in the Alps, including the iconic and pointy Matterhorn.
Now, imagine this stunning setting, but instead, from above.
That is what Air Zermatt can do for you. I recommend taking the 30min scenic ride, which quite honestly, will blow your mind.
They flew us over glaciers (I thought we were going "into it" at one point) within touching distance of the top of the Matterhorn (unless you are a climber, you will never see this view) and countless other highlights.
Sure, it's expensive, but you will never doing anything like it.
Discover What All The Fuss Is About Watch Making
Switzerland is just a little bit famous for watches. You know, Rolex, Omega, Tissot, Breitling, Rado and little ol' Swatch!
And, there are countless more (but I won't bore you).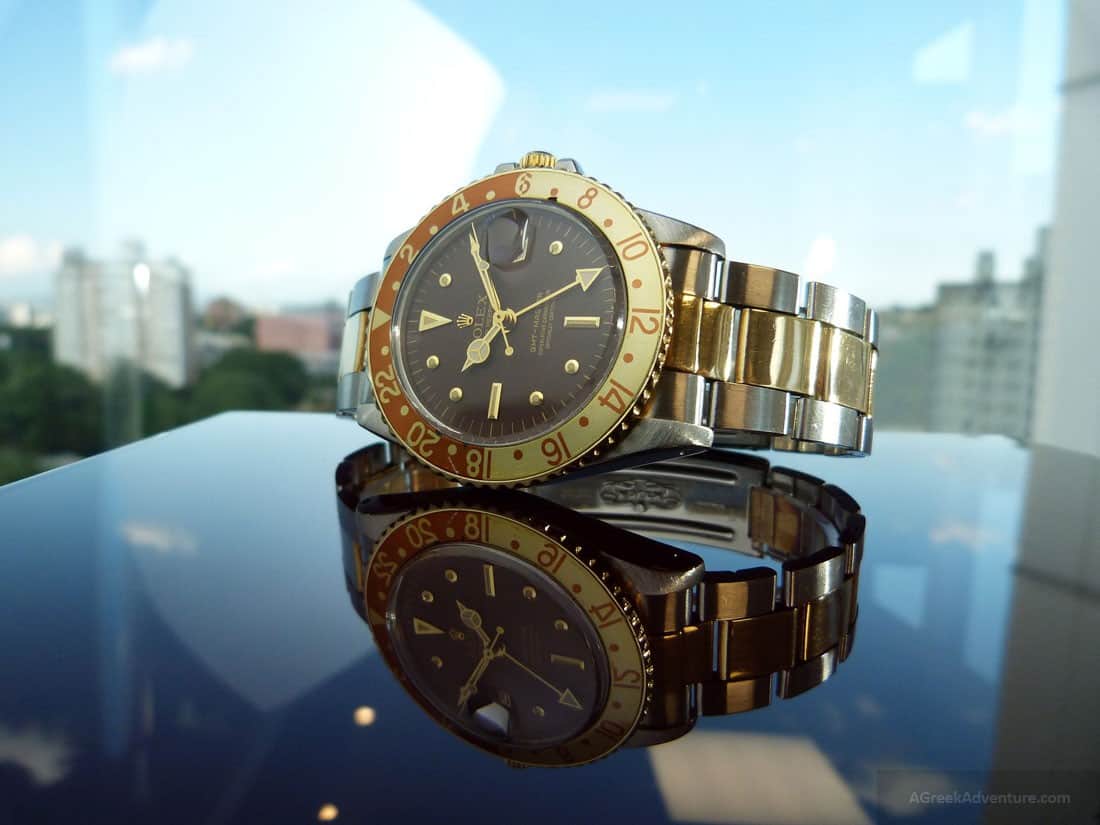 Why not take a little time out on your trip to dive deep into watchmaking history, culture and technology and see what all the fuss is about.
You will be surprised how complex, minute, insanely time-consuming and drama-ridden this industry can be.
Depending on which part of Switzerland you find yourself in, there are countless opportunities to visit one of the watch manufacturer's museums​ or public collections.
It's a once in a lifetime opportunity to see Swiss watchmaking at its best.
Eat Yourself To A Chocolate Death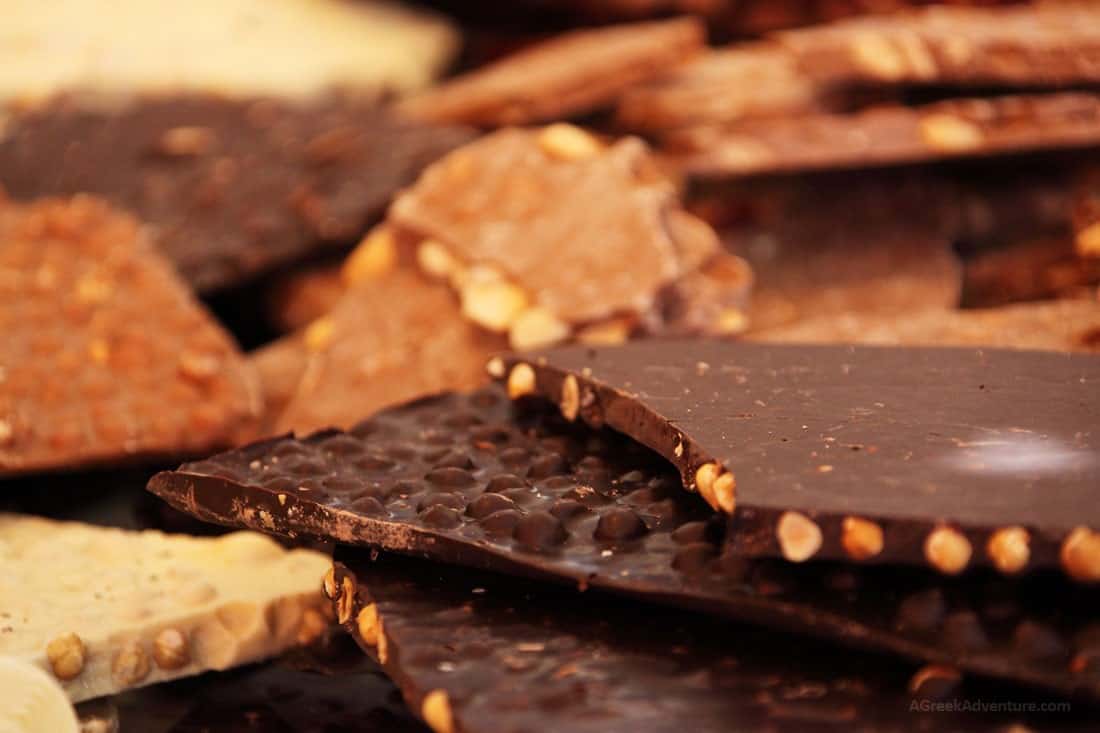 You know chocolate is good for you, right?
And when you are in the home of chocolate you absolutely have to immerse yourself in at least one chocolate experience.
Here are a couple of ideas for you: If you are in the French part of Switzerland, I recommend heading to ​the Callier Chocolate factory​ for a tour you won't forget.
You can also combine it with a trip to Gruyere, home of Switzerland's tastiest cheese (no, not that "hole-filled" Swiss cheese you probably know, this is even better!).
Or you can simply visit some of the local chocolate shops in both Zurich and Geneva, and even throw in a trip to the Lindt factory outlet store in Kilchberg outside Zurich.
Soak Up Some Liquid Cheese, With Bread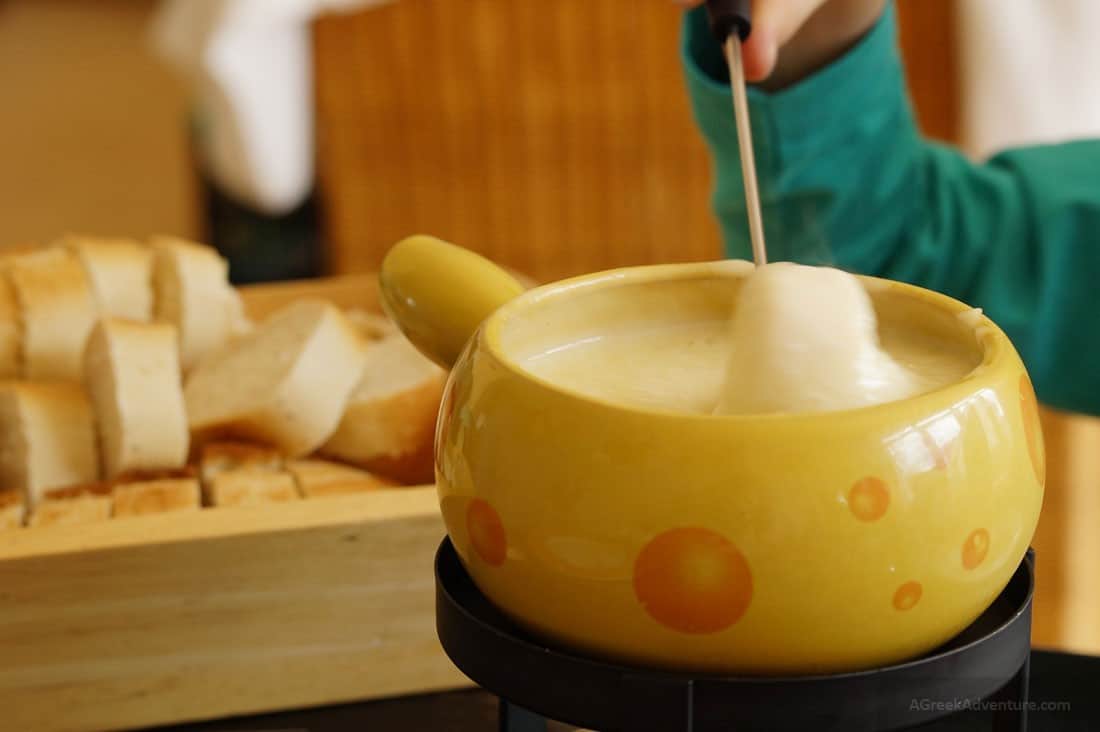 You can't leave Switzerland without trying at least one Cheese Fondue and many Swiss capitals have great restaurants that can help you with that bucket list item.
However, if you want to take it to the next level, why not immerse yourself in a ​fondue experience while riding a historic tram​.
Zurich has one such trip on offer, where you can not only get your fill of fondue but also see the sights at the same time.
If you have ever ridden those tour buses in big cities, this is just like that but way better. You get wined, dined and all from the inside of a historic Zurich tram.
Ignite Your Passion For Aliens, In Switzerland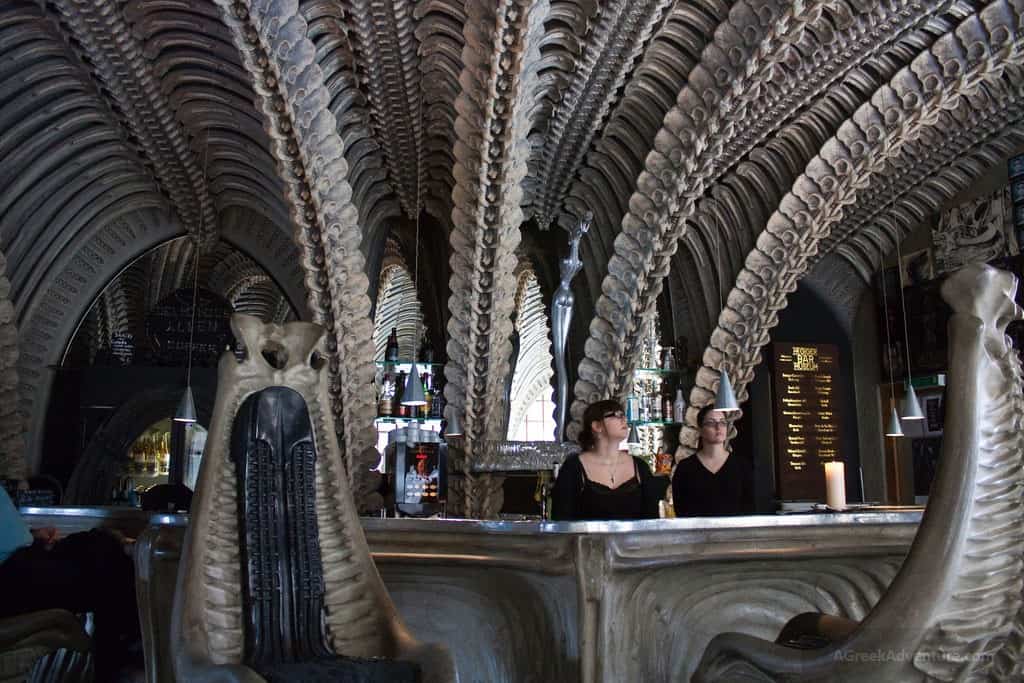 Who hasn't seen at least one of the Alien movies? Hands up! And who hasn't lain awake afterward, wondering if that funny feeling in your stomach isn't an alien growing inside you? Let's move on.
Well, the creator of those disgustingly scary aliens in those movies, along with many of the backdrops, was H. R. Giger, a Swiss local.
So, while you are here you can ​visit his museum which is conveniently located in the stunning town of Gruyere.
This is a historic town at the top of a hill, complete with a town square, wall, and castle.
Giger bought a few of the old buildings and made his art museum, as well as an Alien-themed bar.
So, after taking in all his warped ideas in the museum (including a gun loaded with bullet-people) you can also have a drink in his Alien-themed bar, right next door.
You will never get an experience quite like sipping a gin and tonic while surrounded by aliens, literally! Everything is Alien-themed in this bar including the walls, chairs, bar and some rather odd ideas in the restrooms.
It's up to you if you want to visit, but it's a once in a lifetime experience.
Relax In An Outdoor Spa In The Alps
After you have exhausted yourself with adrenaline-pumping activities and filled yourself with local Swiss food, it's time to relax.
There is no better way to do that than in a designer Swiss spa right in the heart of the Alps.
Surround yourself with snow-capped peaks, fresh mountain air and perhaps even the sound of bells jingling on distant cows grazing.
One of my favorites, that is definitely not going to blow the budget, is ​Rigi Kaltbad​.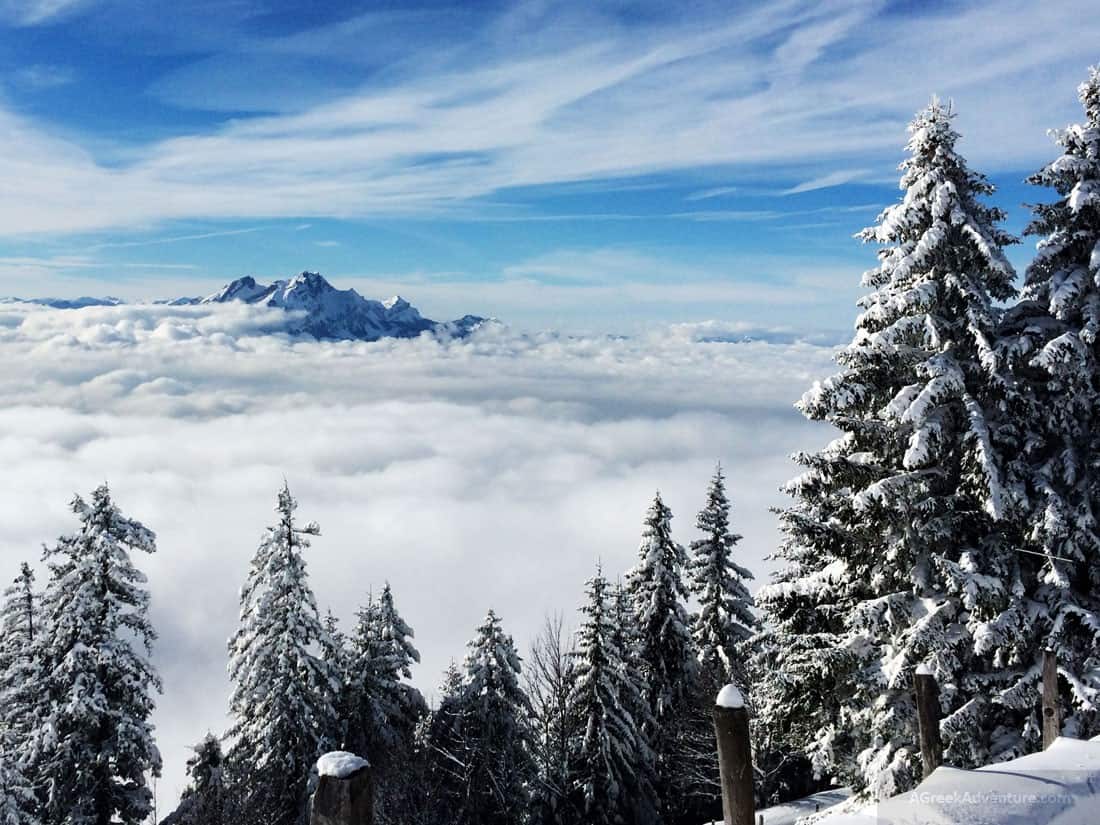 It's a super modern spa designed by one of Switzerland's most famous spa designers (yes, there is such a thing) that also has stunning views over Lake Lucerne and the mountains in the region.
You should combine it with a day trip and boat road from Lucerne. You can take the boat from the shore of the lake downtown, right to the gondola in Weggis.
From there, take the gondola to the top and land right at the front door of the spa. All you need to do is bring your swimsuit, and some warm clothes for the boat ride back!
What is the Best Time to Visit Switzerland?
Depending on the things you want to do in Switzerland, the season to visit varies.
Weather varies extremely too, so you need to plan carefully.
Do avoid borderline travel. This means that it may heavily snow during early spring and/or late fall.
Important notes:
Spring: Spring is really green with all the flowers and trees blooming. However, if you plan for high alpine hiking then even May is early enough.
Summer: Summer and especially June is the time where hiking experiences start. July and August are the high peak months for visitors.
Autumn: September and October are great for outdoor activities. Less busy hiking trails and nights are slightly cold, while day time is sunny. Keep in mind that mist and fog start creeping in many valleys.
Winter: Snow and cold. Ski areas may not be open all the time. It depends on the severity of the weather. Christmas to January is rather busy when it comes to ski resorts.
That's 10 Epic Experiences
Phew! That's 10 epic and unique experiences. Switzerland certainly does have the scenery, location, and adventure activities to keep absolutely anyone entertained for months on end.
All you have to do is make it your next travel destination and the rest will take care of itself.
I hope you found at least one adventure to suit your tastes and have already noted it down for your bucket list have fun in Switzerland.
See you soon, in Switzerland!
Bio: Roger is an Aussie ex-pat living in Switzerland who spends as much time as he can traveling and visiting every corner of this amazing country. You can find him blogging about it here or on Twitter here.