Being in Germany before, we plan to visit Berlin. We wondered what to do in Berlin in 3 days. So, we asked and researched to be able to make a plan.
Berlin, Germany, is brimming with culture and history.
From its spectacular delights to its soul-searching depths, one thing is sure about this destination- you won't leave the same person.
So brush up on your German, get your luggage together, and be prepared to walk, walk, walk. Don't miss out on this spectacular stop.
Read our weekend in Berlin post guide. There are many places to visit in Berlin in 3 days (or more) that may make you revise your length of stay.
On top of the ones mentioned here, there are the Bode museum, the Pergamon museum, the Holocaust memorial, the Victory Column, and so much more.
The Museum Island is listed as a UNESCO World Heritage site.
What To Do in Berlin in 3 Days
There are many choices when it comes to deciding what to do in Berlin in 3 days.
So you will need to figure out how you will be traveling to get to all these unique sites. There are several ways to get around Berlin.
Of course, you can walk or take one of the many buses that travel to all the most essential destinations.
But one thing you might consider is biking.
There are bikes everywhere in Berlin. There are even some guided bike tours you could join. If you wanted, you could also stay at an inexpensive hostel and rent one of their bikes for a day.
Biking is a great way to explore the city if you want to take it all in and not just see it zoom by you on a bus.
If biking isn't your thing, that's okay, though. Buses are available.
Whichever method you choose, you're going to need your transportation well planned out for the first day when you will hit a lot of major attractions.
Are you looking for where to stay for your what to do in Berlin in 3 days itinerary? Check prices here or/and here. Always get travel insurance!
Heads up! Here is a list of guided tours ideas for Berlin:
What To Do in Berlin in 3 Days: Day 1
The Reichstag Building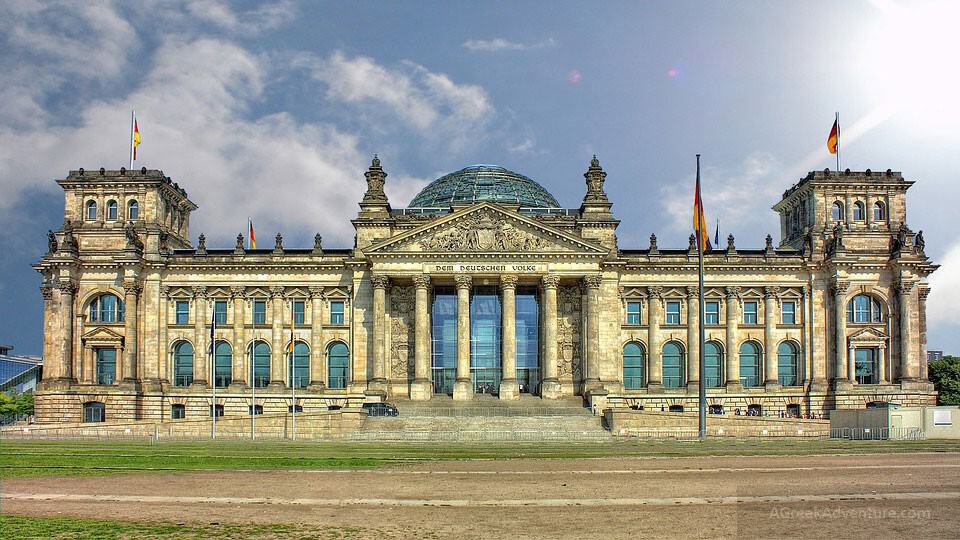 Those in the know say this is a must-see, which is why you will need to book this well in advance.
Through the seventeenth century German Empire, to the Nazi occupation, through the cold war and reunification, even surviving a fire, this striking building has seen it all.
Currently, it is being used as the city's parliament building and provides free tours with advanced notice. Each tour lasts twenty minutes and is packed with history. The tour ends at the beautiful rooftop terrace dome.
From there, you will have a brilliant view of Berlin.
If you're interested, press a button, and audio guides will give you information about the places you are viewing.
If you need a break, you can even stop for some food at the rooftop restaurant.
Again, this cannot be emphasized enough; you must book in advance. This is a top-rated tourist attraction.
Brandenburg Gate
Nothing says, "Welcome to Berlin!" like the iconic Brandenburg gate.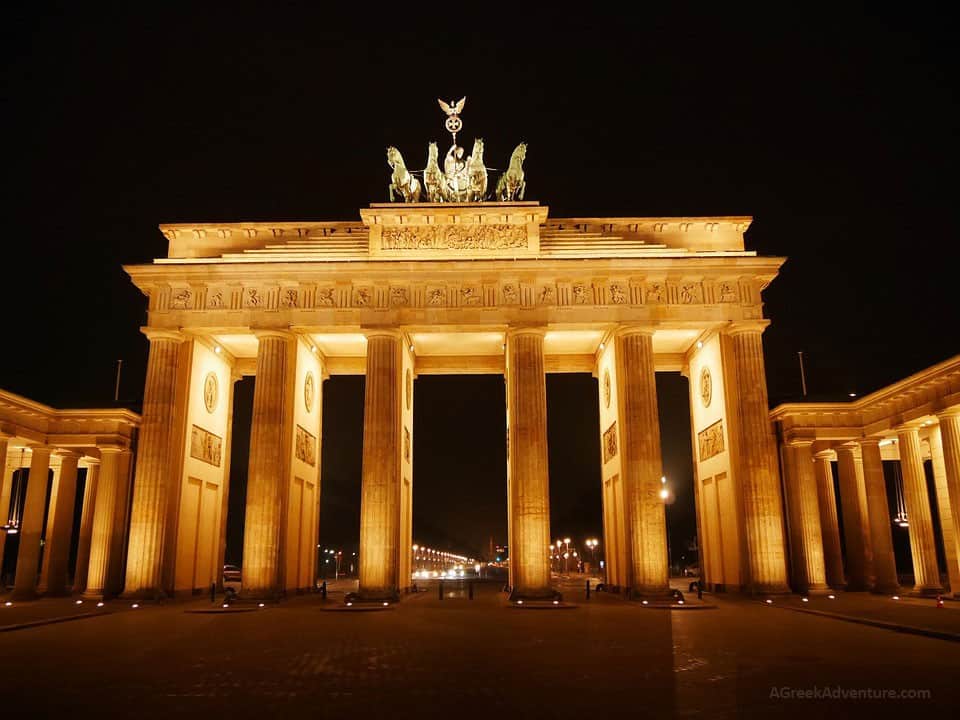 Not far from the Reichstag Building, this majestic gate is a hub of activity. Street vendors, dancers, people of all sorts gather here.
This is a great photo op and a great way to start your visit to Berlin.
If you want to learn more, you can even visit the Brandenburg Gate Museum. Or, if you are content to stroll through and enjoy the beauty of it all as you pass by, it will still be a beautiful sight to see.
Gendarmenmarkt
While you're nearby, you might want to visit this majestic town square.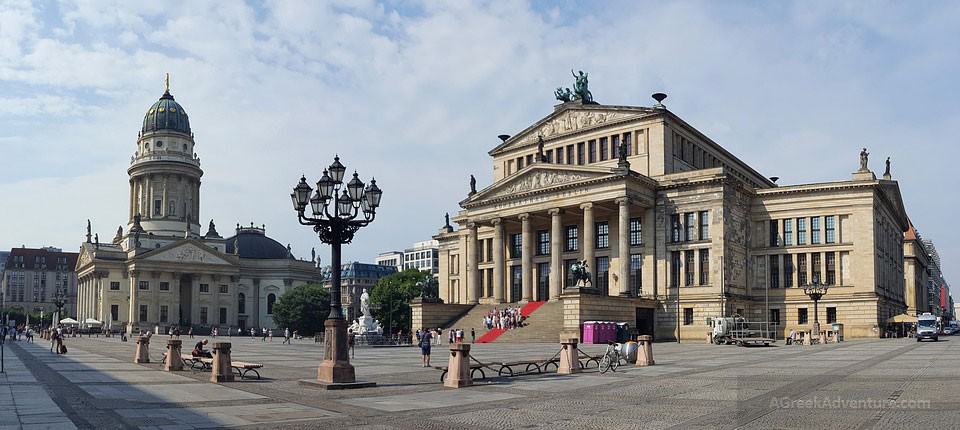 Surrounded by awe-inspiring architecture, the focal point of this square is an elegant statue of Friedrich Schiller, a renowned German poet.
The stunning German and French cathedrals sit on either side of the equally stunning concert hall.
There are shops and restaurants nearby where you can rest or pick your friends up a souvenir. If you visit in December, you will see a beautiful Christmas tree on display.
Berlin Wall Memorial (Gedenkstätte Berliner Mauer)
Make one last stop before heading back to your hostel. The Berlin Wall Memorial is another free exhibit that is well worth it. Read this post for five facts for the Berlin Wall you might don't know.
At the center of town, where the Berlin Wall once actually stood, postmarks indicate where the wall was.
In addition to this, there is still a stretch of the actual wall left intact.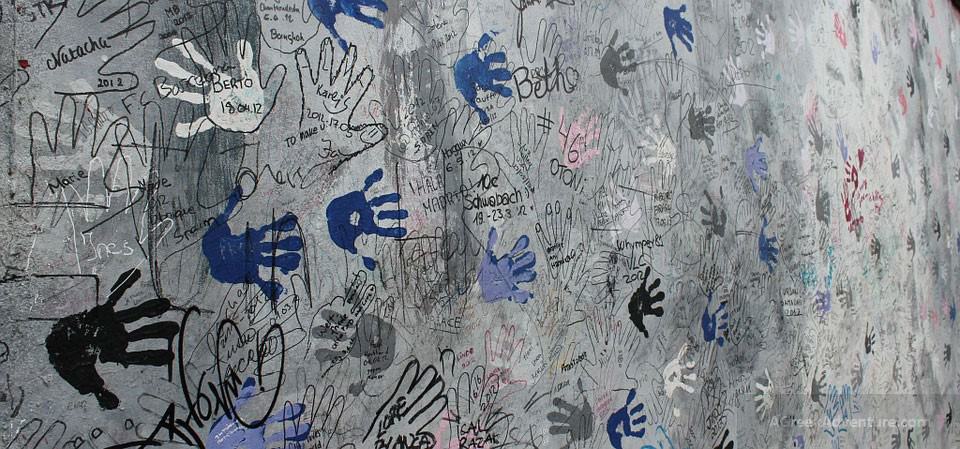 Looking at the wall, you can get a sense of what it must have felt like to be trapped on one side of the wall while family members were on the other.
There is a lot to see here, including museum-like exhibits, so you may want to spend at least a few hours contemplating this significant piece of history.
Address: Bernauer Str. 111, 13355 Berlin, Germany
Hours: All days 8 AM–10 PM
What To Do in Berlin in 3 Days: Day Two
Eat at Cafe Creperie Melt
By now, you are probably tired from all that walking and biking.
On your second day in Berlin, take a bus and treat yourself to a fantastic breakfast at Cafe Creperie Melt.
Although it isn't exactly a historical site, it is a great way to start your day—Chow down on some delicious crepes filled with fruit and chocolate and sprinkled with powdered sugar.
This day will be peppered with pleasures to ease your mind and keep it from overload from the following essential but sobering destination.
Address: Grünberger Str. 40, 10245 Berlin, Germany
Hours: Friday, Saturday 9 AM–10 PM, Other days: 9 AM–9 PM
Sachsenhausen Concentration Camp
If you've never visited a concentration camp, this would be an excellent time to go. Overwhelming as it may be, history deserves remembering.
Read our post for the same experience in Munich in Dachau Concentration Camp.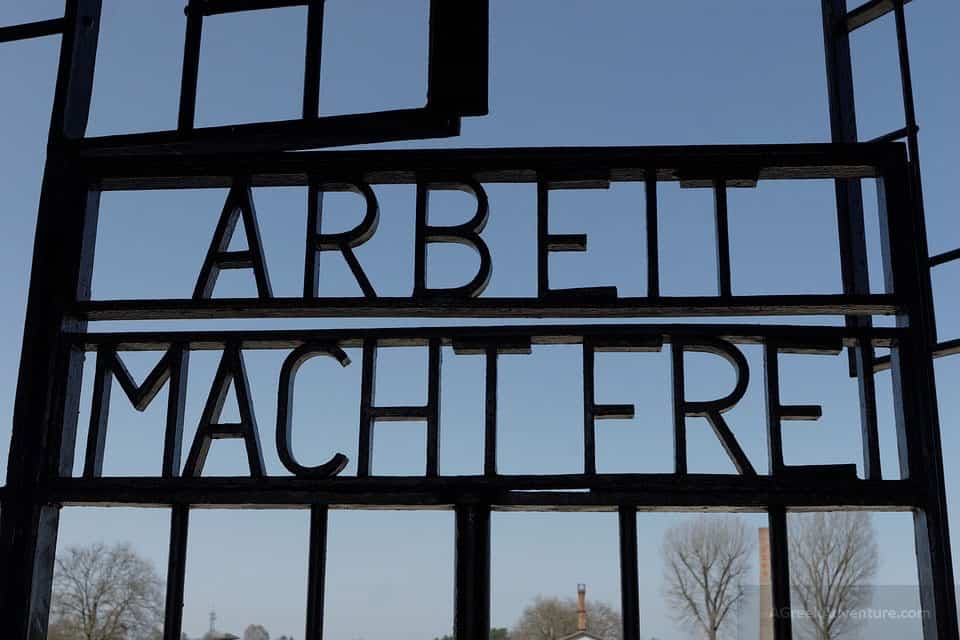 This is not something that is rushed through but will take a few hours.
It is an hour and a half bus or train ride to the concentration camp, and you will be there for around three hours.
This might not be something you want to go alone. For roughly $20, you can join a group on a guided tour and ride upon a train together.
From there, you will visit the gas chambers, prisons, barracks, and so forth that, while chilling, will provide an enlightening experience and take you back to a time in history we will hopefully never repeat.
Address: Str. der Nationen 22, 16515 Oranienburg, Germany
Hours: All days 8:30 AM–6 PM
Fleamarket at Maur park
Take the train or bus back to Berlin and visit the flea market. This is a beautiful place to familiarize yourself with a bit of local culture.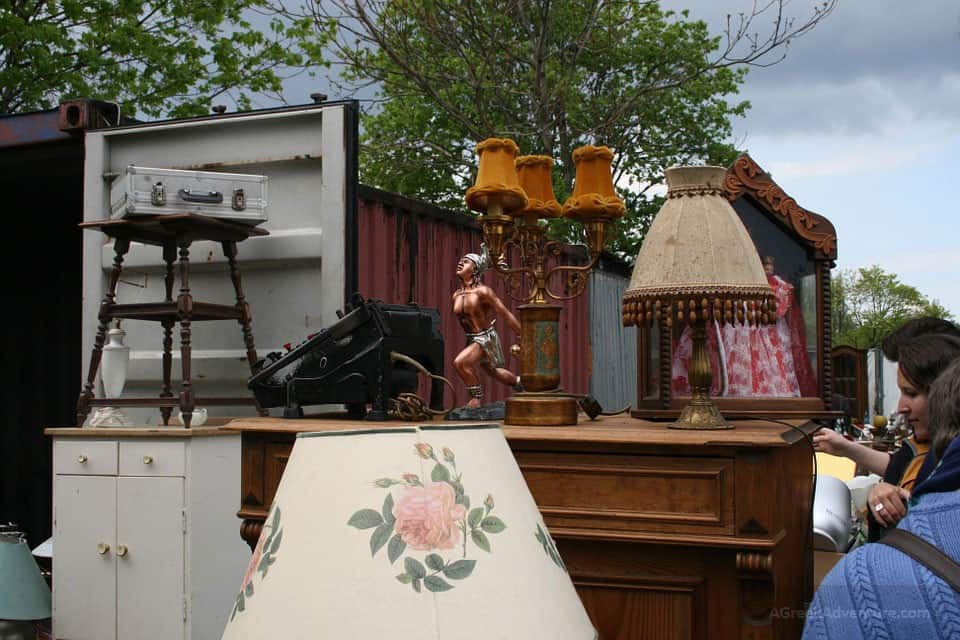 Locals sell their used stuff, art, jewelry, pottery, fine china, and just about anything under the sun that can be sold.
This is a place you go on a beautiful day to just chill. Food and bands are playing. Buy some ice cream.
Relax and take in the culture. Look for the strangest thing being sold and take a picture of it.
Who knows? Maybe you'll make an interesting to find that you can take home with you.
Give yourself some downtime to process all you've seen so far on day two. Enjoy the laughter, the music, and the people of Berlin.
House of Small Wonder
This is a beautiful place to have dinner with a gorgeous atmosphere.
Beautifully decorated in traditional Asian style, it is a pleasant little place with rustic charm and an eye-catching spiral staircase.
Although it is not mainly European, it speaks to the many subcultures of Berlin.
Here, you will be served decadent dishes of soup or rice or tea; with anything from intricately decorated pastries to meat covered in a delicious and aesthetically pleasing sauce, this small restaurant will make for a great dining experience.
Address: Johannisstraße 20, 10117 Berlin, Germany
Hours: Friday & Saturday 9 AM–7 PM, Other days: 9 AM–5 PM
Friedrichstadt-Palast
Right around the corner from the House of Small Wonder, the Friedrichstadt-Palast is where you will sit back and enjoy a breathtaking performance.
If you like spectacular visual performances, this will be the place for you. Bright costumes, beautiful dancing, amazing special effects, and mind-bending acrobatics are all on brilliant display.
The beautiful thing is, if you didn't get enough to eat at the Small House of Wonders, you could order a snack during intermission and, instead of having to wait in line, the food will be brought to your table.
But don't just stop by the theater and expect to get a good seat. You will, once again, need to book well in advance.
For around $30 for the cheap seats, this will be a great way to end the evening. Check the site for the updated schedule of events.
Address: Friedrichstraße 107, 10117 Berlin, Germany
What To Do in Berlin in 3 Days: Day 3
Day Trip to Potsdam
Are you looking for where to stay in Potsdam for your what to do in Berlin in 3 days itinerary? Check prices here or/and here. Always get travel insurance!
Here is a list of guided tours ideas for Potsdam:
Cecilienhof Palace / Marble Palace
For your third day, take the bus or a train for a day trip to Potsdam, the royal city of old. For about $15, you can enjoy a combined tour of the Cecilienhof Palace and the Marble Palace.
The Cecilenhof Palace, aside from its beautiful architecture, is also crucial because of its historical significance. The meeting was held between world leaders, which ended World War II and heralded in the Cold War. Hear the story.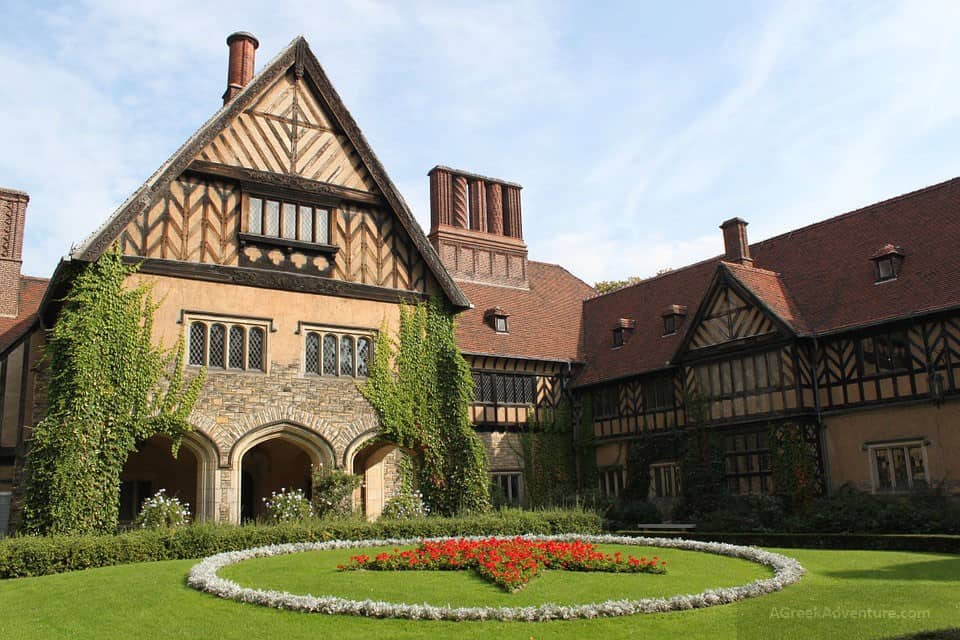 Then, explore the majestic architecture of the marble palace, once the home of the Prussian King. It is as beautiful as it sounds and will take your breath away.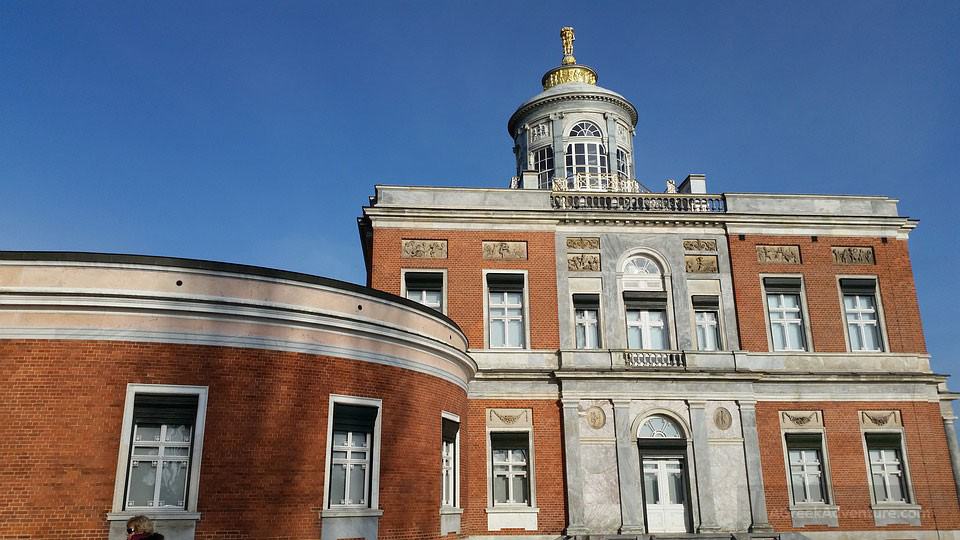 Cecilienhof Palace
Address: Im Neuen Garten 11, 14469 Potsdam, Germany
Hours: Monday Closed, Other days: 10 AM–5:30 PM
Marble Palace (Marmorpalais)
Address: Im Neuen Garten 10, 14469 Potsdam, Germany
Hours: Monday Closed, Other days: 10 AM–5:30 PM
Old Dutch Quarter
Pass through the towering Nauer Gate (which looks just like a Disney castle) and into the Old Dutch Quarter, where Dutch immigrants historically came to work.
This is where you'll find charming Dutch architecture in the form of shops and cafes you can stop and grab some lunch at or even pick up some more souvenirs.
Take a break and put your feet up before exploring the rest of the beautiful Potsdam. If you're visiting in April, September, or December, you're in luck.
Those are the months that the tulip festival, the potters' market, and the Dutch Christmas market take place, respectively. Most tourists fall in love with this little corner of Potsdam.
Sanssouci Palace and Gardens
Cross under the palatial Brandenburg Gate, yes, both Postdam and Berlin have a Brandenburg Gate, stroll through the gardens, and view Frederick the Great's private summer retreat.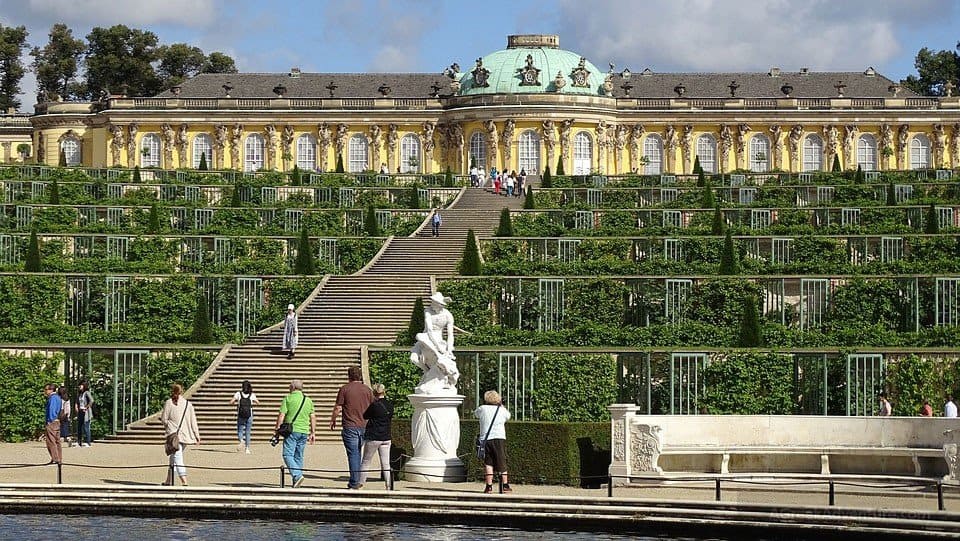 With its fountains, greenery, statues, and ornate architecture, this is a beautiful place to explore and where Frederick the Great's tomb resides.
Inside the palace, you will find an enchanting art gallery that you don't want to miss, with enormous, elegantly decorated paintings.
Address: Maulbeerallee, 14469 Potsdam, Germany
Hours: Monday Closed, Other days: 10 AM–5:30 PM

Cafe Eden
Enjoy more of Potsdam's beautiful outdoor scenery by eating at this local outdoor cafe.
It's inexpensive, and you can listen to the birds while you eat! When you're done, you can take a relaxing train ride back to Berlin.
Address: Lennéstraße 32, 14471 Potsdam, Germany
Hours: Monday Closed, Other days: 12–6:30 PM
What To Do in Berlin in 3 Days, indeed?
So, if you were wondering what, if anything, there was to do in Berlin in 3 days, now you know there is so much you can get done even in such a short amount of time.
Berlin has much to teach you.
You will be wiser for having gone.
Don't forget to book everything in advance. And don't forget to bring some change so to use the restrooms!
Have fun and explore more places in Germa. Here is a guide on how to spend five days in Germany. Did you like our Berlin in 3 days article? You may find this one interesting too: