A trip to Munich may not be the first thing that comes to the mind of European travelers. Unless it involves Dachau.
We decided to split this article into different parts, as there are lots of different things to present.
We went there in September. It was like a combination of work and leisure. You see we just got married and this was a great break for us.
We stayed 5 days in the city of Munich and we would like to share the top in the city.
We took tons of photos there and we will share a part of them with you. This city definitely is worth to visit if you like museums, castles, beer and sausages, amazing forests and lakes, great transportation, friendly prices (not related to bottled water though) and so many more.
You do want to read our posts for:
Are you a lover of pretzels?
This city is for you. You will find pretzels with anything. If you visit a tavern or a brewery they have pretzels instead of regular bread.
If you are a fan of bicycles then this city is for you. The bicycles are more than cars.
You may encounter a "traffic jam" due to bicycles in the special bicycle lanes (in some places these are 2-way lanes). People here respect cyclists a lot.
Let's start…
The Dachau
Now, some think that Dachau is just the concentration camp. However, Dachau is a very beautiful city where the World War II concentration camp was situated.
It even has a castle. Yet this place is loaded with memories of what happened during World War II. The city of Munich has preserved -we think- everything, in order to remind people of that era and what an ugly thing war is.
Modern Germany had a different idea in order to shift this area of suffering to an area of religion.
Architects, using materials from the building and installations, designed church buildings or -better said- memorials that resemble churches.
The main facilities, where administration used to be, now serves as a museum for the Dachau Camp history.
Here are parts of the exhibits. Among the exhibits are many things that are offerings and memorial awards from people who were liberated and returned years after, or from their comrades in arms.
This room along with the rest of Dachau facility is very emotional and visitors are requested to respect the privacy and emotional charge of others who may have visited due to close relations with this place.
Many people may get sad with such. It does represent one of the darkest parts of world history.
However, places like these are part what is widely called "cultural/war" tourism. And they are need indeed.
Why?
We think that this memorial sculpture before the museum chambers describes it clearly.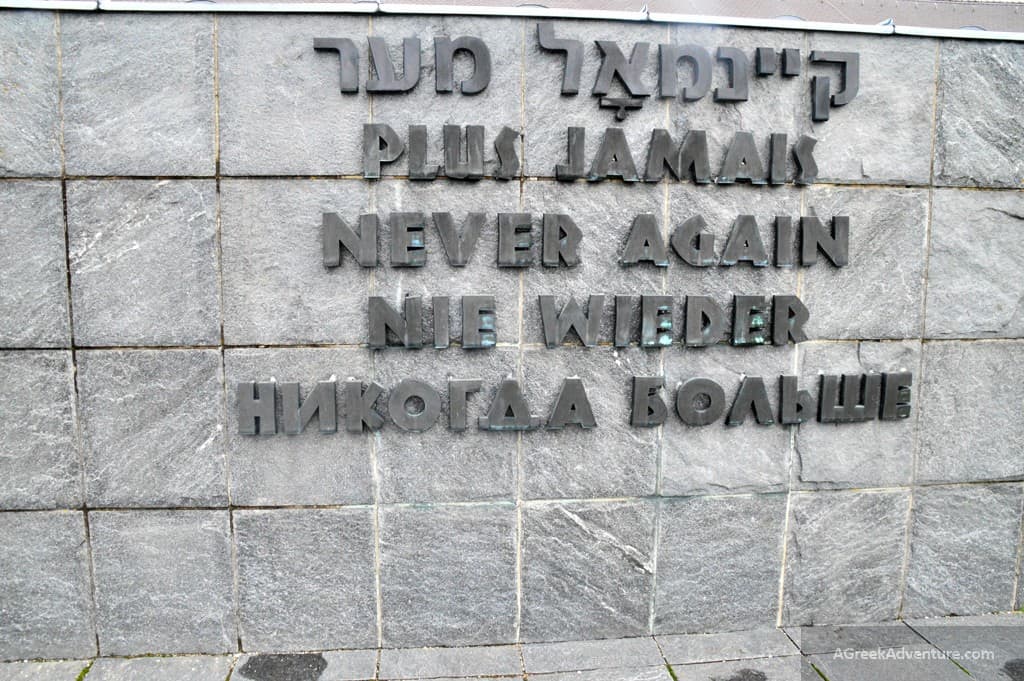 Stand by for our next post on top things to do in Munich. It will not be related to Dachau and will show the beauty of that city.
Have you ever been in Munich?
Did you like our Dachau article? You may find this one interesting too: The Country with the Most Castles in the World – Best 8.