Do you need a survival lighter? Survival lighters are windproof, waterproof, and have an easy-to-use design. They can withstand the toughest conditions and provide you with the light you need when it's dark or stormy. The best survival lighter is part of your outdoor survival gear and will last for years, so it's worth investing in one today.
If you're looking for a reliable way to light your campfire, cook your food, or start a fire, then look no further than this list of best survival lighters on the market today! We've done all the research, so now you have to pick which one suits your needs best!
Best Survival Lighter Suggestions
Before we show you some products that are best for the above categories, you need to know the following. Not all lighters are ideal for all circumstances. For example, a flint-based lighter may not need fuel, but you do need some dry material to start a fire. So, not all are ideal for all circumstances.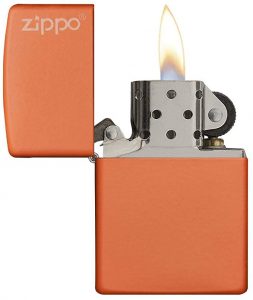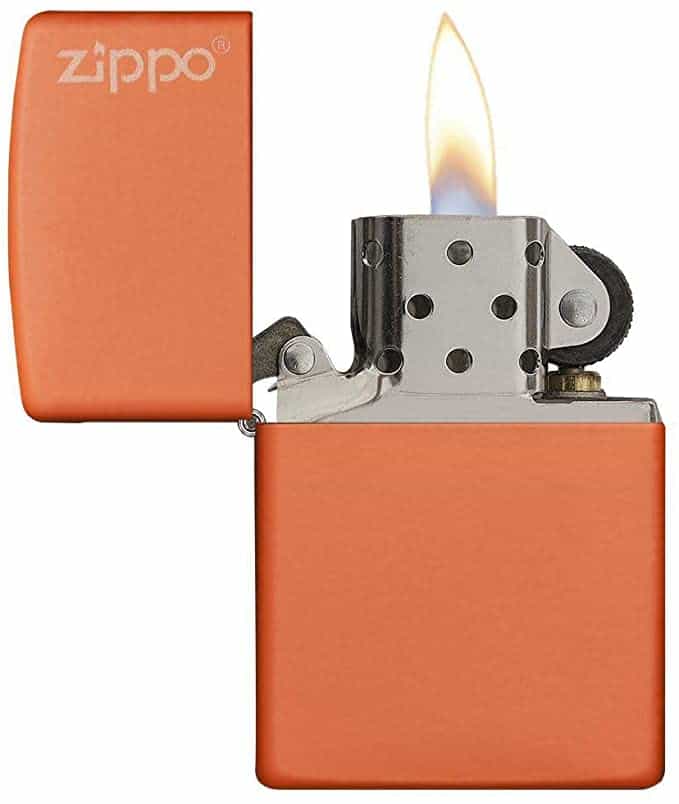 Zippo Matte Pocket Lighters
The all classic lighter we all know that is also suitable for outdoors. It is a windproof lighter with the distinctive Zippo click, all-metal made and works virtually anywhere. Best use the genuine Zippo premium lighter fluid, flints, and wicks.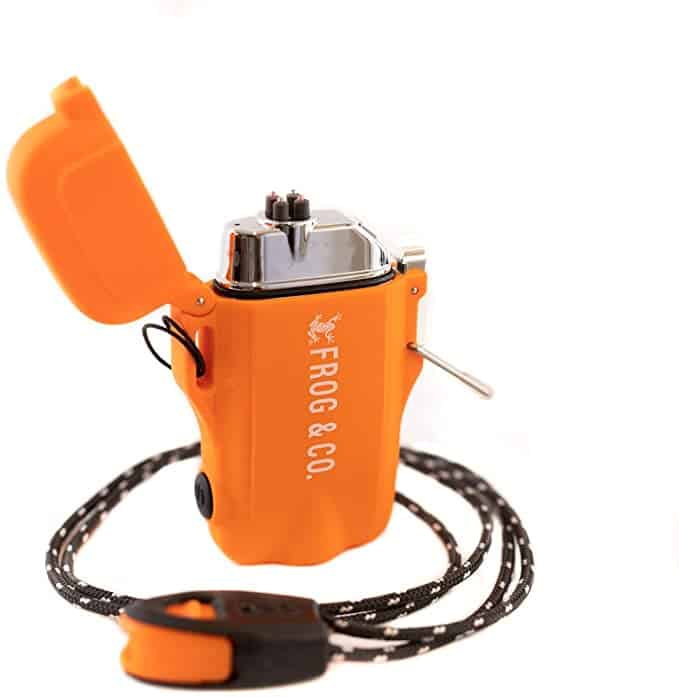 Tough Tesla Plasma Waterproof Windproof Lighter
This device is rechargeable and lights up with the push of a button. You can charge it via a USB port, though that may not be handy when you are in the wilderness. It uses no fuel. Simply click the button and touch the top-facing dual arcs on anything that can catch on fire. It will.
The downfall is that it can be used up to 300 times per charge (with a 10 seconds safety time-out), so it is best to have an alternative with you.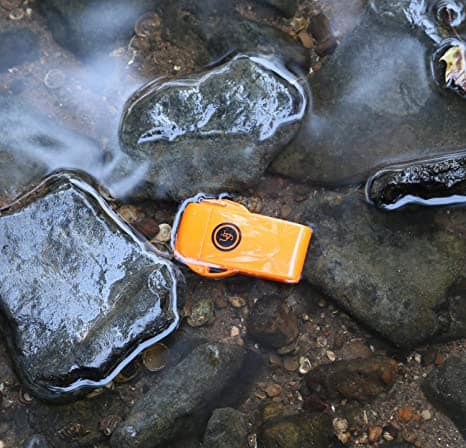 UST Refillable Waterproof, Windproof Floating Lighter with Butane
The water-buoyant, butane-fueled UST Floating Lighter produces a flame that can withstand winds up to 80 MPH. The piezo-electric ignition lights up to 30,000 times and works when wet with its zinc die-cast wind guard and lever. Fuel Capacity is Quadruple-refined butane, 0.04 oz. (1.2g).
The lighter also has an impact-resistant ABS plastic, waterproof design with an O-ring seal and wire bail for secure closure and buoyancy.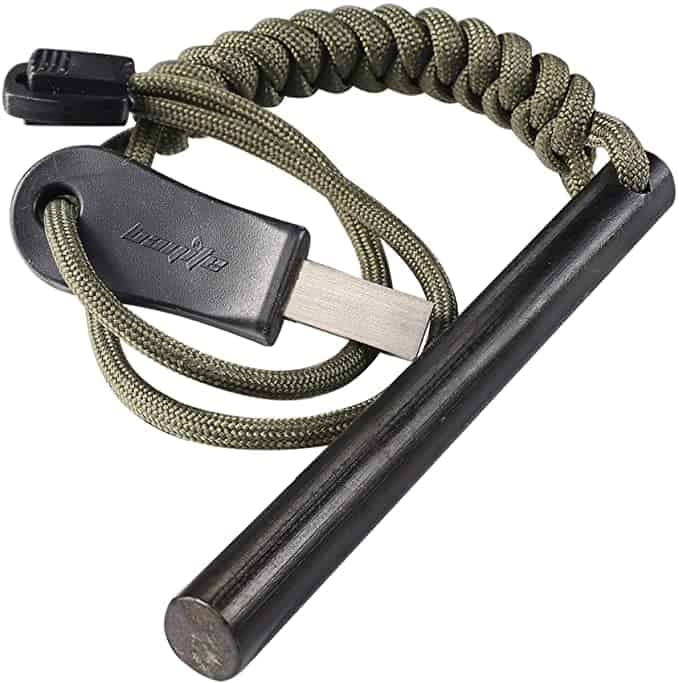 Flint Fire Starter
That is not a lighter but a fire starter. You stroke the two pieces against some flammable material, and with the sparks, you try to start a fire. It needs no gas or charging, but you need some dry material to put on fire. It maximizes a shower of hot sparks, whether you prefer to use your left or right hand to scrape.
It is made of a high effective ferrocerium rod and is waterproof & weatherproof; it works in any weather condition.
Why You Need a Survival Lighter?
Survival lighters are a must-have for your bug-out bag and camping gear. They provide an easy way to start fires in any weather conditions, day or night. But with so many options on the market, it can be hard to find a good one.
When choosing a survival lighter, there are many factors to consider. You have to think about how long the light can burn and what type of fuel it uses. On top of that, you should also consider its weight and size, but most are small and quite light.
Why, you may ask? Wilderness survival is not an easy task. You need to know how to build a shelter, find food and water, and sometimes, you may need a fire. It's especially difficult if you don't have the right tools for the job. A good tool for wilderness survival is a lighter or matches because they are necessary when starting fires.
When you're out in the wilderness, there's nothing worse than forgetting to bring a lighter. It can be a real pain when cooking food or keeping yourself warm at night.
I personally prefer survival lighters because they can be used whenever and wherever.
What's the Difference Between a Regular Lighter and a Survival Lighter?
The answer is simple – survival lighters are made from aircraft-grade aluminum with an anti-slip rubber grip. This means that you'll be able to use your Survival Lighter in all weather conditions, such as rain or snow.
A survival lighter is a must-have for any outdoorsman. You never know when you might need to start a fire, but without the right tools, it can be nearly impossible.
That's why we're here to help with our guide on choosing the best survival lighter.
How to Choose the Best Survival Lighter?
Choosing the best survival lighter can be tough (but not that much) because there are so many to choose from.
Whether you're a hiker, camper or survivalist, having a good lighter on hand can help make your time outdoors more enjoyable. So, how do you know which one is the right one?
Here are a few things to consider before buying:
What are the Key Characteristics of Best Survival Lighters?
How many times have you pulled out your lighter, and it just wouldn't light? You were so frustrated because you had to find a way to get that fire started, or else the situation would be dire.
It is important to ensure you invest in a good windproof lighter that will work regardless of the weather. Here are the key factors for making a good choice.
Usage:
To survive, you'll need a good survival lighter. You should also consider the various situations that might arise in an emergency situation and ensure your lighter doesn't break or stop working when it's needed most! It will be able to light fires quickly enough for normal use, but keep in mind what may happen if things get really tough.
The lighters must be reliable under different circumstances. In a few words, you should have a fire 99% of the time you hit the switch. Some lighter types are not good for all circumstances, i.e., wick-based lighters are good for lighting up a fire under freezing conditions, but they tend to leak over time.
Construction Quality:
Rugged survival lighters should be tough and durable, like steel. You can choose a rugged stainless steel lighter that won't rust even after prolonged use.
Torch-like Direct Flame:
The flame must emanate like a torch under rain or heavy wind.
Resistance to Water and Wind:
Some lighters come with a waterproof case that keeps the air out. It's by default that a survival lighter must be waterproof and windproof.
Easy to Carry:
The best is to fit in your palm, of course. There are capsuled-shaped ones and square-shaped ones. Choose one that comes with as little weight as possible but remains durable. Also, the best is to not need both hands to use the lighter.
Easy to refill:
Best is to buy one with such a feature to keep it for long. It is easier to refill one than not knowing how much fuel one has.
What is the Best Type of Fuel for My Survival Lighter?
The thing with a good fire starter is you should consider is what kind of fuels are going in there. If it's mainly just used as a backup or emergency, you can get away with one that doesn't need any sort of thinners often because they don't work very well at all on regular tinder materials like cotton balls if they're not mixed together already.
But I'm sure everyone has heard how great those little storm lighters are sometimes! Now when we talk about something more serious (like camping), the other types may be better suited; this would include things such as butane or even some windproof matches.
The best fuel for your survival lighter would be butane gas, which burns cleaner than other fuels and produces less smoke when used correctly. The downside to this particular product is that they require more maintenance since you have to refill them with new butane often, if not every time you use one
If you are looking for the best fuel to use in your survival lighter, zippo premium butane is a great option.
Which Are The Survival Lighter Types?
Allegedly, there are 4 types of survival lighters, and the distinction is mainly based on the fuel type or the way they produce a spark. So, we have the:
All-time classic and reliable Zippo lighters
Butane fuel lighters
Plasma lighters
Flint
Conclusion on Best Survival Lighters
When you choose a more advanced than a Bic lighter, it is best to consider under which circumstances you are about to use it. The lighters are not expensive, so you can have 3 different options with you as a backup.
A crucial thing to remember is how fast you may need to light up something and under which circumstances. All different types of lighters are incredibly light, so weight is not something that can largely affect your decision. However, carrying an extra gas canister may be.
Remember, the outdoors is good for you.
Have fun and be safe.
If you find this article about survival lighter helpful, consider checking out our other archives –