Need tips on how to stay cool while camping? Then you've come to the right place! Our experts are sharing five tips on the best ways of keeping your chill, no matter how warm it gets.
These recommendations are must-reads for any summertime camper and can provide you with handy inspiration on how to increase your comfort by decreasing the heat.
Keep reading to discover how to stay cool while camping in warm weather:
A Portable Air Conditioner
If you want to keep your cool and have some money to splurge, why not get a portable air conditioner to beat the heat?
This functional gadget allows you to keep your tent, cabin, or RV at a comfortable temperature, no matter how much Fahrenheit you're facing.
A portable air conditioning unit for camping is designed for on-the-go usage. The devices are streamlined, easy to transport to and from your campsite, and some even work on batteries.
Though, for maximum cooling ability, we recommend one powered by a regular plug socket, providing you access to one at your camping location.
Some portable air cons also come with a humidifying feature, a welcome addition when camping in dry and stuffy weather. Or, when camping in humid conditions, look for an aircon with a purifying feature to make the air less dense and heavy to breathe.
Pop the air con in your tent, turn it on about an hour before bedtime, and enjoy your retreat to a cool and comfy tent: It sounds pretty tempting, right?
Turn your camping into glamping, and treat yourself to a portable aircon for maximum cooling benefits!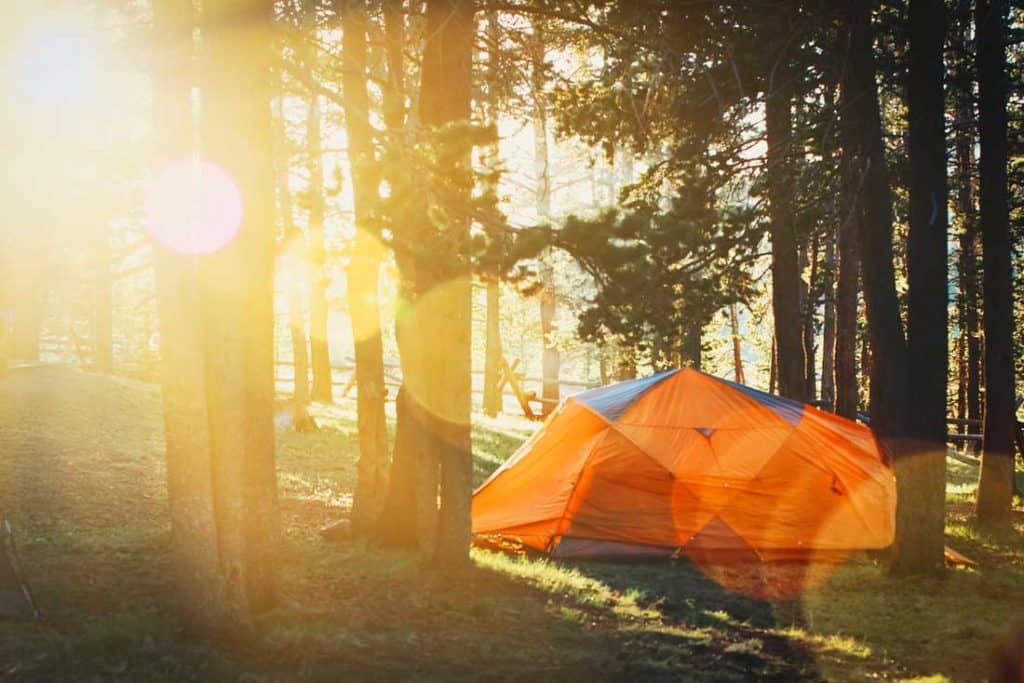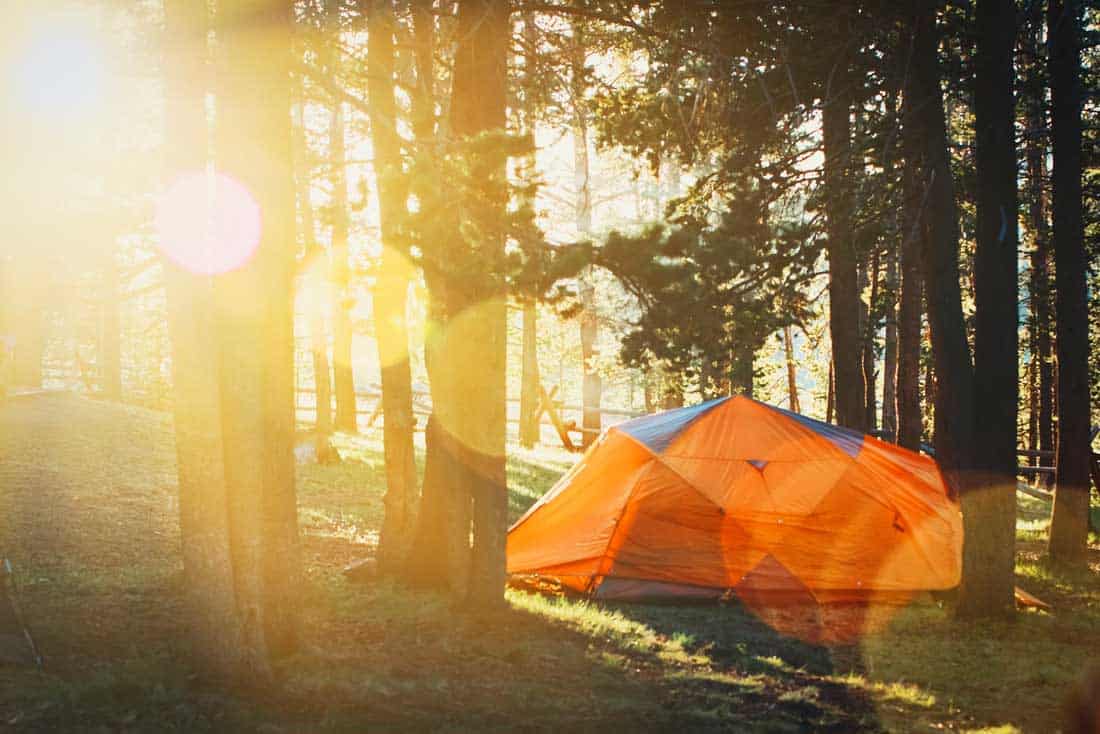 A Portable Gazebo
If you want to stay cool, stay out of the sun when it's at the hottest. This may sound like a given, but sometimes it can be hard to find adequate shelter.
Honesty, who wants to crawl back in their stuffy tent in the middle of the day to avoid the sun?
Exactly, that won't make you a happy camper. Fortunately, there is a much more comfortable solution: a portable camping gazebo.
A portable gazebo is simply a must-have if you're planning a summertime camping trip. Not only will it provide you amply shade, but this nifty accessory can also keep you dry and provide shelter in case of sudden downpours.
Camping gazebos are lightweight, easy to assemble, and designed to pack down to small dimensions for easy transport.
For maximum convenience, we recommend upgrading from a standard portable gazebo to a portable screened gazebo. The mesh screening means the shelter is still fully breathable and promotes airflow but also keeps out those pesky mosquitos and other insects.
They are allowing you to retreat and savor the shade without an annoying buzz or slattering yourself in mosquito repellent. A vital tip: whichever portable gazebo you choose, make sure the fabric is waterproof and comes with built-in UV protection.
This means the fabric will not let harmful UV-rays or rain pass through, which is exactly what you want to stay comfy and secure.
Block the heat, block the rain, block hazardous UV-rays, and stop insects and critters: those are the premium benefits that make a portable screened gazebo a must-have for any camping trip! 
A Portable Fan
Don't have the budget to splurge out on a portable air conditioner?
Then why not consider a portable camping fan: a more budget-friendly alternative to keep your cool.
You can use a fan both inside and outside the tent and even have fans with a misting function that fills the air with a refreshing cold mist. Camping fans come in all styles, shapes, and sizes.
There's a match for every camping scenario, from small battery-operated hanging fans to large, freestanding units.
If you plan to use the fan for outdoor cooling, double-check whether it's suitable for outdoor usage (a.k.a. exposure to the elements).
Basic yet functional: a portable camping fan can be an affordable way to make a warm weather camping trip a lot more enjoyable and bearable.
Stay Hydrated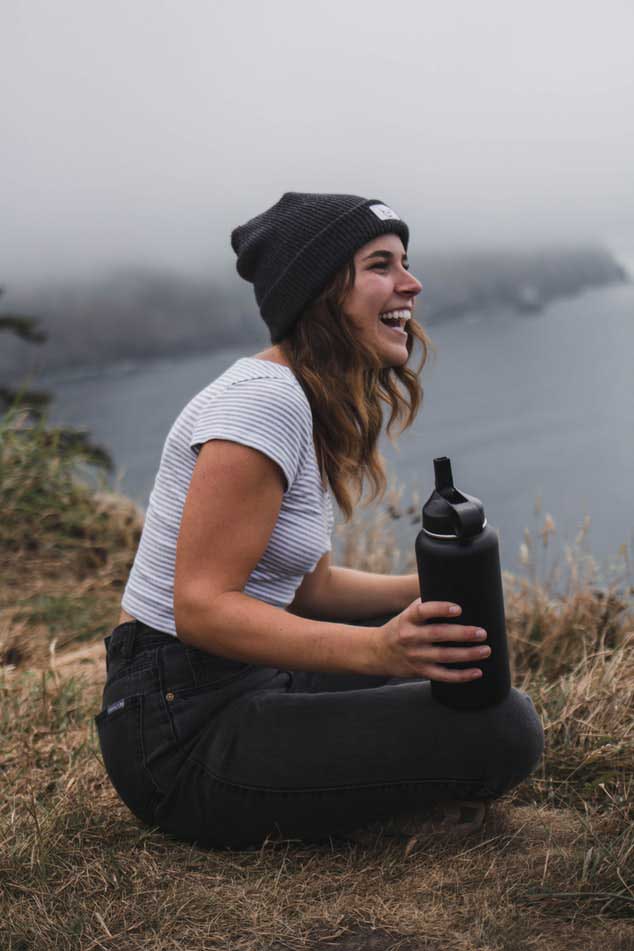 To help your body stay cool and comfortable, ensure you stay hydrated all day long.
No, not just when you're thirsty: All. Day. Long. Your body needs water and hydration to support vital functions and prevent you from overheating.
That is why the key to staying cool in warm weather can be as simple as making sure you drink enough water. Avoid sugary drinks such as soda (even those sugar-free ones) and caffeinated drinks.
Unfortunately, alcohol is not encouraged, as this dehydrates you faster and doesn't replenish your hydration levels.
To be on the safe side, stick to water: because you can't go wrong with that.
If you consistently keep your hydration levels high, you should improve your all-day comfort in warm weather conditions. 
Eat the Right Foods
Equally crucial to drinking plenty of the right kind of fluids is eating the correct type of food.
Your diet can make a big difference to your comfort and may even help you stay cool longer. For example, some foods rich in protein can increase your metabolic heat production and dehydrate you faster. Examples of these are red meat and potatoes.
Yes, we know you may crave a steak and baked potato for lunch, but in warm weather, you'd better avoid these. Instead, choose foods with a 'cooling' effect, a.k.a. those containing water, such as salads and fruit.
It also helps keep your portions small, as large meals require your metabolism to work faster, therefore heating your body.
Another tip: though you might not think it, spicy foods, like peppers, can help you cool off if you feel like you're overheating.
The spiciness causes you to sweat, releasing excess heat. So, throw in some jalapenos in your salad, and sweat it out! The water in the lettuce and vegetables will help replenish your water levels, so you'll automatically counter-balance the hydration loss.
You can always enjoy that steak and baked potato at suppertime when the sun and warmth are past their peak.