Toledo, Spain, is a multicultural city that is located right at the heart of Spain. We visited the town during our trip to Madrid and Segovia.
It draws its multiculturalism from the fact that numerous civilizations have set up base and called the city home for quite some time in the past.
All these have earned it a UNESCO World Heritage site designation. The town was granted arms in the 16th century.
From quite cobblestone streets to magnificent old stone buildings, Toledo is indeed replete with innumerable attractions that originate from both past and modern times.
For quite some time now, Muslims, Jews, and Christians have called it home, a fact that has earned it the designation "city of three cultures."
We scoured the many attractions the city has to offer and narrowed them down to the best of the best.
Go then and enter the city from Puerta Nueva de Bisagra and start exploring.
Things to Do in Toledo Spain
Monastery of San Juan de Los Reyes
That is a beautiful monastery that has been preserved from years past. Attached to this monastery is a church that is just as significant as the monastery itself.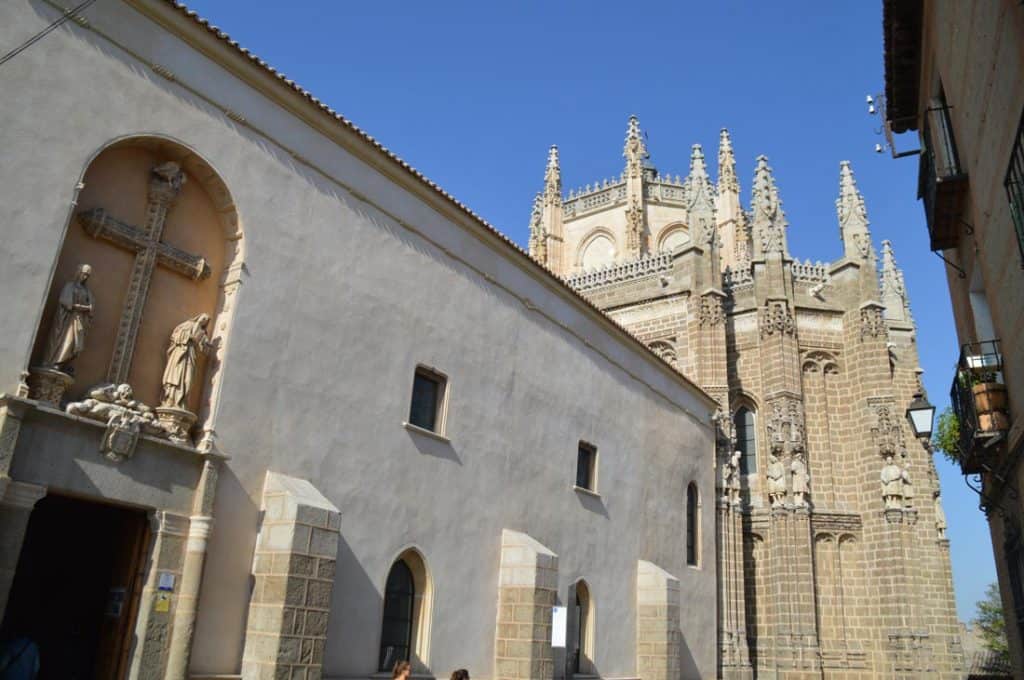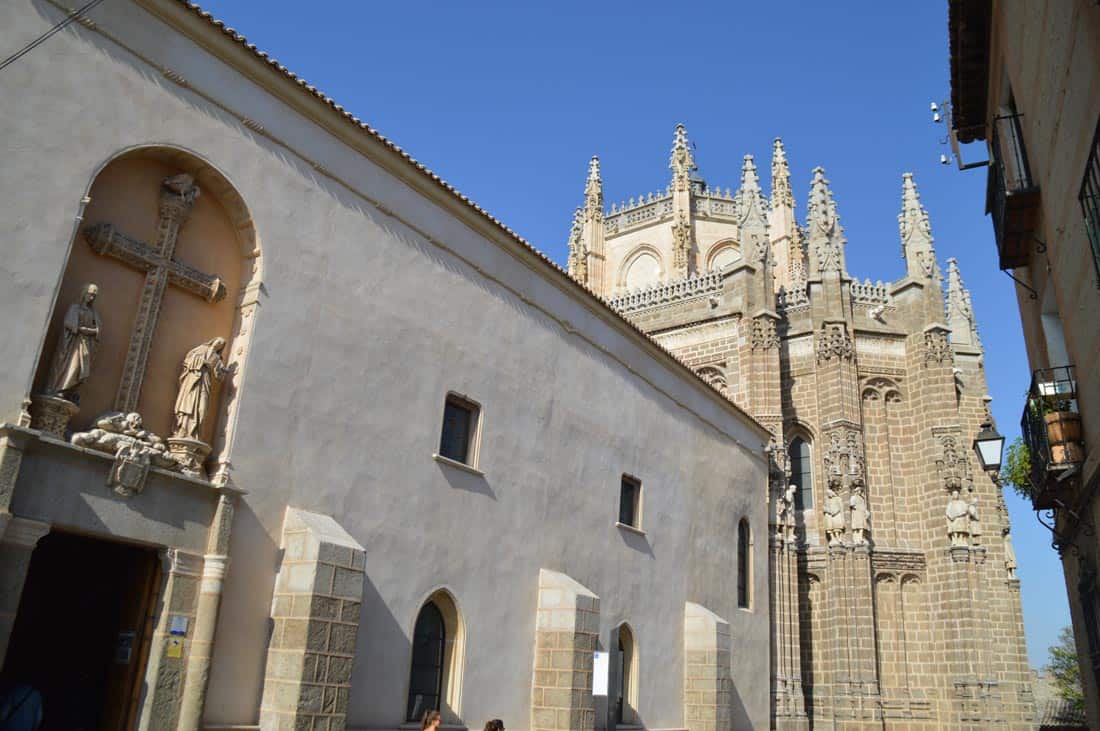 Its interior does have a courtyard that comes in the form of an Islamic garden. That is no surprise as the city itself, and indeed much of Spain was at one point under Muslim domination.
Surprisingly, the monastery itself is situated right at the heart of the Jewish quarter of Toledo. If you choose to, you can tour the facility on your own. However, a guide may come to your rescue for only €3.
To memorialize your visits, we recommend that you carry along with you a digital camera. Photography is very much allowed. You also want to buy some samples of the past photography work displayed in the facility.
Toledo Cathedral
The whole continent of Europe has a strong Christian heritage.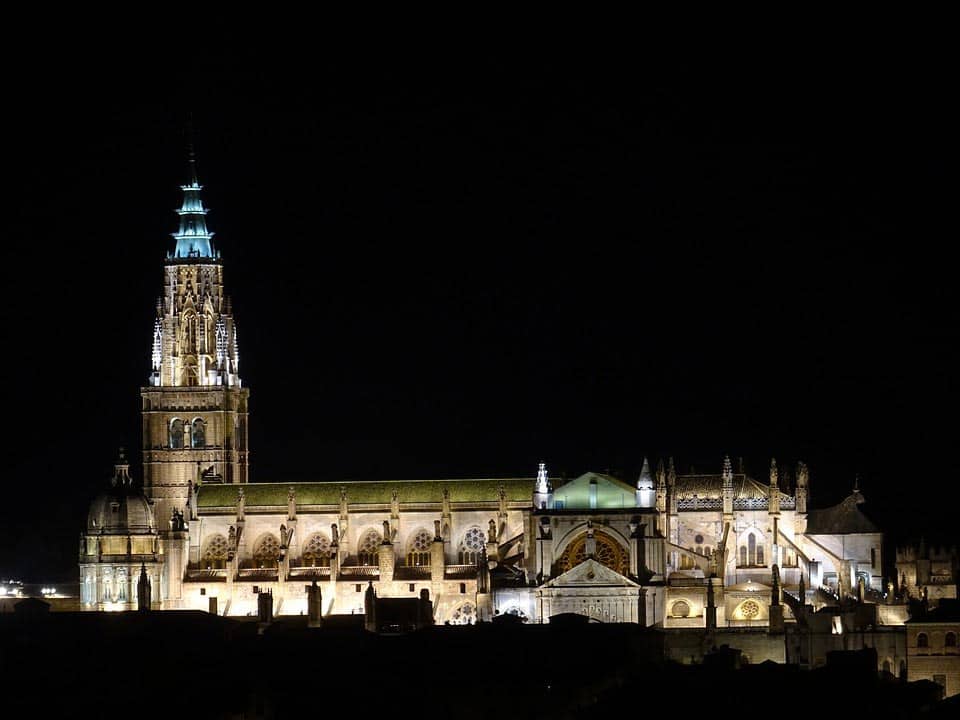 It comes as no surprise hence, that the city of Toledo also contains a magnificent cathedral as part of this remarkable heritage.
Located right at the heart of the city, this Cathedral is much more than just an ancient place of worship.
It now stands as a stark reminder of the elegant medieval Gothic architecture of the past years.
Its interior is adorned with essential masterpieces, two paintings by El Greco, and a spectacularly high baroque altar.
There is a catch, however. You have to part with some money to gaze all this beauty.
For guided tours, you will part with $19.41. For a full day trip from Madrid, you will pay $73.07, whereas for a half-day tour, be prepared to part with $65.08.
Alcázar of Toledo
Regardless of where you are in the city, you will be able to see this structure. Why may you ask? It is located at the highest elevation in the city!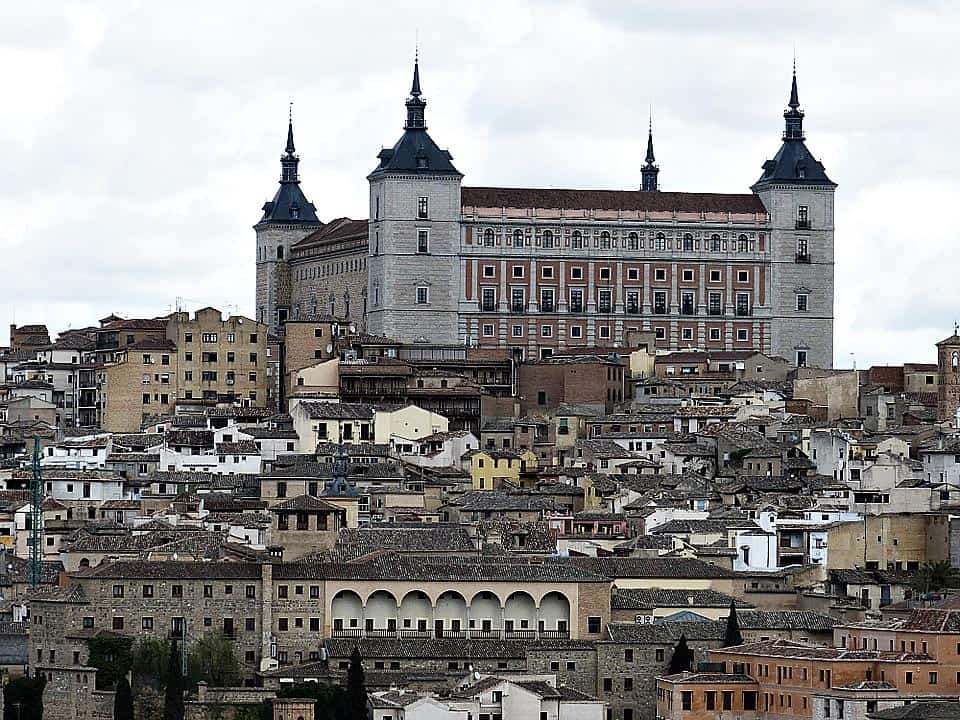 Originally a military fort, this structure has since been renovated into a military museum. Throughout its interior are numerous displays of medals and military uniforms.
Its exterior, on the other hand, is a stone fortification that serves to protect the interior contents from any external attacks.
It is a place we would suggest you visit if you want to know more about Spain's glorious military past. A guide exists at the facility to take you through your visits reliably.
Europe's Longest Urban Zip Line in Toledo Spain?
No real modern city lacks a zip line. This is much like a cable car, except for not having the vehicles themselves.
Instead, it contains a pulley system that suspends on a cable for you to climb up and down.
The zip line is the longest in the whole of Europe. It is attached high up the peak of the city and slopes down to the base thereof. Here is the route it crosses, over the river.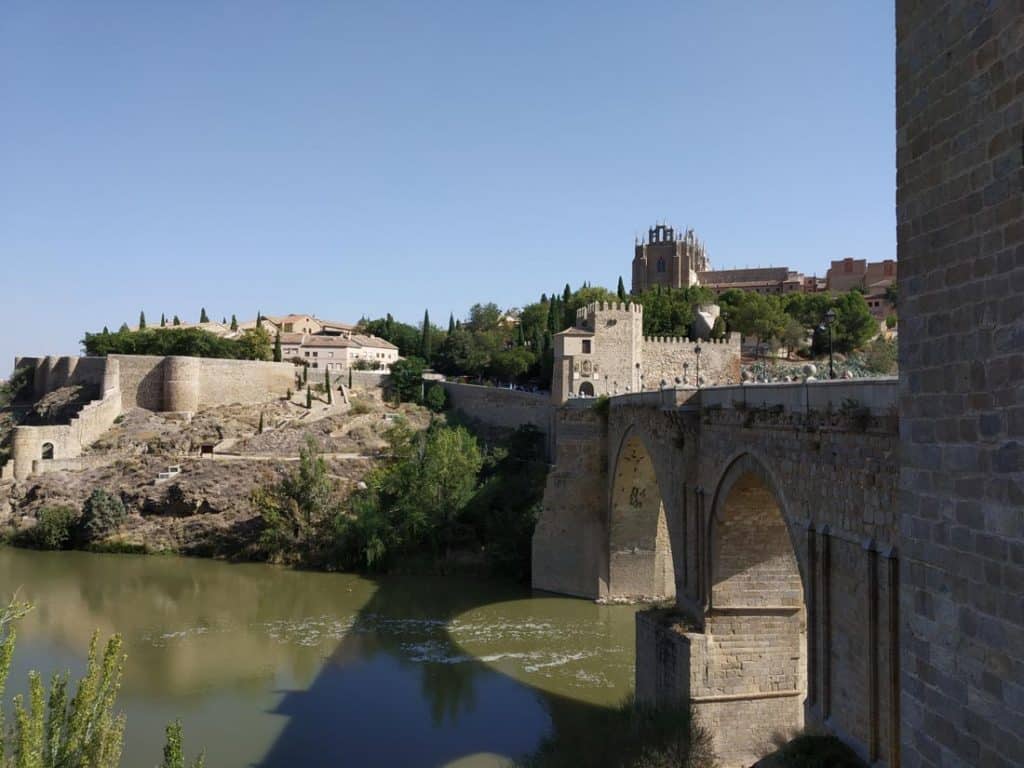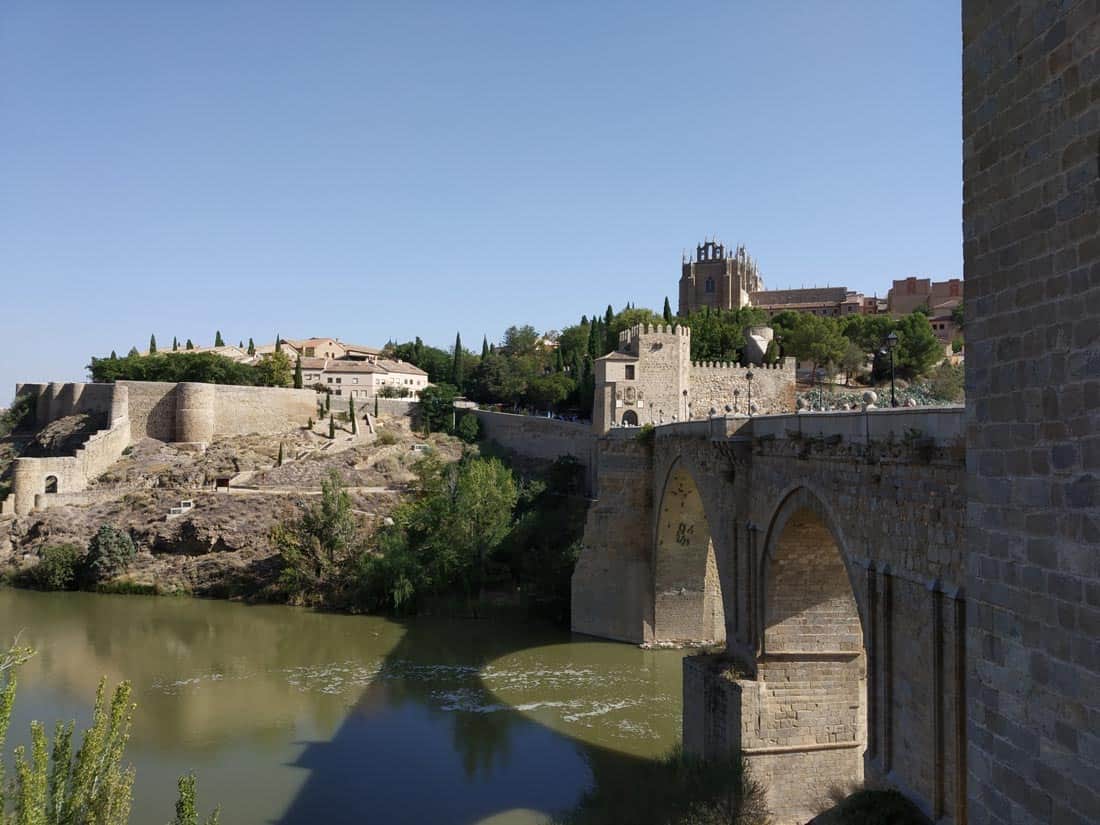 All you have to do is mount up the pulley and then slide smoothly on your way down to the base of the city.
All these, you will do under the influence of gravity!
If you loathe higher heights, we recommend that you do not attempt this. Instead, attempt one that is less scary first before upgrading to this one that is too steep.
Castle of San Servando
Right next to the Tagus River is this Castle of San Servando. It has its roots in the medieval era. With time though, it changed its character and functionality.
It has served as a monastery for the Knights Templar and monks and now serves as a national monument-cum-museum. Further, it also inspired El Greco's 'View of Toledo' painting.
As we speak, this 'castle' serves as both a hostel and a hotel. Kindly note that no one is allowed to get into the facility. As such, you will just have to peek into it from afar off.
Special permission and documentation are needed to be able to enter the facility correctly. Owing to the bureaucracies involved, obtaining this permission may be a tall order.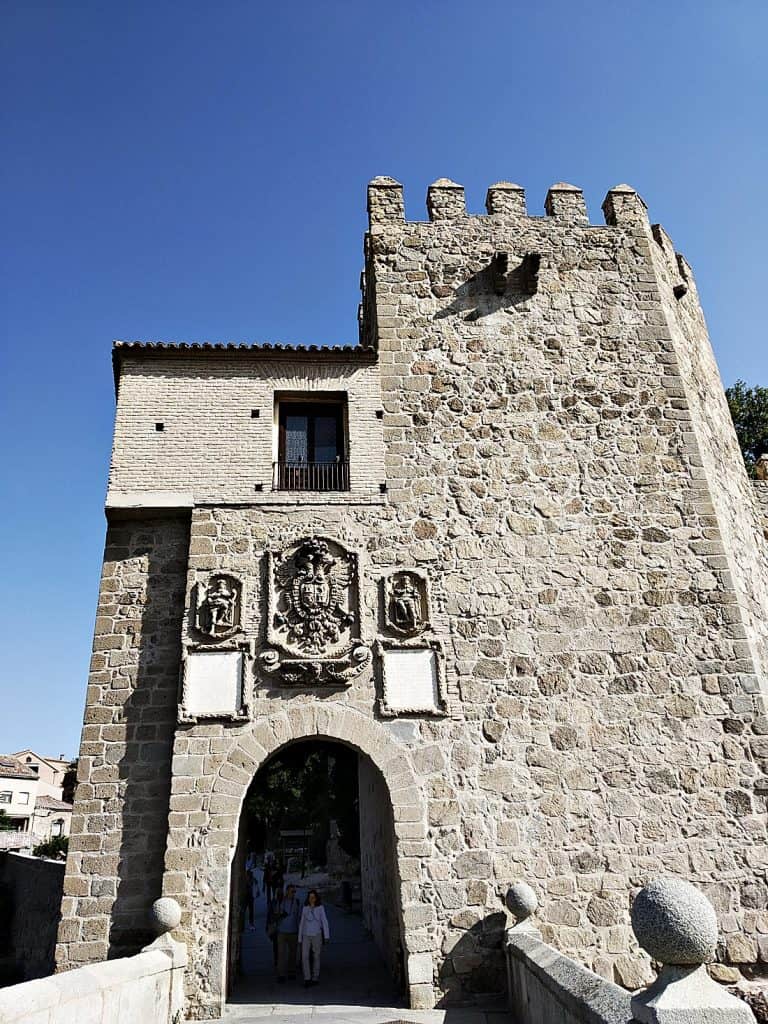 Mezquita-Iglesia de El Salvador
Mezquita-Iglesia de El Salvador is a church, though not your ordinary church.
Initially completed in 1159 AD, this church has undergone massive renovations and upgrades a whopping four times.
Though small, this church is filled with numerous resources and mysteries. It is the embodiment of many Visigothic decorative reliefs. These decorations stretch back in time to the Roman times.
Unlike many churches in the area, this one is oriented in the South-easterly direction towards Mecca.
That is because it formerly served as a mosque before its conversion to a church building.
The entry here is free!
Plaza de Zocodover
At the heart of the city is the Plaza de Zocodover market square. This one is within the autonomous community of Castile-La Mancha.
Throughout much of its history, the square served as the nerve historic center of the city.
Here, all kinds of animals were exchanged for money.
These included mules, mares, foals, donkeys, and horses.
The square did undergo some redesign by Juan de Herrera during the reign of King Philip II.
At the moment, it hosts weekly market days — many flocks here every Tuesday to purchase their merchandise.
It hence goes that you have to schedule your visit here on a Tuesday to make the most of your visits.
Even if you do not speak Spanish, you will still enjoy the company of many people.
Castilla la Mancha
Castilla la Mancha, strictly speaking, is not found in the city. Instead, it occupies the 72km stretch of land that lies in between Madrid and Toledo.
This region is replete with numerous vineyards, windmills, castles, and mountain ranges. It also doubles up as a setting of Miguel de Cervantes's novel, "Don Quixote."
To get the most of the area, we advise that you drive slowly from Madrid to Toledo. As you drive through, look to the left and right of the road.
Occasionally, get out of your car to capture photos and shots of the roadsides. There are no restrictions concerning which facilities you may photograph here.
Museo del Greco
El Greco is a celebrated Spanish painter who accomplished many feats throughout his entire lifetime.
No other facility in the whole of Spain celebrates the life and accomplishments of this painter better than this museum.
That is no coincidence as the painter indeed spent much of his time in the city.
The El Greco museum opened its doors way back in 1911 and is in the Jewish quarter.
A lovely garden adjoins this otherwise spectacular building facility. Are you a lover of art? You can never tour the city and go back to where you came from without spending some of your time here!
If you are short on cash, we suggest that you get here on Saturday after 4 pm local time. Entry into the facility at such a time is free-of-charge.
If you have the time, do visit the Museum of Santa Cruz, too.
Caves of Hercules
We have already explained that Toledo has been under varying dominions throughout its past. One significant power to set up base here is the Roman Empire.
One of the vestiges of the Roman occupation of this region is the caves of Hercules. They are some underground vaults that occupy the space underneath the San Gines alleyway.
These caves exude some striking looks.
They hence make for an excellent place to retreat to for sightseeing and photography.
Do you fear closed spaces? We caution you against getting here. You might want to take advantage of the guides to help with coping with the fear, tension, and anxiety that ordinarily arise.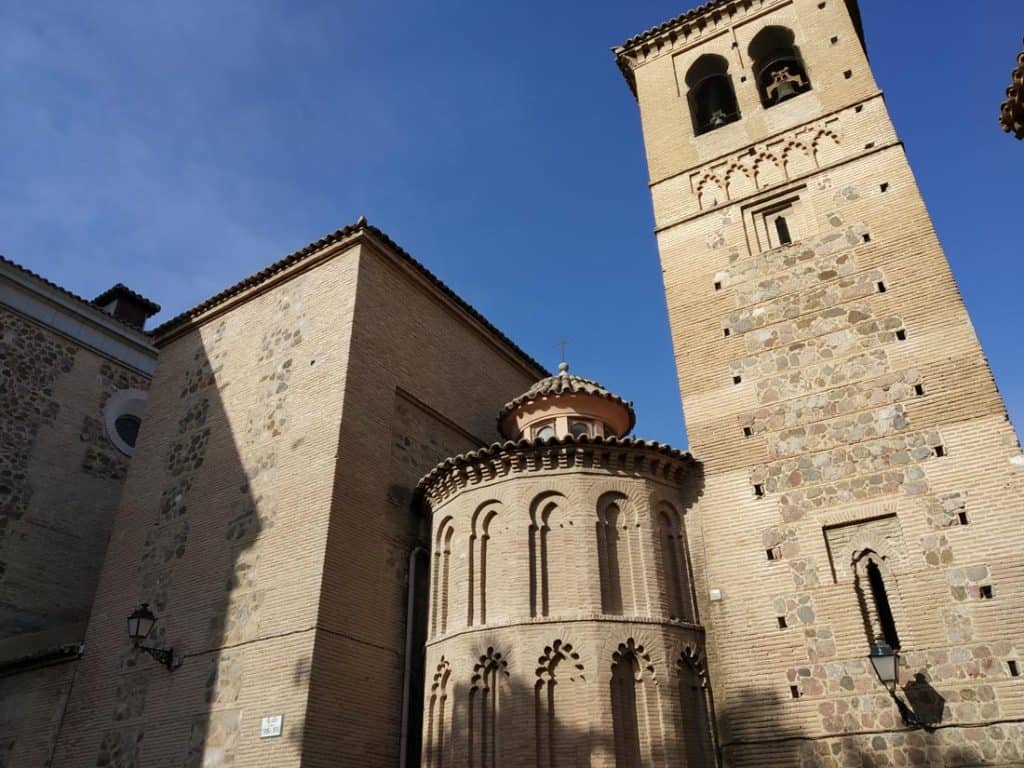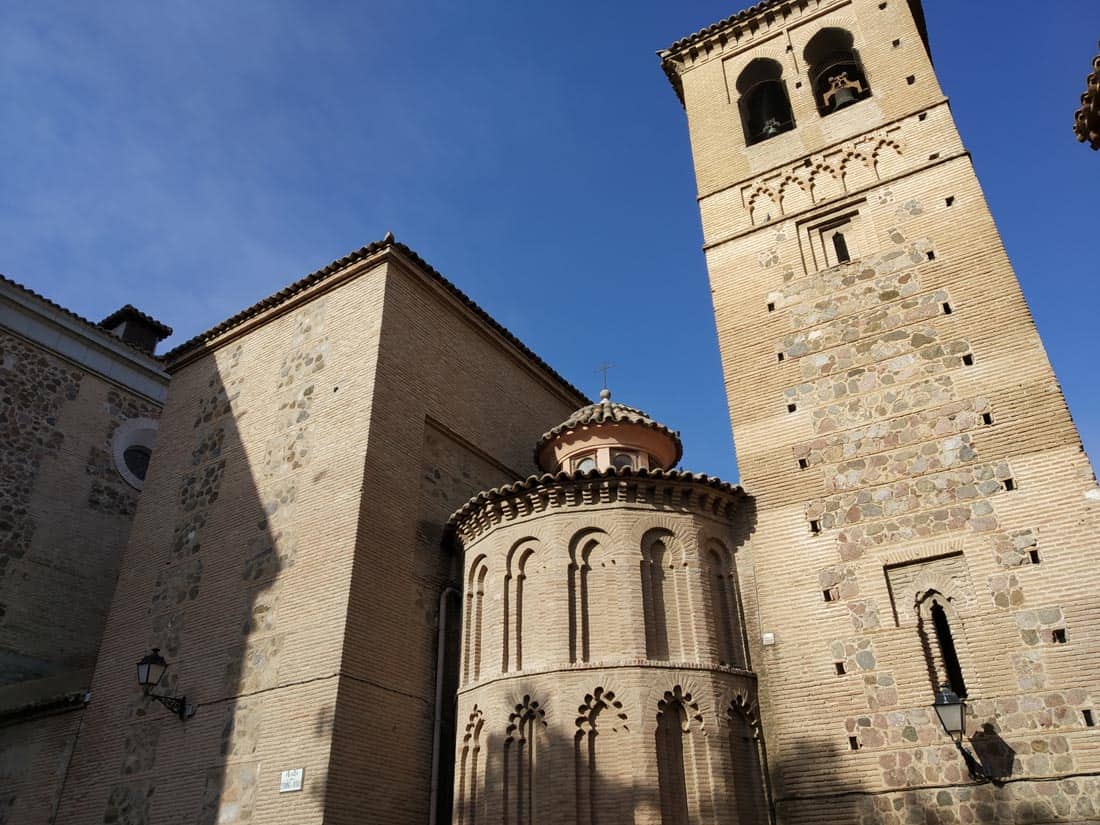 Jewish Community of Toledo
We have referenced the Jewish quarter repeatedly. Time how now come to explain it further. Well, this is a section of Toledo city that was predominantly inhabited by Jews stretching back in the Middle Ages.
Today, this is a silent reminder of the role of Jews in the success and wellbeing of the Spanish Empire.
In the 12th and 13th centuries, this was the most crowded segment of the Kingdom of Castile. Part of the reason why Toledo is called the "city of three cultures" stems from the existence of this quarter.
See the horseshoe arches in this temple.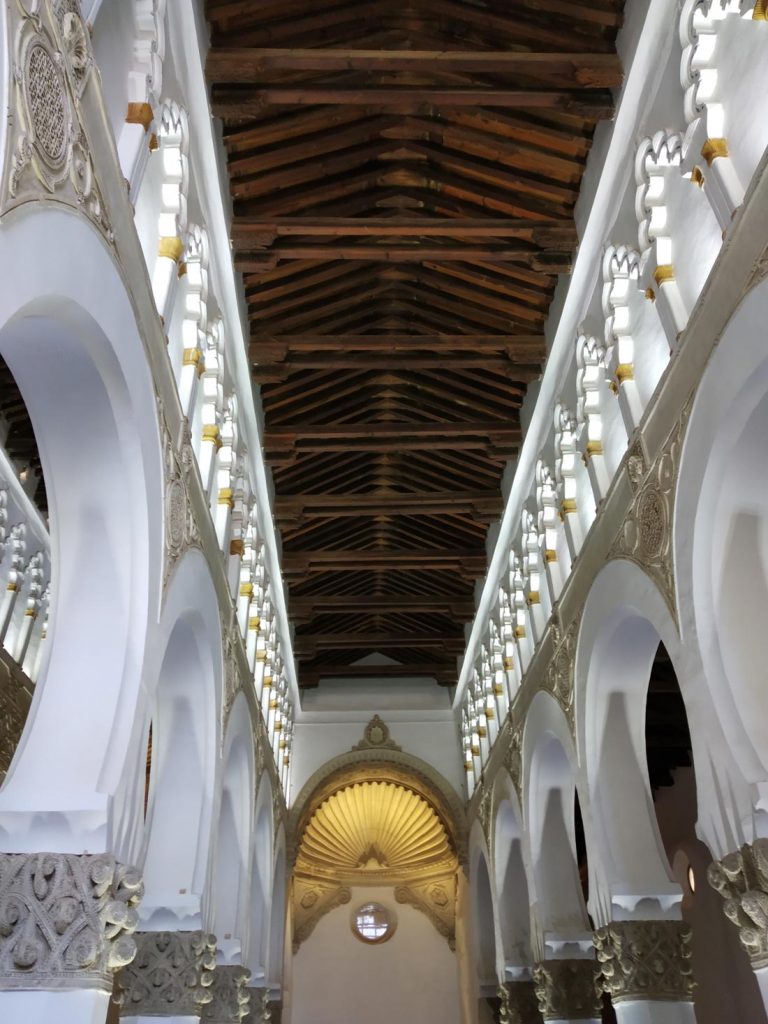 It brought together Jews, Christians, and Muslims in peaceful coexistence. We suggest that you pay a visit to the area to catch the rich past that the city once embellished.
There is a beautiful Sephardic Museum if you want to visit, and the Cristo de la Luz Mosque.
Where is Toledo, Spain?
Toledo lies to the south of the Spanish capital, Madrid, at a distance of around 72km.
It hence occupies the central portion of the nation.
Toledo is accessible to Madrid via road and railways.
In all, the city is mostly famed for being a hub of tourism, ancient architecture, and many other world attractions.
Basic History of Toledo
This city has its roots in medieval times. Over the centuries, the town played hosts to many emperors and conquests.
It has been dominated by Christians, Romans, and Muslims, among many conquerors.
Owing to its majestic beauty and numerous attractions, the city earned its right as a UNESCO W.H. site, in 1986.
As of today, it is referred to by numerous nicknames.
The "imperial city" and the "City of the Three Cultures."
Its "imperial city" name is inspired by the fact that it served as a court of a Holy Roman Emperor, Charles V.
The latter "City of the Three Cultures" is informed mainly because Christians, Muslims, and Jews have had some presence in the area.
Between the 15th and 17th centuries, the city was famous for its sword making.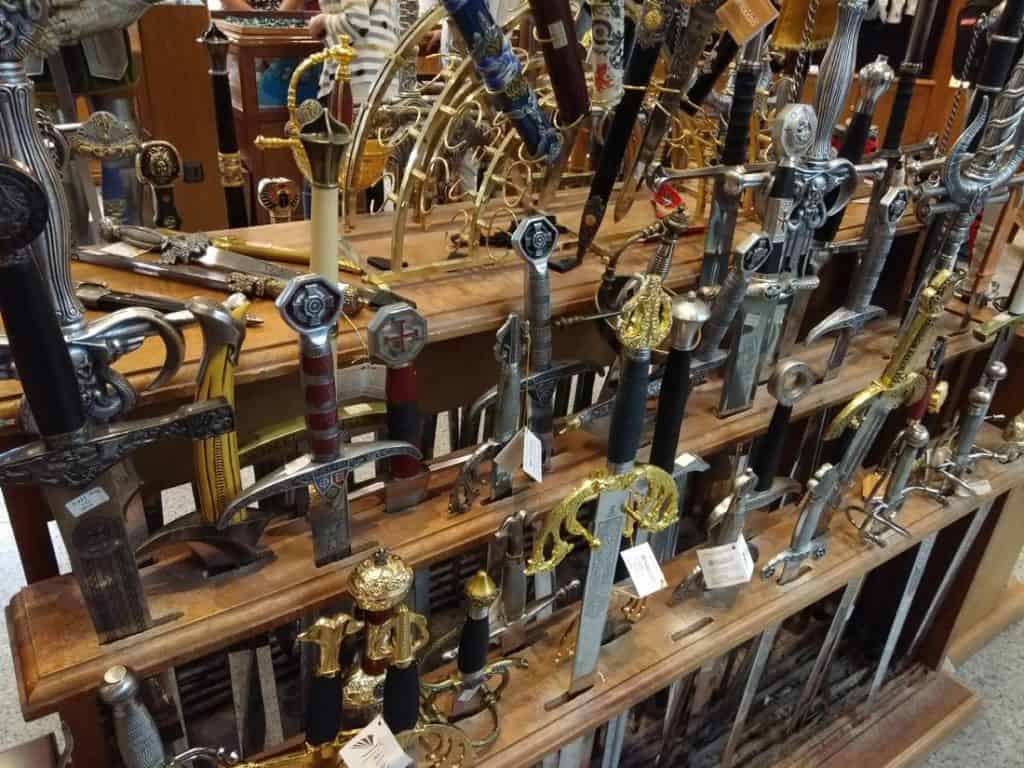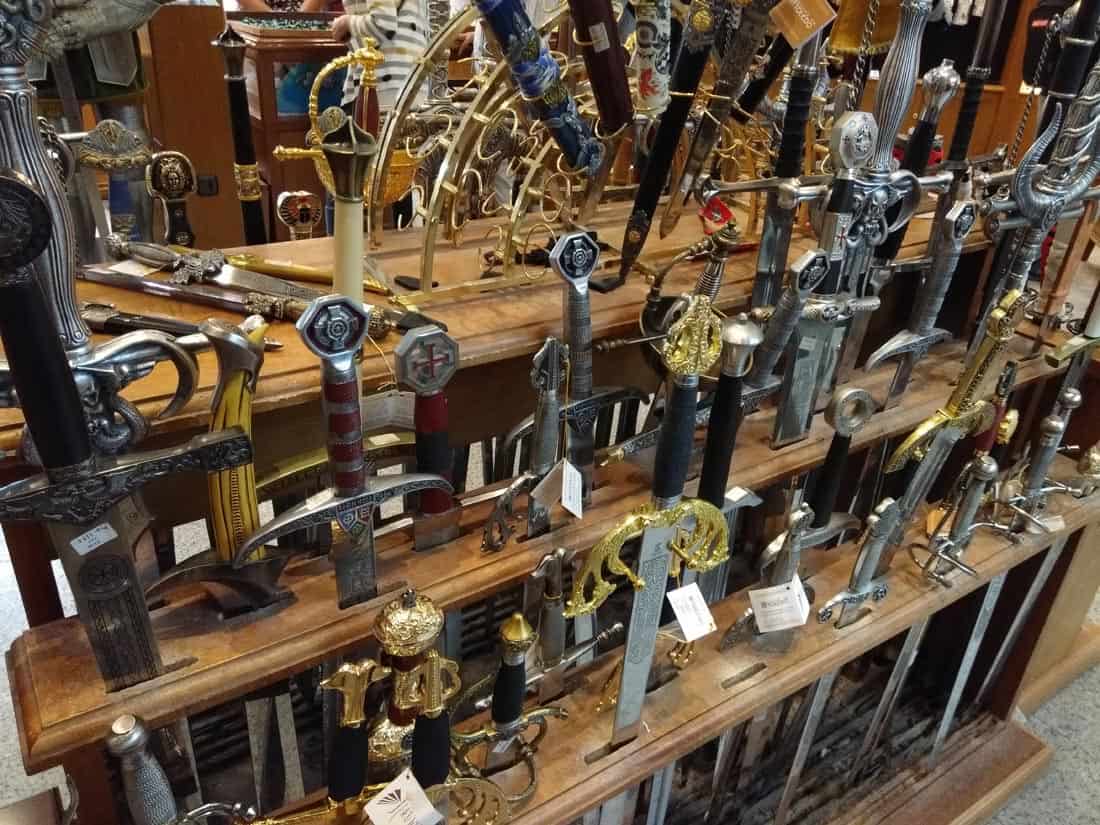 How to Get to Toledo Spain from Madrid?
You can get to Toledo in two main ways. We explain these here below:
Via Road
A road network connects Madrid to Toledo that measures approximately 73.2 km. You should expect to spend around 1 hour 4 minutes to cover the entire stretch.
It is noteworthy that the road network is good enough. As such, you will not struggle and hassle much to get here.
Via Train
You also have the train for your choice. A high-speed train does connect these two destinations.
This train takes roughly 33 minutes to cover the entire distance. You have to part with some money to take advantage of it. As we speak, this figure comes to €10.
The first train sets out at 6:50 am, whereas the last one does so at 9:50 pm local time.
Altogether, 11 trains shuffle in between the two destinations on a typical day. They leave and dock roughly 2 hours 30 minutes apart from each other.
What to Taste in Toledo Spain?
Like any other European destination, Toledo also contains numerous dishes that are of interest to any visitor.
Below are some of the most fabulous recipes you might want to try:
Marzipans: This is a confectionary. It comprises a mix of honey, sugar, and Almond. Other than the base ingredients, this confectionary is altered to mimic the tastes of many natural fruits and vegetables.
Saffron Nirvana: Saffron is not a food on its right. Instead, it is a condiment that is widely used to spice up many main meals. You will come across it in many of the recipes in the area.
Manchego Cheese Heaven: Do you love cheese? Toledo takes good care of you, as well. You will also get to enjoy this famous Manchego cheese. You will find it in many stands around and about the city.
Game Meat Stew Central: This is the recipe for you if you love and cherish meat. The meat comes from venison.
As such, it is very nutritious and soft to the taste. It full with loads of protein.
Is Toledo Spain in Your Plans?
Having exhausted the basics you need to know with regards to Toledo, Spain, we invite you to pay a visit to the area.
Like any other mainland European destination, Toledo also experiences considerable fluctuations in weather and climatic patterns.
These are the summer, winter, autumn, and spring.
Unlike many other European destinations, though, the fluctuations in weather patterns are a bit too narrow.
You hence have the rare privilege of being able to tour the area at any time year-round.
The best time to pay a visit here, though, is summer months that stretch from May through to September.
The climatic is generally hot and dry with occasional showers.
This town receives tourists from many parts of the world at such a time.
Enjoy! Also, read The Country With The Most Castles In The World.