Leaving Verona we went South to explore the things to see in Florence Italy.
Florence is also met under the name "Firenze" which is the actual Italian name of this city. We also planned to go to Pisa and we did. But the main goal was the amazing city of Florence.
The city is also considered as the birthplace of the Renaissance, and has been called "the Athens of the Middle Ages". That is not by chance when you discover the multitude of things to see in Florence.
The old city of Florence is a total museum whereas many modern facilities blend with the old. We had to plan our visit there as we had to also visit Pisa (1 hour away).
This visit to Florence was my 2nd one (I really like the old city) but the first for Maria and I had promised her that she would love it. She did!

We arrived a bit tired the night before and after having our traditional night walk to see how the city looks during night time we decided to stay a little bit longer outside and enjoy a drink.
We found a little nice place where modern dressed Italians also seemed to enjoy. We were hungry thinking about also ordering something when we noticed that people were coming in and out of the bar carrying small plates of food.
It seemed like the bar was one of those where with your drink you could enjoy unlimited amount of finger food.
It was indeed like that! So, to our surprise we had 2 in one. We enjoyed some cocktails along with slices of pizza, shrimps with rice, small toasts, pasta and many more.
I remember that we met the same thing in Rome (we will publish another article for this) and that was also a pleasant surprise.
Food was a bit more spicy… Hmmm… maybe to enjoy more drinks! Things to see in Florence and things to eat indeed!!!
All and all it was a nice break to have some quite time with drinks and snacks on a large square of Florence, enjoying the history around us.
Next morning adventures started after a very good breakfast at our hotel (Starhotels Michelangelo).
We were a bit skeptical about the breakfast since we hadn't read good comments for this but it seems that tripadvisor does quite some work, since the hotel has completely upgraded their breakfast with many and different buffets to fulfill any kind of appetite.
Things to see in Florence historical centre
We begun by the bridge of Ponte Vecchio. An interesting structure where as you walk you see mostly jewelry shops left and right of the road.
The shops themselves are build in such way that half of them (their backside) is hanging on air over the bridge.
Over the bridge exists the Vasari's elevated corridor which is linking the Uffizi Gallery and residence to the Medici residence (this is Palazzo Pitti).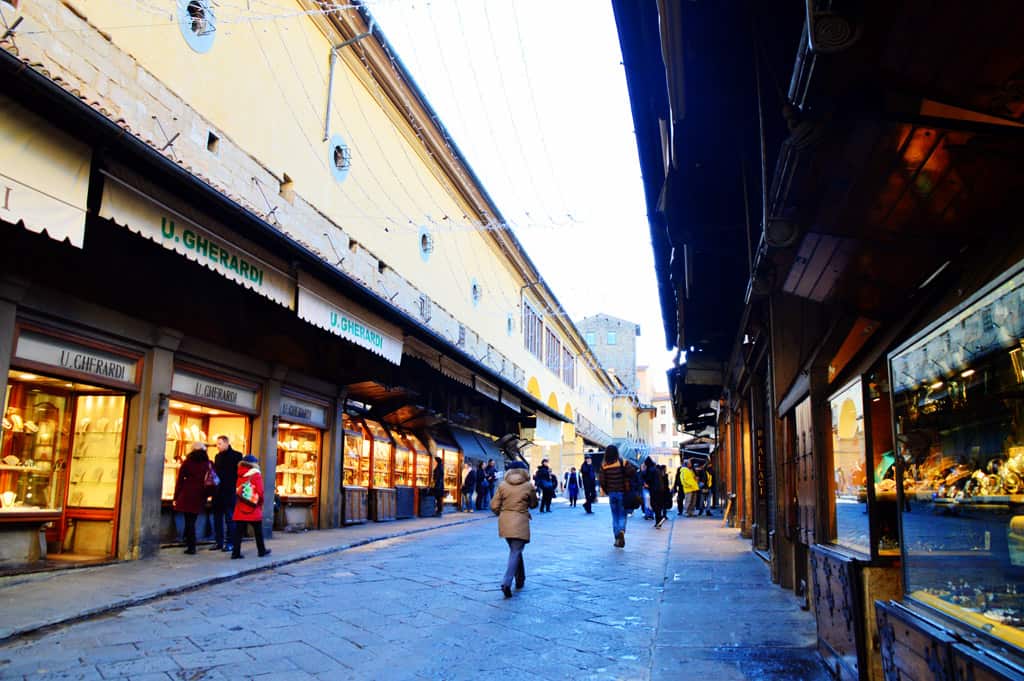 After that we had a very relaxing walk uphills towards the Piazzale Michelangelo where we would enjoy a surrounding panoramic view of Florence.
Many people were there for the same reason.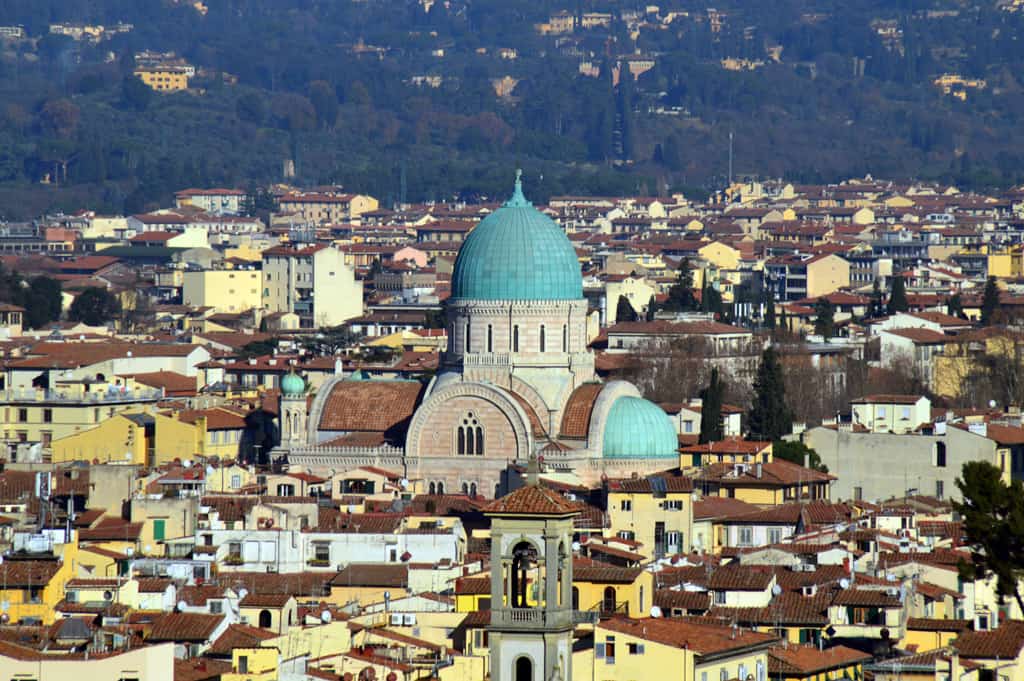 Santa Croce of Florence
We enjoyed our walk back and over the Arno river and then move towards the Basilica di Santa Croce. But that was not the end. There were even more things to see in Florence.
The Basilica consists of many chapels, and rooms with paintings, amazingly serene and green backyards.
Peace and serenity was the feeling that was beaming from that place.
Inside exist the tombs of many famous persons like of Machiavelli, Michelangelo, Alighieri, Galilaeus, Niccolini, Rossini, and more.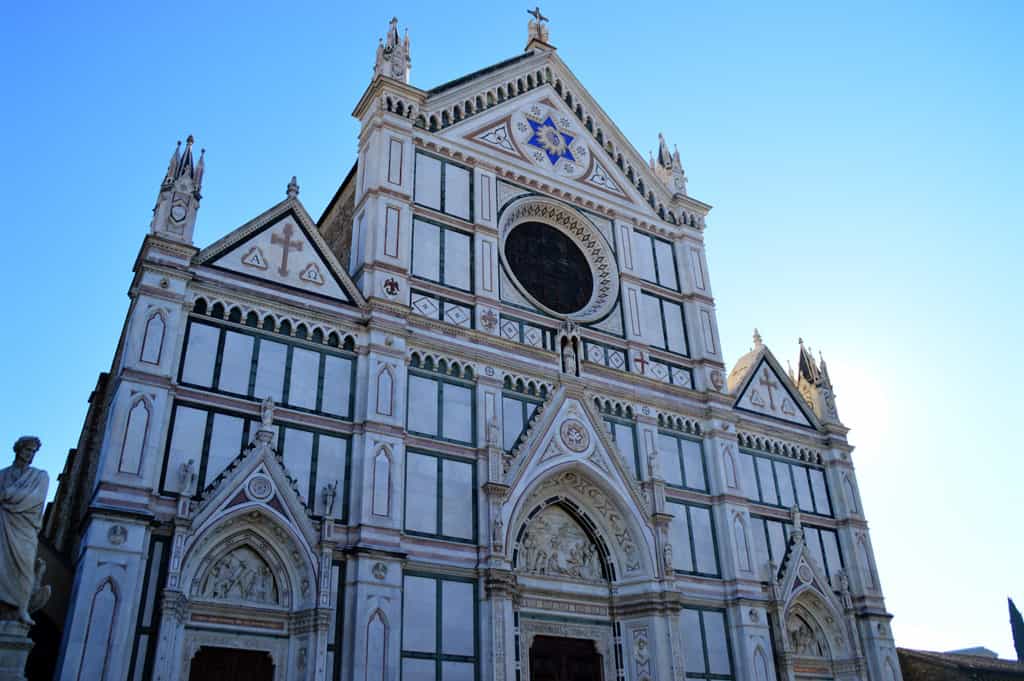 Palazzo Vecchio of Florence
We then moved towards Palazzo Vecchio were an astonishing amount of statues exists that depict the mastery of Firenze artists. Check them out.
See the Piazza de la Signoria statues.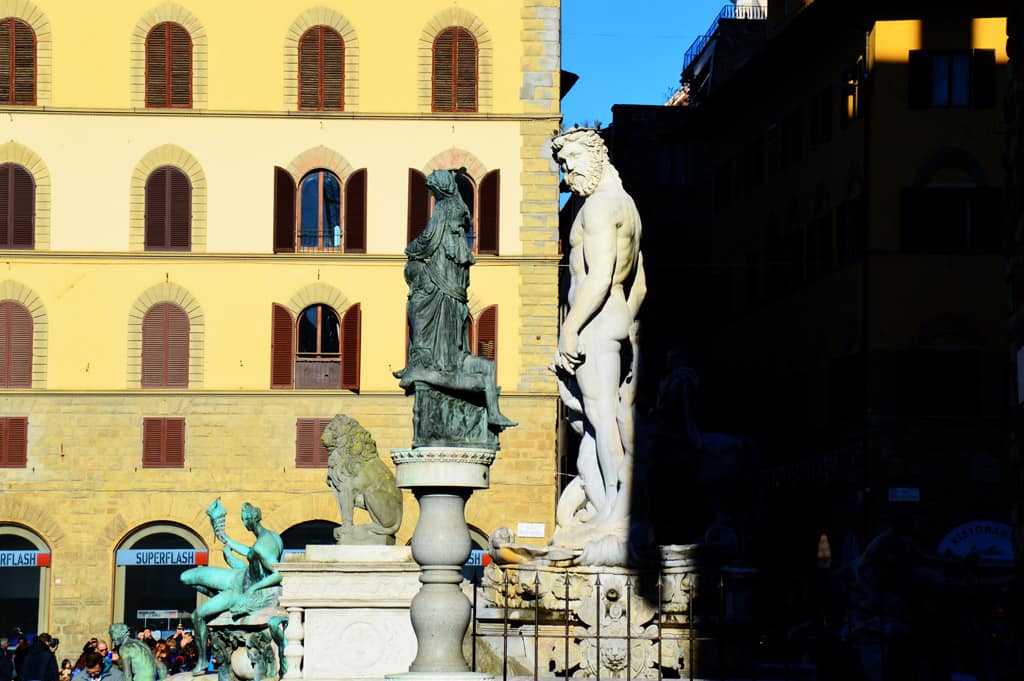 Here is a view of Palazzo Vecchio.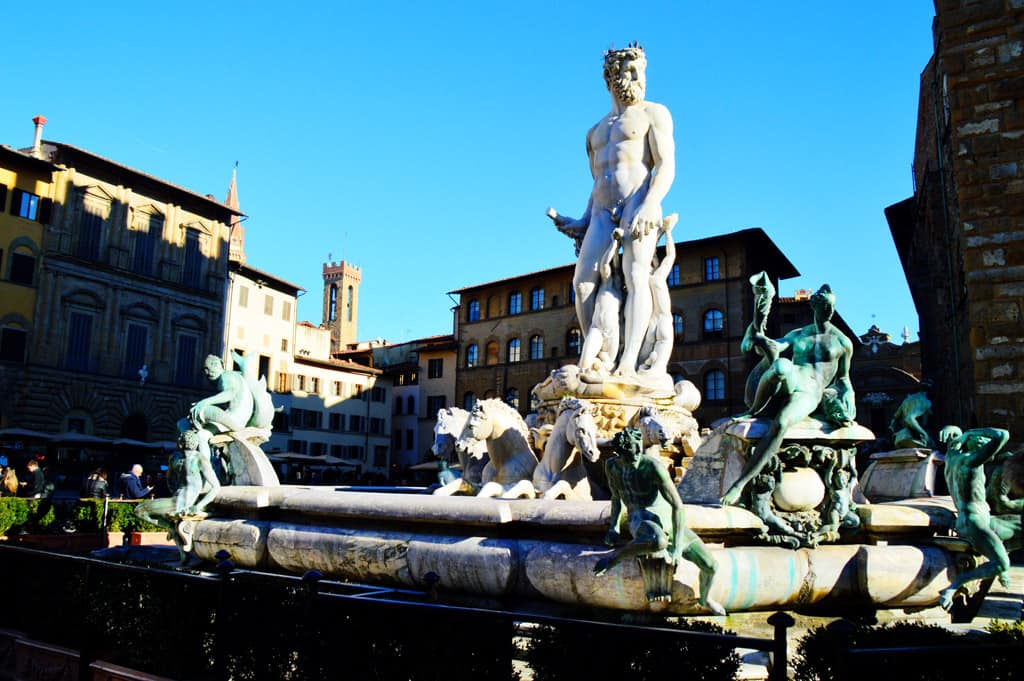 Piazza del Duomo
Of course we couldn't leave Florence without visiting the amazing Duomo. There is a series of photos presenting the different sides of Duomo along with the Campanile di Giotto.
The whole structure leaves you speechless from its beauty and detail in all elements of the structure.
A true masterpiece. With a small fee (but with a waiting line of about 2 hours) you can also climb at the top of Duomo and enjoy the view from there.
Across you can also visit the famous Battistero di San Giovanni, where -I believe- its most amazing element is its door.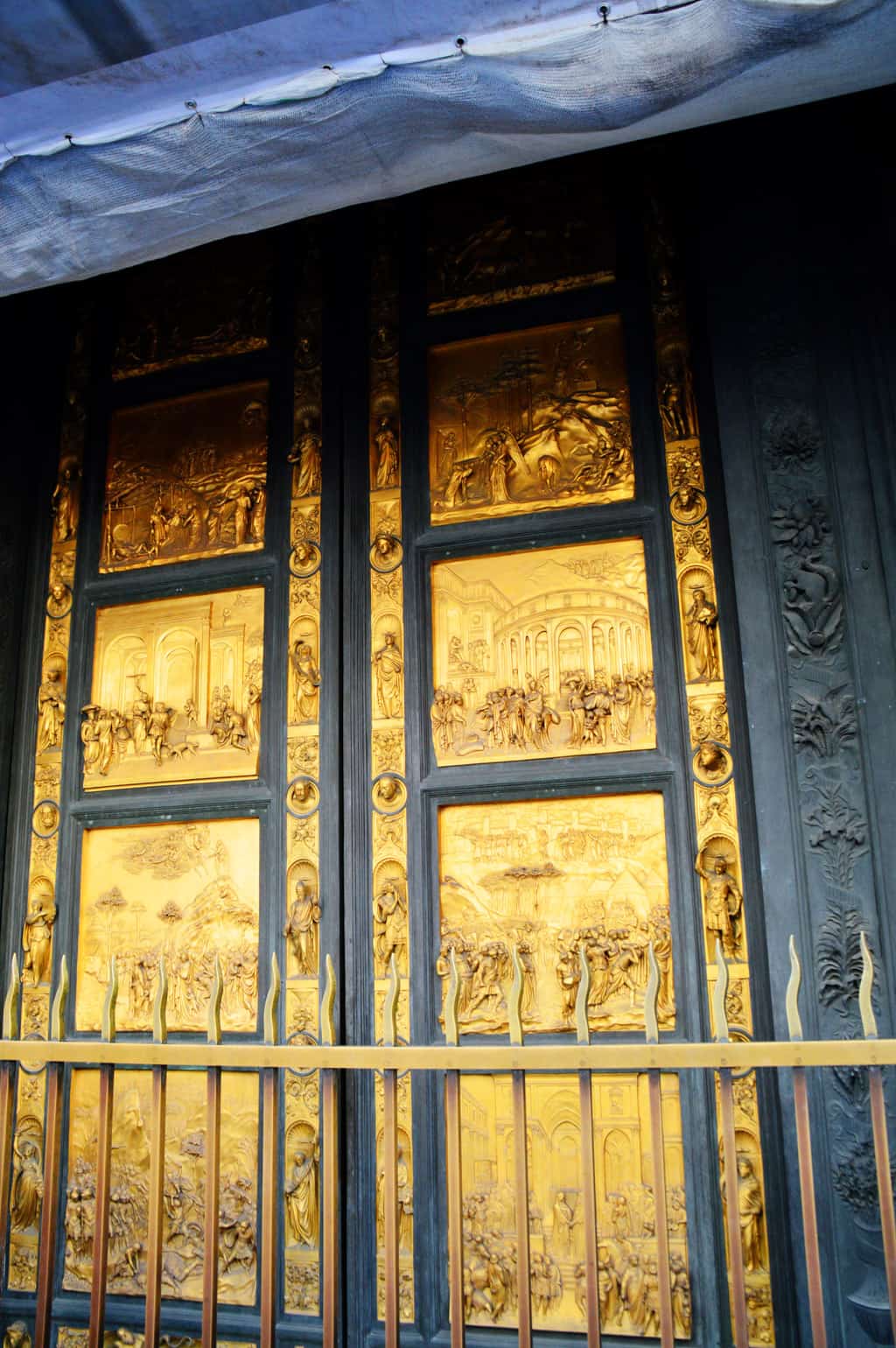 Firenze is an amazing city where you can stay for days and study the architecture and artifacts found all over the city, covered with mystery that inspired famous novelists (Dan Brown), video games (Assassins Creed 1).
The last one takes place in the streets and roofs of the city whereas they were modeled into 3rd animation as they were.
Once you land at the city you find yourself like being inside the game.
Here are photos from the Duomo.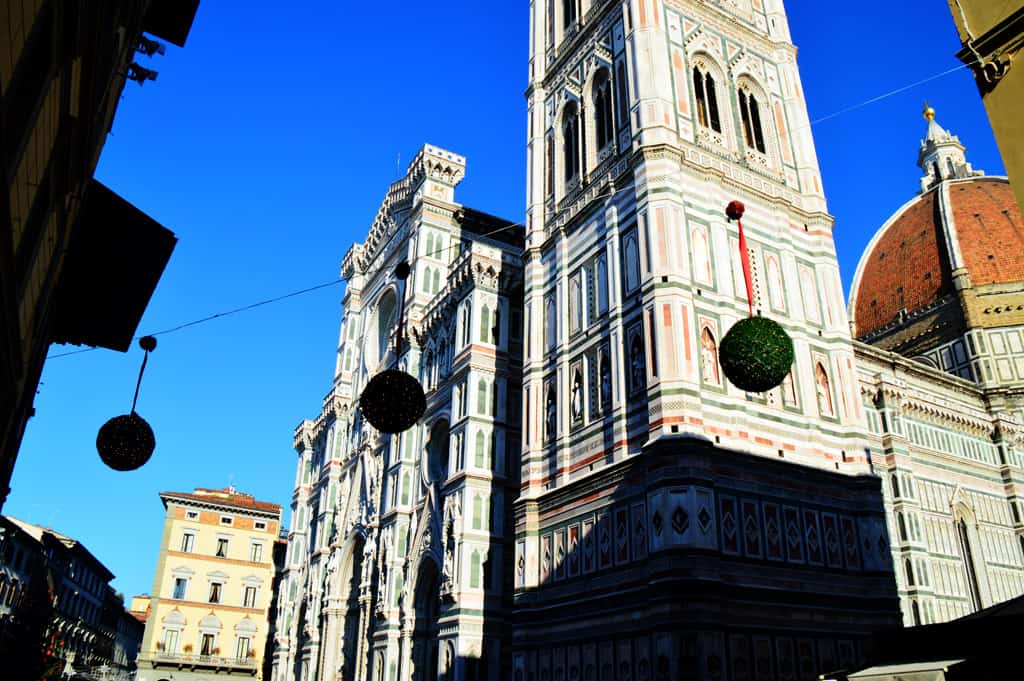 The art lover and the cultural traveler as well the seeker of mysteries will find his/her place in Firenze. A truly amazing place to visit in Italy.
Visiting Pisa
We had some time and we quickly drove to Pisa (well known for her tower, but that was not the only thing as we found out).
The day was passing fast and we wanted to have some light to take pictures. We visited both the tower and also entered it, plus the exterior Piazza with the Cathedral.
Actually, the bell tower of Pisa is hollow and it has no other facilities, but only a stair that you can walk and go at the top. There, 5 bells exist and the view of Pisa is equally great.
See more in this post for Pisa.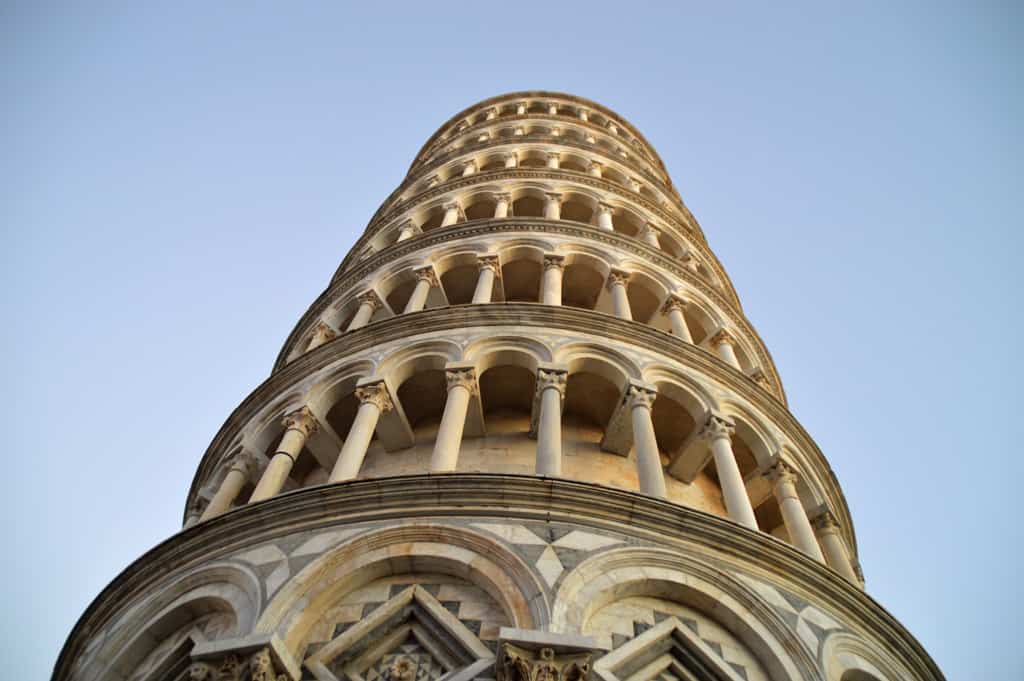 We returned to Florence and this ended our trip that started from London with the first stop at Mont Saint Michel, moving to Lyon and then to Verona.
The next morning we went to Ancona, making a very quick stop at San Marino. From Ancona we took the boat to Patrais, Greece and back to Athens.
The whole trip enhanced our perspective about how important traveling in the world is. You see and experience things that change you.
Florence was the perfect closure for the specific road trip and we already plan the next one.
Are there things to see in Florence you want to suggest? Place your comment below!