Going to Rome with kids was something we had planned for quite some time. The city of Rome is a walk-through, a vast ancient Roman museum. The town is family-friendly and kid-friendly.
This means lots of walking (of course) as there are plenty of activities in Rome for older children and young ones.
Children between the ages of 13 and 10 somewhat quickly get tired, especially on summer days (end of July).
We were surprised that our children exceeded our expectations and were not nagging much. This made our family tour an exceptional experience.
This was their first trip abroad, and they were amazed by the process. The historic center of Rome is a UNESCO WHS.
Here is how we organized our trip to Rome with kids for 4 days and all the things we experienced.
How to plan for a trip to Rome with the kids?
Traveling solo or as a couple is entirely different than having 1 or 2 kids (or more) with you.
Your schedule can't be the same. Kids have different needs, stamina, and, of course, different personalities.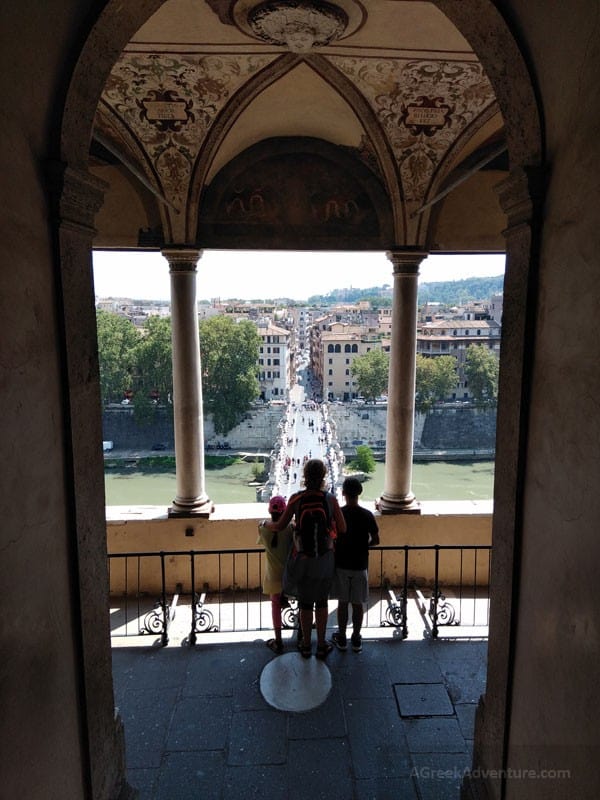 Our kids do sports all year long, so they are in good health.
Of course, any sport differs from walking around a city for multiple hours, even with breaks.
Getting Into The Mood for Rome
We explained the possible itinerary a couple of months before booking any tickets. That helped kids to understand that a lot of sightseeing and walking inside the city of Rome would be involved, with zero car driving time.
We explained the weather conditions (end of July 2018) and what they will need to have along. An explanation of why to travel light was given and to pack only the clothes and shoes they would use and no more.
Making sure they understood the walking/sightseeing part of Rome (and getting their approval), we searched for the best options for getting to Rome with kids.
The Budget for Family Travel in Rome
Rome is not a cheap city. Even its "cheap" options are expensive, especially in hot tourist seasons (July, August). Plus, when you walk all day long, you need the energy, so you eat (more).
Portions are not like in many countries. For example, when you order a Greek salad in Greece, you get a plate that can be a standalone meal by itself. It is usually a big salad.
The reason is that Greeks share their salad, so 1 Greek salad is suitable for 2-3 people, plus their main course.
In Italy (and in many other European countries), a salad is considered a single-person plate; thus, it is not that big.
A pizza is also considered a single plate for one person.
The crust is thin (as it should be), and the toppings are too thick.
One person can eat a whole big pizza and feel beautiful. Pasta and spaghetti are not filling the entire plate, which means one plate may not be enough.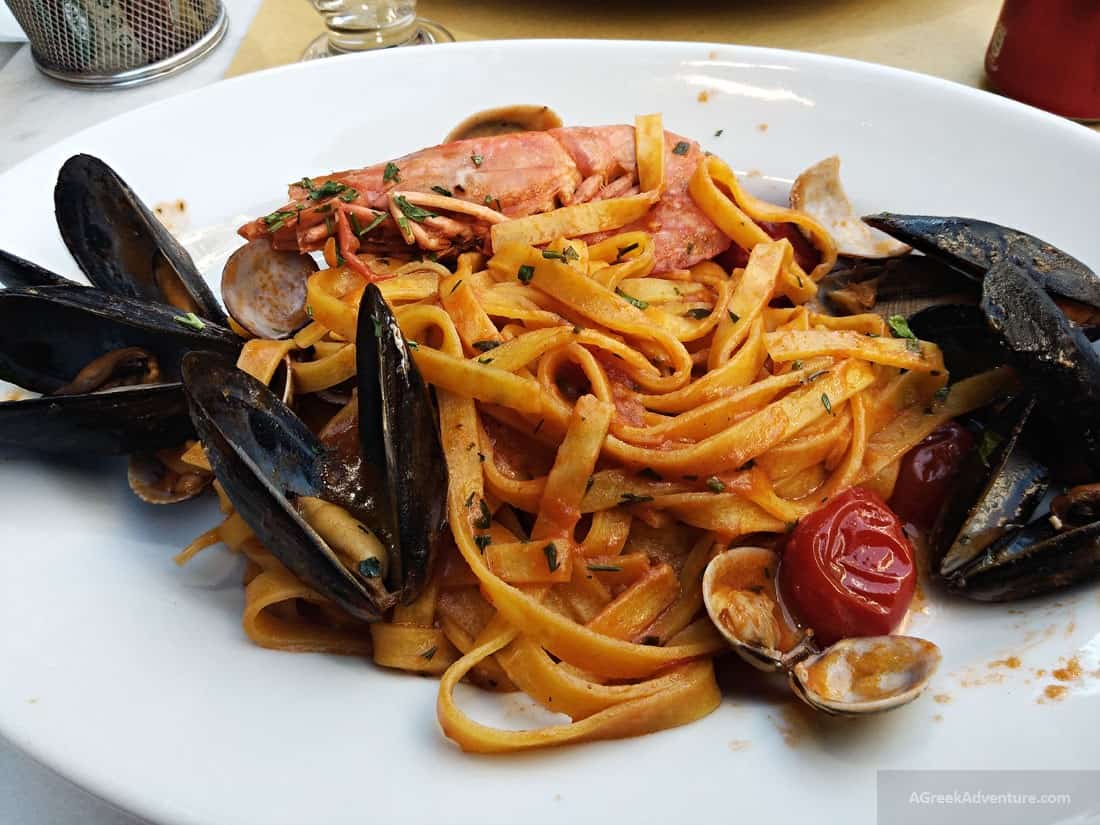 Add some drinks and sweets afterward; a four-person family can easily exceed 70-80 euros per meal.
So budget wisely for lunch and dinner.
Taxi from the airport to the Rome center costs from 48 to 50 euros, and you can book it online to wait for you there.
A gelato costs around 3.5 euro per serving on a cone (with a massive ball of ice cream) but costs around 8 euro (and more) if you sit down at a gelateria and it is the same amount of gelato.
You don't need a taxi or such inside Rome. Even the road starting in front of the Colosseum and going down until the Altare Della Patria is closed for cars during weekends so that you will walk anyway. Rome is to walk it through.
There are so many tourists that a car is useless if you plan to stay in Rome, and there is always good public transportation. However, almost all walk to feel the city.
Clothes & accessories planning for summer walking.
We followed the rule of less is more.
Each of us got one pair of comfortable shoes/sandals they felt good with. We had 4+1(departure) days in Rome, so we packed an equal amount of clothes.
Summer clothes don't take much space, and we managed to have one large suitcase, a carry-on handbag, and a small backpack for all 4 of us.
Where to eat in Rome with Kids?
That was one thing we were not worried about at all.
We've been to Rome and Italy quite a few times, and we know that there are tons of options for lunch and dinner every few meters. Not to mention the "gelato" options too.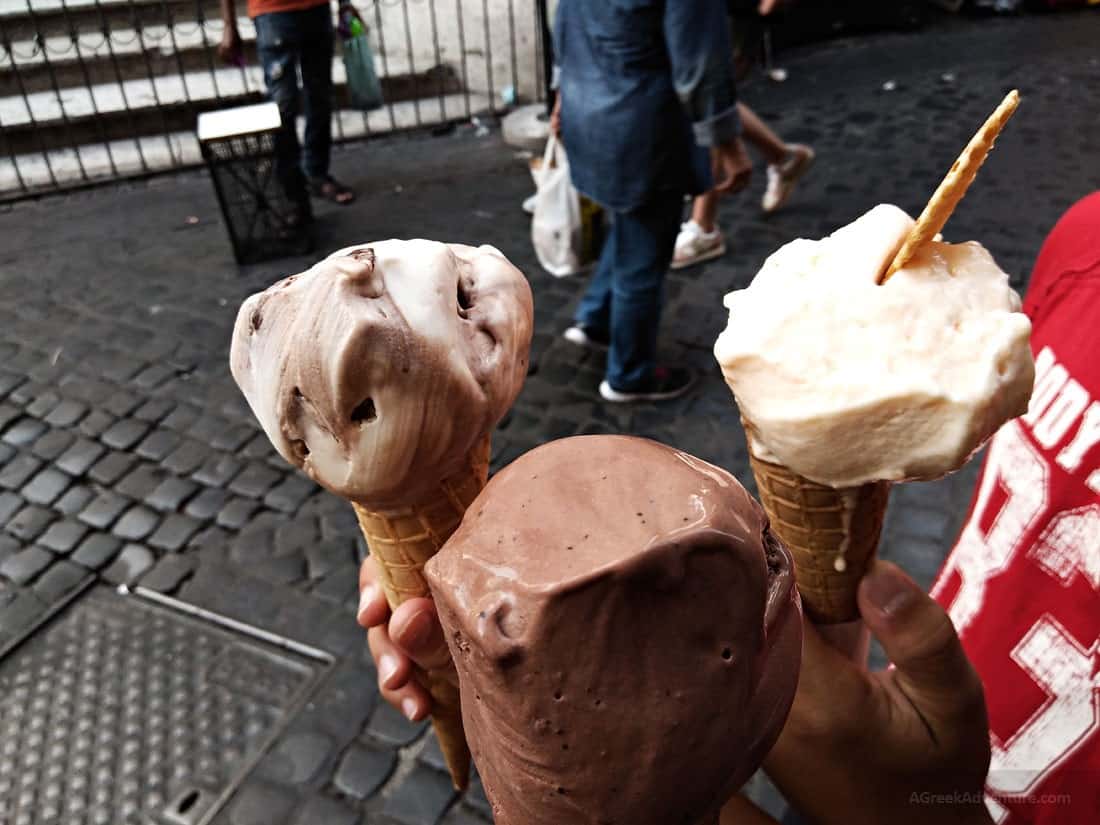 Yeah, we promised that on that trip, the central eating theme would be pizza, pasta, and gelato, and we fulfilled our promise more than enough.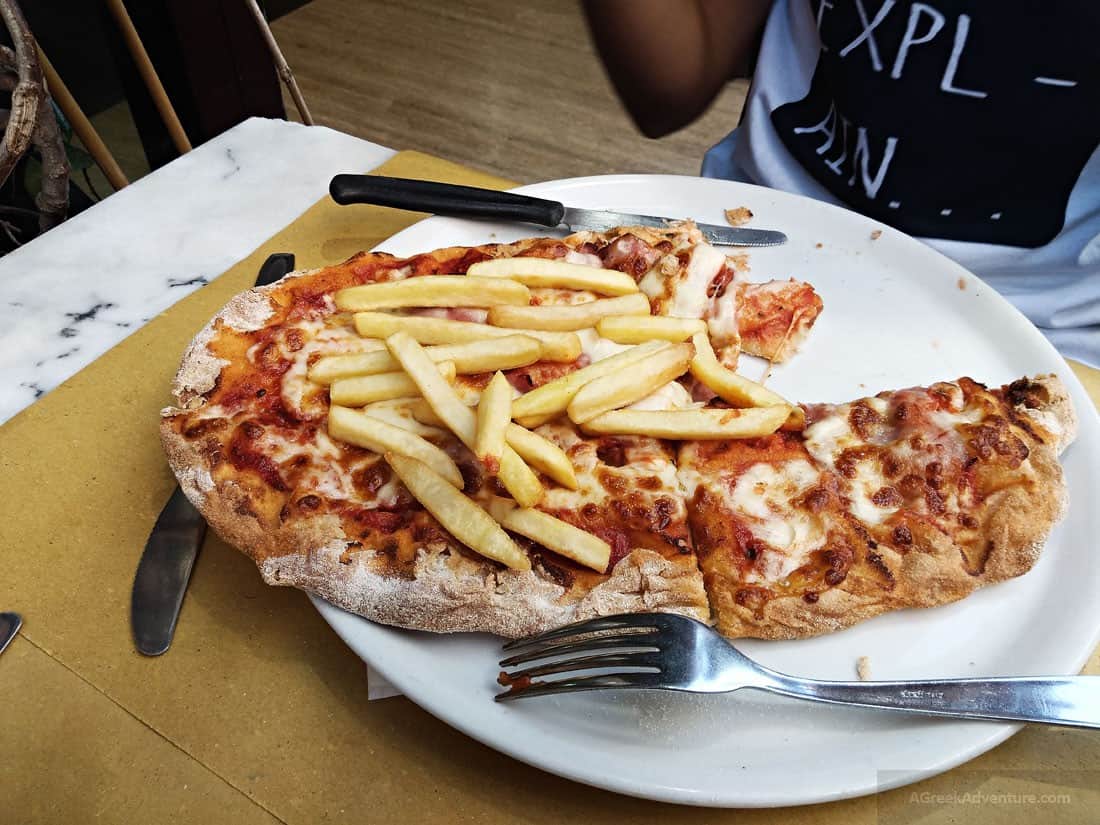 For quick lunches, we had different paninis, also available in thousands of locations all around Rome.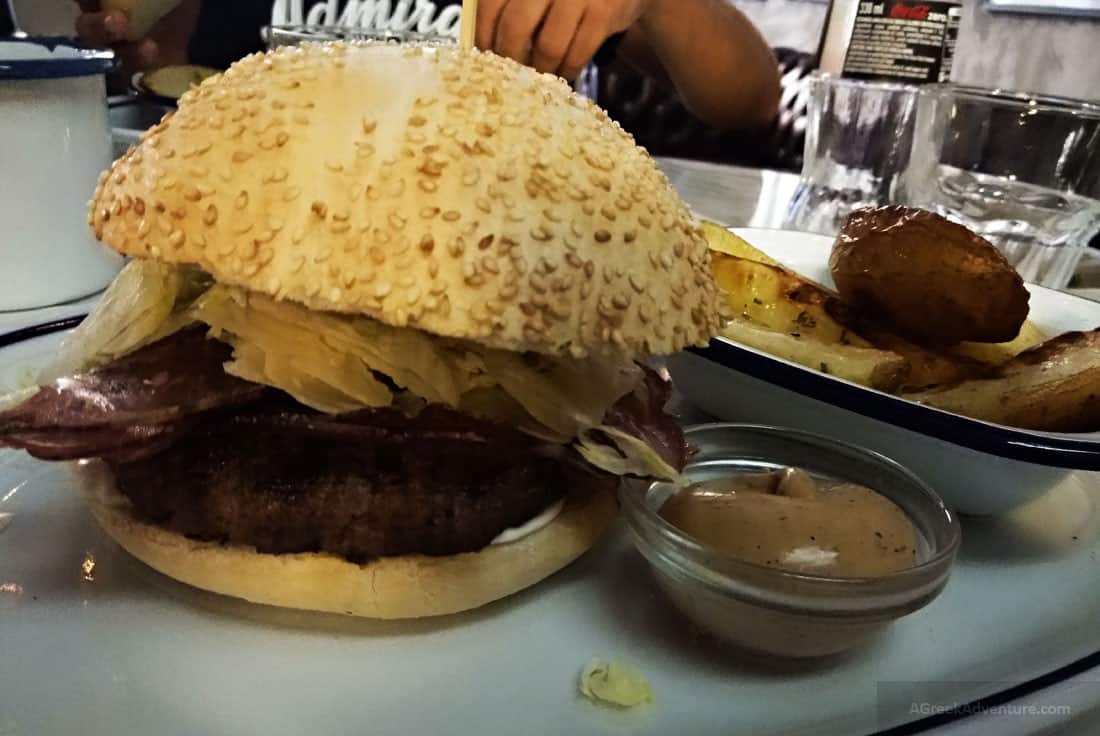 To eat well in Rome, follow this tip: Avoid any restaurant you see immediately outside a popular location. Just look further.
In popular locations, restaurants seen a few meters in proximity from popular sites are usually 20-30% more expensive on everything.
Why pay for that? Many times food is not that good either. We are speaking from personal experience from our trips, Rome included.
For short lunch breaks, you can get a panini. They are tasteful, and most kiosks/stores selling them have paninis with a decent amount of meat.
The water issue in Rome
There is no drinking water issue in Rome! Summer in Rome translates to a scorching experience.
But the municipality of Rome ensures you will meet different potable water fountains with free water in multiple locations around the city.
Just have a bottle to refill.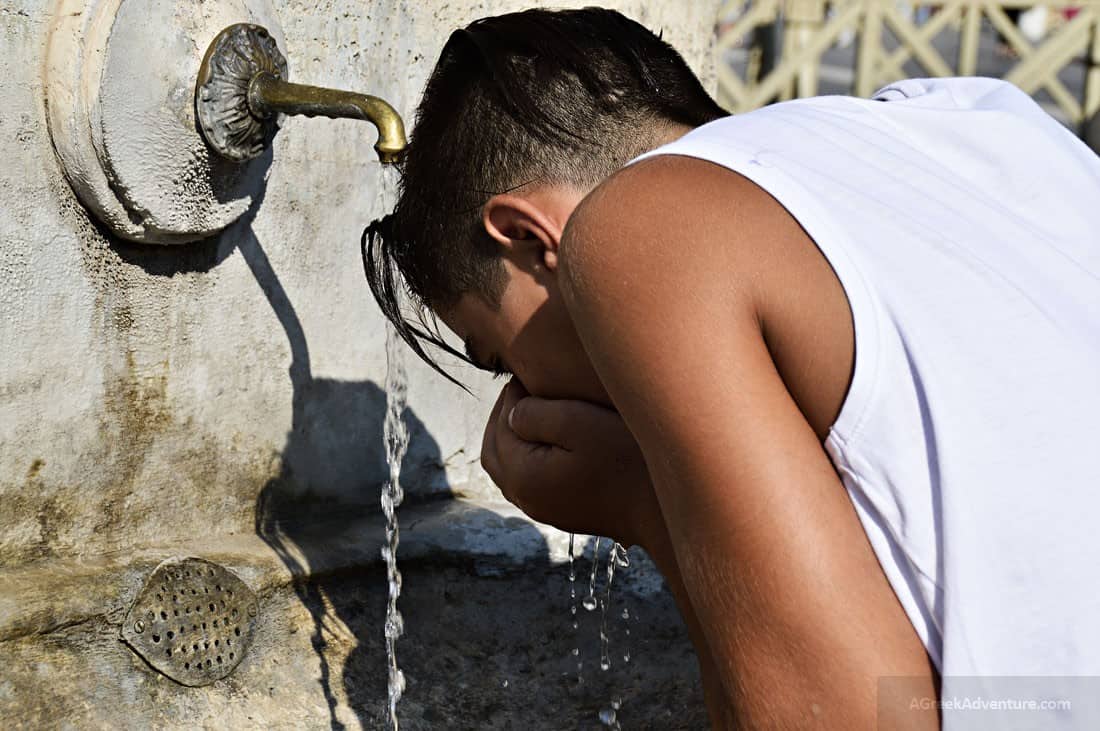 It is free and with fresh water.
There are many famous water sellers in popular locations, but why buy such since it is free? There is a clean, cold water pipe even inside the Colosseum.
Water is everywhere, so you can't be thirsty while walking around.
Even house water is potable, so no worries.
Planning with a tour agency or not?
Our primary thought was to book with a travel agency to travel to Rome with kids. However, we noticed that most of the tours there covered airfare, hotel, and transportation from the airport to the hotel.
All museums' fees and such were excluded.
After researching and getting some offers, we eventually booked the whole thing ourselves.
We have made hundreds of trips (twice in Rome), and the total amount for airfare and accommodation was eventually cheaper than going with a travel agency.
We also managed to book a flight that was not at "normal" time and not, i.e., at 6 am. We have Gold status (Miles and Bonus), so we also used the airport lounge to have breakfast before each flight.
Our advice? If you are familiar with trip planning, always book yourself.
Tours organized by travel agencies are excellent when lots of transportation is involved to go from place to place.
The cost is lower as you skip all the driving time and car rental fees.
What to book ahead of your trip to Rome?
You need to book all the sightseeing options you plan to visit.
Make sure you book "Skip the Line" tickets; otherwise, you may end up waiting for 1 to 2 hours under the hot sun.
That is not good for your health, time, nerves, and the patience of your kids (and yours).
Book ahead (online) at least one week before your trip for:
Colosseum, Roman Forum, and Palatine Hill
Castel Sant Angelo
Capela Sistina
Vatican Museum
Keep in mind that your online tickets will not be the ones you will eventually use.
You will need to get to the ticket register of each location and give your printed vouchers (or pdf with QR code stored in your smartphone/tablet) to get the actual tickets you will use to get through the control points.
Weird? Yes, but that was the case up until July 2018.
Time Planning for your Itinerary in Rome with Kids
Important note: You need to plan your visits, lunch, and resting breaks as best as possible, especially when having kids along.
As lots of walking is involved, the resting time between different locations is a must. There are parks and places with shade if you don't want to sit at a restaurant or a gelateria but not so many as -for example- in London.
If your tickets mention a specific entrance time (or time slot) for a location, do respect that, or you may not get in at all.
You will see many looking for some shade and a break. Better to end up the day feeling nicely tired than totally exhausted.
In our case, we wanted kids to enjoy their first trip abroad and love traveling and learning about new destinations.
We didn't want them to get bored or exhausted and dislike traveling. That can be an excellent approach to planning correctly, yet each family is different.
Where to stay in Rome?
Better to stay as close to the historical center as possible. This means the area after the Colosseum, towards the Altare Della Patria, and around that.
The best deal we found was through Booking.com. We looked at different sites, even Airbnb, but on Booking, we found what we were looking for.
However, prices rise when you move towards the center. If you don't mind walking a bit, then don't book in the very center of Rome.
We found a beautiful apartment no more than 10 minutes from the Colosseum at an excellent price with two rooms and a full kitchen (not that we used that one), a relatively big bath, and quiet.
Some points to know are: Make sure you define what air conditioning means in Roman accommodation understanding.
Some rules about air condition units not being visible outside of the houses; thus, some apartments (and stores) use bulk air conditioning units.
Such is mentioned on sites like, i.e., booking.com as "Air Conditioning," but they are not exactly that. They are helpful but noisy. You don't want all that noise when you want to rest.
In some apartments, that unit uses an exhaustion tube that may get through an open window. Open window in the summertime, and the air conditioning doesn't match.
Rome is hot, and you will have trouble sleeping without proper air conditioning. Make sure you clarify that as it is integral to having a good time.
Etiquette for visiting Rome with Kids
You know that Rome comes with tons of history. Many of the locations are related to the suffering of people. Others refer to religious aspects of Catholicism.
Better to have this in mind when -for example- visiting the Colosseum or Capela Sistina (a magnificent chapel).
Religion is taken seriously in Rome. There are hundreds of churches, and Vatican St Peter's place is, in fact, the center of worship for all Catholics, not just another monument.
We even noticed police officers stepping out of their cars and instructing a guy who took out his shirt, naked from the waist up, to dress again.
He was walking on the street outside the Colosseum.
Is Rome Safe for Kids?
There are police and army(!) in many places in the city, so you feel safe.
The apartment manager mentioned being aware of pickpockets, but that was all, yet we didn't feel any threat during a four days trip walking up and down the city.
We hope you found all the information about planning your trip to Rome with kids to be helpful.
Here is our itinerary of what we saw and did during our family trip to Rome.
Important note: Opening time and ticket fees/options can change during different seasons. Make sure to visit the official links mentioned on each landmark to get the latest updates on visiting schedules, terms, and fees.
Day 1 in Rome with Kids
Our apartment was 10 minutes walking time from the Colosseum, but that was not what we had planned for the first day. We planned to get the kids familiar with the city of Rome while visiting some free and open monuments:
#1 The Pantheon
The Pantheon is a Roman temple dedicated to all pagan gods of Rome.
The whole structure of the temple is different from other traditional Roman temples.
The most impressive thing is its interior architecture, which has unique symmetry and balance.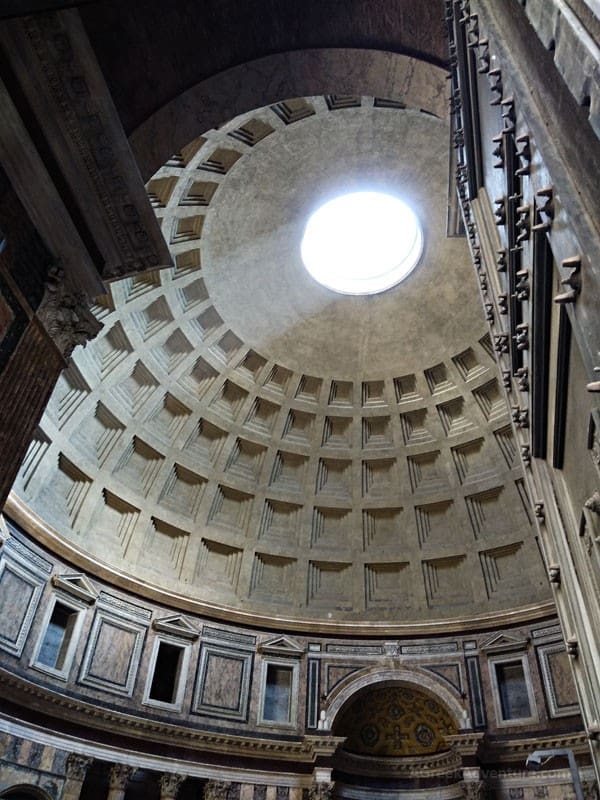 A series of arches are resting on eight piers. The latter supports eight round-headed arches. These run through the drum from its inner to its outer face.
The arches correspond to the eight bays on the floor level that house statues.
The sun comes through slowly on the top center, moving from arch to arch during the day. The building's interior is relatively minimal and hugely impressive simultaneously.
Opening hours for the Pantheon, Rome: Every weekday from 9 am to 6 pm, except Sunday: 8.30 am-7.30 pm
The Pantheon Tickets: Free entrance.
Tip: Remove hats and glasses when entering as it is a temple (they will ask you to do so)
#2 Fontana Di Trevi
You can't be less than amazed when you turn around a corner and stop in your tracks seeing this glorious marvel of water and sculpture in front of you.
It is located in the Quirinale district of Rome.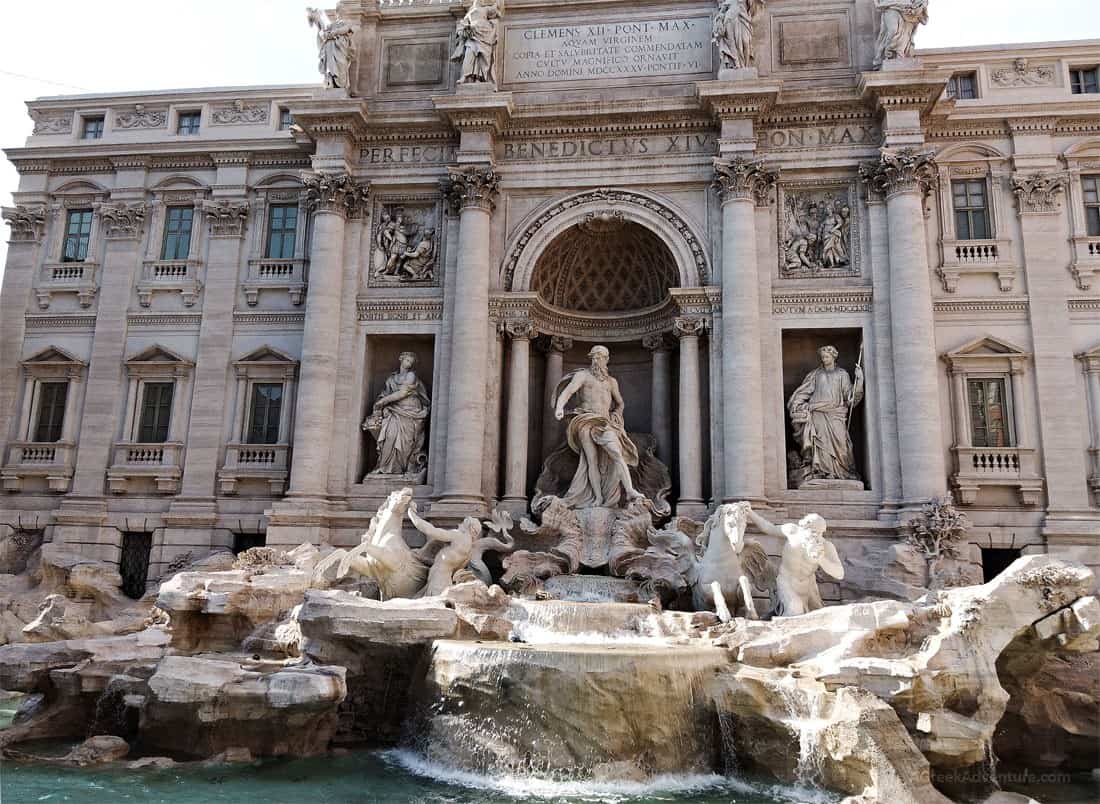 Words can't describe this magnificent synthesis of beauty. However, here are a few things you may not know about the fountain.
Trevi means Three roads. Thus, this is the fountain at the junction of three streets.
Its dimensions are: 85 feet tall and almost 65 feet wide
It spills around 2,824,000 cubic feet of water each day
The fountain was built at the end of an aqueduct, so the fountain was one of the oldest water sources in Rome
It's made from travertine (means from the Tiber river) stone, the same material as the Colosseum
Around 3000 euros in coins are dropped in every day by people who like to make a wish
It is a crime to steal coins from the fountain
The Trevi fountain has been famous through movies: The most famous is in La Dolce Vita movie when Anita Ekberg jumped into the Trevi Fountain with her clothes on. Moreover, this incredible monument was featured in various films like Roman Holiday, Three Coins in the Fountain, The Lizzie McGuire Movie, and more.
Opening hours for Fontana Di Trevi, Rome: 24/7/365
Fontana Di Trevi Tickets: Open space without ticket cost.
Tip: Don't try to get into the water; guards watch closely
Get this All-Rome-Piazza's Tour! It seems interesting.
Day 2 in Rome with Kids
#3 Sistine Chapel (Capela Sistina)
That was a mind-blowing experience for us.
Formerly known as the Cappella Magna, the Sistine Chapel is a chapel in the Apostolic Palace, the official residence of the Pope in Vatican City.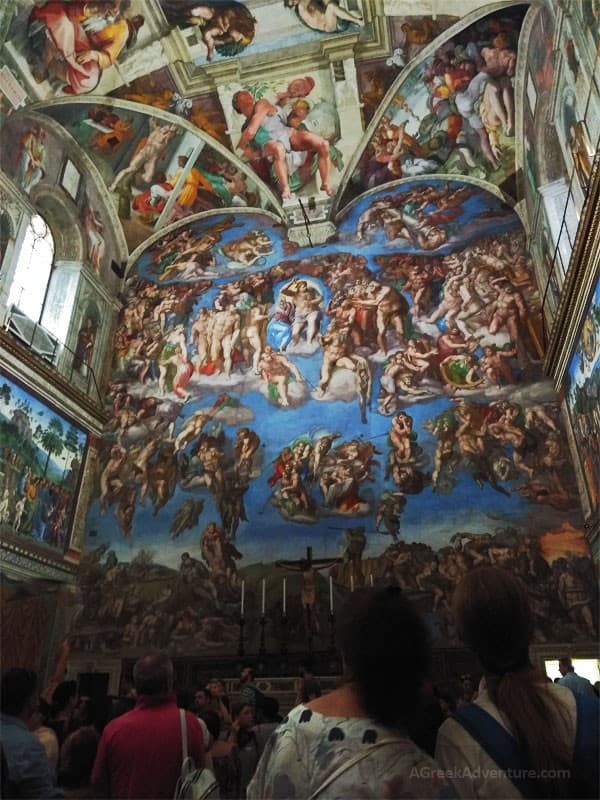 This is the chapel where the conclave meets to elect the new Pope.
It is the most famous chapel to visit, decorated with spectacular wall paintings depicting scenes from religious allegory themes.
A series of artists worked to create this marvel: Sandro Botticelli, Pietro Perugino, Pinturicchio, Domenico Ghirlandaio and Cosimo Rosselli.
The Capela Sistina is part of your Vatican Museums' visit.
Book this Skip The Line ticket from here. If you want a Guided Tour, then click here.
Some intriguing things are:
It was built both for defense and worship.
Many scholars say it was made to match the dimensions of Solomon's Temple (Jerusalem).
Michelangelo also worked here and didn't paint lying down.
The original ceiling was a blue sky with gold stars.
The ceiling (painted by Michelangelo) took four years to complete.
You aren't allowed to take photos inside the chapel.
You may be surprised, but Mexico revealed a full-size replica of the Sistine Chapel (the Vatican approved).
Opening hours for Capela Sistina, Rome: There are two things to know.
A. From Monday to Saturday
09.00 a.m. – 06.00 p.m. (final entry 4.00 p.m.)
B. Free Entry on every last Sunday of the month
09.00 a.m. – 02.00 p.m. (final entry 12.30 p.m.)
Provided this does not coincide with Easter Sunday, 29 June Sts. Peter and Paul, 25 December Christmas Day, and 26 December Feast of St. Stephen.
Capela Sistina Tickets: Fees vary if you go solo, with skip-the-line options, with a guide, or with a group. Skip the line tickets are around 30 euro p.p.
Tip: Respect the holy place and premises
Latest visiting hours and entrance fees from here.
#4 Vatican Museums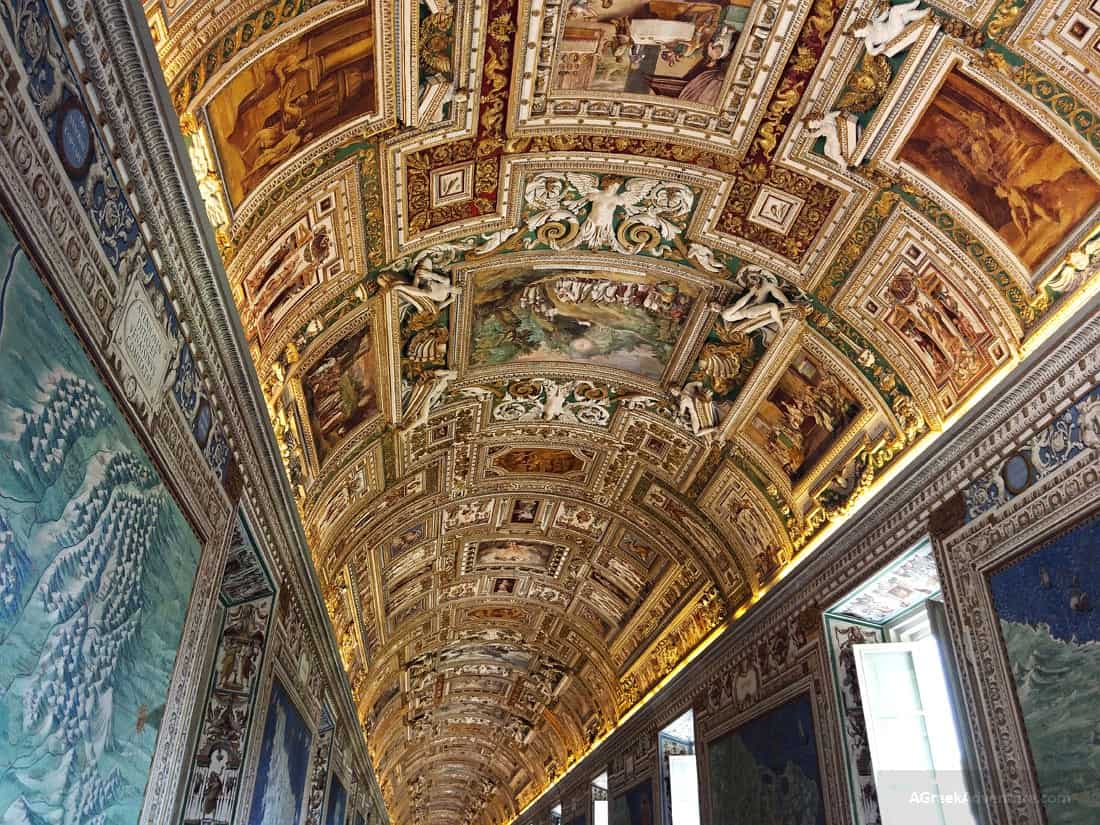 They are more than one, all under the same buildings in Vatican city.
Here is a list of museums to visit. No worries, there are refreshment areas and cafes to take some breaks.
Pio-Clementino Museum: Hosts essential Greek works in the Vatican.
Apartment of Pius V: Flemish tapestries, medieval ceramics, and mosaics.
Gallery of the Chandeliers: Replicas of Roman and Greek enormous chandeliers.
Ethnological Missionary Museum: Art from all papal missions in the world (Tibet, Indonesia, India, the Far East, Africa, and America).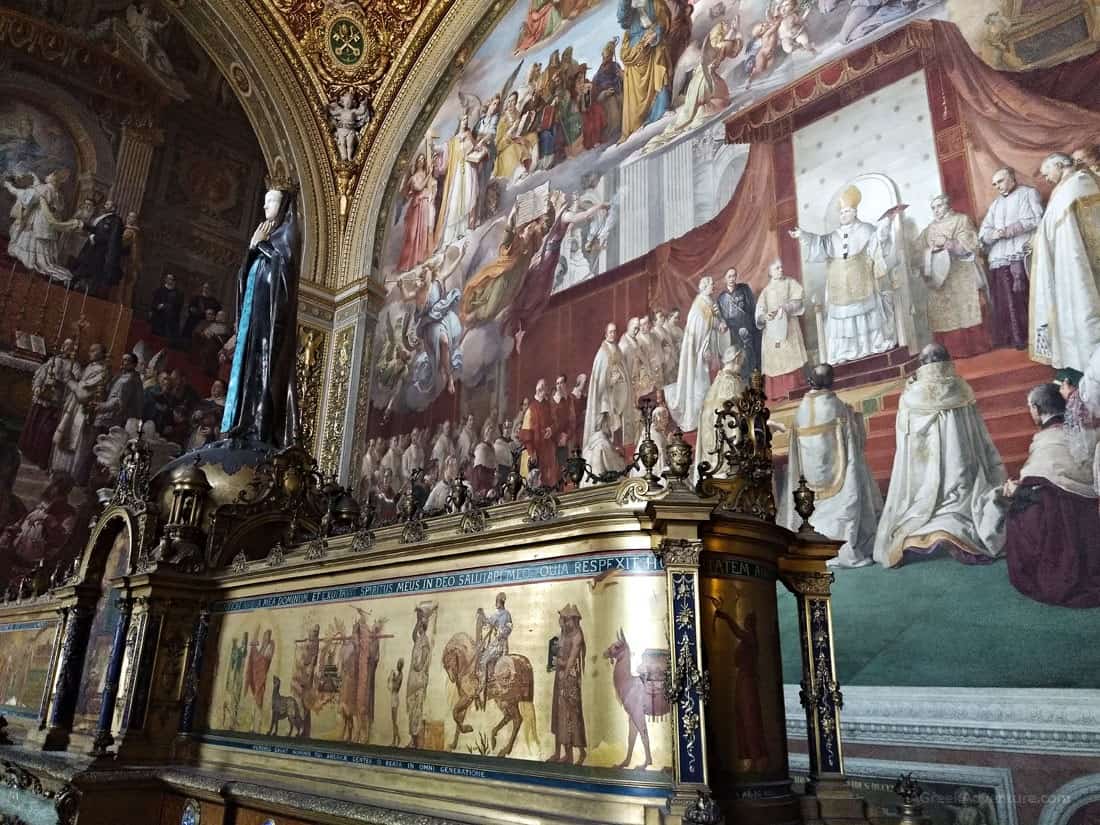 Gallery of Maps: Beautiful huge painted maps on the walls depicting Italian regions and church possessions.
Historical Museum – Carriage Pavilion: Coaches, saddles, cars, and the Vatican City´s first locomotive.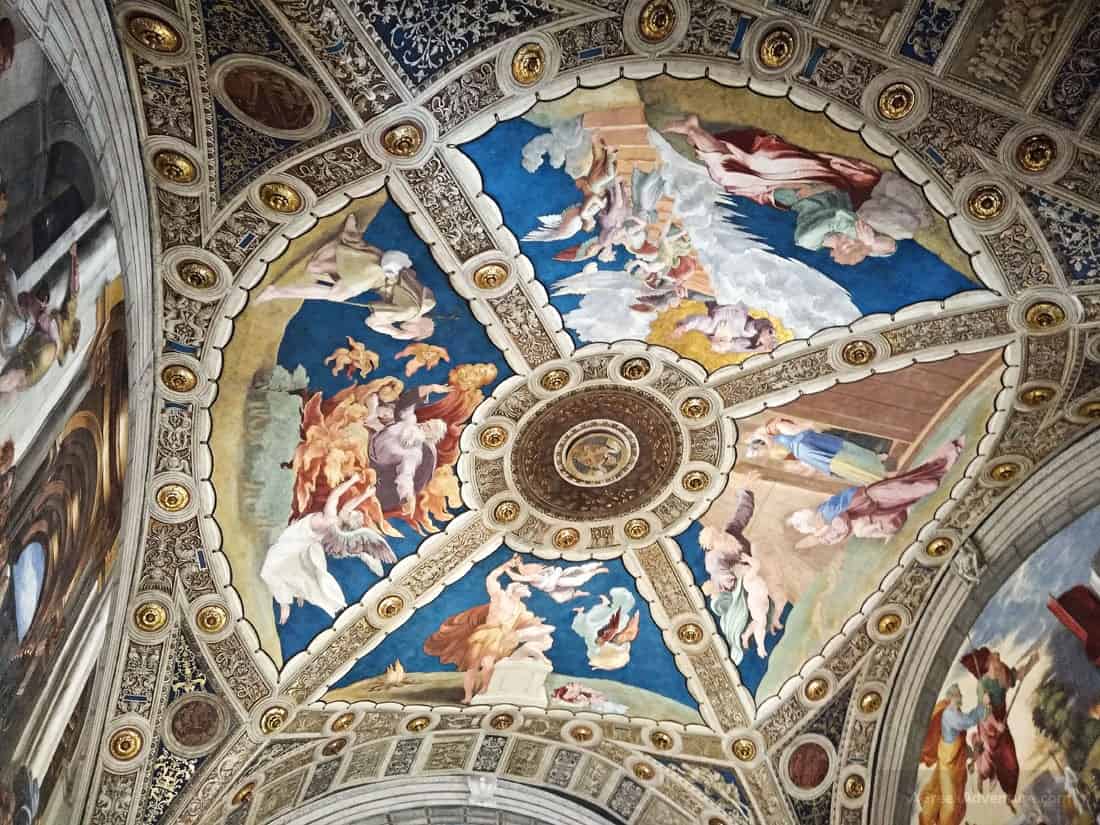 Gallery of Tapestries: Flemish tapestries (1523 – 1534).
Pio-Christian Museum: Christian antiquities (statues, sarcophagi, archaeological ruins from 16th c.).
Pinacoteca: Pinacoteca has 18 rooms, dating from the middle ages to 1800.
Sobieski Room & the Room of the Immaculate: Paintings originating in the Italian "Ottocento."
Egyptian Museum: Egyptian sculptures, besides the sarcophagi from the third century B.C.
Etruscan Museum: Artifacts from the Etruscan civilization.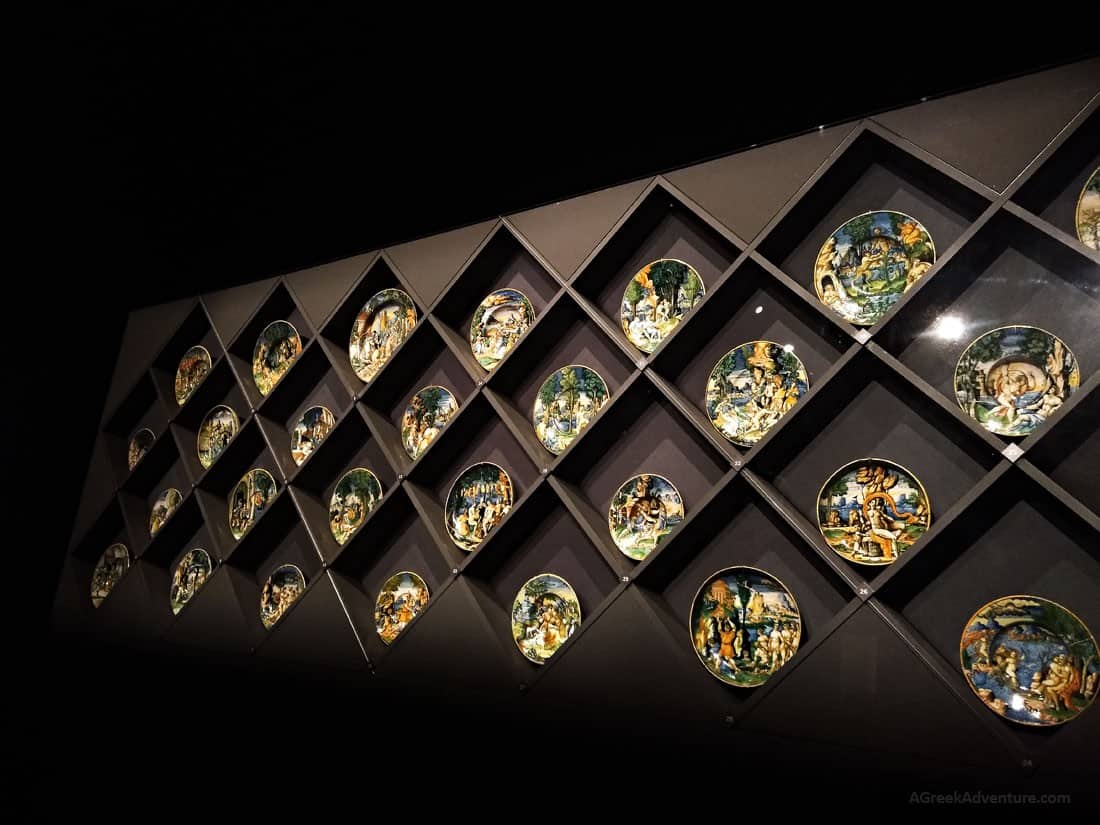 Chiaramonti Museum: Sculptures including portraits of emperors, images of the gods, and some funeral monuments.
Gregorian Profane Museum: Greek and Roman sculptures from the 1st to 3rd centuries A.D.
Borgia Apartment: Apartments of Pope Alexander VI Borgia. They present the Collection of Modern Religious Art.
Raphael Rooms: The apartments of Pope Julius II were decorated by Raphael and his assistants.
Sala Della Biga: A monumental figure of marble of a chariot drawn by two horses. It is huge.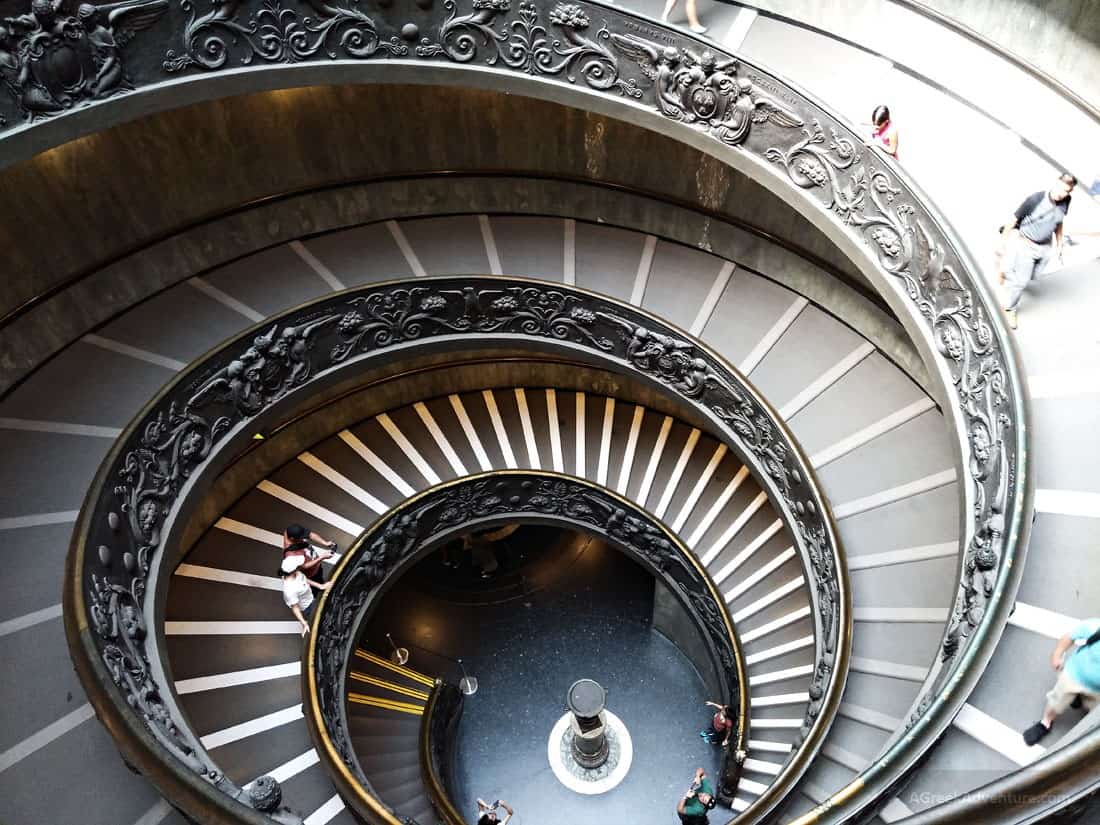 Book this Skip The Line ticket from here. If you want a Guided Tour, then click here.
Opening hours for Vatican Museums: Every weekday from 9 am to 4 pm, except Sunday (closed)
Vatican Museums Tickets: Usually, they are part of the Capela Sistina combo ticket (around 30 euros p.p. for a Skip The Line ticket)
Tip: Allocate plenty of time. You can spend more than 3 to 4 hours even by moving relatively fast, as there are lots of museums, rooms, paintings, artifacts, etc. and usually lots of people walking along.
Latest visiting hours and entrance fees from here.
#5 St. Peter's Basilica & Square
It is one of the largest churches in the world and one of the holiest ones. It took more than 100 years to complete.
A good number of architects worked and designed this temple, among which are the names of Bramante, Michelangelo, and Maderno.
The dome inside the Basilica stands 136mt (447ft) tall! Three masters worked on the dome: Michelangelo, Giacomo Della Porta, and Maderno.
You need to know that the dome inspired other buildings like the Capitol (USA) and St Paul's Cathedral in London.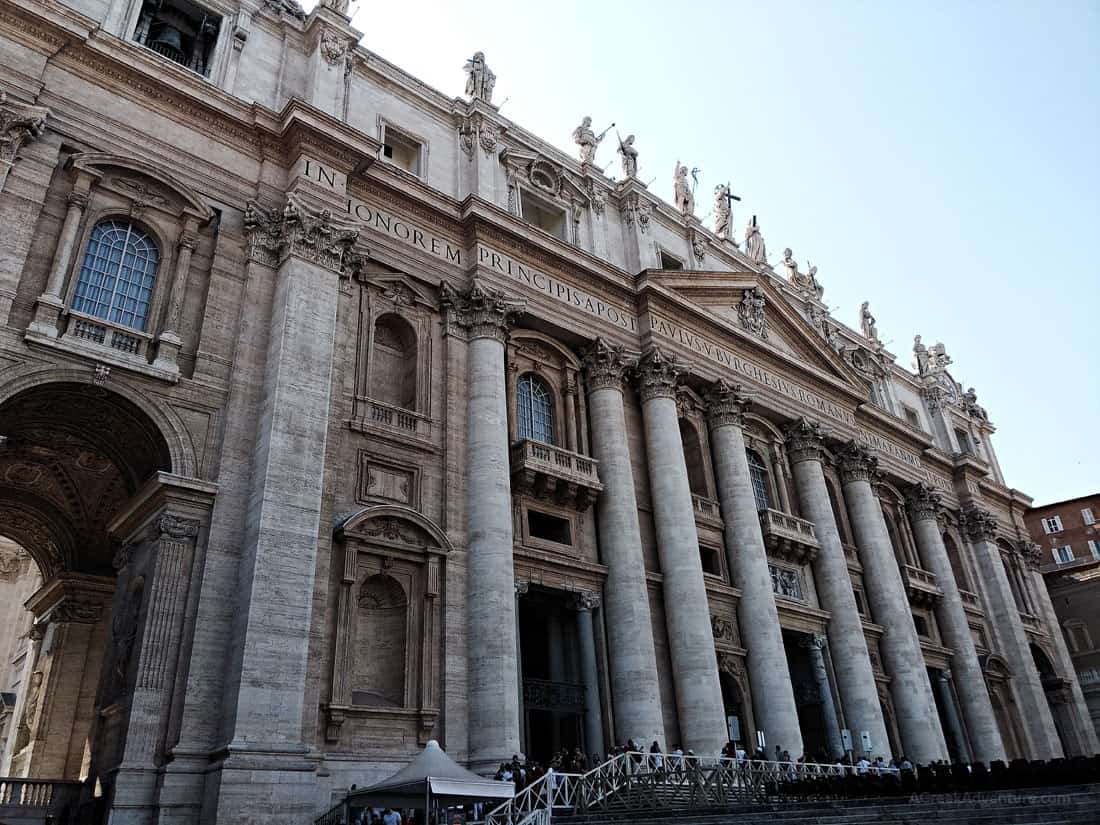 Do allocate some time to get to the top of the Dome (needs good healthy feet after some point).
Book this Skip The Line Guided Tour ticket from here.
St. Peter's Basilica hours: October – March: 7 am – 6:30 pm, April – September: 7 am – 7 pm. The dome opens at 8 am and closes one hour before the Basilica.
St. Peter's Basilica Tickets: The entrance to the Basilica is free. Climbing to the top of the Dome comes with a fee. That is: With a lift to the terrace plus 320 steps, the cost is: 8€. Climbing 551 steps by foot: 6€.
Tip: Allocate lots of time for the waiting line, too (around 1 hour or more waiting time).
Latest visiting hours and entrance fees from here.
Day 3 in Rome with Kids
#1 Musei Capitolini (or Museo Capitolino)
This museum spreads into two buildings that communicate with an underground corridor. It was created in 1471 after donating bronze statues from Pope Sixtus IV.
These statues -also seen in the museum- have great symbolic value.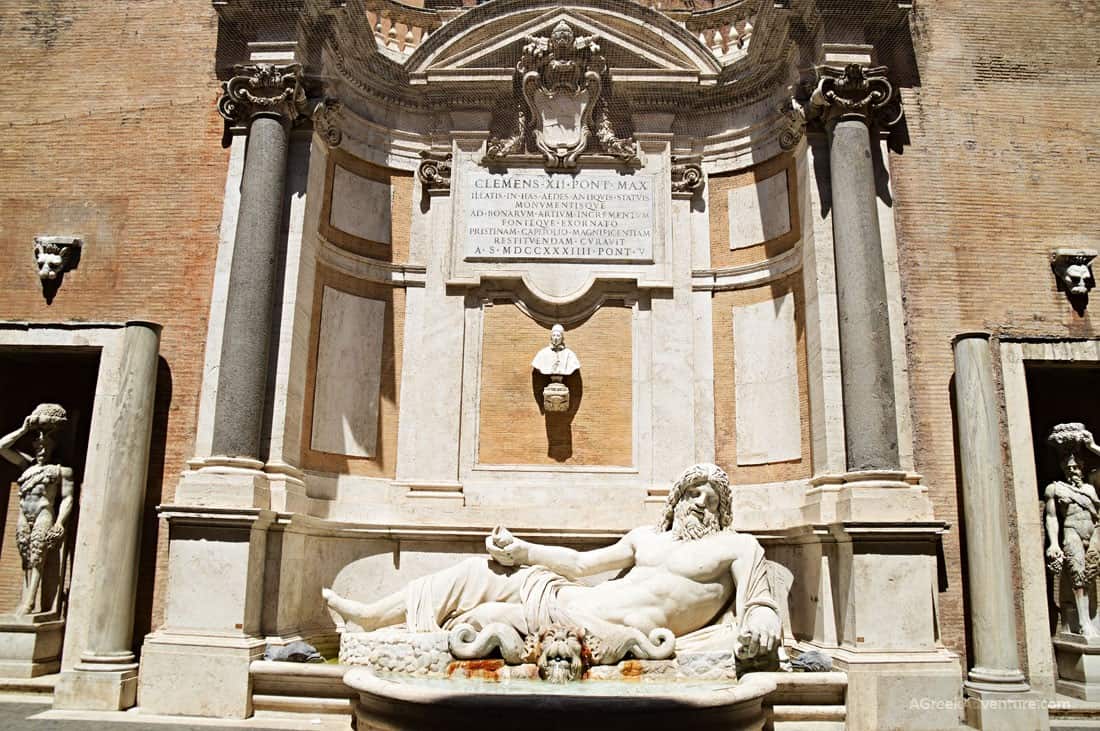 Imagine that one of them is a statue of Romulus and Remus getting fed by a female wolf. A story that relates to the birth of Rome.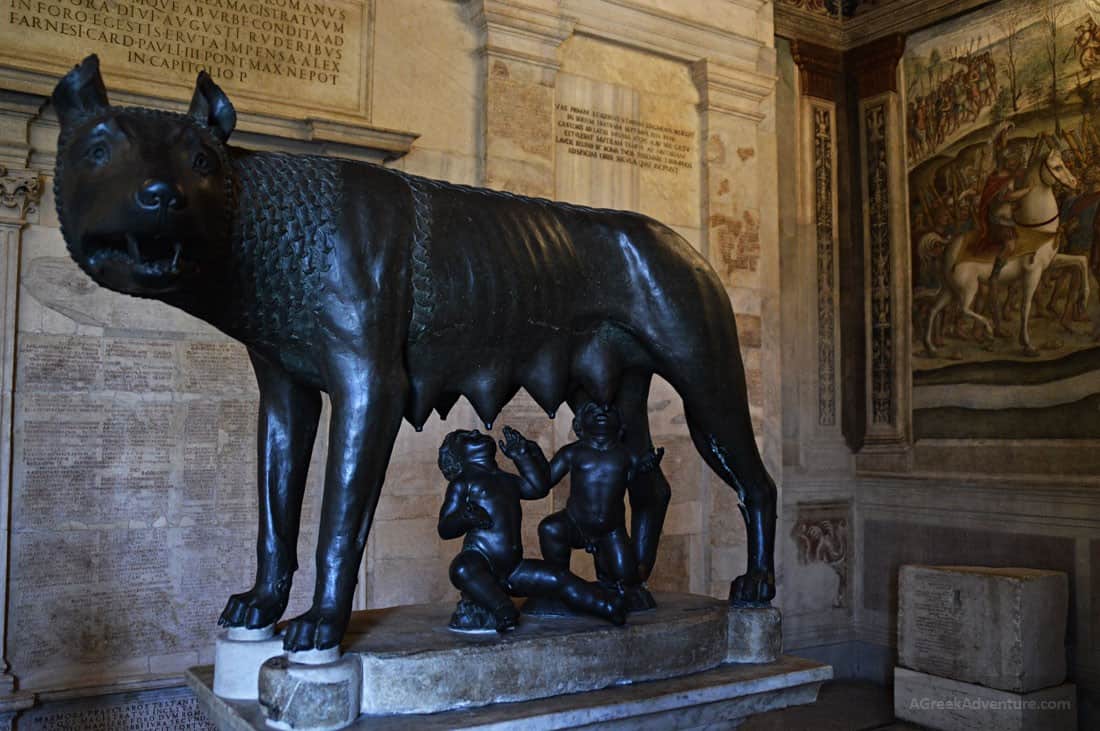 This museum is fascinating and essential for the history of Rome.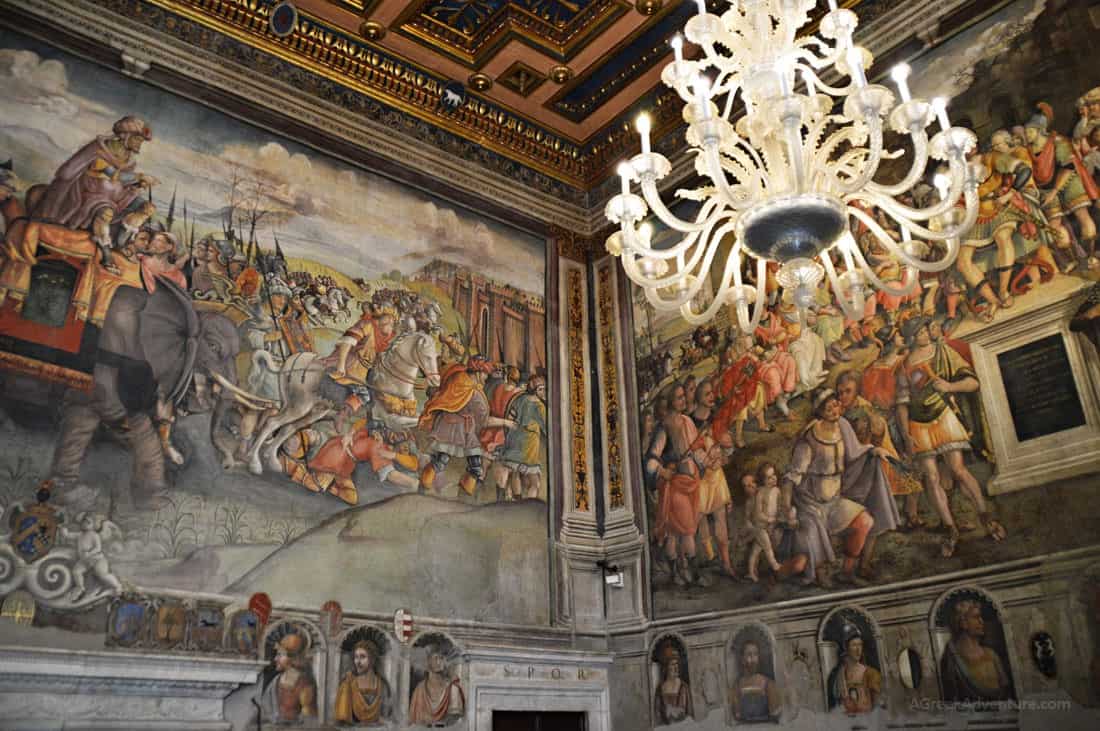 To book a small group tour, use this link. To get in without a guide, get this ticket.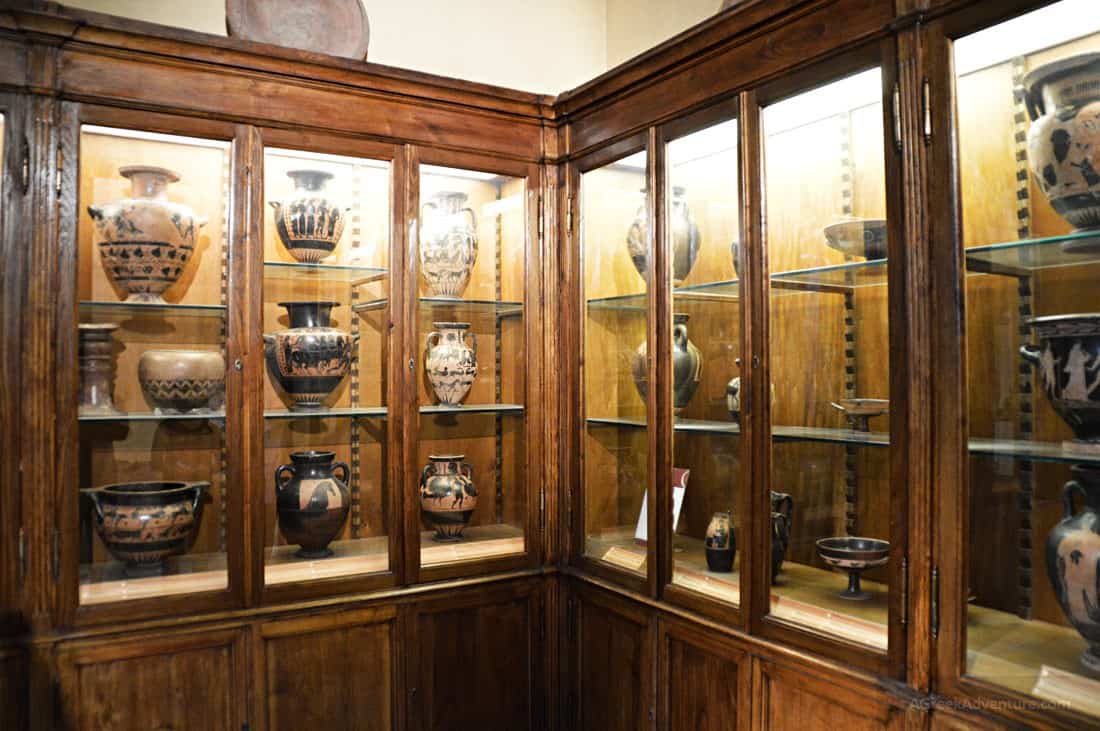 Musei Capitolini hours: All weekdays, 9:30 AM–7:30 PM
Musei Capitolini Tickets: Adults: € 15,00 to 16,00 – Concessions: € 11,00 to 13,00 – Ridottissimo special price: € 2,00. Free admission is granted to children under six years. There are even more options for ticket scenarios.
Tip: We had no issues waiting for the ticket. No need to book ahead.
Latest visiting hours and entrance fees from here.
#2 The Colosseum
One of the most famous landmarks of Rome, closely related to suffering and human sacrifices but also spectacles like ancient dramas and mock (famous) battles.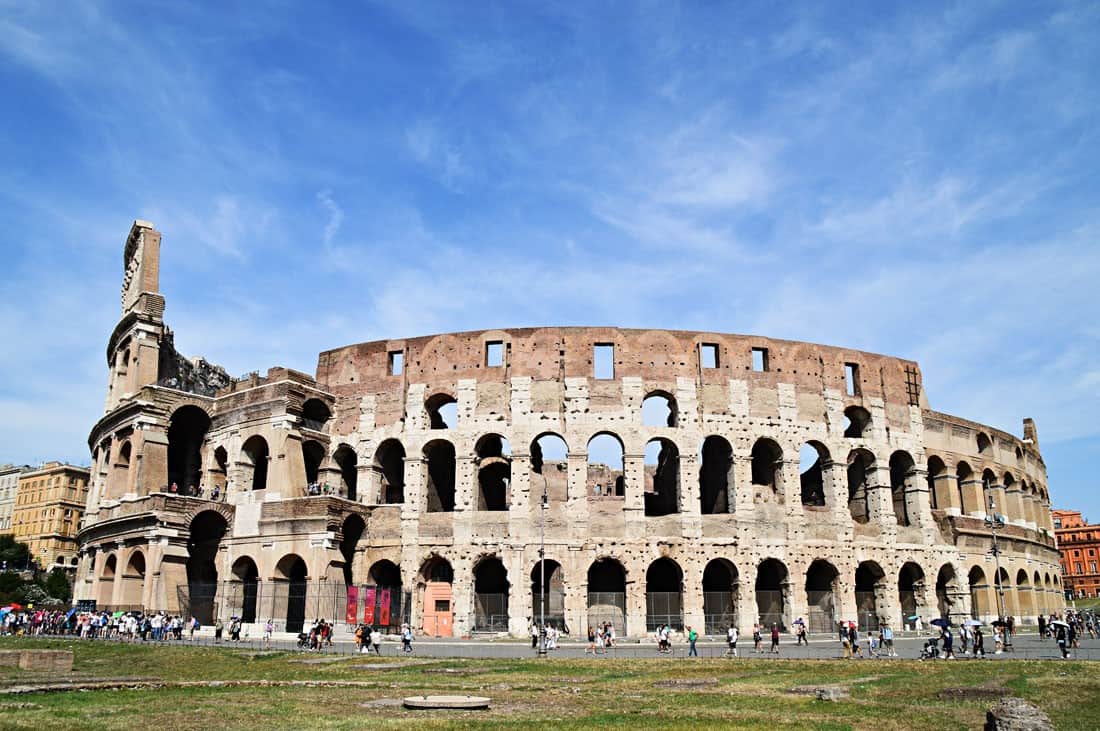 Some important things to know are:
Colosseum was a statue located outside the amphitheater (Colossus of Nero). That gave its name to the landmark. It is also known as the Flavian Amphitheatre.
That colossal work took nine years to complete. It is made out of stone and concrete.
More than 400,000 people died in it along with 1,000,000 (estimation) animals.
Some events lasted 100 days.
Some of the pieces were used to build St Peter's Basilica.
It could host 50,000 spectators.
Free food was provided to the spectators. A famous phrase related to that was: Give food and spectacles to the people to forget anything else.
As a visitor, you will see the underground corridor structure and all the settings as the place are kept in a perfect state despite vandalism and earthquakes of the past.
Click here to book a Combo Ticket for Colosseum, Forum, and Palatine Hill.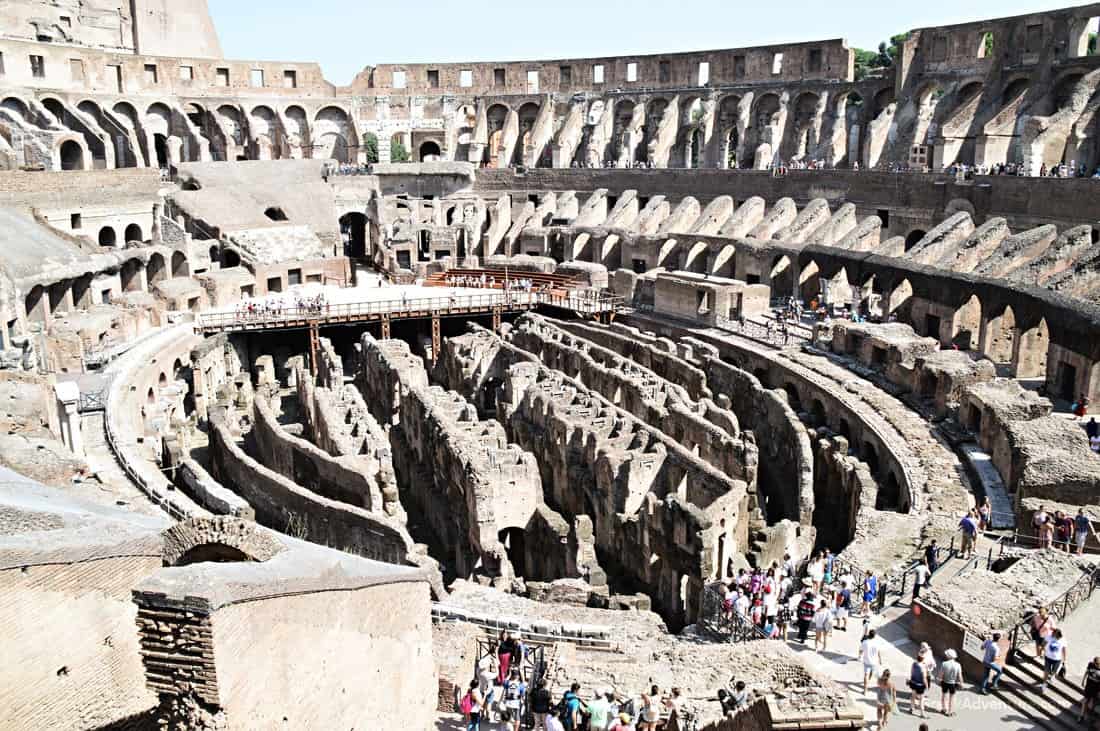 The Colosseum hours: All weekdays, 8:30 AM–7:00 PM
The Colosseum Tickets: Around 20 euro for adults (Colosseum/Roman Forum combo ticket) and around 12 euro for kids (0-12). There is an option for an open time ticket for after 2 p.m. You can use it to enter Colosseum any time after 2 p.m and before closing time.
Tip: Have water before entering the Colosseum. There are 1 (maybe 2) water pipes, and people make long lines waiting to refill their bottles. Two free water fountains are on the sidewalk across the street from Colosseum.
Latest visiting hours and entrance fees from here.
#3 Roman Forum
Getting out of the Colosseum, we visited the Roman Forum area. It was discovered by Carlo Fea and took around 100 years to excavate fully.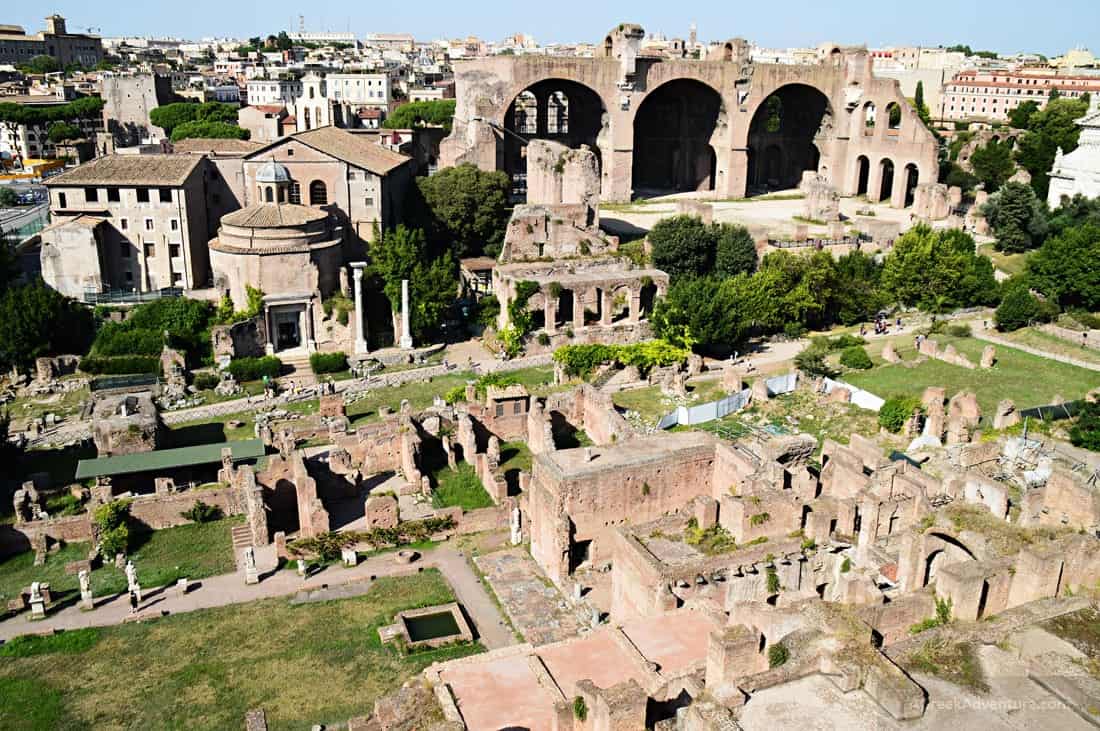 Forum (Foro in Italian) was the central square of the urban settlement.
Some of the temples in the Forum are dedicated to gods, while others are dedicated to people(!). The latter comes from the superstition that if you build a temple and assign it to you, you become a deity.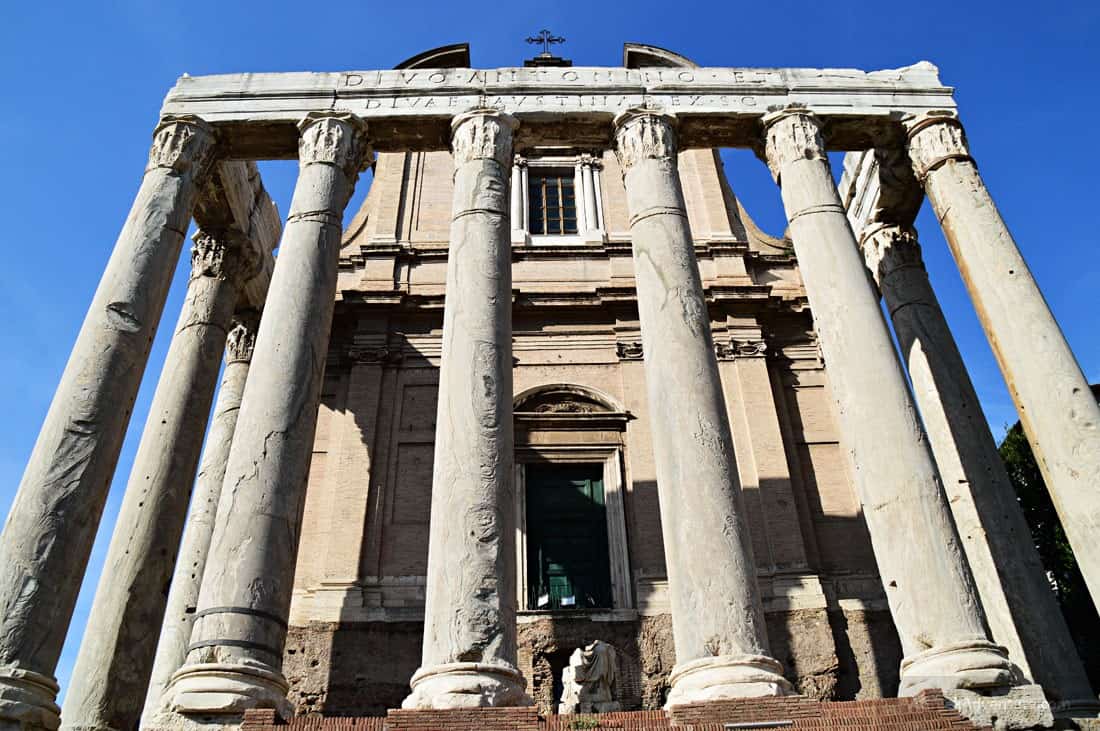 That is not the only Forum in Rome, but since the Senate House was included, it was elevated to the most important one.
As in Greek Agora, there was a platform where orators spoke to the people of Rome. You may hear the funeral speech of Marc Antony (of Ancient Rome) to Julius Caesar.
You can walk the Via Sacra. Roman armies walked this road when they returned home, and the Emperors did the same for their coronation.
Around 4.5 million sightseers visit this place.
Roman Forum hours: All weekdays, 9 AM–7:00 PM. You will combine this with your Colosseum visit.
The entrance is just a few meters away from the Colosseum exit. Same for Palatine Hill. All these three are each next to the other.
Roman Forum Tickets: Around 20 euros for adults (with the Colosseum/Roman Forum combo ticket) and around 12 euros for kids (0-12).
Tip: These areas host a variety of the history of Rome and are a significant part of the way Romans functioned regarding their deities and politics.
Latest visiting hours and entrance fees from here.
#4 Palatine Hill
This place is also named Sun Hill.
Rome started here and then expanded to the other six hills: Aventine, Capitoline, Quirinal, Viminal, Esquiline, and Caelian. A total of 7 hills.
Romulus and Romus, the founders of Rome, were believed to live in Palatine Hill inside a cave.
The word "Palatine" means palace and is the origin word for the English name of "Palace" and the French "Palais."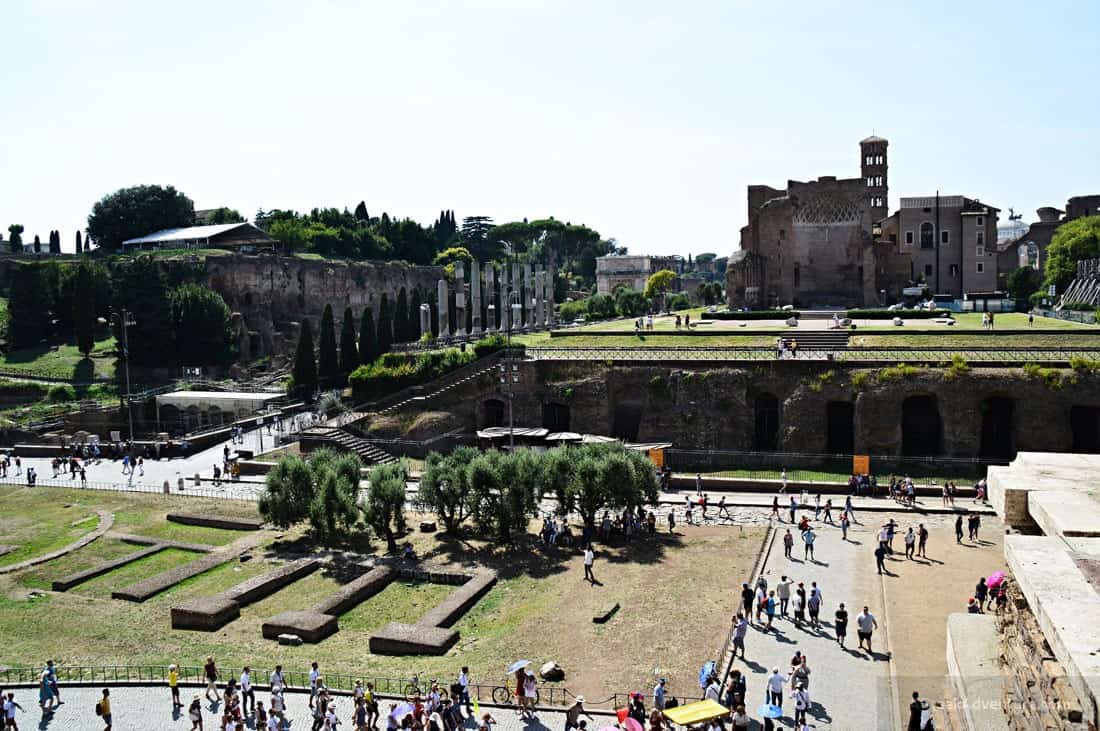 Caligula was assassinated on the Palatine. On the other hand, the first private botanical gardens were built on the Palatine. Some parts of the park can still be seen.
We went up the Palatine to enjoy the view of Circus Maximus, the Colosseum, and the Roman Forum. It is the perfect spot, and we felt like being part of history.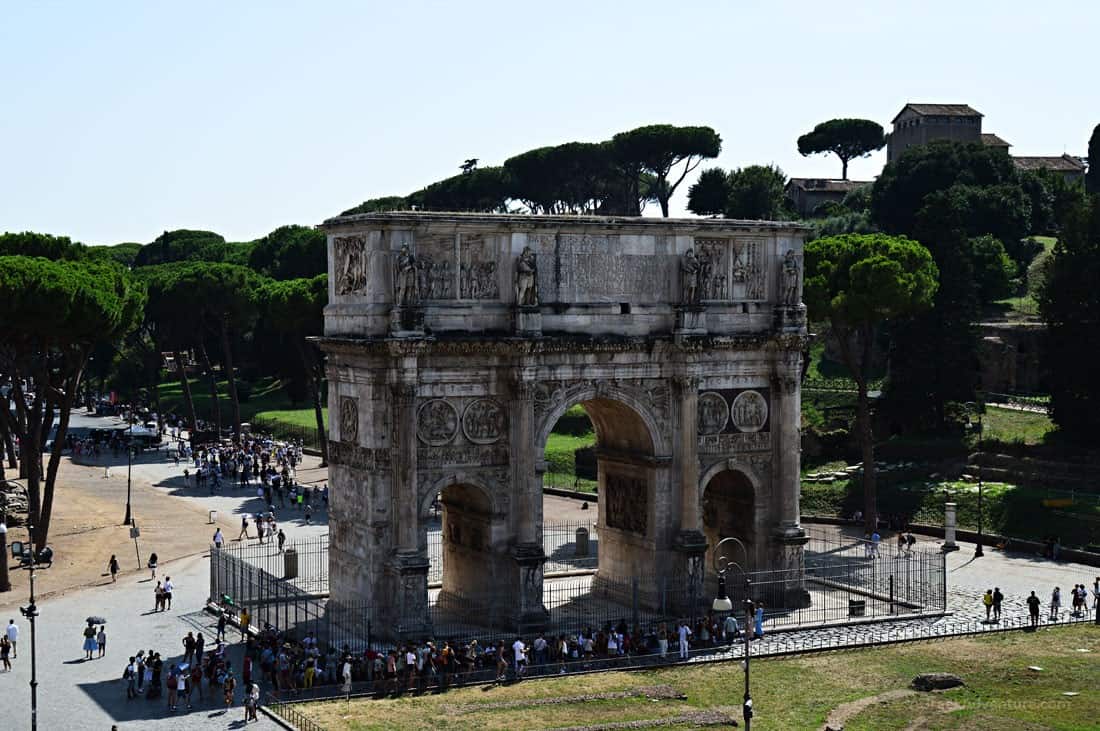 Palatine Hill hours: Same as the Roman Forum.
Palatine Hill Tickets: Like Roman Forum (combo ticket with the Colosseum)
Tip: Enjoy the view and magnificent wall paintings.
Latest visiting hours and entrance fees from here.
Click here to book a Combo Ticket for Colosseum, Forum, and Palatine Hill.
Day 4 in Rome with Kids
#1 Altare Della Patria
Also called "Monumento Nazionale a Vittorio Emanuele II"; "Il Vittoriano." It was built in honor of Victor Emmanuel, the first king of unified Italy.
The movement related to the unification was called Risorgimento, and there is a museum inside the monument that relates to that.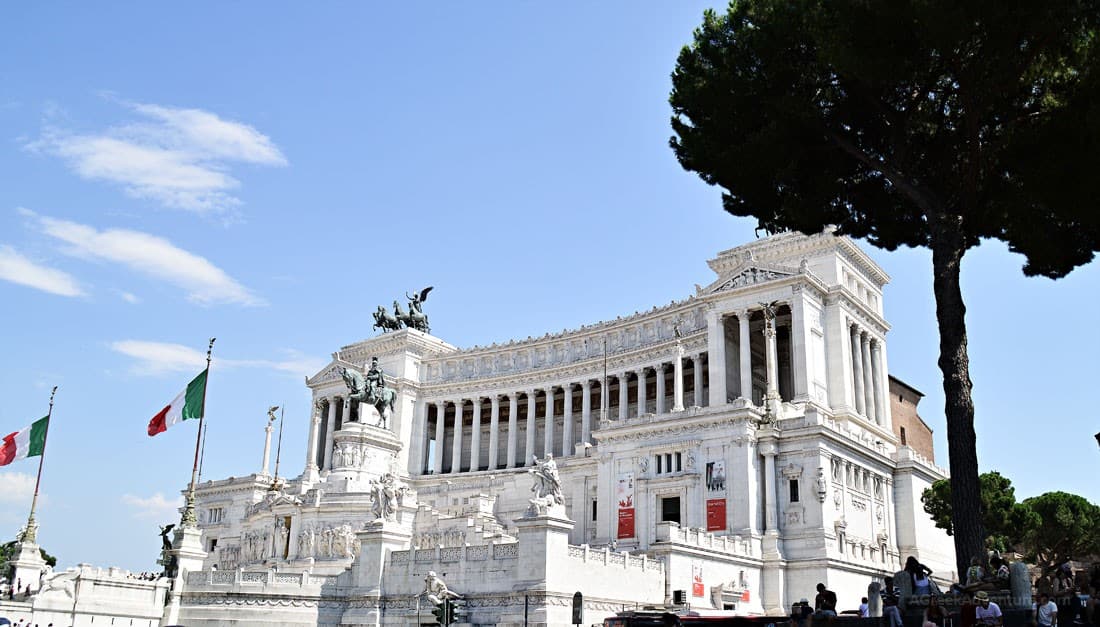 We walked around 10 minutes from the Colosseum and reached Piazza Venezia. There you see this massive building that is so big, you can see it from different distant locations in Rome too.
The Altar of Fatherland (Altare Della Patria) hosted there gave its name to the whole building. It is the largest national monument in Italy. Here is the "Tomb of the Unknown Soldier."
That kind of tomb is familiar to many countries that have been engaged in wars. Climbing the steps toward the monument is very emotional.
It is entirely made of marble (Botticino), and it is freezing inside so that it can be both a history lesson and a refreshing break from the heat.
Latest visiting hours and entrance fees from here.
Fancy a Day Trip to Rome that included Altare Della Patria? Get it here.
Altare Della Patria hours: Monday –Sunday: 9:30 am – 7:30 pm (last admission at 6:45 pm). 25 December and 1 January: closed.
But, there are two different areas to visit. The first area closes early, around noon. The other side (the bigger one) is open until 7 pm.
There is also a lift option that gets you to the roof of this massive building.
Altare Della Patria Tickets: Free for the museum. The Panoramic lift ticket is 7 euros.
Tip: Some halls have a 5 euro ticket fee to enter. Just check from the open door if there is a point to pay that. One or two of them only had a few paintings and one giant statue, so we only saw them by passing in front of the door.
#2 Castel Sant Angelo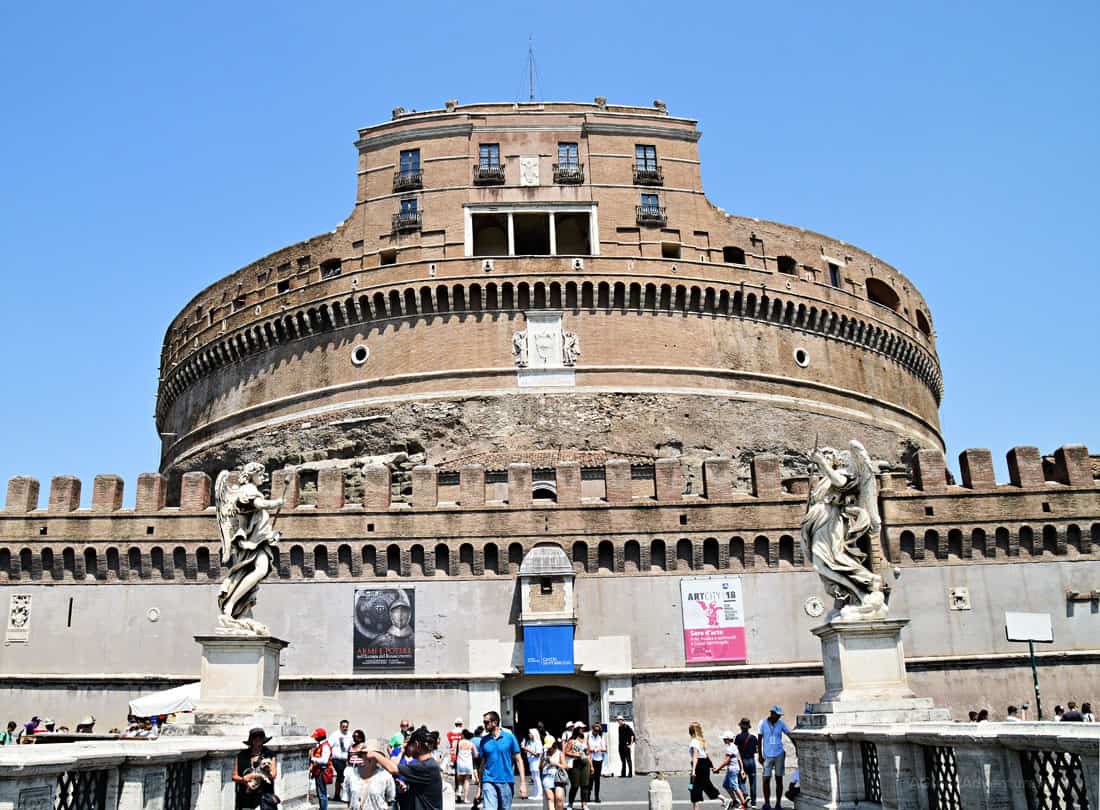 Looking from the outside, it seems like a simple castle but make sure you don't miss this one.
It has been featured in the Angels and Demons book (Dan Brown) and the movie as having a secret corridor (Passeto di Borgo) that leads to the Vatican. Well, yes, there is one.
In that movie, just a few things are shown from the castle, but this landmark has plenty of halls to reveal, each related to unusual aspects of the history of Rome. It was initially a Mausoleum for Emperor Adrian.
The castle got its name from Archangel Michael, who -allegedly- appeared over the castle to end the plague.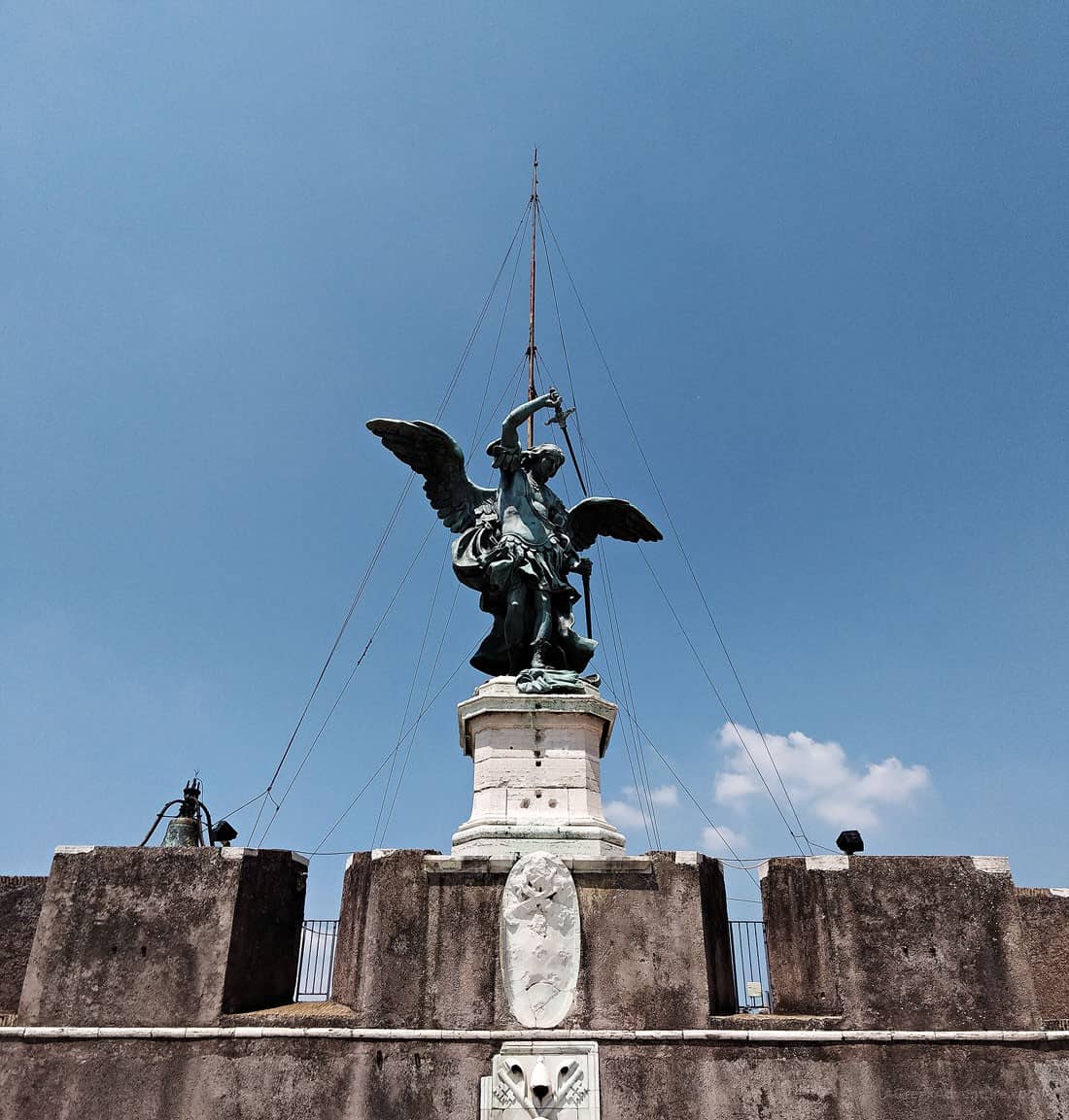 It was also used as a papal residence, a military building, and a prison for special "guests." Cagliostro was a prisoner here.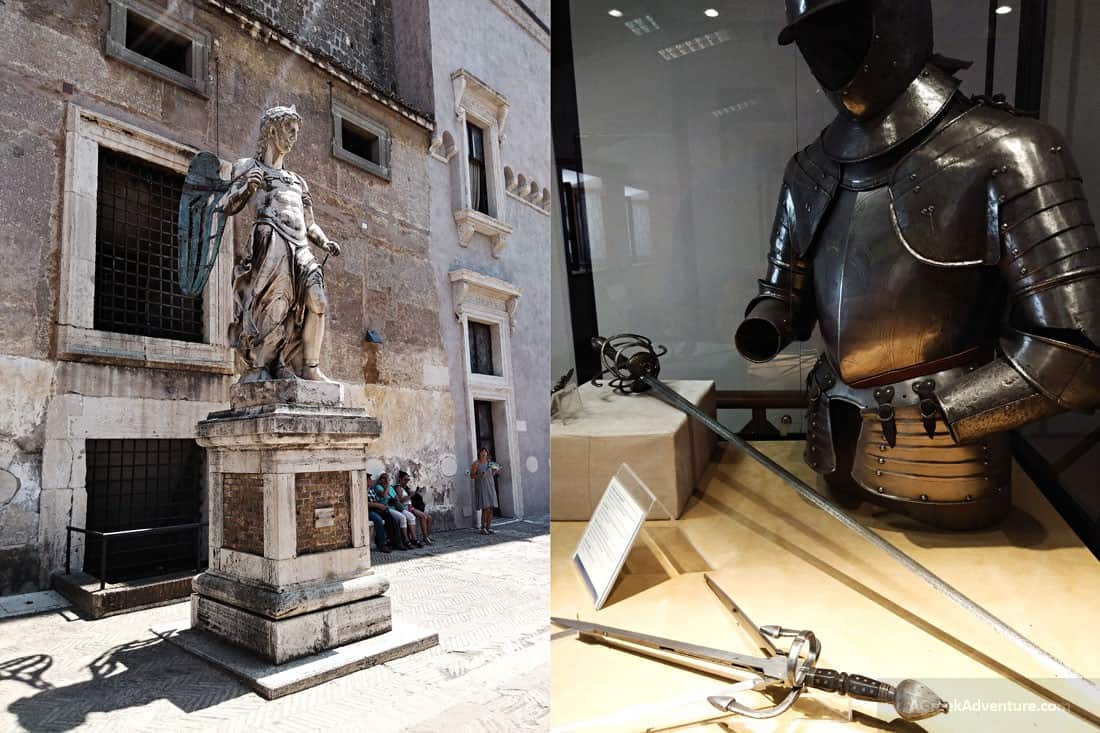 Many paintings of the building's interior relate not to Christian symbols but to pagan and fantasy animals and scenes.
Isn't this weird for such a building? Castel Sant Angelo also hosted the regular and the secret papal archives in two different rooms.
It has a fantastic terrace and cafe where you can enjoy a snack or a refreshment while enjoying the surrounding view.
Castel Sant Angelo hours: Tuesday – Sunday: 9 am – 7 pm
Castel Sant Angelo Tickets: Adults: 10,50 euro – EU citizens (aged 18 – 24): 7€
Tip: Don't leave without taking a break at the top area cafe, with a fantastic view and shade. Alternatively, go to the nearby park. The kiosk there makes great pizza. There are water fountains in and out of the Castel Sant Angelo.
Latest visiting hours and entrance fees from here.
Get tickets here. You can book Combo Tickets or for the Castel Sant Angelo only.
#3 Piazza Di Spagna & Spanish Steps
We saw thousands of people here.
Many are sitting on the stairs. Others are just walking in the Piazza or passing through.
A good crowd was around the boat-shaped Fontana Della Barcaccia (designed by Bernini), filling up their bottles.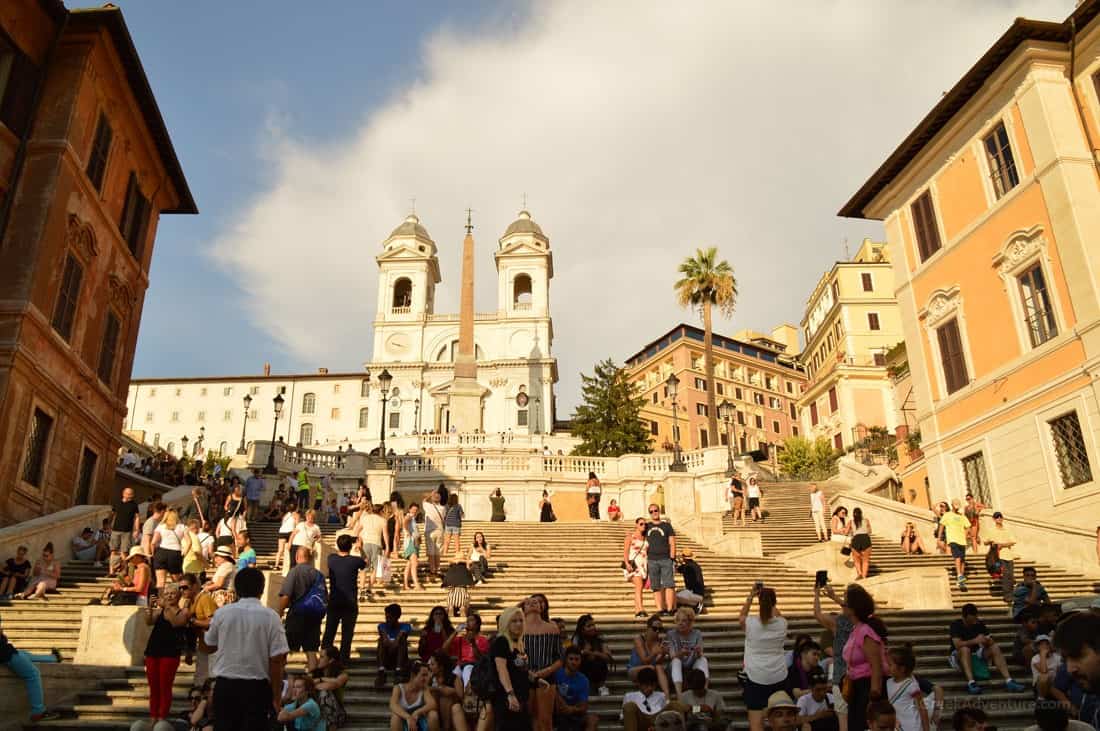 Walk up the Spanish stairs (Scalinata di Trinità dei Monti), an absolute architectural marvel. At the top, you will see the Church of Trinità dei Monti. A work of art, we may say.
The Spanish Embassy resides in the square.
This place is one of the most popular in Rome, and we admired the impressive 17th and 1th-century villas on the high streets of Via Dei Condotti and Frattina.
From here, you can quickly arrive at Piazza del Popolo, which hosts one of the tallest obelisks in Rome.
Get this All-Rome-Piazza's Tour! It seems interesting.
Piazza Di Spagna & the Spanish Steps hours: 24/7/365
Piazza Di Spagna & the Spanish Steps Tickets: Open space, free entrance
Tip: Fill your water bottle from the Fontana della Barcaccia. There are two springs on each side of the fountain. Don't dip your bottle in the basin.
#4 Piazza Navona
This Piazza was initially a stadium called Circus Domitianus.
Nothing now reminds me of that. You will see three fountains, one of which is considered Bernini's most excellent work (La Fontana Dei Fuimi).
A colossal obelisk stands in the middle of the square in Fountain of the Four Rivers.
This Piazza has been featured in many movies.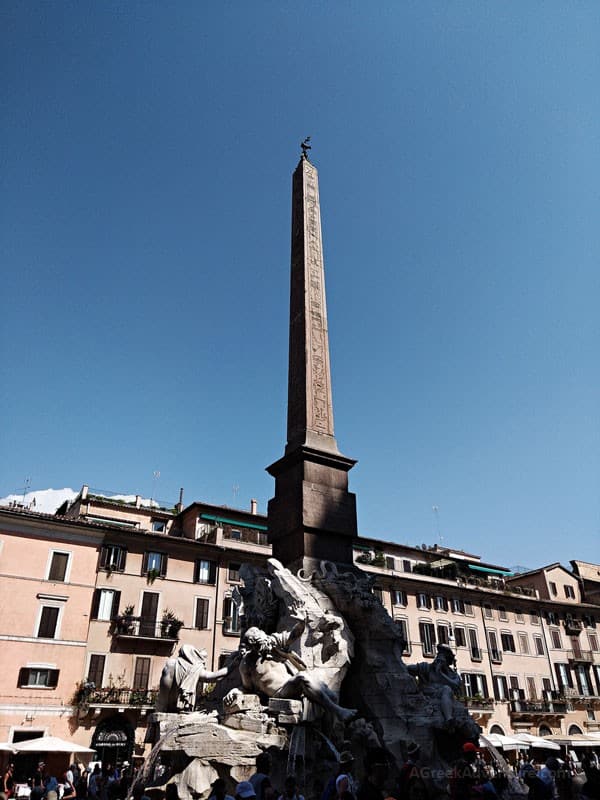 Perhaps we will come back for Christmas in Rome as this piazza hosts a great Christmas market each year, which is very popular with children.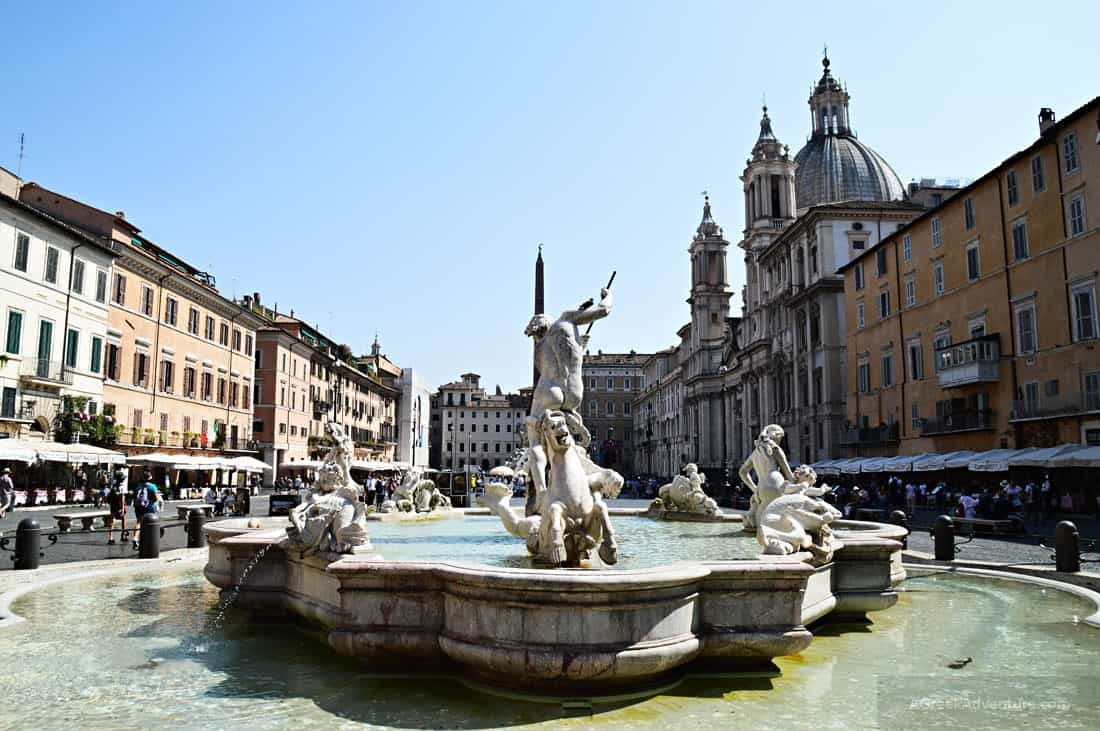 Get this All-Rome-Piazza's Tour!
Piazza Navona hours: 24/7/365
Piazza Navona Tickets: Open space, free entrance
Tip: Sit at one of the numerous restaurants/gelaterias around this huge Piazza.
Museums with Free Admission in Rome
Museo di Scultura Antica Giovanni Barracco
Museo delle Mura
Villa di Massenzio
Museo della Repubblica Romana e della memoria garibaldina
Museo Napoleonico
Museo Carlo Bilotti
Museo Pietro Canonica
Museo di Casal de' Pazzi
Different ways to tour around Rome
You can also tour through Rome with Hop-on Hop-off buses and Segway vehicles. You can book a Best of Rome Pass, or you can take a Roma Pass.
Conclusion on our Rome with Kids trip
Rome with kids is a fantastic experience. If you want to introduce your kids to traveling and culture, Rome is a good case for that.
It has many facilities along all routes to different landmarks, so you can break down your walking with resting time, eating time, etc.
Kids will not get bored.
We were a bit worried about how kids will perceive all this walking for hours (with breaks, but still), and they were just fine.
They had many questions about different landmarks to ask along our walk, and we were explaining to them other things about this "open museum" city.
They had a ton of photos to send to their friends when they were online.
We wanted them to use their time to get in as much as possible from their trip and their first experience abroad. Now they are thinking and planning the options for the next trip, throwing ideas for different destinations.
As a parent, I call this a success and maybe a travel budding process.
We believe all this info gives you lots of help to plan your trip to Rome with your kids (or without them).
Do explore all our posts for Italy and Sicily. There are plenty of ideas for trips!
Have fun!
Did you enjoy our article for Rome With Kids Best? Also, read