Oh, the many times you thought "I am on vacations but I do not want to lose my fit". I know.
I have been there and every time I was trying to find a way to combine relaxation, exercise, have fun and lose the guilt of eating all the souvlaki and beers after the beach.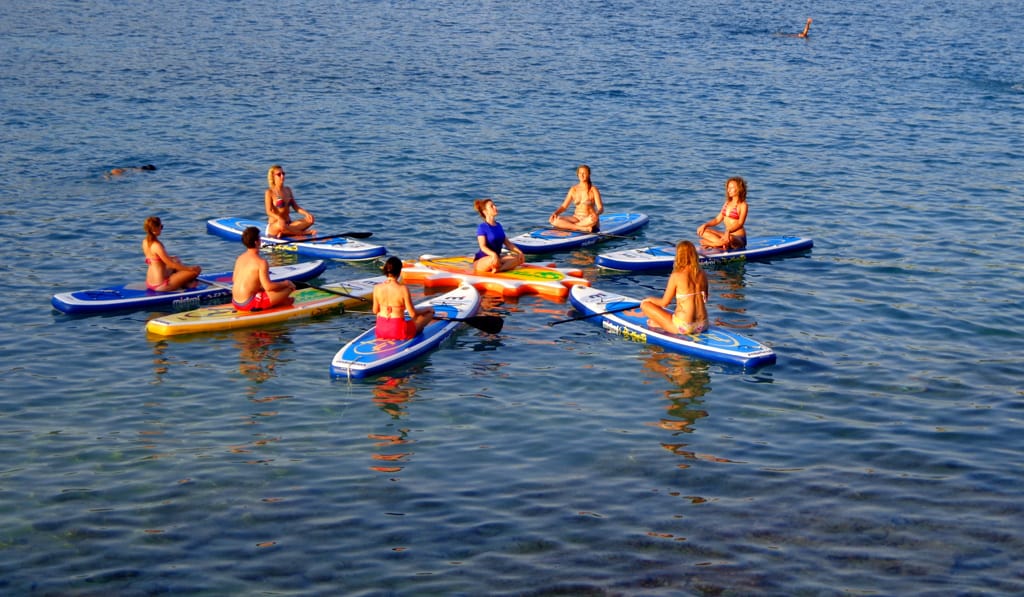 Guess what… There is a solution.
Next time you are at the beach arrange to have a Paddle Board Yoga session.
Paddle board yoga offers you the opportunity to experience yoga lessons in a unique environment.
Achieve calmness and serenity through the fluid movement of water and nature's surroundings, while at the same time you take advantage of your core's underlying power.
Imagine nature being your studio and the board your mat. That's Paddleboard Yoga!
There is absolutely no need for prior experience of Yoga or Stand up Paddle. All levels are welcome.
From beginners to pros, aiming to provide a unique experience of Yoga, while enjoying the natural splendor of floating in the water at the majestic bay of Loutraki.
The goal is to have a reinvigorating experience to be remembered forever.
If you are at Loutraki (Crete) region then you are definitely lucky.
A team called PaddleBoardYoga (what else indeed?) combines Yoga asanas with simple and gentle exercises for the eyes, tongue and jaws, neck, hands, feet, knees, ankles and hips.
These tone up the body, keep our internal organs and the hormonal system in balance and refresh the mind and spirit.
The gentle sound of water lapping while on a paddleboard will help you relax and combat stress, fatigue, and pain.
Breathing fresh air, soaking up vitamin D and enjoying the natural landscape of the Cretan sea, beats just about any gym or studio out there.
You can complete your rejuvenating course with a Cretan traditional lunch, right next to the sea, at Mare Nostrum restaurant, with an overwhelming view at the bay of Loutraki.
Then you can take your time to relax, sunbathe and swim in the crystal waters, before heading back to your hotel.
All great elements combined: Cretan sea, Paddle Board Yoga, amazing Cretan cuisine, great instructors, total relaxation. All while you get some exercise and put those beach sunbathed muscles to rest. And then off for some drinks!
Totally recommended. We hope you have fun doing it and come back to drop some comments.
People want to know.
Do contact PaddleBoardYoga instructors to give you more insights. They can be contacted through +30 6945500939, +30 6944390297.