You want to ski, but you do not know where to start. There are so many things that need to be checked out before you even think of putting on a ski boot.
But, where do you begin? Check out these 20 tips for beginning skiers below. Then, strap on your helmet, skis, and get ready to go.
Also check the Hanking Mountain website for more ideas. Also read, why to start skiing (again?).
Research Where You Must Ski as a Beginner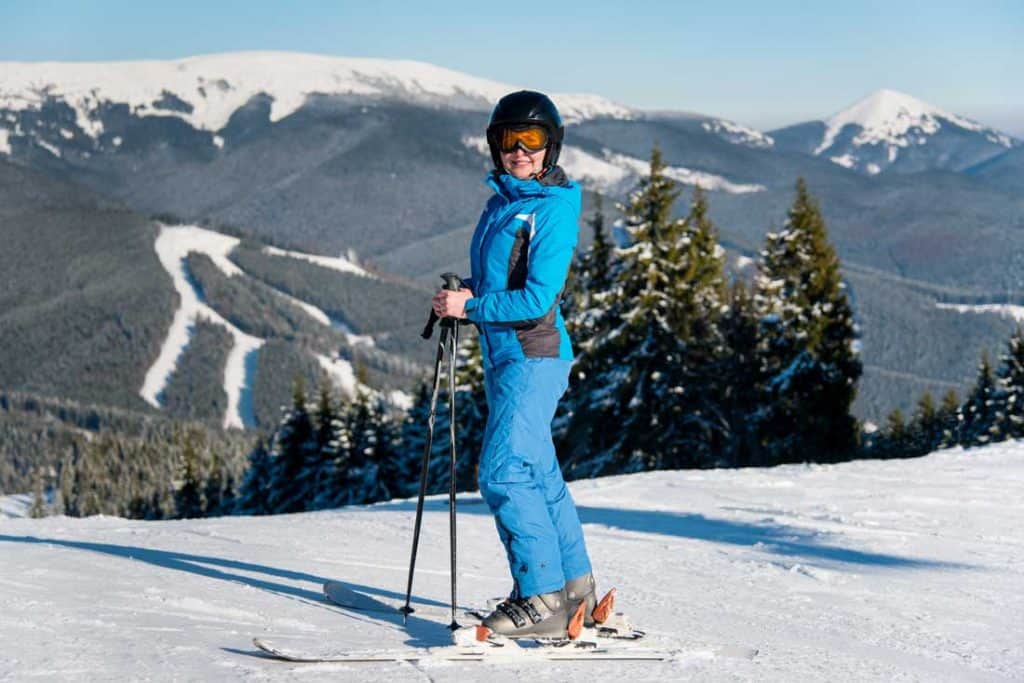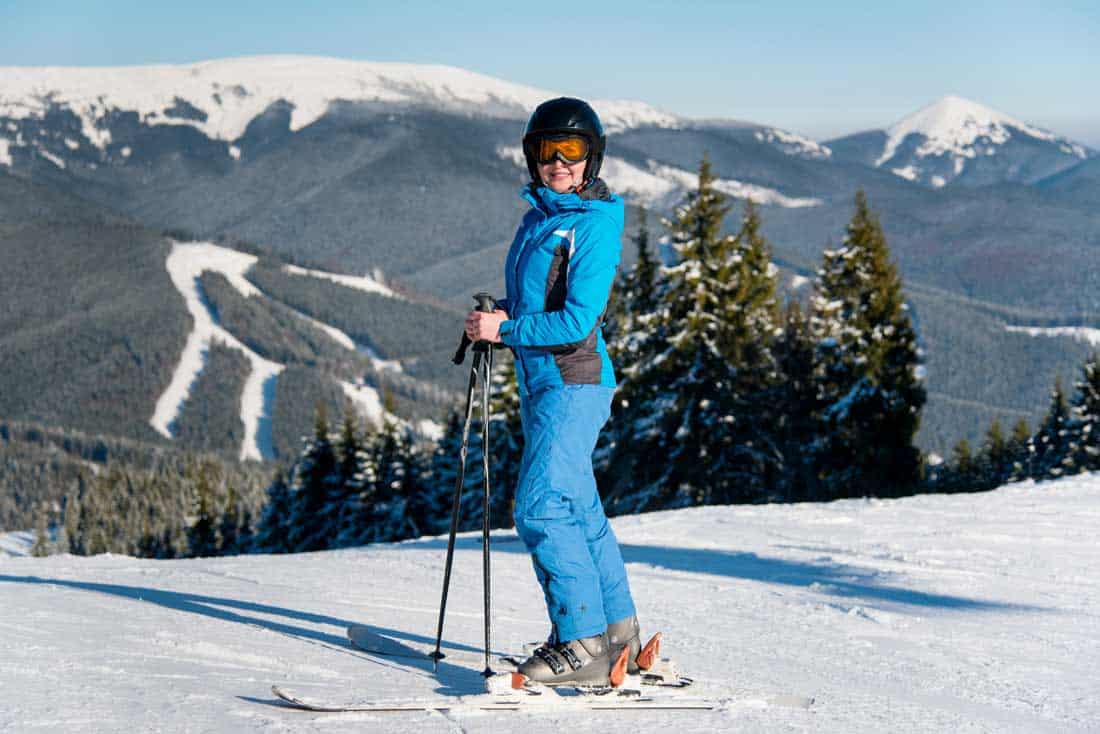 So, you know you want to ski, but where do you go? Do not worry about finding a popular, packed place. Find a place that is well-known as suitable for skiing for beginners. You want to choose a place that is reputable, safe, and can help you learn to ski and assist you in growing your love of it!
Have the Proper Equipment: Helmets
Along with the right boots and skis, it is vital for one to be properly fitted with an appropriate ski helmet. According to the CDC, there are certain requirements that should be met for a helmet based on the sport. Having a helmet that is properly fitted and was not previously involved in an accident is one of the top tips that can be shared with you.  Do not take a shortcut on safety.
Dress in Layers
One may believe that since this sport takes place in the winter, bundling up to the max is the best idea. However, that is not the case. By dressing in layers, you can cut down on bulky, puffy pieces that can restrict movement. By dressing in thinner, thermal layers, warm air gets trapped between the layers, helping you stay warm. By layering, you can more easily move your body to ski.
Renting Equipment vs. Buying Your Own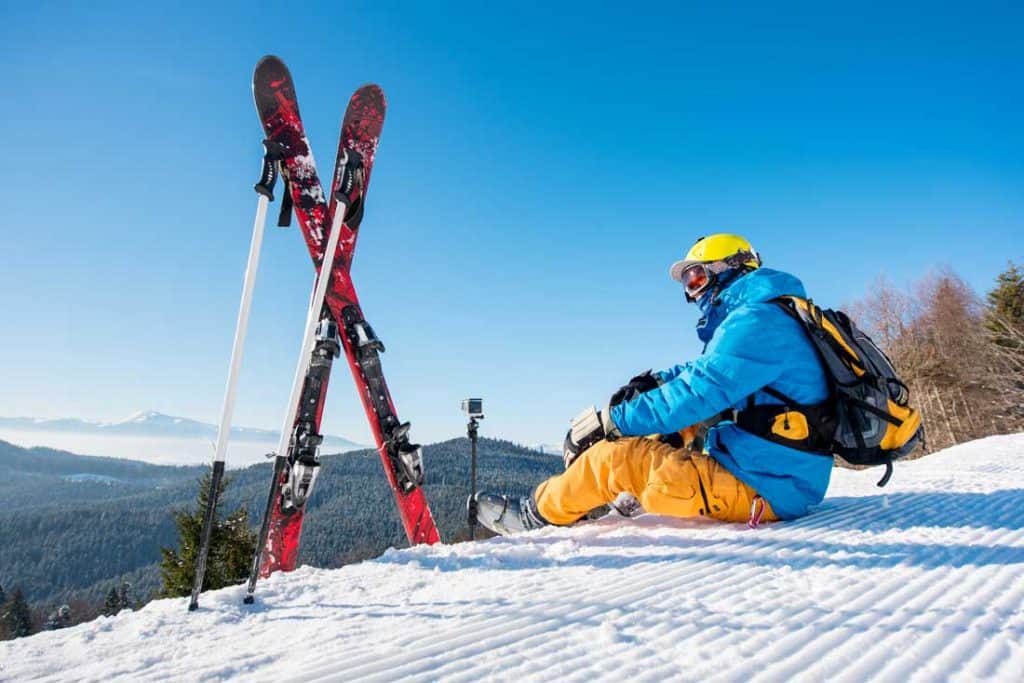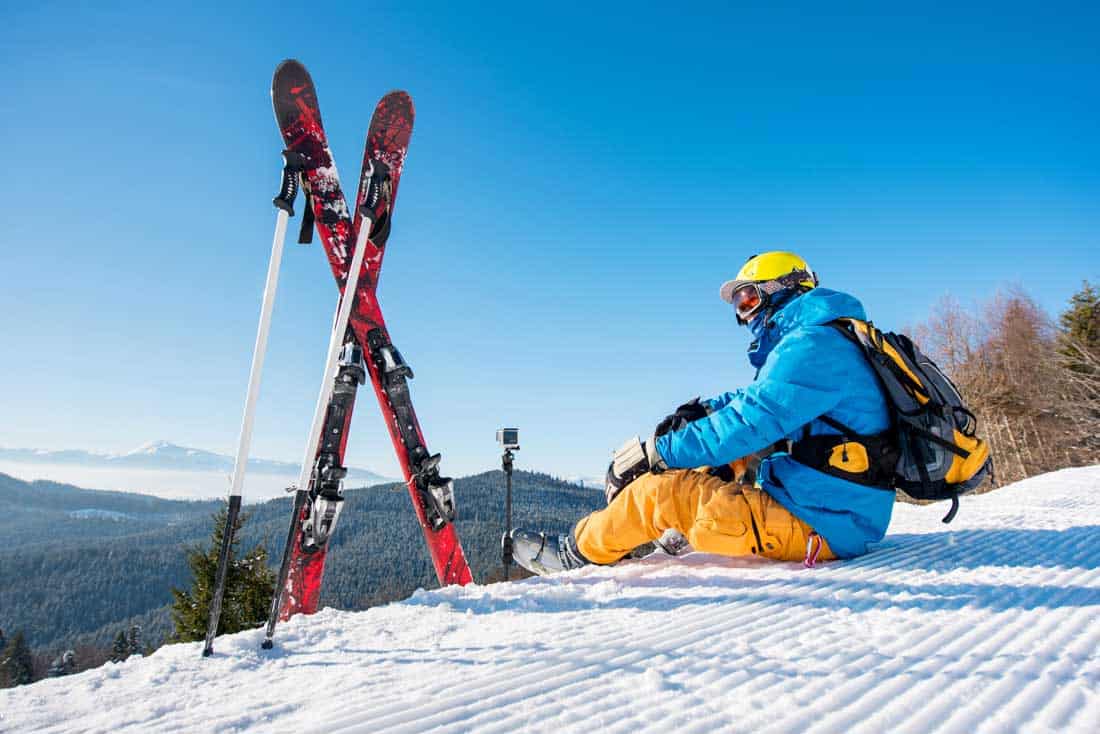 There are different schools of thought on renting vs. buying equipment. Each person's situation is different, so there is no one right answer. For some people, they want to have fresh, out of the box equipment. This way they know it is brand new and was not involved with any accidents, so it is safe to use.
However, it is suggested that for those who are totally starting out and have no experience, renting equipment is the way to go. The benefit to this is two-fold. First, you are not stuck with the equipment if you choose not to continue to ski. Secondly, if rented from a reputable place, like from the ski shop, the equipment should meet safety requirements in order to be used.
If you plan to ski regularly then the best thing is to get some basic gear you will use all the time and rent the rest on the spot. The basic ski gear you need is:
Learn from a Professional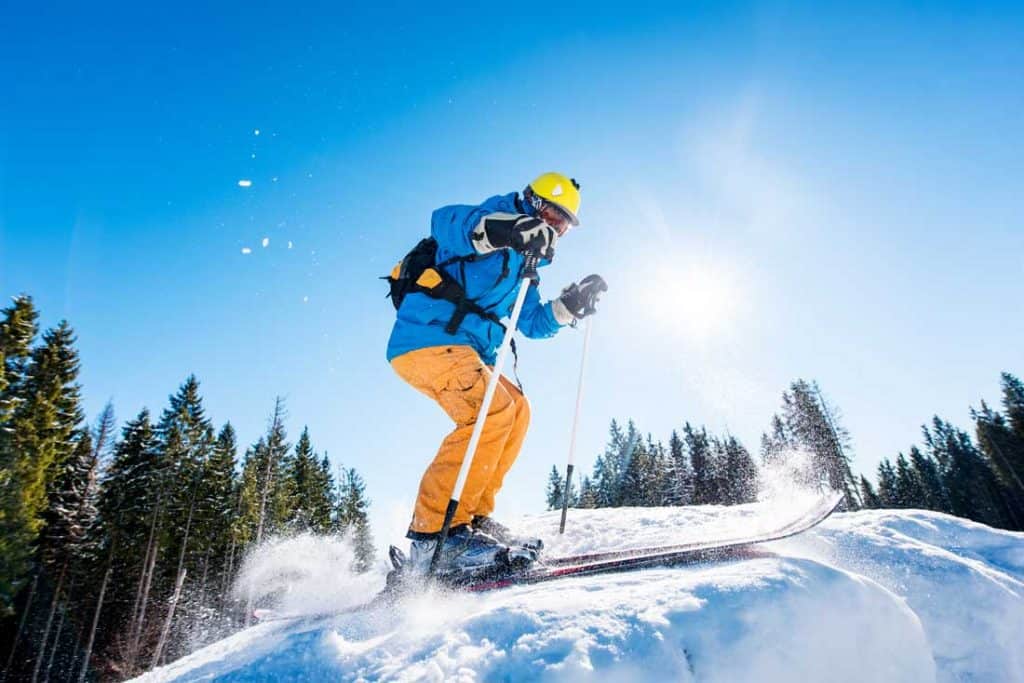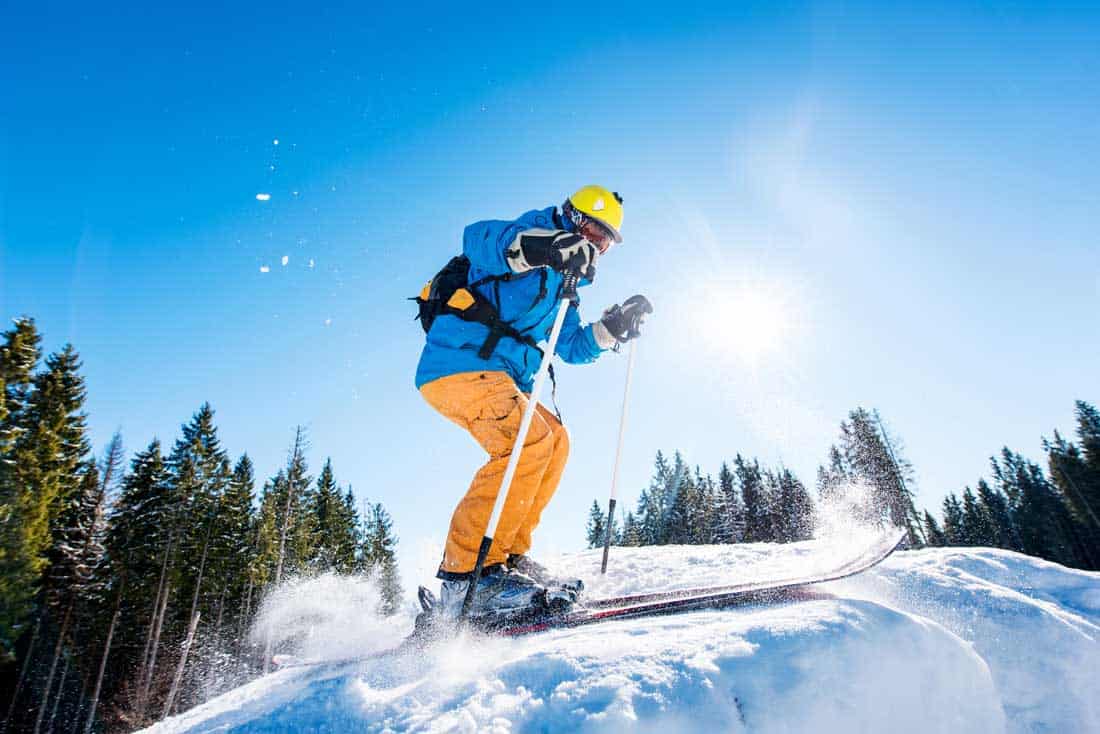 Starting off right means you should take lessons. Do not take "lessons" from a friend or family member. Taking lessons from a trained professional is the safest and most efficient way to learn to ski. People of all ages take lessons. These people will show you proper techniques and form that will keep you on the move and more likely to enjoy the sport.
Get to the Slopes Early
Make sure when you have your lessons scheduled, you get to the slope early. It is important to ensure you have enough time to inspect your equipment to make sure there are no safety issues. It is also important to also give yourself enough time to get your equipment on, and then meet your instructor at the correct location. Do not cut corners to save time.
You Will Fall
The question is not IF but WHEN. Everyone falls when they ski. Get the thought out of your head that you will be that one person that doesn't do it. There is no shame in falling down!
Don't Look Down!
The bottom line: where you look is where you will go! Staying focused on where you are going, but also being aware of your surroundings is very important. When you look down, not only can you fall, but you can also run into other people or other things.
Listen to Your Body: Know Your Limits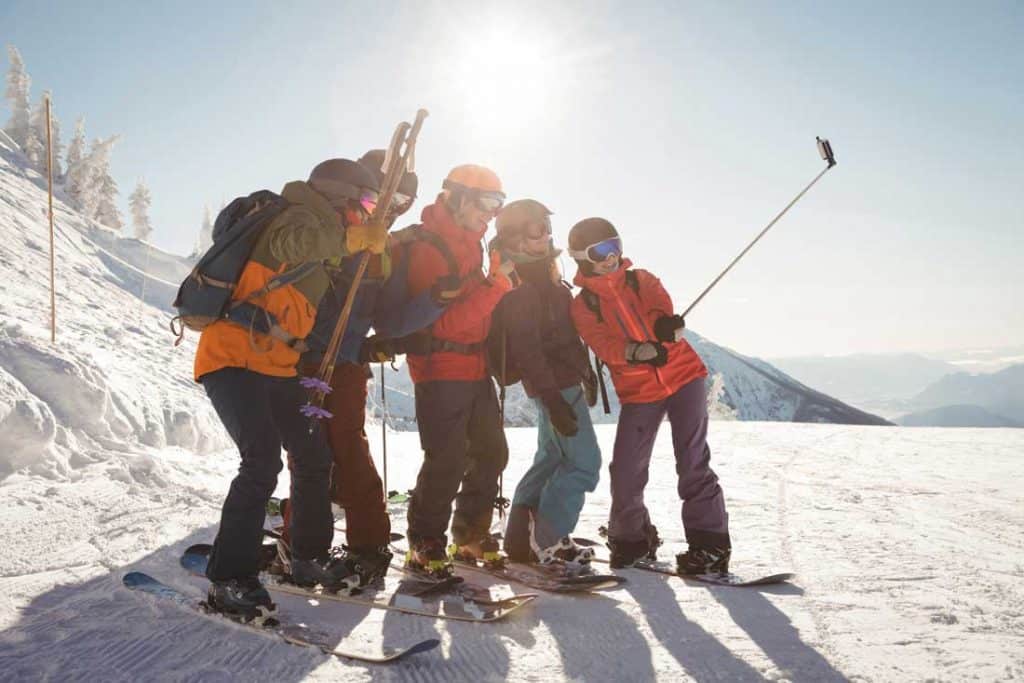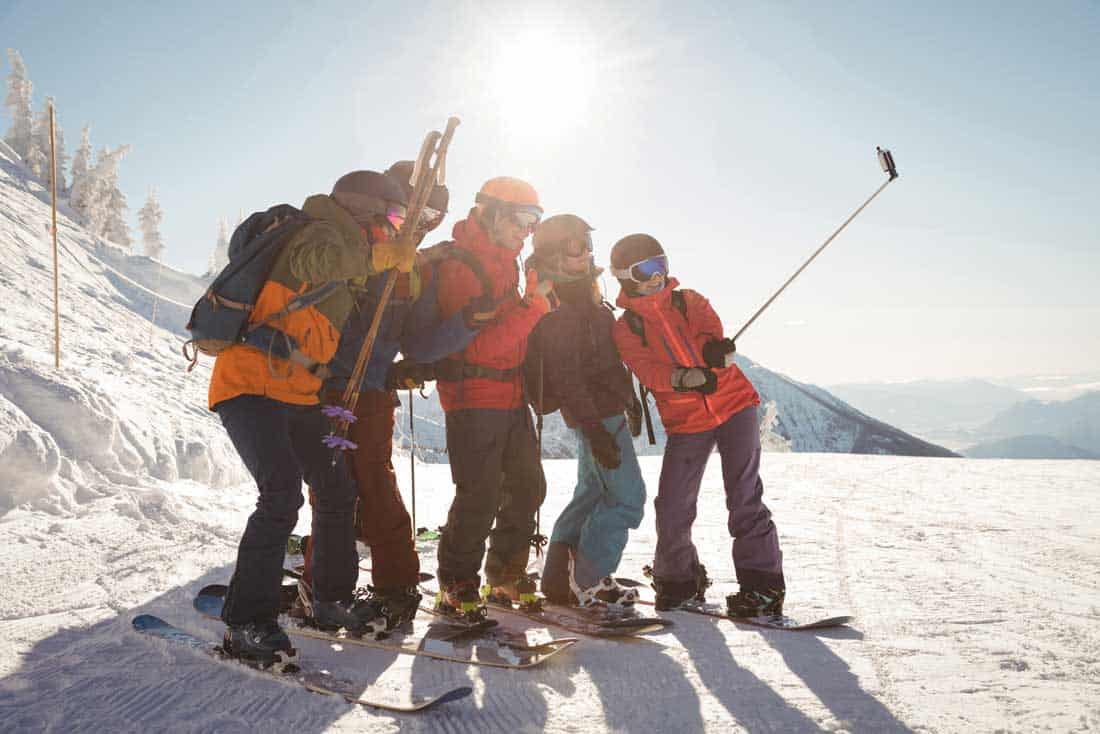 People assume that as soon as they begin to ski, they must progress quickly. This is not the case. Not only do you need to take your time in order to learn proper technique, but you must also make sure you can physically handle the sport. Skiing can put a lot of pressure on knees, ankles, joints, and muscles, so it is important to listen to your body so you know when you need a break.
See the following video. It is ideal for skiing for beginners and for any one to warm up prior hitting the slopes.
Build Leg Strength
As previously stated, skiing can take a toll on the body – especially the lower half. In order to be successful with skiing, one must build enough leg strength to sustain the power needed to ski. This is another reason why it is recommended to start small and work your way up to more challenging slopes. One does not want to tire out when only halfway down the mountainside!
Start Small
Do not look at the top of the highest slope and say you will conquer that during your first week of skiing. It is important to start small when skiing. First, starting small means one can work on proper form. In addition, if the groundwork is laid properly, moving onto higher and more challenging slopes will make more sense. It is important to remember that you do not want to make a big leap into something too difficult – build up to it and grow your love of skiing in the process.
Best Skiing for Beginners Tip: Be Patient
When someone starts something new, they can be overzealous in what they want to achieve in a short amount of time. Now, think about this again – a person is going to learn how to move downhill on two thin skis in a rhythmic movement.
That does not sound like it can be achieved so quickly, does it? Being patient means taking skiing one bunny slope at a time. Conquer those smaller steps first, perfect your form, so when you hit those big slopes, you will be ready to rock.
Pay Attention to Skiing Conditions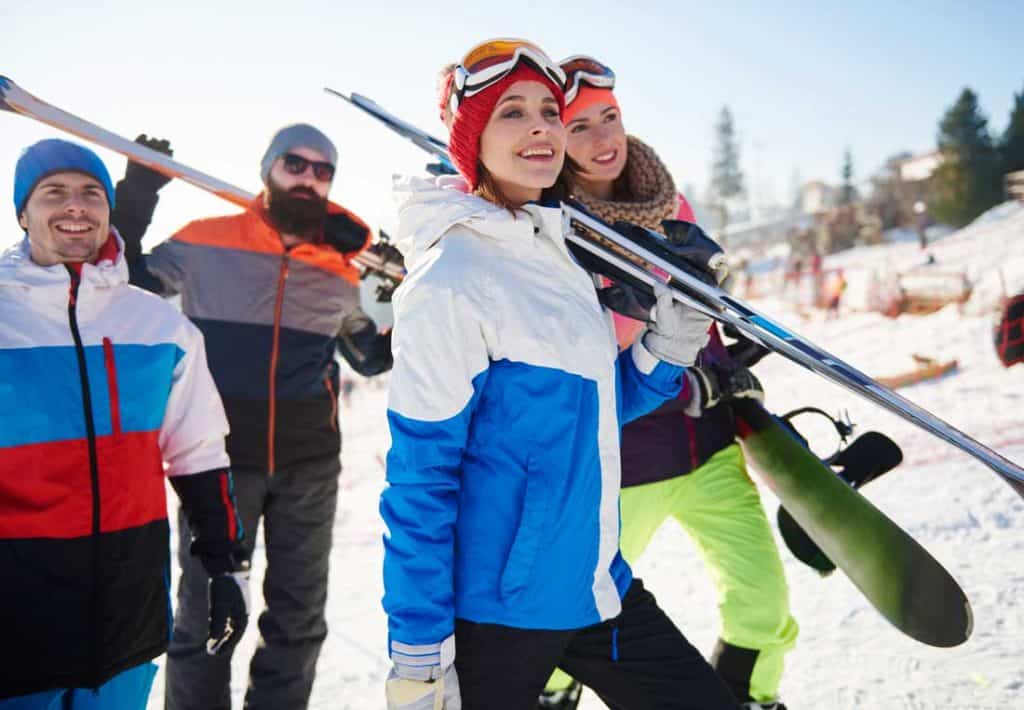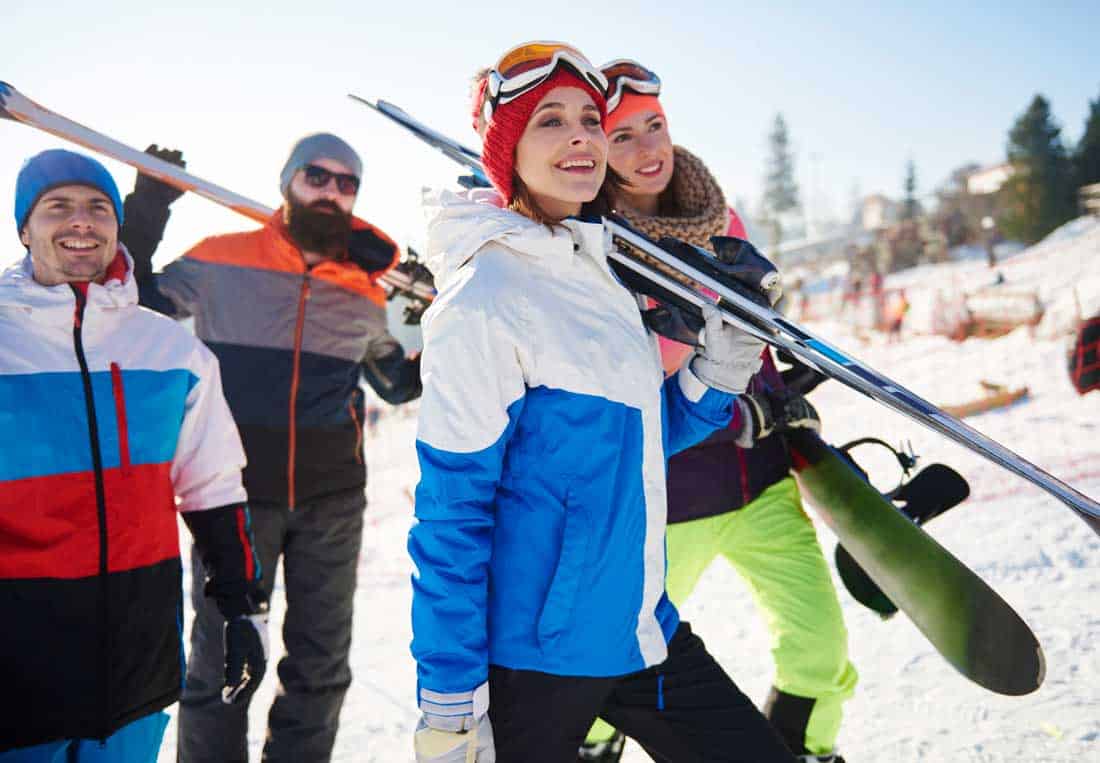 Prior to heading to the slopes, check the weather forecast. Many places not only provide the weather conditions, but they also provide conditions of the slopes. Websites exist in which people can compare the weather conditions and snow conditions at the same time. Whether there is only one ski resort available to you or a few of them, having a one-stop location to find important ski information is a great tool.
Sunscreen Is a Necessity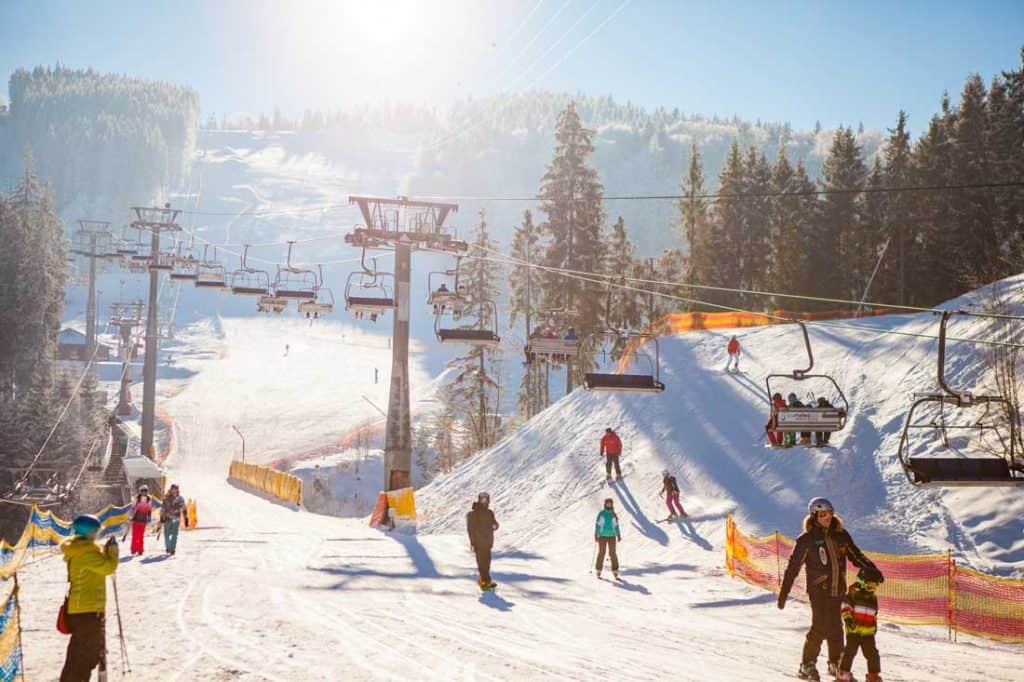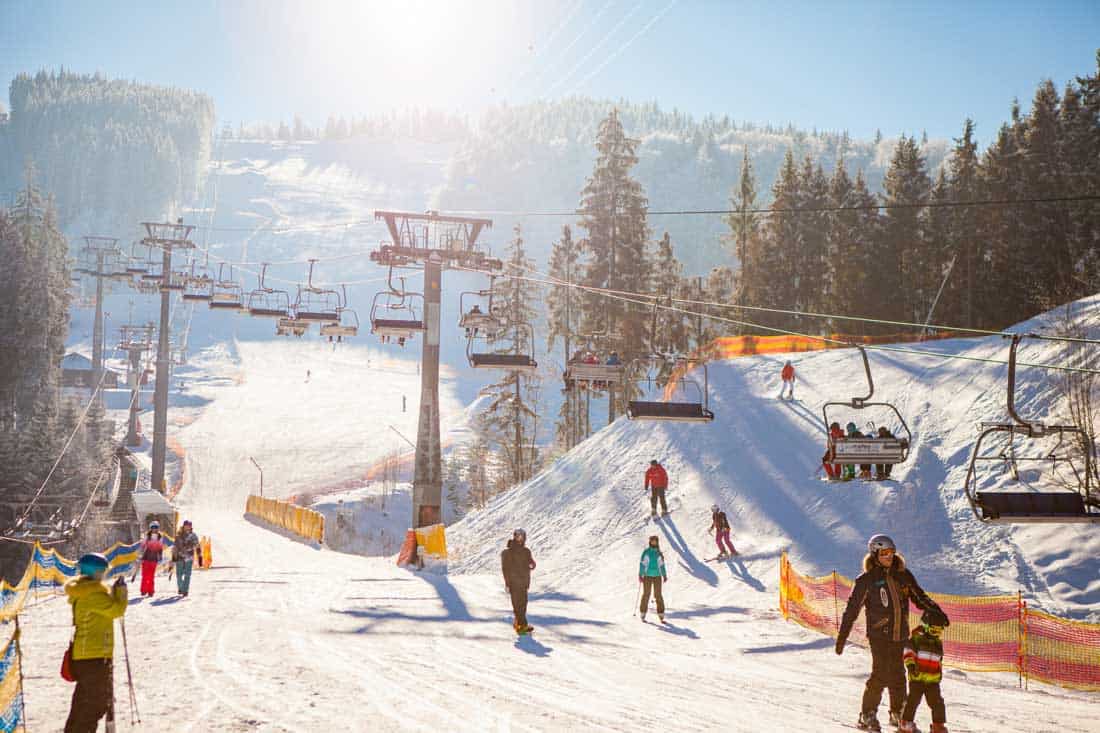 One may think because it is winter time and the pools are closed that sunscreen isn't necessary. That cannot be further from the truth. UV rays can be strong even in the dead of winter. This is why it is vital to use a sunscreen with at least SPF 30. Not getting a sunburn is important for skiing as a beginner.
Snack Smart
It is important to re-energize when skiing.  However, you need to be smart with snack choices.  Avoid things that can get squashed. Protein bars are a safe bet; they are compact and are filled with the protein needed to give you sustained energy.  Other snacks like fruit leather or citrus fruit (which helps increase blood flow, and that can help you stay warm) are also good options.
Hydrate
Drink up! Not only should smart snacking take place but so should hydration. Hydrate ahead of time, before arriving at the slopes. In addition, it is a good idea to skip coffee and caffeine, and anything with alcohol.
Some people choose to wear a hydration pack, which is like a backpack with water in it, that has a straw attached.  Having water at the ready is a great way to stay hydrated and avoid an energy slump on the slopes.
Pack the Little Things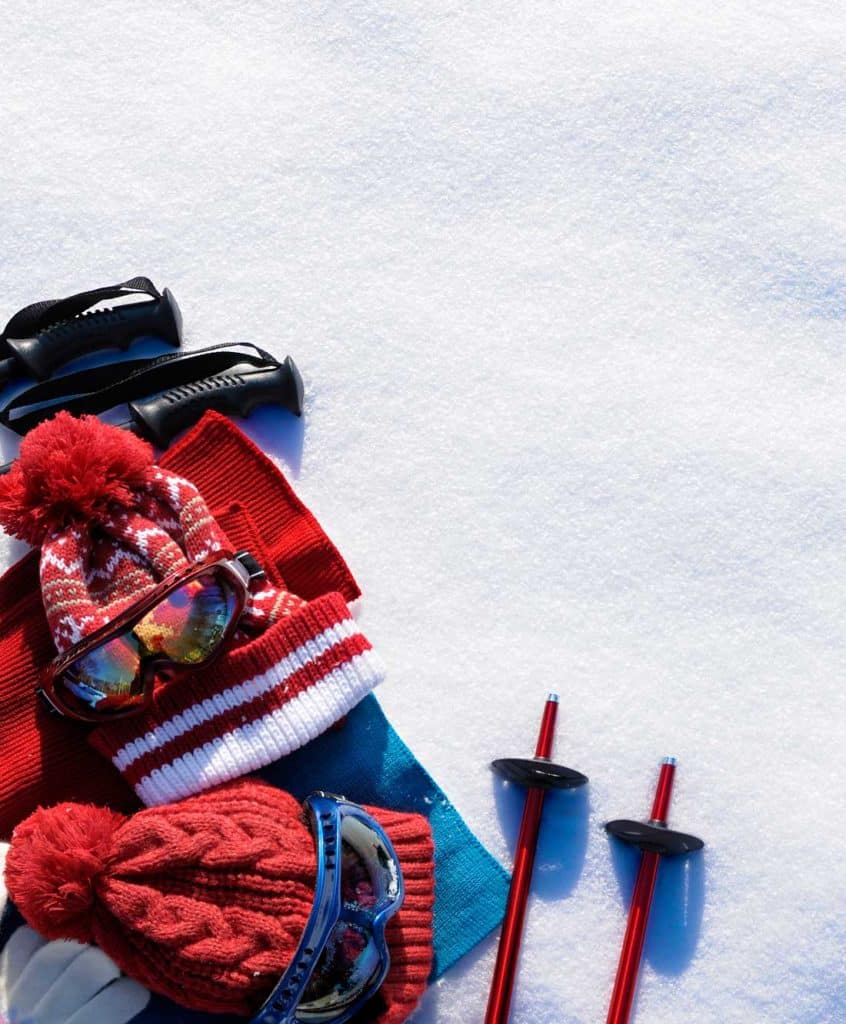 You have remembered the snacks, the water, and the sunscreen, so that is everything, right? What about lip balm with SPF, hand warmers, and sock warmers?
Remembering to pack these small items is important.
You have sunscreen for your skin, but the lips can be just as exposed and can become chapped. Although you may be dressed in layers, having small hand and sock warmers can also be beneficial because they give an added layer of warmth without the bulk.
Be Honest With Yourself
Watch your progress. Do not expect changes overnight. The human body needs time to adjust to new things, and this includes skiing. If you notice things are too difficult, acknowledge it, and make adjustments with your instructor.
At the same time, if you feel like you are ready to take on more of a challenge, communicate that with your instructor as well, so a plan can be made.
Get the Most Bang for Your Buck
There are several things that can be done to save money and get the most bang for your buck when it comes to skiing. Some resorts offer discount packages and lift ticket options. Some people prefer to do a season pass. However, if that is not an option, definitely consider lift ticket discounts.
Walking up to a window at the slope to get tickets can be extremely expensive and the costs add up quickly. Plan ahead, get passes and tickets ahead of time, and your wallet will thank you.
Have Fun!
With all of the planning, preparation, and physical work involved with skiing, the most important thing to remember is to also have fun.
Skiing is a great way to get outside in nature while being active and can help you lead a healthy life. Do your research, plan accordingly, and have fun.
You will not regret taking on skiing – no matter your age. Jsut follow our skiing for beginners advice advice and hit those slopes.